The majority of motorcycles don't have a reverse gear. Instead, when in neutral, you will need to manually walk the bike backward or spin it around. But there are exceptions to this rule, as some motorcycles are designed with a reverse gear assist mechanism due to their heavy and bulky build. Here are my examples of motorcycles with a reverse gear:
Honda Goldwing series (GL1800 Goldwing and Goldwing DCT/Tour/Tour DCT/Tour Airbag DCT models only)
BMW K1200LT
All Ural sidecar motorcycles (Baikal Limited Edition, CT Around Town Weekender, Gear Up Off-Road Adventurer etc.)
BMW R 18
Yamaha Star Venture TC
BMW K1600 series (K 1600 GT, K 1600 GTL, K 1600 B, and K 1600 Grand America)
Others: Piaggio MP3 500 trike, certain Moto Guzzi models, Can-Am Spyder/Ryker trikes, and Harley-Davidson Tri-Glide/Freewheeler three-wheelers.
Normally, manufacturers offer the option of either an electric or mechanical motorcycle reverse gear system. The reverse function of a big bike is achieved by the starter or auxiliary electric motor geared in reverse, not by the engine, and is meant to aid you when walking your machine backward (it can only move a few miles per hour in reverse at most and can't run for very long without draining the battery). In theory, you could also add reverse gear to your everyday motorcycle.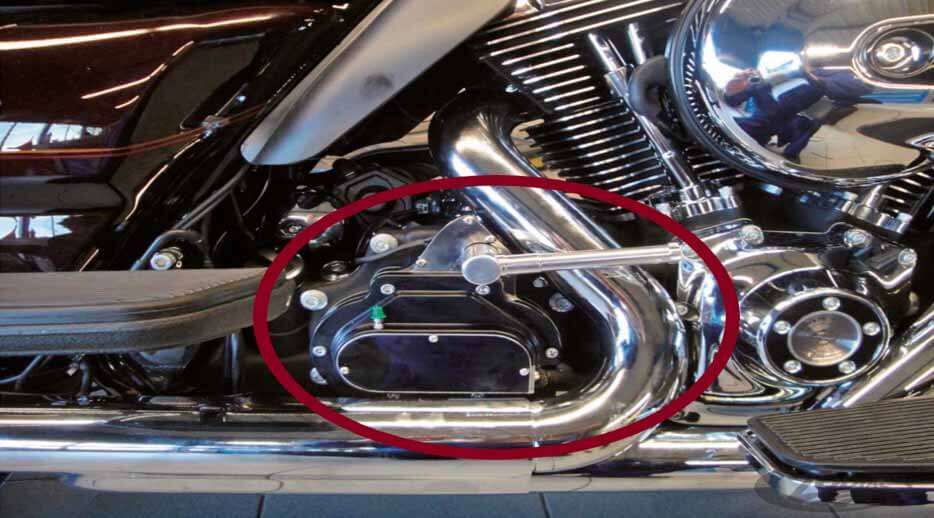 In this post, I'll discuss the various alternatives you have to install reverse on your street bike. More on that later, first, let's examine these top-end touring and cruiser bikes that come with rearward propulsion, aiming to answer your question: Which motorcycle has reverse gear?
Top 6 Motorcycles With Reverse Gear in 2023
Only a couple of the heavier two-wheeler cruiser and touring bikes, such as BMW's K1200LT, R 18, K1600 series, Yamaha Star Venture TC, and certain Honda Goldwing models, have reverse assist systems. Some of the bikes, like the Big Reds, on my list have an additional gear in their gearbox (use engine power) while others are propelled backward by a small auxiliary electric motor or, in some cases, the starting motor.
Of course, I'll also include the evocative Ural sidecar motorcycles as it is obvious that they do require reverse as you cannot simply walk them in reverse. In fact, it's safe to say that most of the latest trikes have a reverse gear. Now, let's begin with one of the most famous modern two-wheelers featuring a reverse right off the production line, the BMW R 18.
1. BMW R 18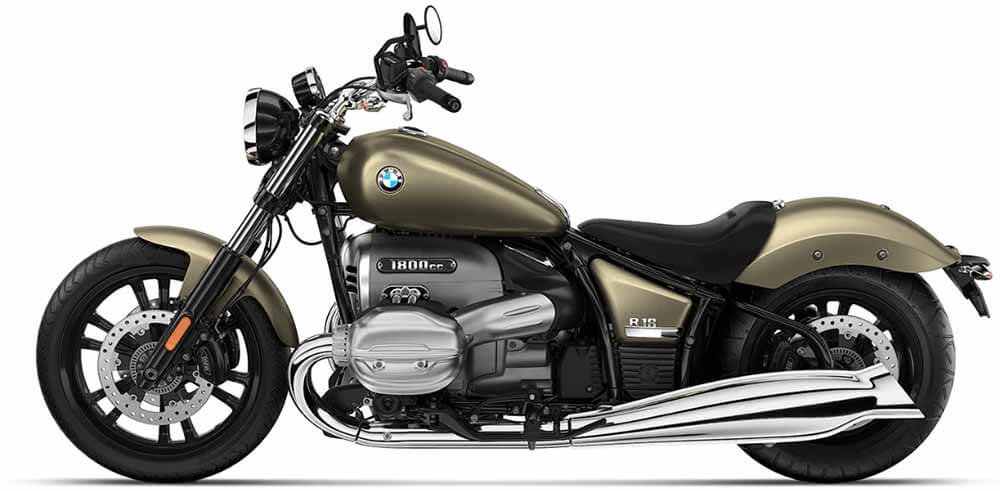 BMW deserves praise for producing the R18 at all. In a world when emissions regulations are increasing and engines are being reduced, constructing not just a new air-cooled engine, but their largest-ever boxer engine to date, deserves a lot of credit.
Although lacking much in the way of electronic rider aid, the BMW R18 is iconic for its reverse gear, which BMW calls "Reverse Assist" that can take you out of tight spots on and off-road. It may seem like a total gimmick, but the little lever on the side of the gearbox for reversing the starter motor can be a total godsend with this amount of bike off-road.
The riding electronics, on the other hand, are more than capable of keeping up with everything you can throw at them, so you can ride it without a concern in the world. Rain, Rock, and Roll are the three riding modes, but anything other than Rock (the equivalent of Sport mode) seems underwhelming.
Ups
Classy minimalism with unsurpassed fit and finish

Uses haft final drive ideal for touring

Features a reserve gear system
Downs
Harsh rear suspension

Minimal cornering clearance as foot pegs drag early.
The BMW R18 isn't and was never meant to be a mass-market motorcycle—it's primarily targeted at mature riders and BMW enthusiasts who would never ride a Harley.
I highly recommend these motorcycle tools for their affordable yet top-notch quality, reflecting my extensive 50+ years of motorcycling experience and expertise as a rider, leader, and consultant in 25+ countries. So, whether you're a seasoned rider seeking an upgrade or a new enthusiast starting your journey on two wheels, I'm confident that these gear recommendations will serve you exceptionally well.
2. Honda Goldwing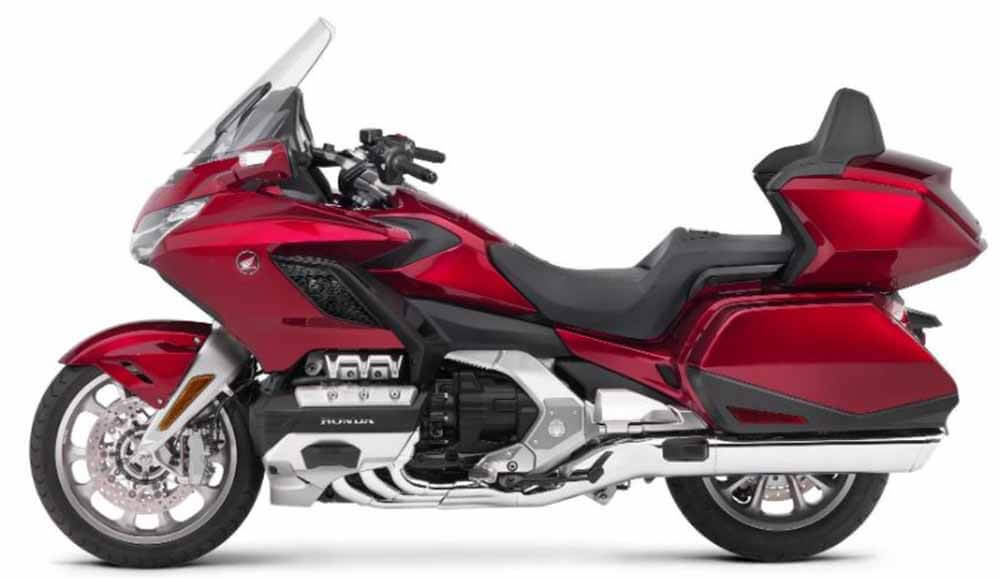 The Honda Goldwing series has been the category benchmark for over five decades and is probably the most iconic luxury tourer in motorcycle history. When it comes to going long miles in luxury on a bike, Honda's legendary grand tourer is constantly mentioned. A bike of many firsts for Honda, the Goldwing would debut shaft drive, hydraulic valve tappets, hydraulic clutch actuation, the first-ever motorcycle airbag, cruise control, and an electric reverse gear.
The Goldwing Tour with a manual gearbox has a unique electric reverse, while the Goldwing DCT versions have an unusual low-speed reverse that uses engine power. Both techniques make it simple to get your bike out of a parking spot, particularly if you need to reverse up a short incline. You can also find it on the GL1800 Goldwing, Goldwing Tour DCT, and Goldwing Tour Airbag DCT.
These improvements did not come cheap as far as weight goes, and this saw the new Goldwing just shy of 800 lbs. in dry weight, a tremendous increase from the original 584 lbs. of 1974. To try and keep the bike nimble, Honda redesigned parts of it such as the fuel tank location underneath the rider and the transmission underneath the crankshaft to lower the center of mass.
Big Red's legendary tourer receives a few tweaks as well as new colors for the 2022 update but still retains its useful ability to stagger backward. The most significant change is an increase in trunk space to 61 liters (from 50 liters), which is large enough to comfortably hold two full-face helmets, a welcome addition for motorcycle travel enthusiasts. More luggage, however, means the reverse gear feature is ever more necessary.
Ups
Electric reverse gear

Larger trunk, more luggage

Improved multimedia support (Android, Apple CarPlay)

New larger capacity engine and suspension

Close to five decades of testing and refinement for trusted quality and Honda reliability
Downs
Steep price tag

Less luggage than some of the competition

Smaller fuel tank capacity

Heavy.
Although some of the Goldwing's competitors have probably outperformed it in certain ways, the Big Red remains a fan favorite and one of Honda's best-selling models in the United States.
3. All Ural Motorcycles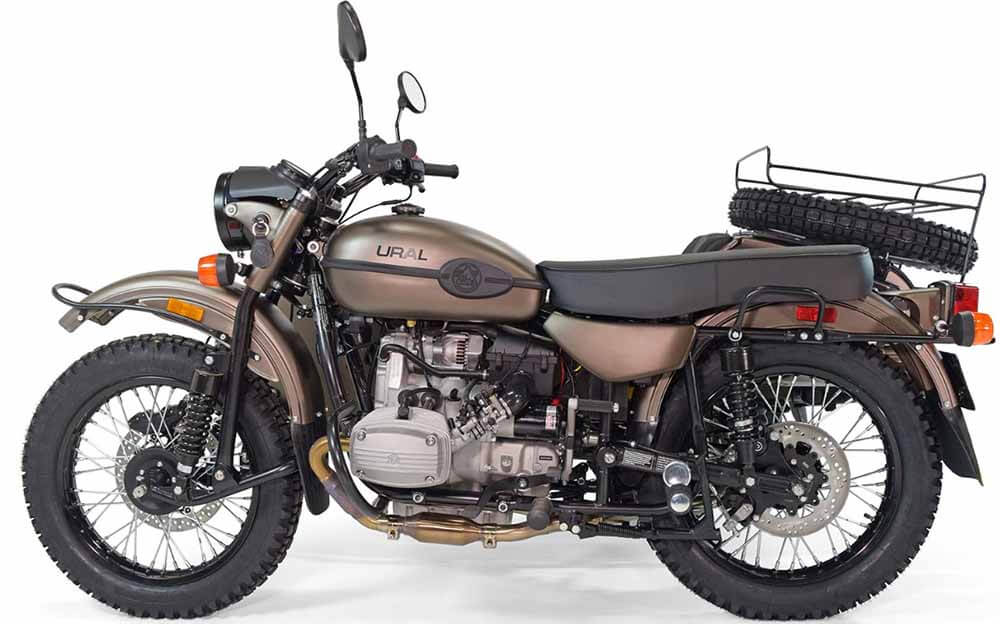 What better way to talk about motorcycle reverse gear than to discuss some of the pioneers in this area! Having been in production for the better part of a century and having received only slight improvements since the Ural 2023 models (Gear Up and CT) remains an antique yet surprisingly capable motorcycle for running errands and lighting the trail adventure.
From its birth and perfection as the epitome of Russian resilience in the face of adversity, the Ural brand had been there for Mother Russia when her vast territories came under threat of fascist Nazi occupation. Ironically stolen from German technology, these sidecars are reminiscent of World War II when they were instrumental in repulsing the onslaught of the formidable German war machine.
If you fancy an off-road adventure bike with a companion and luggage, you should pick the Gear Up edition, which allows you to turn on a two-wheel-drive (2WD) for navigating tricky patches and back to one wheel for normal cruises.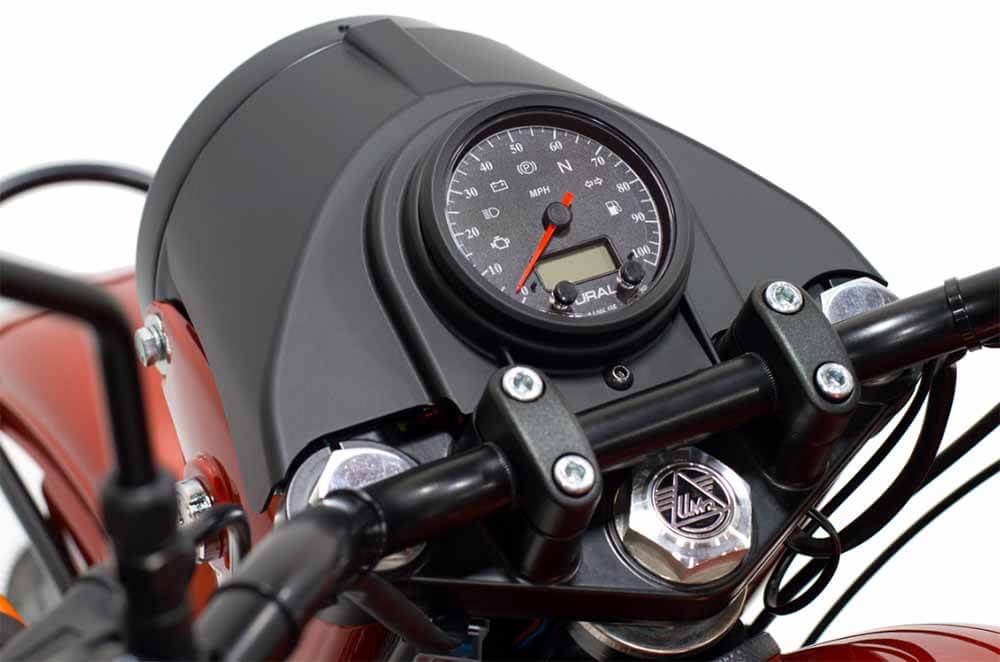 Another pleasant option you have with the Ural is to order complete custom with features that were dropped so that you can have a truly unique buy. The Urals come in all forms and colors for aesthetics. You can choose to keep the military vogue or choose a shouting color just for kicks.
Ups
A true adventure warrior

It has a sizable trunk and can carry a bicycle, surfboard.

Raw power made and delivered simply
Downs
Not as nimble as a two-wheeler.
The 2023 Ural Gear-Up and CT models have a sophisticated transmission with 4 forward gears and one reverse gear (a real one built into the drive train) that can be engaged with a foot pedal. The motorcycles can comfortably cruise at 65-70 mph.
4. BMW K1200LT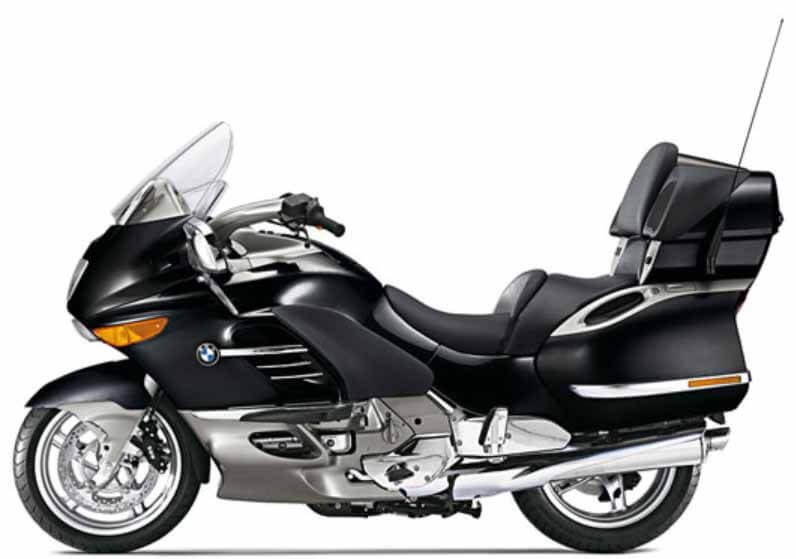 At the turn of the 21st century, one motorcycle ruled the luxury touring scene: the BMW K1200LT. The fully equipped LT appealed to those who regarded the BMW emblem on the tank as a guarantee of dependability, and while it wasn't quite as nimble as a Honda Pan European, it had more technology and comforts and was far less expensive than a Honda Goldwing.
It's as amazing as it sounds—until anything goes wrong, in which case double-check everything because components are pricey. The LT comes with an electronic screen, two power outlets, a music system, and an electric reverse gear, which is fantastic. You can also add on heated grips, cruise control, and a drink can holder as extras.
The K1200LT is an excellent motorcycle for traveling. You can take one on a serious vacation and never feel deprived of luxury features because it's lighter than a Goldwing and hence less terrifying.
Ups
Reverse gear and the electric stand

Comfort

Luggage capacity.
Downs
Weighty

Sluggish handling

Costly to repair.
It's a shame the BMW K1200LTs are hard to come by on the secondhand market, but it's a testament to how great they are that their owners won't sell them! Keep an eye out for a great one that comes up for sale and acts quickly.
5. Yamaha Star Venture TC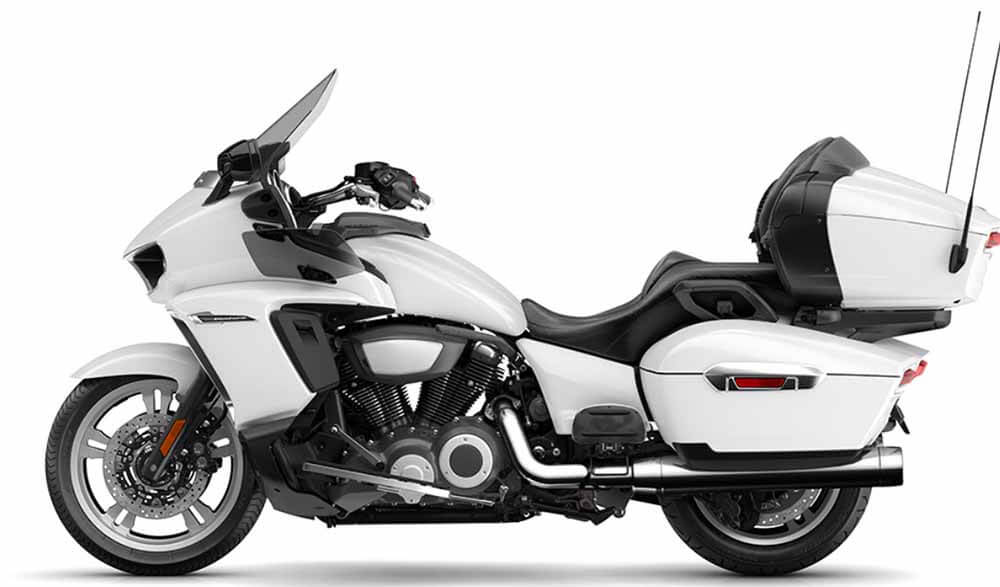 While many motorcycles are designed for in-city commuters, day-trip mile-eaters, or on-road/off-road adventure and dual-sport bikes these days, there is still a segment of the market that wants to ride from New York to LA and back simply for the joy of it. Yamaha has created the Star Venture TC for this sort of rider. The TC in the moniker, contrary to popular belief, does not stand for Traction Control. Trans-Continental is the abbreviation for Trans-Continental Airlines. With a 1,854 cc (113 ci) V-Twin producing around 90 horsepower and 126 lb.-ft. of torque, it's ready to eat up the miles.
This Japanese manufacturer has updated its top-of-the-line tourer even more long-distance-friendly for 2023. Heated grips and both rider and pillion seat warmers, which were optional in prior years, are now standard. Yamaha's latest infotainment and GPS navigation, which was previously only available as part of the Transcontinental Package in 2020, is now included as standard equipment. This also has full-circumference LED illumination.
Yamaha added a "Sure-Park," a highly useful and welcome feature in 2023. A tiny electric hybrid motor kicks in for low-speed forward and reverse gears when a button on the handlebars is pressed. This allows the user to back up the bike or drive into a tight parking position on an uphill slope without risking over-revving and spinning up the rear wheel, which might result in a drop. If your smartphone is linked to Yamaha's MyRide, it will also recall where you parked using GPS coordinates.
Ups
Stability at speed

Adjustable ergonomics

LED lighting

Standard transcontinental package

Electric reverse gear and luggage locks.
Downs
Weighty

Expensive to acquire and maintain.
The Star weighs in at just over 960 pounds, so you can imagine how tough it would be to back them out of a parking spot or garage, especially if you're in your senior years. This is aided by the reverse assist built into them.
6. BMW K1600 Series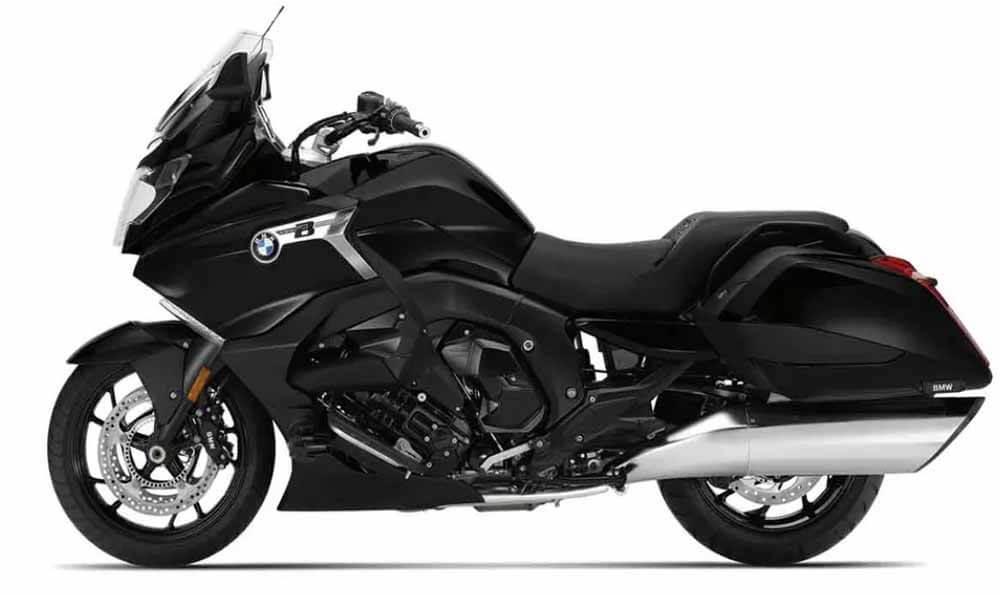 The model selection presently includes four models: The conventional sport tourer in sporty GT and full-dress GTL forms, the newer K 1600 B (Bagger) in the American bagger design, and the K 1600 Grand America in full-dress form.
Even though the BMW's enormous Bagger cruiser is longer and nearly as hefty at 344 kg (758.4 lbs.), it has shorter clearance and is easier to manage with simple leg force. To move these creatures off the side stand, smaller riders will need to train on their squats and bicep exercises, so be cautious of inclines while parking.
Fortunately, BMW now offers an optional reverse gear that uses the starting motor to propel the bike backward, requiring less leg force. 
Ups
Reliable, lasting well over 100k miles

Decent top speed of 125 mph

Nimble despite weighing 758.4 lb.
Downs
Pricey

A waste if not used for frequent tours.
Few motorcycles are bigger than the GT and GTL, which are full-sized touring bikes with practically everything but the kitchen sink.
Why Are Most Street Motorcycles Not Equipped with Reverse Gear?
On a motorcycle, reversing up a steep slope is a real challenge. As a result, we wish our machines had reverse gear. However, most bikes do not have reverse gear because of a variety of reasons.
Due to their compact size and short wheelbases, motorcycles typically have narrow turning circles. To put it another way, backing up on a bike is not as necessary as it is in a car. Because it is rather lightweight, you may easily reverse your vehicle using only your legs if necessary.
There are several reasons motorcycles don't have a reverse gear, these three are the most important:
Transmission Complexity
Engineering issues are arguably the biggest reason motorcycles lack reverse gear. It's clear that adding the system to a motorcycle transmission would be challenging. This would greatly increase the transmission's complexity, potentially leading to more malfunctions, higher maintenance expenses, and much higher prices. That's why, rather than an extra gear, motorcycles with reverse usually use a separate electric motor (or the starter motor is attached to the transmission), which is a considerably less expensive and time-consuming alternative to installing a reverse gear to the transmission.
Weight and Bulk Constraints
Motorcycles have a lot less space than vehicles, so engineers try to keep the engine as tiny as possible. A reverse gear would not only make the entire engine larger, but it would also add a significant amount of weight to the machine. Extra weight is the last thing that designers want to add to a motorcycle. They're already hefty enough (some weigh a whopping 800 pounds), so we'd rather not add any more weight!
Motorcycles Can't Go in Reverse
While you can slowly reverse them, you won't be able to balance a motorcycle traveling in reverse at higher speeds. This is due to the rake angle of a motorcycle's front fork, which helps maintain the machine straight and balanced when traveling ahead. Unfortunately, this does not operate in reverse, making it difficult to ride a motorcycle backward. However, certain touring and cruiser motorcycles are fairly hefty, making manual movement difficult; this is where an electric motor reverse mechanism comes in handy.
Is It Possible to Add a Motorcycle Reverse Gear System?
Yes, you can typically add a reverse to your motorcycle if you really want to. This isn't necessarily an extra reverse gear on your transmission, but rather a separate electric motor powered by the battery.
Aftermarket Electric Reverse Kits
These motors are available as aftermarket kits, which you can have installed by a motorcycle mechanic or do yourself if you have the patience. This is normally simpler with trikes, although huge touring cycles can easily do it.
These reverse kits are quite convenient and offer numerous benefits, but they do have drawbacks that you should consider before installing them on any motorcycle.
Pros
Help backing up for large touring bikes and trikes

Easy to install

Relatively inexpensive.
Cons
Very little power

Drain the battery

Prone to breakdown.
Mechanical Reverse Gear Transmission Kits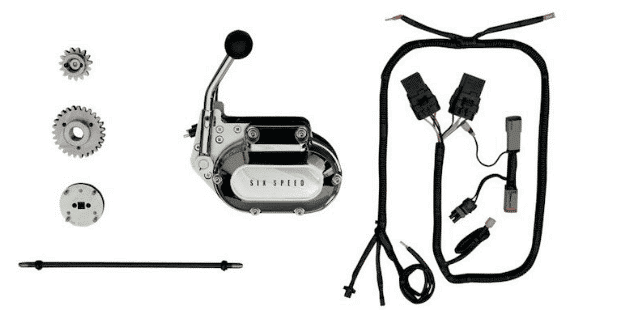 Another solution is to replace your motorcycle's transmission with one that includes reverse gear. These operate better since they use the engine's power.
However, they are much more expensive and complex to install. This is generally only a good option if you have a very heavy trike, one that weighs over 1,000 pounds.
Pros
Capable of moving a much heavier load

Suitable for heavier trikes and scooters

More reliable than electric motor kits.
Cons
More expensive

Complicated mods may be involved.
Reverse gear is not necessary on lighter bikes, like Kawasaki Ninja 400, or generally CBR500R and below, since the user can generally back the bike up without it. Even nimbleness and modernity renegades like Harleys and the Royal Enfield, which are laden with heavy heaps of metal may not qualify for the weight class requiring reverse gears, particularly mechanical ones that use engine power. Because they can readily be moved about by hand, a reverse gear would just add unneeded weight and pose a risk of malfunction. Furthermore, adding extra gear would increase the cost of manufacturing motorcycles.
What Are the Costs of Adding Reverse Assist to a Motorcycle?
Mechanical reverse kits typically cost between $1,100 and $1,500. Don't forget about the labor expenditures! Even if the kits provide extensive installation instructions, it's best to leave it to the specialists. Electric reverse kits are a good option if you're seeking something cheaper. Not only are these systems less expensive than mechanical reverse kits, but they are also simpler to install.
How to Manually Reverse a Heavy Motorcycle?
Because reversing a large motorcycle is difficult, the ideal practice is to drive it ahead and in a circle. However, you can find yourself in a scenario where you have no choice but to back up your bike. If this occurs, you'll need to know how to reverse a large bike that doesn't have reverse gear.
In a nutshell, the following are the most usually utilized solutions:
Duck Walking: Reverse "walking" on a motorcycle: The safest approach to reverse a heavy bike is to carefully walk backward while remaining seated in the saddle (also known as "duck walking"). This isn't just for rookie riders, contrary to popular opinion!
Pull Back Lighter Method: Standing on the side of the motorcycle, hold both handlebars and gently pull the machine rearward. Always keep an eye on the direction you're moving your bike!
Pull Back Heftier Method: Put your right hand on the back seat/passenger handle while your left hand is on the left handlebar and pull back. Please note that because you forfeit access to either brake by assuming this position, this method only works on flat terrain!
Pro Tip: While some riders sometimes spin their bikes on the kickstand to achieve a zero-turn, doing so with a big motorcycle is not recommended! It's easy to end up with a damaged kickstand or other damage or injury to self as this is not the manufacturer's recommended way to use the side stand, keeping in mind the extra luggage and metal fatigue in the side stand with age.
Final Thoughts on Which Motorcycle Has Reverse Gear: Is the Mechanism Worth It or Just a Sales Gimmick?
Large cruisers and tourers are difficult to move by hand, especially for senior riders. As a result, some motorcycles, such as the Honda Goldwing, BMW K1200LT, R 18, K1600 series, and the Yamaha Star Venture TC, have standalone reverse motors, while others, particularly trikes, have gearboxes with built-in reverse gears. It's also worth mentioning that, for good reason, factory-built trike motorcycles nearly usually incorporate reverse.
In the case of trikes, you can even ride backward on them. Trikes are not only heavier but also more difficult to control than their two-wheeled counterparts. That's why all Ural sidecar bikes, Piaggio MP3 500 trike, Can-Am Spyder and Ryker trikes, and Harley-Davidson Tri-Glide and Freewheeler three-wheelers all have reverse. With the exception of the Tri-Glide and Freewheeler, Harley-Davidson does not manufacture any vehicles with a reverse gear system. Some e-scooters, like the Bajaj Chetak, Ather 450X, and TVS iQube, are equipped with a reverse mode, too.
If you're thinking about installing reverse gear, keep in mind that electric motorcycle reverse kits can also be installed on many normal bikes! The choice of whether to add a mechanical or electrical one depends on how greasy you want your hands to get, your handiness with tools, and your budget.
A good rule of thumb would be to go with the manufacturer's specifications. They understand that we do not have superhuman strength and will allocate rider aids where necessary. That said, not all motorcycles are built especially for your height, weight, and stature. Choose a bike you can manage; reverse gears or not, you might have to pick the bike up in the mud! Above all, know how to back up your bike properly. Riding in reverse is unstable, which is why you need to "walk" the motorcycle backward, even if it has a powered reverse.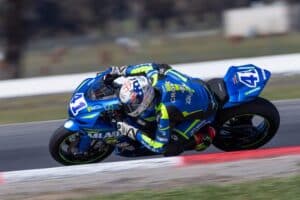 I've diligently categorized my motorcycle gear recommendations into all available categories, with the aim of providing you with a comprehensive analysis that showcases the absolute best options for all your needs. These items are the culmination of in-depth research, extensive testing, and personal use throughout my vast experience of 50+ years in the world of motorcycling. Besides being a passionate rider, I've held leadership positions and offered consultancy services to reputable companies in over 25 countries worldwide. To See Our Top Picks and the Best Prices & Places to Buy: Click Here!
Information for this article was partially sourced and researched from the following authoritative government, educational, corporate, and non-profit organizations:
FM/A