Touring is one of the most rewarding experiences for motorcycle lovers. Going on these long adventures requires the perfect bike to provide comfort and quickly take on different grounds. The issue of the ideal motorcycle for touring has always been out of contention. I would say that an adventure bike is the best choice for traveling, but it is not always the case.
Adventure motorcycles provide a more comfortable touring experience thanks to their design. They are versatile and have a better performance for long-distance traveling. And besides, if you don't like particular aspects, you can easily customize them.
Adventure motorcycles such as the 2022 KTM 1290 Super Adventure R have specific features which make them ideal for the most challenging terrains. These include long service intervals, low fuel consumption, and wide adjustable handlebars for maximum control, comfort, and stability when riding for long hours at high speeds. However, these monsters are often challenging for most riders due to their size and weight and taking them on tour can drain out the fun.
Are you weighing thinking of taking an adventure motorcycle for touring? This post will help you decide if adventure bikes are the best choices for touring and why. Read on to find out.
Is An Adventure Bike Good for Touring?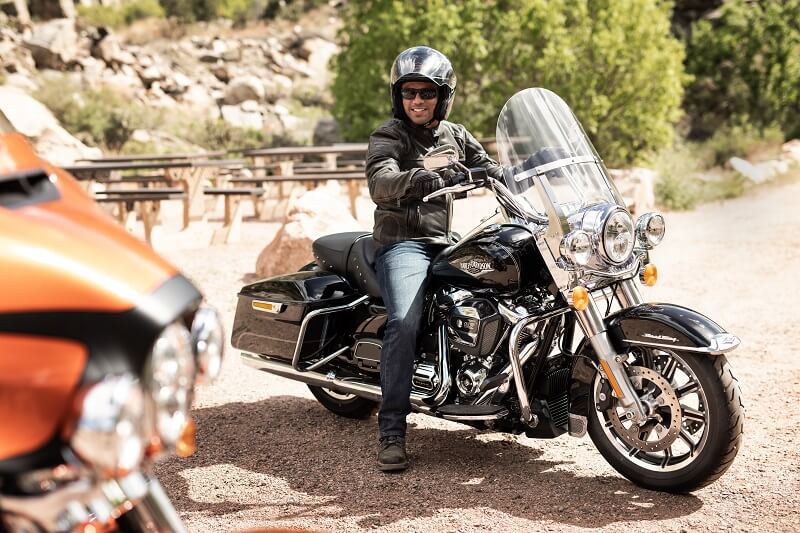 When touring, the performance of a motorcycle is critical as it determines the ease and efficiency with which you travel from one point to the other. Generally, adventure-designed motorcycles have good engine capacities with excellent performance.
With a higher capacity/performance engine also comes high fuel consumption, which might prove uneconomical. And if you are looking for a touring motorcycle with high performance, you might have to consider fueling more often.
Why Are Adventure Bikes Good for Touring? Here Is Why.
Comfort and Ergonomics
Comfort is one of the major concerns for riders on tour. Modern adventure motorcycles are designed for comfort, with seats providing a comfortable position for the rider and pillion. The ergonomics on adventure motorcycles are designed for good posture and better visibility, ensuring riders' comfort over long distances.
ADV motorcycles often have low pegs and high bars, which make standing easier for the rider. These features also help ease pressure on the rider's arms, neck, back, hips, and knees. And with an adjustable suspension, the rider can comfortably take extra luggage or passengers.
Of the different types of motorcycles, adventure bikes are way more reliable, and if you are touring in one, you have more minor concerns about the motorcycle. As a result, you can take longer rides with more comfortable seat time.
Also, most adventure motorcycles have comfort features such as heated grips and seats and cruise control, which makes riding more fun. With larger stators, the rider can plug in their heated gear and charge other electronics without draining the battery.
Ease Of Customization
A significant advantage of adventure bikes is that they provide more room for prepping or customization. If you purchased an adventure motorcycle for touring and are unsatisfied with its specifics, you can have it customized to match your style and needs, such as performance and comfort.
You can closely customize all aspects of an adventure motorcycle, including the riding gear, seats, headlights, taillights, luggage systems, and crash protection. You can also get adventure-ready gear such as all-season riding suits and communication systems. Additionally, there is an extensive wheel choice; you can fit any tires you like depending on the riding conditions.
Ease Of Maintenance
Like other motorcycles, you can buy single-cylinder adventure motorcycles, which are often easier to maintain. Remember, there is a downside to this, as these motorcycles often come with lower power.
Also, modern designs of ADV motorcycles have more extended service intervals, with some requiring valve checks after more extended periods. These bikes' materials and components are also designed for harsh, extended touring, with some adventure bikes of 1200cc and above having shaft drives which reduce the need for maintenance.
Adventure Experience
Adventure motorcycles often feature the most recent designs. They also offer riders an entirely different riding experience with ample torque and high power. When design and power come together, the two create a remarkable sporty, steady, comfortable touring experience. With the ability to take on off-road terrains, riders on adventure motorcycles can tour regions of choice with minimum limitations and worries.
Also, modern large displacement adventure bikes have more advanced automated features for safety and increased performance. They often have performance-altering bells and whistles, riding modes for varied weather and terrains, ABS, and traction control. As a result, the rider is more confident, and riding is more fun.
Other Benefits of Adventure Bikes:
They are often believed to be safer for experienced riders

Adventure bikes have more especially inbuilt features for touring

They have a simple body structure, making them easier to dismantle and put together; thus, a rider can quickly diagnose and fix problems.

Some adventure motorcycles are relatively affordable, and their maintenance cost is often much lower.
How Do You Choose a Touring Motorcycle?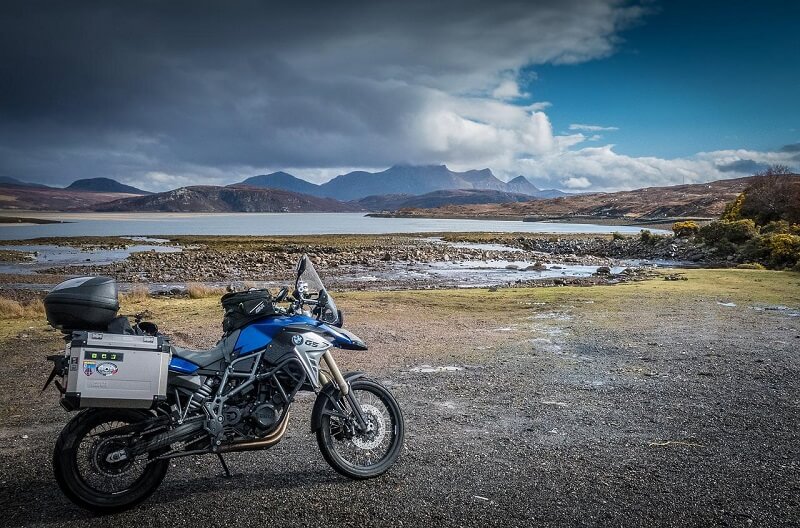 Adventure motorcycles are built with all the necessary features and accessories for touring. However, everyone has different needs when choosing a touring bike which often depends on their style and where they plan on traveling.
The idea is to have fun with the motorcycle being the least of your worries. It is important to note that an expensive adventure bike will not always reward you with the fun you desire on your trip. Here are some factors you need to keep in mind when choosing a touring motorcycle:
Tarmac vs. Off-Road
If you are planning on touring, you need to assess the terrain and find the best-suited motorcycle. Finding a motorcycle that can handle tarmac and off-road is often best. Adventure bikes have all the ideal requirements for touring, such as big engines, suspensions, clearance, multiple riding modes, and cruise control. For instance, extended suspension travel boosts ground clearance when touring off-road, on harsh terrains, and through potholes.
Unfortunately, they are not often the best choice for off-road touring with challenging terrains. Even the most experienced off-road bikers have challenges handling these heavy machines on some difficult off-roads. As a result, it is often a better option to go for the middleweight adventure motorcycles.
The tire tread pattern is also a significant consideration. Tires with huge tread blocks are ideal for off-road, but they wouldn't be suitable for tarmac, especially wet ones. The road ratio to off-road is essential in choosing motorcycle tires and sizes, among other features.
Professional riders attest that as long as you go on-road and off-road, different tire choices are likely to pose some challenges. For instance, 50/50 compound tires promise to do well on-road and off-road, providing a good compromise.
Adventure bikes often come with large wheels for a better touring experience, and with a proper tire size combination, you can comfortably take on different terrains with minimum challenges.
When touring off-road, you also need more rigid wheels that can stand significant battering without giving way. Also, remember that tubeless tires are more accessible to fix than tubed ones. They will, however, cost you more.
Adventure bikes have high-powered engines, which might be challenging to control for the average rider. Also, the bike will be hard to handle in mud.
Related: Best Lightweight Motorcycle for Touring on and Off-Road 2022?
Weight Of the Motorcycle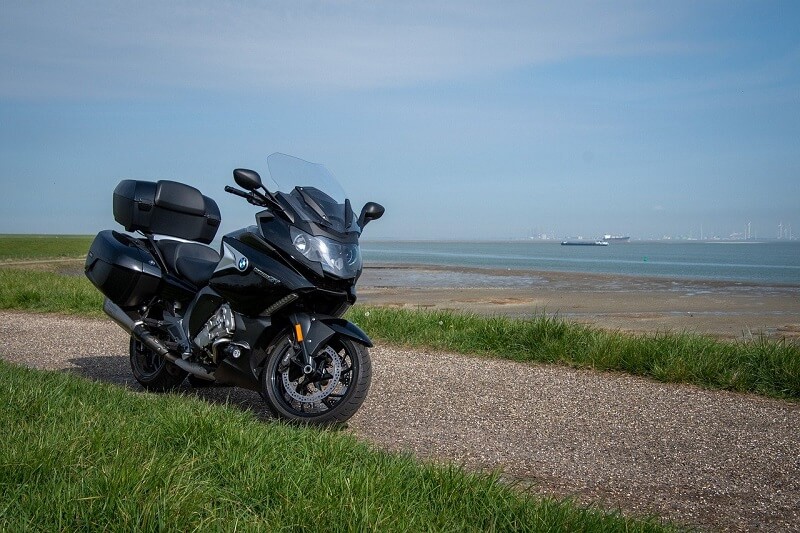 The motorcycle's weight is a significant consideration when choosing a touring adventure motorcycle. If most of the touring is off-road, you will do much better with a lighter motorcycle. Also, with a more lightweight bike, it gets easier to pick it up whenever it drops, and the amount of luggage you can take is limited.
Smaller motorcycles don't offer much speed on the road, and touring trips may take longer. Nonetheless, this could be an advantage to some people as they have more time for sightseeing.
Comfort
The more comfortable you are on the motorcycle, the more fun you will likely experience on your trip. Adventure bikes are designed for comfort when taking long trips. Consequently, they offer better visibility and an upright sitting position. Also, you can make alterations to your motorcycle to make it more comfortable for your tour.
Motorcycle Tank Size
Depending on where you are going, you need to factor in the tank size of your motorcycle. In some regions, you will hardly find a refill station within an extensive distance. In such cases, you might consider the option of having a larger tanked motorcycle as well as carrying spare fuel containers.
Luggage System
The adventure motorcycle you choose should also handle your luggage. Depending on the type of adventure, if you are touring for a long time, you might need a large piece of luggage. Remember to factor in your weight when you think of luggage capacity.
Repairing The Motorcycle
If you are touring long distances, your motorcycle will likely break down at some point. You will not always find a repair shop nearby, which can significantly impact your trip. It helps if you carry out simple repairs on your motorcycle, such as plugging a tire or changing a tube. You may consider taking up an introductory mechanic course. Also, the more familiar you are with your motorcycle, the higher the likelihood of fixing it.
Spare parts might also be a problem depending on the type of motorcycle and the region you plan to tour. Sometimes, you might have to order spare parts from abroad, which might take more time and logistics. For this reason, you need to plan, get the necessary contacts, and set aside extra time on your tour.
Which Adventure Bikes Can I Take Touring?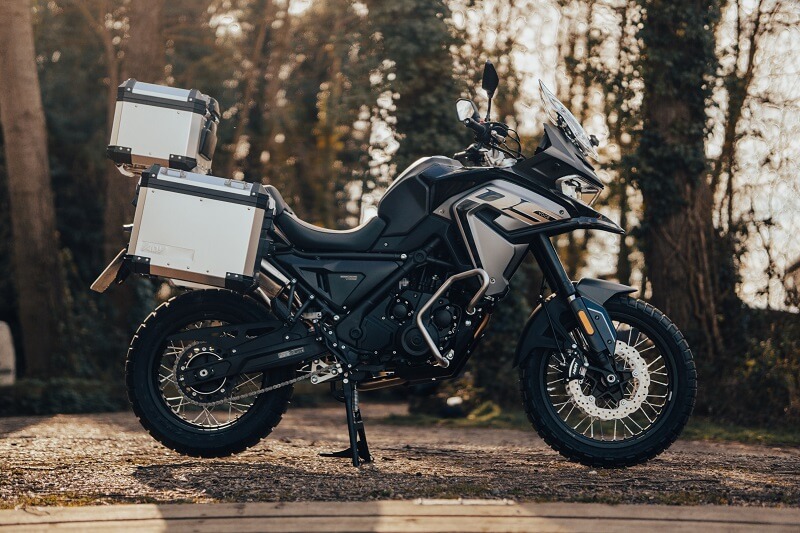 The choice of a touring bike depends on the rider's taste, style, and needs. With all the information above, you are probably wondering which adventure motorcycle model is best for touring. In this section, we will be looking at some of the trending adventure bike models you may consider for touring:
Honda 2022 Africa Twin- a reliable touring motorcycle with a 1084cc twin cylinder engine popular for its performance in off-road touring.

Kawasaki KLR 650- ideal for on-road and off-road touring, medium-sized, comfortable, reliable, and affordable.

Aprilia Tuareg 660 –is a lightweight and highly performing motorcycle for an off-road touring experience.

KTM 390 Adventure is a reliable, lightweight design with a single cylinder and 373cc, perfect for touring.

Ducati Desert X- structured for modern touring needs, specifically off-road, with 21 "front wheel and 18" rear and long stroke suspension, among other specifications.

Yamaha Ténéré 700 – ergonomically designed for touring with a narrow body and fuel tank, flat seat for maximum rider agility. Boosting the rider's confidence when riding as they can firmly grip the tank even when standing.

Triumph Tiger 1200 – a large capacity engine of 1160cc, 240kg designed explicitly for road adventure with performance, comfort, and style.

KMT 1290 Super Adventure- one of the trending adventure motorcycles designed for harsh terrains with utmost performance and comfort.

BMW R1250GS – commonly referred to as the "queen of the touring enduro," specially designed for touring the hardest-to-reach places with comfort and undisputed performance.
Final Thought: Is an Adventure Bike Good for Touring?
Adventure motorcycles are suitable for touring. With the right-sized bike, you can quickly move from one region to another. A wide range of motorcycles can serve the purpose, but first, one must assess the riding conditions. Touring is all about fun, and the bike you choose for your trip should solve the imminent challenges without posing new ones.
Information for this article was partially sourced and researched from the following authoritative Government, educational, corporate, and nonprofit organizations:
About the author:
Michael Parrotte was the Vice President of AGV Helmets America, and a consultant for KBC Helmets, Vemar Helmets, Suomy Helmets, Marushin Helmets, KYT Helmets, and Sparx Helmets. In addition, he is the founder and owner of AGV Sports Group.
Click here for all of Michael's contact and Social Media information https://parrotte.com/
Click here for all AGV Sports Group Social Media information http://agvsport.info/
WWBP/GM