For the majority of people, owning a sport bike is a long-awaited dream come true. These road sportsters deliver supercar-level performance without costing more than a commuter. And the best part? Today's models come with advanced rider aids, making them incredibly safe. You no longer need to be fearless or experienced to hit the road on these powerful two-wheelers. Yes, they're in no way tame, but modern sport bikes are much more approachable. Yet the question still remains — is it hard to ride a sport bike?
Yes, sport bikes are harder to ride because the riding position is much more cramped and compact than a standard motorcycle, resulting in discomfort for some riders, including wrist pain or a sore back. You'll also have to make adjustments to the differences in throttle response, clutch control, and riding awareness while learning to handle the bike's power, size, and weight. But, let's not forget the excitement factor! It may be hard to ride a sport bike, but the rush of the wind, the thrill of the speed, and the pure joy of the ride make it worth every bit of effort.
A biker who has experience with other classes of motorcycle will be better positioned to adapt to a sports bike than a beginner. And if that's a concern you have, you've come to the right place. In this post, I'll offer some of the best riding tips you can use to enjoy your ride more without worrying about any discomfort afterward.
8 Tips for a Comfortable Sport Bike Riding Position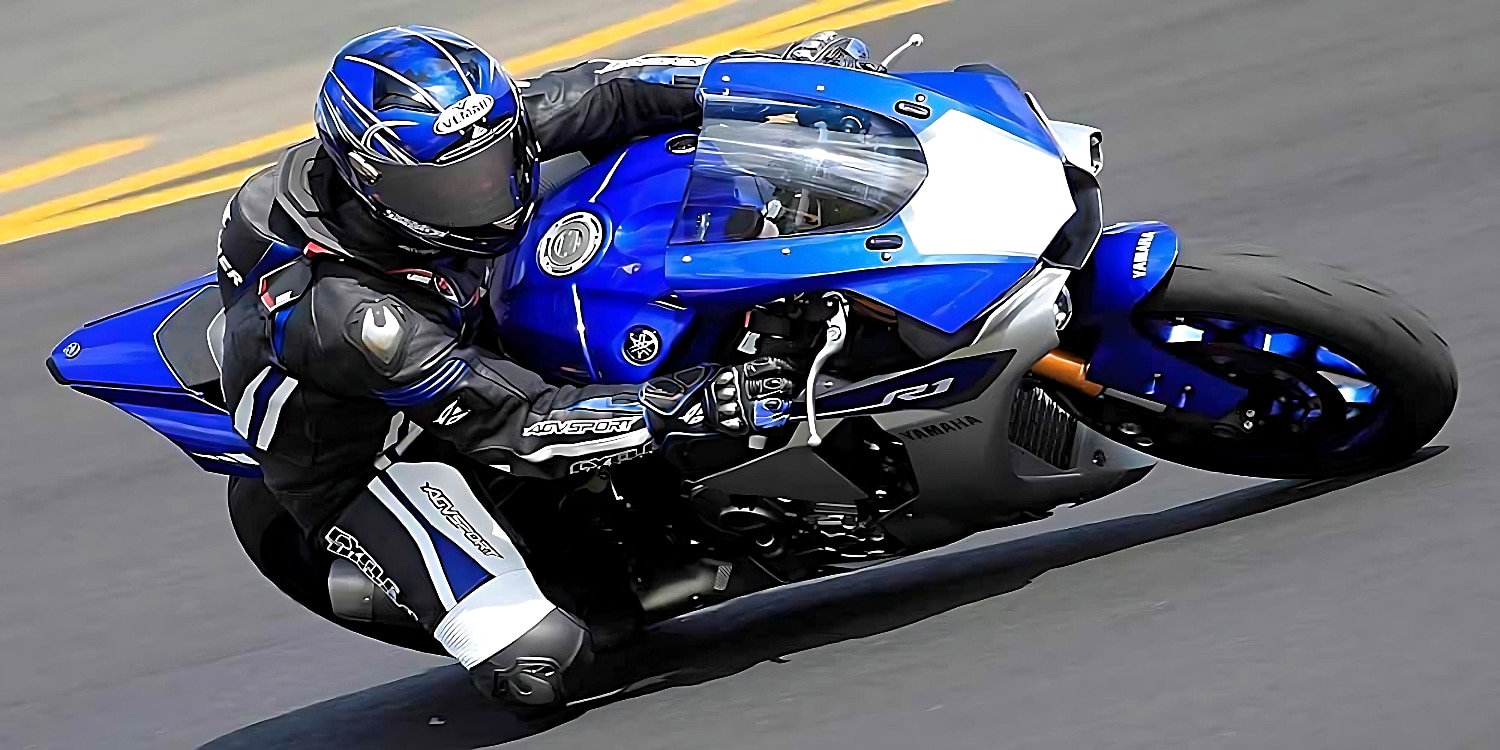 A fearless racing rider dressed in a sleek AGVSPORT suit leans into a tight turn on a Yamaha R1 SuperSport motorcycle. With one knee confidently dragging on the track, this rider embodies the thrill and excitement of high-speed racing. The foundation for a good body position starts unsurprisingly from how you set up your lower body. It's the base you create with your lower body that allows you to achieve the ideals of a good body position when riding a sport bike.
Whether you're a novice rider or already have experience riding motorcycles in other classes, the following tips will help make your everyday riding that much more fun with your sport bike. Note that this advice isn't meant for riders hitting the track. It's guidance for motorcyclists using their sport bikes for normal commuting, highway cruises, lane splitting, cornering, and the like. Let's delve right in.
1. Gear Up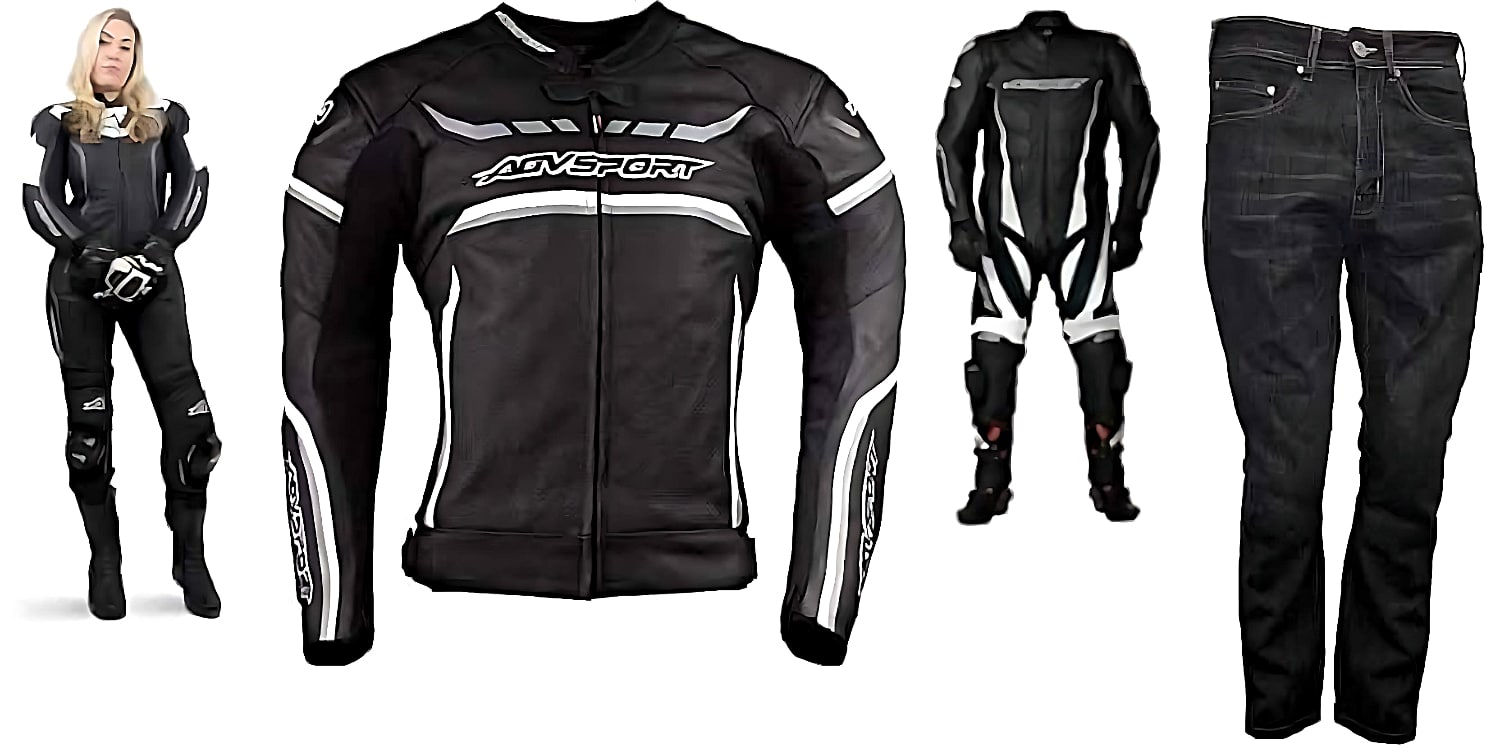 From left to right: AGVSPORT's Ascari Jacket Perforated Leather Jacket, Protective Armor CE Level 2 Super Alloy Jeans, Imola Dona 2 Piece Suit, and the Monza Race One-Piece Suit are built not just for protection in the event of an impact or a fall but also to ensure that you stay comfortable in your sport bike' saddle.
Even for veteran riders, there's some risk involved in operating a two-wheeler. And gearing up before you get on your sport motorcycle helps cut that risk. The idea is to ensure you're as protected as possible in the event of an accident.
The truth is that sport bikes can attain high speeds, making it easier for debris, like wooden fragments and stone chips, to hit you in the face. Your best defense against these particles is a full-face motorcycle helmet like the AGV K6, which steps it up with a 5-density EPS liner, covered by a shell made from Carbon and Aramid fibers. The result is a lid that's not only comfortable to wear but also hard to break.
What's more, invest in some top-grade sports leather gloves and protective motorcycle boots to protect your ankles. Reinforced jeans made of Dyneema or Kevlar-reinforced jeans will also come in handy. And don't forget a high-quality motorcycle jacket, with exceptional options such as the AGVSPORT's Protective Armor CE Level 2 Super Alloy Jeans, the Ascari Perforated Leather Jacket, and the Imola Dona 2 Piece Full-Body Suit or the Monza Race One-Piece Suit providing excellent protection in the event of a fall or impact.
2. Try Moving Around in the Bike's Seat
As a beginner sport bike rider, moving around in the seat might not come naturally. Unlike your usual bench seat, your motorcycle's seat has multiple natural places you can sit. You'll be moving around a lot while on your machine, so it's best to get used early.
The first time you get on your bike, try moving your backside around before settling in to get a feeling of the seat. Identify the spots you like the most before you start riding.
3. Use Your Feet's Balls
You'll want to be in full control of your sport bike, and the best way to do so is to step on its front pegs with each of your feet's balls. Doing so gives you more leverage. It also keeps your knees elevated, which is what you want when you're trying to grip your beast's tank with your knees as you ride.
4. Use Your Knees to Hold the Tank
The design of sport motorcycles features a tank specifically shaped for riders to grip with their knees. This way, you stay in position while braking or cornering. For newbies, it's a little difficult to get used to holding the tank with the knees as it requires using a new set of muscles. But don't let that worry you — things get easier with time. The trick is to avoid gripping the tank too hard so that you don't get tired.
5. Ensure Your Shoulders Stay Back
Keeping shoulders back is something weightlifters are aware of. You'll be using the same principle every time you ride your beast. The idea is to allow your arms as wide a range of motion as possible. Your back also stays primed and straight in this position. But perhaps more importantly, breathing is easier when your chest is opened up, and most bikers find that they remain more focused and relaxed in this position.
6. Support Your Upper Body with Your Core
For sport bike riders, strong, flexible cores are a huge asset. It helps keep the spine aligned, protecting you from lower back pain that's often the result of over-exertion. So, how do you strengthen your core and keep it flexible? Weightlifting, powerlifting, yoga, and kettlebell swings are some exercises to try.
If you occasionally ride long distances, you may want to rest on your tank bag from time to time during the journey. That's because using the core for long periods can be exhausting. For shorter rides, holding yourself up is advisable.
7. Ensure Your Elbows Are Flexed and In
Another veteran moves to make when riding your two-wheeler is keeping your elbows near your center. Doing so will ensure your elbows are always in alignment. You want to protect your joints from lateral pressure.
The other benefit of keeping your elbows in the right position is that you get to centralize your COG. There's also less wind drag. More importantly, you always have control of your sport bike.
8. Go Easy on Your Bike's Handlebars
If you've already done everything we've talked about before, you can safely apply this tip. Softening your grip is intended to avoid straining your wrists. Gripping your machine's handlebars too hard can lead to the numbing of your hand. In the long term, it could damage your wrist due to the pressure you continuously apply in a single area and the vibration your wrist experiences from the motorcycle.
Common Body Positioning Mistakes When Riding a Sport Bike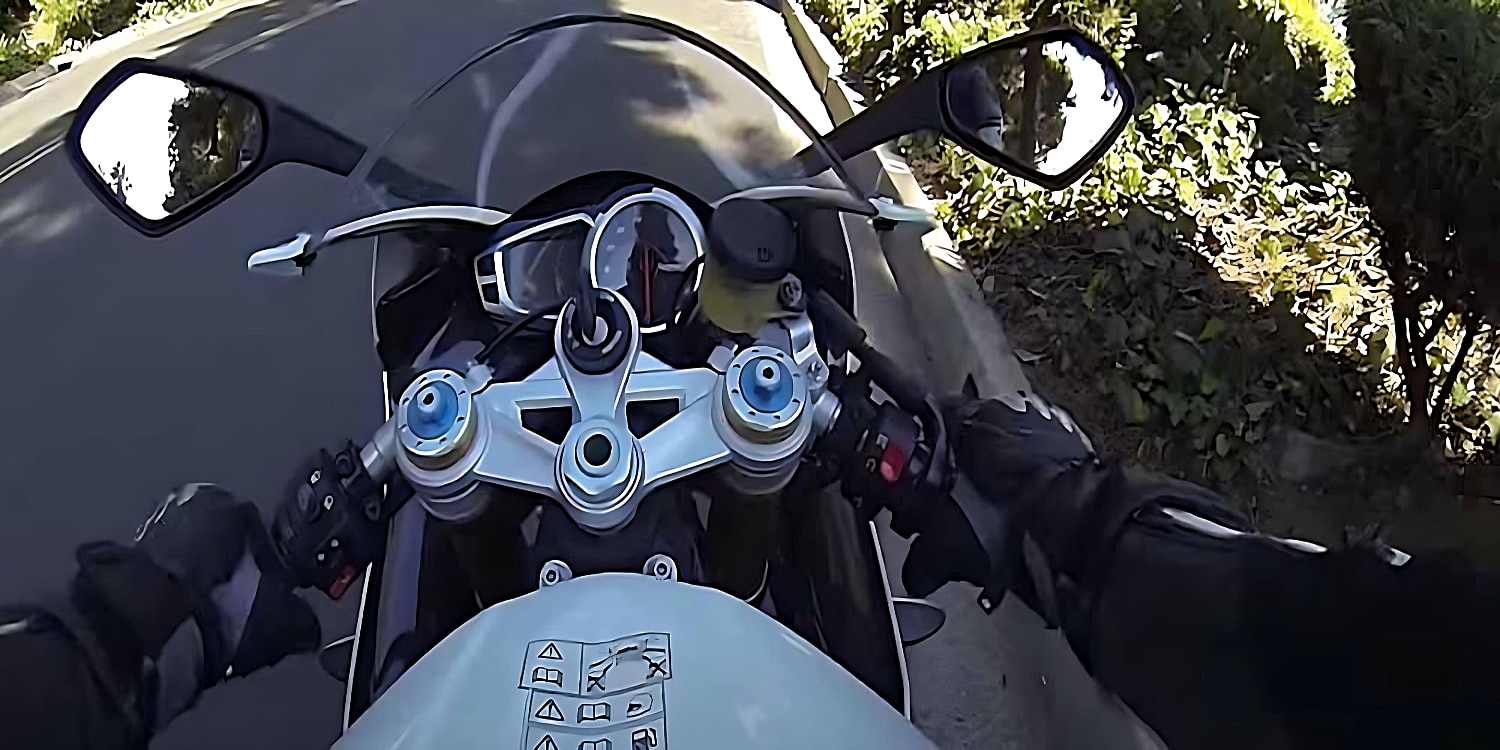 A rider on a sport motorcycle prepares to take off on a pavement surrounded by greenery, with their speedometer still showing 0 mph. Never lock your elbows while riding a sport bike. Keep your arms slightly bent to ensure they're more capable of absorbing the shocks and bumps.
You've now seen what you need to do when riding your motorcycle, but what about things to avoid? Here are some of them.
Locking Your Elbows: After you've been riding your beast for a while, you may feel like locking your elbows, so your back muscles or shoulders rest. Don't! Doing so will most likely cause wrist pain. In the long term, this could even become chronic.
Hunching Forwards: Whenever your shoulders are hunched, realize you're hurting yourself. As we pointed out earlier, riders need to keep their shoulders back. That's the same thing experts tell pianists and laptop users.
Staying in Full Tuck at All Times: Sure, a sport bike's design looks like it's designed for the full tuck position, but that doesn't mean riders should remain that way at all times. This position is meant for reducing drag and helping you attain high speeds. If that's not what you're trying to do, get out of that position. You'll want to sit up when braking or move your torso to one side as your corner. In short, full tuck is one of many positions you'll be using when you ride.
Whoa, Okay, That Was Just the Riding Position? What About Other Ways to Ride Your Sport Bike Effectively?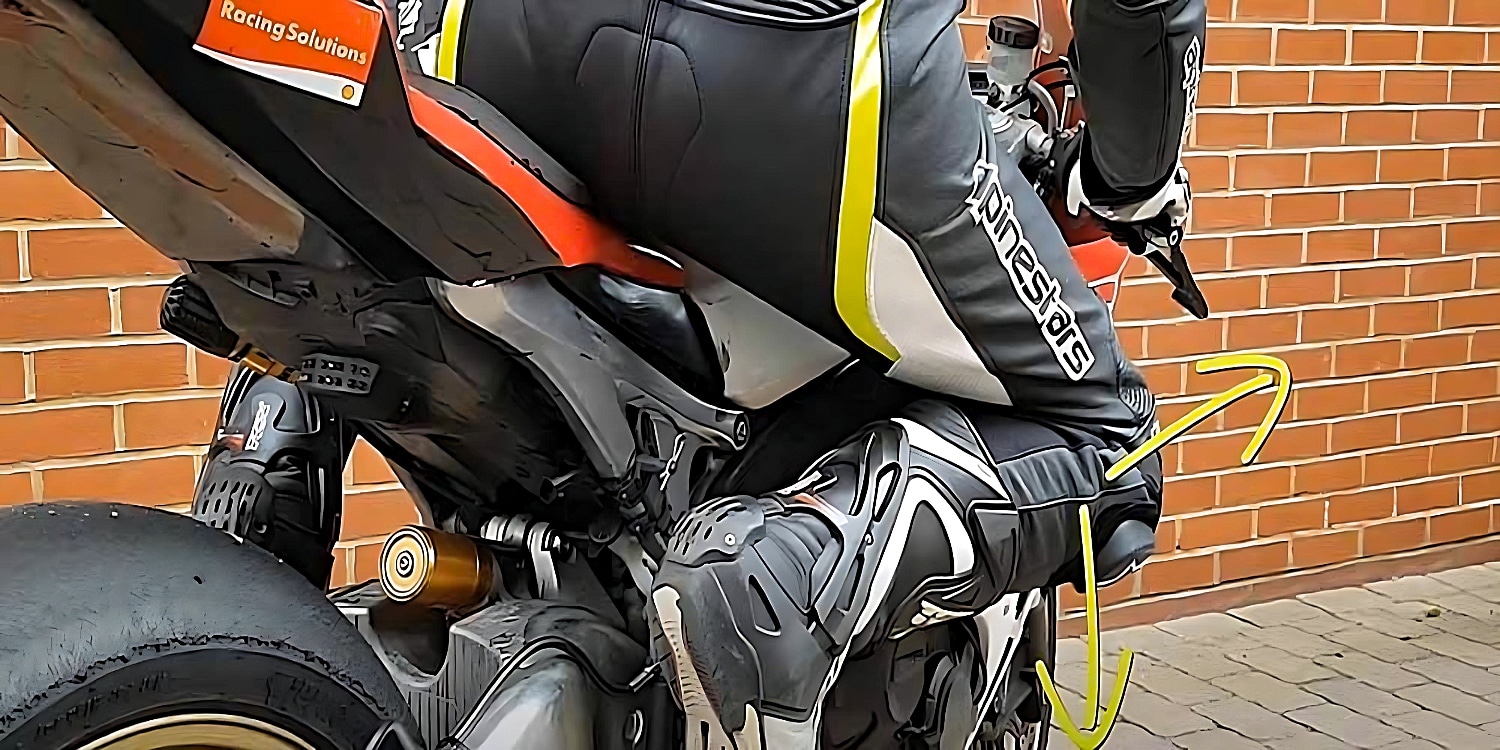 When making turns, sit a small way back from the tank, pushing your inside knee to the front of the bike and down rather than outward towards the tarmac.
There's, of course, much more to handling your powerful sport bike than just riding position. You'll want to get familiar with how the machine differs from other motorcycles in terms of tires, handling, braking capability, and throttle response. Ultimately, you want to have no problem handling the bike's size, weight, and power.
Here are 5 tips to help you get there sooner:
Learn How to Balance Your Bike
Getting to know your motorcycle's weight and how it shifts is essential here. Try bringing the bike up to an upright position as you stand next to it. Walk around the motorcycle while trying to keep it balanced in that upright position. The trick is keeping the machine perfectly upright.
You'll also want to get used to the location of your sport bike's center of mass. Try leaning the bike towards you with the kickstand lifted before bringing it up again to an upright position. The goal here is to familiarize yourself with its weight before you're forced to do so in a tough situation.
Learn How to Pull Away
Sport bikes are powerful machines, so you should never apply excessive throttle as you pull away. In addition, you should avoid releasing the bike's clutch too quickly. In most cases, riders can pull away without any trouble, even if they don't use the throttle. All it takes is selecting the first gear and releasing the clutch slowly.
Practice Shifting Gears
You'll be pleased to know that it's much easier to shift gears on your machine compared to doing so on a smaller engine size motorcycle. That's not to say that you shouldn't take time to get familiar with how your sport bike shifts. Set the beast up on a strong paddock stand. Then spend some time practicing how to shift the gears. Aim to get used to shifting the gears without ever needing to look down at them while riding.
Stopping Your Bike
Perhaps bringing your motorcycle to a stop is the most crucial lesson of all. If you haven't mastered this yet, work on it until you do. Almost every important aspect of a sport bike, from its weight to its COG, affects its reaction to braking.
Understand that roads can be unpredictable, and your tires won't always be in line when you need to brake. Practice how to brake in all circumstances. Learn the basics and practice until you can do everything well from muscle memory.
Making Turns
The first time you steer your machine, it will seem a little strange, especially if you're used to standard motorcycles. The dash on sport bikes is fixed, and to the rider, it may seem like the bike isn't turning when they are steering it. The good news is that this is something you get used to over time. That said, it's still important to try to learn this aspect of riding your motorcycle, so you don't keep making mistakes.
Caveat – Pick the Right Bike! The Best Sport Motorcycles [2023 Edition]
Since the Honda CB750 — the world's first superbike — manufacturing of sport bikes has increased dramatically over the years. The increase in the excitement of having the road sportsters and the popularity of the MotoGP World Championship impelled many enthusiasts into acquiring the machines.
Here are our top 5 picks for the best sport bikes of 2023:
Ducati Panigale V4 S

BMW S 1000 RR

Honda Fireblade SP

Yamaha YZF-R1M

Kawasaki Ninja H2
2023 Ducati Panigale V4 S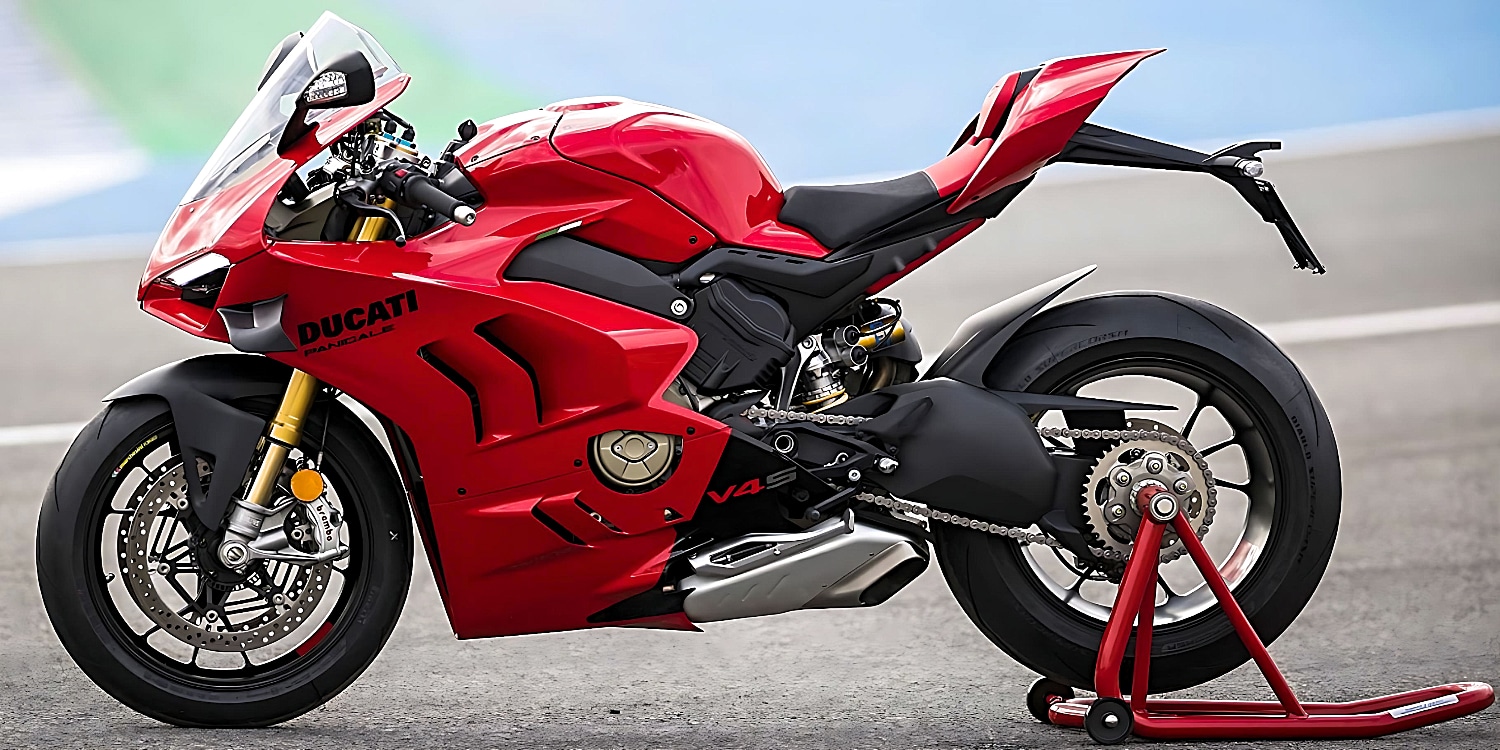 The 2023 Ducati Panigale V4 S motorcycle in red and black, securely parked on a red racing track stand with its back wheel off the ground.
A beautiful Ducati, in this case, the V4 powered Panigale V4 S, would complete any sport motorcycle collection. It raises the bar in terms of appearance, power, weight, and technology.
Her Ohlins electrically controllable suspension, cornering ABS, slide control, a lean-angle aware quick-shifter, a gorgeous TFT dash, and, of course, the stunning single-sided swingarm with no massive exhaust to ruin the lines are but some of the jaw-dropping features of the V4 S. 
For 2023, there is a new Engine Brake Control (EBC) EVO 2 software and thinner winglets for less drag, 210 hp at 12,500 rpm, maximum torque of 90.6 lb.-ft. at 11,000 rpm, SP2 oil pump, larger exhaust outlets, lengthened gear ratios, new Low/Medium/High/Full power modes logic, more suspension travel, improved Track Evo dash display mode, and an improved 33.5-inch seat height.
This new beauty will set you back upwards of $31,595 for the S model, $39,500 for the SP2, and almost $44,995 for the R version of higher spec.
2023 BMW S 1000 RR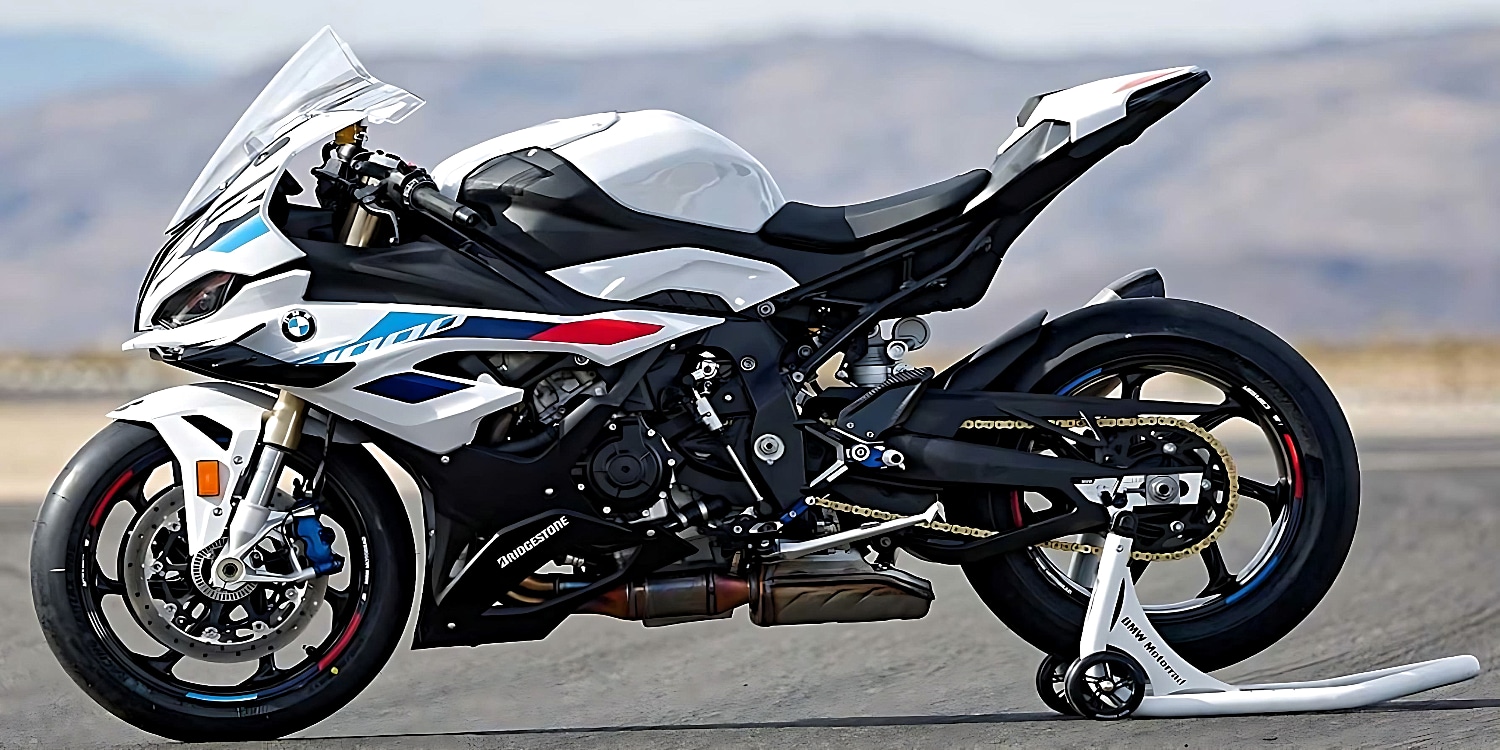 The 2023 BMW S 1000RR motorcycle in a sleek blue and white color scheme, safely parked on a white racing track stand with its back wheel suspended in the air.
The S 1000 RR was a game-changer when it debuted in 2005, despite the fact that its asymmetric design divided opinion. The giant manufacturer has been constantly evolving it since then, and the 2023 model is a completely new bike.
Like in the 2022 model, the wonky headlight is gone, power is up thanks to the high-performance BMW ShiftCam four-cylinder engine, weight is down, the dash is now a fancy color TFT display with connectivity, and LEGO® Technic™ electronic suspension is available. The new M Package even includes M Sport seat, weight-optimized Carbon Fiber wheels, and M footrest system, but the price increases to $17,895.
But if $17,895 isn't enough for you, BMW has announced the more pricier track focused S 1000 RR Sport, S 1000 RR Race, and S 1000 RR M Sport for 2023. They're more powerful, lighter, and comes with the majority of racing options, giving the likes of Suzuki GSXR 1000 a run for their money.
2023 Honda Fireblade SP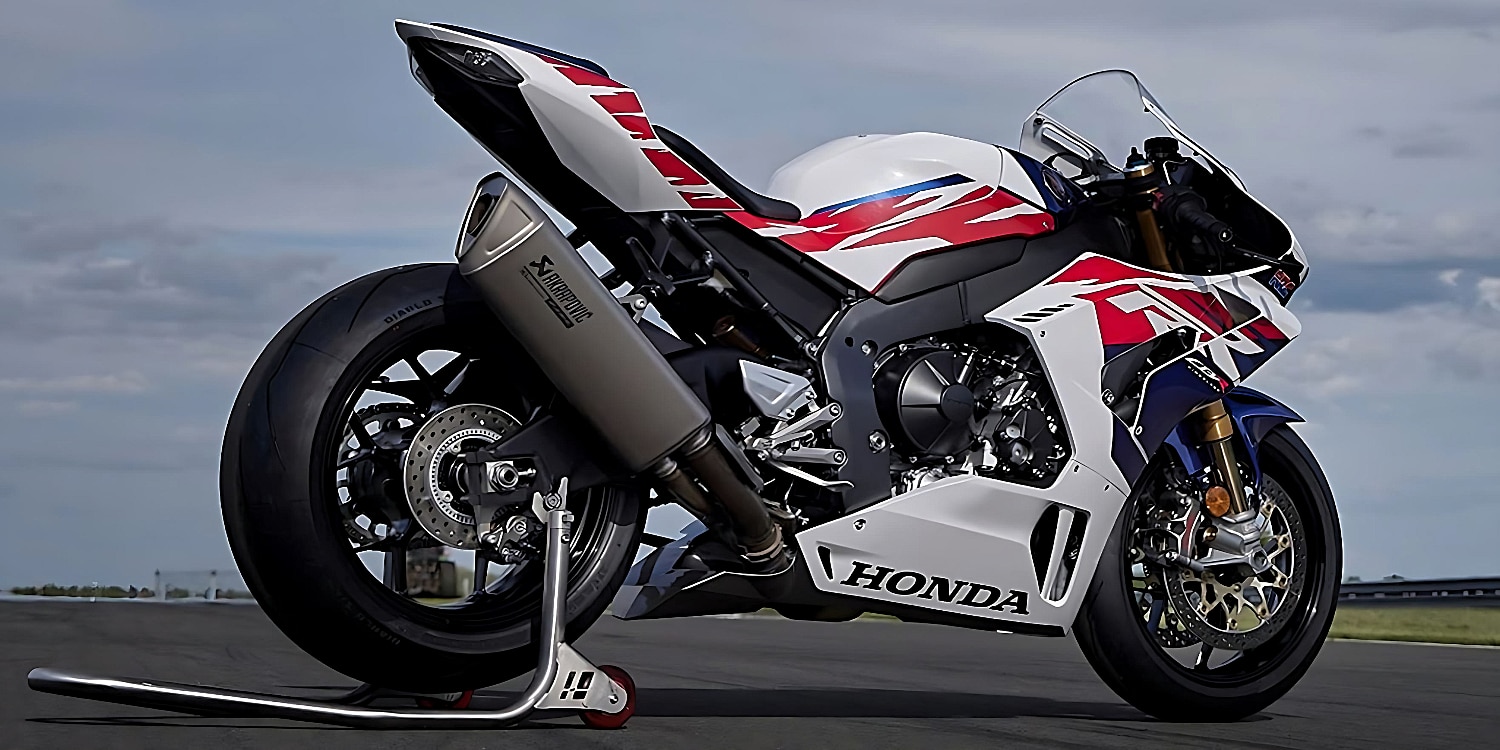 The 2023 Honda CBR1000RR-R Fireblade SP motorcycle in a sleek white, red, and blue color scheme, parked on a silver racing track stand with its back wheel elevated.
Honda continues to dominate the streets even after the pandemic in 2020/21 with the 2023 CBR1000RR-R Fireblade SP, featuring a more compact and powerful power 998cc inline 4-cylinder engine, HTSC and suspension electronics, new Stylema front brake calipers, larger front discs, winglets integrated into the new bodywork, Diamond-Like Carbon coating (DLC) and magnesium covers, a fancy full-color thin-film-transistor, and a specially designed Akrapovic exhaust as stock. It's completely track-oriented, comparable in size to the 600cc, but with a very aggressive seat height and posture.
The 2023 SP has astoundingly better mid-range acceleration thanks to the lower gearing, which allows it to zoom out on its rivals easily. This was achieved through a change in the rear sprocket (40 to 43 teeth). The bike also has smoother traction control than its predecessors and will feature the 55.3-inch wheelbase.
2023 marks a year after the 30th anniversary of the CBR900RR, when Honda released an anniversary edition with a special white/blue/red color scheme. The Honda Fireblade SP is a masterpiece of engineering, which will set you back a cool $36,011.
2023 Yamaha YZF-R1M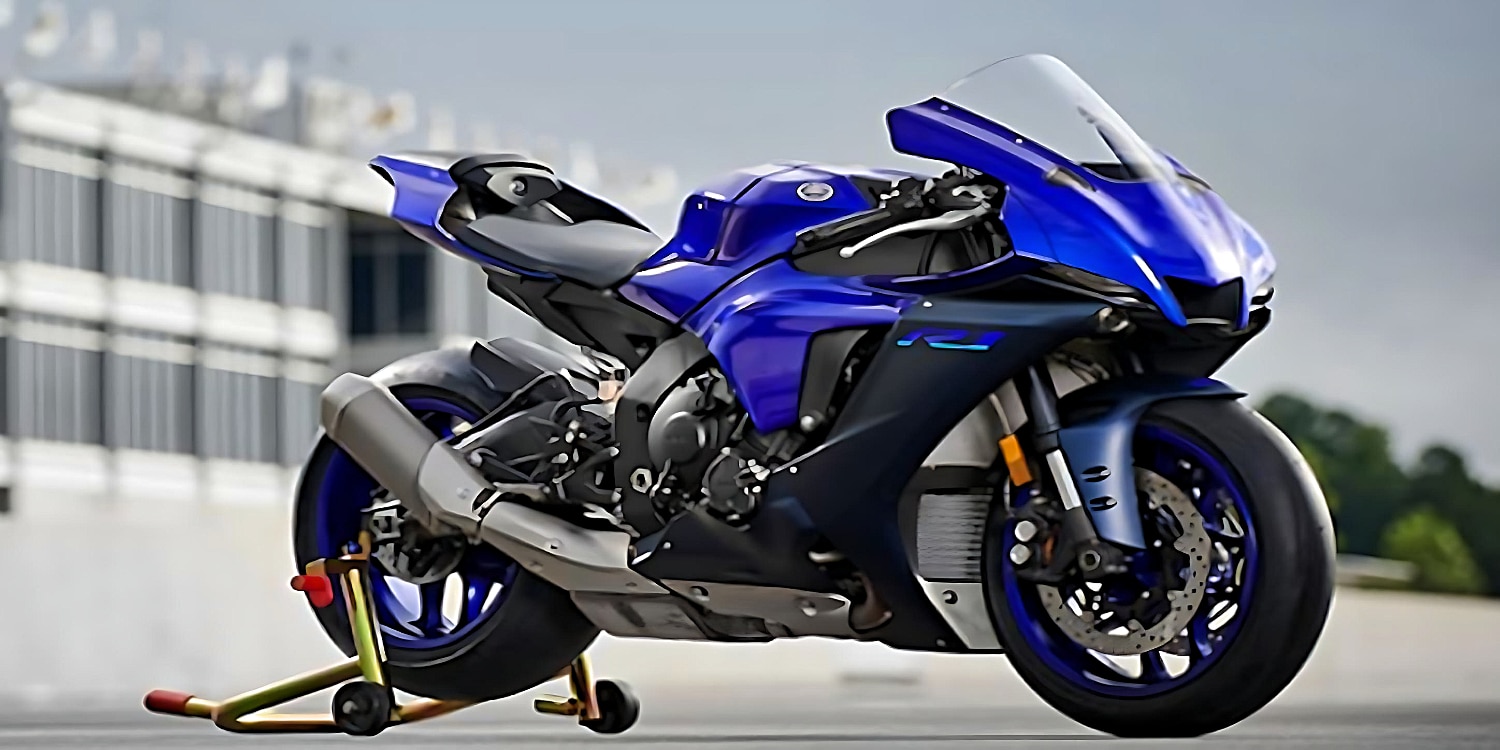 The 2023 Yamaha YZF-R1M motorcycle in all-blue is displayed on a brass racing track stand with elevated back wheel. Designed for performance, it boasts advanced technology, aerodynamics, powerful engine, optimized suspension, and cutting-edge electronics for top-notch speed and handling. Perfect for racers and motorcycle enthusiasts.
The YZF-R1M continues to build on the standard R1 model and features supersport braking and suspension performance, a new Ohlins® ERS system, featuring the NPX gas-charged front fork, full carbon-fiber bodywork/front fender/tail cowl, and a range of apps to set custom ride modes, track all data from the bike, and display a rerun of the race on Google Maps to the standard R1.
This machine is now only available to exclusive buyers who are willing and able to pay top dollar to the tune of $26,999. They even stamp a number on the top of the tank to indicate that it is a limited production run.
2023 Kawasaki Ninja H2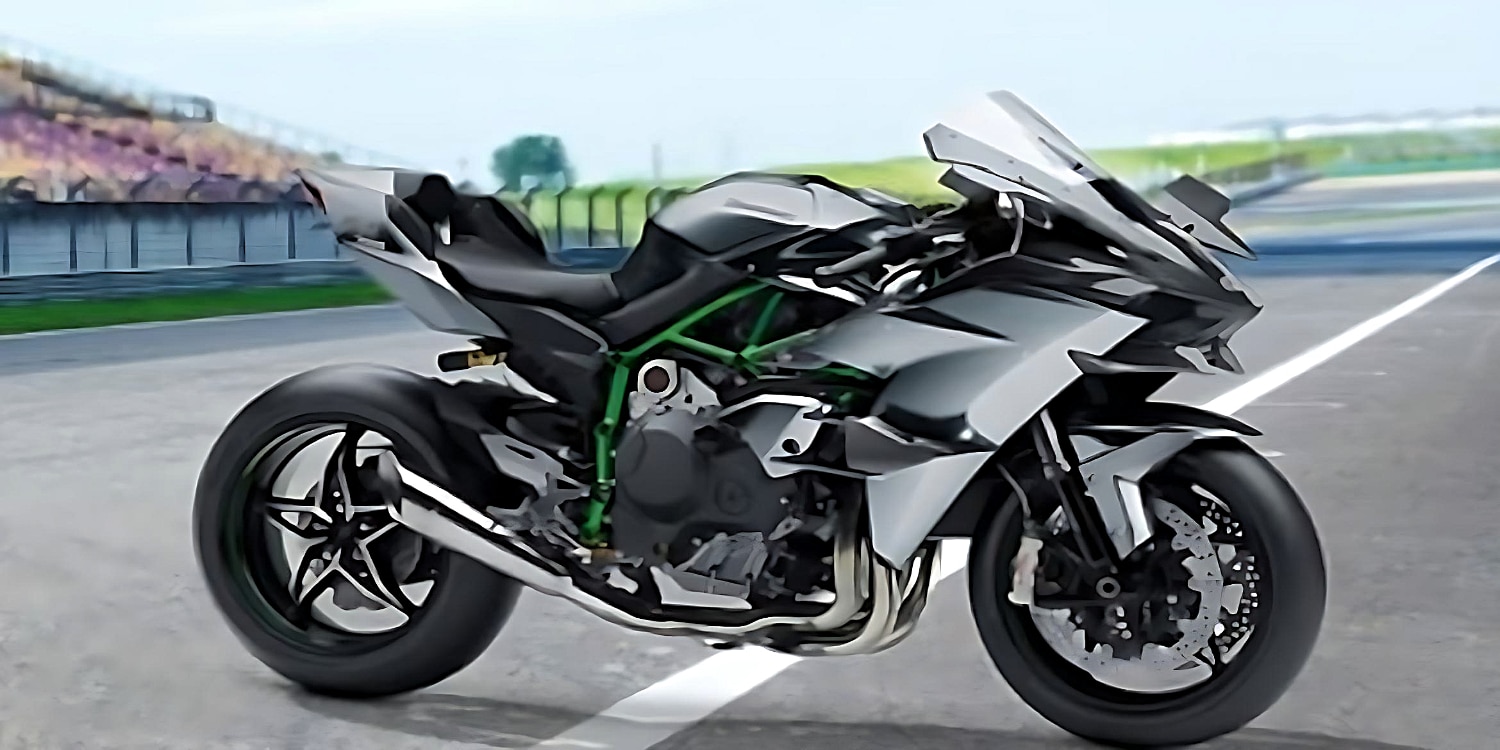 The 2023 Kawasaki Ninja H2 motorcycle is shown parked on a racing track. With its aggressive aerodynamic design and cutting-edge technology, this bike delivers exceptional performance and speed.
This Ninja H2 is the tamed road-focused version of the insane 2023 310-hp H2R, and it's worth considering if you want to win at Top Trumps. It's a top-tier machine with state-of-the-art tech for handling and safety.
The engine is supercharged, and between 2017 and 2019, it received all the modern technology you could want, including an up/down quick-shifter, cornering ABS, Ohlins TTX36 shock, Brembo Stylema brakes, self-healing paint, and a fancy TFT dash. Woo-hoo! Hold on tight, because this baby's got some serious power! I'm talking about a 988cc liquid-cooled 4-stroke DOHC in-line four cylinder engine that cranks out a whopping 228 horses at 11,500 RPM and a massive 104.9 lb.-ft. of torque at 11,000 RPM. Get ready to feel the rush of pure, unadulterated speed!
For this beauty of a beast, you'll have to part with upwards of $31,500. It's by no means a new release, but the Kawasaki Ninja H2 has received updates that ascertain its supremacy as an absolutely phenomenal road warrior.
Final Thoughts on Is It Hard to Ride a Sport Bike
A sport bike's size, design, and raw power make it a lot different to handle than a standard motorcycle. Due to its unique features, it can prove a little too much for someone who's totally new to riding. If one gets it wrong with the throttle, they could cause a crash. And because of the machine's massive turning radius, maneuvering this beast can be difficult.
In terms of comfort, it depends on your body type. It's possible that you won't get comfortable on the bike if your body doesn't match its design. Luckily, there are lots of other models that'll work perfectly for you. That said, sport bikes are a lot of fun to ride once you get used to one and your body type allows it. So, don't be afraid to experiment with one. You just might find that you love it!
About the Author
Michael Parrotte began his illustrious career in the motorcycle industry by importing AGV Helmets into the U.S. market. He then went on to become the Vice President of AGV Helmets America for 25 years, during which time he also consulted for KBC Helmets, Vemar Helmets, Suomy Helmets, Marushin Helmets, KYT Helmets, and Sparx Helmets.
In 1985, he founded AGV Sports Group, Inc. with AGV Helmets in Valenza, Italy. And for over 38 years now, the company has quietly delivered some of the best protective gear for motorcyclists in the world.
Click Here for Michael's LinkedIn Profile
Click Here for the Complete AGV Helmet & AGVSPORT History
Click Here for All AGV Sports Group Social Media Information