Motorcycle jackets are a staple for anyone who loves to ride. Being out in the open air, feeling the wind rush past, and conquering the road ahead are all made better when you've got the perfect leather jacket for your ride. If you love to ride, you may be wondering what the best leather for a motorcycle jacket is. 
In general, for most people the best motorcycle jacket leather is made of cowhide, which is strong, durable, wind proof and not outrageously expensive compared to some other types of leather.  However, there are plenty of different leathers to try. 
If you're looking to find the perfect leather motorcycle jacket that you can use for years to come, read on.
Best Types of Leather for Longevity and Protection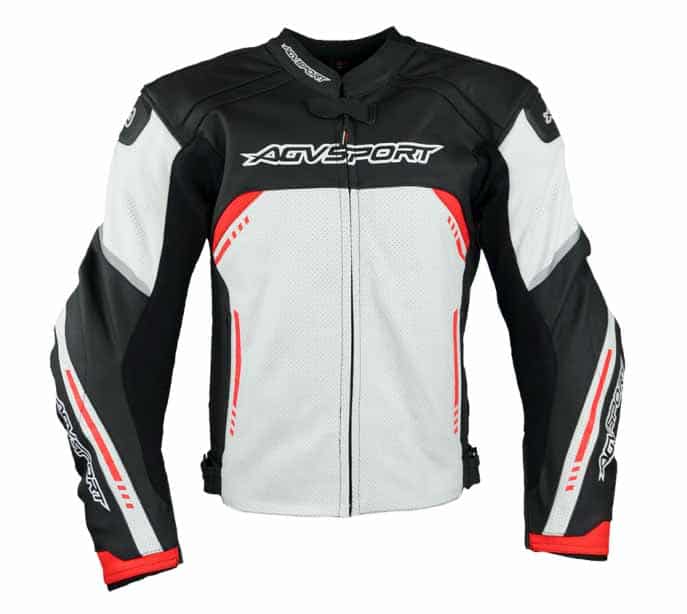 AGVSPORT Imola Men's Motorcycle Jacket
First, let's focus on the longevity of your motorcycle jacket. Since many motorcyclists take part in long trips across the country, a jacket needs to be one that can:
Hold up to the wind

Keep the owner safe during a fall 

Protect from small rocks, projectiles on the road, insects, etc.
Animal skin or rawhide is turned into leather, a raw material. This technique fortifies the hide, making it strong, resilient, and resistant to decomposition. There is a wide variety of leather varieties and styles with varying quality due to the various methods of creating leather and the various kinds of skin utilized. Cow or buffalo ride leather is the most popular type of leather used for motorcycle apparel.
For motorcycle apparel, leather is frequently and strongly advised, and its price reflects this. However, there is a general rule to go by when it comes to motorcycle jackets: the thicker the jacket, the better. Leather thicker than 1mm will be used in a good motorcycle jacket, with 1.2-1.4mm being the ideal thickness. For a combination of protection and flexibility, you want a jacket that fits like a glove rather than a shoe.
A leather jacket does just this. So, let's look at some of the most durable leather jackets available. 
Most frequently used in leather apparel are skins from cows, bison, deer, goats, lambs, and calves. In the motorbike business, however, cowhide, kangaroo, and goatskin are frequently used.
Cowhide Leather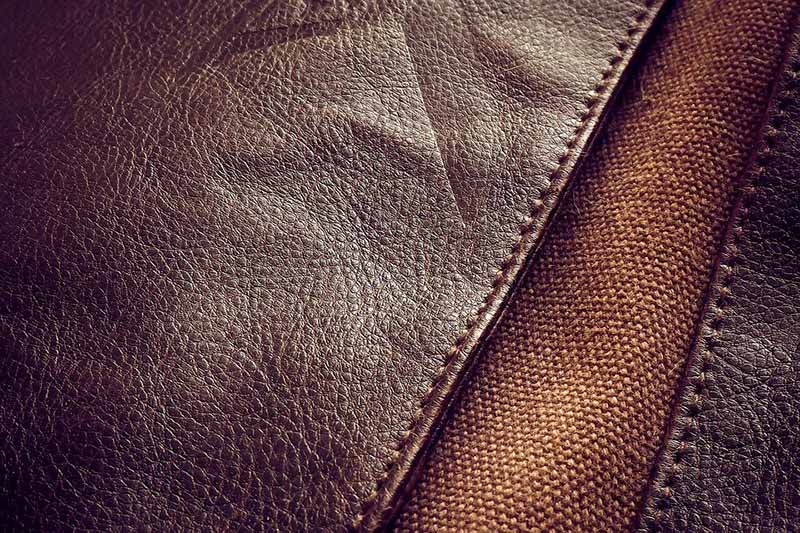 If you're looking for a long-lasting leather, cowhide leather is quite good best you'll get. Motorcycle jackets made from this type of leather are durable, thick, strong, and heavy. With cowhide, you'll have plenty of benefits, including: 
Staying warm or cold rides
Very abrasion resistant for protection in the event of a crash and fall. 
A durable design that protects from flying pebbles, insects, and other projectiles
A material that won't fall apart or rip 
If you're someone who's out a lot, taking care of motorcycle maintenance, and often on the road, this type of leather jacket will suit you well. 
However, if you're someone with a more petite build and aren't as serious about riding, you might find that this jacket is a bit too cumbersome for you. 
Cowhide is also waterproof and can offer protection in poor weather conditions. 
Kangaroo leather, also referred to as "k-leather," is thinner and lighter than cowhide while still having remarkable abrasion resistance. Like cowhide, kangaroo leather can be split, but the former retains more strength than the latter, which is why it is used in MotoGP racing.
Goat Leather
A form of leather manufactured from goat hide is known as "goat leather." Goatskin is incredibly resilient, plush, and gives riders a delightful tactile experience. The lanolin in the goatskin leather is what gives it its suppleness. According to legend, goats have a higher concentration of lanolin than cows or kangaroos do. Lanolin is an oily or waxy substance secreted by the sebaceous glands of wool-producing animals. Cowhide is less resilient to tears and has less strength than goatskin. It is also waterproof and more robust. It produces excellent, high-quality leather goods and is warm and "breathable."
Deerskin Leather
If you've got a smaller frame or are looking for something a little more flattering, deerskin might be the right fit. 
This type of leather is just as robust as cowhide, but it tends to soften with time, making it fit your frame in a flattering way. Many women's leather jackets are made of this leather. 
Some of the benefits of deerskin include: 
Lightweight protection 

Luxury feels 

Weather-proof 

Protects from most projectiles on the road and road burn 
Deerskin motorcycle jackets are less common on the market, and you'll most likely find them in women's sizes. Since deerskin is somewhat of a luxury, these jackets often cost more. If you're looking for a stylish yet durable option, this will suit your tastes. 
Bison Leather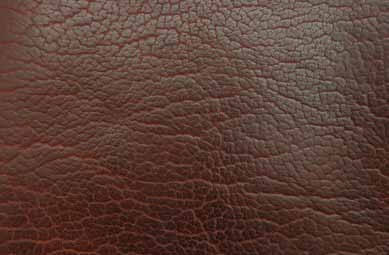 Like cowskin leather, bison leather is tough, heavy, and durable. It's perfect for long-term use, and it's got a look to it that adds a bit of style. If you're not sure whether to choose between fashion and productivity, this is the jacket for you. You can have them both! 
Some of the benefits of bison leather jackets include: 
Heavy design that protects from falls and projectiles 

Water and weatherproof

It keeps you warm in the coldest of temperatures

A beautiful, pebbled grain look that adds a touch of fashion 
On the road, this jacket holds up well. Many bikers swear by it. However, you might find it challenging to find a quality bison leather jacket. They tend to be rarer and more expensive than cowhide jackets. 
Leather Grading
Obviously, leather is more than just the product of an animal. The abrasion resistance, hand (how it feels on skin and to wear), and general longevity of the leather are directly influenced by the quality of the leather and how it is handled during the production process.
For the preparation and production of leathers, motorcycle gear manufacturers have their own processes that enhance or change the material. For instance, the Ascari Jacket from AGVSPORT is made of 1.3-1.4mm full-grain cowhide leather and uses a variety of resins and silicon waxes to enhance the technical properties of the leather itself.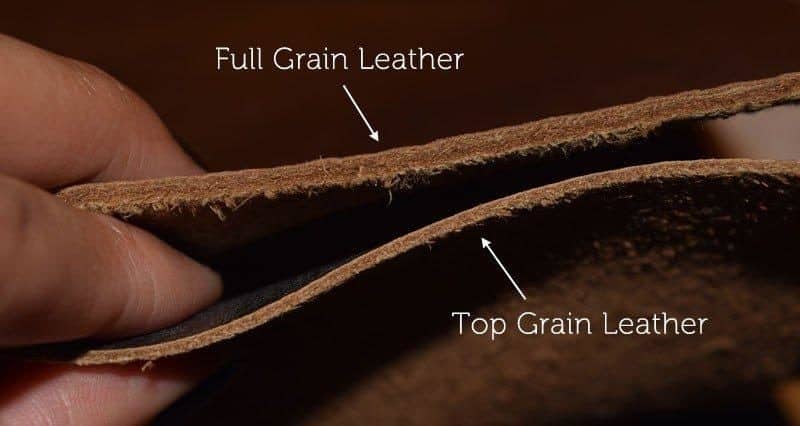 Full-grain leather is the strongest and most permeable type of leather. The lifetime and resilience have enhanced since the whole grain is still present. Although it could have defects and problems, it is the most precious and sought-after item. It will eventually acquire a patina of its own.
Top-Grain Leather Due to the fact that it has been sanded and treated to remove any flaws, this leather is thinner, less robust, and less breathable than full-grain leather. The process offers leather a consistent look and feel.
Split leather is produced from the fibrous area of the skin and is the least expensive option. Motorcycle riders should stay away from it because it's great for fashion but useless for falls.
Why Leather Is the Best Material for Motorcycle Jackets?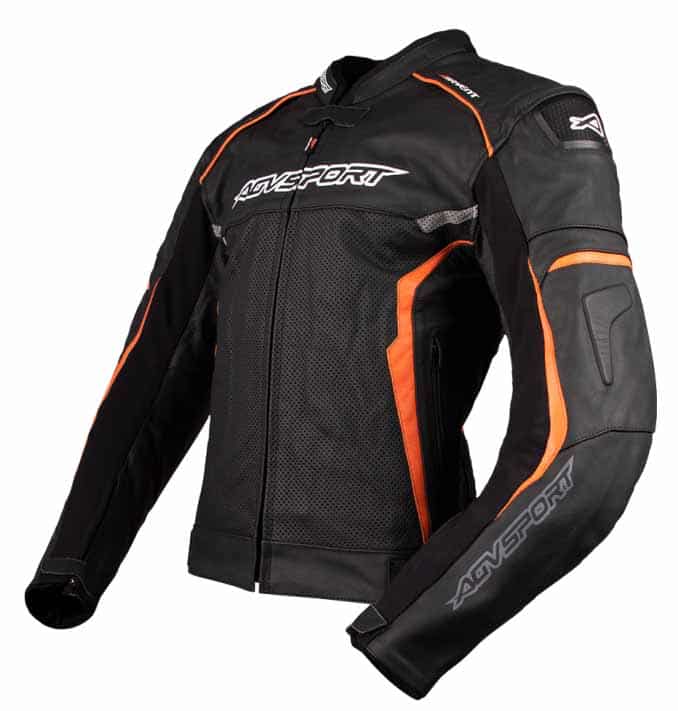 AGVSPORT Aragon Men's Leather Motorcycle Jacket
Leather is considered the best fir for motorcycle riders due to its.
Durability
One of the strongest natural fabric types is leather. If it is properly tanned, it can reach a level of resilience where it would be challenging to rip or penetrate the material using standard tools. This indicates that making garments from it would be harder than normal. But the finished item would undoubtedly be strong enough to withstand the pressures of regular use. This proves that robust motorcycle jackets constructed of thick, high-quality leather do exist.
Comfort Level
Since leather is so strong and durable, you might assume that it is uncomfortable to wear and would be harsh on your body. It's a different story when you're wearing it. Leather motorcycle vests and jackets are quite cozy to wear. In contrast to other fabrics, especially those made of synthetic materials, it even fits well.
Gives Excellent Protection Protecting your body is essential for riders, both from the elements and from potential injuries. Even if you are an adept handler of your motorcycle, there is always a danger that you will fall while riding.
How To Keep Your Motorcycle Jacket in Good Shape?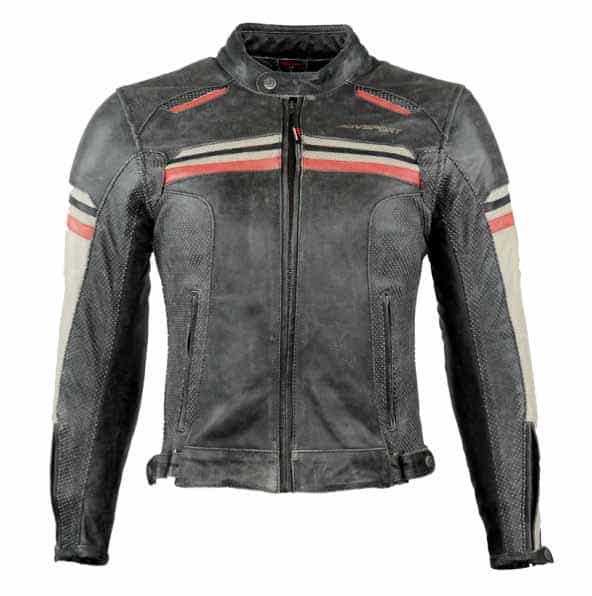 AGV SPORT Ladies Vintage Palomar Motorcycle Jacket
Now that you've chosen a motorcycle jacket that you like, you might be wondering how to keep it in good shape. These jackets are expensive, and most motorcycle owners want to use the same one for many years. 
Luckily, the leathers on our list above are sure to hold up to the test of time. However, if you're looking for some extra reassurance, products exist for leather maintenance that you can take advantage of. 
First, for specific instructions, read the tag. A tag outlining how to clean the jacket is attached to every leather jacket purchased from a retailer. When possible, adhere to the detailed directions on the label because there are numerous types of leather and not all of them can be distinguished with the unaided eye. Use a leather cleaning product specifically designed for your type of leather, such as suede, nubuck, or leather. Always check a hidden section of the leather for damage or discoloration before using any cleaning products.
Leather Cleaner 
Make sure you invest in some leather cleaner. All that time on the road will leave your jacket with a bit of dirt and grunge, so you'll want to keep it clean. 
Don't fret about taking it to the dry cleaner's all year round. Doing this can wear away the fine leathers. Instead, take the maintenance of your motorcycle jacket into your own hands. 
To clean your jacket, follow these steps: 
Mix warm water with your leather cleaning soap 

Make sure to read and follow the directions on the bottle of the soap you have purchased

Get a soft rag that won't make an impact in the leather 

Dip your rag in the mixture and run it over your jacket, cleaning any spots that are made of leather 
Once you finish, dry the leather using a soft towel and leave it hanging up until you use it next.
Leather Conditioner
While applying leather conditioner to the leather restores the oil and prevents excessive dryness and cracking, too much oil can clog the pores and alter the color or durability of the jacket. The following advice will help you choose a product: Make sure the label is appropriate for the type of leather by checking it. (This is crucial for jackets made of suede or nubuck.) Use Dubbin, which is a rich blend of waxes, tallows, and oils designed to clean, nurture, and seal any hard-wearing leather, whenever possible. Rhino Leather suggests using either Dubbin (available in neutral, black, or brown tint). Never use anything with mineral oil or petroleum because they can seriously harm your body.
Use Leather Wax
The unique substance leather wax is ideal for preserving the excellent looks of motorbike leather jackets. Leathers receive an additional layer of protection from waxes made specifically for them. These layers are tough and prevent stains or dangerous substances from penetrating the leather.
Leather Protection Cream
Another essential product is leather protection cream. Using this on your jacket brings back the original smell of the leather, protects the color, and can keep most stains away. Pass it over the jacket whenever you feel it needs a minor touchup. 
How Thick Should a Motorcycle Jacket Be? 
In terms of thickness, you'll find that most of the leathers on this list are pretty hefty. However, thickness comes down to the preference of the user. An average leather motorcycle jacket has leather of around 1-1.3mm of fabric. 
You'll find that thick, heavy leather jackets are best for long-term and heavy-duty use. These types of leather include: 
Cowhide

Deerhide

Bison Skin 
For softer, more supple leather, you'll get a lighter feel and more range of movement. However, lighter leathers deteriorate faster than thick ones. Here are some of the best soft leathers: 
Lambskin 

Calfskin 

Goatskin 
It depends on what you're looking to do and how often you want to replace your jacket. Softer leathers can still last a reasonable amount of time if you take care of them and use leather maintenance guidelines. 
Conclusion: Best Motorcycle Jacket Leather for Longevity and Protection 
When it comes to the best leather for a motorcycle jacket, cowhide leather takes the cake. It is strong, durable, and waterproof. For someone who spends a lot of time on the road, this leather will be your best friend. 
You may also like: 
How To Clean and Condition Your Leather Jacket?
Why Buy and Wear a Leather Jacket?
About the author:  Michael Parrotte was the Vice President of AGV Helmets America, and a consultant for KBC Helmets, Vemar Helmets, Suomy Helmets, Marushin Helmets, KYT Helmets, and Sparx Helmets. In addition, he is the founder and owner of AGV Sports Group.
FM/TG-Z