This may sound strange, and trust me, it is! But colors speak to our thoughts and feelings in everyday experiences. And even affect the likelihood of being in an accident. Perhaps why free-spirited riders are so happy putting on a pomp and color show for their motorcycle exterior. Color psychology and associations are a part of how our brains work, and while it may be fun to express yourself with bright and varied colors, some are evidently safer than others. And so, the question inevitably arises — what color motorcycle has the most accidents?
Black is the riskiest choice of color for a motorcycle due to visibility issues in low light and heat absorption in hot climates. But despite the fact that a black color motorcycle has the most accidents, it remains popular among riders for its daring appeal. It's a bold choice, and that's what makes it so thrilling!
Compared with black, white is the best pick for motorcycle color given its elegance, heat reflection, and visibility under normal riding conditions because it easily contrasts with its surroundings, other road users can see the bike easily, especially when you're riding at night. In fact, the risk of a white motorcycle being in an accident is 12% lower than with a black one, regardless of the weather and lighting.
But there are some exceptions. For snowier areas or ones with a lot of white infrastructure, yellow or bright orange offers better alternatives. Now, if you have visited London, there is a reason the world-famous "London Bus" is red. Red helps stand out from competing transportation services, especially in rainy conditions. It's raining in London, you know! Anyway, I digress…
How Your Choice of Motorcycle Color Impacts Your Safety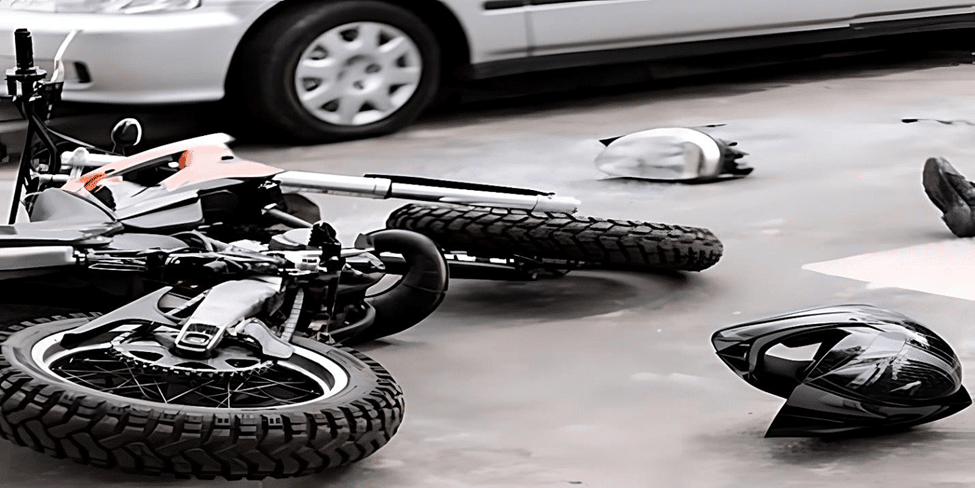 A Honda CRF250L motorcycle lies in pieces in South Los Angeles' Broadway-Manchester neighborhood. Unfortunately, the rider is lying next to the bike, helmet, and one boot. This crash occurred at the dangerous intersection of Imperial Highway and San Pedro Street. For improved safety, riders should choose bright-colored motorcycles, as they stand out in the peripheral vision of other drivers.
The color of your motorcycle may not seem like a significant factor when it comes to your safety on the road, but it can actually play a role in how visible you are to other drivers. Bright, highly visible colors, such as white, yellow, orange, and red, are generally considered the safest choices for motorcycle colors because they are more likely to catch the attention of other road users. These colors are particularly effective in low light conditions, like at dawn, dusk, or in fog, when visibility is reduced.
While conducting study on the subject, I came across some intriguing facts and figures regarding how the color of your motorcycle affects your safety. Here is a summary table:
| | | |
| --- | --- | --- |
| Motorcycle Color | Crash Risk (Day) | Crash Risk in Low Light (Dusk and Dawn) |
| White | Lowest | Lowest |
| Green | 4% Increase | 10 % Higher |
| Red | 7 % Increase | 10% Higher |
| Blue | 7% Increase | 10% Higher |
| Silver | 10% Increase | 15% Higher |
| Gray | 11% Increase | 25% Higher |
| Black | 12% Increase | 47% Higher |
Which Colors Are Most Visible and Safe While Riding?
After analyzing the data, only yellow, beige, and cream, which are all extremely pale and conspicuous, come close to white in terms of safety. White, however, is still the safest in all kinds of lighting, with the lowest crash risk during the day and in low light. Red, green, and blue are only slightly less noticeable under daylight but 10% riskier than white during early morning and late evening riding when lighting is poor.
And the Least Visible Colors…
In contrast, darker colors have a lower visibility index and are more likely to blend in with their surroundings, especially in low light. They include black, gray, silver, and blue, which have 47%, 25%, 15%, and 10% risks respectively under low light. Low conspicuity may increase the risk of motorcycle crashes.
What About Riding at Night, What Difference Does Motorcycle Color Make?
One of the most common colors for a bike is black. There just appears to be something really special about it, which exudes style and coolness. However, black has a 47% higher crash risk than white, gray has a 25% higher danger, and silver has a 15% higher risk at dusk and in the morning.
However, the impact of color on collision risk is greatest and most constant during dusk and dawn under poor lighting. In terms of visibility and contrast at night, and relative accident risk, all colors fared equally. When compared to white, the probability of an accident is lowered by up to 10% for deeper hues. Therefore, unlike during the day or at dusk and dawn, the hue may not be as significant at night.
Although the data is not statistically significant, other hues including green, purple, and pink are also linked to greater accident risk. Some riders hold the notion that the color green is undesirable (and unlucky) for a motorcycle. However, data show that even the notorious hue green is not as terrible as some of the other colors, seeing as there is only a 4% increase in risk compared to white.
You can pick a color that is both beautiful and safe, here's how:
Factors to Consider When Choosing the Safest Color for Your Motorcycle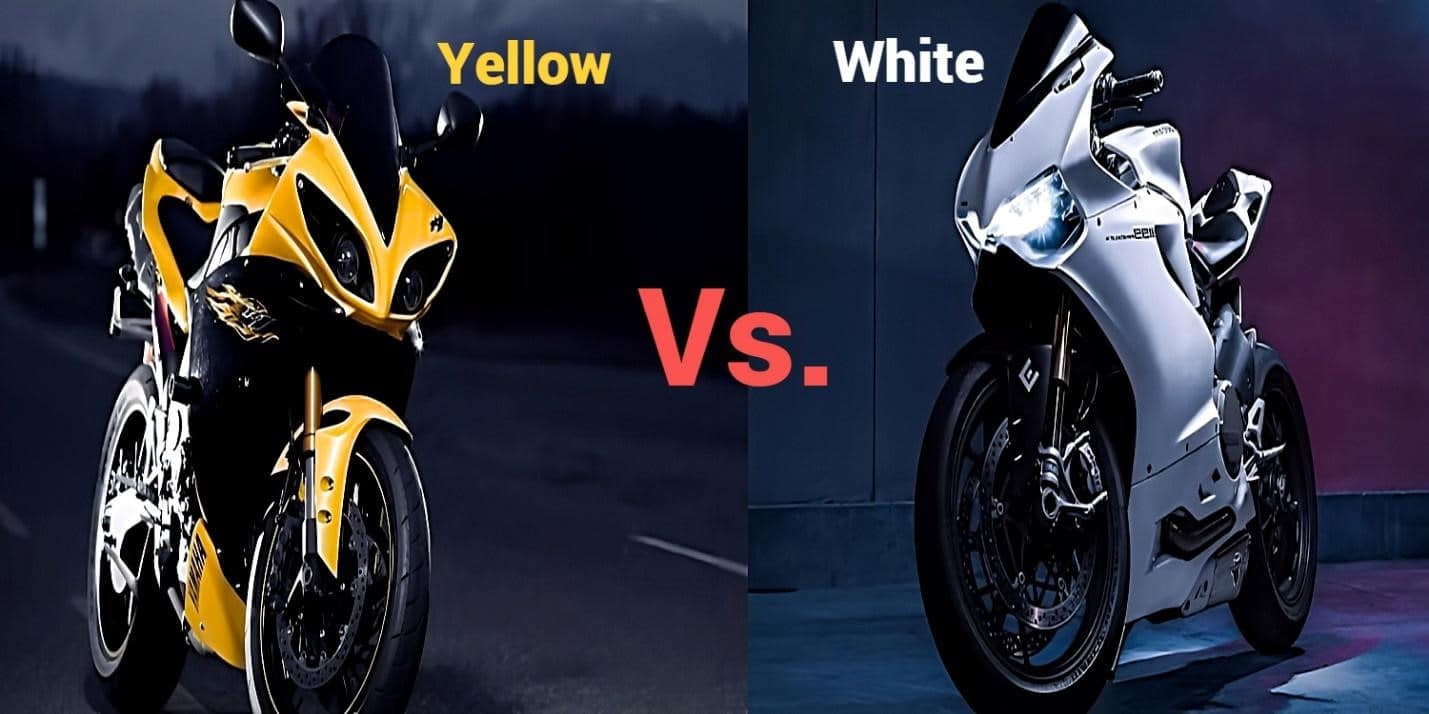 A white speedster with a bold and vibrant color scheme vs. a yellow sports bike with sleek lines and a streamlined design sits on a paved road surrounded by green grass and trees. Yellow and white are generally considered to be highly visible colors because they have a high reflex index, which means that they reflect a large amount of light. This makes them easily distinguishable from other colors in most lighting conditions. Yellow is particularly effective at catching attention because it is a bright, bold color that is easily seen against most backgrounds. White is also highly visible because it reflects all wavelengths of light equally, making it appear bright and well-defined in most lighting conditions.
Every motorcycle color choice is dependent upon a unique combination of factors. Visibility, heat absorption, price, and design, to mention but a few. They're all a big part of what makes heading out on two wheels so appealing and safe.
Personal Preference: The color of your motorcycle is a personal choice and should reflect your personality and style. Choose a color that you like, and that makes you happy.
Visibility: Bright colors can make your bike more visible to other road users, which can increase your safety on the road. Consider choosing a color that is easy to spot, especially if you will be riding in busy or low-light conditions.
Location: Environmental contrast will change depending on your location and where you ride most. If you ride in a rainy or snowy environment, or somewhere with a lot of white buildings or scenery, light colors may not be the safest choice. In such situations, any color in the RGB spectrum would appear to be the next safest choice.
Attention: Bright colors can also help catch the attention of other drivers, which can be useful in situations where the motorcycle is entering a busy intersection or merging onto a highway.
Price: The choice of color on a motorcycle may affect its buying price to some extent. Certain colors may be more popular or desired by certain buyers, and this could

potentially affect the selling price of the motorcycle

. For example, a classic black or silver motorcycle may be more sought after by some buyers while a more unique or flashy color may be less desirable to others.
Heat Absorption: The color of your bike can also affect its temperature. Dark colors absorb more heat, which can make your motorcycle uncomfortable to ride in hot weather. Lighter colors reflect more heat, which can help keep your motorcycle cooler in warm weather.
Maintenance: Some colors may be more prone to fading or scratching than others. Consider the

maintenance required to keep your motorcycle

looking its best over time.
Resale Value: While it's not the most important factor, the color of your motorcycle can affect its resale value. Neutral colors, like black, silver, or white, tend to have a higher resale value compared to those that are more unique or vibrant.
Risk of Bike Theft: Black motorcycles are a thief's favorite because they blend in so well with the most traffic. People are less likely to notice one fly by as compared to, say, a red one. Basically, the more conspicuous your bike, the less likely it's to be targeted by criminals looking to make a quick buck. It also has to do with the resale value of black, white, and silver motorcycles, which is usually higher than oddly colored ones.
In the end, the color of your motorcycle is a personal choice, and you should choose one that makes you happy and that you feel comfortable riding. But did you know that the choice of motorcycle color is psychological and says a lot about your personality?
5 Most Common Motorcycle Colors and What Each Says About You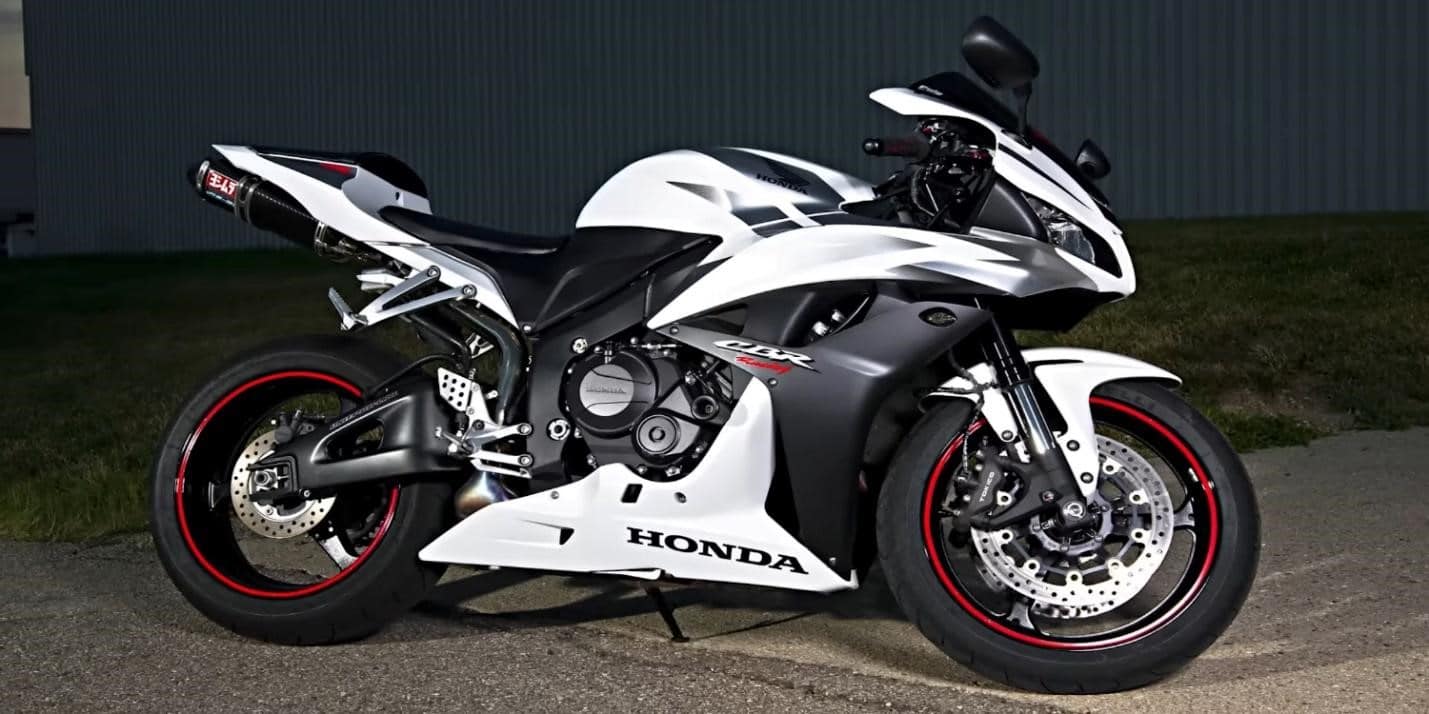 The 2023 Honda CBR600RR is in a combination of white/black/red color scheme. The bright colors (white & red) stand out more against the background of the road and surrounding environment, making the speedster easier to spot.
Color is so important that motorcycle manufacturers let you choose a model and a color,  and it's a wrap! Some torque monsters are preordained to be a certain shade of green; I am talking to you Kawi lovers. And you chose to ride or die with your grotesque green even though a sizable portion of the market thinks it's a jinx. Good on you Kawasaki!
Not forgetting… roses, I mean, Ducatis are red and KTMs orange. But we can't all just get KTMs for safety, or can we? Colors evoke emotion, a science bike designers at Honda and Yamaha are keen to exploit. So, do we choose the color of our motorcycle or does it choose us? Here is a detailed review for all we know so far:
1. White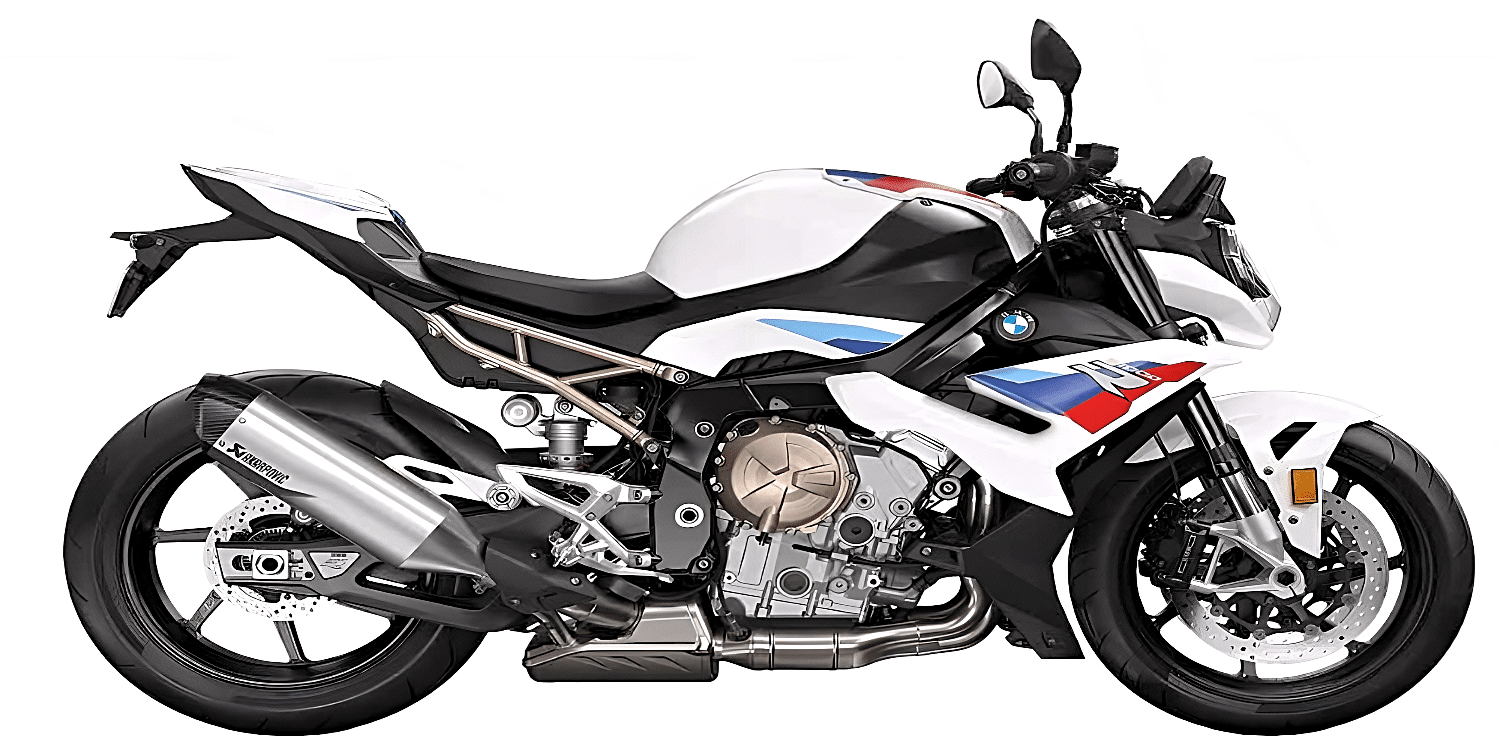 2023 BMW S 1000 R naked bike with superbike DNA in a striking white, black, and the iconic blue & red Bavarian logo color combination. The white body is offset by black wheels, handlebars, and accents, creating a bold and sporty appearance.
White is a great choice for riders looking for visibility and temperature control on hot trips like the Death Valley Run or if you live in Las Vegas. In a cut-throat competing market where white is not perceived as a "tough guy color," it's no wonder that manufacturers are hesitant to release their latest speed beasts in white with a special exception for police departments.
While it's not the most popular color, some companies, such as BMW and KTM, are making white bike models more widely available. The Bavarians, who also happen to make a lot of police bikes, are changing this narrative and increasing safety on public roads. Kudos for the overly sophisticated tech that allows officers to access drive-throughs!
Triumph might have a few white combination bikes, but to go all-white, they would probably have to be custom-made. Custom jobs may be a great option for riders who want to add a splash of white to their Harley or Indian just to look like highway patrol, lol!
White Color Strengths
Contrasts with most natural and built environments

Absorbs least heat

It symbolizes purity, cleanliness, and simplicity
White Color Drawbacks
Perceived absence of beauty

Easily soiled and shows dirt
White Says You're Purist By Heart: It represents purity and good-heartedness, which is why royals would traditionally wear white and ride white horses. Choose white if you want to say, " I'm an all-round decent human being."
2. Black
Black is a popular color choice among riders, despite being the most perilous, as it symbolizes power and can be aesthetically pleasing. All top manufacturers, including Honda, Yamaha, and even the epitome of style Harleys and Indian, have swooped in for the kill despite the crash statistics disapproving of black as a safe choice for motorcycle color. The norm is for each model to come in a funky color, a stock-branded one, and a more stylish or neutral black variant that buyers run away with every time.
But if your objective was to be safe, you would go riding motorcycles now, would you?  The act is inherently risky but we manage to keep the mileage going with ATGATT and a few extra measures. So, you can have your midnight black just as long as you complement it with reflective strips and lights in addition to bright-colored motorcycle apparel.
You May Also Like: Best Color For Motorcycle Jacket Safety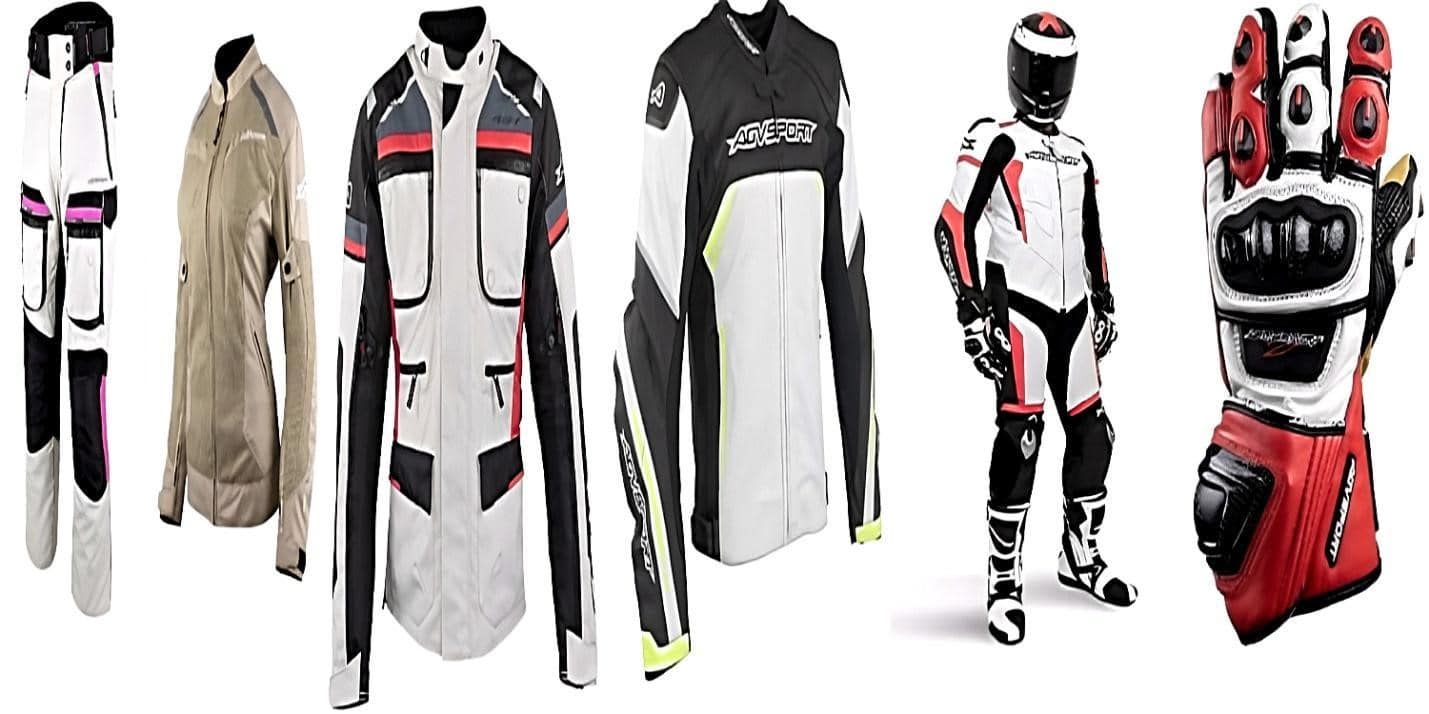 From left to right: AGVSPORT's Mojave Textile Pant, Sharp Mesh Textile Jacket, Mojave ADV Men's Jacket, Imola Leather Jacket, Monza Race Suit, and Monza-R Leather Gloves. The bright-colored apparel will help make your black motorcycle more visible on the road, increasing your safety and reducing the risk of accidents.
Black Color Strengths
Considered most attractive

Easier to clean than white

Blends easily with other colors
Black Color Drawbacks

Absorbs the most heat

Least visible under low light and daylight conditions
Go Invisible in Black: Have you ever seen black on a rainbow? This demonstrates that black is not on the visible spectrum of light. While other colors are a product of reflection, black is the absence of any light and can exist in nature without any ambient light. Bikers love black because it's fashionable, luxurious, and sophisticated. Choose black to satisfy your grand sense of style.
3. Red
Muscular, sporty, exaggerated, and elegant, the 2023 Ducati Diavel V4 stands out because of its bold and striking appearance. The deep red color of the motorcycle exudes power and confidence and is sure to turn heads on the road. The Diavel V4 is a performance-oriented motorcycle with a sleek and aggressive design that is enhanced by the vibrant red finish. The classic Ducati red also adds a touch of glamor and luxury to the motorcycle, making it a truly unique and eye-catching ride. Whether you're cruising down the highway or tearing up the track, the Ducati Diavel V4 in red is sure to make a statement and keep you safe.
Honda and Ducati (known for its distinctive red color scheme, which is often referred to as "Ducati Red") models frequently come in the color red, which can vary in shades, from dark to light and even burgundy.
It's a beautiful and emotive hue that gives you road presence and is quite visible even at night. As one of the safer colors for riding and given that no one really hates red, it is a good pick to remain stylish and visible.
But red absorbs a lot of heat, even when it is bright red. It absorbs more of the longer, lower-energy wavelengths, which are associated with heat. This is why red motorcycles tend to feel warmer to the touch than ones that are white or lighter in color, which reflect more of the shorter, higher-energy wavelengths of light. Notably, red bikes absorb the second least heat after white.
Red Color Strengths
Beautiful and passionate color

Visible color with sharp contrast with nature

Remains relatively cool in the sun
Red Color Strengths
Absorbs a significant amount of heat more than white, or orange

Maybe expensive to insure due to the perceived higher risk of theft
Royalty, Rage, Raw  Power, and Redline Performance: Red color is associated with power and performance. Honda will badge its sports models with red Rs to signify redline performance and stand out from regular Rs. Iconic motorcycles that wear red hoodies include; Honda CBR 1000RR and Honda Goldwing, not forgetting the Ducati lineup with Panigale V4, Ducati Monster, and Multistrada being the flag bearers. It's a desired shade in Japan and globally evokes emotions of passion and excitement, hence phrases like "paint the town red", "red blood", "red devils' ' and so on.
4. Blue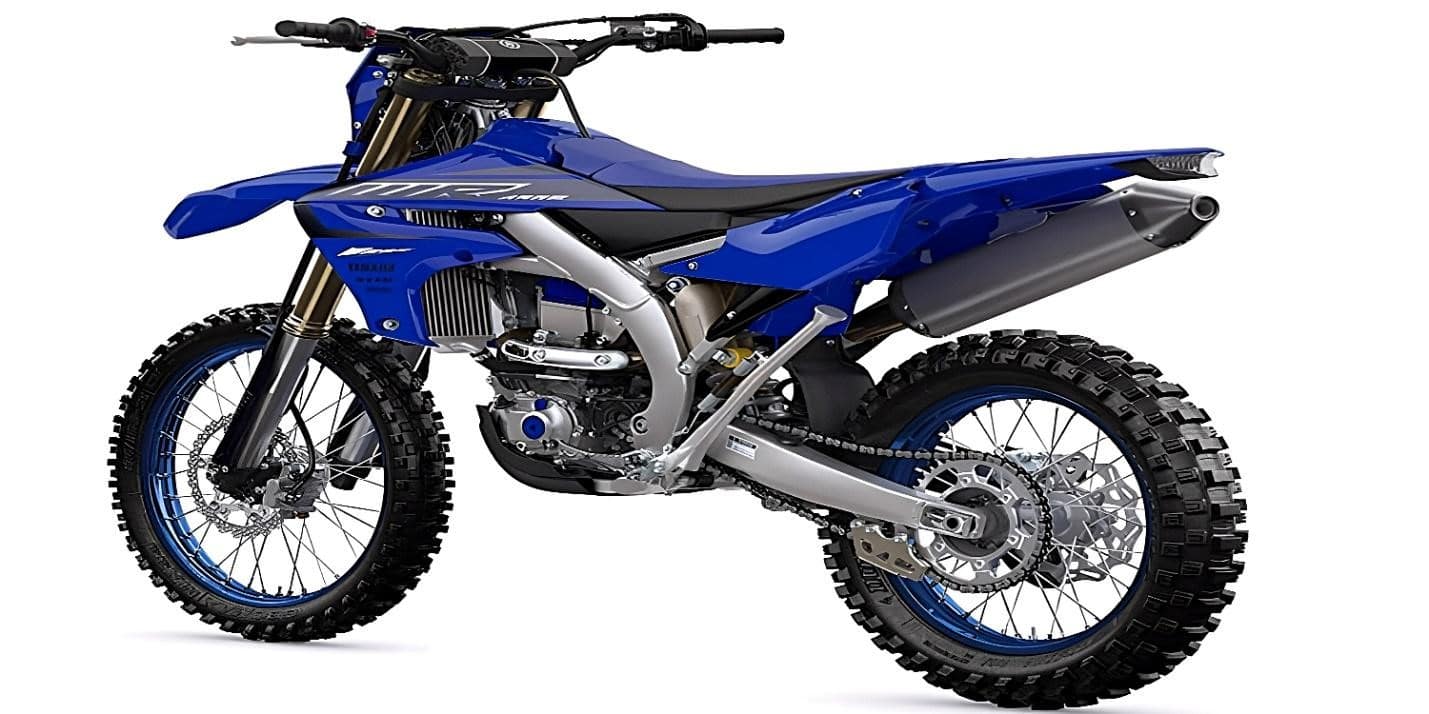 The 2023 blue Yamaha WR450F cross-country motorcycle is a stunning example of the company's dedication to design and performance. Its deep blue color is not only eye-catching and visually appealing but also serves a practical purpose. Blue is often associated with trustworthiness, reliability, and stability, and these are all qualities that are important in a cross-country motorcycle. It instills confidence in the rider, ensuring that they feel safe and secure as they navigate challenging terrain.
One of the most exquisite hues on the market, blue is primarily associated with Yamaha because of the company's exquisite blue motorcycle designs. Other makers like Suzuki with their classic blue feature on their GSX series. In fact, when you think of blue sport bikes, you think of Suzuki GSXR 1000 with its updated fresher Triton Blue with a modern feel.
Blue is a truly remarkable color that I personally adore because it stands for honesty and calmness. It's often seen as a calm and peaceful color. In many cultures, blue is also seen as a symbol of stability and reliability.
Depending on the type of blue you choose, it can be seen at night. But it will be very difficult for other riders to see it at night if it is dark blue. The opposite is true if it is bright blue. While I'm sure you'll enjoy and prefer the lighter blue color because it stands out more, dark blue also takes in more heat than green, yellow, orange and white, thus being perilous for hot weather riding.
Blue Color Strengths
Choose from many variants of blue

Stand out with unique colored motorcycles

Relatively easy to clean
Blue Color Drawbacks
Absorbs a considerable amount of heat

Higher maintenance costs for keeping the color vibrant
Say Loyalty, Sincerity, and Faithfulness With a Blue-Hued Heart: Motorcycle enthusiasts (predominantly men) love blue motorcycles. It says you are dependable and loyal. It's also a "tough guy color" associated with the stubbornness and rigidity of riders who like to make their own rules.
5. Green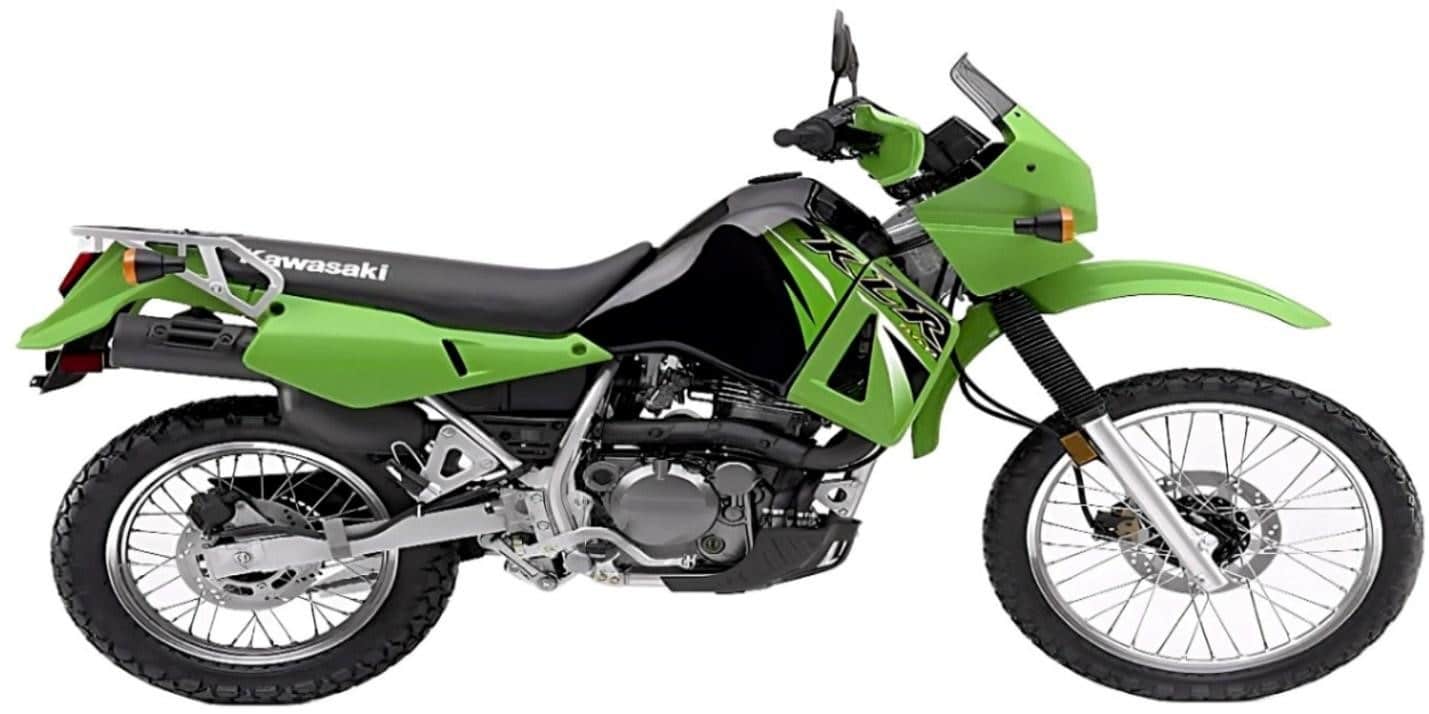 The 2023 Kawasaki KLR650, one of the coolest adventure bikes ever built, sits ready for adventure. The KLR650 is known for its outstanding green color, rugged durability and versatility, making it a favorite among off-road riders and long-distance travelers. With its high visibility, comfortable saddle, and ample storage space, this bike is ready to take on any challenge at any time of the day.
Green is a calming color. Kawasaki comes to mind because the Japanese bike manufacturer has been producing green versions of its products since the 1970s. Other manufacturers like Triumph, MV Agusta, and even Harley Davidson may offer green units for select models.
Green is a fantastic motorcycle color that is fairly visible at night. When it gets soiled, it is still extremely simple to clean. Green is also less absorbent of heat than only blue, and black which is not a good score for heat reflection.
Due to Kawasaki's reputation for producing the most elegant motorcycles on the market, it doesn't matter what the haters said. Kawi green is quite attractive.
Green Color Strengths
Beautiful noticeable motorcycles

Unique shades for a motorcycle

Calm settling color
Green Color Drawbacks
Some consider it ugly and jinxed

Not highly visible in most environments and low lighting
Keep Calm and Shift Up With Green: Green relates to serenity, the outdoors, and luck. But when it comes to motorcycles, green always means Kawasaki. Forget about the early BMW 1000RRs and Harley-Davidson Sportster S  Metallic Mineral Green. Not even the Triumph Thruxton RS Hunter Green would qualify as proper green — Kawis are green. When you see a Kawasaki on the street, you just know!
Other Popular Motorcycle Colors Include:
Orange: The second-brightest color after white, orange is quite attractive. Because KTM has outstanding models painted in orange and expertly combined with black finishes, it is generally safe to ride in all weather and surroundings and looks perfect in every situation. I adore the orange hue because it is practical and doesn't absorb a lot of heat. And I couldn't think of a single disadvantage.
Silver (Gray): The majority of bikes that are silver in color are typically older models, and the reality is that no one firm is known to produce motorcycles that are gray in color. Even if you live in a place with a lot of snow or haze, gray does not absorb a lot of heat and is also not very noticeable to other riders. Moreover, I don't find silver particularly attractive, so I wouldn't necessarily recommend it, though it's crucial to keep in mind that silver-colored models are almost always inexpensive.
Yellow: I personally like yellow because it not only stands out. But it's likely to be cheap, as it isn't as popular as other colors. Although less bright compared to white and orange, it is still visible and will look good matched with black.
Purple: This is unquestionably one of the most stunning and remarkable motorcycle colors. Other riders can see purple because it is such a prominent hue. I fancy a purple motorcycle, but it is quite rare to come from the manufacturer's end. Furthermore, it's crucial to remember that dark purple traps heat, but not nearly as much as black.
Phew! Those few remarks sum up motorcycle color choices based on personality. Now let's get into some more serious stuff, how color can determine who gets to walk away from an imminent motorcycle crash.
The Takeaway on What Color Motorcycle Has the Most Accidents
The color of a motorcycle can affect its visibility to other road users, and therefore, it may affect the likelihood of a collision. For example, white has the lowest collision rate while black has the highest crash rate. However, it's important to note that other factors, such as the rider's behavior and the conditions of the road, are likely to have a much larger impact on the risk of an accident than the color of the motorcycle.
Additionally, the choice of color may not be generalizable to all regions or situations, as the specific conditions and characteristics of a particular location can also influence collision rates. The key to visibility lies in how different your bike appears to whatever is around it. If you live in a city or in the countryside, a white motorcycle should stand out pretty well during the spring and summer months. But if you're riding in a snowy area, it clearly won't stand out as much.
It's also important to consider that people's perceptions of color can be influenced by cultural and personal experiences. The associations and meanings they ascribe to different colors can vary widely. While some riders may associate certain colors with feelings of calmness or aggression, others may have completely different associations.
Ultimately, the impact of color on an individual's psychology and behavior is likely to be complex and multifaceted, and cannot be reduced to simple generalizations.
So, what is your favorite motorcycle color?
MS/A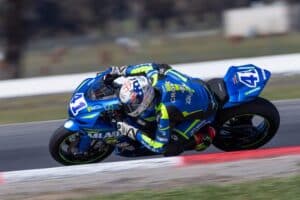 I've diligently categorized my motorcycle gear recommendations into all available categories, with the aim of providing you with a comprehensive analysis that showcases the absolute best options for all your needs. These items are the culmination of in-depth research, extensive testing, and personal use throughout my vast experience of 50+ years in the world of motorcycling. Besides being a passionate rider, I've held leadership positions and offered consultancy services to reputable companies in over 25 countries worldwide. To See Our Top Picks and the Best Prices & Places to Buy: Click Here!