As a budding or intermediate rider, you're more concerned about getting the best motorcycle helmet to deliver your melon home in one piece after every ride. But with so many brands and helmet offerings running the gamut, you might wonder if you are missing out on extra safety by choosing to be a cheapskate or seeking the best bang for your buck with a moderate budget. And so, inevitably the 700-dollar question arises — are more expensive helmets safer?
No, expensive motorcycle helmets are not necessarily safer than cheap ones. Whether you go for a budget-friendly option or splurge on the latest and greatest, all certified helmets must pass the same certification tests, which only vary slightly due to national and regional regulations. But here's the thing, folks, top-of-the-line helmets are made with better choice of materials and technology paying attention to detail and finish. They are better ventilated, more aerodynamic, and block wind and road noise better. Cheaper helmets tend to be heavier as they're made out of thicker materials. But if money is no object, a little luxury goes a long way in making your ride enjoyable.
A good analogy — there are expensive clothes and cheap ones. And both accomplish the same primary objectives with the pricey ones having extras like comfort, style, and fine finish. Unlike clothes, however, you probably shouldn't be looking for a second-hand helmet in the flea market as it doesn't bounce the same.
Key Differences Between Expensive and Inexpensive Motorcycle Helmets
More expensive helmets have an oomph and overall comfort than regular-priced ones, but past a certain price point, you get increasingly less extra protection for every dollar.
Quality of Materials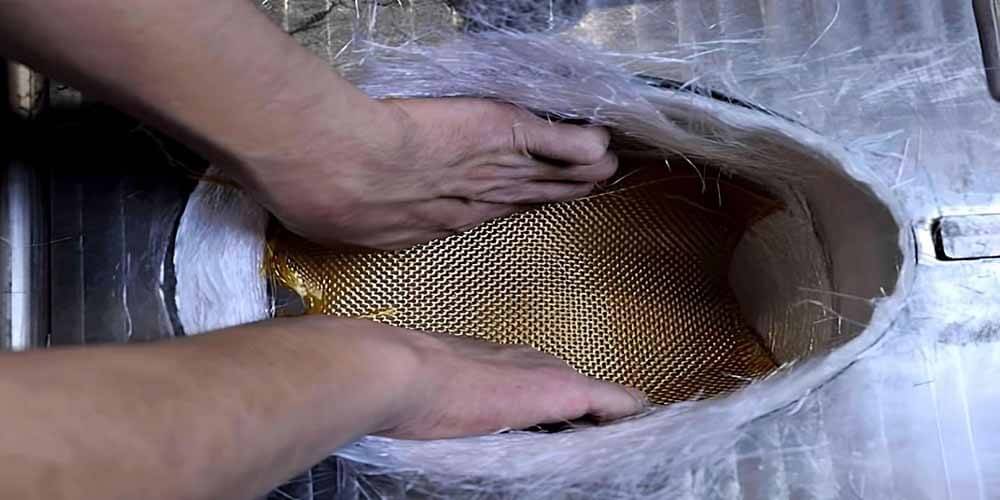 The process of layering a high-end helmet shell with protective materials. Expensive helmets consume more time and materials of great value than cheap run-off-the-mill mass-produced lids.
Higher-tier helmets are made out of strong and light materials, like carbon fiber and fiberglass shells, for improved impact mitigation at a smaller cost in weight. The extra features, such as communicators, noise cancellation, and anti-fog pinlock inserts, make the helmets marginally safer than standard-approved ones. So, in a way yes, you get what you pay for in a motorcycle helmet up to a certain point.
Sizing & Weight
A helmet that fits is a helmet that saves. Cheaper helmets tend to be one size fits all and feel run-of-the-mill in build quality. On the other hand, more refined lids have adjustable padding sizes to ensure a snug fit. You will enjoy wearing your helmet for longer rides without the pain of pressure points. Unfortunately, the test-riding helmet is not always an option when purchasing a helmet. If you're lucky, you share a head shape with your buddy who already owns the expensive helmet you want.
In general, more expensive helmets tend to be made of lighter and more advanced materials such as fiberglass or carbon fiber and may have additional features such as unique designs that improve visibility and comfort. Cheaper helmets may be made of thicker and less advanced materials, which can make them heavier and less comfortable for long trips.
Ventilation
A proper ventilation on a helmet gives you the relief of riding without one while keeping fog and perspiration at bay. A well-ventilated lid will create a streamlined laminar flow of air streams to cool and dry your scalp then vent out in the rear. These additional design elements make some helmets pricier than others because sophisticated designs cost more than imitations.
On the inside, facing the user's scalp, some high-end models also come with the latest and evolving technology as well as patented proprietary inventions to offer added protection. MIPS (Multi-directional Impact Protection System) is one such protection scheme, which caters for the torsional forces that are the most destructive to brain tissue in a crash. It also improves both comfort and ventilation.
Helmet Style (Design)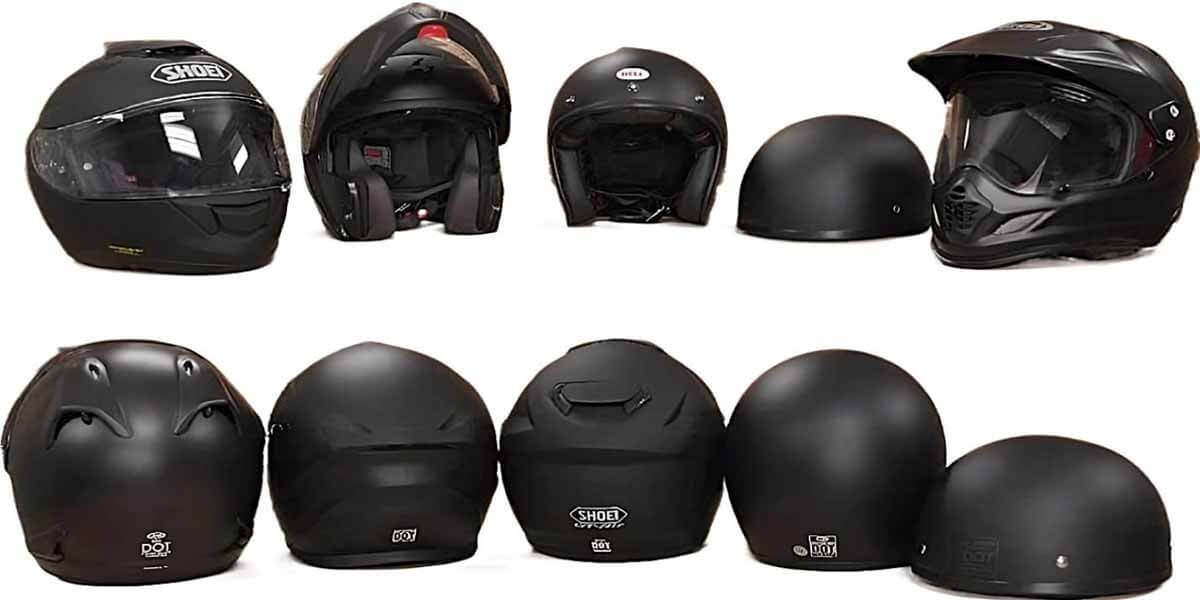 The different styles of motorcycle helmets. Evidently, full-face helmets (extreme left) consume more materials and are likely more expensive. The same can be said for the modular unit (second from left) whose hinge adds to the complexity of the design and manufacturing process.
There is generally a correlation between the complexity of a helmet design and its cost, with more complex designs such as full-face and modular helmets often being more expensive to produce than simpler designs like half-helmets and ¾ helmets. However, this is not always the case, and other factors can also affect the price of a helmet.
In terms of safety, full-face helmets are generally considered to be the most effective at protecting the head and face in a motorcycle crash. This is because they cover a greater portion of the head, including the chin and face, which are areas that are frequently impacted in motorcycle accidents. On the other hand, open-face (jet) helmets and ¾ helmets do not provide as much coverage as full-face helmets, and half-helmets offer the least coverage of all. As a general rule, the more of the head and face that a helmet covers, the better it is at protecting these areas in the event of a crash.
Half helmets offer almost no protection and are barely legal even though they receive DOT certification. They will have a hard time staying on the head in a fall leave alone impact mitigation.
Durability
High-end lids are made with stronger long-lasting materials that outlast those of cheaper builds. Speaking of which, all helmets, regardless of cost and frequency of use, have an actual expiration date. The certifications are only good for a given period, and the materials used to make the contraption also suffer aging and fatigue. This is why we advise against buying a second-hand helmet even if it's "as good as new", "never used" etc.
On this subject, there are two schools of thought. On the one hand, you could justify getting a cheaper helmet and replacing it sooner while others might insist on one that will serve its full term. Being a cheapskate, I prefer the earlier.
Styling and Finish
Although of less significance to safety, looks of a helmet are actually a leading factor for driving sales. Having a cool-looking lid is quite important for most riders that they will spend top dollar to get that extra pomp. Sometimes cheaper helmets can be more attractive than professional-grade ones. So, unless you are looking at the quality of the factory finish, it is difficult to guess the price of a lid by looking at its appearance.
Further, the visuals of a helmet also contribute to safety as they make it more visible and noticeable to other road users.
Endorsements
Some premium motorcycle helmets are popularized by racing pros who wear one "just like it" during major events. Even though the one that finally goes into mass production is usually inferior to the racing model, the similarity is enough to drive sales through the roof. Your decision to settle on a particular expensive helmet should be influenced not only by cool graphics or even an endorsement by Valentino Rossi. It will carry no water in a crash, but a safety certification badge on the helmet might.
But not all certification bodies have equally rigorous tests — some are more reliable than others.
Number and Type of Certifications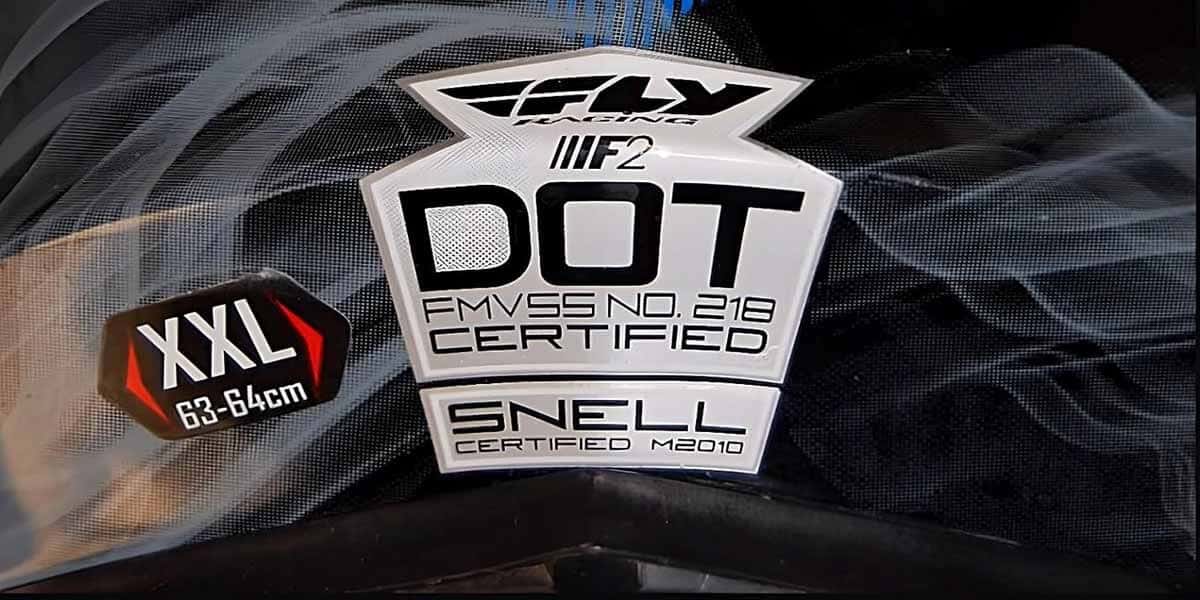 The law in most states only requires that helmets sold in the U.S. have the minimum certification of DOT. All helmets are expected to bear the DOT certification label as mandated by the Department of Transportation (DOT).
While DOT is the only certification mandated by law in the U.S., manufacturers scramble to get third-party certifications like Snell Memorial Foundation ECE and FIM for international regulation. The more the certifications earned by a particular model the more the manufacturer tends to ask for it. A badge like FIM is quite rare, and companies spend millions of dollars in ensuring they pass the exclusive tests.
The DOT minimum requirement has been critical in saving lives over the past decade as summarized in the table below:
Table1: DOT Certified Motorcycle Helmet Use, Injuries, Deaths, and Lives Saved in the United States (2010-2021)
| | | | | | |
| --- | --- | --- | --- | --- | --- |
| Year | Helmet Use (%) | Injured (Helmeted) | Deaths (Helmeted) | Deaths (Unhelmeted) | Lives Saved (Helmeted) |
| 2010 | 54.3 | 58,578 | 1,923 | 2,769 | 1,556 |
| 2011 | 66.5 | 57,075 | 1,773 | 2,821 | 1,622 |
| 2012 | 60.4 | 60,016 | 1,990 | 3,039 | 1,699 |
| 2013 | 59.5 | 73,090 | 2,156 | 3,181 | 1,640 |
| 2014 | 64.3 | 92,000 (est.) | 2,008 | 3,164 | 1,673 |
| 2015 | 60.7 | 88,000 (est.) | 1,957 |  3,019 |  1,800 |
| 2016 | 65.3 | 83,000 (est.) | 1,854 |  3,432 | 1,885 |
| 2017 | 65.2 | 77,000 (est.) | 1,696 |  3,476 | 1,872 |
| 2018 | 71.0 | 82,000 (est.) | 2,102 |  2,883 |  1,947 |
| 2019 | 70.8 | 84,000 (est.) | 1,967 |  3,077 |  1,756 |
| 2020 | 69.0 | 42,000 (est.) | 1,356 |  2,223 |  1,637 |
| 2021 | 64.9 | 90,000 (est.) | 2,204 | 2,881 |  1,963 |
Source: U.S. DOT, NHTSA; Federal Highway Administration
Note: The National Highway Traffic Safety Administration (NHTSA) started using police-reported crash data from the Crash Report Sampling System in 2014, instead of the National Automotive Sampling System — General Estimates System (GES). Additionally, the National Center for Statistics and Analysis (NCSA) modified the method used to estimate the number of individuals who were injured, but not killed, in motor vehicle traffic accidents.
The data shows that there was a slight decrease in helmet use among motorcyclists between 2016 and 2017, despite an overall increase in usage from 2010 to 2017. In 2017, 88,717 riders in the United States were treated for injuries from motorcycle crashes. However, helmet use was found to significantly reduce the prevalence of head injuries by 63.8% and the rate of fatalities by 36.2%.
All things considered, wearing a DOT-certified helmet can reduce the risk of death by 37% and severe head trauma by 69%. These helmets standards include retention strap tests to ensure that the helmet will stay securely on the head during a fall. A good DOT-approved helmet should remain on the head to absorb the impact of a fall to protect the rider's head in a fall.
On the one hand, there is SHARP, FIM, and ECE pushing for progressively softer flexible-shelled helmets and on the other is SNELL with their conservative hard shell approach. ECE and FIM even developed a more advanced way of testing helmet safety that involves crashing the helmet in six different directions, simulating more realistic impact situations. This type of testing has led manufacturers to produce helmets designs — like the all-new MIPS — that are softer and more able to deform upon impact in order to reduce the risk of brain injury.
The fight has seen manufacturers start to abandon SNELL certification for helmet models destined for the European market, but not without a fight back by the all-American "nonprofit" safety organization. SNELL responded by introducing a double standard (M2020D and M2020R), which allows them to keep their stickers on European helmets even though they clearly don't believe in their effectiveness. They betrayed their consumers' trust by creating a separate standard specifically for helmets designs that meet both the ECE and FIM standards but do not include the additional rotational testing requirements developed by these organizations. A new standard whose objective is to meet another existing standard is bogus.
The 7 Safest Motorcycle Helmets in 2023
Ultimately, the most important factor in choosing a helmet is finding one that is comfortable and effective for you. It may be necessary to spend more money to get a higher-quality helmet, but this is not always the case. It's advisable to try on a variety of helmet options to determine which one is the best fit for you.
1. AGV Corsa R

— Best

 Racing Helmet
Price: $799.95
Weight: 3.63 lbs.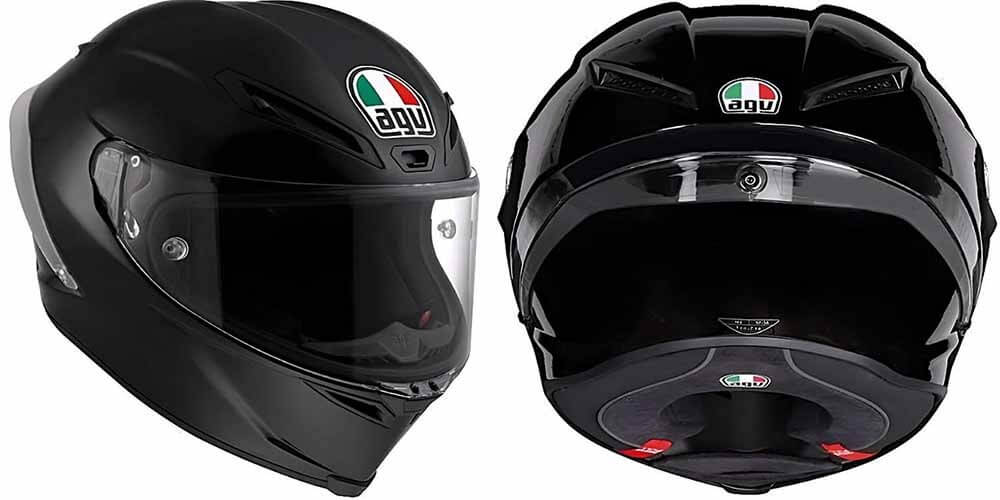 Now here we have a proper racing helmet: The AGV Corsa R helmet designed alongside the Valentino Rossi-inspired Pista GP R. It is a remake of the famous racer's endorsed helmet but with a slightly less expensive composite shell (carbon/aramid/fiberglass).
This is another high-performance AGV helmet that is suitable for use on both the road and the track. It has excellent ventilation, aerodynamics, and a lightweight shell, making it a great choice for riders who want a high-quality helmet that is suitable for a range of riding conditions.
Going for $799.95 on Amazon, Revzilla, or MotoSport, the AGV Corsa R might be an expensive lid for most, but it offers a lot of features and benefits for the price. It is a step down from the $859.95 AGV Sportmodular Carbon Solid helmet but not quite as expensive as the company's full-blown MotoGP helmet, the $1,499.95 AGV Pista RR.
2. HJC C70

—

Best Affordable Touring Helmet
Price: $149.99–164.99
Weight: 3.53 lbs.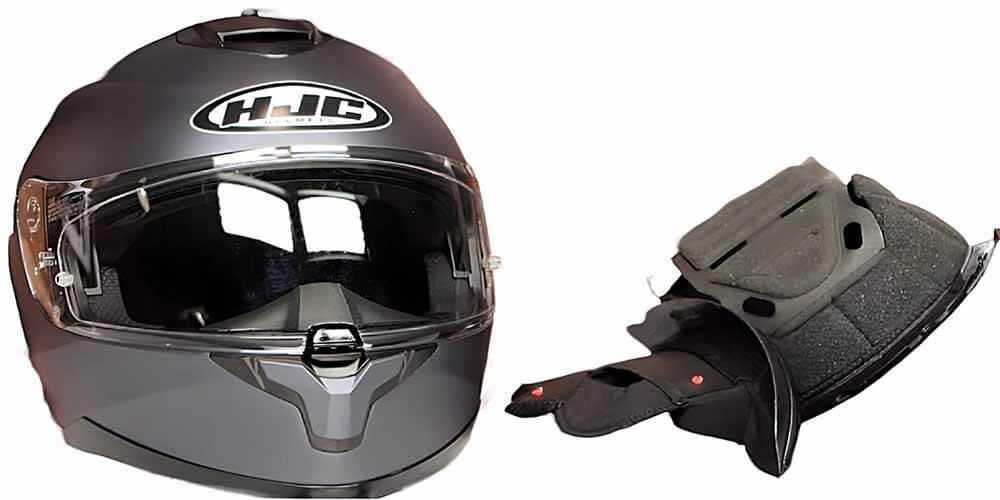 The HJC C70: A solid value for money pick with SHARP 5-star rating built as a replacement for the all-rounder IS17 helmet, which is one of the best helmets ever built and for a modest price.
For the modest price of under $200, you can enjoy one of the highest levels of protection a helmet can offer with the HJC C70. This comes from a manufacturer that has managed to acquire the lucrative FIM certification for four of their top helmets in the RPHA series namely; the RPHA 01R, RPHA 1N, RPHA 1 GP, and RPHA 1.
The HJC i90 is a modular motorcycle helmet that is designed for touring. Featuring a polycarbonate shell with air-flow ventilation and a sun visor, it will keep you comfortable on longer rides. It also has a SuperCool moisture-wicking liner system to help keep the rider cool and dry.
One of the unique features of this helmet is a special groove along the temples that's designed to accommodate glasses, allowing riders with poor vision to see clearly while wearing the helmet. Overall, it's a simple, but effective touring helmet that offers a range of features to help keep the rider comfortable and safe. You can find the HJC C70 helmet retailing at $149.99–164.99 on Amazon, Revzilla, or MotoSport.
3. Shoei RF-1400 — Best Multi-Purpose Motorcycle Helmet
Price: $579.99–659.99
Weight: 3.62 lbs.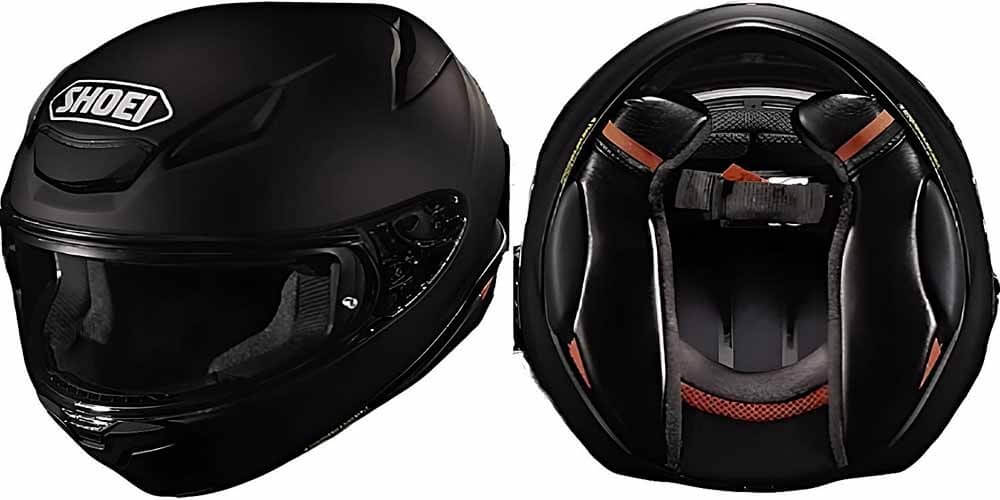 Frontal and bottom view of the Shoei RF-1400. It replaced 2014 RF-1200, which was similar to the second iteration of the RF-1100. It got a boost in the aerodynamics department, the base plate, and an improved face shield. The shell remains the same fiberglass-based composite that its predecessors used, but they also fiddled a little bit with the inside.
The Shoei RF-1400 is a high-quality, lightweight motorcycle helmet that's favored by serious riders. Shoei put millions in R&D  into the development of this lid to ensure that its light weight does not compromise on safety, comfort, or wind noise.
It features a new visor system for smoother opening and closing and quicker visor swaps, and a lot of ventilation options with 6 entrance and 4 exit vents. It's adjustable to allow for control over which vents are open and closed.
The Shoei RF-1400 helmet is certified by both the DOT and SNELL and is priced between $579.99 and 659.99 on Amazon, Revzilla, or MotoSport. While it is on the expensive side, it offers a lot of features and is well worth the investment if you can afford it.
4. Bell Qualifier DLX MIPS — Safest Road Helmet
Price: $285.95
Weight: 3.57 lbs.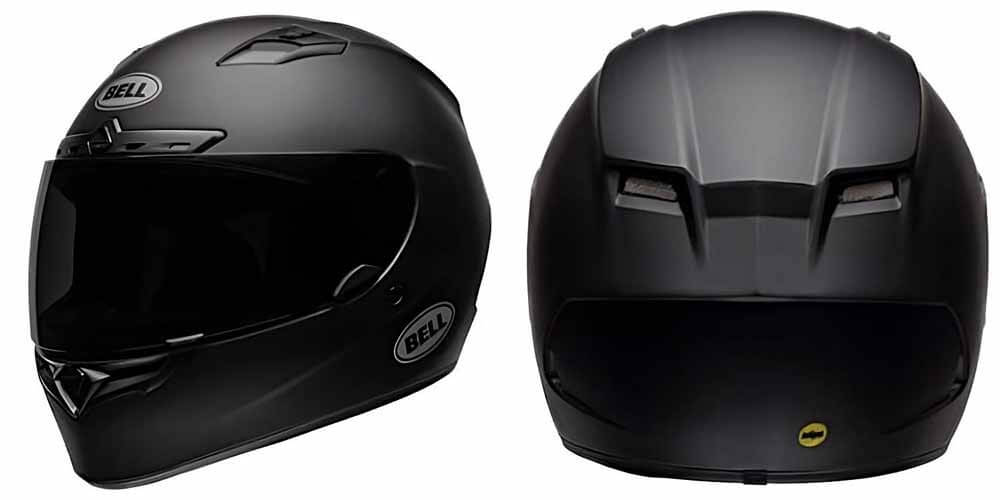 Here is the side and back profile of the famous Bell Qualifier DLX, which has caused quite the stir with quite a sizeable following. This model is matte black for an uncluttered modern look. There is nothing special about the polycarbonate shell, but the shield steals the show with its light-reactive auto-adjusting properties.
The Bell Qualifier DLX MIPS is a high-quality motorcycle helmet that offers a range of features for the price. It includes the MIPS system, which is designed to reduce rotational motion on the brain in the event of a crash.
Special features include a transitional photochromic visor that changes according to the amount of ambient light, which enables the rider to see best under all riding conditions.
It is, however, slightly heavy and might not be the right fit for all head shapes. The Bell Qualifier DLX MIPS helmet comes with a  year warranty and is both ECE and DOT compliant. It goes for a reasonable price of $285.95 on Amazon, Revzilla, or MotoSport.
5. Arai Signet-X

—

Best All-Round Helmet
Price: $699.95–719.95
Weight: 3.53 lbs.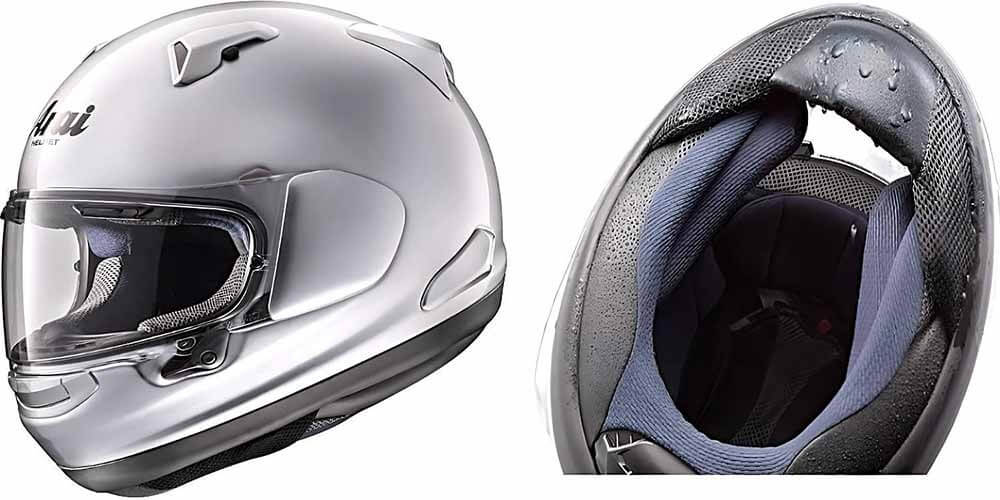 A rare photo of the silver Arai Signet-X showing signs of a pre-owned life. The chin area is blistered, but the visor on the same helmet seems intact. This helmet was the replacement for the Signet Q or Quantum ST as it was named in the European market.
Arai makes world-class helmets for every riding category, and this list would not be complete without their contribution.
The Arai Signet-X is a premium full-face street bike helmet with a fiberglass shell and excellent aerodynamics. It is a bit behind with only the SNELL M2015 rating but does well for itself on the SHARP side of things with a star rating. It's also DOT and ECE certified, making it one of the most compliant helmets on the market to date.
You can find the Arai Signet-X retailing at $699.95–719.95 on Amazon, Revzilla, or MotoSport.
6. Bell MX-9 Adventure MIPS — Best Adventure Helmet 
Price: $229.95
Weight: 3.74 lbs.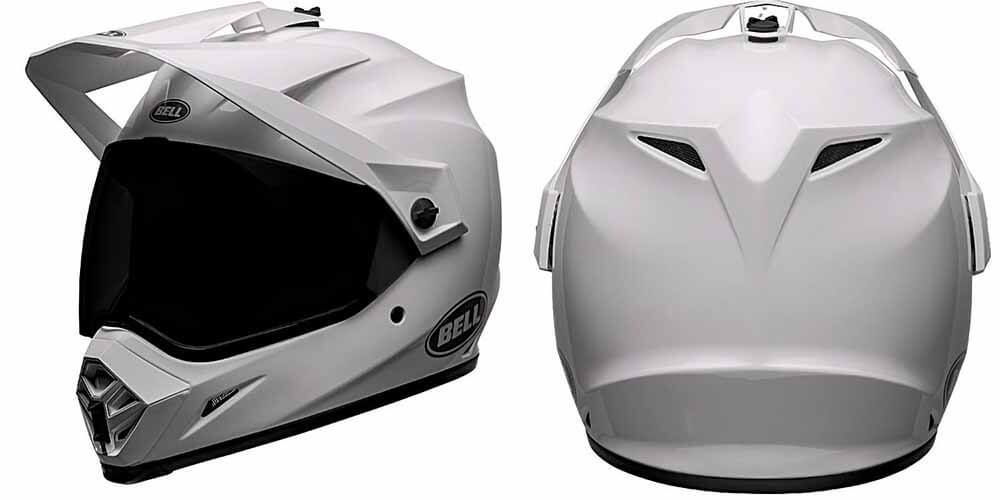 Then we have this tidy capture of the Bell MX-9 Adventure MIPS helmet with its boxy, simplistic, and clean appearance. It is a hardy motorcycle helmet built for adventure on- and off-road. Bell offers this lid in two versions: The dual sport /adventure model and the motocross helmet.
The Bell MX-9 Adventure MIPS is a dual sport helmet designed for use on both dirt and the street. It features a removable visor for street use and is compatible with dirt goggles.
It also has the MIPS system for additional safety, speaker cutouts, and a lightweight polycarbonate shell. It is certified by both the DOT and ECE.
The helmet is a good pick for riders who spend time on both dirt and pavement, as it is designed to be versatile and adaptable to different types of riding. You can find the Bell MX-9 Adventure MIPS going for $229.95 on Amazon, Revzilla, or MotoSport.
7. Schuberth C4 Pro Helmet — Safest Modular Helmet
Price: $899.00
Weight: 3.91 lbs.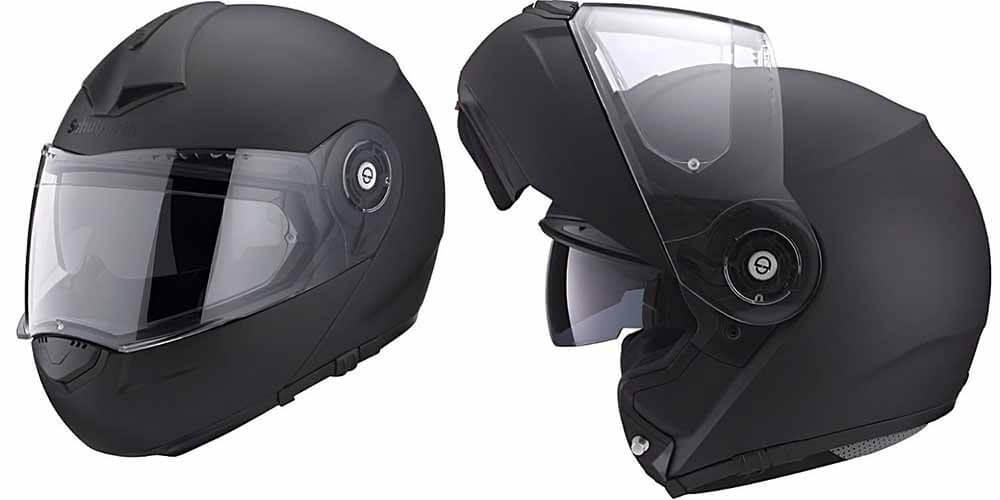 From a manufacturer that offers some of the sturdiest helmet designs, we have another quiet high-quality lid with a modular design. Like most other German tech, Schuberth is bent on making highly refined and premium-priced products for the top-tier market.
The Schuberth C4 Pro Carbon prioritizes comfort above all else. It is one of the quietest helmets on the market, designed and optimized in a wind tunnel to be as comfortable as possible.
This helmet is designed in the same luxury language of the less expensive Schuberth C3 Pro. The shell is made from a high-tech fiberglass resin mixture to reduce buffeting and provide stability and low resistance at high speeds.
Going for $899.00 on Amazon, Revzilla, or MotoSport, the Schuberth C4 Pro Carbon is a modular helmet, which means that the chin bar can be easily flipped up, allowing the rider to easily communicate or drink without removing the entire helmet.
Final Thoughts on Are More Expensive Helmets Safer
In general, a good motorcycle helmet should cost between $150-$300. This is a rough estimate, and the actual cost will depend on your preferences and needs as a rider. Ultimately, the most important factor in choosing a motorcycle helmet is finding one that is safe, comfortable, and suitable for your needs as a rider while not breaking the bank.
About the Author
Michael Parrotte began his illustrious career in the motorcycle industry by importing AGV Helmets into the U.S. market. He then went on to become the Vice President of AGV Helmets America for 25 years, during which time he also consulted for KBC Helmets, Vemar Helmets, Suomy Helmets, Marushin Helmets, KYT Helmets, and Sparx Helmets.
In 1985, he founded AGV Sports Group, Inc. with AGV Helmets in Valenza, Italy. And for over 38 years now, the company has quietly delivered some of the best protective gear for motorcyclists in the world.
Click Here for Michael's LinkedIn Profile
Click Here for the Complete AGV Helmet & AGVSPORT History
Click Here for All AGV Sports Group Social Media Information