When it comes to motorcycles, weight is a pretty important consideration, especially when you're in the market for an on and off-road touring bike. There's no denying that these bikes have been getting bigger and heavier over the last few years.
High-performance power and torque come at a cost, like increased weight. There's also been a trend towards accessorizing, with manufacturers adding features that, despite being cool, aren't necessary and only add to the bike's weight.
A lightweight bike is more agile, accelerates faster, and generally handles and maneuvers better. Still, in the world of touring, it's also important to consider the mileage and the luggage to be carried, which adds weight to the bike. It all comes down to balance.
These Are Our Top Three Best Lightweight Motorcycle For Touring On And Off-Road 2022
1. KTM 390 Adventure (379lb)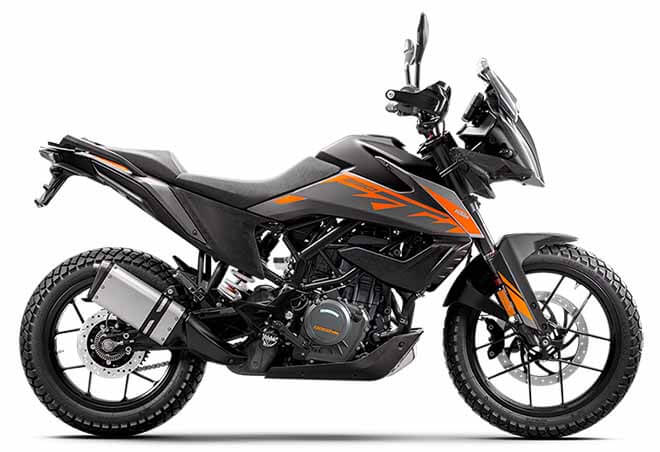 The KTM 390 Adventure tips the scales at 379 lb or 172 kg, making it the lightest motorcycle on our list. On the street, the 390 can sit comfortably at 70mph; anything over and there's a small but noticeable vibration; while off-road, this bike kills it on the gravel tracks, where its agility and maneuverability are more than evident.
Traction control offering an off-road and street setting has been added to the already impressive collection of electronics onboard the 2022 edition. The 3.8-gallon fuel tank holds enough gas to get you just shy of 250 miles. When combined with stronger and more resistant wheels and WP APEX adjustable suspension, the KTM performs well on and off the road.
The riding position is comfortable, although a seat height of 33.6″ means you will need to be over 5'9″ to rest your feet comfortably on the ground when you stop. KTM has put its Dakar knowledge to good use, creating a frame that is a perfect mix of flex, control, and stability. The KTM 390 Adventure is priced at $6,199.
Specifications:
| | | | |
| --- | --- | --- | --- |
| Displacement | 373cc | Torque | 27.29 ft-lb |
| Engine | One cylinder EURO 5 | Power | 43 hp |
| Fuel | 3.8 gal | Seat height | 33.6" |
| Transmission | 6 speed | Price | $6,199 |
2. Yamaha Tracer 7GT (432lb)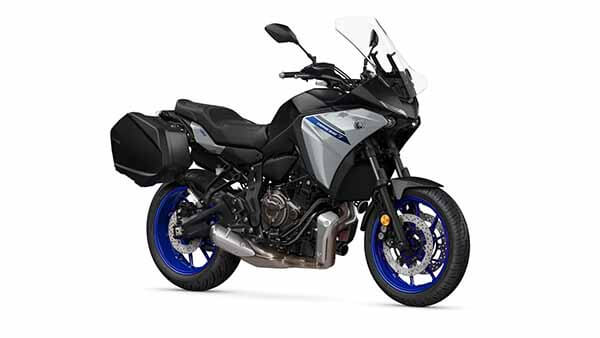 The Yamaha Tracer 7GT was beefed up in 2021, making what was already an exceptional all-rounder even better. Features added to cater to the touring market include 20-liter panniers, a wide touring screen, and a specially designed upgraded touring seat.
The adjustable front and rear suspension allow for every riding situation. Like the KTM, the seat is relatively high, making it a stretch for shorter riders. The Tracer weighs just under 200 kg or 432 lb.
A dynamic and aggressive look, including LED headlights and distinctive bodywork, sets it apart from other bikes in this category. The Tracer 7GT offers a light bike's all-around versatility and agility to make it the perfect on- or off-road motorcycle.
The 4.5-gallon fuel tank offers plenty of range for those looking to get out on the open road while the motorcycle is not out of place on the daily urban commute.
The basic model is priced from $10,500 with around $2,500 of additional options available. This makes it the most expensive of the three motorcycles; however, from a performance and power perspective, the Tracer 7GT is far superior.
Specifications:
| | | | |
| --- | --- | --- | --- |
| Displacement | 689cc | Torque | 50.2 ft-lb |
| Engine | Two-Cylinder EURO 5 | Power | 72.4 hp |
| Fuel | 4.5 gal | Seat height | 33.6" |
| Transmission | 6 speed | Price | $10,500 |
3. Honda CB500X (434lb)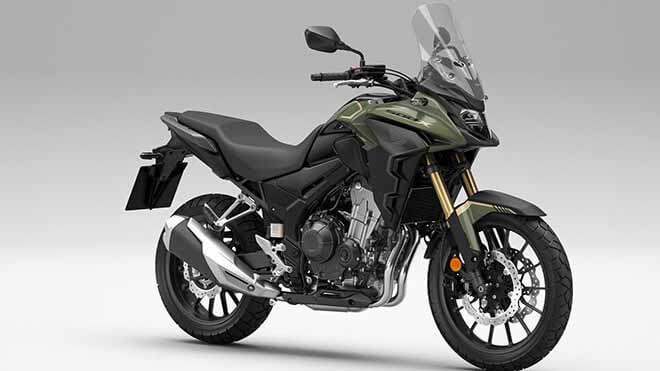 The Honda CBX500X is the heaviest of our three bikes, weighing in at 434 lb or 197 kg. Taking inspiration from the Africa Twin, Honda has incorporated many features into the CB500X. It has more power at its disposal than the KTM with 42.5 hp but falls well short of the Tracer 7GT and its 72.4 hp.
The 4.7-gallon fuel tank is the largest of the three bikes and offers a good range, making it ideal for long rides. While the CB500X handles mild to moderate off-roading tracks, it understandably doesn't have the capabilities of a dirt bike in the mud.
On-road, the CB500X is happy at highway speeds and represents a good choice for an urban commuter who enjoys getting out on the highway or off-road on the weekends. The tires were switched out recently to give better traction off-road.
Described as a reliable and safe motorcycle, the CB500X is perfect for beginner riders. With black metallic and mat gunpowder finishes to choose from (both have red accents), the CB500X has an aggressive look. The front and rear suspensions are adjustable, allowing for different riding environments.
Specifications:
| | | | |
| --- | --- | --- | --- |
| Displacement | 471cc | Torque | 32 ft-lb |
| Engine | Parallel Twin SI | Power | 42.5 hp |
| Fuel | 4.7 gal | Seat height | 32.7" |
| Transmission | 6 speed | Price | $6,999 |
Information for this article was partially sourced and researched from the following authoritative Government, educational, corporate, and nonprofit organizations:
KTM 390 ADVENTURE: KTM Australia
About the Author:
Michael Parrotte started his career in the motorcycle industry by importing AGV Helmets into the North American market. He was then appointed the Vice President of AGV Helmets America. In total, he worked with AGV Helmets for 25 years. In addition, he functioned as a consultant for KBC Helmets, Vemar Helmets, Suomy Helmets, Marushin Helmets, KYT Helmets, and Sparx Helmets.
In 1985, He is the Founder of AGV Sports Group, Inc. cooperation with AGV Helmets in Valenza Italy
Click here for LinkedIn Profile: https://www.linkedin.com/in/parrotte/
Click here for complete AGV Helmet & AGVSPORT History https://agvsport.com/michael-parrotte
Click here for all AGV Sports Group Social Media information http://agvsport.info/
FM/L