The feeling of freedom when riding a motorcycle is something that can't be replicated driving a car and something those who have never been on a bike can't appreciate. Like most things in life, freedom comes with its own risks. Mitigating these risks and keeping safe while riding a motorcycle are important considerations before you get on a bike. Here are some of the top tips to keep yourself safe the next time you hit the highway on your bike.
Top Safety Advice For Riding Motorcycles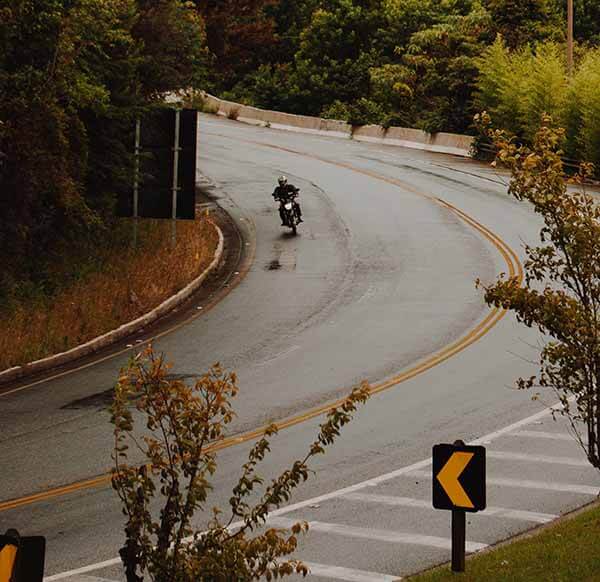 Dress for Safety
Television and movies have instilled the idea that to experience the total riding experience, you need to get out on the road and feel the wind in your hair. It's the epitome of coolness. It's also incredibly unsafe. With the speed and power of vehicles on the road today, the safest thing you can do is ensure you dress for the occasion.
Riding a motorcycle requires a certain wardrobe if you want to keep safe. It's not a short and t-shirt kind of gig. If you come off your bike, the only thing between you and the road is what you are wearing.
1. Always Wear a Helmet
A helmet is essential anytime you get on a motorcycle. Don't leave home without it. There are a huge number of different helmets to choose from, with each helmet type having its own safety profile. While anything is better than nothing, full protection goes with a full-face helmet as they have been shown to be the most effective in protecting your head in the event of an accident.
2. Think About Your Feet
Make sure you go with decent shoes when riding a motorcycle. Specially designed motorcycle boots are best. At a minimum, you should be looking at a strong boot made with leather or abrasion-resistant material. Pay attention to the soles.
The sole needs to be a reasonable thickness to minimize the effects of general wear and tear and it needs to be firmly attached to the rest of the shoe or boot. Whatever boot or shoe you go with, you want to make sure they will stay together in the event of an accident.
3. Protect Your Body
Think back to when you were a kid and took a spill from your bike riding around the neighborhood. That road rash sure hurt. The same thing happens when you spill from a motorbike but the effect of speed and conditions are amplified meaning you are going to lose some serious skin should you come off.
Long pants and a motorbike jacket should be a prerequisite before you get on a bike. Make sure you choose a jacket that keeps you visible for added protection. Generally, speaking you want your gear to be made of abrasion and heat-resistant material for maximum protection.
Related: 12 Motorcycle Safety Tips Every Rider Should Know
Know Your Limitations
When choosing your bike, be aware of your limitations. Choose a bike that is in line with your level of experience, the type of riding you intend, and your physical attributes.
1. Consider Your Experience
Over the last few years, there has been an increase in the number of motorbike accidents involving those who are nearing retirement age. There has been a trend among this age group to buy a bike and head out to explore the world. Often this exploration takes place in a faraway country, Australia, New Zealand, and Asia is common destinations, at least in the pre-pandemic world.
The difficulty is many of these groups have never ridden a motorbike in their lives and have the financial means to buy a decent machine that has some serious power behind it. The result is an influx of tourists in this age group needing serious medical attention due to serious accidents. This is because many of the riders don't have the experience necessary to control their bike when things turn pear-shaped.
Manufacturers often provide several different models within a range to account for different experience levels, among other things. Be guided by the manufacturer's recommendation and industry experts regarding the level of experience necessary to safely operate a specific bike. This doesn't mean that cruising the highway on a Harley is off the table for the beginner, it just means that it would pay to get some experience under your belt before you get your dream bike.
2. People Come in all Shapes and Sizes
To be safe on a motorcycle, you need to be able to control your bike. The last thing you want is the bike controlling you. This means you need to choose a bike that is in line with your physical attributes.
Height is a factor. To be safe, you should be able to touch the ground with your feet and be able to keep the bike upright when stationary. Weight is another consideration. If you can't get the bike upright from a lying position, it's probably not the ideal bike for you.
Be guided by the experts when selecting a bike and make sure it's a good fit for your body type. The reality is motorbikes discriminate, and no amount of left-wing political correctness is going to change this.
3. Horses for Courses
There are a whole heap of motorbikes on the market, many designed for a specific purpose. When you are considering a new bike, it's essential that you choose one that is in line with how you intend to use it. The features that are available on a bike are usually tailored to the environment in which you intend to ride it.
While there are some excellent multi-purpose bikes out there that are safe both on and off the road, there are also some bikes that are specifically designed for a given riding situation.
If you're looking for a bike that you can use on or off the road, consider an adventure or enduro bike as they have features that lend themselves to both environments.
If you are looking to stay on firm surfaces then sports or touring bikes may be the way to go. For those purely looking to explore the backcountry, consider a trail/dirt bike. This is another instance where it pays to be guided by experts.
4. Follow Safety Guidelines
Safety guidelines are there for a reason – to keep you safe. When riding makes sure you follow the speed recommendations in areas and any weather warnings. Make sure your bike is equipped with the correct gear for the environment you are riding in.
This includes everything from having the right tires on your bike to ensuring you have the necessary lights and indicators to ensure you are seen in low visibility conditions.
Be aware of the other road users and where they are relative to you on the road. You can't control the behavior of other road users but you can be aware of them so you are prepared to take evasive action if necessary. Keeping a safe distance between yourself and other road users is important. Always aim to ride in a way that gives you time to react if something unexpected happens.
MS/L