You've probably heard the misconception that lightweight helmets lack the capability to keep you safe because the EPS helmet body easily compresses or breaks upon absorbing impact energy, resulting in concussions or fatal injuries. This is far from the truth. Helmets approved by ECE, DOT, SNELL, SHARP, and FIM actually absorb at least 3/4 of the impact force. In fact, the lighter the helmet, the more effectively it can do its job.
And the best part? Lightweight helmets are also comfortable and reduce strain on the neck and shoulders, especially for tired or fatigued adventure riders, allowing them to stay alert and focused on the road ahead.
With that said, I've compiled a list of the best lightweight adventure helmets available in the market today.
Top 9 Best Lightweight Adventure Helmets in 2023
I'll follow my usual practice of reviewing my selections in ascending order to facilitate a more effective comparison of items with similar value, beginning with the lightest and progressing towards the slightly heavier options:
1. Klim Krios Pro — 3.1 lbs.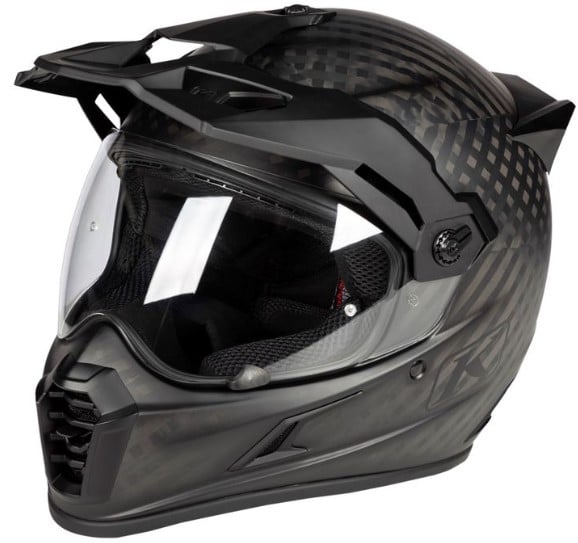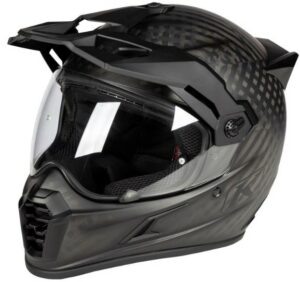 Currently, the Klim Krios Pro is the lightest adventure helmet available, weighing 3.1 pounds and utilizing Koroyd materials in its construction. Its carbon fiber shell is ultra-clear and optically correct, with eight intake vents and four exhaust vents designed to keep you cool. The helmet is compatible with various goggles because the peak is removable. The cheek pads and inner liner are easy to remove, too.
You also get to benefit from a clear and dark smoke face shield, a pinlock insert, and a Transitions photochromic lens. On the downside, the photochromic visor changes slowly in tunnels, offers limited airflow compared to off-road helmets, and it doesn't have an emergency quick-release feature.
2. LS2 Explorer — 3.3 lbs.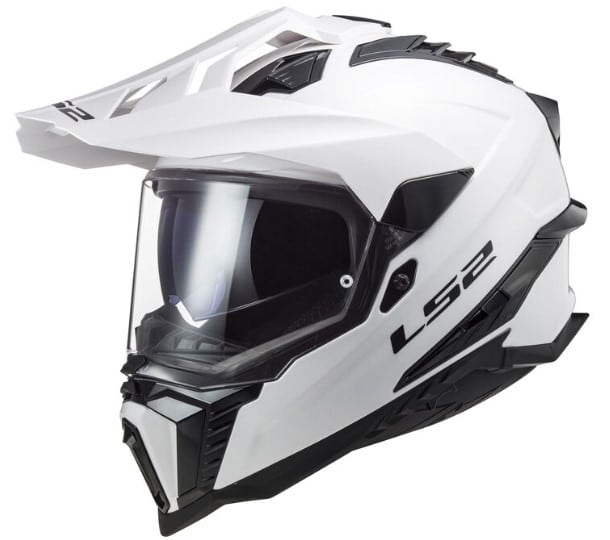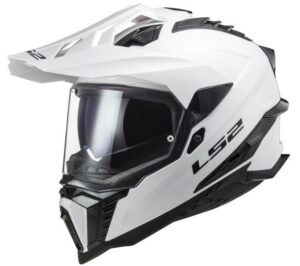 LS2 prides itself on the Explorer, a lightweight, multilayered carbon fiber shell helmet for both on-and-off-road use. It features a pinlock insert, a Double D-ring closure, and an oval fit, which makes it a perfect fit for most heads that are more oval than round. The helmet also has seven easily adjustable vents, a 3D optically correct visor, and an internal sun visor.
These unique features allow it to compete with high-end models like the AGV AX9 and Arai Tour X4, while being similarly priced. And like the AGV AX9, the Explorer has enough space to accommodate Bluetooth speakers, but there are no designated cutouts for them. It's also louder than most street helmets at highway speeds.
I highly recommend these motorcycle helmets for their affordable yet top-notch quality, reflecting my extensive 50+ years of motorcycling experience and expertise as a rider, leader, and consultant in 25+ countries. So, whether you're a seasoned rider seeking an upgrade or a new enthusiast starting your journey on two wheels, I'm confident that these gear recommendations will serve you exceptionally well.
3. AGV AX9 Carbon — 3.4 lbs.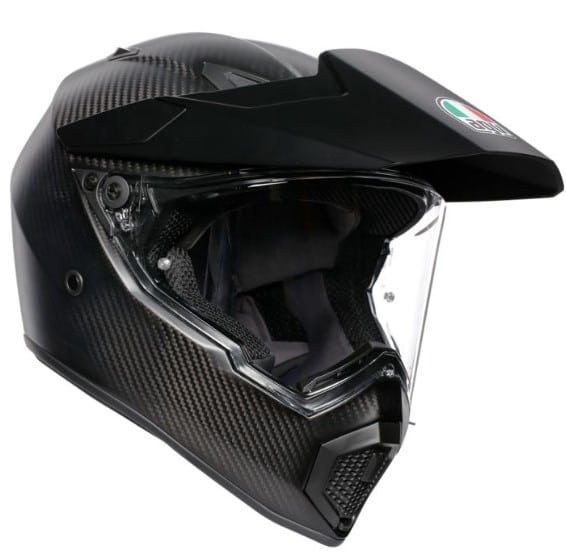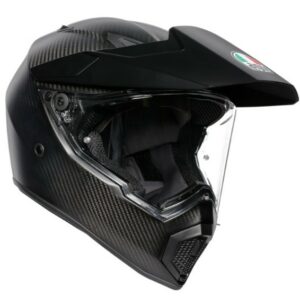 AGV, the Italian helmet maker, renowned for producing some of the safest motorcycle helmets, including the AX9 adventure tourer. The helmet features a carbon-aramidic fiberglass shell, retractable anti-scratch visor with 100% Max Vision Pinlock anti-fog technology, universal mounts for cameras, and a built-in port for integrating Bluetooth communications.
And the best part? It beats more expensive competitors for its lightweight design, thick removable and washable hypoallergenic inner lining, and superior venting. But the lever to operate the sun visor is initially stiff, and the helmet is only available in three shell sizes.
4. Sedici Viaggio Adventure — 3.62 lbs.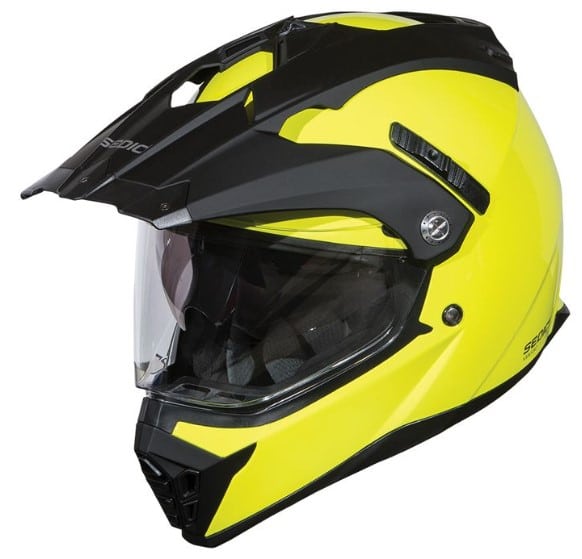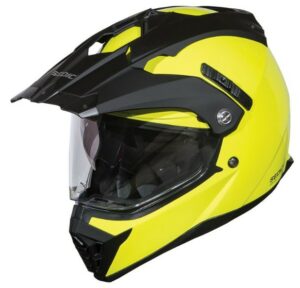 The Sedici Viaggio Adventure is an affordable option for an entry-level ADV and dual sport helmet with added comfort features. Built on an injection-molded ABS shell, it's sturdy and earns a DOT rating. The added value of a universal intercom compatibility makes it an attractive option if you're looking for a second ADV helmet.
Removable and washable airflow padding and interior lining also make it a worthy long-distance traveling companion. However, the Sedici Viaggio Adventure's ventilation is not very effective, and it lacks a chin curtain, making it loud at higher speeds.
5. Arai XD-4 — 3.66 lbs.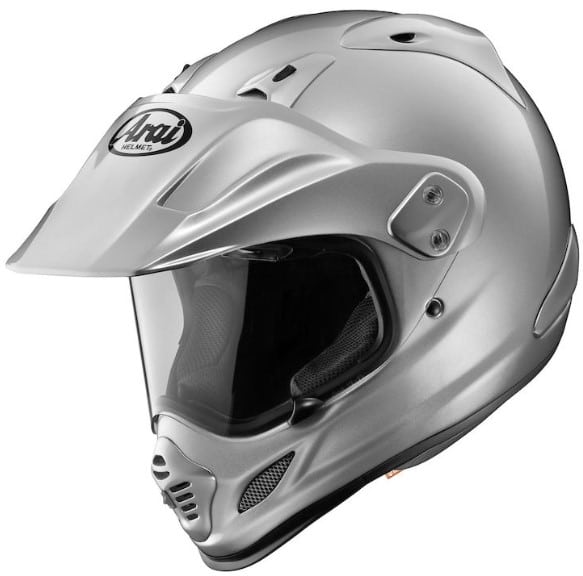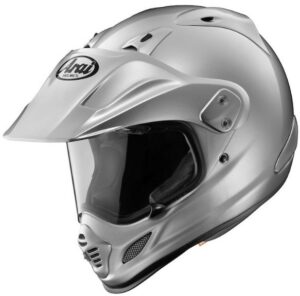 Since its introduction in 2012, the Arai XD-4 adventure tourer has undergone rigorous testing and proven its effectiveness. It is a handmade, high-quality helmet that comes with a 5-year warranty and a SNELL badge, assuring its safety. The peel-away cheek and micro-fitting temple pads allow for a custom fit, and its performance makes it the choice of many ADV riders.
The peak is removable and has a floating design that redirects air into the enhanced intake vents below it. The redesigned vents and diffusers maximize airflow, and it has a chin vent with intake ports and slider actuated anti-fogging cowls. On the downside, it doesn't support pinlock inserts.
6. Bell MX-9 Adventure MIPS — 3.74 lbs.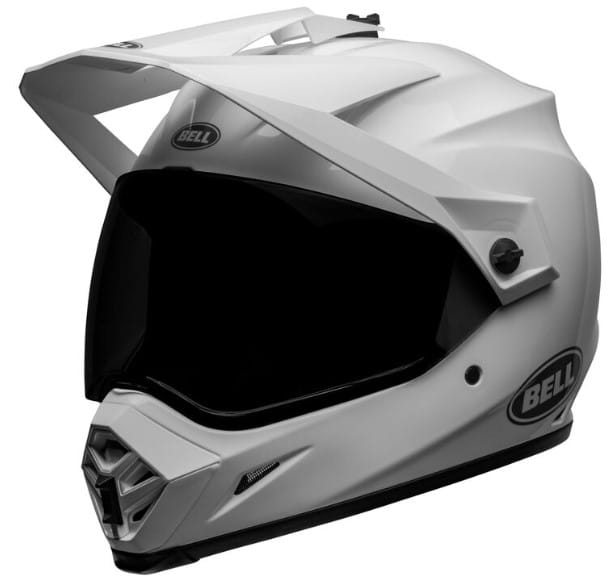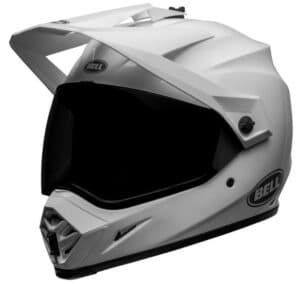 The Bell MX-9 Adventure MIPS is a versatile helmet suitable for both on-road and off-road use, with a polycarbonate chassis that is lightweight yet strong. The helmet has a comfortable interior with a network of vents you can remove and clean. You can even remove the peak to give the helmet a street-style look. And like the Arai XD-4, the MX-9 comes with a 5-year warranty.
For added safety, the helmet features advanced Multi-Directional Impact Protection System (MIPS) for added safety, and a removable face shield with anti-fog, anti-scratch, and UV protection. It's worth noting, however, that some riders have criticized the helmet for having always-open top vents and being noisy when you remove the peak.
7. Scorpion Exo-AT950 — 3.77 lbs.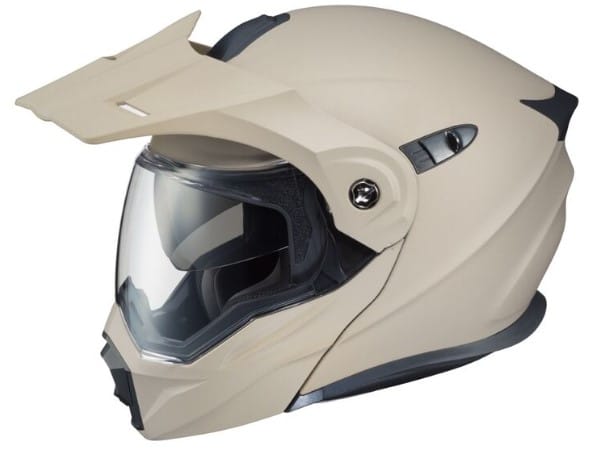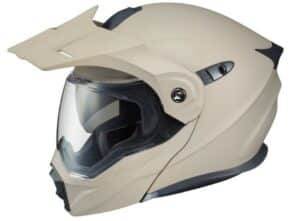 The Scorpion Exo-AT950 is a modular adventure helmet with a polycarbonate shell, making it moderate in weight and aggressively styled. It has a functional peak with a drop-down shield over a wide portal, and Scorpion adds a no-fog EverClear® face shield with a sun visor.
Although the ventilation system is subpar, the helmet works best in snow with adaptability for all other riding conditions. The flip-up feature is useful, and the helmet's Ellip-Tec™ Ratchet System seals the shield securely, allowing tool-less disassembly. But the helmet could benefit from better ventilation, and some riders may find the fixed chin bar filter to be a drawback.
8. Schuberth E1 Adventure — 3.79 lbs.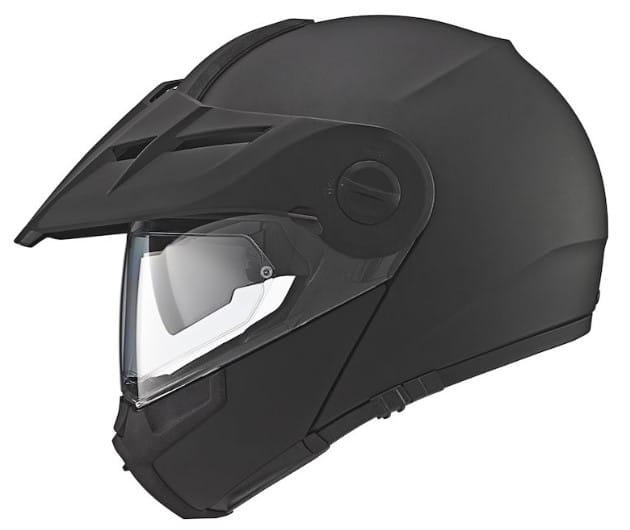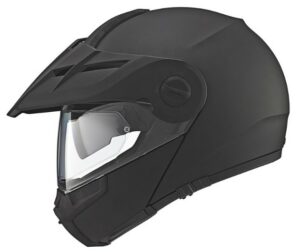 The Schuberth E1 is a flip-up adventure helmet from a renowned German manufacturer. It's designed to be exceptionally quiet and smooth, with a focus on wind tunnel testing. The helmet features the Anti-Roll-Off System (A.R.O.S) to keep it securely in place, as well as removable and washable Coolmax pads for easy maintenance.
The E1 also has a removable peak and face shield, and you can use it in multiple configurations. Key advantages include a premium interior liner with customizable fit, an enhanced face shield ratchet mechanism, directional stability, and a spoiler baked into the shell. However, the helmet lacks a rear spoiler for goggle straps.
9. Shoei Hornet X2 — 3.92 lbs.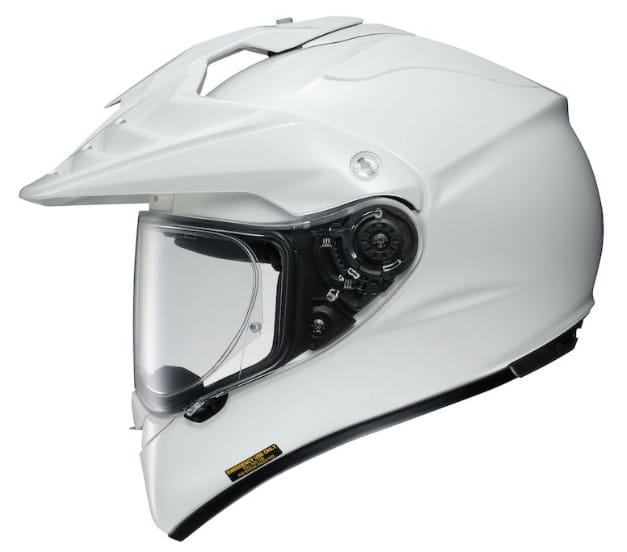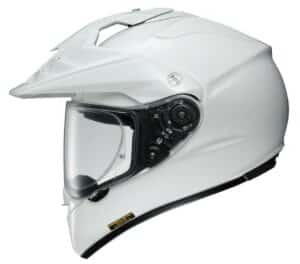 The Shoei Hornet X2 maintains a balance for on-and-off-road use with a redesigned visor that provides wider and taller vision while reducing lift and drag for aerodynamic stability. The helmet is virtually weightless at speed, and the peak provides roost protection and shields from the sun.
It offers improved ventilation with 4 front air intakes, 10 internal vents, and 7 rear exhaust vents. Add comfort features and pinlock for quieter high-speed highway rides, and you have an all-road, all-weather helmet. On the downside, the Shoei Hornet X2 weighs 7 ounces more than the Hornet DS and has a front-loaded bias.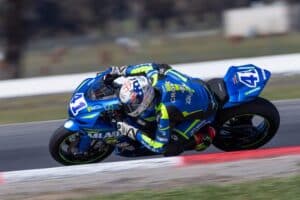 I've diligently categorized my motorcycle gear recommendations into all available categories, with the aim of providing you with a comprehensive analysis that showcases the absolute best options for all your needs. These items are the culmination of in-depth research, extensive testing, and personal use throughout my vast experience of 50+ years in the world of motorcycling. Besides being a passionate rider, I've held leadership positions and offered consultancy services to reputable companies in over 25 countries worldwide. To See Our Top Picks and the Best Prices & Places to Buy: Click Here!
Information for this article was partially sourced and researched from the following authoritative government, educational, corporate, and non-profit organizations:
National Library of Medicine | The National Center for Biotechnology Information
United Nations Economic Commission for Europe (UNECE)
Ni/A