Motorcycle helmets have evolved into a marvel of engineering, combining A-class aerodynamics, ergonomics, ballistic impact dissipation, rider ergonomics, and aesthetics. But lids were not always made this way, and this progress we owe to conventions and standards informed by good science and research.
And while they're mostly compulsory to wear on the road since 1973, despite having been used in racing as early as the 1914 Isle of Man TT, even certified helmets don't always offer the rider the same certainty of walking away from a crash. Enough to make you wonder—which is the best helmet standard?
In this comprehensive 2023 update, I will compare and rate the top 5 helmet standards while highlighting helmets that meet these standards. I will draw insights from my firsthand experience in the motorcycle helmet industry for over 46 years, during which I have led and consulted for reputable helmet brands.
ECE, DOT, SHARP, FIM, and SNELL Motorcycle Helmet Standards Compared
DOT: The DOT helmet standard, overseen by the NHTSA, focuses on enforcing compliance rather than conducting helmet tests. Helmets in the U.S. market undergo testing by contracted labs such as ACT Labs in California. The current DOT rating standard is

FMVSS-218

,

last updated in 2019. 
ECE: The Economic Commission for Europe (ECE) owns the ECE helmet standard applicable in over 50 countries, mostly in Europe. The most recent update to ECE Regulation No.22 (ECE 22) is version ECE 22.06, which came into effect in January of 2022. It replaces the outgoing ECE 22.05 that has been in use since 2000. But before you kick your trusty ECE 22.05 lid to the curb, read on to know what the updates are and what it all means. 
SNELL: The standard is set by the SNELL Memorial Foundation, a non-profit organization in Sacramento, CA, dedicated to improving helmet safety in memory of race car driver William "Pete" Snell. The latest SNELL rating standard for motorcycle helmets is the M2020, introduced in 2020 and valid until 2032. SNELL standards typically update every 5 years, so the last four date codes have been 2020, 2015, 2010, and 2005.
FIM: The Fédération Internationale de Motocyclisme (FIM), a global motorcycle racing organization, owns the FIM Racing Homologation Program (FRHP). It independently approves FIM helmet ratings based on real crash data and simulations. The current FIM rating standard is FRHPhe-01, but there is a new release, FRHPhe-02, which will be highly recommended from 2025 and mandatory from 2026.

 

SHARP: The UK's Safety Helmet Assessment and Rating Programme (SHARP) is a government-sanctioned testing initiative that regulates helmet quality since 2007. SHARP's lab assigns helmets a rating from 1 to 5 stars, with 5 being the highest. It selects random samples from store shelves to ensure they match those used by everyday riders and follows testing procedures outlined in British Regulation BS 6658 and UN R22 (ECE 22.06).
Others: Also noteworthy is the BSI rating (BSI 6658-85) by the British Standard Institute; Australian AS 1698:1988 and AS/NZS 1698:2006; TUV SUD PSB Standard SG of Singapore; the Japanese JIS T 8133:2000 Standard; Canadian CSA CAN3-D230-M85 and the UK Auto Cycle Union's ACU GOLD Standard.
And with that in mind, here are my top helmet recommendations, each designed to meet rigorous safety standards while offering unique features to cater to various rider preferences:
Top 14 Best Motorcycle Helmets Today
| Helmet Name | Category | Certification | Get Yours |
| --- | --- | --- | --- |
| AGV Pista GP RR | Best Overall | DOT FMVSS 218, ECE 22.06, FIM (FRHPhe-01), 5-Star SHARP Rated | RevZilla | MotoSport | CycleGear |
| Shoei RF-1400 | Best Quietest | DOT FMVSS 218, ECE 22.06, SNELL M2020D, 4-Star SHARP Rated | RevZilla | J&P Cycles | Amazon |
| Arai Corsair-X | Top Race/Sport | DOT FMVSS 218, ECE 22.06, FIM (FRHPhe-01), SNELL M2015/ M2020D, 4-Star SHARP Rated | RevZilla | CycleGear | BTO Sports |
| AGV AX-9 | Best Adventure | DOT FMVSS 218, ECE 22.05 | RevZilla | CycleGear | BTO Sports |
| Icon Airflite Peacekeeper | Most Versatile | DOT FMVSS 218, ECE 22.05, 3-Star SHARP Rated | RevZilla | MotoSport | J&P Cycles |
| AGV K6 | Best Value for Money | DOT FMVSS 218, ECE 22.06, 5-Star SHARP Rated | RevZilla | MotoSport | CycleGear |
| Bell MX-9 MIPS | Top Off-Road Choice | DOT FMVSS 218, ECE 22.05 | RevZilla | BTO Sports | Amazon |
| HJC RPHA 71 ST | Best Sport-Touring | DOT FMVSS 218, ECE 22.06 | RevZilla | MotoSport | CycleGear |
| Arai Corsair-X RC | Most Expensive/Premium Choice | DOT FMVSS 218, ECE 22.06, SNELL M2015/ M2020D, FIM (FRHPhe-01), 5-Star SHARP Rated | RevZilla |
| Scorpion EXO-R1 Air | Best Full-Face Street Riding | DOT FMVSS 218, ECE 22.05 | RevZilla | J&P Cycles | Amazon |
| Bell Custom 500 | Classic Open-Face Style | DOT FMVSS 218, ECE 22.05 | RevZilla | CycleGear | Amazon |
| Schuberth C5 | Top Modular Comfort | DOT FMVSS 218, ECE 22.06 | RevZilla | CycleGear | J&P Cycles |
| Klim Krios Pro | Lightweight Choice for ADV & Dual Sport | DOT FMVSS 218, ECE 22.06 | RevZilla | MotoSport | J&P Cycles |
| BILT Nomad Modular | Budget-Friendly with Versatility | DOT FMVSS 218 | RevZilla | J&P Cycles | CycleGear |
And the legal quagmire: ECE is not accepted as a substitute for DOT in the U.S. and neither will it pass a UK or Australian inspection since they have their own standards. On the other hand, DOT and SNELL are also not accepted in Australia. Canadians are a bit more liberal and almost anything goes; DOT, SNELL, ECE. Heck even some outdated certifications like SNELL M2005 are accepted in some provinces.
Admittedly, the standards have grown so far apart that it has become virtually impossible to meet all standards. As a result, SNELL has developed a double standard with the M2020D for the American and Canadian markets and the M2020R, a softer shell version (everything SNELL is against) to comply with European market requirements and the FIM standard, which has drawn ECE towards approving softer helmets, isolating SNELL who insist on harder shells.
SNELL helmet testing and certification are voluntary for manufacturers, but FIM and other racing events will bar helmets without a certified SNELL Foundation sticker. SNELL test criteria is more strict than DOT tests, and proves that the helmet goes over and above government set standards to deliver excellent protection. DOT only sets criteria for helmet performance in three areas: impact attenuation, penetration resistance, and chin strap retention effectiveness.
ECE denotes helmet configurations with letters J for helmets without lower face cover (chin bar); P for helmets with a protective lower face cover, and NP for helmets with lower face cover that does not offer sufficient protection (ECE 22.06J, ECE 22.06P or ECE 22.06NP).
But before I dissect the helmet and delve into the details or what each certification means in terms of adding a layer of protection over your melon, let's first look back at the makings of this modern engineering marvel; a story of loss, resilience, and sacrifice punctuated by an occasional bang and thud.
A Brief History of the Motorcycle Helmet Performance Standards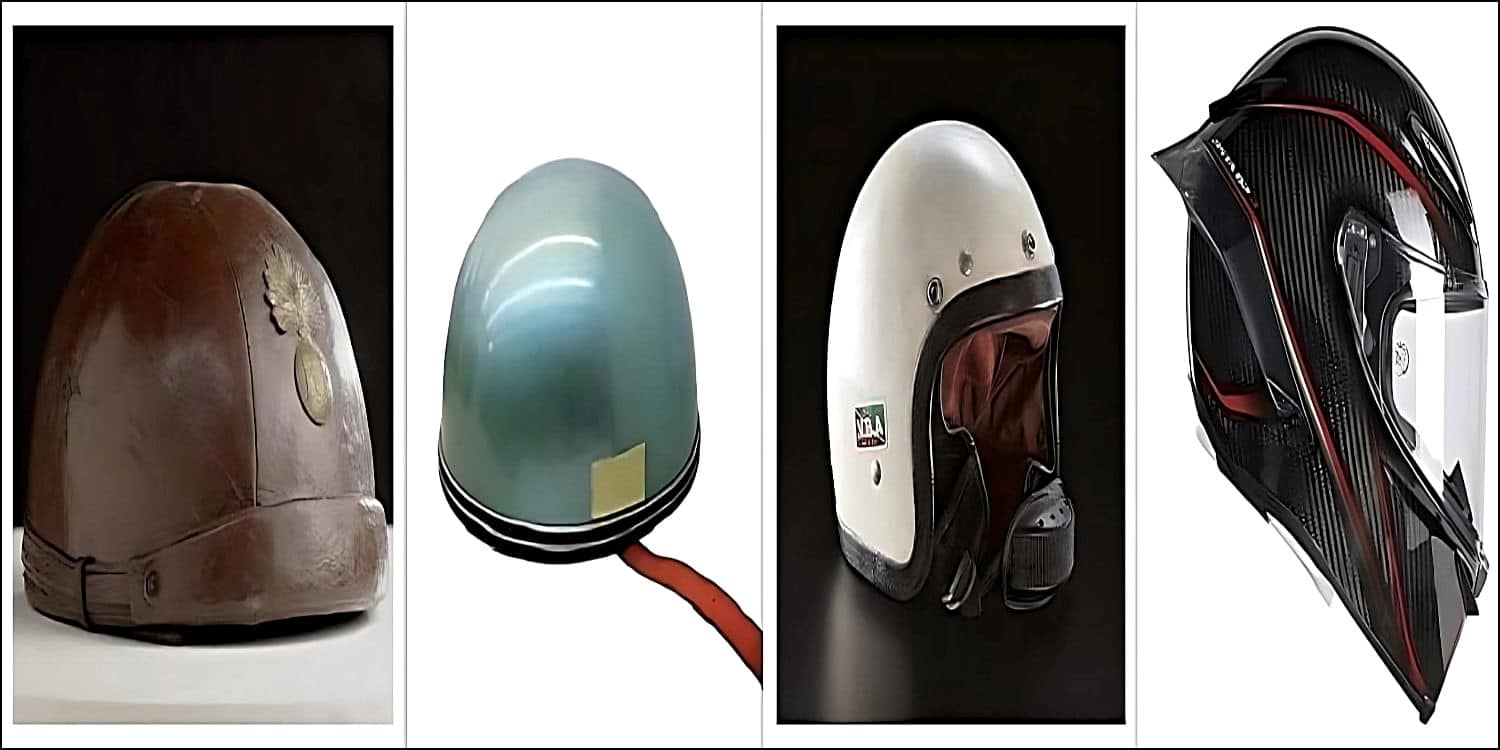 Helmet regulations initially had a solid connection to the growth of motorcycle racing. The quality of helmets has significantly improved due to subsequent research into crashes and their effects, which has benefited both racers and regular motorcycle riders. In the 1940s, Northern Ireland and the United Kingdom of Great Britain conducted the first systematic studies on helmet function and effectiveness.
Following the Second World War, the British Road Research Laboratory investigated the mechanics of human tissues, suitable materials for helmets, and testing procedures. The outcomes of this research served as the foundation for the initial performance criteria for safety helmets.
The first of these standards, British Standard 1869:1952, Crash Helmets for Racing Motorcyclists, was based on applying shock loadings to a helmeted head form. British Standard 2001:1953 – Protective Helmets for Motor Cyclists followed.
The British Standards Institute (BSI) certification mark, which also required the manufacturer, place of origin, helmet size, and British standard number, was applied to qualifying helmets. The introduction of helmets with a specific quality was made possible thanks mainly to this external evaluation.
Across the pond, the SNELL Memorial Foundation of the United States produced its first motorcycle helmet standard and established a certification program in the 1960s. The tipping point would, however, come in the '70s.
In 1972, the U.N. Economic Council for Europe (UNECE) set a precedent by creating U.N. Regulation No.22 based on the prior agreement of 1958 on the type of approval of vehicles and equipment parts. The ECE standard has since been revised six times and is now in its 6th iteration (ECE 22.06), set to swing into full effect beginning in 2024.
One year down the line (1973), motorcyclists in Britain were required to wear safety helmets that adhered to the BSI standard. And a year later (1974), every helmet supplied for use on public roads in the USA had to comply with the U.S. Federal Motor Vehicle Safety Standard (FMVSS) No. 218 as mandated by the DOT.
Other governments have since done the same, using standards as the foundation for law. Although there is a universal regulation, it is not yet widely applied. It is still common for governments to base their national standards adoption decisions on a combination of already existing ones, necessitating the harmonization of standards.
I highly recommend these motorcycle helmets for their affordable yet top-notch quality, reflecting my extensive 50+ years of motorcycling experience and expertise as a rider, leader, and consultant in 25+ countries. So, whether you're a seasoned rider seeking an upgrade or a new enthusiast starting your journey on two wheels, I'm confident that these gear recommendations will serve you exceptionally well.
A Deep Dive Into SNELL, SHARP, ECE, FIM & DOT: What Do They All Entail?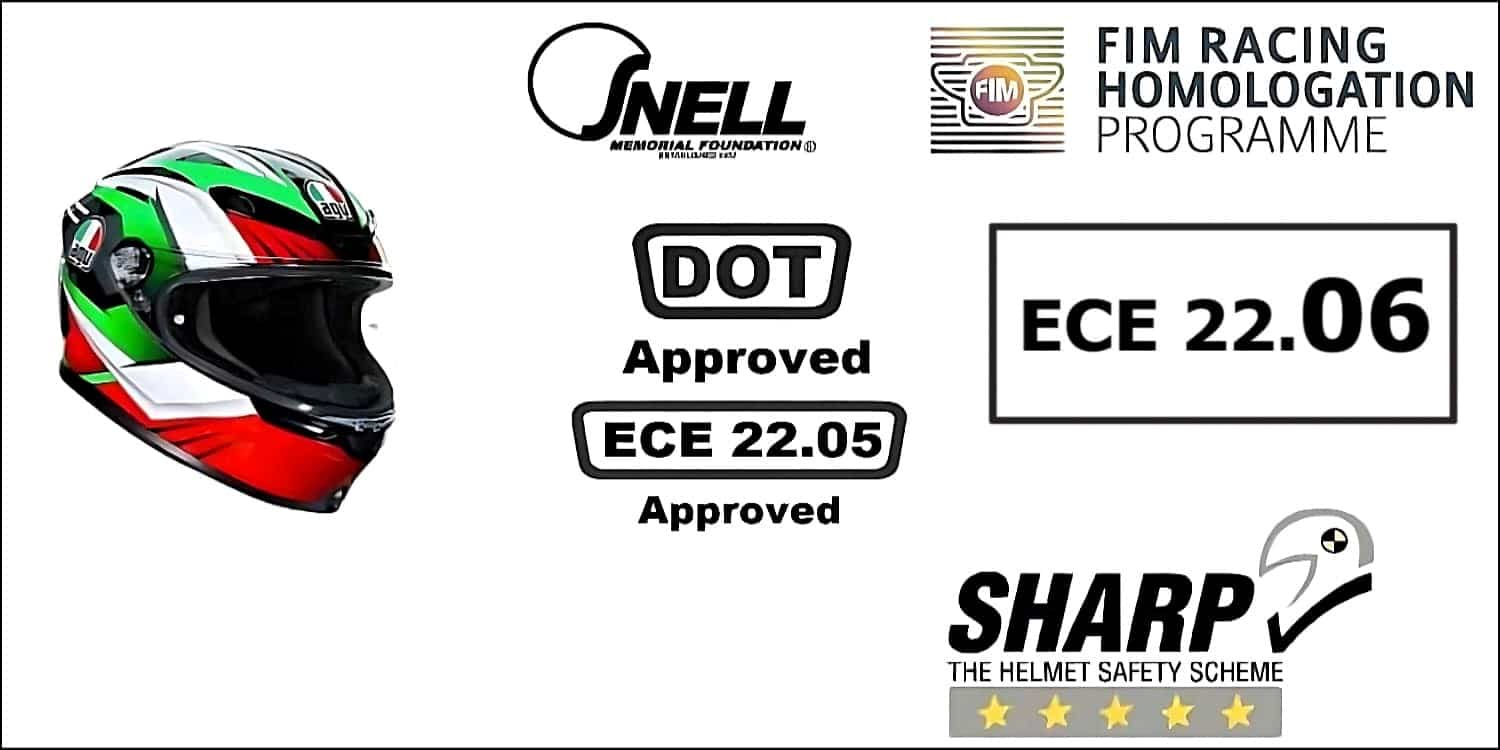 In this section, I'll compare the five major motorcycle helmet standards: ECE, DOT, SHARP, FIM, and SNELL. Understanding these standards is important when buying a helmet as they establish minimum safety and protection in the event of an accident.
By doing this comprehensive comparison, I'll give a clear understanding of the requirements, testing procedures, pros and cons of each standard, and how they compare, to help you make an informed choice of the right helmet that meets your needs.
And yes, helmet certifications can be quite the mare's nest, so let's take it from the top and break each down to basics. Impact mitigation, G forces, multi-point testing, rotational 6D testing, drop tests, what matters to your safety and why?
First, A Little Dose of Good Physics…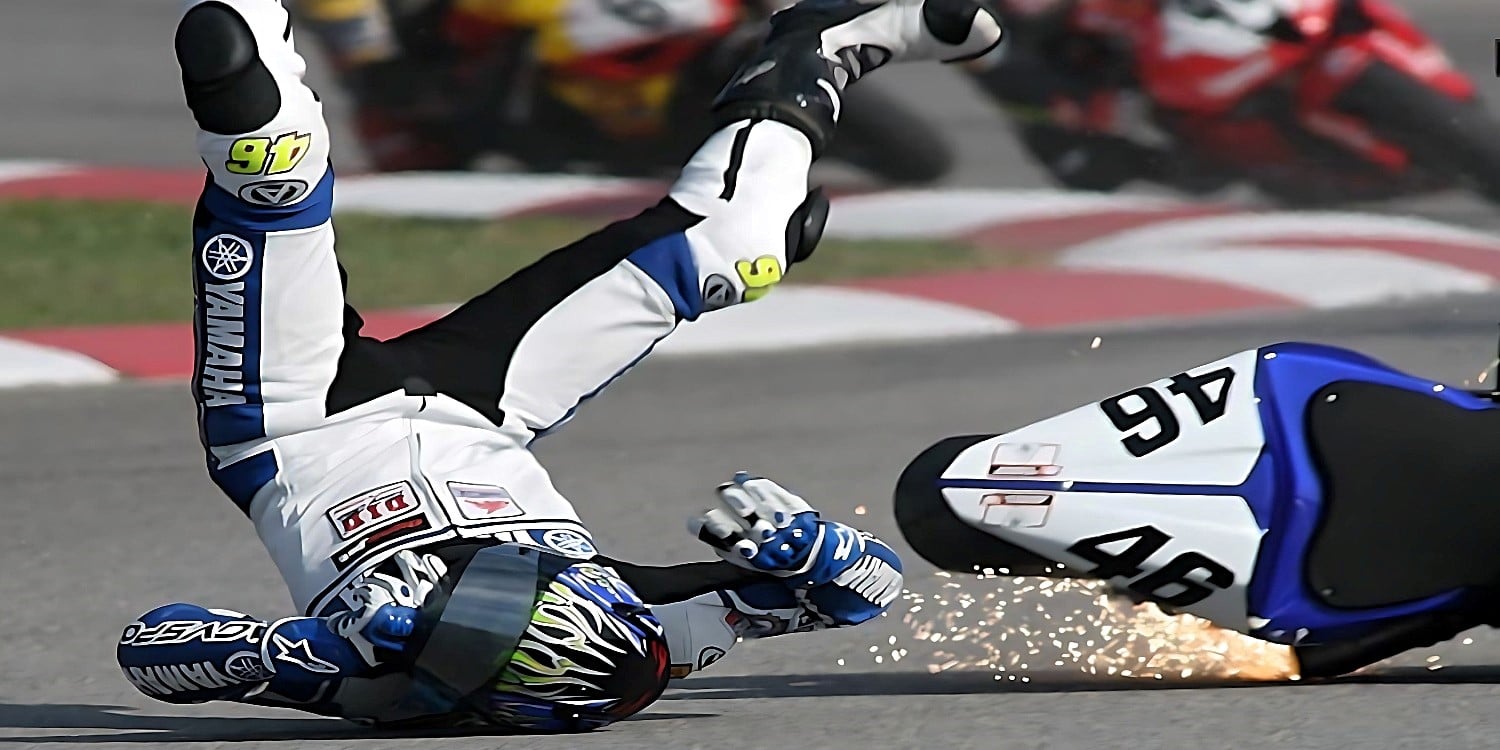 Impact mitigation, also known as energy absorption and dispersion, is central to crash helmet testing and is measured as peak acceleration. This measurement is done in Gravities. It follows that a force of 400 Gs is four hundred times the natural pull of gravity! It is nothing but good old Isaac Newton's observation when we talk about G forces or gravities.
To put this into perspective, the average weight of a human head is 10 lbs.; when decelerated at 400 Gs, this same mass will weigh about 4,000 lbs. for about one-eighth of a second. This is the same reason one feels slightly heavier on an elevator, accelerating upwards and vice versa.
And because good physics works, imagine a 2-ton human head with a brain that weighs as a small car—there's no surviving that! Yet somehow, the human body has unique biomechanics and can survive that many Gs.
DOT Motorcycle Crash Helmet Standard (FMVSS-218)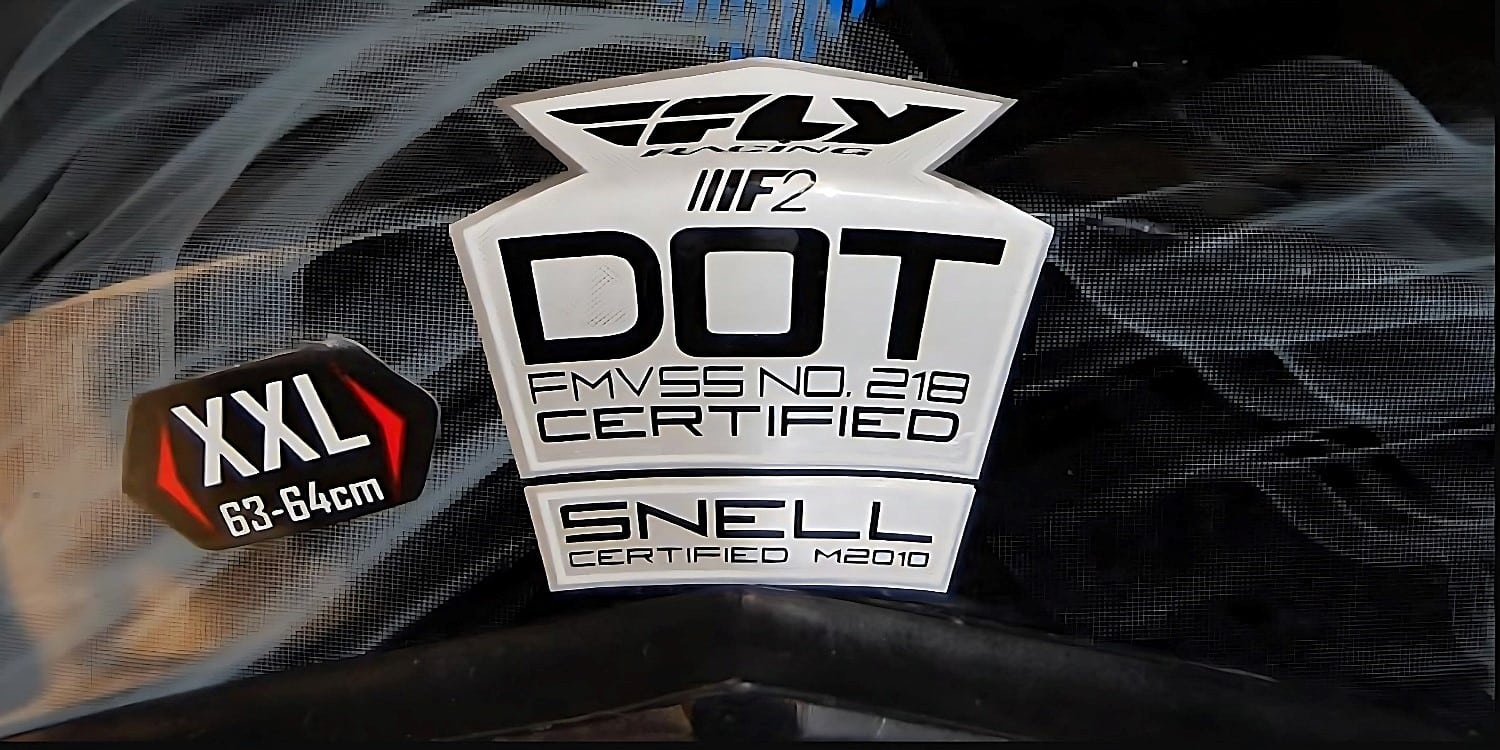 The FMVSS-218 certification, popularly known as the DOT standard, is the legal minimum requirement that motorcycle helmets must pass in America. As such, it is relevant only when buying yourself a lid in the U.S.
But the standard may appear on helmets in foreign markets as well as a mark of good quality and a helmet that is up to par. The DOT certification is comparable, although less stringent than the European ECE 22.06 standard.
Some states (18 and the District of Columbia) mandate universal helmet laws, which require riders of all demographics to wear a DOT (FMVSS 218) certified helmet. The rest have only partial helmet laws, and yet others, like New Hampshire, Illinois, and Iowa, make the list of shame with no existing helmet laws.
Figure 1: Motorcycle Helmet Use By State Law, 2022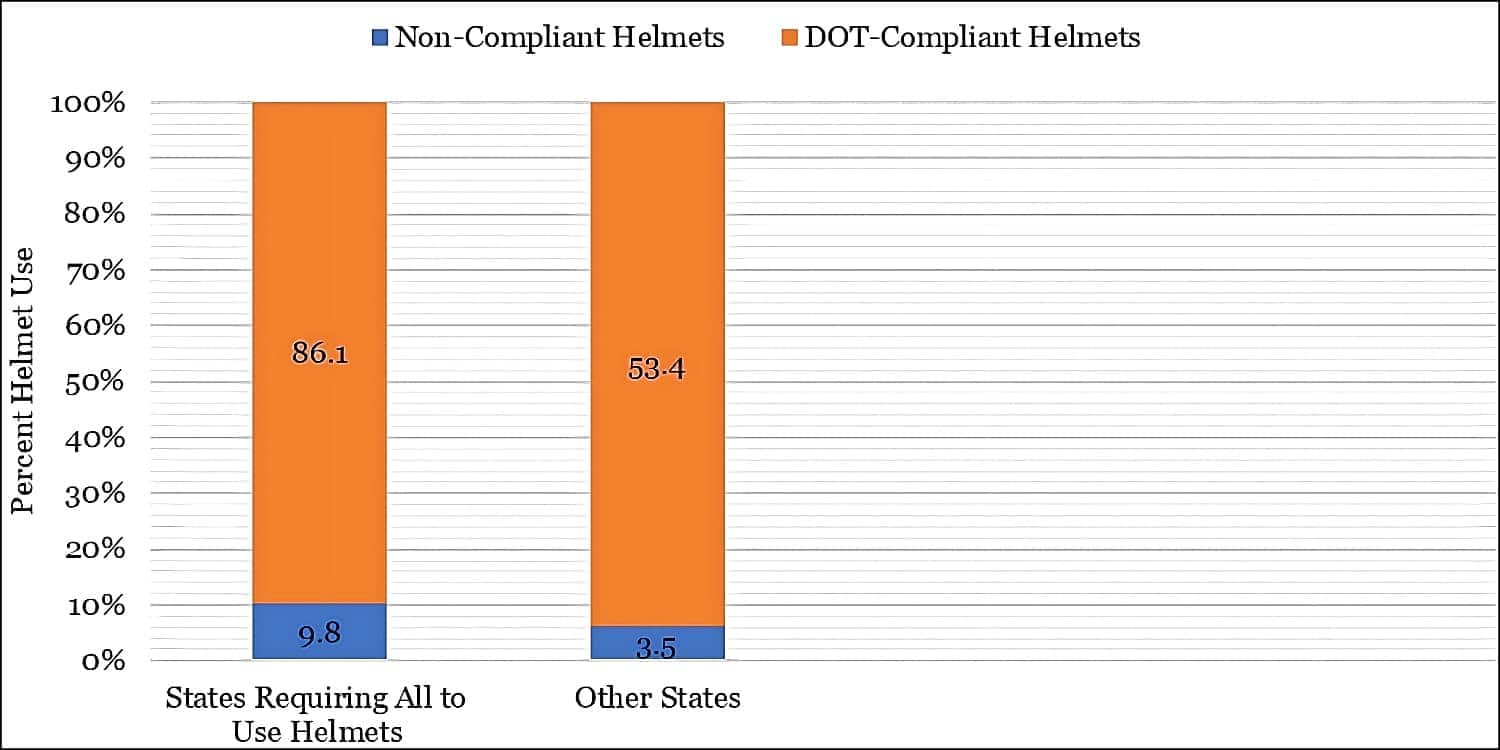 As observed in Figure 1, the use of DOT-certified motorcycle helmets in states that have adopted robust universal helmet laws is notably higher than in those with deficient or no helmet regulations (86.1% versus 53.4%). States with universal helmet laws also have more riders using non-compliant helmets, at 9.8% versus 3.5%.
Overall, the use of DOT-certified helmets has witnessed a 10.6% growth in the last 11 years, as demonstrated below:
Figure 2: Motorcycle Helmet Use in the United States, 2010-2021 (2)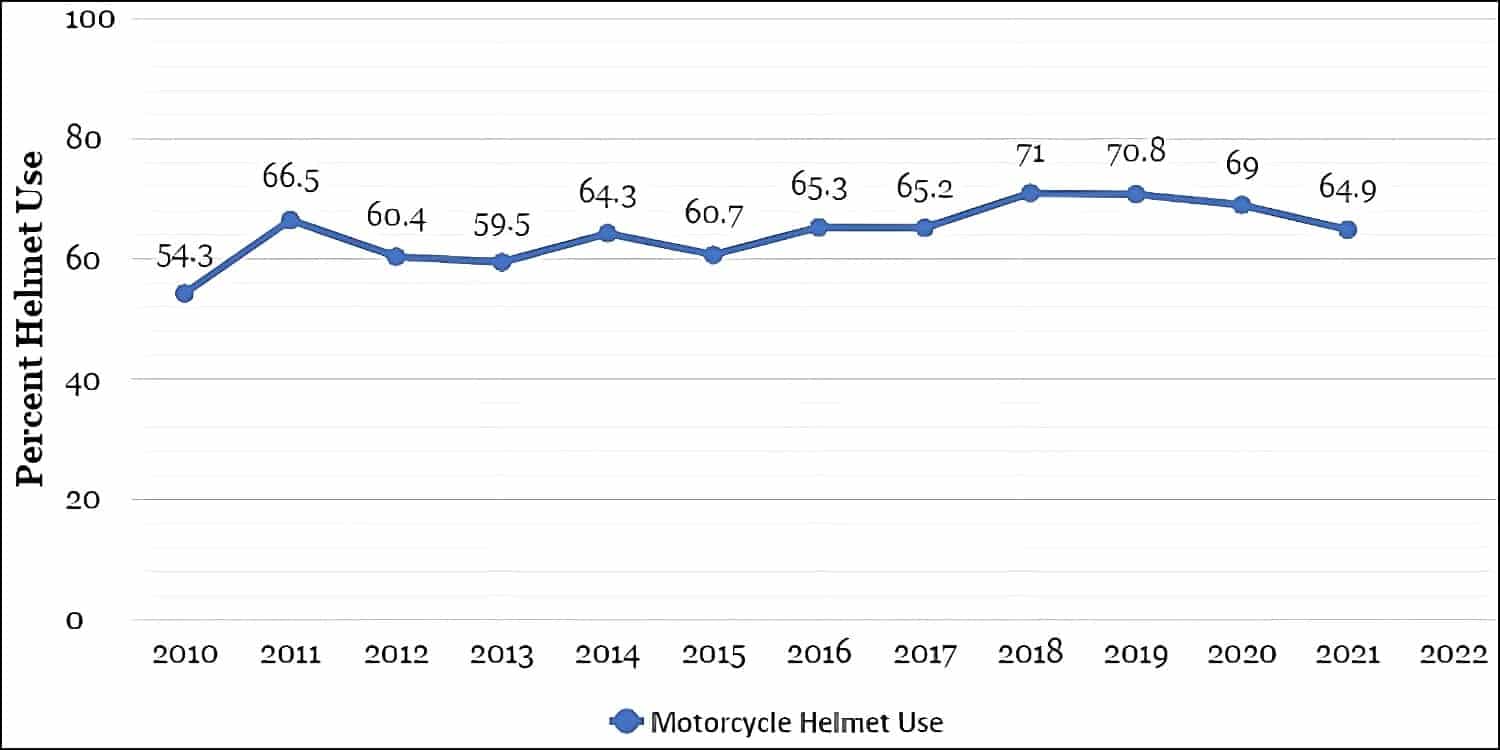 Whichever state you ride in, a helmet will come in handy in the unfortunate event of a crash. We consider DOT the bare minimum requirement for a good lid that offers a decent amount of protection. You need, however, to be cautious about open face and some other helmet configurations that might pass the DOT test but still offer minimal protection to the face and chin.
Full-face helmets (integral) are much better than open-face (jet) helmets. When motorcycle crashes occur, riders often strike their chins and faces. And the impact has a 45% chance of being on the part of the head that only a full-face helmet covers. On the other hand, an open-face (¾) helmet does not protect as much as a full-face helmet but much more than a half (½) helmet. The more of your face the helmet covers, the better!
All things considered, wearing a DOT-certified helmet reduces risk of death by 37% and severe head trauma by 69%. And with DOT, you are likely barely legal.
One big selling point for DOT lids is the retention strap tests, which ensure that none of the products have cheap plastic that cannot keep the ear on your head in a fall. A good helmet remains over your head and takes the hit on your behalf.
Who Tests Helmets for DOT Certification?
The DOT does not test all helmets for approval. They roll out a set of standards and regulations for manufacturers who target the U.S. market to follow. Makers will then be allowed to self-certify that their helmets will pass the FMVSS 218 tests and append a DOT sticker.
NHTSA's Office of Vehicle Safety Compliance will then randomly check for compliance in the market with manufacturers found guilty of flaunting the specifications, fined heavily, and their products were withdrawn from the market.
What Is the DOT Helmet Test Criterion?
For a helmet to pass DOT testing, it has to undergo the following;
Impact Attenuation Testing: Here, it is subjected to huge crashes against a rounded and flat anvil under four different operating conditions; humidity, low/med/high temperatures, and water immersion. At least four impact sites are chosen above the test line, with two hits at every site.
Next, a Penetration Test in which a 6lb 10oz pointy striker hits various parts of the shell, falling freely from 118 inches–again simulating all four operating environments.
Now for the Retention Mechanism Test: The chin strap is loaded progressively from 50 to 300 lbs. and checked for the amount of extension. This value is accepted only if it is less than one inch.
Finally, the lid is checked for Peripheral Vision with a minimum of 105 degrees from the centerline allowed.
If, and only if, a motorcycle helmet has passed the above test criterion, will it join the DOT hall of fame and continue to enjoy the comfort of American stores and dusty garages. Else if the lid fails, the manufacturers have to recall their products and face potentially stiff fines.
What I Like About DOT FMVSS 218
Simulates high-energy collisions with hemispherical anvil and two strikes per site

Checks a large area of the shell

400 G peak energy transfer is practical
What I Don't Like About DOT FMVSS 218
Self-certification "honor system" may allow for substandard helmets to enter the market

Uses a limited number of head forms

Testing only majors on impact mitigation at the expense of optics, comfort, and other factors.
ECE 22.05 Motorcycle Helmet Safety Standard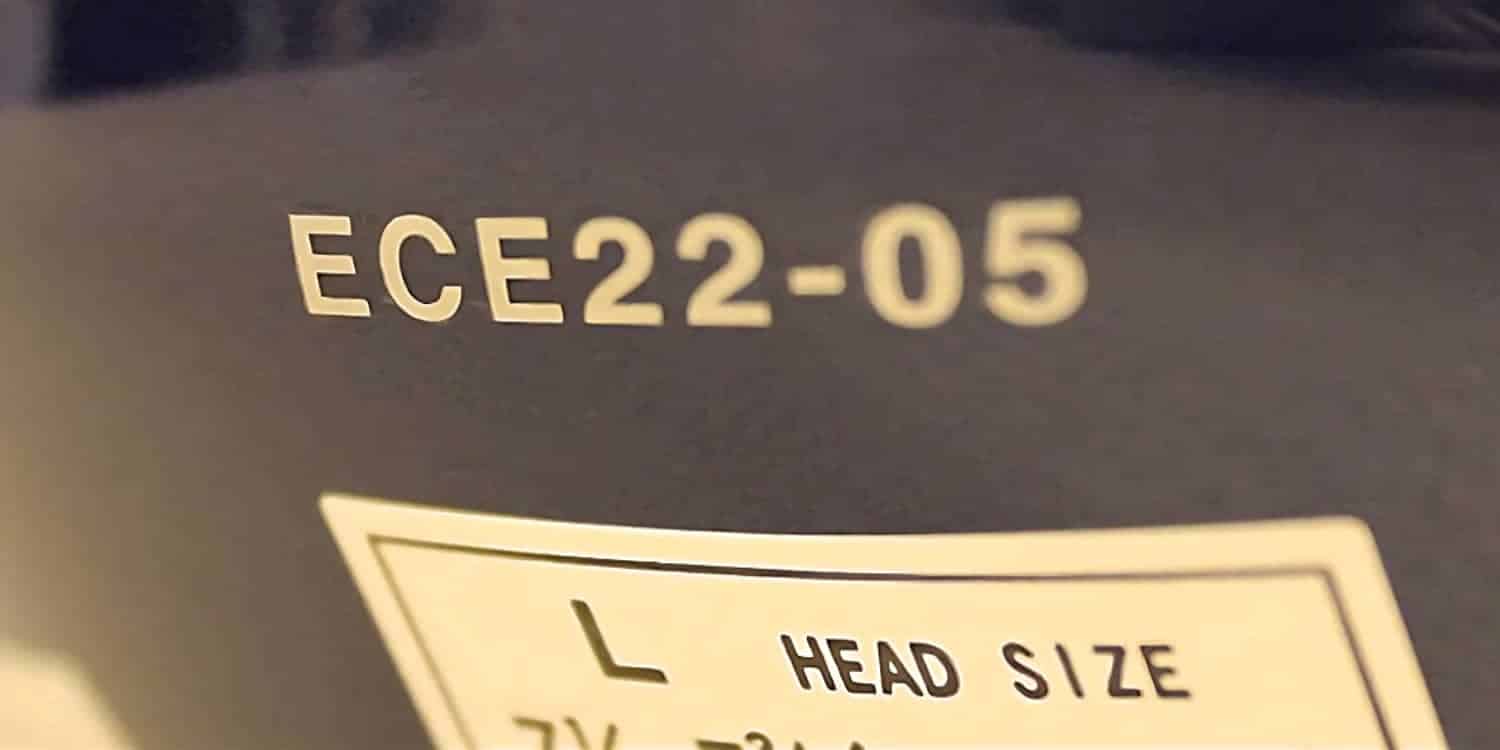 The ECE 22.05 certification is the minimum safety standard that motorcycle helmets must pass in Europe. The certifying organization in this case is the United Nations Economic Commission for Europe (UNECE), and unlike the DOT, they demand that any helmet be tested against their specifications by an accredited, certified, and frequently independent lab before a certification can be applied. 
Since well over 20 years ago, there has been a version of the certification known as 22.05, or the 5th amendment of Article 22 for personal protective equipment, which is far stricter than the DOT criteria.
The number of helmet components tested in impacts makes the most difference. The measurement for the DOT test is simply made over the top of the helmet. Peak acceleration is tested with the ECE on the sides, the back, the top, and, depending on whether it is a full face, modular, or has a chin bar.
The 400 Gs allowed on the DOT tests are too high to assure survivability. The ECE has, therefore, found that a peak acceleration of 275 G or lower presents a more likely scenario of an accident that one can walk away from without fatal injuries. Albeit it is still an enormous amount of force, it is still more reasonable for common crashes.
ECE also uses a flat and curved anvil to simulate hitting a flat obstacle or curved edge like the roadside curb. In addition to impact dissipation, helmets must offer good abrasion resistance and not deliver torsional impulses, which grab and twist the rider's head as they slide down the asphalt. Other tests are carried out on the EPS layering with a pressure of up to 630 newtons.
However, the ECE 22.05 certification standard falls short slightly since, same as the DOT's test-guided impacts cause the helmet to fall along a preset line at all angles in order to strike the anvil uniformly each time; how the helmet impacts the ground is the one part of falling from a motorcycle that is completely beyond anyone's control.
What I Like About ECE 22.05
Active and thorough testing for all helmets sold with the ECE label

Low allowable peak energy transfer of 275 G makes their helmets more survivable.

Extensive and thorough battery testing for a variety of safety specifications

Uses eight head shapes for a larger range of testing.
What I Don't Like About ECE 22.05
Used single strike falls short of the energy transfer typical in higher speed limits in the U.S.

Manufacturers know the test locations in advance and can potentially cheat the impact tests

Using a variety of head forms causes displacement of the center of mass and reduction of the impact energy by up to 20%.
In addition to still being legally permissible to use and ride with, helmets manufactured before the end of 2021 that have the ECE 22.05 certification frequently outperform those with just a DOT sticker. However, Amendment 6 was just published by the ECE, thus…
The New ECE 22.06 Standard: Is It the Certification We've Been Waiting For?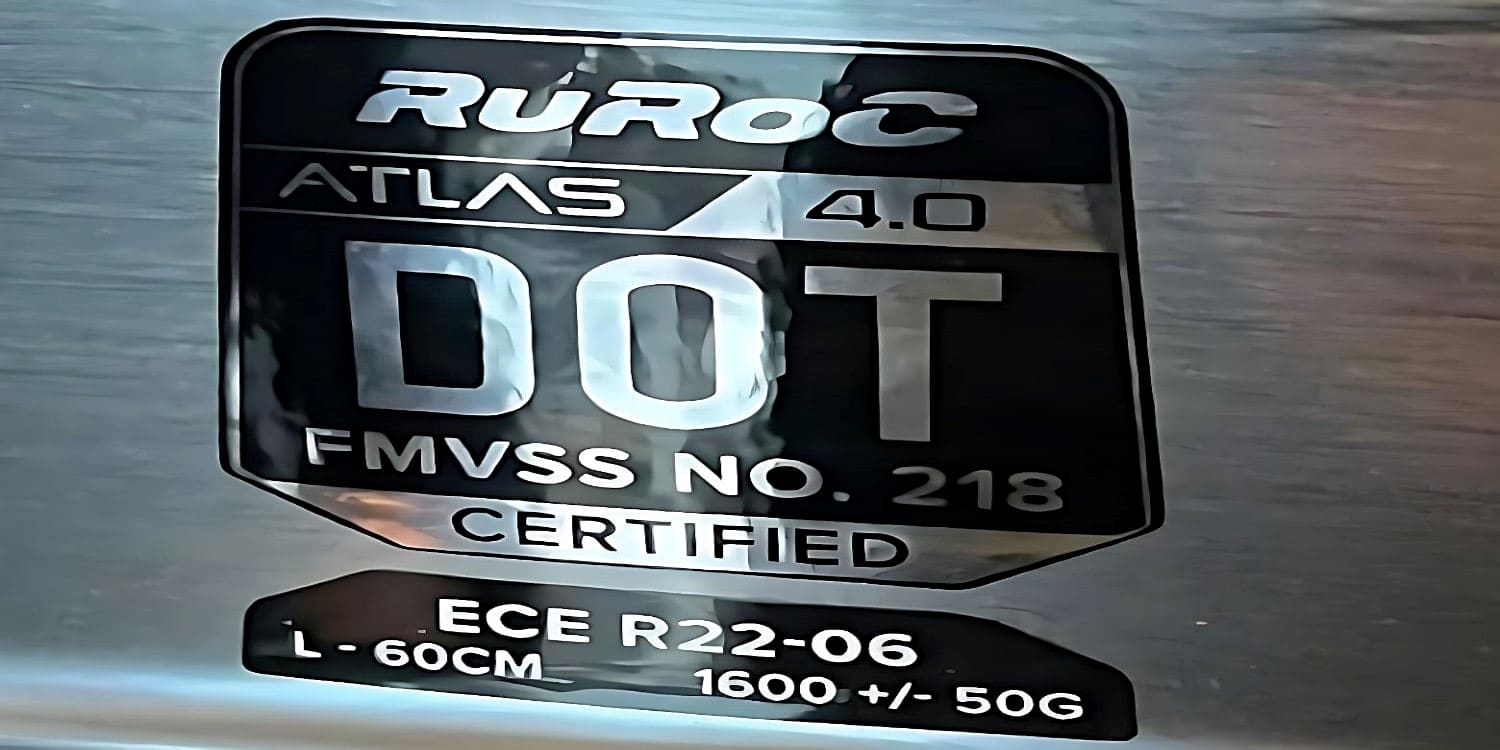 Why create a new helmet standard, you ask? Maximum safety is the end goal of helmet design. As long as the perfect survivable helmet doesn't exist, there will always be room for improvement. The helmet's shell, visor, and other components are constantly being improved. Although these innovations first seem insignificant, they have a lot of potential in terms of safety and comfort over time.
For 20 years straight, tests have been conducted in compliance with ECE 22.05 standard. New test parameters being used in the tests seem only logical. Motorcycle helmets are, to put it simply, getting even "safer." But exactly what does that mean?
How Is ECE 22.06 Different From ECE 22.05 Rating Standard?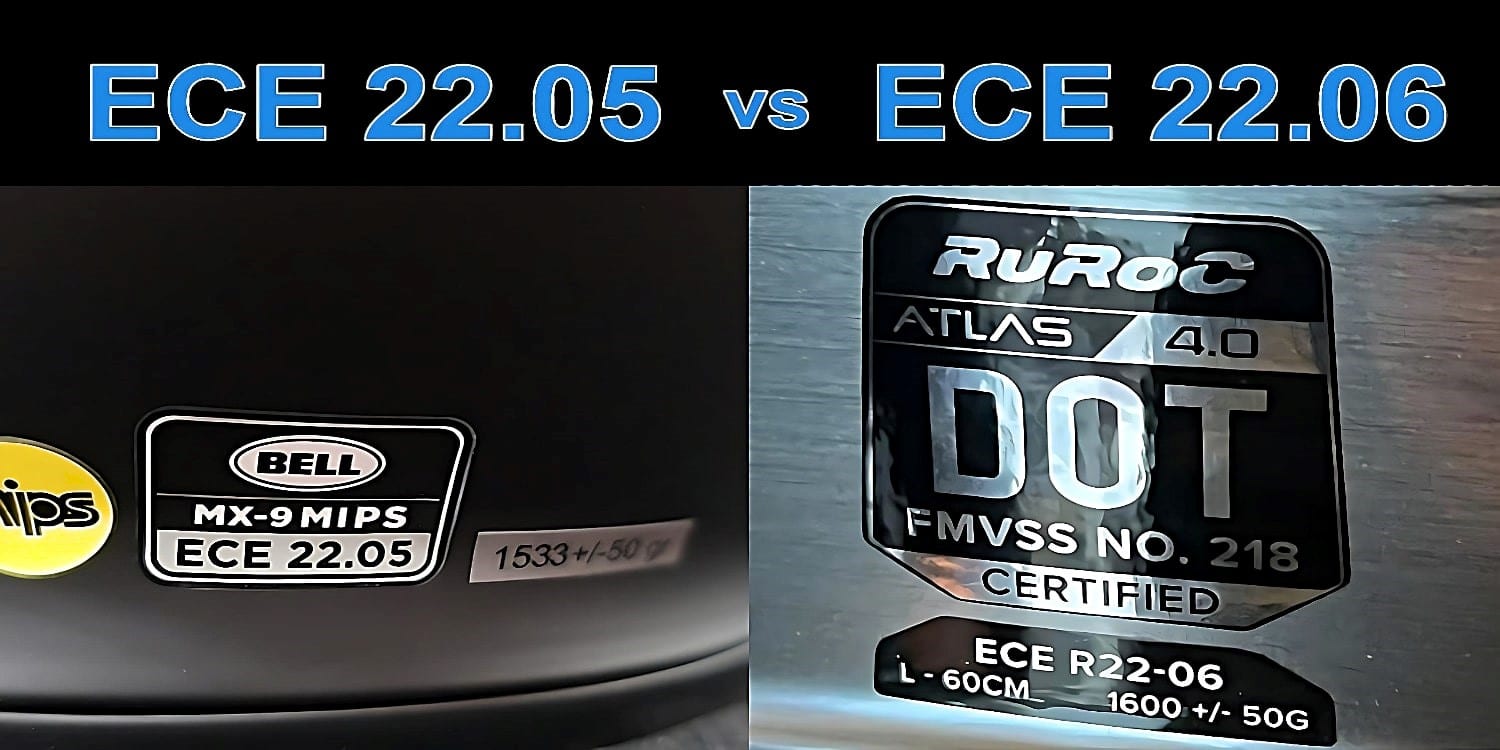 The new ECE 22.06 test standard now includes coverage for the widely used flip-up, modular, and open-face helmets with flanged chin components. The safety features on motorcycle helmets, both those with and without chin protection or chin sections, are now subject to stricter inspection in compliance with the new law.
Additionally, the built-in sun visor is currently receiving increasing attention. This should provide greater color accuracy, which should be able to move independently from the outer face shield. Traffic light colors should be simpler to recognize.
According to the FEMA (Federation of European Motorcyclists' Associations), the point of impact may change compared to the previous test. This is no longer needed and is left up to the examiners' discretion. Additionally, the test uses a faster impact speed.
The importance of the visor to motorcyclists cannot be overstated. In addition to enhancing visibility, it protects the biker's face from outside debris. The new standard has stricter requirements for sophisticated visor mechanisms. The visor cannot burst after being struck by a steel test bullet traveling at 60 m/s. The impact test method is also used to evaluate rotational acceleration.
Motorcycle helmets must prove the resilience of their materials, like EPS Styrofoam, at -20 degrees Celsius, making even the weather a factor in the new standards. To pass the new test protocol, the motorcycle helmet must have a better retention system and will fit more snugly. The result is that it "sits" better.
The ECE 22.06 test is generally far more thorough and comprises a larger batch. For the primary approval of a helmet model that was available in two shell sizes in the past, 17 test helmets were needed with homologation 22.05; under the new 22.06 regulation, 33 test helmets are needed.
With the homologation 22.06, the helmet and any authorized accessories will be put through a broader spectrum of impact tests. The impact of the helmet and the motorcyclist's brain during an accident will be evaluated through these tests;
Impact Testing: The new test for ECE 22.06 executes the existing freefall style, dropping the helmet from a height of 15 feet—a total of 5 feet higher than 22.05! In an ECE 22.05 test, a helmet-mounted dummy head-form with force-measuring accelerometers is dropped at a predetermined speed onto an anvil, which is a flat, solid surface. This portion of certification requires the helmet to successfully limit energy transmission to the wearer's head as determined by the accelerometers in the head form.
More Scenarios: The impact testing technique improved by ECE 22.06, which now tests at various speeds, with varying angles of impact, and by examining the effects on various parts of the helmet. To test collisions with both higher and lower speeds, the range of impact speeds will be expanded. It is believed that helmets made exclusively to survive high-speed hits may be excessively rigid for impacts at lower speeds, endangering the safety of the user.
Angled Impacts: It is crucial to shield the head and brain from all angles of impact, but it is also commonly acknowledged that angled impacts can result in severe brain injury because of the twisting, which can happen even when there isn't much impact velocity. In addition to direct hits, helmets are also subjected to angled impact testing (on an anvil at a 45-degree angle) as part of the ECE 22.06 rotational acceleration testing.
Accessories Testing: ECE 22.06 introduced impact tests with the chin bar in its different locations for helmets with flip-up or removable chin bars. As adding any attachment to a helmet can impact its performance, official accessories like sun visors and intercom systems will also be tested for safety.
ECE 22.06 Labeling Requirements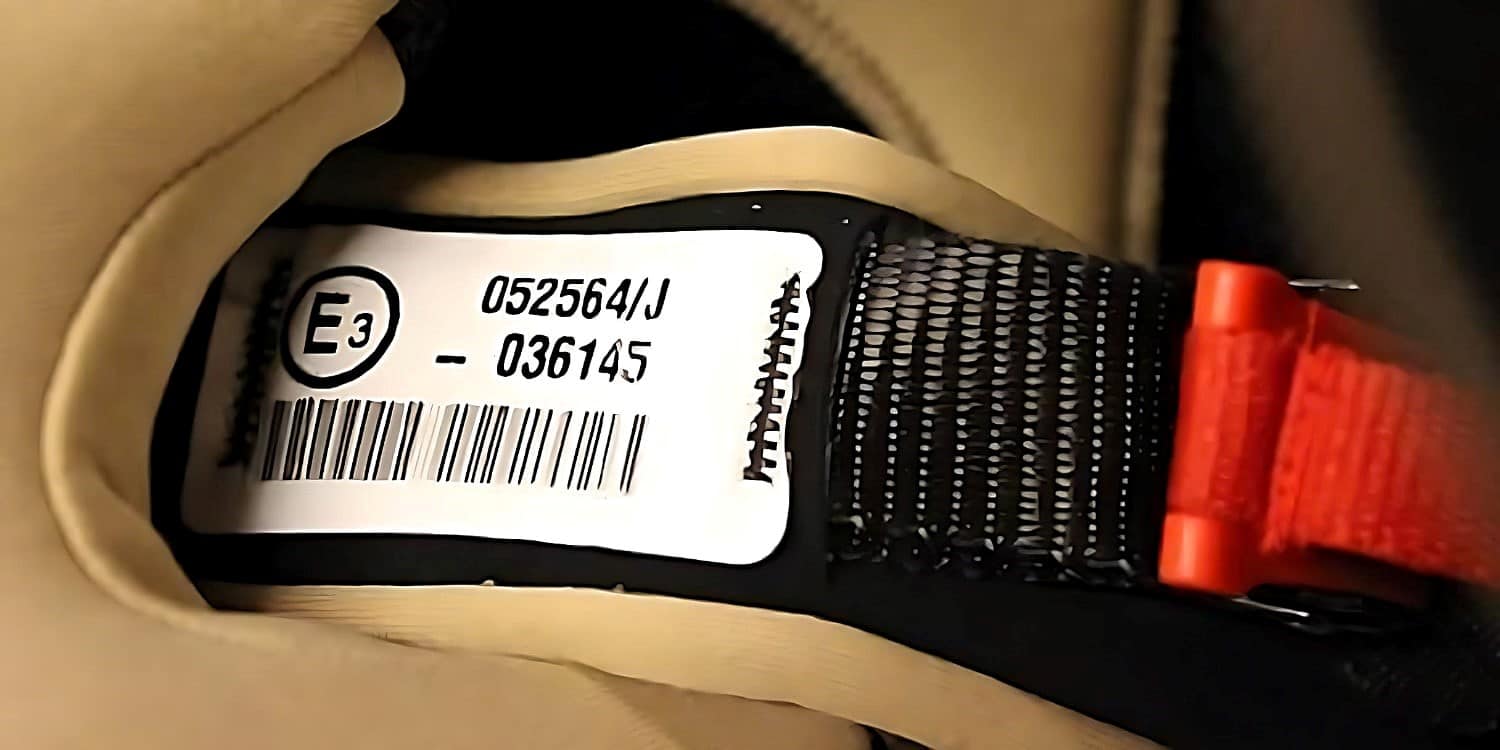 The ECE 22.06 standard also specifies what labels and stickers must be used, as well as what cautions must be included for things like solvents or stickers that cannot be applied to a helmet shell. And so, what does the E3 mean on a helmet?
An uppercase E in a circle with a number, the number referring to a nation, makes up the helmet labeling. Germany is E1, the Netherlands is E4, France is E2, the U.K. is E11, and so on. The digits adjacent to the E mark are the type approval (06), helmet approval number, kind of protection offered by the helmet (e.g., /J for jet or open-face helmets, /P for protective chin bar for full-face helmets), a hyphen, and manufacturing serial number.
SNELL Motorcycle Helmet Certification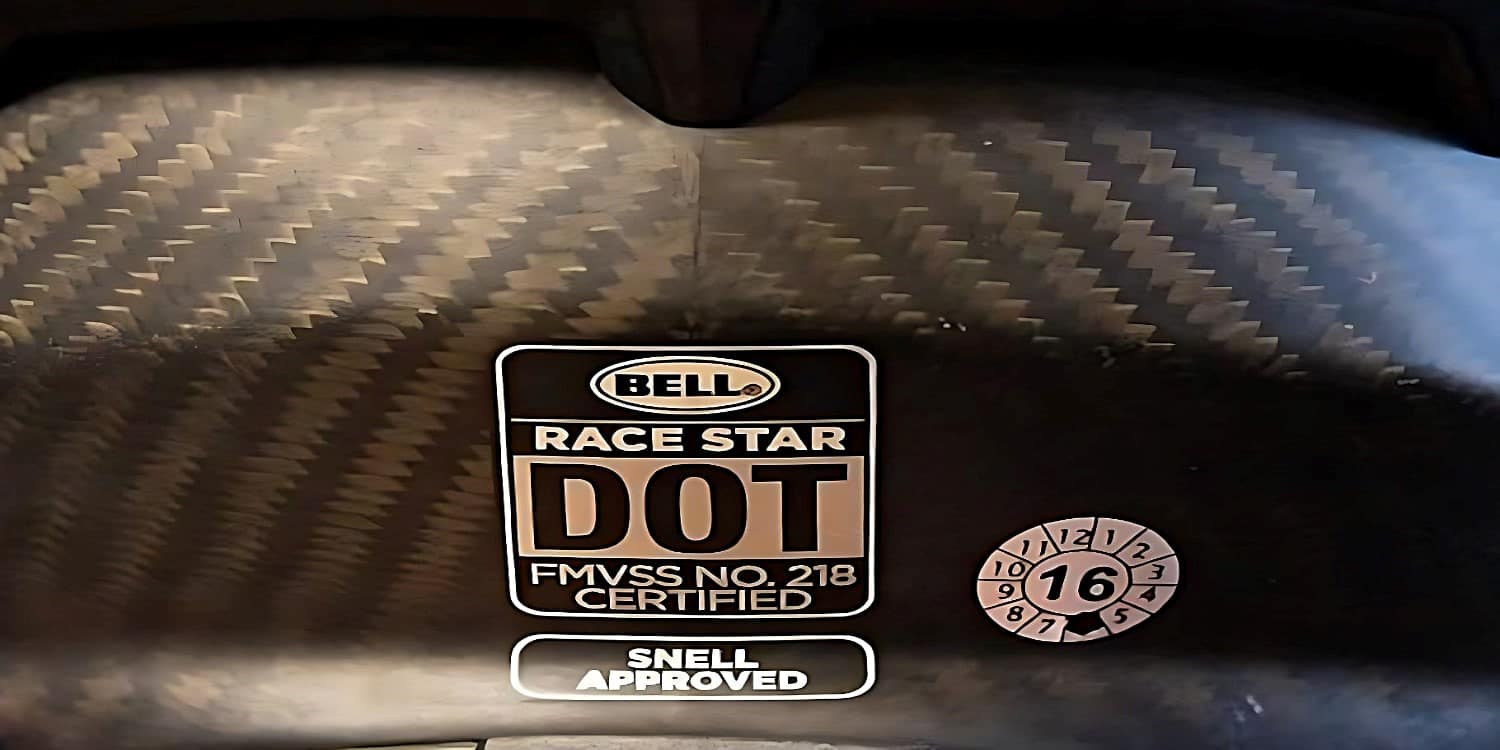 SNELL Labs is a daunting place to visit if you are a motorcycle helmet. The highly prized SNELL certification, which is optional, is sometimes regarded as the pinnacle of North American certifications. This is due to the fact that a helmet practically goes to hell when it visits SNELL Labs.
Another significant aspect of SNELL's testing is that even if a helmet hits its certification threshold of 275 G yet still surpasses it, it fails. SNELL will frequently ask the manufacturer for a different helmet to test on and see if the results repeat or change.
SNELL also subjects helmets to the weather chamber's extreme temperatures, ranging from -20°C and covered in ice to 25°C above room temperature, while also continuously spraying water at it for four hours to ensure that it is entirely saturated. Then, because that's what they do, they drop it on an assortment of shaped anvils.
Like all the standardizing organizations, they perform penetration tests at random locations throughout the helmet and do a visor ballistics test before adding the penetration test that is only performed by the DOT certification.
One of the safety tests SNELL performs involves launching a helmet with an 11 lb. head form inside of it through a door and into a test chamber to strike an anvil because hits can occur at any random angle and velocity. Since the walls and floor are solid concrete, the tester can miss, and the helmet will still fall to the ground in any of a million ways. This is repeated numerous times to have the best sample set of test data.
Only when a helmet successfully completes all of these safety tests and does so by a wide margin will the SNELL M sticker be placed on it.
Why Did SNELL Create a Double-Standard: M2020D and M2020R?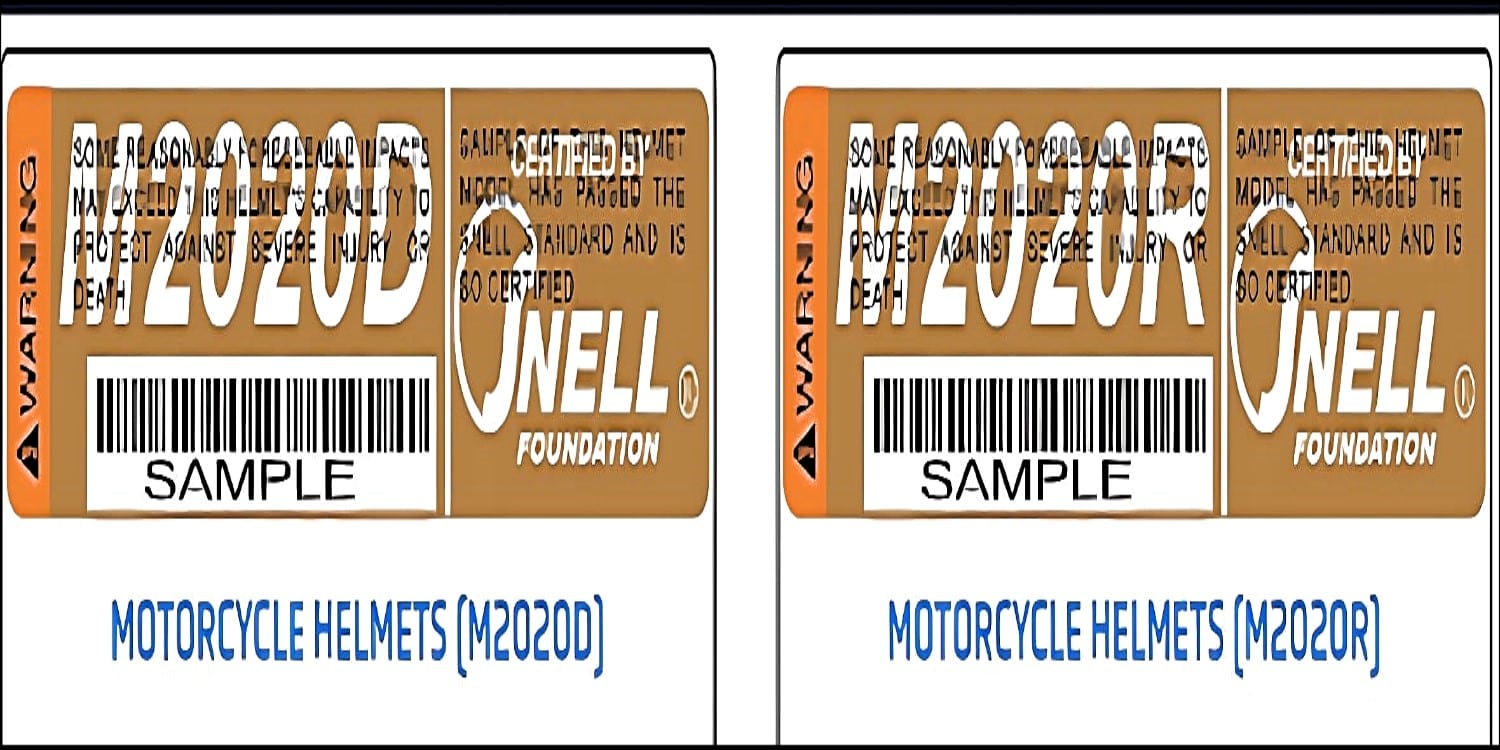 SNELL split its soul in half just to keep the European market. Manufacturers were torn between meeting their hardness (for penetration tests) and SHARP and ECE's energy absorption thresholds, which require softer shells.
So, SNELL did what any other corporation that has stakeholders do; they compromised on their ideals and what they think is the proper way to build a racing helmet to remain relevant to Europe. SNELL promptly pulled the proverbial rabbit out of the hat by creating a new sub-standard solely to meet ECE and SHARP halfway–a desperate move and a double standard in the literal sense of the phrase.
The two SNELL motorcycle helmet certifications currently in use are M2020D and M2020R; the R-style certification differs in that it also complies with all global standards set by all certification bodies that submitted their certification limitations to SNELL, including ECE.
It is a myth that the M2020R certification denotes "Racing," yet many tracks in Canada and the United States will not allow you to participate in the race track without your helmet bearing a SNELL M2020 or M2015 certification! SNELL will continue slapping their M2020R sticker on European and international lids that would otherwise fail their regular tests.
What I Like About SNELL M2020
Active testing to ensure quality

Low peak energy allowed (275 G)

Also checks on stability, removability, and face-shielding capabilities

Extreme impact testing, such as the edge anvil

One of the most rigorous testing available for top-tier helmets.
What I Don't Like About SNELL M2020
SNELL-rated helmets are often expensive

SNELL-rated helmets are often are heavier

Helmets rated SNELL is more race-oriented and lacks some street-oriented configuration options like inner sun visors etc.
SHARP Crash Helmet Safety Scheme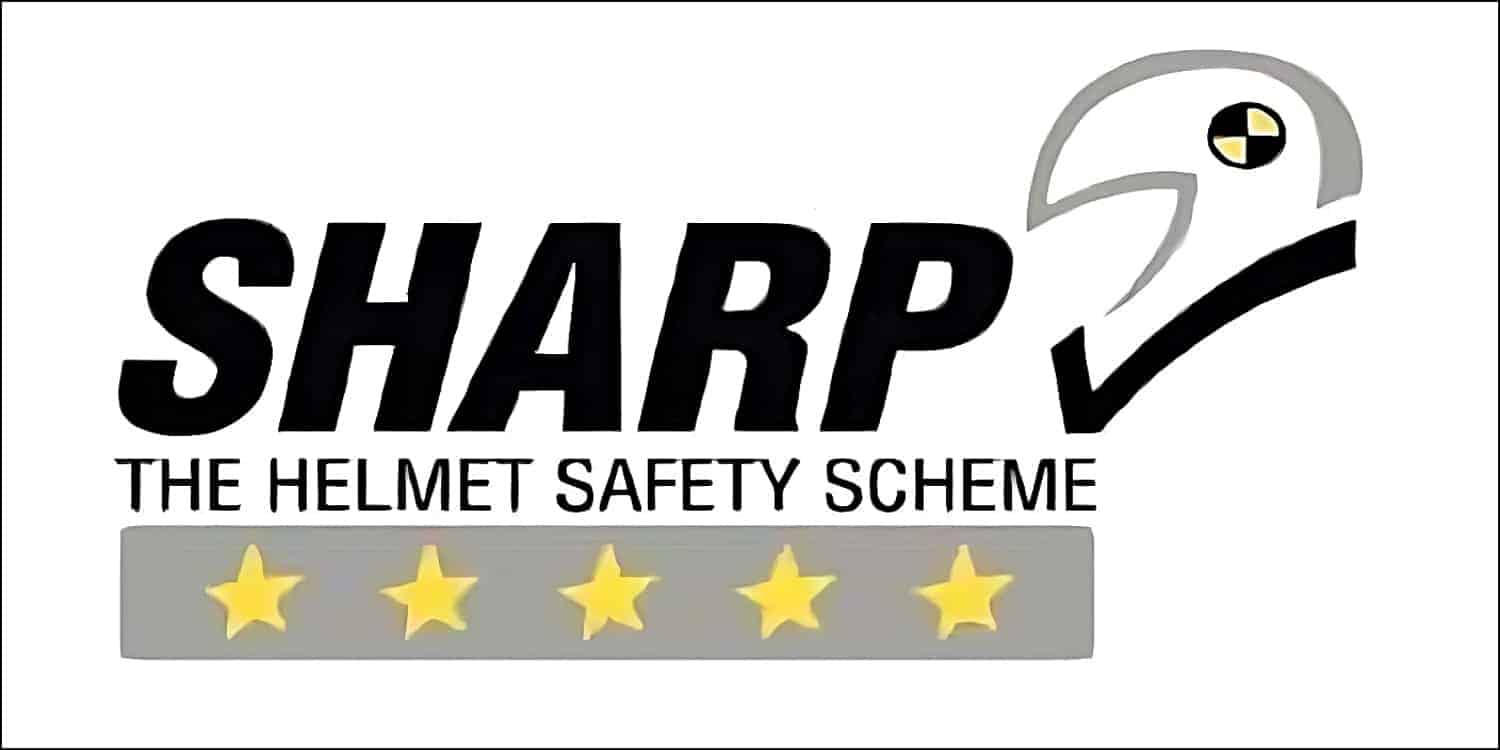 ECE 22.06 motorcycle helmets are subjected to more stringent testing as part of the independent crash helmet safety test known as SHARP, which is financed and administered by the U.K. government. The SHARP test awards motorcycle helmets a safety rating between 1 (the worst) and 5 (the best) stars.
Similar to the SNELL test used in the U.S., although perhaps more grounded in reality. Although there are many varying perspectives over how "real world" parts of the testing are, SHARP 5 stars are about as good as it gets if you're looking for the best bang for your buck.
The Shoei NXR2 helmet model received a safety grade from SHARP on November 2nd, 2022, bringing the total number of SHARP-rated helmets to 518. SHARP followed the same procedure when testing every helmet. They whack them around on rough flat surfaces and curving edges to see what happens.
This is carried out in a controlled environment at various speeds and angles. Per the test, there are a total of 32 distinct yet precise beatings. To rate a brand and model of helmet SHARP requires at least seven different samples are used. 
How Does SHARP Test Helmets?
First, they only evaluate helmets that they have personally purchased from stores. This is fantastic news because it eliminates any potential manufacturer interference. To ensure that the results cover a range of sizes, they are buying helmets in M, L, and XL sizes and subjecting them to 32 impact and oblique impact tests.
They impact the helmets against a flat and inclined surface while testing them at three different speeds (low, medium, and rapid) in an effort to simulate how they would fare against curbs, Armco barriers, and poorly driven BMWs in the real world.
They also run "oblique tests" to evaluate friction performance in order to ascertain how much torsional force will be transferred to the rider's head in the event of an angled impact.
Then, according to them, they compare their findings data to "real world injury statistics" to determine their own SHARP rating out of 5 stars, with five being the highest. It performed better in its testing when it had more stars.
As long as the helmet complies with B.S. 6658:1985 and bears the BSI Kitemark, the ECE Regulation 22.05 sticker, or an EEA safety protection that meets British Standard requirements, a 1-star helmet is still acceptable.
Let's Demystify SHARP's Color Codes and Impact Zoning
SHARP classifies several components of the helmet using a color code in addition to the overall star grade they assign to them. This demonstrates which parts can withstand a direct impact from a flat surface the best. The best color is green, which is followed by the colors yellow, orange, brown, red, and ultimately the awful color black.
It's wise to consider the ratings for this location because the side of the head is particularly prone to harm. To get the finest protection you can afford, look for a lid with the highest star rating both overall and for each zone.
American-made helmets won't have any SHARP ratings at all. Instead, the British standards and ECE 22.06 protection labels, together with perhaps a DOT and a SNELL, are more likely to be present. This is primarily due to the fact that they are an American company and that SHARP testing is not required for the sale of lids in the U.K. or the E.U.
I frequently observe several of the most well-known brands of motorcycle crash helmets, including LS2, Schuberth, and, up until recently, Arai, performing poorly in SHARP tests. In the instance of Arai, their SHARP test results typically ranged from 3 to 4 stars. Their most recent three SHARP-tested helmets received either 4 or 5 stars, indicating that something must have been done to remedy that.
Based on what I've observed, I can only assume that some manufacturers place more emphasis on passing both the U.S. SNELL and U.S. DOT testing, both of which include a penetration test. In order to pass the test, the helmet must prevent a projectile from piercing it during the testing process. Because of this, manufacturers who want their products to pass this test harden the shells of their helmets.
It contrasts with SHARP's perspective on the world. The majority of testing experts concur that there is no sense in integrating a penetration test in their testing because the real-world accident data from the Cost 327 research indicates that the frequency of accidents where helmets were penetrated is extremely small.
However, SNELL and DOT still need a penetration test. Thus helmet producers must design their products to pass the test.
Why SHARP Is Also Mired in a Bit of Controversy
The energy of the hit is absorbed by more than simply the shock-absorbing EPS liner in a crash helmet, protecting your head and brain. The helmet's outer shell is essential as well. The helmet shell flexes as it absorbs energy from the impact.
That absorbs a portion of the energy, reducing the work required of the polystyrene liner. Therefore, if you create a crash helmet with an extremely rigid, robust shell, the liner will have to absorb most of the energy, and the helmet shell will only offer minimal shock absorption.
As a result, probably, Arai, LS2, Schuberth, and others who produce more rigid, less flexible helmet shells (intended to pass a penetration test) find that they perform worse when a company like SHARP evaluates the amount of energy that is transferred to the head during an impact.
There you have it, then. There will always be opponents and proponents (and fence-sitters) for any standard testing scheme, but the SHARP test appears to be one of the best efforts toward a severe and thorough practical motorcycle helmet safety test, given the range of technologies, the number of manufacturers, and the variety of weird crash tests.
When purchasing a new helmet, it at least provides a chance to compare and contrast the impact resistance of various helmet brands and some abrasion resistance, and, given what came before, it is a bloody good effort.
What I Like About SHARP
Higher and lower velocity impact testing compared to other standards

Comprehensive number of impact tests to pass

Multiple impact points on each helmet

Helmet autopsies provide further insights and potential weak points for manufacturers to correct.

The 5-star rating scheme is more insightful than simple pass/fail criteria.
What I Don't Like About SHARP
The star rating system has been criticized

Standard was developed for European road conditions

Flat anvils generate lower GS than DOT and SNELL hemispherical anvils.
FIM Racing Homologation Program (FRHP) – Perhaps the Sanity We Need and Not Certification Wars!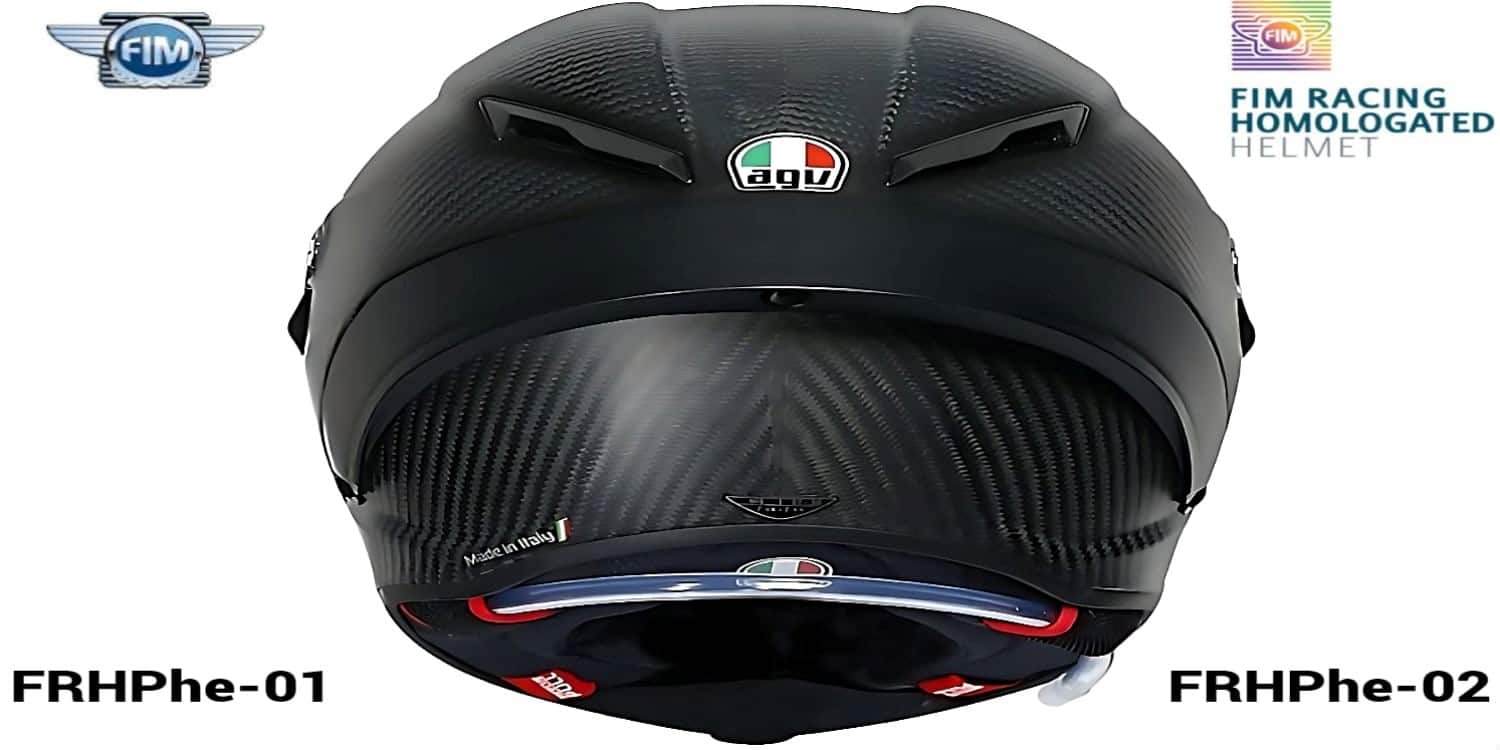 Despite SNELL's stricter standards, the certification is just optional and is not as thorough as its European counterpart. By merging the standards for the DOT and SNELL certifications and adding a few more of its own, ECE goes one step further (with the projected upgrading to an R 22.06 level this year). It is, therefore, regarded as the strictest standard of the group, but there are still holes that need to be filled.
Imagine that the NHTSA only evaluated cars for head-on collisions, disregarding rollovers, 75-degree impacts, and T-bone collisions. How trustworthy are the safety ratings in reality, especially for the lesser-discussed motorcycle category?
The International Motorcycling Federation (FIM) intervened in 2019 to address these disparities and decided to establish its FRHPhe-01 certification to guarantee that all its racers received the same level of protection, regardless of who the gear sponsors are. As a result, the teams under the federation's management were compelled to give their racers FIM-certified helmets.
These helmets are now being sold on the civilian market after emerging from the paddocks. If you have $1,000–$2,000 to spare, you and I can now get our hands on one of the few helmets with the posh FIM holographic tag.
What Sets FIM Apart from ECE, SNELL, and SHARP?
It's all about a comprehensive test! The FIM standard differs from ECE, SNELL, and SHARP in two key ways;
Speed: The first and most evident distinction between the FIM's tests and those of the other organizations is speed. The FIM-certified helmets have undergone greater speed impact testing since the goal is to guarantee that racers have the best possible head protection. Even though most of us won't ever be able to travel at speeds as high as those of MotoGP racers, it's not always bad for a helmet to outperform itself.
Oblique Collisions Impact Testing: More significantly, the FIM examines how the shell and foam function in oblique collisions, where the impact force is unevenly distributed, in addition to testing the performance of the helmets in linear impacts. In particular, it features a new oblique (45°) impact test and tests carried out faster with more impact locations and increased impact-absorption capacity. The impact zones have been modified to reflect the coefficient of friction of the asphalt surface, and the head forms now feature a silicone covering that simulates the thickness of human skin. Because not all collisions are created equal, and not all head hits occur at the same angle, the FIM tests are superior in this regard.
It's interesting to note that to receive FIM homologation, and helmets must already be ECE, SNELL, or JIS certified—yet another indication that DOT is insufficient. Additionally, only full-face, non-modular motorcycle helmets with a D-ring closing system are approved by the federation.
Even a more demanding phase of certification, FRHPhe-02, has been released back in November of 2022 by FIM to cover other motorcycle riding disciplines, such as off-roading, where the sort of impact changes dramatically once again.
But FIM does not plan to put emphasis on the new standard before 2025 as it is planned to come into effect in 2026. It is still unknown if the new FRHPhe-02 helmet phase 2 will eventually be widened to cover open-face and modular helmets, among other styles.
Looking Ahead Beyond the Steep Price Point
The motorcycle helmet industry's most stringent accreditation at the moment is the FIM certification. Even though the helmets that currently fulfill such standards are expensive and not accessible to everyone, I can still think of two benefits.
It enables riders to choose a helmet type with knowledge, knowing that better protection is available even if they don't have the funds for a Shoei X-15 or an AGV Pista GP RR. In order to achieve the new criteria and eventually provide cheaper but safer helmets, it might also motivate makers of headgear to enhance their procedures and materials.
Other Noteworthy World Motorcycle Helmet Standards
British Standard Institute (BSI) Tests: The BSI 6658-85 is an independent, albeit less well-known, but nonetheless crucial British certification. The SNELL Foundation and ECE standards are comparable to the BSI standards. The SNELL Foundation and the BSI both utilize some of the same measures as the minimum requirements for a helmet to pass.
Australian Standards: AS 1698-1988 and AS/NZS 1698:2006 are the two main Australian standards. According to the standard, only the attachments advised by the helmet manufacturer should be made to helmets that comply with the Australian Standard. (Side note: If your helmet has a label sewn inside it, you can now remove the outer Australian Standards sticker from it.)
ACU GOLD Standard: The Auto-Cycle Union (ACU) establishes a more stringent standard for motorcycle racing than the minimally required ECE 22.06 specification. Only helmets with an ACU Gold sticker are permitted to be used during competition or track days in the U.K., including any speed events, staged entirely or partially on bound metal surfaces, such as sprints, drag racing, hill climbs, and road racing. For their frequent on-road use, many motorcyclists in the U.K. opt for helmets with an ACU Gold sticker.
TUV SUD PSB Standard: In Singapore, all motorcycle helmets must meet the TUV SUD PSB safety certification. When imported, helmets must pass batch testing before being given the "PSB TEST SS 9:1992" safety label. The blue sticker on the back of your helmet should be visible.
S.G. or JIS T 8133:2000 Standards: Anyone who wants to ride a motorcycle in Japan must comply with the Road Traffic Law and wear a helmet with the "P.S. (C)," "S" or "JIS" logo. Depending on when the new helmet was made, helmets with the JIS mark automatically include one of the two marks.
CSA CAN3-D230-M85: Yes, all ridders in Canada are required to always wear helmets according to a national standard. However, the CSA standard recognizes DOT helmets as compliant because it is essentially just a replica of the U.S. DOT standard. Although I've been told that not all enforcers are aware of this, I am aware that Ontario has also accepted ECE as a complaint since 2012. Some jurisdictions, including Quebec and B.C. for sure, may also impose DOT requirements. However, it's been 37 years since the CSA standard CAN3-D230-M85 was modified! Since the 1970s, when I last remember seeing a CSA sticker, it was a joke. Not that anyone cares or that it matters!
Others: Thailand's TIS, Brazil's NBR 7471, Taiwan's CNS, Korea's KS G 7001, and Singapore's SIRIM (Malaysia).
I'm fully in favor of solitary, trustworthy, consistent criteria for helmet certification. We shouldn't have to hear horror stories about certified helmets providing insufficient protection since we can trust the stickers that are stuck on the back of our helmets.
Ranking of Motorcycle Helmet Standards: SNELL, ECE, SHARP, FIM, DOT
Now, what makes one certification better than the next? Is it the more stringent testing or perhaps we should scour the web for forged user reviews, NO! While the patrons of each standard chest thump, there is no reason we can poke at each standard and rank them according to common usage, the reputation, and how rigorous the testing is.
Easy, FIM builds on ECE, and it's almost exclusively for professional racing… Helmets considered for FRHP are already ECE, JIS T8133 or SNELL certified, so FIM must be superior to all of the above, right? By stringent testing, of thousands of applicants only about 30 have passed. But the catch-22 is that FIM is almost exclusively for racing events and is hard to recommend to everyday riders like you and I, so, let's put a pin on that one.
With FIM on the curb, now for my first place, I considered between ECE and  SNELL (not restricted to specific countries). ECE is obviously more commonly used in over 50 countries, but SNELL is even harder to pass and has been around for longer—yes, that one year counts!
SNELL is first followed by ECE. That leaves me with SHARP and DOT which, incidentally, are government-sanctioned helmet testing and certification schemes in the UK and U.S. respectively. Put simply, DOT just doesn't cut it. It includes almost every helmet, so I put it last.
1. SNELL
Without fear or favor, I say the SNELL standard is (and has been for 66 years as of 2023) the most rigorous testing and certification program a helmet can undergo. Having written the rulebook on helmet safety and testing, the U.S. based non-profit organization has garnered the trust of riders of all disciplines.
Across the pond, ECE, SHARP, and FIM may have the legal upper hand, but consumers still consider lids with the rare "M" sticker superior. The two standards M2020D and M2020R is a case in point as SNELL sought to harmonize their standards with those of the European connoisseurs.
The global leader obtains random samples of helmets off the consumer shelves for independent testing, making it difficult for makers to circumvent the rigorous process. I can only imagine how anxious product managers are when awaiting results seeing as they are completely excluded from the assessment  process.
The SNELL sticker remains a hallmark of high quality and often pricey motorsport helmets in both car and bike worlds. And I hope they can resolve their differences and finally work together with ECE, SHARP, and FIM to give us even safer lids—especially now that FIM just announced its second phase of testing ( FRHPhe-02).
2. ECE
At 65 years of age in 2023, ECE Regulation No. 22 is now in its sixth revision (ECE 22.06). It is my first runner-up but might as well be the top-ranking certification if you were to consider the over 50 countries (mostly in Europe) that have it as a bedrock of their helmet laws.
It covers a variety of safety factors like impact resistance, retention system, penetration resistance and simulates real crashes with 33 helmets to destroy. The tumble is not guided unlike for DOT and is more realistic, especially considering the more survivable 250 Gs of force allowed.
I think the new ECE 22.06 is the certification we have all been waiting for as it seems to encompass SNELL and DOT requirements as well and improve on them with multi-directional testing. Arai's Quantic helmet might have been first to cross the line, but eventually, so did the Shark Spartan RS, only slightly dented my wallet.
If you fancy a modular, then the Schuberth C5 adds to the now growing array of qualified helmets for the coming riding seasons.
3. SHARP
SHARP is an aptly named helmet testing scheme mandated by the UK government in 2007 (can't believe it's been 16 years already as of 2023) and is legally recognized almost nowhere else. It seeks to improve on the ECE 22.05 standard, which had been in place for the better part of two decades, ending last year (2022).
Take for instance the HJC RPHA-90S, which meets the ECE 22.05 criterion and upon further grueling passed the SHARP test back in July last year—it instantly became one of the most expensive lids on the HJC lineup.
What's not to like about SHARP's report card system that lets me know that the pricey Shoei NXR2, the new kid on the block, scored 5/5 stars while old timers like the LS2 FF322 only managed only two in spite of its EE 22.05 approval? Still, making the list is no mean feat!
4. FIM
FIM is simply the best in the racing world. And no, it is not that commonly used because it is relatively new and expensive for manufacturers to meet. It is developed for creme de la creme professional riders. And boy, doesn't racing gear run the gamut from affordable to break-the-bank!
The International Motorcycling Federation won't let you race on any of their circuits without that blue hologram but neither will the police give you a free pass for having the best, it is still not a substitute for, say, DOT.
Oh, and if how long it has been around matters to you, then FIM would rank last as it's only 6 years old in 2023. In my opinion, FIM is safest considering that they only consider helmets that have already passed ECE, SNELL, or JIS T8133 (Japanese safety standards) certifications. Also, strictly full face helmets with double D-ring closure can be FIM homologated.
However, these prized top hats are hard to find, and when you do, be prepared to part with somewhere north of $1,000 for one. Think of the $850 Bell Pro Star Carbon or the $1,750 AGV Pista GP RR. Professional racing is no child's play, eh?
5. DOT
Nearly half a century ago, Federal Regulation No. 218, alias DOT helmet standard, was put in place to regulate all helmets made in and destined for the U.S. market. It is the least stringent of the top 5 best known helmet standards. I reckon the Russian GOST, the Aussie AS/NZS 1698:2006 or the Japanese JIST 8133 are more rigorous than the acclaimed DOT.
It accommodates all manner of lids, including the "brain pans" as certain cliques of cruiser motorcycle riders like to call them. I think it is best to get a lid that has both DOT and SNELL certifications considering that DOT relies on a code of honor where manufacturers are supposed to test in-house and self-certify.
And that's pretty much it! But which helmets meet some or all of these standards?
Top 7 Safest Motorcycle Helmet Brands in 2023
Motorcycle helmet testing standards have been growing apart, becoming virtually impossible for manufacturers to do well in both hemispheres, where certifying bodies seem to be on opposing teams. I have also seen corporate greed reach across the aisle to slap meaningless stickers on lids we don, and government bureaucracy inhibit advancement in safety standards. And so the question remains–which motorcycle helmet brand makes the safest helmets today?
My analysis should provide a fairly accurate picture of how safe some of the major helmet brands will be in an accident compared to one another, as well as which motorcycle helmets are crème de la crème with the highest safety ratings and having passed a majority of the certification tests.
1. AGV Helmets
Italian helmet manufacturer AGV has been producing high-quality helmets since 1947, and despite being a member of the Dainese group, their protective characteristics continue to stand out, setting the bar for performance and safety when it comes to safeguarding riders. AGV is committed to providing the highest level of riding performance on all roads and trails, including MotoGP, Motocross, and everything in between.
Six AGV helmet models have been evaluated since 2016, and three have received a maximum of five stars (Corsa R, Pista GP-R, and Veloce S), proving that you can trust an AGV.
AGV is DOT-certified (U.S.), has an ECE 22.05 safety grade (Europe), and is SHARP-rated (U.K.). Some models are certified to the FIM MotoGP race safety standard. But how come AGV helmets aren't SNELL-approved, though? Are they less effective? Or what distinguishes SNELL and SHARP ratings?
While every certification standard aims to provide the optimum protection for the wearer, they all come close to achieving this goal in slightly different ways. While SHARP concentrates more on the dispersion of energy and the continuous protection of a motorcycle helmet shell across several impacts, SNELL tends to focus more on a helmet's anti-puncture qualities and ultimate protection in a single collision.
Additionally, SNELL and SHARP test collisions at perpendicular angles, whereas SHARP tests impact at oblique angles. Both are top-notch safety standards, yet they are incompatible with one another. A helmet frequently fails one or two of the tests required by one standard in order to pass those required by another and vice versa.
The safety philosophy of AGV is more in line with SHARP, and its helmets are certified in the U.K. AGV helmets are manufactured with DOT ratings for American riders because SHARP is not a standard in the United States.
My Analysis of the Top AGV Helmets Meeting Motorcycle Helmet Standards
AGV Helmets
Motorcycle Helmet Standards
DOT
ECE 22.05
ECE 22.06
SNELL
FIM
SHARP

AGV Tourmodular

✔

✔

✔

X

X

⭐⭐⭐⭐

AGV Pista GP R

✔

✔

X

X

✔

⭐⭐⭐⭐

⭐

AGV K6

✔

✔

X

X

X

⭐⭐⭐⭐

AGV Corsa R

✔

✔

X

X

X

⭐⭐⭐⭐

⭐

AGV Veloce S

✔

✔

X

X

X

⭐⭐⭐⭐

⭐
2. Shoei
In 2023, there will be little to pick between Shoei and AGV. Regarding the SHARP ratings of ECE motorcycle helmets, AGV beats Shoei, but Shoei ranks a little higher since eight of their helmets have SNELL certification (remember, AGV doesn't do SNELL). At the top of the market, Shoei is renowned for making more costly, well-built helmets. Their stellar rating reflects in their somewhat steep price points.
The X-Fourteen and RF-SR, two of the Shoei's best-selling helmets, both received the highest ratings of the 14 ECE Shoei helmets ever tested, which resulted in an average rating of 4.14/5. Additionally, a couple of their helmets, such as the Shoei RF-1400, have received the SNELL certification, making their ECE and DOT helmets well-proven protective lids. The DOT and ECE requirements are satisfied by every Shoei helmet manufactured for the American and European markets.
The ECE 22.06/FIM-certified X-SPR Pro track helmet from Shoei, worn by athletes like Marc Marquez in 2022, has been unveiled and will be sold shortly. The helmets undergo a rigorous testing process as part of its MotoGP race team service to elite riders like Marc Marquez, Bradley Smith, and Malcolm Stewart, producing finely calibrated works of art.
My Analysis of the Top Shoei Helmets Meeting Motorcycle Helmet Standards
Shoei Helmets
Motorcycle Helmet Standards
DOT
ECE 22.05
ECE 22.06
SNELL
FIM
SHARP

Shoei NXR 2

✔

✔

✔

X

X

⭐⭐⭐⭐

Shoei X-SPR Pro

✔

✔

✔

X

✔

⭐⭐⭐⭐

Shoei RF-1400

✔

✔

✔

✔

X

X

Shoei X-Fourteen

✔

✔

X

✔

✔

X

Shoei RF-SR

✔

✔

X

✔

✔

X
3. Arai
The outstanding average score for Arai has increased drastically in recent years. The Signet-X and Corsair-X, two SNELL-approved helmets, tested and passed the M2020D, significantly boosting their safety index. In actuality, Arai receives more SNELL approval for their helmets than anybody else (most recently including the Classic V and XD4).
This means that you can depend more on Arai's most recent line of helmets to perform today.
My Analysis of the Top Arai Helmets Meeting Motorcycle Helmet Standards
Arai Helmets
Motorcycle Helmet Standards
DOT
ECE 22.05
ECE 22.06
SNELL
FIM
SHARP

Arai Quantic

✔

✔

✔

✔

X

⭐⭐⭐⭐

Arai Signet-X

✔

✔

X

✔

X

⭐⭐⭐⭐

⭐

Arai RX-7V

✔

✔

X

✔

✔

⭐⭐⭐⭐

⭐

Arai Corsair-X

✔

✔

X

✔

X

⭐⭐⭐

Arai XD4

✔

✔

X

✔

X

X
4. Shark
In the past few years, SHARP has evaluated more than 20 helmets from the reputable French manufacturer Shark Helmets, with an average rating of 4/5 stars. This is not surprising given that every Shark helmet evaluated by SHARP since 2016 had a 4 out of 5-star rating, which is a fantastic performance. Additionally, the chin bars on their modular helmets, including the Evo-One 2, received a 100% rating, which is highly uncommon.
All in all, the French helmet experts did a fantastic job.
My Analysis of the Top Shark Helmets Meeting Motorcycle Helmet Standards
Shark Helmets

Motorcycle Helmet Standards

DOT

ECE 22.05

ECE 22.06

SNELL

FIM

SHARP

Shark Spartan RS

✔

✔

✔

X

X

⭐⭐⭐⭐

Shark Race R Pro Carbon

✔

✔

X

X

✔

⭐⭐⭐⭐

⭐

Shark RSR2

✔

✔

X

X

X

⭐⭐⭐⭐

⭐

Shark Evo-One 2

✔

✔

X

X

X

⭐⭐⭐⭐

Shark Ridill

✔

✔

X

X

X

⭐⭐⭐⭐
5. HJC
Because HJC focuses on affordable helmets, you won't have to blow out your credit card to have excellent protection. Their reputation stems in part from time-tested favorites, like the HJC FG-ST, which has received five stars, and in part from the fact that their more recent RPHA-1 helmet also received three stars plus SNELL and ECE 22.06 certifications.
Their ten most recent helmets evaluated had an average rating of 3.8/5 SHARP stars, which is extremely respectable. It's also important to note that HJC has a number of helmets that are SNELL certified, back when the M2015 certification was in place before the 2020 standard was introduced. SNELL helmets with high protection include the HJC i10, and the FIM homologated RPHA-1.
My Analysis of the Top HJC Helmets Meeting Motorcycle Helmet Standards
HJC Helmets
Motorcycle Helmet Standards
DOT
ECE 22.05
ECE 22.06
SNELL
FIM
SHARP

HJC RPHA-1

✔

✔

✔

✔

✔

⭐⭐⭐

HJC i10

✔

✔

X

✔

X

X

HJC CS-12

✔

✔

X

X

X

⭐⭐

HJC FG ST

✔

✔

X

X

X

⭐⭐⭐⭐

⭐

HJC HQ1

✔

✔

X

X

X

⭐⭐⭐⭐

⭐
6. Scorpion
Over the years, SHARP has evaluated 19 helmets for Scorpion EXO, with their most recent 9 receiving a decent average rating of 3.2 out of 5 stars. It's always encouraging to note that some of their helmets, like the Scorpion R420, have received SNELL certification. Despite their poor scores, keep in mind that they are affordable compared to high-end lids like Shoei.
My Analysis of the Top Scorpion Helmets Meeting Motorcycle Helmet Standards
Scorpion Helmets
Motorcycle Helmet Standards
DOT
ECE 22.05
ECE 22.06
SNELL
FIM
SHARP

Scorpion EXO 1000

✔

✔

X

X

X

⭐⭐⭐⭐

Scorpion EXO-230

✔

✔

✔

X

X

X

Scorpion EXO-491

✔

✔

✔

X

X

X

Scorpion EXO-R1

✔

✔

X

X

✔

X

Scorpion EXO-R420

✔

✔

X

✔

X

X
7. Schuberth
Users have nothing but positive things to say about the Schuberth motorcycle helmets. The great majority of the German-brand helmets are typically modular helmets constructed of premium materials that offer excellent acoustic insulation and, most importantly, are quite comfortable.
The Schuberth E1 could be your best option if you're looking for something more adventurous. The C3 might be an alternative if your budget is a little limited. Do you desire one of the top modular helmets on the market? The Schuberth C4 Pro Carbon follows.
My Analysis of the Top Schuberth Helmets Meeting Motorcycle Helmet Standards
Schuberth Helmets
Motorcycle Helmet Standards
DOT
ECE 22.05
ECE 22.06
SNELL
FIM
SHARP

Schuberth C5

✔

✔

✔

X

X

X

Schuberth C4 Pro Carbon

✔

✔

X

X

X

⭐⭐⭐⭐

Schuberth E1 Cut 

✔

✔

X

X

X

⭐⭐⭐⭐

Schuberth M1 Pro 

✔

✔

X

X

X

X

Schuberth C3 Pro

✔

✔

X

X

X

⭐⭐⭐⭐
A collision, a tumble, or five years should serve as a reminder to change your helmet. Five, why? After that, the glue that keeps it together and aids in properly dissipating impact force degrade. You should never purchase a worn helmet for the same reason. Visit a store if you can to try on several brands. Some have a better fit for various head shapes than others.
A helmet should fit snugly and comfortably. Make sure the helmet is worn level on your head; avoid having it pulled too low over your forehead or tipped back on the top of your head. The helmet should not shift from front to back or side to side once it is on your head.
The Takeaway on Which Is the Best Helmet Standard
Traditionally, technical factors, like the force of the impact, location of the impact, dwell times, and the number of impacts, have been the focus when people compare motorcycle helmet standards. All the standardizing organizations, DOT, ECE, SHARP, SNELL, and FIM, base their evaluations on different theories.
These differences in evaluation theories drive the heated debates about which motorcycle helmet standard is better than the other.
I have been in the motorcycle helmet industry for many years, working for different manufacturers. Leveraging my experience, I believe that the numbers from the various motorcycle helmet standardizing organizations are not the critical factor riders should focus on.
Even Scientists and Technicians Can't Agree on The Numbers
Notwithstanding whose numbers you believe are correct. The certification by the SNELL Memorial Foundation stands out since they purchase helmets from the open market and evaluate them independently. There is no helmet manufacturer involvement anywhere in the SNELL assessment process, unlike other helmet-standardizing organizations.
DOT certification's shortcoming is that manufacturers assess their own helmets and claim they meet the set standards without any oversight. Allowing manufacturers to evaluate their own helmets can result in the production of less-than-objective data due to bias.
Most motorcyclists aren't aware that the Department of Transportation doesn't directly certify or approve helmets to the DOT FMVSS 218 standard. The government allows helmet manufacturers to self-certify their helmets to this standard.
It's an open secret that many manufacturers don't stick to the rulebook when self-certifying their helmets. So, while some might argue the DOT FMVSS 218 standard is the most authentic in the world, it's impossible to overlook this Achilles heel.
ECE certification is the most modern motorcycle helmet standard. It enjoys global recognition, with at least 50 countries, most in Europe, accepting it. The standard is continuously revised and is currently on its 6th iteration (ECE 22.06). The deadline for helmet manufacturers to fully embrace ECE 22.06 is early 2024.
In contrast to ECE and DOT regulations, FIM regulations are markedly tighter. FIM will not evaluate a helmet that only has a DOT certification. A helmet must also undergo SNELL, ECE, or Japanese JIS certification before FIM considers evaluating it. This is why FIM-certified motorcycle helmets cost considerably more than an average rider would be willing to pay for a helmet.
Both America and Europe/Oceania Continents Share SNELL, FRHP, ECE 22.05, and ECE 22.06, While North America Also Adds the DOT Certification
Through my experience working with helmet manufacturers like AGV, Vemar, Suomy, KBC, and others, I know that, except for SNELL, any helmet certifications originating from Europe have some level of manufacturer involvement.
If motorcyclists pick any helmet from a reputable manufacturer bearing any of the named safety certifications, they can at least expect above-average protection from head injuries. Ensure the helmet fits your head snugly, and always close the retention straps securely for maximum protection.
Doing this will keep you safer while riding than attempting to dissect the technical details of the various motorcycle helmet standards.
Motorcycle Helmet Testing, Ratings & Certifications FAQs
Here are some quick answers as you ponder over which helmet standard addresses your riding demands better for you.
Is ECE the Same As DOT?
No! Acceptance by the U.N. Economic Commission for Europe is indicated by an ECE sticker. ECE is the prerequisite for all of Europe, much as DOT is for all of America. It is also the most widely used standard in the world; it serves as a reference in more than 50 countries.
DOT vs. ECE: Which Is Better?
ECE is typically regarded as the safer standard above DOT. The ECE examines 50 helmets, reducing the likelihood that a subpar helmet will pass. Additionally, in contrast to the DOT standard, manufacturers cannot self-certify.
ECE vs. SNELL vs. DOT: Which Is Better?
SNELL certification entails more thorough and extensive testing, which would suggest that it is the better motorcycle helmet standard. The ECE testing is more stringent than DOT testing, as are the general criteria. The specifications of the SNELL Memorial Foundation cover resistance to multiple impacts in the same location in addition to the DOT standard's tests for general helmet robustness and other helmet performance areas.
Which Certification Is Best for Helmet?
SNELL certification is considered the best helmet standard because helmets have to undergo more exhaustive and rigorous testing before earning its sticker. The SNELL Memorial Foundation buys helmets from the open market, the same as every rider, for independent testing. Conversely, DOT allows manufacturers to test their own helmets and self-certify based on the honor system.
ECE certification is the most modern and widely accepted motorcycle helmet standard benchmarked by SHARP and FIM, whose criteria are markedly tighter, but FRHP-approved helmets are scarce and expensive for a common rider while SHARP is government sanctioned in the UK.
Are Universal Helmet Laws That Much Better Than Partial Helmet Laws?
Absolutely! There is irrefutable evidence showing universal helmet laws save not only lives but also save money. Research indicates that when universal helmet laws are enacted within a state, helmet use dramatically increases, and the number of motorcycle crash-related fatalities significantly reduces. If a state opts to repeal the law, motorcycle accident-related deaths will increase.
Are Different Motorcycle Helmets Standards Better for Different Situations?
In comparison to DOT or ECE regulations for street motorcycle use, FIM regulations are substantially tighter. Stricter requirements are not necessarily preferable because riders cannot be expected to wear helmets that are ridiculously large, cumbersome, or expensive. An FIM-certified helmet would cost money that the average rider would not be prepared to spend.
One could contend that the typical American DOT requirements are too lax and ought to be tightened. Some industry insiders believe that DOT requirements are too lenient because the FIM will not assess a helmet that has only passed the DOT evaluation. A helmet must get through Japanese JIS, SNELL, or ECE certification before the FIM considers assessing it.
Manufacturers can test their own helmets and claim they fit the requirement, which is a serious defect in the DOT certification. SNELL Foundation tests, which are never conducted by manufacturers, are an exception to this rule. Allowing manufacturers to test their own helmets runs the danger of producing less-than-objective data.
On another level, it's debatable if DOT regulations are too lax. A subpar helmet will fail a DOT test if a manufacturer evaluates its products honestly.
How Hard of a Crash Can a Helmet Save?
No helmet can save you from all possible impacts. A rider is likely to get significant injuries from a head hit of 200 to 250 G, but not necessarily die, but luck dwindles once we get to about 275 Gs used for crash tests. Because brain injury is such a complicated topic, occasionally, a relatively minor hit can result in long-lasting damage.
If you are in an accident, you could sustain any number of different sorts of brain injuries. You could experience a contusion or concussion that you typically fully recover from, but not always. Bruising and bleeding inside the brain can be life-threatening if left untreated, and high-quality medical care is necessary for a full recovery.
What's more, healthcare expenses for unhelmeted riders hurt in collisions are far higher than for helmeted riders. These expenses can burden others if the motorcyclist is not insured.
Statistics are clear; not wearing a certified helmet can be a matter of life and death:
Figure 3: Motorcyclists Killed and Injured, Known Helmet Use, and Injury-to-Death Ratios (2013-2017)
Year
Deaths
Injured
Injury-to-Death Ratio
Helmeted
Unhelmeted
Helmeted 
Unhelmeted
Helmeted
Unhelmeted

2013

1,923

2,769

29,848 

58,578

15.52 

21.16 

2014

1,773 

2,821 

34,538 

57,075 

19.49 

20.23

2015

1,990 

3,039 

28,402

60,016 

14.28

19.75 

2016

2,156 

3,181 

31,359

73,090 

14.54

22.98 

2017

2,008 

3,164 

29,815

58,902 

14.85 

18.62 

Average (2013-2017)

1,970 

2,995 

30,793 

61,532 

15.73 

20.55 
The statistics in Figure 4 imply that about 3,164 of the 5,172 riders who perished in motorcycle crashes in 2017 were helmetless. Roughly 749 more lives could have been saved if all riders involved in motorcycle accidents in 2017 wore their helmets.
On the economic front, the nation could save an estimated $8.9 billion in comprehensive costs and an additional $1.5 billion in economic costs annually if all riders wore helmets.
Figure 4: Motorcycle Helmet Use and Lives Saved (2010-2017)
| | | |
| --- | --- | --- |
| Year | Helmet Use | Lives Saved |
| 2010 | 54.3% | 1,556 |
| 2011 | 66.5% | 1,622 |
| 2012 | 60.4% | 1,699 |
| 2013 | 59.5% | 1,640 |
| 2014 | 64.3% | 1,673 |
| 2015 | 60.7% | 1,800 |
| 2016 | 65.3% | 1,885 |
| 2017 | 65.2% | 1,872 |
The data above shows that between 2010 and 2017, helmet use among motorcyclists increased by 8.3%. But there was a slight drop of 0.1% in helmet use between 2016 (65.3%) and 2017 (65.2%). Despite this, helmets did reduce the pervasiveness of head injuries by 63.8% and the sameness of fatalities by 36.2% in 2017.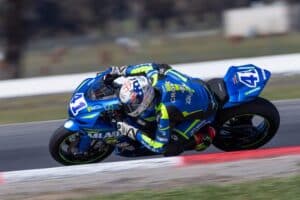 I've diligently categorized my motorcycle gear recommendations into all available categories, with the aim of providing you with a comprehensive analysis that showcases the absolute best options for all your needs. These items are the culmination of in-depth research, extensive testing, and personal use throughout my vast experience of 50+ years in the world of motorcycling. Besides being a passionate rider, I've held leadership positions and offered consultancy services to reputable companies in over 25 countries worldwide. To See Our Top Picks and the Best Prices & Places to Buy: Click Here!
Information for this article was partially sourced and researched from the following authoritative government, educational, corporate, and non-profit organizations:
SNELL Memorial Foundation
M/A