Feeling the wind caress me is one of the perks of riding a motorcycle in fair weather. But while wind on my face is tolerable—even pleasant—at low speeds with my AGV AX-8 dual-sport helmet, cold air gushing up my pants is far from enjoyable. It can be downright annoying and even make me look funny with my pants sailing in the wind. Constantly having to stop and pull the legs down can also become a hazardous distraction. And so, I sought to answer the question: how do I keep pant legs down on a motorcycle?
Besides tucking in, you can use boot straps, boot clips, or boot bands to effectively keep pant legs down on a motorcycle. I appreciate how affordable and convenient these options are, as an excellent addition to any riding gear ensemble. Interestingly, I use the same mechanism to connect my winter motorcycle jacket and pants, ensuring complete protection around the waist area. But how do boot straps, boot clips, and boot bands differ in their effectiveness? Let's explore the differences and determine the best option for you.
5 Best Solutions to Keep Pant Legs Down on a Motorcycle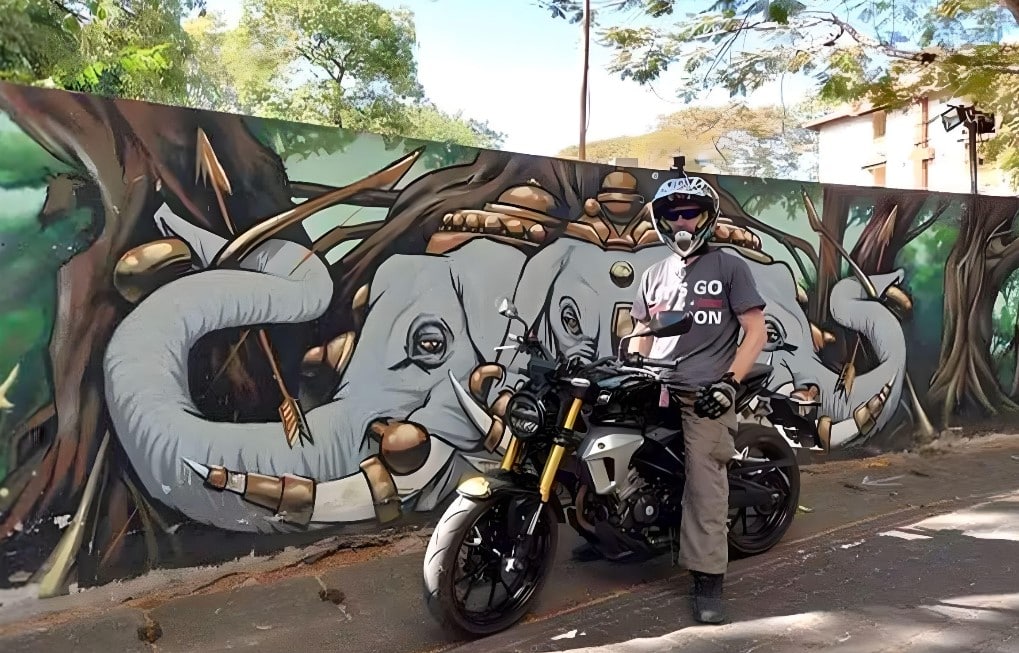 These are the five ways I use to keep my pant legs down, so allow me to share them with you to help you avoid uncomfortable feelings due to flappy pant legs and minimize the risk of accidents by ensuring that your pants don't get caught by the brake pedal and shift pegs. Besides, they'll help you avoid burns from hot motorcycle parts.
1. Tuck in to Keep Your Pant Legs Down
Take a gander at your fellow riders, and you'll quickly spot two schools of thought when it comes to pant legs: tucking them into boots or leaving them loose. Your choice here can make all the difference when it comes to keeping your pants from riding up on a motorcycle.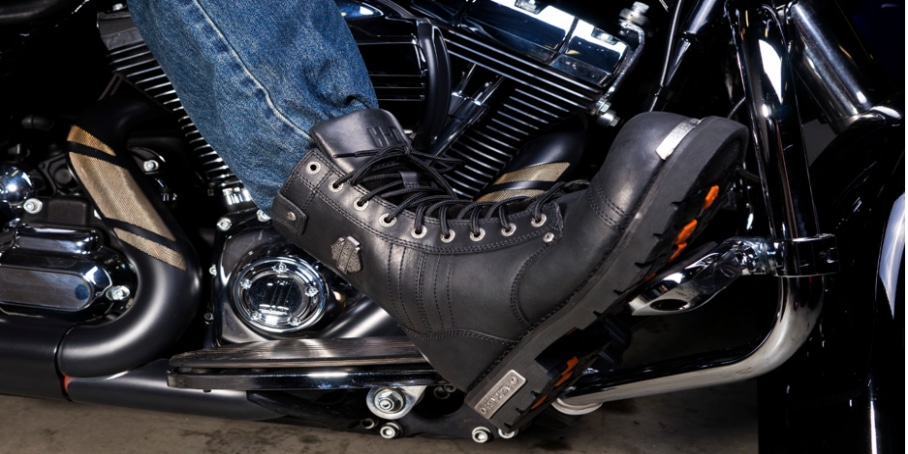 In particular, skinny jeans and narrow race leathers must go inside boots, obviously, although some exceptions exist. I find that it looks cooler (typical of the racing style), provides better aerodynamics, keeps me warmer during chilly weather, and is safer. No sogging, snagging, or flapping about, not to mention it being a fashion trend! I often come across boy racers, or at the other extreme, Ulysses members wearing pants inside boots. Then there is the café racer "rocker" trend, which involves tucking jeans into white socks with the tops rolled down over the boots.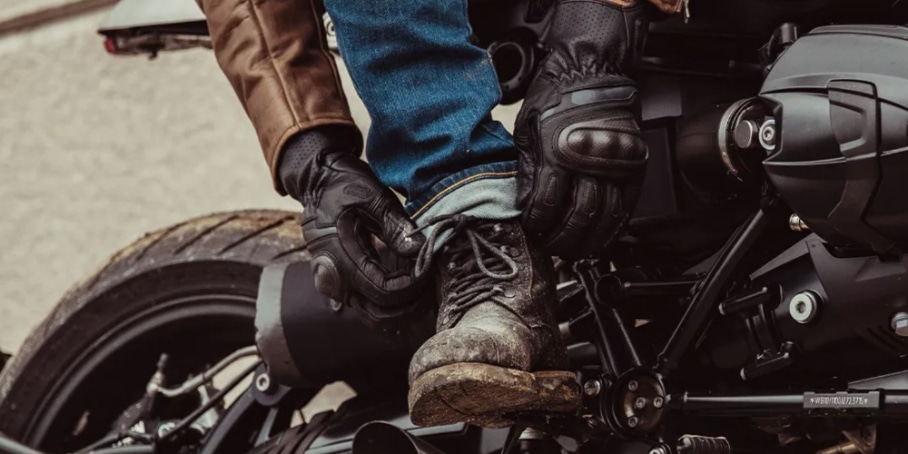 But hey, to each their own, right? Some riders prefer to keep their pant legs loose and fancy-free (loose leggers, unite!), especially during summer or if they're sporting adventure-style riding pants that have a tuck-in piece with another part that rolls or zips over the boot to keep the rain and dirt at bay. But the problem here is that your pants might get caught half-mast on the top of your boots partway through your ride.
Sure, you can try pushing the bottom of your jeans up under your shoelaces to keep them in place, but that only works for so long before you're stuck tugging at your pant legs every five seconds. And so, the big question still remains: how do you keep pant legs down on a motorcycle?
I highly recommend these motorcycle boots for their affordable yet top-notch quality, reflecting my extensive 50+ years of motorcycling experience and expertise as a rider, leader, and consultant in 25+ countries. So, whether you're a seasoned rider seeking an upgrade or a new enthusiast starting your journey on two wheels, I'm confident that these gear recommendations will serve you exceptionally well.
2. Use Boot Straps to Keep Your Pant Legs Down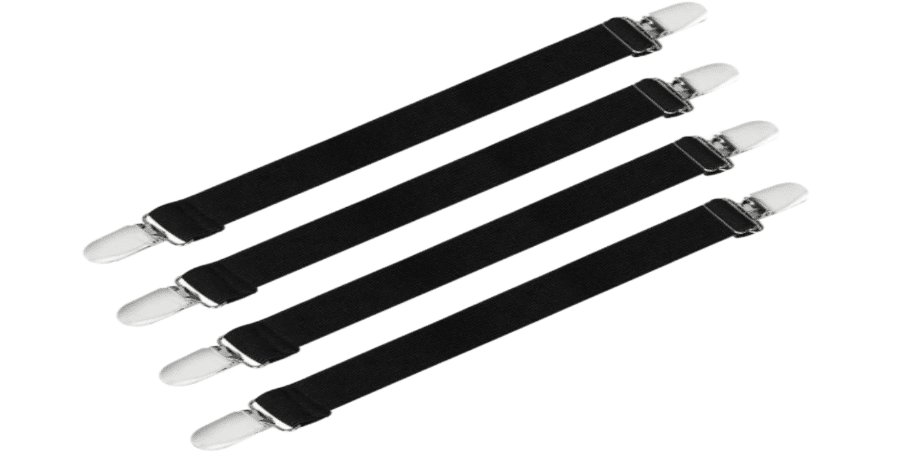 A boot strap is an elastic fabric band with clips on either side that attaches to the bottom of a pant leg and wraps around the shank or arch of your boot. The materials used can be either nylon or rubber, both of which can stretch up to 15 to 30% and up to a factor of 10 from their original length, respectively. Combine that with the adjustable feature that most boot straps come with, and you have an accessory that can adapt to fit various leg sizes for every rider. The spring steel or plastic insert clips keep pressure on the pant cuff.
To use a boot strap, I first attach it to the bottom of my pant leg, then move it around the boot and fasten it to the other side of the pant leg. I can attach the strap to my pants either by sewing it on or by using a clip or hook. Another method of putting on a boot strap is to hook it on both sides of the cuff, creating a loop. This way, I slip my foot through the loop and pull it up so that the strap is snug around my ankle or just above your boot.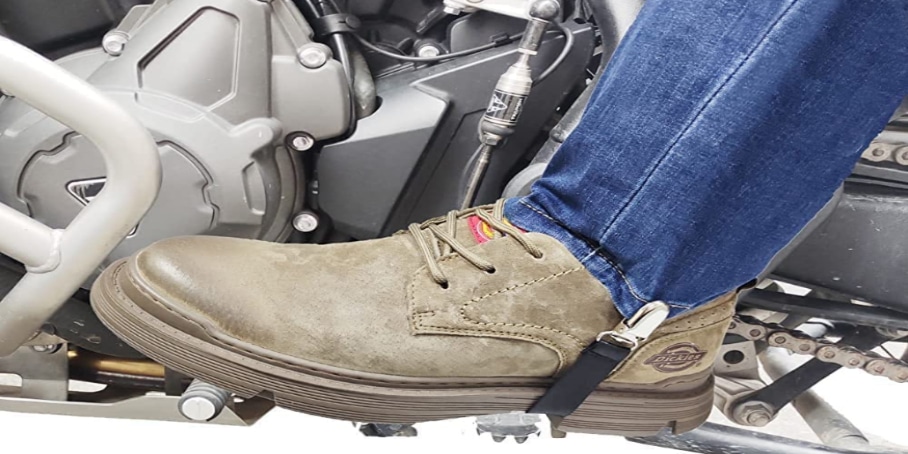 With the boot strap in place, I can enjoy the added benefits of secure and comfortable riding. Boot straps are also popular among equestrians.
🤩 What I Like About Boot Straps
Prevent the right cuff from getting caught on the brake pedal and the left on the shifter pegs

Comfortable to wear and walk with, even when off the bike

Versatile and can be attached with clips or sewn onto pants

Adjustable to fit different leg sizes
👎 What I Don't Like About Boot Straps
I need to remove them for safekeeping when taking off boots

Constant stretching can cause them to become loose.
My Top Picks: Best Motorcycle Boot Straps
| Best Boot Straps | Adjustability (Inches) | Average Rating | Availability |
| --- | --- | --- | --- |
| Goodtimes Adjustable 8 Piece Boot Straps | 7-11 | ⭐⭐⭐⭐⭐ | Amazon ➤ |
| Loosco Elastic 4 Piece Boot Straps | 6-12 | ⭐⭐⭐⭐ | Amazon ➤ |
| Boncas Improved 8 Piece Boot Straps | 5-9 | ⭐⭐⭐⭐⭐ | Amazon ➤ |
| Biker Motorcycle 2 Piece Boot Straps | 7-11 | ⭐⭐⭐⭐ | Amazon ➤ |
| Boao Adjustable 8 Piece Boot Straps | 8-12 | ⭐⭐⭐⭐ | Amazon ➤ |
| Gargoyle Bells 2 Piece Boot Straps | 4.71-8.46 | ⭐⭐⭐⭐⭐ | Amazon ➤ |
Goodtimes stand out with an impressive adjustability range of 7-11 inches, which means they can easily accommodate any foot size and boot style. On the other hand, Loosco straps has also taken a thoughtful approach to their design by incorporating plastic inserts that protect your clothing from wear and tear. Meanwhile, Boncas offers double-woven elastic polyester straps that provide ultimate flexibility, with a range of 5.2-9 inches and a stretch of up to 16 inches.
For a secure fit, Boao's elastic straps are adjustable between 5-12 inches. And if you're planning on venturing into the great outdoors, Biker straps are a must-have as they are weatherproof and built to withstand anything that Mother Nature throws your way.
3. Use Boot Clips to Keep Your Pant Legs Down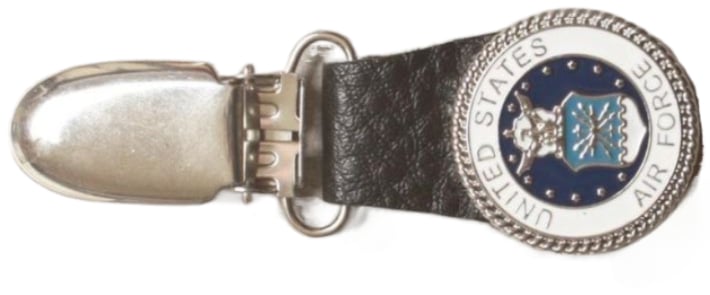 A boot clip, also known as boot loop, is a strap made of either leather or stainless steel that features a tic-tac button on one end that snaps around the laces or straps of my boots. The other end is a clip that attaches to the pants cuff for added function, safety, and style. In particular, leather boot clips have the added benefit of being slightly stretchy and can expand up to half a size (1/2) from their original size. They're also fashionable, small, easy-to-use, typically inexpensive and can be left on the boot's laces after use, making them the go to solution to keep pants down on a motorcycle.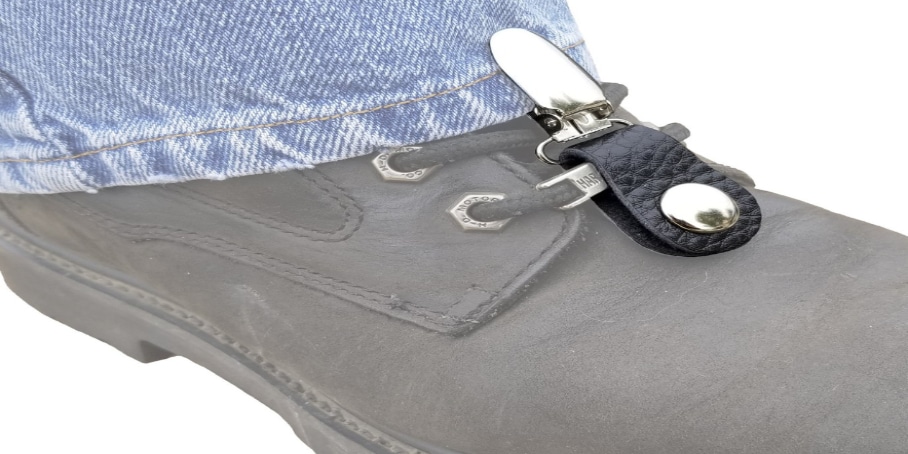 To use a boot clip, I first clip the small decorative, spring-loaded metal insert onto the cuff, and then attach the tic-tac button to the laces or straps on my boots, or vice versa. Cruiser riders, in particular, appreciate boot clips because of their rustic or vintage look. But what impresses me even more is that I customize boot clips with badges on the tic-tac button or clip to suit my preferences. You can do it too!
🤩 What I Like About Boot Straps
Small and fashionable

Easy to use

I can leave them on boot's laces or straps

Customizable with badges on the tic-tac button or clip
👎 What I Don't Like About Boot Straps
Only clips the front pant cuff, leaving the other sides exposed to brake pedals and shift pegs

I can only sew one side onto my pants
My Top Picks: Best Motorcycle Boot Clips
| Best Boot Clips | Weight (Ounces) | Average Rating | Availability |
| --- | --- | --- | --- |
| Ryder Boot Clips (Skull/Wings) | 1.6 | ⭐⭐⭐⭐⭐ | Amazon ➤ |
| Engine and Shield Laced Front Clips | 1.6 | ⭐⭐⭐⭐ | Amazon ➤ |
| Warhawk Boot Clips (Buffalo Nickel) | 1.8 | ⭐⭐⭐⭐⭐ | Amazon ➤ |
| Arimis Boot Clips (Pirate) | 2.08 | ⭐⭐⭐⭐⭐ | Amazon ➤ |
| Ryder Clips (Chrome Heart/Skull) | 1.6 | ⭐⭐⭐⭐ | Amazon ➤ |
| Ryder Boot Clips (Engine/Shield) | 1.6 | ⭐⭐⭐⭐ | Amazon ➤ |
These 6 clips are not just ordinary accessories, they boast impressive designs that are bound to turn heads. Ryder's clips feature a combination of a skull and wings design that adds a touch of edginess to any outfit. In addition, the engine and shield designs on another pair of Ryder's clips exude a strong and rugged vibe, while the buffalo nickel on the Warhawk clips is a subtle nod to the old Wild West.
The Arimis clips, on the other hand, come with a daring pirate design that is both charming and mysterious. The Ryder's chrome heart and skull design is a perfect blend of elegance and rebellion, adding a unique touch to your style. Each clip tells a story, making them a must-have for any fashion-forward rider.
4. Use Boot Bands/Blousers to Keep Your Pant Legs Down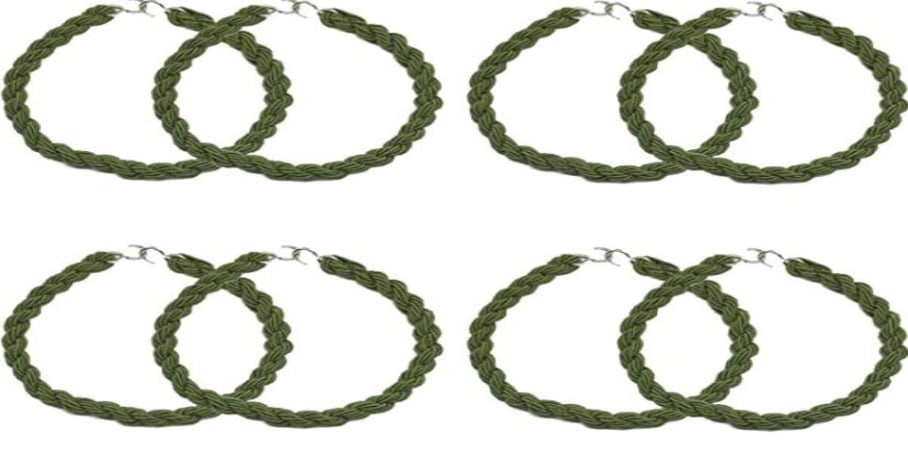 A boot band, also called a boot blouser, is a thin strap made of materials such as spandex, rubber, nylon, or polyester, which fastens on top of boots around the boot shaft using hooks on both sides. Some models come with added silicone grips to prevent slipping and decorative elements like lace or fringe to add a touch of style. Boot bands are particularly favored among military personnel for their practicality and functionality in enhancing the appearance of their attire.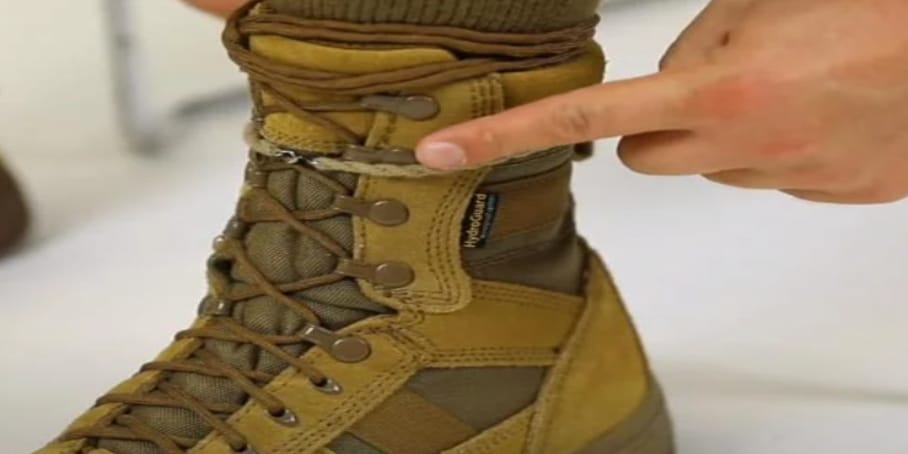 To use a boot blouser, I begin by lifting my pants to expose the boot. Next, I hook the band between the second and third eyelets from the top of the boot. Then, roll down my trousers just below the band. When my trousers are long, I cuff them to maintain a neat appearance. Finally, I tuck the pant leg underneath the boot band. I prefer blousing just below the first or second eyelet to keep debris and water out. It performs an actual function, not just an appearance, specially during the colder seasons.
🤩 What I Like About Boot Bands/Blousers
Not visible from the outside

Improved appearance

Easy to use

Inexpensive
👎

What I Don't Like About Boot Bands/Blousers
Metal hooks may pose a danger

I need to frequently make adjustments, which can restrict movement.
My Top Picks: Best Motorcycle Boot Bands/Blousers
| Best Boot Blousers | Weight (Ounces) | Average Rating | Availability |
| --- | --- | --- | --- |
| Jovitec 12 Piece Elastic Bands | 0.32 | ⭐⭐⭐⭐⭐ | Amazon ➤ |
| Janegio 24 Piece Blousing Bands | 0.63 | ⭐⭐⭐⭐⭐ | Amazon ➤ |
| Alpine Choice 5 Piece Boot Bands | 0.8 | ⭐⭐⭐⭐⭐ | Amazon ➤ |
| Wisdompro Ankle Strap | 0.7 | ⭐⭐⭐⭐⭐ | Amazon ➤ |
| Salty Lance 20 Piece Boot Bands | 0.98 | ⭐⭐⭐⭐⭐ | Amazon ➤ |
| Janegio 24 Piece Blousers | 0.63 | ⭐⭐⭐⭐⭐ | Amazon ➤ |
Jovetic and Janegio are both good fits for most riders, with Janegio's bands measuring 19 cm/7.5 inches in length and 0.4 cm/0.16 inches in diameter, and The Alpine boot bands are also 7.5 inches long, but its diameter is unknown. If you're looking for adjustability, Wisdompro's 3-inch-long bands are easy to adjust for adult ankles. And if durability is what you're after, Salty Lance's bands made of polyester/elastic materials are a great choice.
5. Try the Keyring Trick to Keep Your Pant Legs Down
I at times consider this simple and highly effective trick when my find stirrup accessories uncomfortable both on and off the bike. First, I make a small hole in the outer bottom leg of my riding pants, and sew reinforcing loops around the hole. Next, I attach a keyring to the loops, and connect it to my boots—this works especially well for harness motorcycle boots.
When I ride for a few hundred miles with this method, I notice that my pants still stay in place and I don't have excess fabric around my calves. Moreover, when I'm off the bike, my pants hang more naturally than they would with stirrup devices. Using a keyring to put down pant legs on a motorcycle may not be the perfect solution for everyone, but it's certainly worth considering if you're looking for a simple way to address this issue. 
Concluding Thoughts
Tucking in, boot straps, boot clips, boot bands, and keyrings all serve the same purpose of keeping your pants in place while riding a motorcycle, but they differ in their design and functionality. With all these options, you have the flexibility to change the hooks or clips or customize them to your liking.
Wind tunneling up the pants is a simple, yet incredibly annoying problem that has been around as long as riding itself. And it's not just a problem for sport bike riders (where the pegs are located high up and the pants catch on the gas tank, causing the cuffs to rise and exposing the ankles, while the inseam squeezes the nether regions), but also for standard and cruiser riders who face a similar issue, especially with forward biased controls that position legs leaning into the wind.
Loose jeans can be hazardous while riding because they can become entangled in the controls, potentially causing an accident. For instance, if you stop at a light and your left pant leg is caught in the rear gear shifter, you might be unable to put your foot down, causing you to drop the bike and injure yourself.
Riding in colder months is also problematic, as your only layer of protection for your legs may shift upwards, allowing chilly gusts of air to enter. The cold can affect you more than the motorcycle, leading to distracted driving and even hypothermia. But some of us ride in all weather conditions and cannot simply store our bikes during the winter. So, we require a solution to keep our pants secure, providing thermal and abrasion resistance as they are intended to do.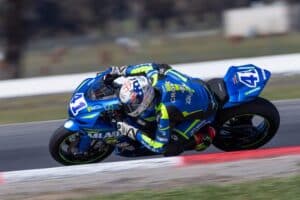 I've diligently categorized my motorcycle gear recommendations into all available categories, with the aim of providing you with a comprehensive analysis that showcases the absolute best options for all your needs. These items are the culmination of in-depth research, extensive testing, and personal use throughout my vast experience of 50+ years in the world of motorcycling. Besides being a passionate rider, I've held leadership positions and offered consultancy services to reputable companies in over 25 countries worldwide. To See Our Top Picks and the Best Prices & Places to Buy: Click Here!
Information for this article was partially sourced and researched from the following authoritative government, educational, corporate, and non-profit organizations:
MS/A