Few things are as uncomfortable as being either too hot or too cold while motorcycle riding. Freezing in the middle of January can be a nightmare, but sweltering in the middle of July can be equally unbearable. That's why we need to invest in the right gear, starting with the best motorcycle base layers for hot weather:
Base layers are the first items of clothing you put on after a shower; everything else goes on after. They regulate body temperature, wick away moisture, and keep your skin dry and comfortable throughout your ride. Now, here's the best part: they look amazing! But before we go any further, let's clear something up…
Comparison of Warming (Thermals) and Cooling Base Layers

Illustration comparing the warming layer (thermals) and the cooling base layer. On the left, a layer that traps heat while wicking moisture and blocking wind, while on the right, a layer that pulls sweat away to keep you dry.
Base layers are not the same as thermals. While both act as a second skin and can wick away moisture, thermals provide more warmth in colder conditions, and the insulating and windproof materials used reflect this. But, for hot weather riding, we're all about those summer base layers that will keep you cool and comfortable. Now, let's get into it!
How to Choose the Right Base Layer for Optimal Performance During Summer Riding
Choosing the right base layer is easy if you know what features to look for. Regardless of your budget, consider the type of base layer (one or two-piece), ease of access, seams (flat or seamless), comfortable fit (with added panels and pre-curved shapes), lightweight materials, and material composition (man-made fibers for thermal and breathability). 
Summer base layers use synthetic moisture-wicking materials, including polyester, lycra, nylon, and spandex, which are hydrophobic, meaning they repel water instead of absorbing it like cotton. When you sweat, the heat from your body pushes the moisture along the synthetic fibers away from the skin. That's what's meant by "moisture wicking." Synthetic fibers do not absorb liquids, so the sweat spreads out over the surface of the threads in a thin layer and evaporates quickly, making the clothing breathable and keeping you dry during your riding, unlike traditional cotton clothing, which absorbs sweat, becomes heavy and uncomfortable, and can cause rubbing and chafing.
A set of pink of motorcycle base layer hanging from a sturdy and spacious white drying rack, airing out to dry.
But unlike cotton, moisture-wicking materials are not as easy to clean and keep smelling fresh as cotton, due to the fact that fabric that repel water attract oils, and vice versa. When you sweat, the moisture evaporates quickly, leaving behind salts and oils from your skin, which are responsible for the unpleasant odor. Bacteria feed on these oils and emit gases that smell bad. To eliminate the bacteria, you need a detergent that can break these oil bonds, keeping your summer motorcycle base layers smelling fresh even after washing.
Top Picks: Best Motorcycle Base Layer Laundry Detergents 
| Best Laundry Detergents | Size (Ounces) | Average Rating | Availability |
| --- | --- | --- | --- |
| Nathan Power Wash Detergent | 64 | ⭐⭐⭐⭐⭐ | Amazon ➤ |
| HEX Performance Laundry Detergent | 32 | ⭐⭐⭐⭐⭐ | Amazon ➤ |
| WIN Activewear Detergent | 32 | ⭐⭐⭐⭐⭐ | Amazon ➤ |
| Gain Laundry Aroma-B0ast Detergent | 65 | ⭐⭐⭐⭐⭐ | Amazon ➤ |
| Rockin' Green Activewear Detergent | 45 | ⭐⭐⭐⭐ | Amazon ➤ |
| All Liquid Laundry Detergent | 85 | ⭐⭐⭐⭐⭐ | Amazon ➤ |
| Tide PODS Laundry Detergent | 81 | ⭐⭐⭐⭐ | Amazon ➤ |
| OxiClean Odor Blasters Odor & Stain Remover Powder | 80 | ⭐⭐⭐⭐⭐ | Amazon ➤ |
Other best laundry detergents for motorcycle base layers worth a mention include the Molly's Suds Unscented Laundry Detergent Powder (80.25 ounces) for a scent-free clean, Sport Laundry Detergent (17.6 ounces) for stubborn stain removal, Zero Odor Eliminator (16 ounces) for a fresh and pleasant scent, and Borax 20 Mule Team Detergent Booster (65 ounces) for an extra cleaning boost.
Pro Tip: To wash motorcycle base layers effectively, place them in the washing machine using the appropriate settings. Although labels may suggest using cold or warm water, washing with hot water is best for removing odor. Use an activewear detergent to tackle odor problems and remove oils from synthetic materials since regular detergents won't do the job as effectively. Lastly, dry the clothes on low heat and avoid using fabric softener, which can leave a waxy residue on the garments and hinder moisture-wicking abilities.
I highly recommend these motorcycle body armor for their affordable yet top-notch quality, reflecting my extensive 50+ years of motorcycling experience and expertise as a rider, leader, and consultant in 25+ countries. So, whether you're a seasoned rider seeking an upgrade or a new enthusiast starting your journey on two wheels, I'm confident that these gear recommendations will serve you exceptionally well.
Reviews and Recommendations for the 6 Best Motorcycle Base Layers for Hot Weather

A rider is sweating profusely onto an ordinary T-shirt without moisture-wicking and quick-dry properties, causing him discomfort and distracted riding.
Let's get to it then! And just so our comparison is apples for apples, we'll start with the higher-priced items and work our way down to the more affordable options:
| Best Base Layers | Size | Average Rating | Availability |
| --- | --- | --- | --- |
| Alpinestars Ride Tech Lite | XS-2XL | ⭐⭐⭐⭐⭐ | Amazon ➤ |
| REV'IT Airborne LS | SM-3XL | ⭐⭐⭐⭐⭐ | Revzilla ➤ |
| Under Armour HeatGear | XS-4XL | ⭐⭐⭐⭐⭐ | Amazon ➤ |
| Vaude Sveit T | XS-2XL | ⭐⭐⭐⭐ | Amazon ➤ |
| Dainese D-Core Aero | XS-2XL | ⭐⭐⭐⭐⭐ | Amazon ➤ |
| Axial Short Compression | SM-3XL | ⭐⭐⭐⭐⭐ | Revzilla ➤ |
1.

Alpinestars Ride Tech Lite — Best Racing Undersuit (One Piece)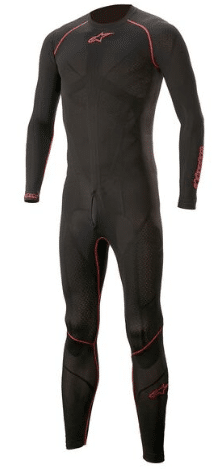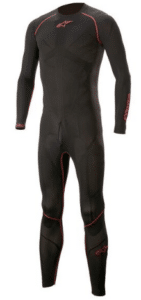 The Alpinestars Ride Tech is a recent addition to the Alpinestars motorcycle gear collection, specifically made for warm and hot weather riding. It mainly comprises polypropylene (84%), with equal proportions of polyester and polyamide (8% each) intertwined to provide a stronger, more elastic, durable, quick-drying, and ultra-lightweight construction. This undersuit is the perfect base layer for sunny track days when you need to stay comfortable under race-fit motorcycle racing leathers and make cleaning your gear easy.
The Ride Tech Lite also works best within the Alpinestars racing ecosystem. It has strategically placed mesh inserts for optimal airflow, an anatomical fit, flat-lock seams, and a zipperless design for a snug, tubular compression fit with no pressure points. Despite its competitive pricing, the Ride Tech Lite still provides superior comfort compared to even the pricier REV'IT Excellerator Race, which features layered overlock seams and a frontal fly. 
🤩 What I Like:
Made for warm and hot weather riding

Lightweight and quick-drying materials

Provides superior comfort
👎 What I Don't Like:
Not versatile for cooler weather

Doesn't offer as much protection in case of a crash.
2. REV'IT Airborne LS — Best Shirt & Pants Kit (Sometimes Sold Separately)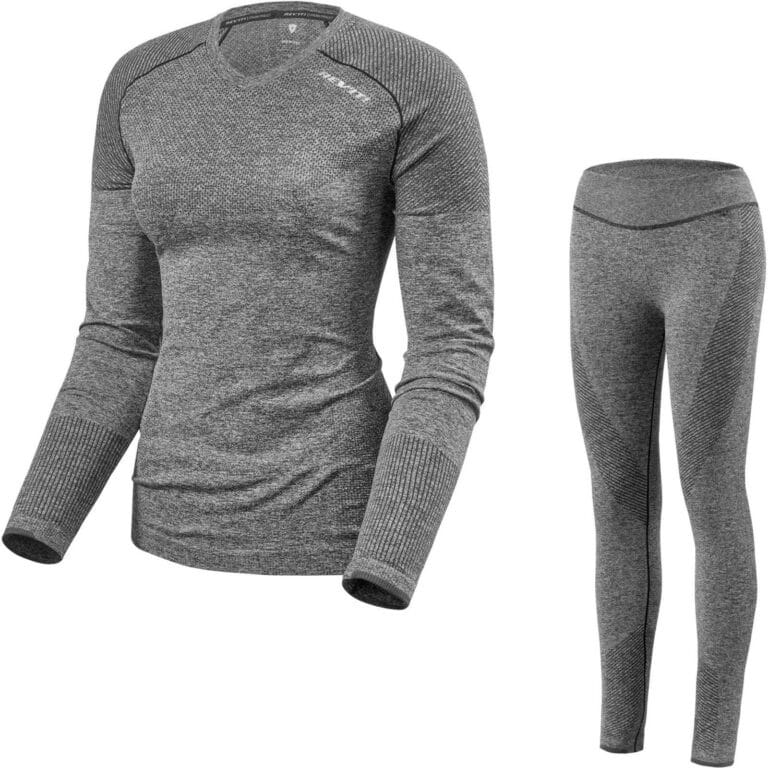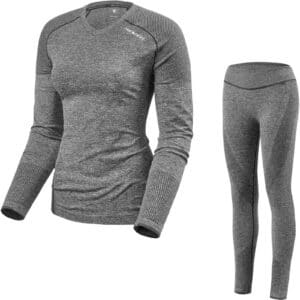 REV'IT has been absolutely sensational since its inception nearly three decades ago. Their latest collection features jaw-dropping articles, not least of which is the ladies-specific REV'IT Airborne LS Ladies Shirt & Pants Kit (which is sometimes sold separately, similar to Alpinestars Ride Tech V2 Bottom Summer and Alpinestars Ride Tech V2 Top Summer). The kit comes in stark gray with a neat and stretchy round knit pattern that eliminates ridges at the seams. It is anatomically specified for lady bikers, with the maker's new "body mapping principle" ensuring that the material hugs your body and wicks away moisture.
You'll love that the element of comfort is woven into the REV'IT Airborne LS's fabric, selecting the most stretchable yarns and weaving techniques to deliver a regular-fitting and light undergarment for a pleasurable riding and leisure activity. Guys, there is a male version called REV'IT Airborne without the LS notation, and even a lighter version, REV'IT Sky. Alternatively, you can opt for much cheaper kits made from polyester and spandex only, such as the Halvarssons Mesh Summer Motorcycle Base Layers, which may lack the comfort level of the Airborne.
🤩 What I Like:
Anatomically specified for lady bikers

Comfortable and stretchable fabric

Effective moisture-wicking material
👎

What I Don't Like:
Higher price point compared to some other options

Male version may not fit as well for women riders.
3. Under Armour HeatGear — Best Leggings (Pants)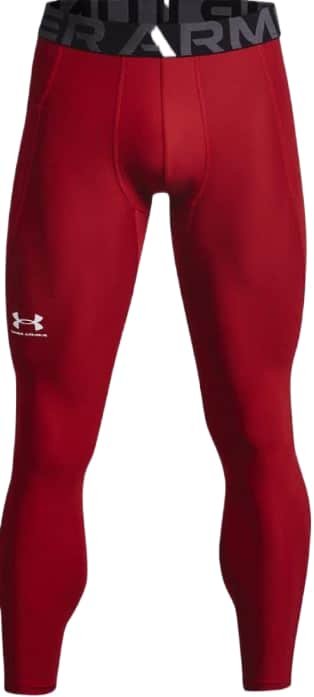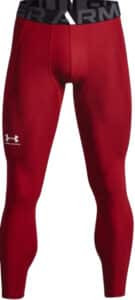 The Under Armour HeatGear Leggings offer a comfortable and high-performance option for those seeking quality leggings. Made with ultra-light HeatGear fabric that provides excellent coverage, these leggings are perfect for summer motorcycling. The material also features moisture-wicking technology that keeps you dry and comfortable throughout your workout.
The ergonomic design ensures durability by keeping seams away from high-abrasion areas. Additionally, the right side has a drop-in strength pocket that provides easy storage, while the wide, exposed elastic waistband offers a secure and comfortable fit. With an inseam of 28″ and ultra-tight compression, these leggings provide a second-skin fit that will help you perform at your best, no matter what activity you choose. Complete your look with the Under Armour HeatGear Compression Long-Sleeve T-Shirt. The pair is available in male and female versions.
🤩 What I Like:
Ultra-light HeatGear fabric provides excellent coverage

Moisture-wicking technology keeps you dry during workouts

Ergonomic design ensures durability by keeping seams away from high-abrasion areas
👎

What I Don't Like:
Only available in ultra-tight compression

Wide, exposed elastic waistband may not suit everyone.
4. Vaude Sveit — Best Casual T-Shirt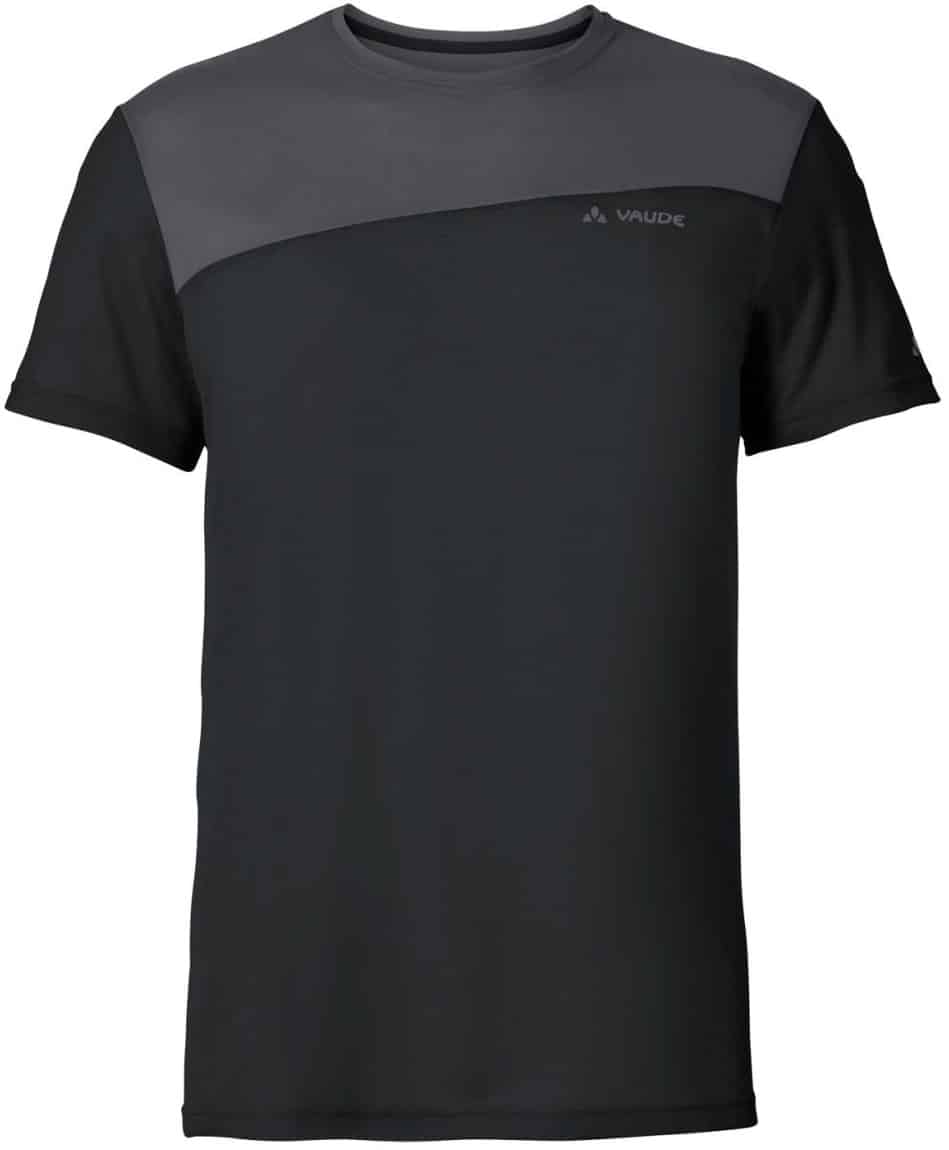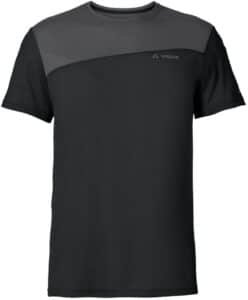 For those of you looking for a base layer garment that offers technical performance but looks like an ordinary T-shirt, Vaude has got you covered with their Vaude Sveit T-Shirt. It's  primarily made of merino with polyester forming a soft drirelease fabric, which looks and feels like your classic cotton tee but has fast-drying, cooling, and odor-resistant properties.
The Vaude line of products is made from renewable, sustainable, and ethical sources, offering an eco-friendly alternative for environmentally conscious riders seeking carbon neutrality. There are men's and women's versions available to ensure a more ergonomic fit for both genders, with a selection of colors ranging from red to dark sea. Want a long sleeved casual-look with your base layer? Jump ship to the Oxford Cool Dry, but you will be lacking on the exclusivity of the Vaude brand, and there aren't quite as many colors to choose from either. Or, perhaps go for the half-sleeved Assos ASSOSOIRES Summer SS Skin Layer.
🤩 What I Like
Offers technical performance while looking like an ordinary T-shirt

Made from renewable, sustainable, and ethical sources

Available for both men and women
👎

What I Don't Like
More expensive than basic cotton T-shirts

Limited color options compared to some other brands.
5. Dainese D-Core Aero — Best Long-Sleeve Shirt (Undershirt)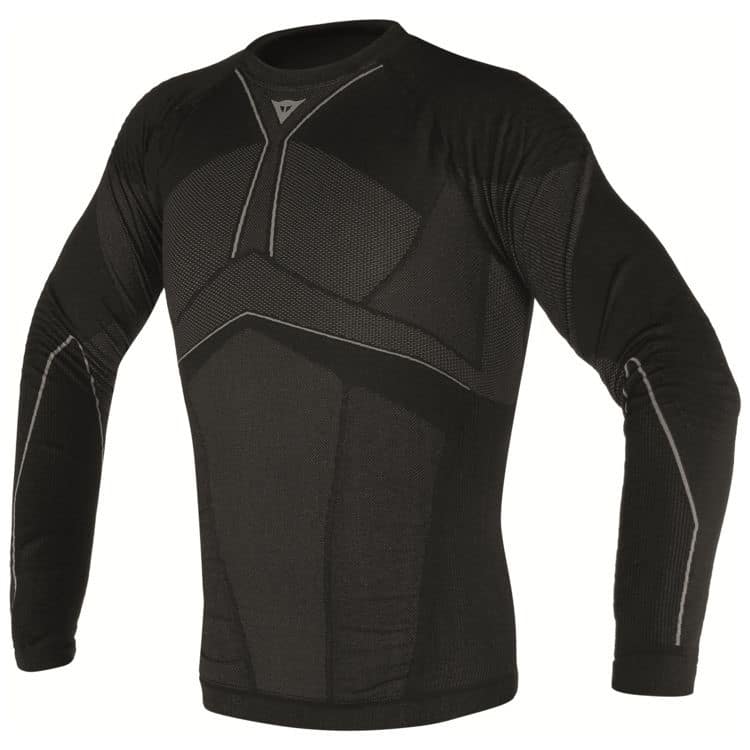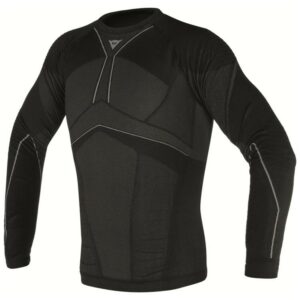 Dainese makes some of the world's best temperature-regulating base layers, and their D-Core line targets dauntless riders looking to tackle the most extreme temperature environments. The Dainese D-Core Aero is specifically designed to draw heat away from the body while also ensuring that sweat wicks away. And it's not just any manufacturer behind this innovative, quick-dry, bacteriostatic, hypoallergenic, and odor-deterrent material, but rather premium Italian craftsmanship.
The fabric consists of 20% polyamide (nylon) and 5% elastane for that extra-strong stretch that enables a compression fit and support for your muscles while maintaining contact with your body for the Dryarn (55%) to wick moisture away. The remaining 20% is polyester, which keeps the fabric's shape memory so that it does not degrade or wrinkle with repeated washes. You may want to get a matching pair of base-layer pants to boot. Or, you could also explore the Klim's Aggressor Cool -1.0 Base Layers or the Dainese D-Core Dry and D-Core Thermal range for year-round riding. 
🤩 What I Like
Temperature-regulating for extreme environments

Innovative, quick-dry, bacteriostatic, hypoallergenic, and odor-deterrent material

Premium Italian craftsmanship
👎

What I Don't Like
Higher price point compared to other options

Limited color and design options available.
6. Axial Compression — Best Short-Sleeve Shirt (Top)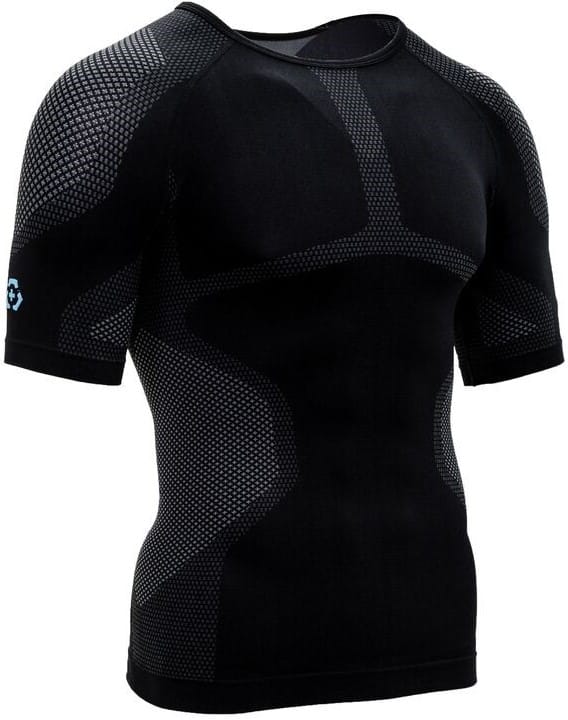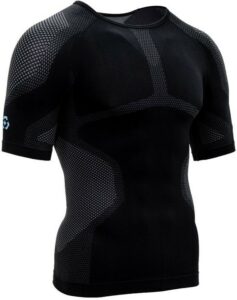 A latest entrant to the base layers market is Axial clothing, offering a range of on and off-road items to provide a more comfortable ride. The Axial Short Sleeve Compression Shirt is an excellent option for extremely hot weather, as it adds to the overall comfort under your leathers and armor grid. It has a simple construction with 95% polyester, which not only makes it affordable but also durable and highly resistant to color degradation even with exposure to the sun and repeated washing.
Although lacking the advanced materials of more expensive base layers, the Axial shirt's simple formula moves with the body thanks to the built-in spandex material and active compression panels at key locations like the shoulders and torso. Its thin and ultra-light construction with a low-profile fit at the neck essentially disappears under your gear and works as a second skin just like the top-tier RST Tech-X Coolmax top. In fact, Axial Short Sleeve may well outperform another hugely popular dhb Lightweight Mesh Short Sleeve Base Layer despite having more elastane.
🤩 What I Like
Affordable and durable with high color resistance

Active compression panels for comfortable and supportive fit

Thin and ultra-light construction
👎

What I Don't Like
Lacks advanced materials found in more expensive base layers

May not be suitable for cooler temperatures.
Comparing Materials, Pros, and Cons of the Best Motorcycle Base Layers
| Base Layer | Materials | Pros | Cons |
| --- | --- | --- | --- |
| Alpinestars Ride Tech Lite | 84% polypropylene, 8% polyester, 8% polyamide | Lightweight, quick-drying, superior comfort in warm weather | Less versatile for cooler weather, less protection in case of a crash |
| Rev'it Airborne LS | Polyamide, polyester, elastane | Anatomically specified, comfortable, effective moisture-wicking | Higher price point, male version may not fit women riders |
| Under Armour HeatGear | 84% polyester, 16% elastane | Lightweight, moisture-wicking, ergonomic design ensures durability | Only available in ultra-tight compression, wide waistband |
| Vaude Sveit T | 88% polyester, 12% virgin wool | Technical performance, renewable and ethical sources | More expensive than basic cotton, limited colors |
| Dainese D-Core Aero | 55% dryarn, 20% polyamide, 20% polyester, 5% elastane | Quick-drying, odor-deterrent, muscle support | Higher price point, limited colors and designs |
| Axial Short Sleeve Top | Polyamide, polyester, elastane | Moisture-wicking, breathable, quick-drying, lightweight | May fit too snugly, not suitable for very cold weather |
Pro Tip: To get the most out of your motorcycle base layer, ensure it fits perfectly. Use the size chart provided by the manufacturer and measure your chest and waist to find the right size. A proper fit is essential for maximum comfort and performance.
| Alpha | Euro Size | US Size | Chest (Inches) | Waist (Inches) | Waist (Inches) |
| --- | --- | --- | --- | --- | --- |
| SM | 44 | 28 | 36-38 | 31-33 | 28.3-29.9 |
| MD | 46 | 30 | 39-41 | 33-35 | 29.9-31.5 |
| LG | 48 | 32 | 42-45 | 35-37 | 31.5-33.1 |
| XL | 50 | 34 | 46-48 | 37-39 | 33.1-34.6 |
| 2XL | 52 | 36 | 49-51 | 39-41 | 34.6-36.2 |
| 3XL | 54 | 38 | 52-54 | 41-42 | 36.2-38.1 |
People Also Ask (FAQs)
Q: What Is A Good Base Layer For Hot Weather?
A good base layer for hot weather is any lightweight, fitting, and comfortable garment with a cooling effect and moisture-wicking properties through the use of materials such as merino wool, bamboo fabric, Coolmax, and other synthetic fabrics. Plus, it may have vents and mesh construction to enhance air circulation and cooling, as well as moisture evaporation, to keep you cool and comfortable.
Q: What Is The Best Thermal Base Layer For Motorcycle Riding?
The best thermal base layer for motorcycle riding is one that effectively retains body warmth while also wicking away moisture for optimal comfort, without restricting movement. Materials such as merino wool, polyester, nylon, and silk are commonly used to create insulating, moisture-wicking, and breathable base layers.
Q: What Is The Best Base Layer Material For Summer?
Merino wool is widely regarded as a leading material for its ability to regulate heat and moisture while providing utmost comfort. But for those on a budget, synthetic materials such as polyamide and polyester can also be good alternatives. Some like Proskins Summer Motorcycle Base Layers include antibacterial treatments in the fabric.
Q: What Do You Wear On A Motorcycle When It's Hot Outside?
Even in hot weather, wear motorcycle gear that not only protects you from injuries in a crash but also helps to keep you cool. Start with proper summer base layers and then work your way outwards to well-ventilated external gear.
Q: Can You Wear A Base Layer In Heat?
Yes, you can wear a base layer in hot weather. Summer base layers are designed to cool off your body when riding under hot conditions. But only choose a base layer that is specifically designed for hot weather.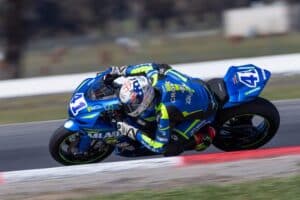 I've diligently categorized my motorcycle gear recommendations into all available categories, with the aim of providing you with a comprehensive analysis that showcases the absolute best options for all your needs. These items are the culmination of in-depth research, extensive testing, and personal use throughout my vast experience of 50+ years in the world of motorcycling. Besides being a passionate rider, I've held leadership positions and offered consultancy services to reputable companies in over 25 countries worldwide. To See Our Top Picks and the Best Prices & Places to Buy: Click Here!
Information for this article was partially sourced and researched from the following authoritative government, educational, corporate, and non-profit organizations:
A Quantitative Thermal Analysis of Motorcyclists' Thermo-Active Base Layers
Effect of Base Layer Materials on Physiological and Perceptual Responses
Base Layers Market By Product (Polyester, Lycra, Nylon, and Spandex)
MS/A