To a majority of people, a boot is a boot. Anything that covers the foot and ankle, or sometimes the lower leg, is fine, right? Well, we beg to differ. And in this post, we will tell you why.
When motorcycling, it is important to wear the right gear – remember, we dress for the slide, not the ride. But most riders frequently overlook their feet, and our feet, like the rest of the body, require suitable protection.
In fact, about 30% of the more than 80,000 annual motorcycle injuries are to the leg and foot. It is a nail-biting statistic, but that does not mean you cannot enjoy a good ride.
The truth is, it is possible to ride out for adventure and the individuality that motorcycle riding offers without the fear of sustaining feet injury. And the best way to do so is to invest in a good pair of motorcycle boots.
Even so, what if work boots provide similar or better results? What are some of the critical things you should put into consideration when looking for the best style of riding footwear? And what type of motorcycle boot best suits your needs?
Read on!
Are Boots Good for Motorcycle Riding?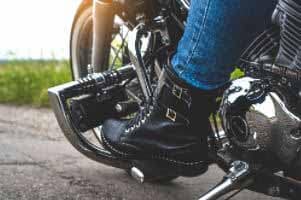 Absolutely! Motorcycle riding boots is the most recommended option.
Besides being the third most frequently worn (37%) – after gloves (76%) and jackets (59%) – they greatly lower the risk of lateral and torsional injuries to the feet. They are designed with special features to ensure you are safe, comfortable, and get the required traction on the track.
Pros of Riding in Motorcycle Boots
Here are some of the detailed reasons motorcycle boots are the best for riding.
Provides Full Ankle and Foot Support
Technically, when you stop riding, you balance your weight and that of your motorcycle. And you will need proper motorcycle boots if you want to maintain your balance and remain comfortable.
The feet may also be subjected to significant twisting or contouring, which makes it necessary to protect your ankle and keep your feet and footwear intact, especially during a crash. In such a case, the boots' firm ankle support reduces the risk of an ankle injury by 53%.
Note that the best way to know if your footwear can protect you in an accident is to try the one-hand and heel trick. Twist and push as firmly as you can with one hand on the toe and the other on the heel.
Does it take a shape that looks like it might be able to withstand your foot? Well, it is as easy as it sounds!
The Need to Look Exceptionally Good
Let's face it – we all want to look exceptionally good every time we ride out on a motorcycle. It significantly works on providing us with the required confidence. A good style helps complement a rider's gear, especially if you are wearing motorcycle riding boots.
In truth, nothing compliments the AGVSPORT Ascari Perforated Leather Jacket like some premium riding shoes. And nothing goes better with the fashionable Monza-RC Race Suit than some slick racing boots to go with them.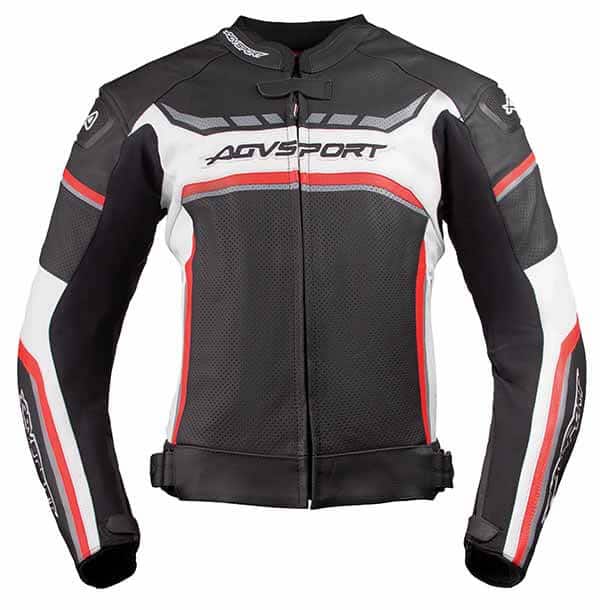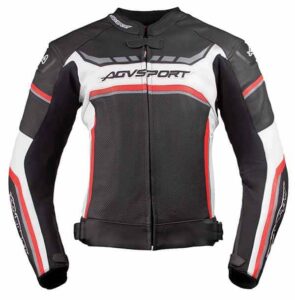 Good Traction, Safe, and Oil Resistant
When you lose control while riding a motorcycle, your instinct will direct you to put your feet down to the ground to gain balance. To do this successfully, you will need the right motorcycle boots, as they have good traction, to assist you in grasping the road with ease.
This is especially critical when it's raining, or when there is a lot of water or some oil spills on the tarmac.
What's more, proper motorcycle footwear does not interfere with brakes, pegs, and shifters among other appendages on your bike. This is because they have no loops, laces, flaps, or hooks, which can snag on the bike, resulting in an embarrassing drop or loss of control.
Keep that in mind when looking for lower-cost alternatives.
Protects You Against Impact and Open Wound
Riding in any footwear lowers the likelihood of sustaining open wound injuries by 73%, but when you ride in motorcycle boots, the same risk is reduced by 90%.
Your feet are always exposed while riding, making them vulnerable to injuries. For this reason, motorcycle boots are strengthened – usually with steel – and built to protect the various bones from extreme weight or sudden object contact, which can puncture your feet.
This certainly lowers the risk of sustaining an injury.
Resists the Effects of Bad Weather (Weatherproof)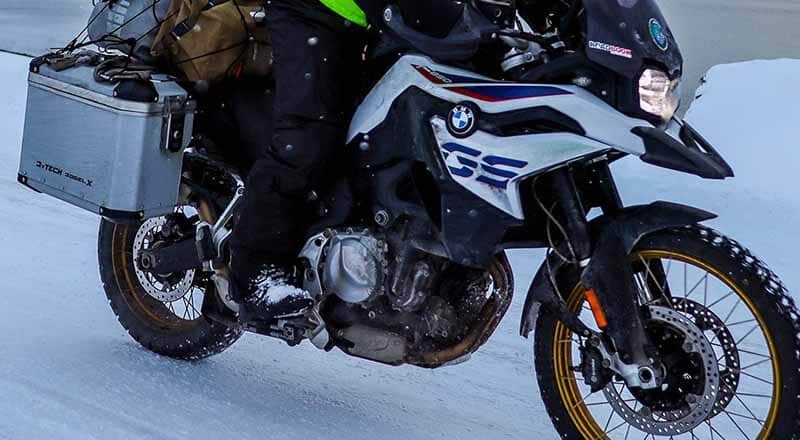 Riding without your recommended footwear exposes you to extreme weather elements.
During winter, your feet are likely to get numb because of overexposure to chilly air and snow, whereas in warmer seasons, the slippers can slip off your feet due to excessive sweating.
Pro Tip: Although motorcycle boots share many characteristics with high-quality work boots, it is details like these that make them unique.
Cons of Riding in Motorcycle Boots
On the downside, it may be a bother, or even a hassle, to carry your heavy, thick motorcycle boots or to pack a second pair of shoes if you are commuting to work when you go riding.
Some boots have laces that may come undone while riding, getting caught up in the moving parts of the bike. Also, the hooks at the top of most laced boots can snag while mounting or dismounting.
But you can avoid this by choosing a pair with alternative closure methods such as the Velcro fastening system.
However, as challenging as it might be, it is critical to protect your feet from the hazards of the road when you are out on the track. Your feet are an important part of your body, and you will be glad you took the extra precaution by riding in motorcycle boots.
What Should You Look for in Motorcycle Boots?
A good motorcycle riding boot is manufactured with rider-specific safety features in mind. Some of them include enhanced torsional stiffness to minimize flexing, a molded ankle protection, and oil-resistant soles to prevent slipping on the track.
Other specifications are buckles or lace-retention designs to prevent snagging, built-in shifter pads, and double or triple stitching in seams.
A CE rating – motorcycle boots are labeled EN13634-rated or CE-rated – is a bonus as it assures a certain level of protection in the event of a collision. However, some countries, like Canada, have no such regulations, unlike in Europe where protective gear must meet the European Certification (CE) before the sale.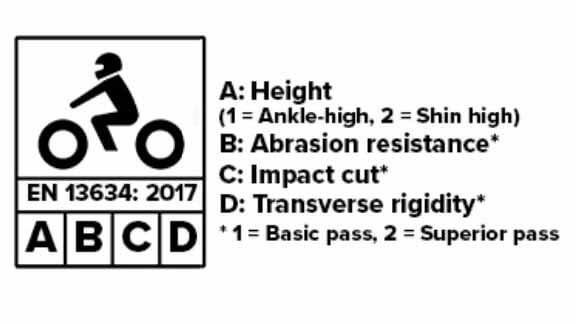 Note that none-CE rated shoes can be just as safe, or safer, as those on sale within the U.S and Canada are not subjected to the tests.
But for your money, it is important to know the factors to consider, rather than blindly following the EU ratings. And, of course, that needs a bit of your time and research.
Read on!
Cost
Based on the fact that motorcycle riding is quite risky, the cost of protective footwear should be included in your initial budget. Ensure you do not blow all your money on a bike only to not have money when it comes to getting dressed appropriately.
Material
Most footwear is made of canvas or soft leather that isn't durable when it comes to hitting the asphalt. So, choose motorcycle boots made of significantly thicker leather to provide a high level of abrasion resistance.
Moreover, consider a heat-resistant material. Aramid fiber and Kevlar are the best, while rubber and leather are usually outstanding. Common textiles, such as Nylon, conduct heat swiftly but are still not bad. Besides, textile is both abrasion resistant and more breathable.
In fact, a good, soft material is with no doubt associated with a lower risk of injuries. It protects against abrasions and lacerations when sliding.
Type
It is imperative to always consider your specific needs when looking for an excellent pair of motorcycle boots. If you prefer a specific type of ridings, such as motocross, off-roading, or racing, there are boots designed for those activities.
For a beginner, choose a type with Kevlar, steel, or other protective linings, as well as enough structural strength to keep your feet and ankle from crashing, wrenching, or twisting in case you crash.
Height
For a motorcycle boot to provide suitable protection, it must come up over the ankle and have a stable construction at the top to provide the necessary support.
Technically, a high-top work boot is stiffer and less comfortable than one that simply extends up to your ankle. However, it provides far more protection.
Note that when your foot is stuck during a fall, one of the many problems that can occur is a broken, sprained, or injured ankle. If your boot does not provide enough support, this motion can break, sprain, or hurt your ankle.
Soles
When riding you need a sole that provides you with the right amount of grip depending on the type of riding you are undertaking. A softer sole has a better grip on the footpeg, but it will wear out much faster. On the other hand, a firmer sole will last longer but provide less traction.
In any case, make sure the soles are oil-resistant, especially if you're riding in wet conditions, to avoid crashing.
Replaceable Parts
Some boots come with fittings to allow racers to enjoy the best fit possible. What's more, these replaceable parts can also be removed to be cleaned or aired out.
You can also get a pair of racing boots with detachable and interchangeable components like toe-sliders. One of the best things about these boots is that rather than buying a new pair of boots, you can replace worn components at any time.
The Fit
When purchasing boots online, be sure to check on the manufacturer's sizing guide. Motorcycle boot sizes vary significantly. Note that because many decent motorcycle boots are designed in Europe, you may need to adjust your U.S. size to an EU size.
Many European boots tend to have a narrower fit. Also, put into consideration the type of socks you'll be wearing while riding.
Construction
Keep an eye out for the construction when shopping for motorcycle boots. The best boots will have double or triple stitching. The stitching ensures they stay together even in an accident.
The way the sole is attached to the boot is also important. A glued-on sole will not last as long or be as sturdy in a crash. Note that boots with sewn-on soles protect your feet better and last longer than glued-on options.
Closures
Laces are quite popular because they are easy to remove and provide a precise fit. However, they can snap or untie when riding, and the hooks at the top of many laced boots might snag on parts of the bike while mounting or dismounting.
Motorcycle footwear commonly uses Velcro and buckles as well as other types of closures. These types of closures are widely used in race boots to ensure that the boot remains intact in case of a high-speed collision.
Technically, Velcro and buckles allow riders to achieve a far more secure fit than laces.
What Type of Motorcycle Boot Should I Get?
There is quite a wide range of motorcycle footwear options in the market. Here is a detailed insight into some of the most recommended types.
Street Boots
This is, perhaps, the most versatile pair on this list. Street or casual boots provide the best style and comfort. Additionally, unlike normal sneakers or shoes, these boots provide additional protection with their armor plate, hardened soles, and the use of abrasion-resistant materials in their manufacture.
Despite this, they are still comfortable enough to wear around the workplace after getting off your bike. Surprisingly, some boots can even go with your clothes if you match them properly.
However, they do not offer the same level of protection as other types of boots, such as touring or racing boots. For this reason, they are not recommended for extreme rides. The majority of these boots also use laces, which increases the risk of being tangled in moving motorcycle parts.
Regardless, they are significantly less expensive than the other boots because they require less material.
Touring Boots
Touring boots are designed for riders who spend a lot of time on the road and the saddle of a motorbike. They usually have a mid-to-full-height rise that reaches your calves, are quite protective, and are intended for foot controls in a more neutral posture.
Touring boots are also thicker than street or casual boots and provide riders with the ideal balance and protection. Although they don't provide as much torsional support as racing or dirt boots, they are versatile enough to allow for some on-foot mobility while providing all-day comfort in the saddle.
Apart from that, they are also designed to withstand the variety of extreme conditions that riders face on long-distance touring trips. Note that these boots can be more expensive than other options. Regardless, they provide riders with a decent amount of style and design.
Dirt Bike Boots
Dirt bike boots are designed for riders that prefer to ride off-road. Normally, dirt bike riders tend to put their feet down as a technical tactic to take on corners at high speeds. As a result, the structure of dirt bike boots must be stiff enough with strong soles to protect your ankles from impact.
However, you should note that based on the structure integrated into these boots, dirt bike or motocross boots might not be the most comfortable for walking. Even so, dirt bike boots are highly ventilated, only available at full height, and have a very substantial construction.
They are also stiff, sturdy, and are readily identified by the presence of several buckles to maintain the protective armor panels in place. It prioritizes safety for your feet and ankles more than anything else, while also offering a variety of designs and colors.
Sports and Racing Boots
Sport and racing boots are designed to protect your feet and ankles primarily. They are primarily designed to enhance performance and provide the best protection. The technology integrated into designing these boots is drawn straight from MotoGP.
One of the most notable features about racing boots is that they are significantly lighter than other motorcycle boots but still have a rigidity that is ideal for track racing.
When working on your bike's foot controls, these boots give you the perfect amount of freedom to experience tactile feedback. Apart from its design, it offers the best abrasion resistance, impact absorption, and strong exoskeleton structure, with removable armor panels that can be swapped out as needed.
They also come with toe sliders on each foot and elbow, knee, and toe scrapings because many track riders prefer to lean into bends at high speeds.
How About Work Boots? What are the Pros and Cons?
If you don't want to invest in a pair of boots specifically designed for motorcycle riding, a pair of stiff, supportive, and protective multi-purpose boots, such as work boots, might be a good alternative. However, you should also note that it is not the best option.
1. Advantages of Riding in Work Boots:
If your work boots can keep you going throughout the day without dampening your feet, they will do more than enough to keep your feet free from moisture that might, otherwise, make them slippery from the inside.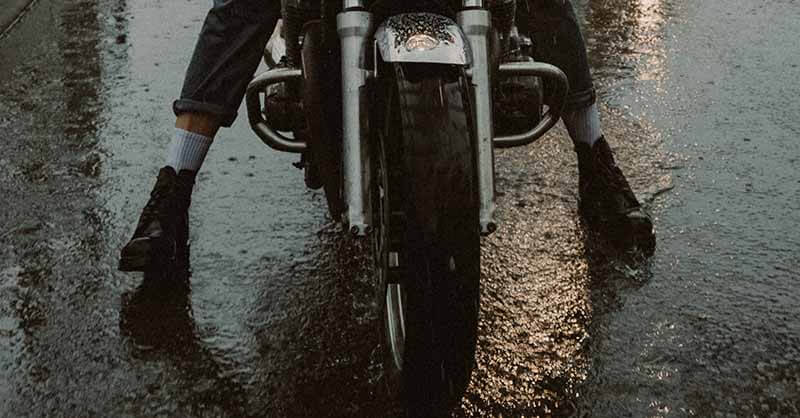 Most work boots can protect your feet from becoming wet, which comes in handy if you're riding through puddles or crossing muddy roads.
Many work boots have one thing in common: they can hold their ground on wet surfaces. It's necessary to gain a firm grip on the brake pedals or place your foot firmly on the ground.
2. Disadvantages of Riding in Work Boots:
A loose shoelace can increase your chances of crashing when it gets entangled in the brake pedals or your motorcycle's drive belt. Although it might not be important when you are on the ground, ensure you avoid boots with long laces.
Even if your day-to-day work boots look like they can provide you with the required protection, they might not perform as required.
For instance, if they come into contact with tarmac or touch the ground while you're on the go, they won't be able to withstand the high-intensity friction and wear without a reinforcement body and tip.
What Is the Difference Between Motorcycle Boots and Work Boots?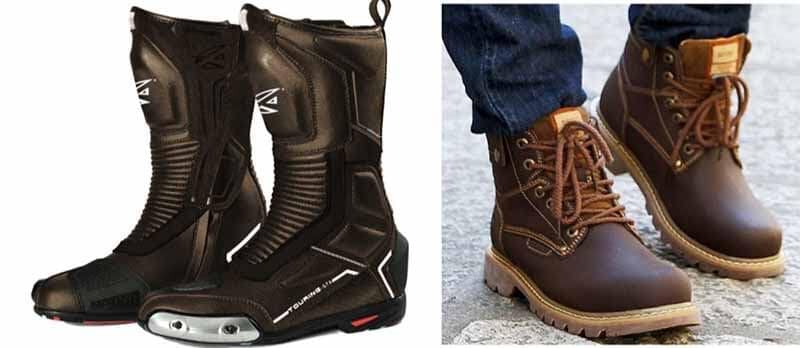 Read on to understand the critical differences between motorcycle riding shoes and work boots.
1. Cost of the Boots
Motorcycle riding boots are more expensive than work boots. They are designed with improved protection features that come at a price, making them pricey. Furthermore, the leather used to make riding boots are expensive, contributing to the high price of riding boots.
2. Weight of Leather Material
Genuine motorcycle boots are built with thicker, heavier leather than the regular type of boots. The durable leather is meant to protect your legs and ankles. On the other hand, work boots are designed with lighter leather because they are subjected to fewer impacts.
3. Torsion Control System
Motorcycle boots have an effective torsion control mechanism that prevents your feet and ankles from twisting in case of an accident. Even when your feet are dragged down the ground during a crash, the torsion mechanism keeps your ankles in the correct posture.
Apart from that, motorcycle boots consist of downward and upward stopping points to keep your joints injury-free. However, work boots are not constructed with the same advanced capabilities because they are rarely subjected to high torsion stresses.
4. Sole Grip and Stiffness
Unlike traditional work boots, motorcycle riding boots are uniquely designed with exceptional gripping qualities. The chances of gathering oil and diesel from highways are high; therefore, their soles should be firm and sturdy. It also enhances their strength and durability.
On the other hand, work boots are made of a softer sole mainly because they are rarely exposed to sticky or greasy surfaces.
5. Movability and Flexibility
Riding boots have a greater range of motion than work boots. For instance, when changing gears, the motorcycle boot will be more flexible to allow your foot to travel backward and forward. They also have a flexing section on the backs and fronts to allow your feet to move without straining the leather material of the boots.
Conversely, work boots do not have any of these traits.
6. Water Resistance and Ventilation
Riding boots for motorcycles are more waterproof than regular boots. They are also designed with a built-in ventilation system to keep your feet cool all day.
Although you might find water-resistant work boots in the market, they lack the enhanced ventilation found in their motorcycle counterparts.
You may also like:
How Do You Waterproof Leather Motorcycle Riding Boots? (Find Out Here!)
How Do I Choose the Right Work Boot for Motorcycle Riding?
Here are some of the key things you should put into consideration when choosing work boots to wear when riding your motorcycle.
Avoid work boots that don't fully cover your foot and ankle

The footwear should be capable of sustaining both your weight and that of your bike when you come to a stop

Check the material, closures, construction, height, armor protection, and height before purchasing a work boot

Your ideal work boot should have composite and steel toe caps

Should have a heavy-duty, thick top-grain, or full-grain leather

The shaft should cover the ankle

Should be capable of providing enough traction

The lining should be comfortable and breathable
Most importantly, a good work boot should be capable of combining both personal taste and functionality.
Final Verdict
Riding boots are a key to injury prevention for motorcyclists. They help you stay safe on the road and guarantee that you get the best riding experience. But ensure you have the right boot before hitting the road whether you are a beginner or a seasoned rider.
Based on the above review, we would highly recommend motorcycle boots, as they are arguably the best option for riders looking for enhanced protection to their feet. Likewise, work boots that meet the correct safety requirements are suitable to ride in.
All you need to do is choose your desired type wisely to enjoy the incredible features integrated into these boots.
Liked this article? Follow our blog for more exciting content, and let us ensure you remain updated with everything motorcycle apparel.
Information for this article was partially sourced and researched from the following authoritative Government, educational, corporate, and nonprofit organizations:
Wearing the right gear
Roles of Motorcycle Type and Protective Clothing in Motorcycle Crash Injuries
Protective clothing for riders
A