Having the best gas can for you on hand is beneficial whether you're storing gasoline for your power equipment or preparing for an emergency. Filling your machinery with high-quality gas is simple, and it also provides a safe, leak-proof container for storage or transportation.
Choosing the best gas can for motorcycles be difficult with so many alternatives available. It's critical to select one that's not only simple to fill and pour, but also safe and long-lasting.
Types of Gas Cans
Before you start looking for the best gas can, you should be aware of the various types of gas cans available. They all have advantages and disadvantages, so choose the can style that best suits your needs.
The cans you find in garages and on gas station shelves are standard gas cans. Plastic is the most common material. However, metal variants are also available. To fill the container, they have screw-on lids or nozzles that must be removed.
Older models contain a little plastic lid opposite the filler cap that must be popped to allow the can to vent while pouring. These cans are only for use in the home. They don't have to comply with any strict safety rules, but they'll suffice for most households' gas storage needs.
The Occupational Health and Safety Administration (OSHA) requires a safety can in any form of business or commercial enterprise. A safety can is a metal gas can with a volume of 5 gallons or less that self-vents when exposed to fire. The lid must feature a spring-loaded closure that prevents leaks while also releasing pressure safely when the ambient temperature rises.
For use on commercial premises, safety cans must meet OSHA, NFPA, and, in some cases, DOT certification. They're strong, safe, and long-lasting. They'll also keep your gas fresher for longer, though some versions are susceptible to rust.
What to Consider When Choosing the Best Gas Can?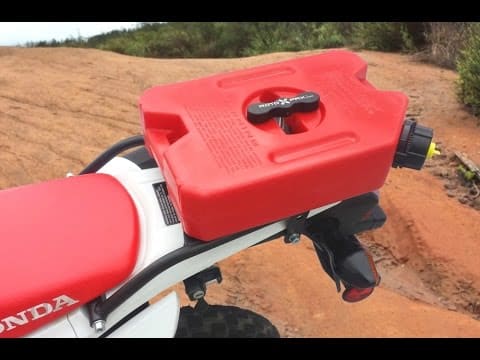 Now that you've learned about the many varieties of gas cans, it's time to brush up on the most crucial considerations to make while buying. Capacity, materials, and other aspects to consider while selecting the finest gas can for you. When looking for the greatest gas can for your purposes, keep these things in mind.
1. Material:
Gas cans made of plastic are lightweight and affordable. They're suitable for usage in most household settings, and they're popular because of their low cost. Their plastic substance, on the other hand, might break down with time, releasing toxins into the gas and reducing the can's longevity.
A plastic gas can is more likely to melt than explode in the case of a fire. Metal gas cans are bulky and expensive, but they are extremely long-lasting. Stainless steel is commonly used in their construction, as it provides long-term corrosion resistance and endurance. They can corrode with time, but it usually takes years.
2. Capacity:
The capacity of your preferred gas can may have a role in your decision. Because there are so many different sizes and amounts of fuel, it's a good idea to know what you'll need and how much you'll need to keep on hand. In general, a 2.5-gallon can suffice for most homeowners.
This size can store enough fuel for weekly mowing, trimming, and chainsaw operations for a month or two at a time. It will also ensure that you use up your fuel before it degrades. A larger can may be preferable when keeping fuel on hand for a generator or bringing additional fuel on an off-road excursion.
In these situations, 5-gallon cans are great because they're light and provide lots of space.
3. Safety Features:
Some gas cans, notably certified safety cans, are equipped with additional safety elements. If you're going on the road with your gas can, seek one with a spring-loaded lid or valve. Even while splashing around in the back of a truck, they'll assist seal the tank against leaks.
Flame arresters can also be found in some gas. These devices keep sparks from going down a filler neck and igniting gasoline vapors. Standard gas cans with valve locks are also available, which prevent you from accidentally opening the valve while handling the can.
4. Useability:
When selecting the ideal gas can for your purposes, keep usability in mind. You don't need a large gas can if you just fill your push lawnmower a couple of times a year. If you're storing gas for a generator, a larger metal container will ensure you have enough high-quality fuel throughout the winter or hurricane season.
Fuel tanks on wheels are sometimes available, allowing you to bring fuel to the machine without having to carry it. These types may even include built-in transfer pumps, eliminating the need to raise them.
I highly recommend these motorcycle oils for their affordable yet top-notch quality, reflecting my extensive 50+ years of motorcycling experience and expertise as a rider, leader, and consultant in 25+ countries. So, whether you're a seasoned rider seeking an upgrade or a new enthusiast starting your journey on two wheels, I'm confident that these gear recommendations will serve you exceptionally well.
Best Gas Can For Motorcycle:
1. Justrite 7210120 AccuFlow 1 Gallon Type II Red Safety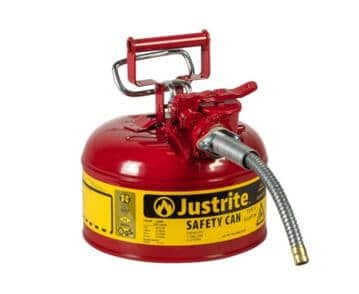 The Justrite 7210120 Accuflow 1 Gallon Type II Red Safety Can is a great option if you need a long-lasting and safe gas can. Justrite's Safe-Squeeze trigger handle allows you to pour out gas conveniently and safely from this gas can.
It also comes with a 9-inch flexible hose that easily fits into gas tanks and car filler necks. It will securely vent when exposed to fire conditions as a Type II gas tank, preventing dangerous explosions. While it won't hold much fuel, its 1-gallon capacity makes it easy to store on a shelf and is light enough for virtually anyone to use.
Justrite's 2.5-gallon variant is available if you prefer a larger size. Each can is pressure tested to verify quality and is made of high-grade coated steel. The strong powder-coat finish is resistant to chemicals and can withstand the rigors of everyday use.
All Justrite safety cans have a stainless-steel flame arrester that absorbs heat and prevents flashback ignition. To prevent explosion, the sealed lid has an automated positive-pressure relief valve that vents between 3 and 5 psig (0.2 and 0.35 bar).
Identification contents, department location, or individual username can all be written on the large label ID zone. There is extra capacity in all container sizes for adding two-cycle engine oil or other additives.
Justrite's Type II AccuFlowTM safety cans are available in a variety of colors and are ideal for the storage of flammable liquids.
This aids in the identification of distinct liquids and helps to avoid costly mistakes when employing more than one liquid at a job site. Justrite safety cans are FM, UL/ULC, and TÜV certified, and come with a ten-year warranty. They also fulfill OSHA and NFPA criteria.
2. SureCan Easy Pour Rotating Nozzle 5 Gallon Gas Can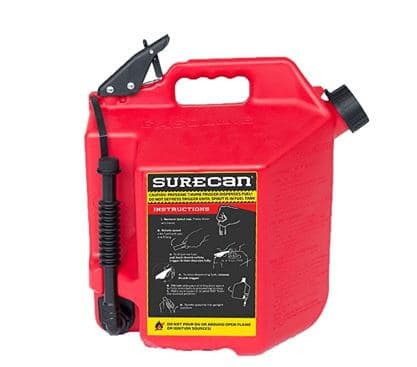 Using a gas tank to fuel a car or generator might sometimes need some uncomfortable angles.  With its Easy Pour filling method, the SureCan Easy Pour Rotating Nozzle 5 Gallon Gas Can overcomes that problem. The nozzle rotates to allow you to hold the tank at a comfortable angle, and the thumb-activated trigger allows you to control the flow of fuel.
The six-layer construction of the SureCan makes it more robust than conventional plastic tanks. 

To make pouring even easier, it incorporates a top handle and bottom grips. 

It self-vents, has a childproof cover, and is quite light at 4 pounds when empty.

SELF-VENTING: Self-venting with a rotating flexible spout that fits into any machine that needs to be filled.

EASY POURING: The thumb trigger allows for easy, controlled pouring with no spills.

HASSLE-FREE: Hand grips on the top and bottom make filling your machine a breeze.

CHILD PROOF: A child-proof cap protects curious children.

HEAVY-DUTY: Made of six layers of plastic and tested to withstand up to 60 PSI in severe heat and -40 degrees Fahrenheit.
3. Eagle UI-50-FS Red Galvanized Steel Type I Safety Can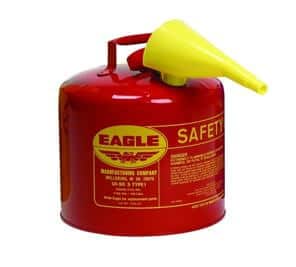 Consider the 5-gallon Eagle UI-50-FS Type I Safety Can for long-term storage of your fuel. The powder-coated surface helps to keep it rust-free, and the galvanized steel construction will last for years. This Type I can have a grip-activated trigger and a spring-loaded sealing lid.
It also comes with a detachable plastic funnel that makes filling fuel tanks on machinery a breeze. It has a flame arrester screen in the fill spout and the capacity to self-vent as temperatures rise, just like a Type I can. The Eagle's top-mounted handle makes it simple to transport or put on a shelf.
4. Midwest 5 Gallon Metal "Jerry" Gas Can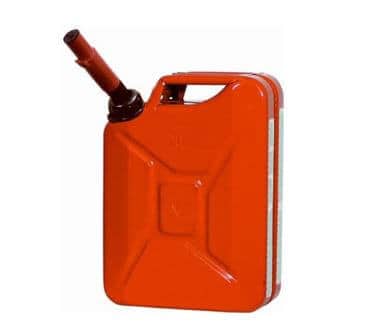 When it comes to storing gas for an emergency, you need a gas can that is both robust and dependable, as well as one that can hold enough gas to get you through the situation. Because of its huge capacity and metal construction, the Midwest 5 Gallon Metal "Jerry" Gas Can is worth considering for storing generator fuel.
It's designed in the original Jerry can three-handled style, so you may carry it alone or with a friend. It also has a spill-proof spout that makes filling a vehicle or generator a breeze. The Jerry can design is a classic, and you can personalize it with a variety of nozzles, caps, and mounting brackets to suit your needs. A can holder, for example, can be used to secure it in the bed of a truck.
Metal jerry can with a classic design

Spill-resistant spout from Midwest Can Company

Meets or exceeds California Air Resource Board (CARB) and Environmental Protection Agency (EPA) criteria for portable gasoline containers.

It has a capacity of 5 gallons of gas.
5. DuraMax Flo n' Go LE 14-Gallon Rolling Gas Can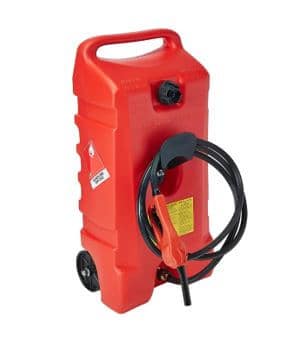 With the Duramax Flo n' Go LE 14-Gallon Rolling Gas Can, you can bring your fuel with you instead of paying high marina gas fees. This plastic gas can have two plastic wheels and a top-mounted handle, making it easy to drag across parking lots, garages, and docks.
A siphoning hand pump on the DuraMax allows you to transfer gas without the use of a battery or shore power. The 10-foot hose will reach filler necks that are difficult to reach. Additionally, its 14-gallon polyethylene tank stores lots of fuel, allowing it to be used in a garage environment to fill smaller cans.
6. No-Spill 1405 2-1/2-Gallon Poly Gas Can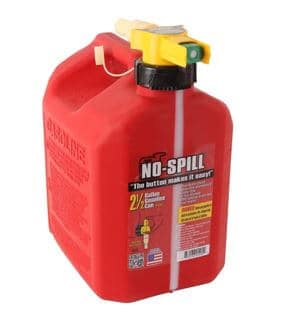 The No-Spill 1405 2.5 Gallon Poly Gas Can gives you a little more control when it comes to fueling your power equipment. A thumb-activated push button on this can allow you to initiate and stop the flow of fuel into the machine without having to tip the tank back and forth. The stiff nozzle easily fits into most tiny equipment tanks.
The integrated gasoline level monitor on this 2.5-gallon plastic tank lets you see how much fuel you have at a glance. It also includes a big filler neck aperture that allows you to inspect the tank for trash. Although this can does not self-vent, it does automatically vent as it fills, allowing you to pour up to 3 gallons per minute.
Pouring precision with the use of a thumb button

Fills even the tiniest equipment with a 7/8-inch funnel spout.

A dust cover keeps your spout clean, and a 20 mesh stainless steel screen is built-in.
7. WINTOOLS 5 L/1.3 Gallon Gasoline Pack Gas Container Fuel Can (Red)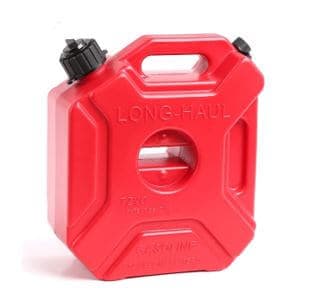 This gas can is leak-proof thanks to bigger walls and stronger construction, as well as a tight seal gasket that ensures your spout won't leak or vibrate loose.
It has a lighter weight, stronger safety, seamless barrel body, no leakage, anti-corrosion, anti-static, anti-ultraviolet function, one injection molding, durable, impact resistance, and anti-corrosion, anti-static, anti-ultraviolet function.
Suitable for small and medium-sized vehicles such as motorcycles, electric vehicles, and so on.
Capacity: 5 L / 1.3 Gallon
8. Lixada Fuel Bottle Petrol Alcohol Liquid Gas Oil Bottle Outdoor Camping
No-Leak Safety Gas Can Oil Container Extra Emergency Backup Fuel Tank 500ML / 750ML / 1000ML / 1500ML

Aluminum alloy

Imported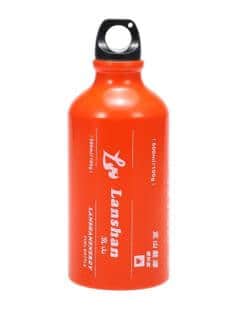 TOUGH TANK – The gas can is made of a thickened aluminum alloy that is extremely durable, sturdy, and will not break easily. It also has a high-quality paint finish on the outside that makes it suitable for outdoor use.
LEAKPROOF – The bottle plug's quality sealing ring prevents leaking for safe use. The sealing ring is securely fastened and will not come loose. They will not leak even if you ride all day on the road or off-road, or if you go on a long motorbike camping vacation with them.
QUALITY THREADS – When carried inside motorcycle saddlebags, the threads on the gas cap will not loosen. It's easy to detect thanks to its lightweight and bright red hue. You can pick from 500ml/750ml/1000ml/1500ml (17oz/26oz/34oz/51oz) to contain enough fuel for a small burner.
SIMPLE TO CARRY – It comes with a looped seal cap for easy carrying and fits in your backpack like a water bottle for camping and hiking.
AN EXCELLENT BACKUP FUEL CANISTER – For alcohol, gasoline, kerosene, and other types of fuel. Lixada also offers a money-back guarantee to all customers.
8. RotopaX RX-1G Gasoline Pack – 1 Gallon Capacity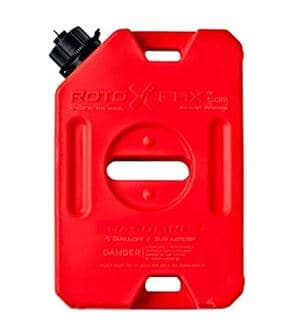 To add more containers to an existing kit, add a Pack Mount Extension to your Container order
Dimensions: 15 in. x 10 in. x 4 in

Weight: 3

Sanmum Emergency Gas Can Aluminum Fuel Oil Bottle Small Petrol Container for Camping Picnic Barbecue Motorcycle

[Aluminum Gas Bottle]- Made of Thicken Aluminum material, it's seamless finished and it's not only lightweight but durable.

[Liquid Compatibility]- Suitable for storing liquid alcohol, gas, petrol, kerosene, act. The cap is very stable, as long as you tighten the cap tightly, the liquid will not leak.
9. WHSSFINE Gas Can 5L 1.3 Gallon Portable Oil Fuel Storage Backup Tank with Mounting Bracket for Motorcycle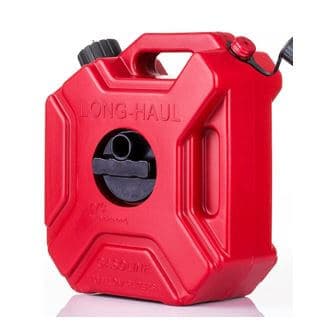 Leak-proof, rust-proof, corroding, static, and UV-resistant gas can be constructed of high-density polyethylene plastic material with thicker walls and stronger construction.

Built-in gas spout in the gasoline tank, as well as a refueling nozzle fitted into the oil tank mouth for convenient usage, storage, and transportation/refueling.

When refueling, the exhaust valve design may prevent backflow produced by negative pressure, which saves time and labor.

Gas canister for motorcycles, dirt bikes, cars, UTVs, ATVs, and boats.
10. Wavian NATO Jerry Can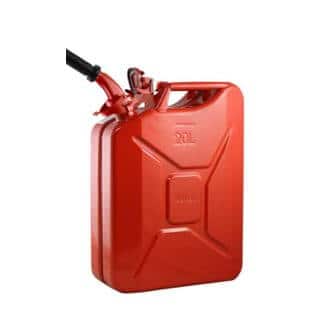 Cold-rolled steel structure, rust-resistant Rezol-lined inside, cap locking pin, and NATO compliance.
Pros:
Constructed with sturdiness in mind.

Simple and straightforward to use

Inside is a rust-resistant coating.
Cons:
Bulky and cumbersome to load into vehicles

Expensive
How to carry extra fuel on a motorcycle?
1. Flexible Fuel Bladder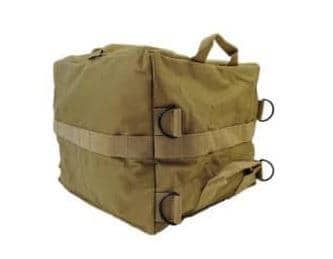 Fuel bladders have been used by the military and on boats for many years and come in a wide range of sizes. They're composed of tough, fuel-safe plastics with welded edges, and they've proven to be a great way to store gasoline for a limited period of time.
To make a purchase, click on this link. DESERT FOX makes a great fuel-safe bladder that is specifically built for motorbikes and off-road vehicles. They come in sizes ranging from 1 liter to 20 liters, with the 6L one weighing only 0.5kg.
The bladder and its surroundings are well-protected and exceptionally durable. It has a lot of steel D rings for attachment and can be folded up easily when not in use. Due to its versatility, the gas bag is a useful way to transport extra fuel. It can be tied to the top of your luggage, a panner, or a soft saddlebag, and no hardware is required to mount it.
2. Stackable Liquid Storage Containers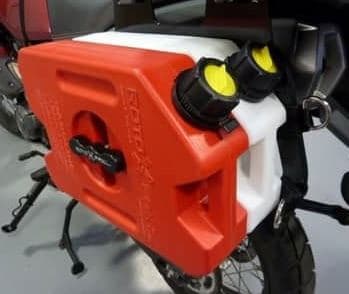 Stackable gasoline storage containers are made of thick, heavy-duty polyethylene that is extremely durable. They're rectangular in design and have a cut-out in the middle for a mounting bracket. There are various brands available, but RotoPax is the most popular among motorcyclists, ATV riders, and off-roaders, and can be obtained here.
They're available in a range of sizes, from 1 gallon to 4.5 gallons. These fuel containers are attractive because they stack nicely and are secured with a mounting bracket. This allows you to carry more gasoline as needed, as well as other fluids such as drinking water.
These gas cans are built to last and are designed to endure the hazards that you may encounter while traveling or in the event of a collision. They're crush resistant, and while they won't be able to take every impact force, they're built to prevent cracking and leaking if they meet pebbles on an off-road trail.
These containers are similarly designed to transport various types of liquid, and the contents of the container are color-coded. Fuel is red, water is white, diesel fuel is green, and so on. They also create blue and orange containers that are used for first aid or tool kits.
These cans can be mounted on your bike in a variety of places, including the top of a side case, a luggage rack, or the sides of your hard panniers. There are no specific directions as to where they should go.
Depending on your bike and where you want to mount them, you'll need brackets and mounting plates. In addition, the installation will necessitate a significant amount of time.
3. Aluminum Fuel-Bottles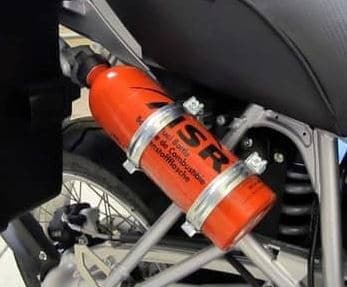 An aluminum gasoline container might suffice if you don't need to carry a gallon or more of extra gas. MSR (Mountain Safety Research), Optimus, and Lowbrow Customs are all companies that create bottles expressly for carrying liquid fuels like gasoline, kerosene, or isopropyl alcohol.
Don't believe you'll be able to transport fuel in an aluminum bottle made for water. Water bottles may appear to be identical, yet they will leak. Fuel bottles have seals that will not deteriorate when exposed to the gas. The MSR brand is arguably the most well-known, and it was created to work with liquid-fuel camping stoves.
However, they're also great for carrying additional gas on your bike. The issue is to figure out how to transport them or install them on your bicycle. You'll probably be fine storing them in your saddlebags, but due to the potential of leaks, this isn't the best position. The last thing you want is for gas to seep onto your clothing or equipment.
Holsters in a variety of sizes and materials are available. Back racks, side panniers, engine guards, and even handlebars can all be used as holsters. Where you mount your bike depends on the sort of bike you have.
One of the advantages of carrying a holster is that it protects the bottle from flying rocks and other road debris. You can, however, use adjustable clamps to mount the cans without a holster. MSR fuel bottles are available in a range of sizes, including 11 oz., 20 oz., and 30 oz., and can be used in pairs to carry enough fuel to get you out of a tight location.
4. Plastic Gas-Cans
These cans are the standard plastic jugs found in most garages, and they usually hold enough gas to keep the lawnmower going. For carrying extra fuel on your bike, these are not the ideal option.
The lack of tie-down handles and the design of the can make it difficult to secure the can to a bike. Someone will occasionally make a homemade bracket to hold a gas can in place, but there is a better way.
There are gas cans designed expressly to fit within a saddlebag, with the ends angled to match the angles of specific saddlebags. Here's where you can find them. If you're willing to store a gas container in your bags, this could be a realistic option.
Plastic gas cans do pose some danger. Although the plastics used to make these cans are anti-static, they are not completely anti-static. To ignite gasoline and its fumes, a spark must be created, and an electrostatic charge built up in the plastic can be sufficient.
5. Auxiliary Tanks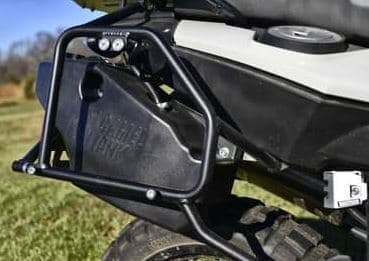 If you're planning a significant off-the-grid adventure where you'll need more than a gallon or two of extra fuel, an auxiliary tank might be worth considering. Auxiliary tanks, like reserve tanks, are usually permanently placed on the bike and piped directly into the engine.
Although many people have successfully fitted up creative DIY versions of AUX tanks, certain manufacturers have been constructing tanks to match the needs of the rider. Aux tanks must match the specific bike you ride, as well as the sort of saddlebags or hard pannier system you utilize.
In most cases, an extra tank is mounted on the side of the bike, inside the pannier rack mounting mechanism. In the event of a broken-down bike, the pannier provides additional protection. These tanks have a switch, generally, a manual lever, that turns the tank's fuel on and allows it to flow to the engine when it's needed.
Other Options
1) Attach a five-liter gasoline container to the back of the vehicle. The most basic choice, which is fine for emergencies, but they're tough to secure safely. The design is weird, tie-downs fall off, and keeping them vertical (if you're worried about the seal) is difficult. It's a potential long-term solution if you can fit one in your tail pack.
2) Fuel bottles for camping. These are available in a variety of tiny sizes (e.g., 0.5 or 1 liter), making them easy to stow down the side of your panniers. One liter will get you at least 10-15 miles if you ride carefully, which should get you off the highway but not to a gas station. A better bet is to put one in each pannier. If you don't want to store gasoline next,
3) Storage cans that can be stacked. This is where things start to get serious — these bad boys are more of a world tour option than a Scottish tour requirement. They may be mounted on pannier frames, rear racks, or engine bars and provide anywhere from 4 to 20 liters of additional fuel per can – or you can double them for full apocalyptic spec.
4) Auxiliary and main tanks that are larger. Once again, a serious answer is required. Auxiliary tanks are normally mounted on the pillion seat and are connected to the main gasoline line via a tap. Overlanders on tiny trail bikes prefer larger primary tanks, while some GS owners swap in the larger tank from the equivalent Adventure model.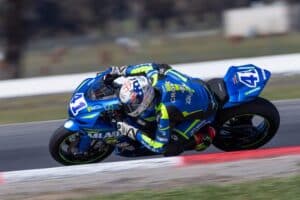 I've diligently categorized my motorcycle gear recommendations into all available categories, with the aim of providing you with a comprehensive analysis that showcases the absolute best options for all your needs. These items are the culmination of in-depth research, extensive testing, and personal use throughout my vast experience of 50+ years in the world of motorcycling. Besides being a passionate rider, I've held leadership positions and offered consultancy services to reputable companies in over 25 countries worldwide. To See Our Top Picks and the Best Prices & Places to Buy: Click Here!