To most people, a motorcycle is a motorcycle. Any two-wheeled machine is suitable for inexperienced riders, right? Well, we beg to differ. And in this post, we will tell you why.
The truth is, everyone starts at the same beginning. Even if you have a basic idea of what you want to use the motorcycle for, there are an array of types that can get the job done, but most of them are not ideal for newbies. Sportbikes currently boast more entry-level options than any previous time in the history of motorcycling.
Even so, it can be intimidating to purchase a new type of vehicle for the first time, and this very much extends to the two-wheeled realm. Which to buy? What type to consider? Which one is the safest?
So, with this in mind and to make it a joyful and memorable experience, let us help you with some ideas of what we think are the most learner-friendly motorcycles out there. In addition to that, we will also be exploring features to look at, things to consider when shopping as well as pros and cons for sportbikes beginners.
Let's get into it!
Are Sport Motorcycles Good for Beginners? Here's Your Ultimate Guide
How Much Should a First Sport Motorcycle Cost?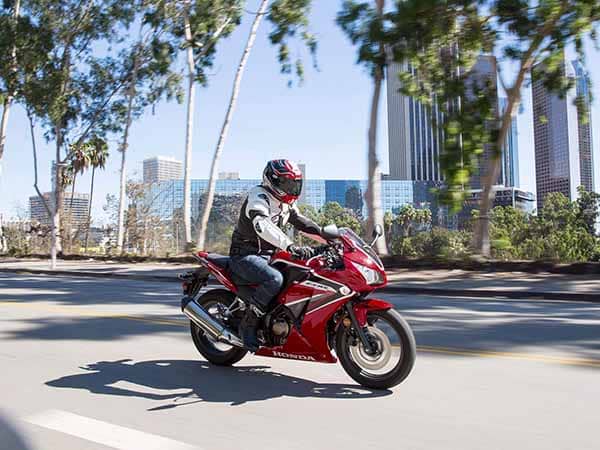 Usually, the average cost of a learner-friendly motorcycle should be around $5,000. Even so, some models offer much more bang for your money than others. For this reason, it's important to explore exactly what a given unit's MSRP gets you. The value is different in all new bikes. 
Besides, you can also save a few bucks by purchasing low-mileage motorcycles. It would also be best if you considered service and repair costs and insurance. Motorcycle insurance is generally cheaper than car insurance and can cost you around $721 a year. 
Tires can also prove to be an expensive investment in some bikes. A set can cost you around $60 to $500. Chain maintenance, oil changes, and drive belt are also some of the other factors you should consider. You can expect to pay about $1,000 annually on maintenance costs. 
Although these costs can be intimidating for new riders, the fact is, some bikes need a little bit more care and maintenance than others.    
Should You Be Buying a New or Used Sportbike?
Purchasing a used sport motorcycle can save you quite a considerable amount of money. Conversely, buying a new bike can save you the pressure of dealing with damages and imperfections on a used one. 
Regardless, whether you are trying to put your bike in "mint" condition or you just like new things, "the first scratch is always the best", and you will eventually let loose. Once a bike has minor damage on the race track or a smooth highway, that means one thing for a rider; it's time to stop worrying about aesthetics and focus on having fun with your bike.
You should also note that buying a new bike provides you with access to advanced technological features such as traction control and ABS (Anti-lock Braking System). These features can be of great help when you surprisingly hit a patch of gravel and slip with your rear tire.
Although current advancements in motorcycle technology have greatly improved over the past five years, it still does not make buying a new bike a "no brainer". Perhaps the best thing might be to get a 5-year-old model that is still in good shape. Remember, things such as registration, insurance, parts, tires, and maintenance are all upcoming expenses, so saving some money upfront can make for more fun riding as time goes on.
How Much Horsepower Should a Beginner Sport Motorcycle Have?
Around 60hp or less is fine. Technically, you don't need a bike with massive horsepower if you learn to ride. All you need is a machine that can meet all your needs without risking your life. Nonetheless, it's also imperative to note that the size of the engine doesn't mean that you will get more or less power from the engine. 
Valve trains, compression ratios, type of transmission, chain belt, tire type, and wheel size are some of the main reasons some 600cc engines can be more potent than 1,000cc engines. Engineers are capable of tuning bikes with lesser engine capacity to produce massive horsepower.
Must-Have Features in a Learner-Friendly Sportbike
Once you have the price and power decided, then you will need to further refine your choices. Each motorcycle has a long list of features to consider, but we have narrowed it down to a handful that will help you choose the best beginner sportbike.
Engine: As an entry-level rider, you will certainly not need a bike that is ludicrously fast, extremely powerful, or with too much torque. An engine that is under 500cc can prove ideal. Anything more gives you an extremely sensitive throttle that can be hard to familiarize yourself with.
Running Gear: While the engine determines the speed and acceleration of a sportbike, the running gear (suspension, brakes, and chassis) is responsible for cornering and stopping duties. It hugely varies in terms of quality and performance.
Weight: The more a motorcycle weighs, the more difficult it will be to control. Bigger bikes need bigger brakes and whatnot. And for these reasons, select a lightweight sports motorcycle. This will be helpful to progressing as a rider.
Seat Height: It's important that you find the right balance between the seat height and the inseam length. They need to stay within a few inches of each other for you to feel comfortable with stopping and standing.
Handlebar Height: Like seat height, handlebar height affects your riding posture. You need to be able to reach the handlebars easily when riding your motorcycle.
Manufacturer: Far more than just the badges on the tank, the company behind a given motorcycle model will play an enormous role in a machine's overall reliability, performance, value, and access to more replacement OEM and aftermarket parts.
Technology: This includes lean-angle-sensitive ABS, multiple riding applications, and smartphone and Bluetooth connectivity. These high-tech amenities and rider aids do come at a financial premium but add a significant amount of convenience to the mix. For instance, the lean-angle sensitive ABS adds to ABS by keeping the tires and brakes from locking up when you over-apply the brakes, ensuring that you have more control over braking and will not skid as much.
5 Best Sportbikes to Learn On
The order of the list is not intended competitively or to favorite any of the listed motorcycles. Also, all bikes from the list have older predecessors that will be much gentler on your wallet and still offer you a very similar experience. It's worth doing a bit more research if a particular model catches your eye.
You May Also Like: 20 Best Motorcycles for Dirt Roads You Can Buy Today
1. Kawasaki Ninja 400 ABS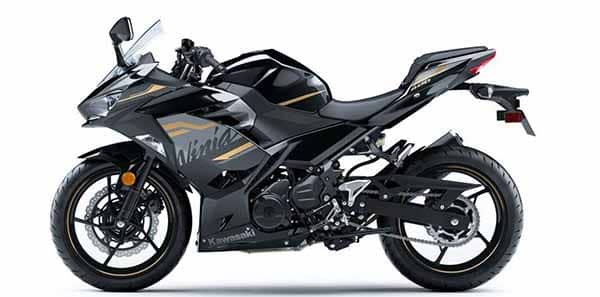 Kawasaki no longer produces the Ninja 250 and 300, so when they upgraded the latter's engine displacement by 103cc to help make the Ninja 400 in 2018, the new Ninja leaped to the top of the entry-level sportbike because of its perfectly balanced power/controllability ratio.
That balance extends to the rest of the Ninja 400′s performance too; the gas is smooth, the clutch is light, the seat height is low, and the engine does not stall at low revs. Its overall chassis feel, riding position, and fairing are second to none; truly a beginner's dream.
For those tall starters who want adequate legroom space, the long saddle can prove ideal. But the Ninja 400 isn't just an exceptional choice for the tall. Riders of all kinds will fall in love. Big or small, short, or expert, this powerful machine can cater to all needs. It's a bike you can expect to grow into or even never grow out of, enjoying it for many years to come.
The Kawasaki Ninja 400 ABS price ranges from $5,399 to $5,599 depending on the chosen color scheme.
2. KTM RC 390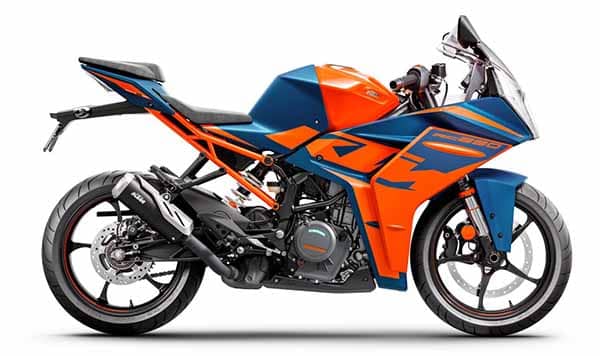 The RC 390 is one of KTM's releases that has taken the entry-level class to another level by setting a new benchmark with its chassis spec, handling, and electronic rider aids. Although it comes with a 40.29hp at 8,600rpm, the roadster's performance is way above its weight. Light and nibble, it's one of the best bikes that can deliver exceptional performances on the track and still guarantee comfort. 
It also features a MotoGP-inspired look with WP suspensions, TFT clocks, and LED lights. Besides, the bodywork is removable and can be stripped off whenever you race. The Dual Channel ABS is quite effective on uneven roads. 
It might seem like traction control on a bike meant for beginners is unnecessary, but its lean-sensitive rider aids make the KTM RC390 a considerable attraction. Other important features include brake guards, paddock stands, racing chains … everything you should need for track day training…the list just keeps going.
You can own one of these bikes for a starting base price of $5,799.
3. Honda CBR300R ABS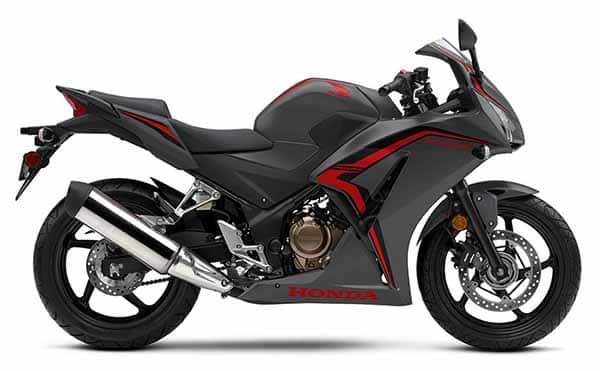 Is the Honda CBR300R lightweight? Does it have nimble handling? Well, these are some of the critical requirements for an entry-level sportbike, and Honda CBR300r checks all the boxes. It is one of the best bikes designed to enhance users' experience by lowering operational costs. 
The Honda CBR300R is ideal for new riders under 6 feet tall and weighing less than 190lbs. Although it doesn't come with a lot of power, the 30hp is more than sufficient if you look for a bike best suited for rides around the city.
In the city, the CBR300R is insanely fuel-efficient and has a pretty good range (71mpg). The 3.4-gallon fuel tank can make more than 220 miles. So, it may not fare well on the highway but will get plenty of mileage around town.
The Honda CBR300R ABS has a starting price of $4,999.
4. Suzuki GSX250R ABS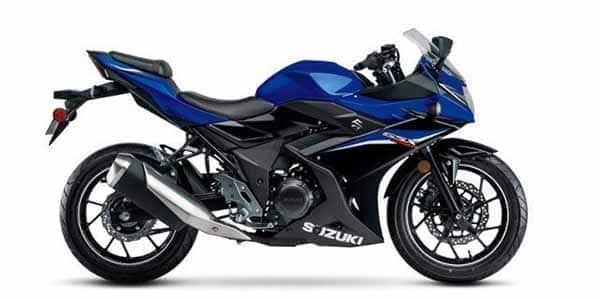 Remember when Suzuki dominated WSBK and MotoGP in the early 2000s with 250cc and 300cc bikes? Well, the company is still producing incredible bikes with small engine capacities. And the street-friendly, decent-powered, and beginner-friendly Suzuki GSX250R is a good example.
This compact sportbike features an approachable 248cc parallel-twin engine wrapped in a modern full-fairing bodywork. With extraordinary fuel efficiency, easy-to-control performance, comfortable riding position, and nimble handling, the GSX250R ABS is equally at home on the daily commute as it's on extended outings.
Other amazing features include a tuned suspension, low seat height, five-way adjustable front brake lever, and aluminum wheels. The 4-gallon fuel capacity is enough to cover over 250 miles.
You can get one of these bikes at a starting price of $4,949.
5. Yamaha YZF-R3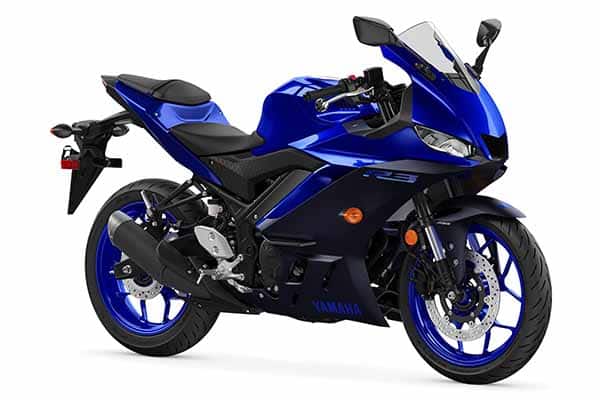 If the new Yamaha YZF-R3 were to be used as a gateway bike, well, it would deliver a full-blown experience. It is one of the small-displacement bikes that is fit enough to be called a supersport lite, because its DNA, its power, and its handling are distilled down from the now discontinued R6 and the glorious R1.
The R3's engine is among the outstanding features of this machine. The 321cc parallel-twin engine is designed with light aluminum materials and unique internals to deliver 41.4hp and puts 29.6Nm of torque to the ground. These, along with their wet weight of 386 pounds, resulting in a fun and surprisingly quick learner machine.
From the first time you lay your eyes on the R3, you'll know you are in for a fantastic ride. Its tight and slung low design with the seat almost in line with the steering, easy to reach and use handlebar controls, and stable mirrors (providing plenty of vision) make it one of the best race bikes to ride as an entry-level rider.
The Yamaha YZF-R3 ABS has a starting price of $5,299.
Advantages of Owning a Sportbike As a Beginner
One of the biggest benefits to owning a sportbike is the simplest one: The thrill of riding. Nothing can quite equate to the feeling. It attracts thoughts of freedom and happiness because nothing else in life gives that ability to free your mind and just enjoy the moment than riding a motorcycle on an open road and fresh air. 
Sport motorcycles have powerful horsepower and high-speed gearing and fairing. Manufacturers engineer them with one end goal in mind: To go really far, really FAST!
But that isn't the only thing they do well. Expect better agility, superb braking, excellent cornering, and everything technologically.
The average sportbike weighs around 400 pounds because of the light frame, suspension setup, plastic fairing, and relatively small engines that allow for better handling. Light motorcycles allow you to get the hang of riding and perfect the mechanics before adding more power.
You can't practice slow speed riding, sharp right turn from a stop, high-speed braking, push steering, and relaxation to avoid survival responses (SR's) and panic reflexes (PR's) on cruisers and adventures with the same efficiency as sportbikes.
Do you like to get your presence noticed in traffic and in urban area roads? A sportbike can guarantee you that with its elegant design by virtue of its unique seat positioning, body fairings, and slightly curved and upward fuel tank (where you can put your chest).
The modern design fits together perfectly with the superior built construction, which is why most youths love them.
Unlimited Customization Options
Like a sports car, sportbikes have more than a few components that you can swap, modify, or even remove altogether. With the right mindset and changes, your machine will never look the same. Nonetheless, don't skimp on price/quality when it comes to motorcycle safety.
What About its Cons?
The combination of young and inexperienced riders with lightweight and powerful machines is a dangerous one. In fact, the combination is four times more likely to result in a fatal crash.
Twisting the throttle on a 500cc, 60hp machine that weighs only 400 pounds can be fun, but the surprising thing with adrenaline is, it can every so often get the best of us and force bad decisions.
The design of sport motorcycles typically comes at the expense of comfort. They can be marginally comfortable, but only at speeds that aren't ideal for you as a new rider. And traveling great distances in a hunched-over position usually isn't going to happen without some regular conditioning.
The windshields are short and protect you against the wind only in a sporty, inclined position. Having to lean forward to fight against tiny dust particles, bugs, insects, and airborne road debris as well as directly incoming hot air in summer, cold air in winter, and rain in the rainy season will make you tired on a longer ride.
Several factors combine to produce this result: Pumping loss, engine mechanical friction, excessive rpm, and high aerodynamic drag.
Things You Need to Know Before Buying a Sport Motorcycle
Now that you have figured out the bike brands you like the most, what you can afford, must-have features, and pros and cons, next you'll also need to think about safety – both yours and the bikes.
One of the most common mistakes made by new riders is failing to budget on good motorcycle gear on their initial investment. Ensure you invest in a good motorcycle riding boot, helmet, pants, jacket, and protective gloves. Accidents often happen, even at low speeds.
Never skimp on protection – remember, we swear by ATGATT (All The Gear, All the Time).
Where are you going to keep your motorcycle? Well, this is perhaps the first question you should ask yourself after getting your new bike. Like any other investment, it needs protection. Think of a secure parking space or garage and invest in security features like a GPS tracker and a heavy-duty disc lock and chain.
Don't also forget to invest in motorcycle insurance. It significantly works on ensuring that you always remain safe on the road.
Final Thoughts
The right beginner sportbike is not only about different models and designs but also the power and what appeals to your idea of riding at best. A lot of new riders make a mistake buying their first bike only for the image they are going after. Your choice must fit your lifestyle.
Remember, virtually every motorcycle built can get a rider up to speed and into situations where adrenaline and the dynamics of riding can make for dangerous situations, so take a step back, perhaps start on the most modest end of the spectrum, and keep in mind: There will always be other bikes out there for you to upgrade to.
Liked the article? Follow our blog for more exciting content and let us ensure you remain updated with everything motorcycle.
About the author:  Michael Parrotte was the Vice President of AGV Helmets America, and a consultant for KBC Helmets, Vemar Helmets, Suomy Helmets, Marushin Helmets, KYT Helmets, Sparx Helmets. In addition, he is the founder and owner of AGV Sports Group.
FM/A