We live in an era of skyrocketing gas prices, and it's no wonder that people are increasingly searching for the best way to convert a dirt bike to electric. The rising demand for sustainable transportation and competition machines as well as the increasing awareness among the population regarding depleting climate conditions and the advantages of electric motorcycles for the betterment of the environment, further drive the demand.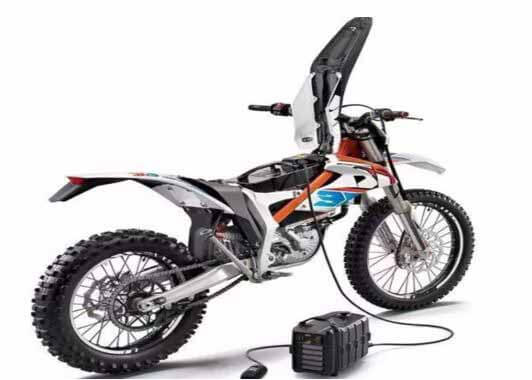 In fact, this last year has seen rapid growth in motorcycle conversions to electric drives, spawning a new trend in the automotive industry. The global electric motorcycle market, valued at $1930.64 million in 2020, is expected to grow at 19.36% CAGR in the 2022-2026 forecast period to reach $6,220.82 million. 
Can I Convert a Dirt Bike to Electric?
As electric motorcycles grow in popularity, more dirt bike specialty brands are getting in on the action. Of course, you may order an electric two-wheeler with a few mouse clicks, but building one with your own hands will be a true accomplishment.
Even so, the process can be overwhelming. And for this reason, we went on the hunt and found some insights we wish we could share with you.
Choosing a Dirt Bike to Convert to Electric
Here are the qualities you want in a motocross bike for electric conversion:
"Twin Spar" Frame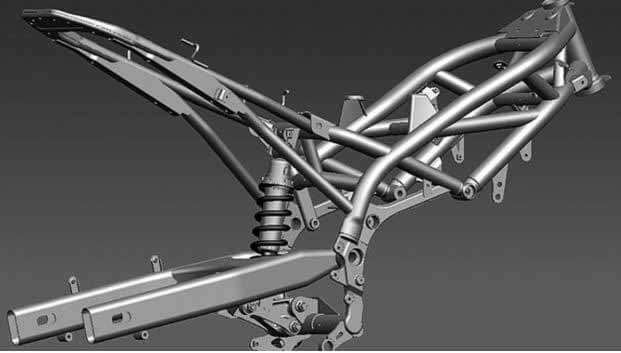 The gasoline motorcycle to electric conversion frenzy is partly due to an accidental design change that happened over a decade ago with the introduction of the "Twin Spar" frames. About 10 to 15 years ago, motorcycle frame designers switched from a single backbone top-tube to a split top known as a "twin-spar" as you find in the Honda CRF250R. This frame simplifies the construction of a large single battery pack–a huge consideration to bike range and power.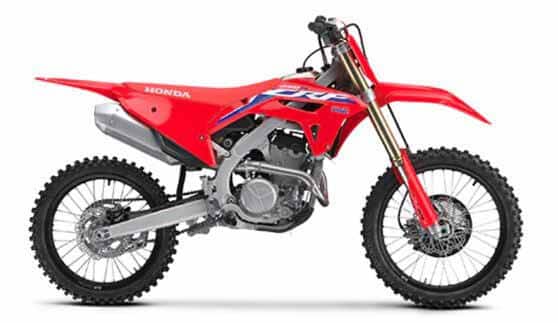 Engine size and orientation determine the size of the engine bay and the mounting options. You may retain parts of the older drivetrain to cut costs and improve rider experience. Conversion work will start with deconstruction, stripping down to bare frames. 
I highly recommend these motorcycle tools for their affordable yet top-notch quality, reflecting my extensive 50+ years of motorcycling experience and expertise as a rider, leader, and consultant in 25+ countries. So, whether you're a seasoned rider seeking an upgrade or a new enthusiast starting your journey on two wheels, I'm confident that these gear recommendations will serve you exceptionally well.
The beauty in undertaking a project bike is achieving that retro vibe that we have grown to love about classic motorcycles. You don't want a run-of-the-mill or scrappy bike, so look for great workmanship in a classic machine. Aim to restore and keep intact as much of the original design as possible.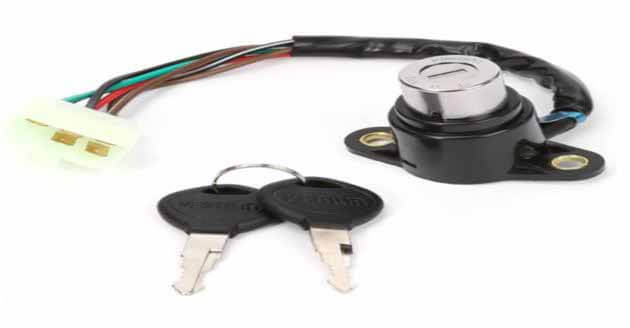 It may be desirable to retain some of the bike's original controls on your e-bike purely for style. For instance, you may keep the ignition switch and convert the clutch lever into some sort of manually actuated regenerative braking.
Related: How Much Does A Dirt Bike Weight? Here are 12 Great Examples
Best Dirt Bikes for Electric Conversion
You can pick a motocross bike to convert to electric depending on your height, riding skills, desired suspension setup, and handling. These bikes will prove some of the easiest to convert to electric with anecdotal success: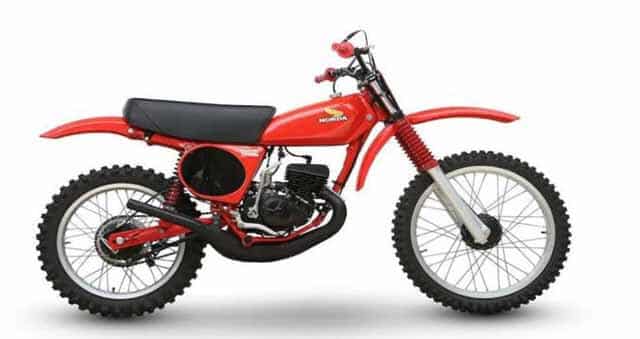 Riding on the back of the unbreakable Honda reputation, the CR125M was launched in 1973 and branded as the "20-horsepower feather". It had a decent run alongside the Honda CR250 until 2007 when Honda halted its production. This motorcycle was many old-school riders' introduction to the exciting world of motocross brought to fame by the likes of Marty Smith by breaking racing records on it.
Even though it was outgunned by the competition, the CR125 was one bike that made Honda famous for dirt bikes. It still enjoys a huge following in the used bike market. 
The CR125 has a twin-spar frame, which makes upgrading to electricity much easier than on other bikes in its class.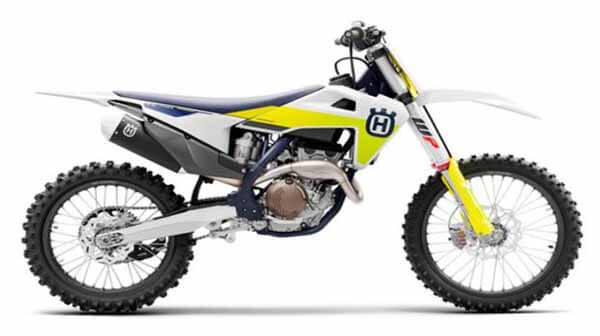 Between 5,200 and 8,200 rpm, the FC 250 produces more power than the Honda CRF250R, Kawasaki KX250, and Yamaha YZ250F, so it had to join the list of best motorcycles to convert to electric.
Like its sister the Husqvarna Vitpilen 250, the FC 250 share the same DNA as their Australian counterparts the KTM Duke, which takes after the KTM 250 SX-F. We consider its milder-mannered sibling in that respect.
The Husqvarna does pack some amazing low-end torque, which the electric drive train can replicate without stutters of poorly tuned carbs. This coupled with the sturdy frame and suspension should give you a good bang for their buck.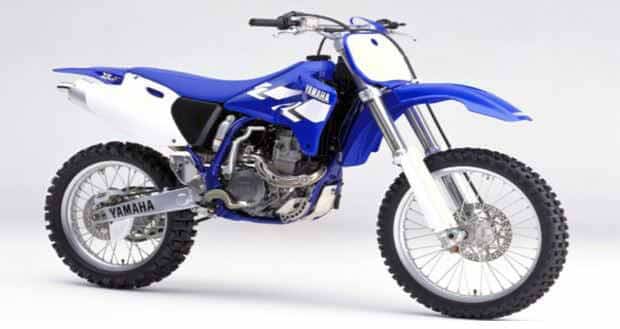 Come Spring 1997 and Yamaha releases a 4-stroke SuperMoto bike that ends the status quo of the two-stroke-dominated motocross market.
Key among the features that make the YZ400F a thundering success is its bulletproof reliability. It's comparable to the Honda XR, which was way ahead of the curve among the racing thumbers that dominated the tracks back then. A regular oil change and filter wiping were all you needed to do for maintenance. The bike was virtually indestructible. 
The YZ400F was also built on the back of another superstar, the Yamaha YZ360, which was the first dirt bike to feature a mono-shock. However, much more reliable, the YZ400F powerplant isn't eternal, and sourcing spares can run the gamut, making it a good candidate for the project.
For E-conversions, the smooth power delivery from batteries and its sizable girth helps the bike to hook and corner on terrain as if on rails. On the other hand, it might be a handful to handle in big whoops and deep sand.
Reasons to Convert Your Motorcycle to Electric?  
Here are simple reasons to go ahead with your DIY EV conversion. 
While it is possible to make an online purchase of an electric motorcycle with a few clicks of the mouse, nothing compares to the tremendous beauty of rebuilding a gorgeous classic motorcycle that is rare and fashionable.  
One of the alluring experiences of owning an EV is the low cost of maintenance. With the skyrocketing gas prices, it is no wonder that the world is slowly but surely turning to alternative energy. 
Everyone wants to ride a motorcycle that turns heads, and the cheap plastic embellished new e-bikes are not "it". If you are an enthusiast like we are, then we totally understand the urge to create something wonderful and ride it. 
Green is the new blue, and it is never too late to cut down on your carbon footprint. It will give you peace of mind knowing that you are polluting less when you hit that trail. 
Electric Motorcycles Are Quiet
Another reason motorcyclists are scolded in conservation areas and public spaces, like schools and hospitals, is noise pollution. EVs are quiet without taking away from the smooth power and pure fun. 
Most people underestimate the punch of an electric motor. With the right size of the motor and proper tuning, an electric motorcycle can deliver just as much thrill, if not more than an internal combustion engine. It all depends on the engine you are swapping out of your bike. 
Add Value to Your Old Dirt Bike
Electric conversions are not easy, to say the least. Enthusiasts have found not only a hobby but also a business opportunity in carrying out conversions for a special group of clients. Well thought out E-conversions add value to the motorcycle and can be easily turned into a side-hustle. 
Make Your Dirt Bike Lighter
Generally, e-converted bikes will be lighter even with the additional battery considering they don't require gas and engine oil. This contributes to energy efficiency and maneuverability on and off track. 
Disadvantages of Gas Motorcycle to Electric Conversion  
Project bikes, EV conversion or not, are not for the faint-hearted. Here are possible hurdles; 
Complex Conversion Process: The process is easier said than done. It might take you months, so if you don't have a knack for the work and you generally don't enjoy the build, you are better off buying new. 
Limited Range: While it's true manufacturers play up their numbers quite a bit, experience shows that most commercially developed EVs will outperform DIY Electrical conversion that you can develop at home with limited resources and information. To make more power you will probably spend more than the cost of a new e-bike since you are not mass producing them. 
Interference With the Original Aesthetics: It's also impossible to convert a classic motorcycle without changing its original look as is the case with cars. 
Kits May Not Fit: The buyer is warned that sometimes you may buy kits and end up reselling or returning them as they simply don't fit. 
EV Conversions Are Typically Expensive: If your goal is to save money on purchasing a new E-bike, you might have a hard time justifying the expenditure of a nicely done conversion to electric. Its likely costs will be more than the cost of buying new. 
Easy DIY Dirt Bike Electric Conversion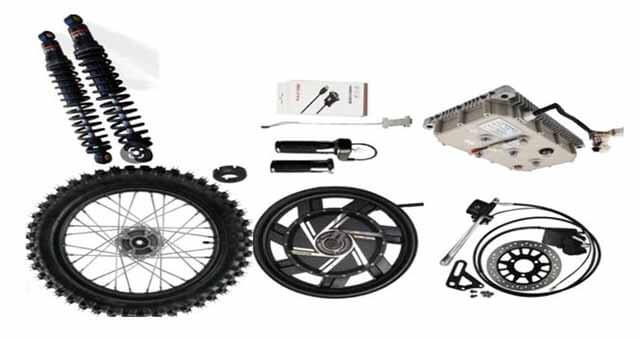 At first, glance, converting an internal-combustion car to an EV is as easy as ABC. Remove the old engine and fuel tank, replace them with an electric motor and a battery pack, and go. While this is a significant simplification, the idea is becoming more popular in the car world. How about on a SuperMoto?
Because a car's engine is hidden, the change doesn't detract from its appearance—but on a two-wheeler, everything is on plain display. An e-motorcycle can't carry as huge a battery as an electric car. The frame of the bike also constrains where and how large you may mount an electric motor.
Like in a car, a manual or electronic throttle controls the motorbike's engine. And you can retain the original transmission in the conversion. Your converted machine will almost certainly retain its final-drive mechanism, a similar concept to what we have on the teaser Kawasaki EV Endeavor … this one shows off the ace up Kawi's sleeve: a manual transmission.
An important point to note when converting dirt bikes is never to try and equate or convert between normal horsepower and motor kilowatts as it simply does not scale. Choose a powerful motor, like the QS 138/70H or 138/90H, paired with a compatible controller such as an APT, Kelly, Votol, or Sabvoton. 
To convert your dirt bike, follow this simple 10-step-by-step guide:
Gather parts, tools, and materials (Sawzall, wire cutters, drill press, and so on).

Stripe the frame of all components.

Remove the mount tabs and points to accommodate the motor and battery.

Cut the swingarm. It's the most challenging part of the metalwork, but the final design takes that into account: The placement of the AC motor helps to strengthen and reinforce the swingarm stiffness.

Once you drill the hole and the motor fits comfortably into it, measure and fabricate the swing arm motor mount.

Using steel angle iron, fabricate the battery tray.

Paint the frame and parts.

Fit in the gears and sprockets. You can gear up or down depending on your racing conditions by changing the size of front or rear sprockets. A larger rear sprocket will give you a taller gear ratio and reduce low-end torque or acceleration while increasing top speed ideal for straight path racing.

Once the fabrication of the frame is complete, start reassembling the off-road motorcycle. Start with the basic components: the forks, swing arm, wheels, and battery tray.

Finally, do the wiring. Electric motorcycle charging time depends upon how depleted the batteries are, but they're usually topped off after 5-8 hours.
To save time, you may want to cut and paste an existing motorcycle powertrain. This is more recommended than trying to design from scratch as the project costs can be astronomical. Electric motor drives for bikes don't come cheap either, but at least they are tested and more likely to squeeze out extra miles from your battery. 
Best Electric Motors for Motorcycle Gas to Electric Conversion
If you embark on motorcycle gas to electric conversion, you will soon find out that what matters the most is the power plant and controller you pick for your e-motorcycle. 
1. Enertrac M603 Hub Motor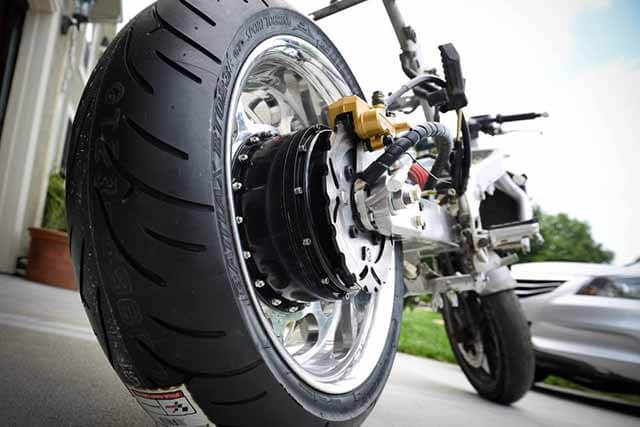 This motor is intended to make the gas to electric motorcycle conversion simple, with many specifications such as a 60mm O.D. hollow axle intended to accept the standard bolt hub utilized in practically all bikes. What is expected with a motorcycle transformation is the design of a torque arm that prevents the axle from rotating.
This Torque Arm is intended for direct coordination into most bikes' swing arms. Different elements of this plan that stand apart when contrasted and other center point engines are huge mounting regions and simple mounting of a Disk Rotor, and high effectiveness design. You can order this Motor and have a rim of choice spoked onto the motor. 
Specifications:
10KW hub motor Continuous Power 

30KW peak 

60mm O.D 

Speed At 72 volts and 30 MPH < 33 amps  

At 96 volts and 45 MPH < 50 amps 

Three turns winding motor 
Features:
Higher voltage for greater torque 

Low current minimizes copper losses and heat 

10KW continuous power 

Well shielded motor 

Option to have Hub motor laced to DOT-compliant Rim 
2. QS Motors 12inch 3000w 260 V4 Hub Motor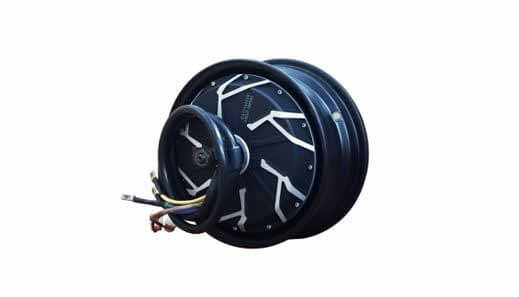 One of the most popular options among EV conversion enthusiasts is the QS Motor, 12-inch detachable electric single-shaft wheel hub motor. The motor uses a higher voltage, lower current design to minimize losses from wire heating.
It's able to achieve 1KW continuous and up to a 3KW peak. It can simplify the making of electric motorcycle as the gearbox, transmission shaft, and clutch are not needed. 
Specifications:
Clutch-less operation 

Compact Motor saves space

The rear hub installation option saves more space for battery

Support regenerative braking 

High Efficiency: 85-92% 
Features:
An efficient motor at 85% 

The same battery gives more range relative to other options 

Low fail rate 

The warm (not hot) temperature of the operation 

Linear actual power output 

Resistant to current increase with the sudden increase in load 
3. QS Motor 14inch 260 Hub Motor 10Kw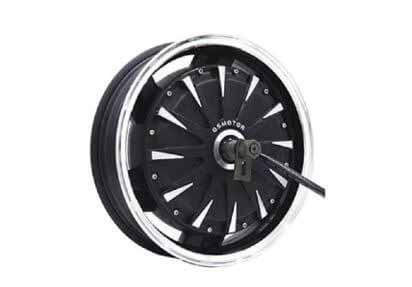 QS V4 New Motor emerges with cool autumn wind and has the NO QS NO EV mantra. In rendition, V4 with special appearance configuration, supports electroplate in performance, bearing more current than V3, with more force, more speed, and improved safety index. The motorcycle powered by this motor can reach max. speed 100km/h.
Here are the additional specs that make this motor an attractive pick for DIYers looking to convert to electricity. 
Specifications:
Motor Rated Power: 2000W, 3000W, 5000W 

Motor Max. Power: 10000W 

The Wheel Size: 14 inch 

Voltage Range: 48V, 60V, 72V, 84V, 96V, 108V, 120V

Magnet Height: 35mm, 40mm, 45mm

Motor Poles: 16 pairs of poles

2 Hall Sensors, 1 for use and 1 for reinforcement
Features:
High efficiency: 85%-91% 

Energy-saving improves range 

Reliable Motor 

Low-temperature rise for starting phase and operation 

Actual rated power (continuous) 

Current shock absorptive 
4. D&D 72V Electric Motorcycle Motor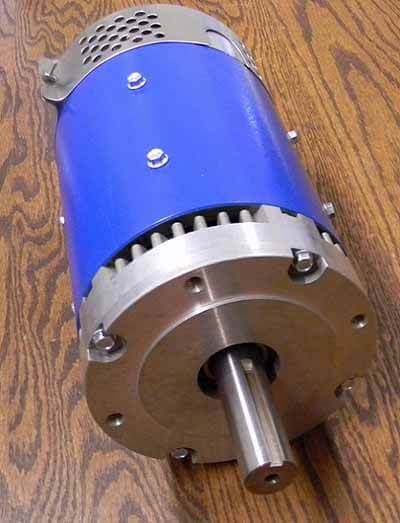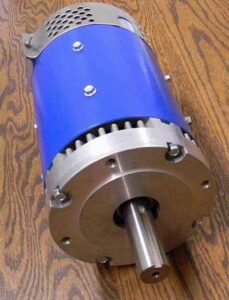 D&D Motor Systems is arguably the top electric motorcycle plant maker in the U.S. for doing a bike change to electric. Their range of electric motorcycle motors offers better execution than the other dollar store motors and kits imported from China and elsewhere.
The electric D&D Motor has higher electromotive force, better thermal capacities, and a competitive cost.
Here are its specs for your consideration:
Specifications:
48-72 VDC Series Motor 9 HP @ 72V Continuous Rated 65 ft./lbs. 

Torque Peak 30 HP Peak with 450 Amp Controller 

7/8″ Single Shaft Base/Face-mounted 

7″ Dia by 12.28″ 

Long Motor Weight: 62 lbs. 
Features:
The reliable motor of high-quality conversion

Huge torque to weight ratio 

Better thermal capacity 

Assured quality motor made in the U.S.
Common Motor Controllers used for E-Conversion of Motorcycles
Once you pick on a motor, it will usually dictate the type of controller you can use. This is guided by the voltage and current specifications of your battery and motor configurations. Ordinarily, the above motors will tend to go with the following four common controllers;
1. Kelly KLS7215N 30V-72V 140A Sinusoidal Brushless Motor Controller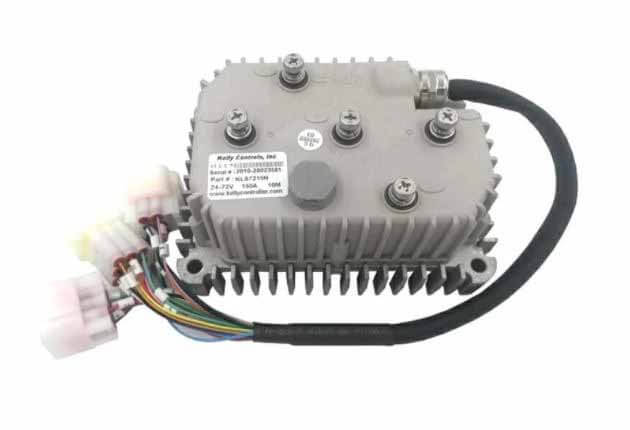 Kelly KLS7215N programmable motor controllers provide efficient, smooth, and quiet controls for electric motorcycles. KLS controllers are mostly intended to tackle noise issues of BLDC engine driving applications.
Contrasted with the customary trapezoidal waveform control innovation, this strategy in view of sinusoidal wave driving innovation is to reduce the operation noise and 1/3 switching loss, which well meets the sound decrease and proficiency necessities in the utilization of DC brushless engines.
It utilizes high power MOSFETs, SVPWM, and FOC to accomplish efficiencies of up to close to 100% in most cases. The KLS7215N controller effectively reduces the noise of the BLDC motor, especially for the hub. The BLDC motor must be based on 3 hall sensors. You can program the KLS7215N controller on PC software or Android App.
Specifications:
Matching Motor Type: BLDC Motor with Hall Sensor 

Matching Motor Power:1500W 

Voltage Range: 30V-72V 

Support Regen Function 

Support programmable via Bluetooth or computer 
Features:
Built Noise Reduction function for BLDC motors 

Customizable performance with Android (Bluetooth) and PC programming 

Perfectly sinusoidal waveforms for near 100% efficiency 

Reduces switching loss 
2.  Sabvoton 72150 motor SVMC series PAS available Motor Controller Kit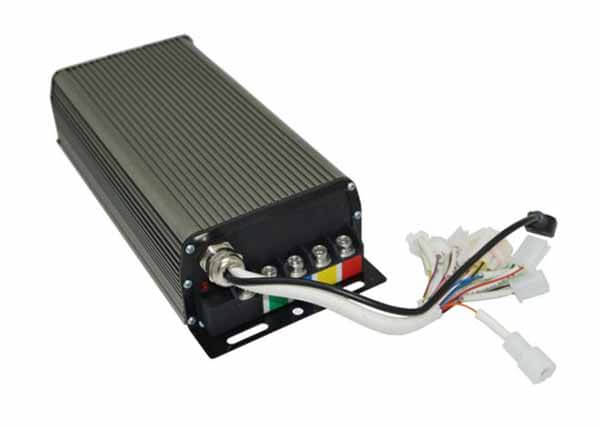 Sabvoton controller is one of the leading designs of sine wave type regulators to date. This brushless DC regulator has a 120-degree phase angle. By and large, the Sabvoton controller is most compatible with QS Motor. Compatibility with other types of motors is still experimental with only anecdotal success.
You can explore its limits as a DIYer and let us know what other motors it runs smoothly. 
Specifications: 
120-degree phase angle 

Programmable sine-wave motor controller 

Suitable for 3000w 72V 150A Electric Motor 

Phase Current: 350A         

Protect Phase Current: 450A                         

Battery Voltage: 24V-72V rated, Max. 95V 

Regen function  

Thermic Probe: KTY83-122 
Features
Sine wave without noise 

High inefficiency 

Incredibly quiet 

Consumes very little energy

Suitable for High Power builds

The programmable interface allows set parameters, conduct tests, and diagnose 
3. VOTOL Lande Controller BLDC Programmable 72v 48v Mid Drive Motor Controller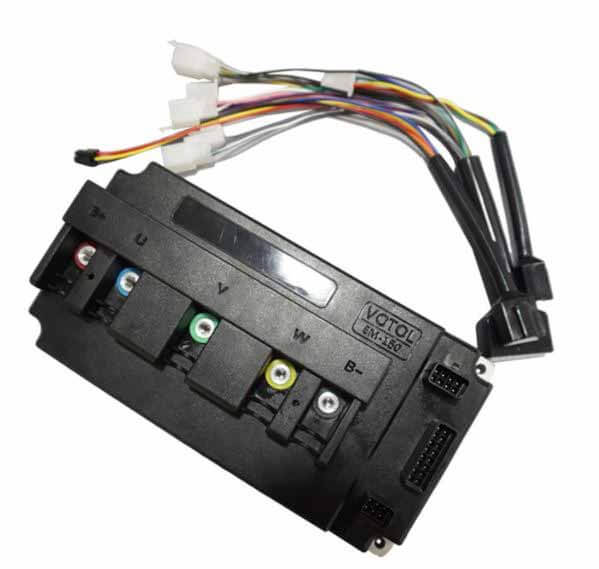 The VOTOL Lande Controller Mid Drive is designed for the QS Motor mid-drive motor. Any attempts to couple this with any other DC motor should be approached experimentally and with caution. The controller comes tuned with the parameters required for said motors, but there is an interface to tweak its operation. 
Specifications:
Programmable by Bluetooth and USB 

Support CAN-BUS 

Rated Voltage 72V 

Rated Current 150A 

Peak current 385A 

Max Power 14.4KW 

Maximum efficiency 92% 
Features:
Very easy to connect 

Can match with most brushless DC motor 

Soft start can be adjusted 
4. SiAECOSYS Programmable SIAYQ72120 72V 150A 100KPH Controller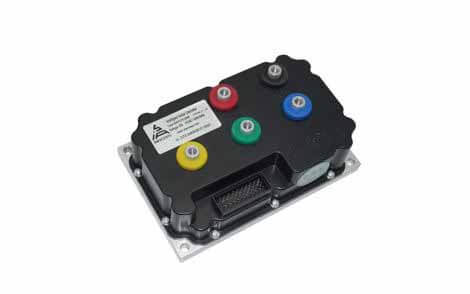 SIAYQ series controller is a sine wave type controller, which is a brushless DC controller with a self-learning function. It features a programmable interface via Bluetooth connection from both Android and iOS applications.
The SIAYQ72120 controller is compatible with QS Motors but can be applied for BLDC motors from other makers. 
Specifications:
Rated 120A 

Max Current 150A 

Protect Phase current 400A 

Rated Voltage 48V/60V/72V, Max 88V 

Thermal Probe KTY83-122 

Functions: Hall, Reverse, Electric Lock, High Brake Level, Temp sensor, and Hall odometer
Features:
High-performance Moss tube 

Compact design 

Good efficiency 

Low operating current and temperature  

Self-learning 

Android and iOS compatible app 

Supports flux weakening  
How To Choose a Battery for Your Electric Motorcycle Conversion?
When building your own EV motorcycle, you have the option of purchasing a prebuilt battery or building your own. Regardless of which option you choose, it is imperative that you investigate the materials used in the internal cells of the battery as these will determine the final performance of the pack and your user experience. Charging times and range are painful realities that EV owners often grapple with.
Here are some insights on the detailed subject. We'll walk you through the crucial battery needs for an EV conversion. 
One of the most significant components of a battery for electric motorcycles is the high voltage battery (BEV). Almost every important component of a pure electric vehicle (EV) is determined by the characteristics of the high voltage battery. Other components and qualities, including maximum traction motor torque, maximum regeneration brake torque, range, total weight, and cost, are heavily influenced by battery specifications. 
The desired power and range for your motorcycle are important considerations when selecting the correct battery. The design of the battery pack is determined by the desired power and range. Also, the amount of space available for a battery pack is crucial.
Battery Anatomy 
A battery is made up of one or more electrochemical cells (battery cells) that transform chemical energy into electrical energy (when charging) and electrical energy into chemical energy (during discharging/charging). The chemistry of a battery is defined by the components contained within it and the chemical processes that occur during discharging and charging activities. 
A battery cell is made up of five primary components: anode and cathode electrodes, separators, terminals, electrolytes, and a container or enclosure. In my experience, there is a clear correlation between price and quality when it comes to batteries. 
Here are some factors to consider when purchasing an e-motorcycle battery pack or component cells: 
Cell Manufacturers
Panasonic, LG, and Samsung have a solid reputation in the battery business for producing top-tier cells, so spending a premium on these cells is definitely worthwhile. If the battery you're looking to buy doesn't have or disclose cell supplier information, they're probably not a credible supplier in the first place. 
Cell Chemistry
Lithium-ion (Li-ion) batteries are the finest choice for e-bikes. Although lead-acid batteries are substantially less expensive, they are three times as hefty as lithium-ion batteries. 
Li-ion cell chemistry comes in a variety of flavors. Nickel Manganese Cobalt (NMC), Lithium Cobalt Oxide (LCO), and Lithium Iron Phosphate (LPF) are the most commonly used for electric motorcycles. When selecting cell chemistry, the following criteria should be considered: 
Specific Energy: Affects the range of the battery. 
Specific Power: Pertains to battery response to sudden load such as sudden hill ascent.
Safety: Fail rate of battery packs of this material. 
Best Chargers for DIY Converted Electric Bike  
Charging is your new fuel reality if you choose to go electric. It is such an integral part of your EV ownership that you literally can't go anywhere without it. Here are some chargers to consider. 
1. Lotfancy QL-09005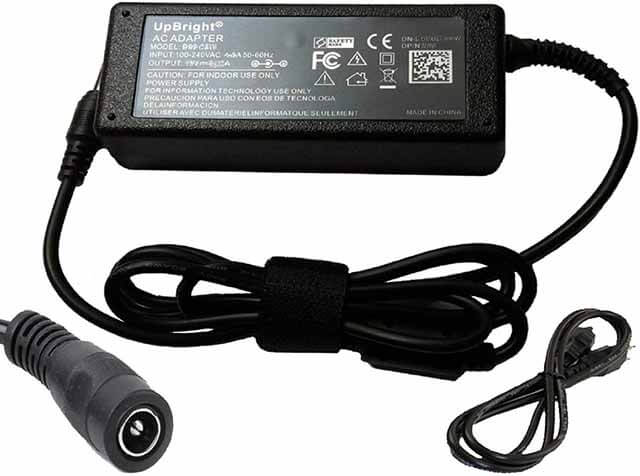 The Lotfancy QL-09005 has a 36V XLR male pin connector that is compatible with a wide range of popular kits. With a low output current of 1.5A, you should anticipate it to perform slowly. It does include short-circuit protection and a one-year money-back warranty, which is fantastic. It only works with lead-acid batteries. 
2. Wingsmoto Sealed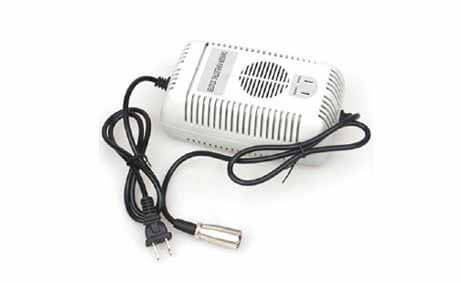 Consider wings if you want something that does the job faster than the preferred stock that comes with the cheapest e-bikes. When replacing a 1.6A or 1.8A model, the Moto Sealed 2.5 A output can save you a lot of time. It has a 3-pin XLR connector as well as an integrated cooling fan. It's also a cost-effective option! 
3. HoneyCare G100-L10L13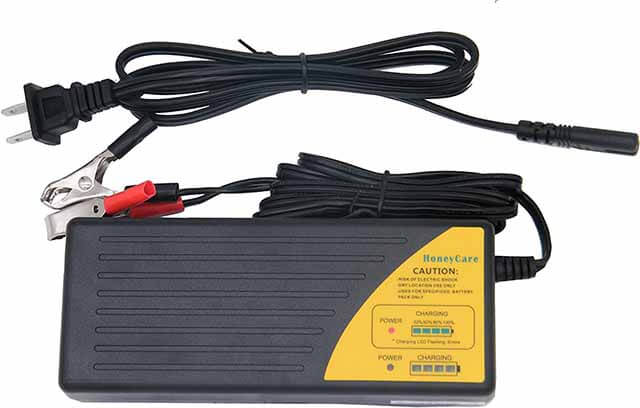 The HoneyCare G100-L10L13 is designed for use with 48 Volt, 13 cell battery packs and includes a helpful LED display to keep you informed of its progress. Its alligator clamp output connectors are hardwired, so they won't fall out. It has a four-stage charging method and protects against reverse polarity. 
4. Li Do UY360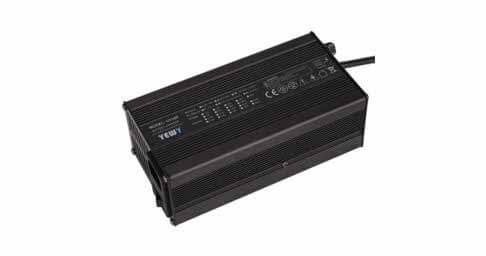 The Li Do UY360 employs a combination of continuous current and voltage to assist you to get a full charge, then automatically changes to trickle mode to keep it charged until you're ready to go for a ride. It includes a spare fuse and a sturdy aluminum casing. It has an 8A output to charge quickly. 
5. Cycle Satiator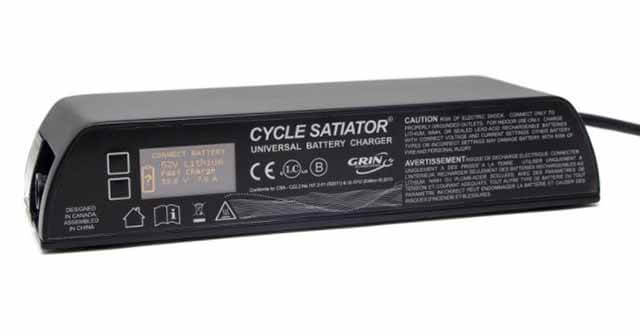 Green Technologies' Cycle Satiator is a robust fully programmable universal model that works with both lithium and lead batteries. It is intended to help you stretch the life of your batteries while also making job monitoring easier owing to a bright and clearly legible screen. It has a silent fan operation and a watertight seal, and it is certified for usage globally. 
How Much Does It Cost to Convert a Dirt Bike to Electric?
An electric motorcycle conversion kit typically costs between $300 and $900! This is the price of a basic kit that is good value for money, while you may find far cheaper options as well as top-of-the-line equipment for significantly less. 
Note that the cost of the conversion kits varies based on the motor included and the intended use of the bike. In addition, technicians will typically charge you from $200 for the electric motorcycle conversion job, which is fair, if you don't have a knack for the job.
Is Gas to Electric Motorcycle Conversion Legal? 
This is an open-ended question with no definite answer. The answer depends on what kit you decide to mount on your e-bike. There are kits that are legally viable and some which are available for shipping to the U.S. but will still land you in trouble. It all depends on your build and whether you take time to get it approved as a modified vehicle that meets the standards to avoid a lawsuit down the road. 
It's your responsibility as a DIYer to check and double-check the standards within your state and the laws that govern conversions. You will likely need to apply for certification to get your motorcycle on the street with the new modifications. 
Final Thoughts: Is Dirt Bike Electric Conversion Worth it?
Yes, it's a worthy investment. Since buying a new electric dirt bike quickly turns into a white elephant project, then consider the DIY conversion. You can save on money while enjoying the custom build and riding experience.
The number of electric dirt bikes has increased dramatically in the last couple of years. They're so silent that a rider can enjoy them virtually anywhere, and their low-end torque statistics are remarkable (don't measure the power of electric motors in kW/horsepower, since it doesn't scale).
M/A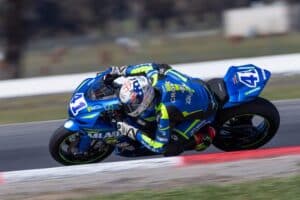 I've diligently categorized my motorcycle gear recommendations into all available categories, with the aim of providing you with a comprehensive analysis that showcases the absolute best options for all your needs. These items are the culmination of in-depth research, extensive testing, and personal use throughout my vast experience of 50+ years in the world of motorcycling. Besides being a passionate rider, I've held leadership positions and offered consultancy services to reputable companies in over 25 countries worldwide. To See Our Top Picks and the Best Prices & Places to Buy: Click Here!