Finally, time and budget considerations have decided to support your deep desire for a long trip into the wilderness and to decide what are the best motorcycles for cross-country riding. The fine weather is tempting and continuously beckons you to pack for an endless time of enjoyment.
You already have the route in mind and other essentials adequately prepared. Most likely, the next task is to find an appropriate bike for the road trip—it's why you're searching for this: The best motorcycle for cross country. No?
That said, your search ends here. This write-up features the best of the best bikes to help make your journey a memorable one. So, jump right in and explore.
Top 5 Best Motorcycles for Cross Country
1. BMW R 1250RT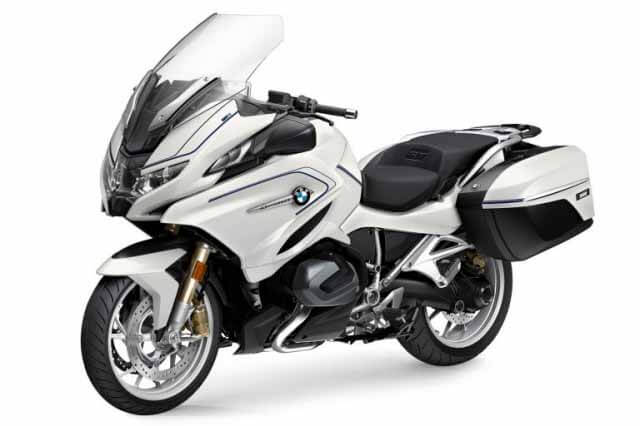 Rest assured that the R 1250 from BMW will deliver a smooth riding experience. After all, the company is renowned for releasing different models featuring the latest technologies. By the way, this specific model won the best touring award in 2009 and remained in the position for a couple of years.
Its twin boxer engine promises a 136-horsepower output. You also have excellent traction control, an adjustable yet tall windscreen, and adjustable height to satisfy your off-road and on-road needs. Further, the engine's 1,254cc motor delivers about lb-ft of torque. It's backed up with modern Shift cam technology for enhanced power across a broader range of speed limits.
A comfortable sitting position comes with control switches on the handlebar. Adjusting a motorbike's engine modes, suspension, phone, and navigation settings has never been so easy. The recently upgraded model will treat you to high levels of convenience. It's fitted with a modern 10.25″ TFT screen where you can read messages. Meanwhile, an eco-riding mode means efficient fuel consumption for you.
2. Harley Davidson Electra Glide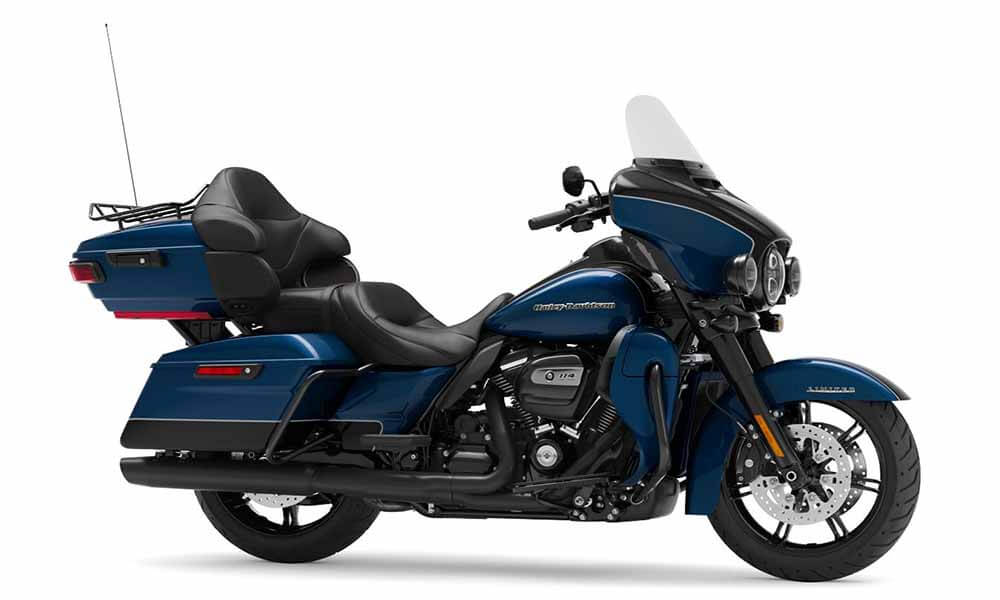 The Harley Davidson Electra Glide has been around for pretty long. The best part is that the company has continuously improved it to ensure it exceeds your expectations. The perfect blend of traditional aesthetics and modern characteristics makes it worth consideration when searching for the best motorcycle for a cross-country trip.
The sporty black finish makes for a classic-looking bike. It's also comfortable to sit on—the seat compels you to sit in an upright position. Coupled with the sturdy aerodynamic windshield, you'll be able to launch further. 
The Electra Glide also features a powerful MILWAUKEE-EIGHT™ 114 ENGINE setting it apart from other Harley models. The engine delivers a high displacement of 1745cc with a torque of about 150 Nm at 3250 RPM.
The four-wheeler comes fitted with high-end safety features. So, you can confidently cruise the rough terrain. You also have a reliable Smart Security System complete with an advanced ABS System for the safest ride. Meanwhile, the superior comfort will keep you yearning for more hours on the road.
You May Also Like: What Is the Best Adventure Motorcycle? Top 5 Most Reliable ADV Bikes
3. Yamaha FJR1300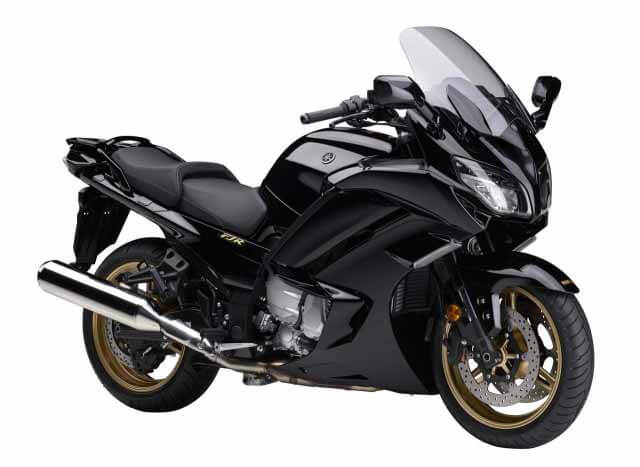 Like Honda, Yamaha is a reputable company. The FJR 1300, in particular, has been around for about two decades. The recent update makes for great aesthetics—a perfectly balanced black and gold paint job. Beyond beauty, the Yamaha FJR1300 powerful engine is pretty dependable.
It includes four cylinders and produces 99ft-lb of torque at 7000 revs and 40-45 mpg. The bike is also roomy. It can handle two riders and plenty of luggage effortlessly. By the way, this adventure motorbike comes with convenient panniers and a luggage rack.
The 48 mm forks and adjustable mono-shock suspension system make for a flexible motorcycle. You'll have an easy time navigating through the off roads. Made to last, the bike can withstand elements and won't flake easily.
However, the shaft and bar clamps are a bit susceptible to chipping. Just like with other bikes, occasional maintenance can help keep your ride in good shape. That said, you want to schedule occasional paint jobs to keep the rust away.
4. Honda Goldwing DCT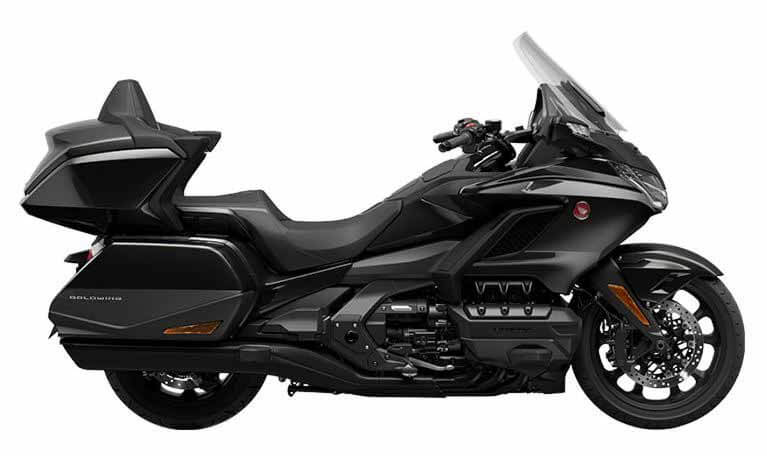 Since the late 1940s, Honda hasn't disappointed the biking community. The company has been in the business of producing model after model of reliable motorcycles. The Honda Goldwing was first released in 1945 and was the first-ever touring motorcycle.
Since then, Honda has released newer, advanced touring bikes. Little wonder the Goldwing is one of the best cross-country motorcycles available in the market. First off, it's reasonably priced and features a large trunk. It'll accommodate two face helmets and up to 61 liters, with the load capacity being an impressive 121 liters.
Luxury and comfort come with modern infotainment amenities and a roomy seat that's complemented by a high-quality suede-like seat cover. The superb brakes will impress you. Meanwhile, the bike's DCT (Dual Clutch Transmission) means smoother touring and efficient fuel consumption.
A smooth ride is also assured, making the Goldwing DCT an excellent pick if you're looking for a long-distance touring bike. Lastly, its sleek designs will settle your cosmetics concerns.
5. Yamaha Star Venture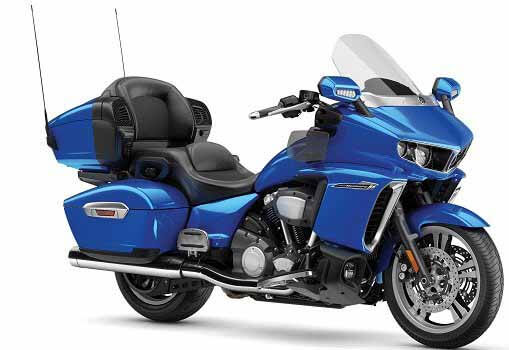 Put simply; the Yamaha Star Venture is the definition of luxury wrapped in a reliable modern cross-country bike. The engine's powerful V-twin air-cooled motor delivers 1854cc displacement for greater stability even when fully loaded.
Fearlessly travel at night and even amidst the roar of the wind. The motorcycle features 4 LED-powered headlights so that road users can see you quickly. They also help to improve visibility during foggy weather and at night. A wide faring means protection for you and even the passengers.
Uniquely, the Yamaha Star Venture includes a Transcontinental Package. So, you can enjoy additional packing space, fog lights, and an alarm system. You can even adjust the weight limit from 37.3 gallons to over 38 gallons when needed.
The truth is, the Yamaha Star Venture is big, and maneuverability can be tricky. It's why the manufacturer opted to include parking assist electric motor. The attribute offers forward and reverse driving options for those challenging parking situations. A smart-key feature is in place for additional convenience. It'll help you start the motorcycle and control the luggage compartments while having the key fob in your pocket.
Other impressive attributes include:
USB port

Touch screen and voice control system

The electronic tire monitoring feature
Summary: 
Watching yourself living the dream of a long-awaited cross-country trip can be satisfying. However, a lot of goes into planning, which can be overwhelming. Aside from amenities and accommodation, the four-wheeler you settle for can make the difference.
In other words, selecting the best motorcycle for the best cross-country road trip is vital. A few factors will go into helping you choose an ideal bike. First off, ensure the four-wheeler comprises safety features. That includes antilock brakes or ABS, crash bars, and adequate lighting (headlights, marker lights. Brake lights and turn signals).
Also, keep in mind fuel efficiency while not forgetting the tank size. Remember, the bigger the engine, the better the cruising experience. An over 1000cc won't disappoint whether you want to enjoy highway speeds or you're maneuvering the rough terrains.
Lastly, ensure the bike will deliver superior comfort regardless of trip length. A sizable windshield will offer you much-needed protection against wind. If you find an adjustable one, go for it. A comfy bike compels you to sit in an upright position with your legs in a forward position. So, make sure to check that too.
Information for this article was partially sourced and researched from the following authoritative Government, educational, corporate, and nonprofit organizations:
About the Author:
Michael Parrotte was the Vice President of AGV Helmets America, and a consultant for KBC Helmets, Vemar Helmets, Suomy Helmets, Marushin Helmets, KYT Helmets, and Sparx Helmets. In addition, he is the founder and owner of AGV Sports Group.
Click here for all of Michael's contact and Social Media information https://parrotte.com/
Click here for all AGV Sports Group Social Media information http://agvsport.info/
FM/EL