The uptake of adventure motorcycles has seen exponential growth, a renaissance of its kind as the once-popular two-wheelers make their comeback. Manufacturers have responded by making even more lightweight machines (both in terms of actual bike weight & size of the engine) with the awesome power-to-weight ratio for a thrilling off-road experience.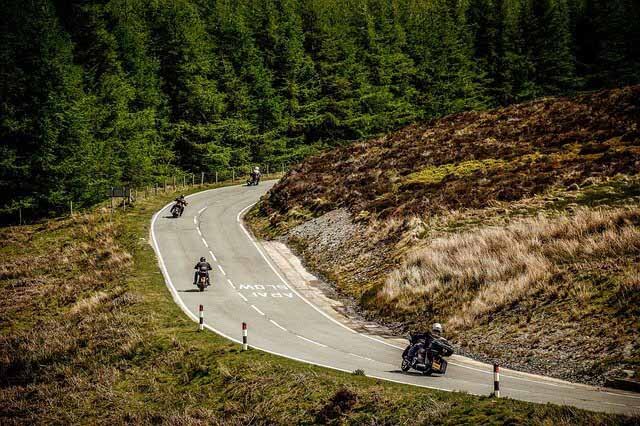 To help simplify this increasingly bursting segment, we highlight the best lightweight adventure motorcycles, in ascending pound weight figures:
KTM 390 Adventure – 348.3 lbs./162 kgs
BMW G 310 GS – 362 lbs./169.5 kgs
Kawasaki Versys-X 300 ABS –9 lbs./175 kgs
Royal Enfield Himalayan –7 lbs./199 kgs
Honda CB500X ABS – 439 lbs./199.1 kgs
More on the above awesome rides in a bit, but first let's demystify adventure touring! 
What Is the Best Adventure Motorcycle? Top 5 Most Reliable ADV Bikes (The Lightweight Boys)
What Is an Adventure Motorcycle?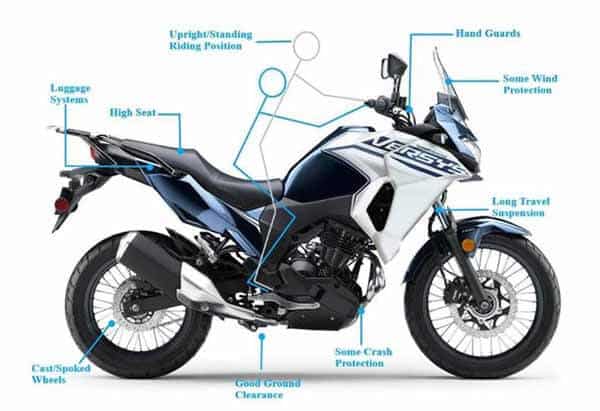 An adventure motorcycle is specifically designed for long-distance travel on- and off-road, promoting your comfort ergonomics. Simply put, it's one built for freedom. It allows you to go not only fast but also go anywhere.
ADVs have special design cues that make them hardy for battling unbeaten paths with a considerable amount of luggage and rider weight. They are equally expected to deliver good MPG on paved roads and reasonably high speeds to get through the mind-numbing tarmacked sections faster. Generally, adventure bikes feature a bigger front wheel in diameter but narrower width than the rear wheel.
Characteristics of Adventure Motorcycles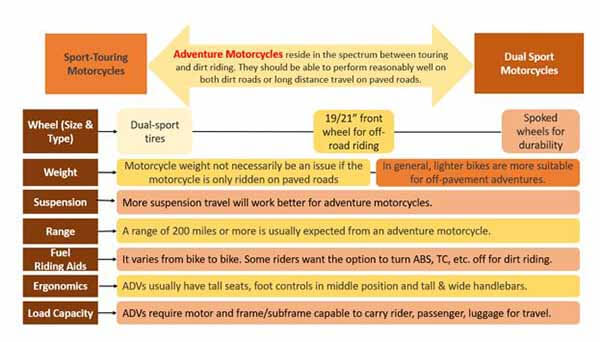 A Short History of Adventure Motorcycles
Riders have since the beginning of time been adventurous people from the age of horseback, but it wasn't until the roaring 80s that BMW forged a rugged beast (BMW R80 G/S: The First Adventure Motorcycle) and threw down their gauntlet at the Dakar Rally, just months after its unveiling.
This was the birth of a new class of motorcycles that could do both paved and unpaved roads, which is the essence of the Gelände/Straße (G/S) nomenclature, German for "terrain/road."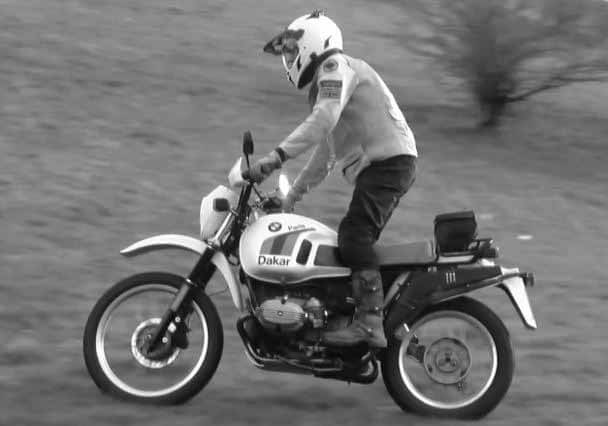 Thus, BMW, whether knowingly or by accident, created an entire market segment – adventure riding – and an explosion in the market would soon follow. Today, it's not just the bikes whose sales are exploding, but adventure riding has become a booming industry unto itself, from apparel and gear to travel, hotel, and hospitality fashioned for motorcyclists.
Are ADV Bikes Safer?
Yes, ADVs are arguably the safest bikes to ride because they have more comfortable ergonomics and electronic rider aids such as traction control, cornering traction control, vehicle hold control, cornering ABS, cornering headlights, quick-shifter, blind spot detection system, radar system, and emergency brake lights.
Additionally, the upright seating position, long-travel suspension, and large wheels make adventure bikes easier to ride for longer distances without fatigue and body aches, which can cause concentration lapses, leading to accidents.
Our Top 5 Picks of the Best Adventure Motorcycles
As always, our selections will be listed in ascending order, from the lightest to the slightly heavier ones with more agility.
1. KTM 390 Adventure – 348.3 lbs./162 kgs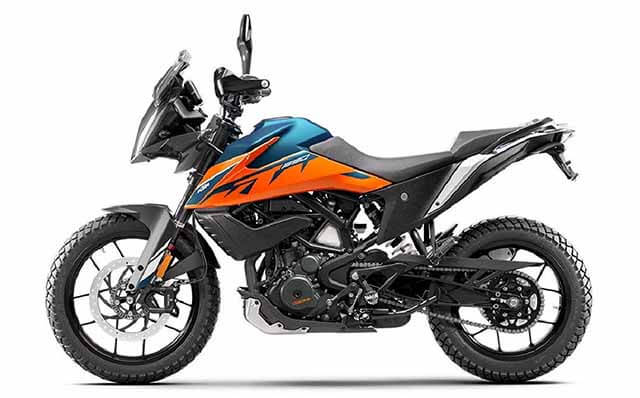 It's impossible to bring up the adventure category and not mention the KTM Duke 390, one of the best adventure bikes on the market today. And if you think this is simply a beginner bike, think again!
The 373cc single-cylinder tech packs quite the punch plus a 3.8-gallon fuel tank capacity and the 7 inches of suspension travel takes you places. The greatest flaw of the Duke 390 is not the exceptionally good handling, crash bars, a skid plate, handguards, or the Continental TKC70 tires but the rigid aluminum cast rims. 
Nonetheless, for its weight and nimbleness, the corner rocket KTM Duke 390 is a ton of bike for less weight and adds agility, attitude, and performance to your adventure touring experience.
KTM Duke 390 Key Specifications:
| | | | |
| --- | --- | --- | --- |
| MSRP: | $6,599 | Engine: | 373cc, single-cylinder, 4-stroke, DOHC |
| Power:  | 43 hp @ 9,000 rpm | Transmission | 6-speed |
| Torque: | 37 Nm @ 7,000 rpm | Fuel Economy: | 24.7 km/pl |
| Ground Clearance: | 200mm/7.9 in | Seat Height: | 855mm/33.6 in |
2. BMW G 310 GS – 362 lbs./169.5 kgs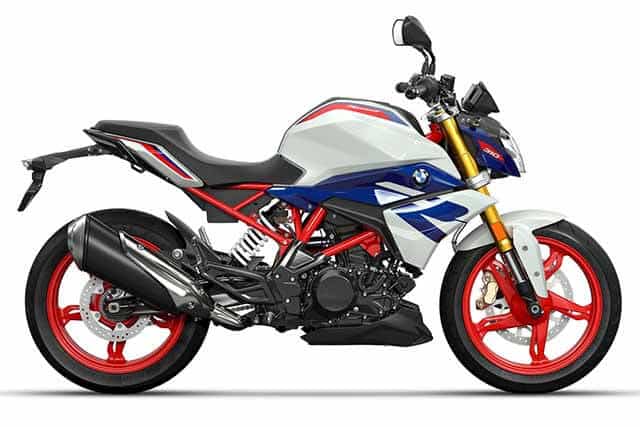 It won't stand up to the R1200GS, but the BMW G 310 GS, the most reliable adventure motorcycle on this list, is still up for some big country riding any season. Germans overthink and over-engineer everything so that there is not a scenario you can encounter that they have not equipped you for.
With this baby ADV from the giant makers, you stop having to worry about reliability and focus on enjoying your trip with a manageable weight and the mid-luxury suspension. The 313cc motor will churn out enough horsepower to deliver 90 mph, albeit with a good measure of buzz.
It has a decent 3-gallon fuel tank capacity and excellent quality tires from Metzeler Tourance, which just like its suspension are a good compromise between on- and off-road.
BMW G 310 GS Key Specifications:
| | | | |
| --- | --- | --- | --- |
| MSRP: | $5,695 | Engine: | B36 313cc, liquid-cooled, single-cylinder |
| Power:  | 34 hp @ 9,250 rpm | Transmission | 6-speed |
| Torque: | 28 Nm @ 7,500 rpm | Fuel Economy: | 31.94 km/pl |
| Ground Clearance: | 220mm/8.7 in | Seat Height: | 835mm/32.9 in |
3. Kawasaki Versys-X 300 ABS – 385.9 lbs./175 kgs
This 4.5-gallon (fuel tank capacity) baby Kawi became the smallest Versys bagging mixed reviews when it first launched in June of 2017. The small 296cc engine is boldly targeted for A2 license (beginner-friendly) holders and packs out a decent 40 hp.
Versys-X might feel small for ardent riders of beastly machines, but it's a holy grail for novice riders. It shares an engine with the Z300 and the Ninja too, but with a boost from shorter gearing for those steep off-road climbs. Add in a decent suspension with adjustable rear shock and you have good value for money from a brand we love and trust.
Kawasaki Versys-X 300 ABS Key Specifications:
| | | | |
| --- | --- | --- | --- |
| MSRP: | $6,099 | Engine: | 296cc, 4-stroke, 2-cylinder, DOHC, liquid-cooled |
| Power:  | 40 hp @ 11,500 rpm | Transmission | 6-speed |
| Torque: | 26 Nm @ 10,000 rpm | Fuel Economy: | 22 km/pl |
| Ground Clearance: | 180mm/7.1 in | Seat Height: | 845mm/32.1 in |
4. Royal Enfield Himalayan – 438.7 lbs./199 kgs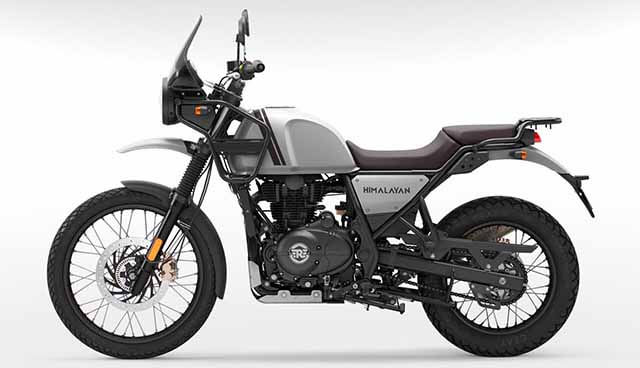 The Himalayan debuted in 2016 as a one-of-a-kind rugged and rudimentary down-to-earth and back-to-basics kind of ADV bike with its own aura. It features a 4-gallon fuel tank capacity and a simple air-cooled single-cylinder 400cc engine caged in a half-duplex split cradle frame.
While other makers focus on tech-laden big-bore multi-cylinder motors for this category, the Himalayan wins by keeping it simple. It's not as fancy as the competition, but it can take you anywhere on raw carbureted power.
In any case, when the machines turn on us, you will only have the Bluetooth-enabled Tripper On-Board Navigation System—it displays road directions directly onto the TFT screen—to contend with.
Royal Enfield Himalayan Key Specifications:
| | | | |
| --- | --- | --- | --- |
| MSRP: | $5,299 | Engine: | 411cc, air-cooled, SOHC single, 2 valves |
| Power:  | 24.3 hp @ 6,500 rpm | Transmission | 5-speed |
| Torque: | 32 Nm @ 4,500 rpm | Fuel Economy: | 39.96 km/pl |
| Ground Clearance: | 220mm/8.6 in | Seat Height: | 800mm/31.5 in |
5. Honda CB500X ABS – 439 lbs./199.1 kgs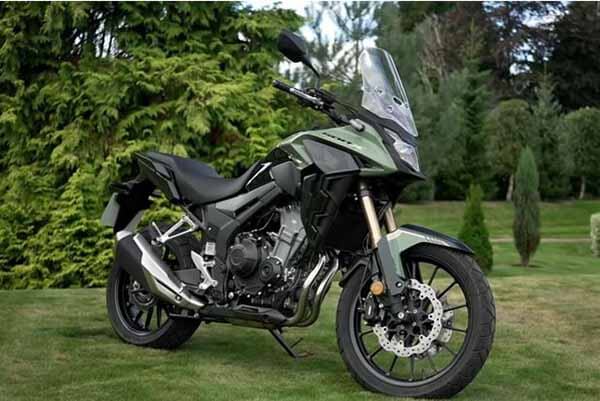 The CB500X is a culmination of Honda's evolution of parallel twin-cylinder motors, making it bulletproof as they come. It's made for new and intermediate skilled riders and is one of the most user-friendly entry-level bikes in the market.
This version takes a more modern approach to adventure touring with more road-oriented features. It has a fair bit of talent for goat trails provided there isn't too much mud to bog you down. You need to appreciate the Honda genius of one-size-fits-all incorporated in this bike.
The 4.7-gallon (fuel tank capacity) Honda CB500X is simply fantastic for the beginning (or thrifty) rider searching for adventure flare with commuting abilities.
Honda CB500X Key Specifications:
| | | | |
| --- | --- | --- | --- |
| MSRP: | $7,199 | Engine: | 471cc, liquid-cooled, parallel-twin |
| Power:  | 46.9 hp @ 8,500 rpm | Transmission | 6-speed |
| Torque: | 43.2 Nm @ 6,500 rpm | Fuel Economy: | 28.6 km/pl |
| Ground Clearance: |  180mm/7.0 in | Seat Height: | 830mm/32.8 in |
Concluding Thoughts on the Best Lightweight Adventure Motorcycles
ADVs straddle the line between road and off-road riding. If you're looking for a way to get off the beaten track, one of the light bikes on this list is a great option. What matters is that you pick one that will link your riding style to your riding goals.
Enjoy your adventure bike and may your adventure, whatever it is, take you to a higher level in life.
About the author:  Michael Parrotte was the Vice President of AGV Helmets America, and a consultant for KBC Helmets, Vemar Helmets, Suomy Helmets, Marushin Helmets, KYT Helmets, Sparx Helmets. In addition, he is the founder and owner of AGV Sports Group.
MS/AN