The suspension system has the sole task of keeping your motorcycle's shiny side up regardless of road conditions. It's one of the most prominent factors influencing the ownership experience, and like any other aspect of a motorcycle, you need to choose one that fits your purpose.
Uneven surfaces quickly become the sources of true adventure when it comes to traveling to and from school or work, conquering mountain ranges, and traversing deserts on these motorcycles with the best suspension:
Honda CRF450RL – Showa Suspension
Yamaha WR450F – KYB SSS Coil Spring-Type
KTM 350 EXC-F – WP XPLOR Suspension
Suzuki Z400S – Suzuki Link-Type
When you hit a pothole at considerable speed, a good suspension takes most of the beating so that you and your bike don't have to. How? You may ask, read on.
Top 4 Best Motorcycles for Potholes
What Is Motorcycle Suspension and Why Is it Important?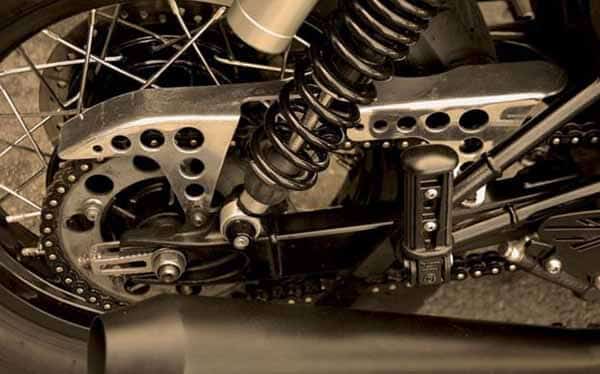 A motorcycle suspension is a system of springs and dampers that connects the wheels to the chassis, allowing you to move smoothly over rough terrain with minimal shock. It keeps the tires on the surface and firmly within traction to avoid loss of control. The system primarily influences the riding comfort when the motorcycle encounters bouncy, rocky roads, and potholes by absorbing shocks.
The well-tuned suspension also improves braking and handling while cornering, turning, or going at high speeds on- and off-road.
Which Is Better, Softer or Stiffer Motorcycle Suspension?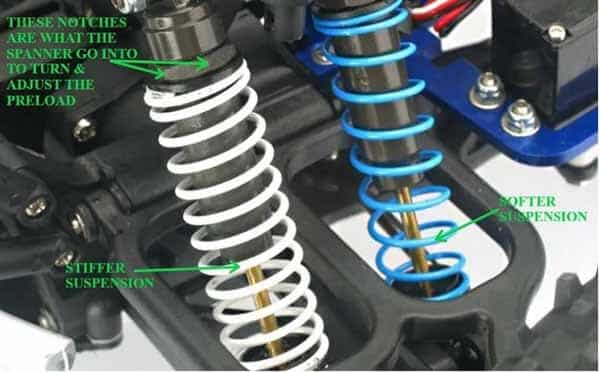 Stiffer motorcycle suspension offers shorter reaction times and better handling, allowing for maximum traction when entering and exiting corners. So, for shorter bursts of action, you want to lean on the stiffer side. This setting is ideal for short weekend trips where you crave some fast cornering and wheelie action.
Hard springs are also desirable for heavy machines, especially adventure motorcycles considering the additional weight of luggage. Too soft a suspension could make you lose your line in a curve due to wallow and pitchy cornering, which risks the loss of traction and ending up in a ditch somewhere.
On the other hand, softer motorcycle suspension provides greater traction, as it performs a better job of keeping the tires on the ground, than stiffer suspension when going over potholes, puddles, depressions, bumps, and other surface imperfections on the road. Soft suspensions are ideal for rough terrain. Hard suspension can cause backaches over long-distance travel and simply be unbearable at some point.
Our Top Picks for the Best Motorcycles for Potholes
These four motorcycles give you a worthwhile thrill when riding on weathered surfaces. We look at their unique suspension and other design features that make them suitable for potholes.
1. Honda CRF450RL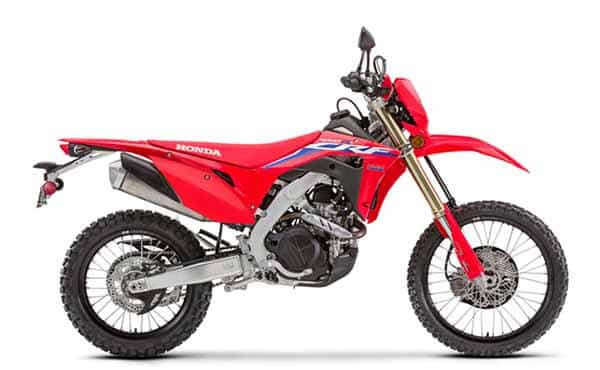 Did you love the CRF250L, CRF300L, and CRF300L Rally? Wait until you thrash the full street-legal Honda CRF450RL! The "R" reminds us that the model uses the championship-winning CRF450R platform, then tunes it for off-road greatness.
That starts with the legendary 449cc Unicam® engine that puts together a formidable 41.7 hp (same as the off-road-focused Honda CRF450L) and 32 Nm torque.
This immense power is strapped to a lightweight sturdy twin-spar steel frame coupled with the large 21-inch front wheel and 18-inch rear wheel by the premium, long-travel Showa suspension. The front features a telescopic fork with 8.5 inches of travel and a rear Showa Pro-link mono-shock with 9 inches of travel.
Add these numbers to a comfortable 37.2-inch seat height, a wide-ratio six-speed transmission, a vibration-damping urethane-injected swingarm, and a quiet muffler – and you have a bike, with the demand of, say, the off-road-ready Honda XR650L, to take potholes with no fuss.
Honda CRF450RL Key Specifications:
| | | | |
| --- | --- | --- | --- |
| Weight: | 291 lbs. (132 kgs) | Engine: | 449.7cc liquid-cooled 10º single-cylinder four-stroke |
| Power: | 41.7 hp (31.1 kW) | Transmission/Drive: | 6-speed/#520 sealed chain; 13T/51T |
| Ground Clearance: | 12.6 in. (320 mm) | Wheelbase: | 58.9 in. (1496 mm) |
| Seat Height: | 37.2 in. (944.9 mm) | MSRP: | $9,999 |
2. Yamaha WR450F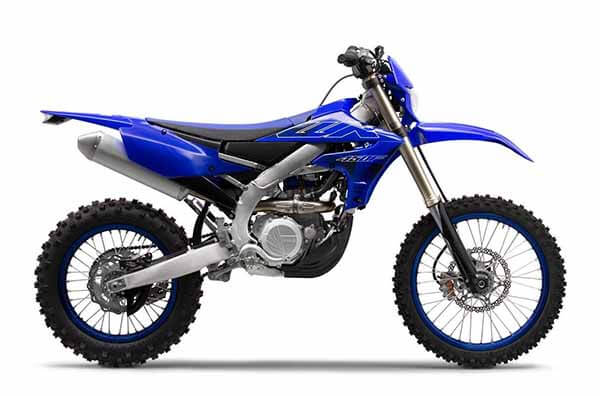 Yamaha created the WR450F by combining the brand's WR off-road and YZ motocrossers lines, with additional features and specific settings designed to optimize it for enduro riding
The suspension is excellent thanks to the industry-leading, fully adjustable KYB Speed-Sensitive System (SSS) coil spring-type fork featuring speed-sensitive damping to strike a better balance between agility and pothole shock absorption, as well as mid-speed valving adjusted for enhanced feel at slower fork speeds. It's uniquely tailored for the aluminum frame to provide awesome constant traction and shock absorption.
The chassis features flex characteristics that give you precision for traction, cornering, or bump stability. The large front disc brake, engine mounts, top triple clamp, and front axle give you the confidence to make the most of the fuel-injected, titanium four-valve engine's 48.9 hp, though lower than the YZ450FX and YZ450F.
Honda WR450F Key Specifications:
| | | | |
| --- | --- | --- | --- |
| Weight: | 264 lbs. (119.7 kgs) | Engine: | 450cc liquid-cooled single-cylinder |
| Power: | 48.9 hp (36.5 kW) | Transmission/Drive: | 5-speed/O-ring chain |
| Ground Clearance: | 12.6 in (320 mm) | Wheelbase: | 58.3 in (1481 mm) |
| Seat Height: | 37.6 in (955 mm) | MSRP: | $9,799 |
3. KTM 350 EXC-F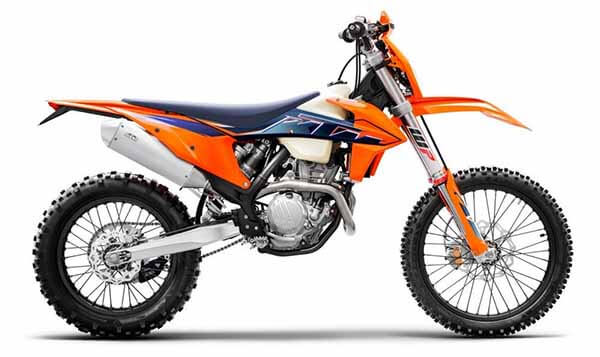 The KTMs are a fantastic choice for people with the right inseam. For this ranking, we're placing the KTM 350 EXC-F above the 500 because of its amazing KTM 450 power emulation with the nimbleness of the 250, giving the best of sheer power and maneuverability. In fact, the 350 is the most popular in the KTM enduro lineup.
In spite of having exactly the same suspension springs and internals across the whole range of EXC-Fs, which came as a surprise to me, the 350 hits the sweet spot with the setting that comes from the advanced WP XPLOR suspension, similar to what we have on the KTM 690 Enduro or the KTM 950 Adventure. The forks and shock feature an external adjuster that makes trail adjustments much easier.
This suspension does justice to the smooth power of the 349.7cc fuel-injected DOHC engine, the lightweight Chromoly steel frame, and the Brembo clutch and brakes, giving you a bike with the versatility to go practically anywhere.
KTM 350 EXC-F Key Specifications:
| | | | |
| --- | --- | --- | --- |
| Weight: | 228.8 lbs. (103.8 kgs) | Engine: | 349.7cc single-cylinder, 4-stroke |
| Power: | 50.4 hp (37.6 kW) | Transmission/Drive: | 6-speed/Chain, X-Ring 5/8 x ¼ |
| Ground Clearance: | 13.9 in (355 mm) | Wheelbase: | 58.3 in (1482 mm) |
| Seat Height: | 37.7 in (960 mm) | MSRP: | $11,399 |
4. Suzuki DR-Z400S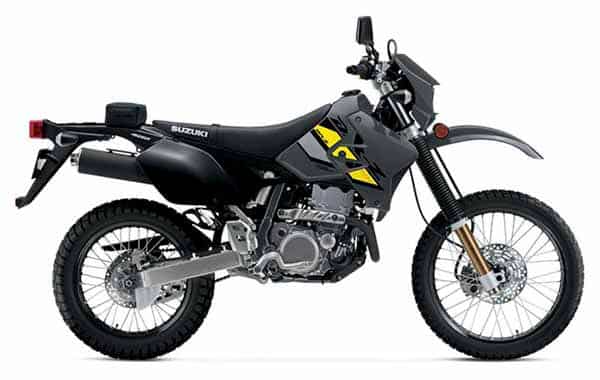 Suzuki continues to make enjoyable, dependable, and competent motorcycles available to anybody who wants to ride along their favorite goat trail or twisty asphalt ribbon; first, the DR350S, and they did it again with the DR-Z400S.
Like the Suzuki DR650S, the completely street legal dual-purpose DR-ZX400S defines bulletproof as used in the context of motorcycles for all-around use.
Other than the reliable 398cc liquid-cooled motor, you will be impressed by the long-travel cartridge-style fork suspension assisted by a compression/rebound damper and an adjustable spring preload.
It has an equally capable rear shock absorber with an impressive 11.6 inches of travel and similar compression damping preload adjustments for smooth performance whether you're riding on bumpy terrain, on a twisty forest path, or on the highway.
The suspension ties a lightweight aluminum swingarm to the narrow Chromoly steel frame, offering exceptional torsional rigidity with minimal weight.
Suzuki DR-ZX400S Key Specifications:
| | | | |
| --- | --- | --- | --- |
| Weight: | 317 lbs. (144 kgs) | Engine: | 398cc, DOHC, liquid-cooled, four-stroke |
| Power: | 33.4 hp (24.9 kW) | Transmission/Drive: | 5-speed/ Chain, RK520KZ0, 112 links |
| Ground Clearance: | 11.8 in (300 mm) | Wheelbase: | 58.5 in (1485 mm) |
| Seat Height: | 36.8 in (935 mm) | MSRP: | $6,999 |
In Summary
No two roads are identical. While some rides include a straight wide highway all the way to the destination, others may include breathtaking twisties and many on to undulating terrain where fun and adventure beckons. This variety in road conditions affects the motorcycle's stability and, as a result, the riding style, your riding safety, and comfort.
Well-turned suspension makes riding on uneven terrain and loose surfaces fun. Typically, a standard motorcycle's suspension consists of an upside-down (USD) or conventional telescopic fork at the front and a mono-shock or twin shock absorbers at the rear. But for most popular bikes, there are aftermarket custom-made rear shock absorbers fashioned to the machine's specs, riding style, and weight.
Both the front and rear are made up of the spring and the damper. When the wheel hits a pothole, the spring allows the suspension to rise and then returns to its original position once the impact has gone. The damper reduces the movement of springs and dissipates the energy in the system to reduce the rate of force and compression or rarefaction of the coil spring, gas spring, or leaf spring.
About the author:  Michael Parrotte was the Vice President of AGV Helmets America, and a consultant for KBC Helmets, Vemar Helmets, Suomy Helmets, Marushin Helmets, KYT Helmets, Sparx Helmets. In addition, he is the founder and owner of AGV Sports Group.
MS/A