For any motorcyclist, it's incredibly important to be fully aware of the safety features of the gear and apparel you wear while you ride. One of the most important (and perhaps the most important) pieces of motorcycle apparel to get right is the helmet and no helmet is safer for motorcyclists than the full-face helmet.
Today we're going to take a deep dive into how full-face helmets stack up with different aspects of motorcycle helmet safety and standards so that every motorcyclist can stay informed and make sure they enjoy the rider's high both in style and safety of Full Face Helmets.
What Are the

Safety

Benefits of Full Face Helmets?
A full-face helmet is a type of motorcycle helmet that has a 360-degree design around your head, covering you from the top of your head all the way to your chin and neck. This is the ideal type of helmet to wear for motorcyclists, both for safety and convenience.
Full-face helmets offer unique safety benefits compared to other types of motorcycle helmets – such as open-face, modular, and half-helmets—that either leave parts of the face and head entirely exposed or do not cover enough of your head to fully protect you in an accident.
The safety benefits of full-face helmets include:
Covers more of your head than any other type of helmet

Offers protection from external factors such as bugs, inclement weather, wind, and more

Built-in face shield

Heavyweight for shock protection
Testing The Safety Of Full Face Helmets
Scientific research tests determine motorcycle helmet standards, and these tests differ depending on the organization responsible for them. There are three main organizations for motorcycle standards:
DOT

(Department of Transportation, United States): Responsible for regulating motorcycle helmets sold in the United States of America for on-road purposes.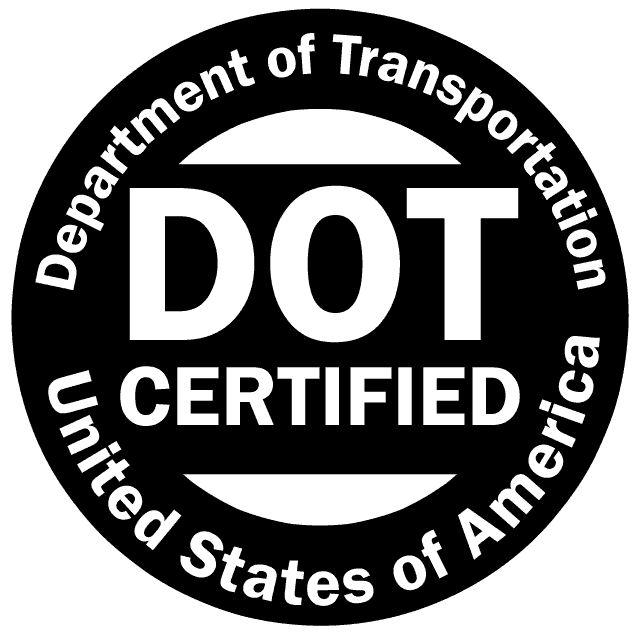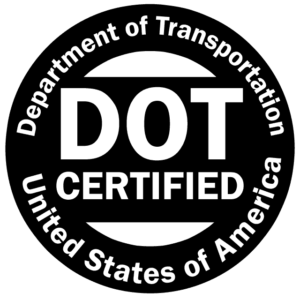 ECE (Economic Commission for Europe, Europe): Responsible for regulating and certifying motorcycle helmets in 47 countries in Europe.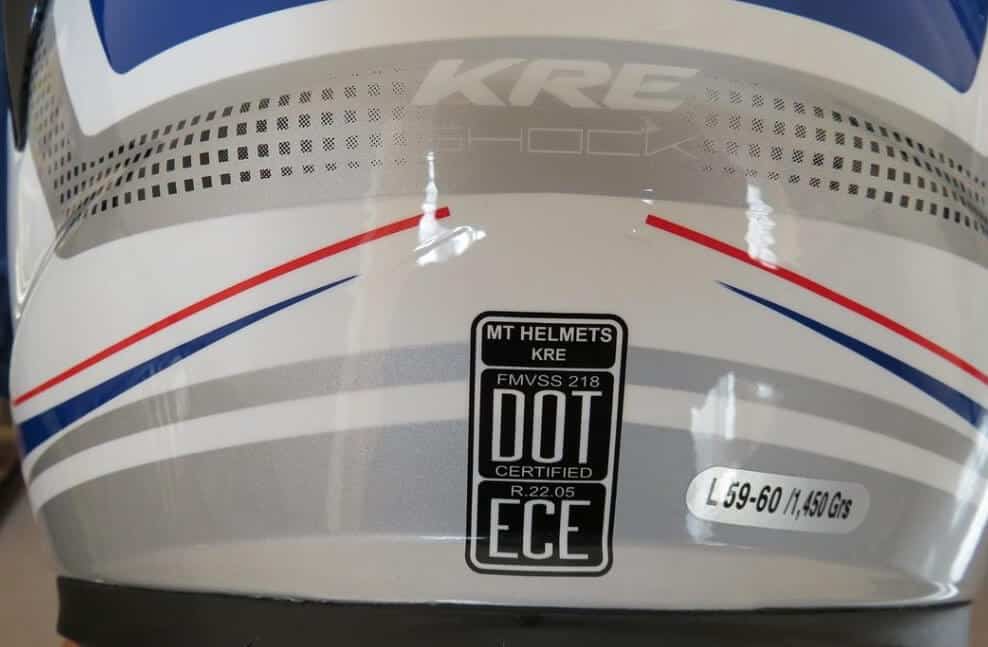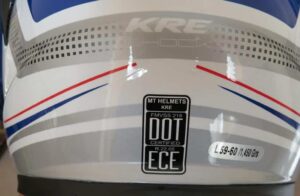 Snell

(Snell Memorial Foundation, Private): Provides additional certifications that go beyond your average government testing procedures for safety.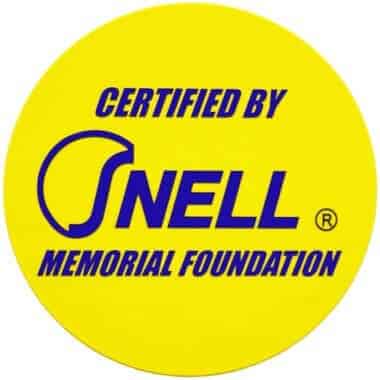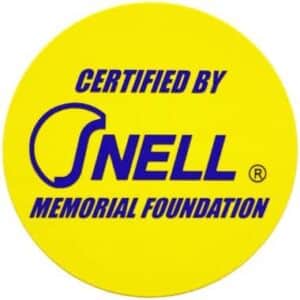 These organizations will do tests on different parts of the helmet to determine whether it passes their safety standard.
Drop tests allow researchers to see how effective a motorcycle is against impact.

The width of view is also tested – researchers make sure it's over a specific degree for visibility purposes.

Chin straps, too, are tested for slipperiness—and so on.
Therefore, depending on where you come from, you'll want to make sure your helmet has an official certification from one or more of these organizations. Double-checking is important, as some sellers do try to bypass standards by using counterfeit certifications.
What Makes Full Face Helmets Safe?
As mentioned above, there are different ways a motorcycle helmet can be measured for safety, depending on the organization responsible for the tests and coming up with standards. Let's look at some of the things they test for and how full-face helmets stack up.
1. Area of Coverage
In the world of motorcycling, the amount of coverage your helmet provides is one of the most important factors in determining the safety of your helmet-especially because motorcyclists with helmets are three times more likely to survive a crash than those who ride without any type of coverage.
To be considered full face, the helmet must cover the entire head, including the base of the skull and chin, to ensure there's nothing left unprotected. That said, a full-face helmet provides the most coverage out of any type of motorcycle helmet out there.
Therefore, full-face helmets are the most effective of all helmets in covering your head for protection.
2. Weight
Full-face helmets are, not surprisingly, the heaviest of motorcycle helmets, as they are the biggest and use the most material.
While this indeed means they are safer than other types of helmets that can be quite light (like half helmets), this can be a deterrent for some motorcyclists, who prefer a lighter feel with increased airflow for comfort while riding.
However, there's good news – you can choose your shell material to affect the weight of your full-face helmet.
You'll want to choose a material that is both lightweight and strong in the face of adversity – carbon fiber and fiberglass are the best choices in this regard, unlike some plastics, which can be low-cost (but will still fit the required standard).
3. Face Shield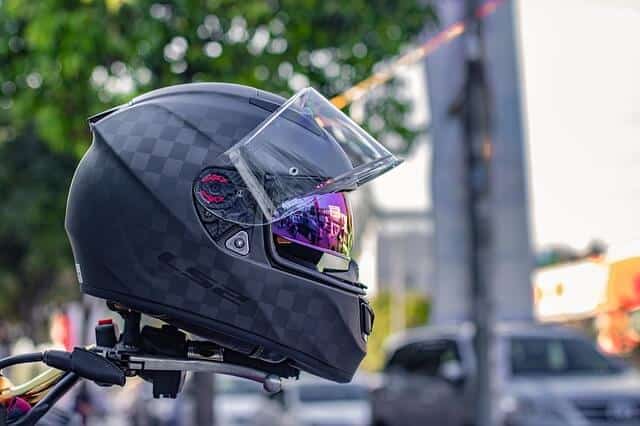 The face shield or the visor is an important part of any motorcycle helmet, as it protects you from particles in the air, wind, bugs, and rocks, and can be an important part of face protection in the event of an accident.
Almost all full-face motorcycle helmets come with a built-in face shield that covers your face all the way down to your chin.
It will be fully attached to the helmet on all sides, offering superior protection compared to other types of helmets – some of which don't include a face shield at all.
4. Overall Protection
Many novice motorcyclists believe that it's only important to cover the skull part of your head with your helmet to prevent concussion or injury to the brain in case of an accident, the smartest choice is to cover it all the way down to your chin and back of your skull to protect every part of your head.
Overall, full-face helmets that pass the criteria listed above can offer this kind of protection to motorcyclists more than other traditional motorcycle helmets.
Final Thoughts
Full-face helmets are largely regarded as the safest type of motorcycle helmet one can purchase. They cover the most area of a rider's head (making sure to include the chin and back of the skull), weigh the most, and include a built-in face shield to protect against rocks, bugs, wind, and more.
Given the importance of helmets in motorcycle safety, every motorcyclist should consider purchasing a full-face helmet to ensure their safety while they ride. Ensure the helmet has an official certification from one of the organizations mentioned above (DOT, ECE, or Snell) to ensure it passes all the necessary safety tests.
About the author:  Michael Parrotte was the Vice President of AGV Helmets America, and a consultant for KBC Helmets, Vemar Helmets, Suomy Helmets, Marushin Helmets, KYT Helmets, and Sparx Helmets. In addition, he is the founder and owner of AGV Sports Group.