(The politically correct version of asking what are the best motorcycles for fat guys)
Many individuals, including motorcyclists, may have concerns about their weight. The good news is that there is an exciting range of motorcycles available specifically designed to accommodate heavier riders, catering to different riding modes. Whether you prefer the heart-pounding speed of a screaming supersport, the agile performance of a sport or naked bike, the versatility of an adventure or dual sport model, the comfort of a sport touring bike, or the ruggedness of a dirt bike, there is a perfect fit for you that handles beautifully even with additional baggage.
A small 300 or 400cc bike will get you moving, but riders with a heavier build (beginner or seasoned) need to start from about 500cc to really feel that gist of power and performance with respect to keeping up with traffic, better handling, and fuel-efficiency. A liter bike and above will make an even easier job of it but has torque demons to tame before its power can be harnessed the right way; shiny side up, and that's why you will see several of them in our list of the best motorcycles for heavy riders:
Suzuki GSX1300R Hayabusa – Best Supersport
Kawasaki Ninja 650 – Best Sport Bike
Suzuki SV650 ABS – Best Naked/Street
Indian Scout Sixty – Best Cruiser
Kawasaki Vulcan S – Best Sport Cruiser
BMW R 1250 GS – Best Adventure
Triumph Tiger Sport 660 – Best Sport Touring
KTM 690 Enduro R – Best Dual Sport
Honda CRF-450R – Best Dirt Bike
Harley Davidson Freewheeler – Best Trike (Three Wheeler)
The Motorcycle Weight Numbers That Matter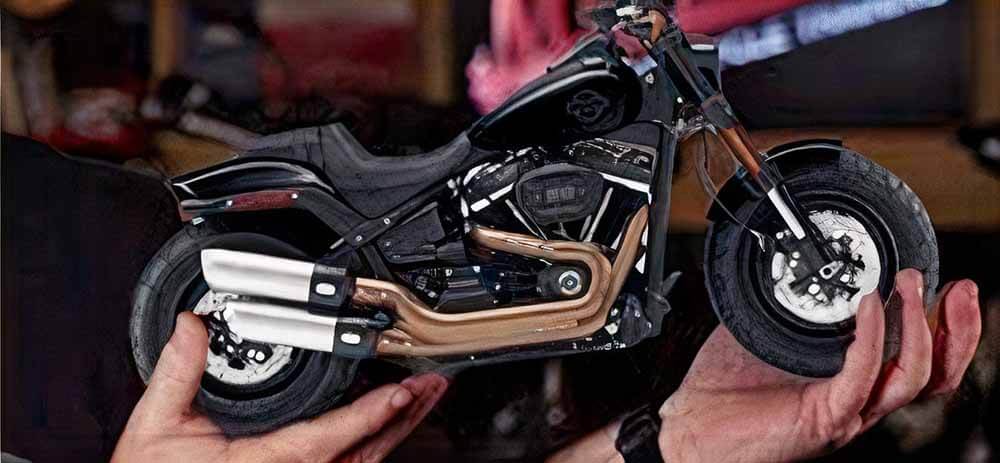 "Fat-proofing" a motorcycle to meet your weight requirements.
First, let's define some terms I believe you should need to know:
Dry/Shipping Weight: The weight of a motorcycle as delivered from the manufacturer without fluids.
Wet Weight/Kerb/Charged/Curb Weight: The weight of a motorcycle when fully fueled and filled with fluids.
Gross Vehicle Weight Rating (GVWR): The maximum load a motorcycle can handle, including rider, luggage, fluids, and gear.
Gross Axle Weight Rating (GAWR): The maximum weight that each axle can safely carry without exceeding its load-bearing capacity. It typically includes separate ratings for the front axle (FR) and the rear axle (RR).
Payload Capacity: The weight capability of a motorcycle, obtained by subtracting the wet weight from the GVWR, including rider, luggage, and gear.
Payload Capacity = GVWR – Wet Weight
What Determines the Maximum Allowable Weight on a Motorcycle?
The weight capacity of an ordinary motorcycle is between 350 and 400 pounds. But what exactly does that imply? Is this to say that you can just go out and purchase any bike and have a good time? Most likely not. Having a motorcycle loaded to its maximum capacity may have a significant impact on control, braking power and wear and tear.
And so, to determine the maximum allowable weight on a motorcycle (GVWR) take into account various factors such as the strength and structural integrity of the frame, suspension, tires, and other components. Most frames will most likely support your weight, being alright on paper and being drivable in real life are two different things. And in case you decide to use custom tires, the numbers will change the weight specifications for your motorcycle. Tires have specific weight ratings at specific pressure.
Pro Tip: Motorcycles with passenger foot pegs are generally suitable for heavier riders, often capable of safely accommodating weights up to 400 pounds. They're designed to handler higher weight limits.
Top 10 10 Motorcycles for Heavy Riders in 2023
Best By Category

Model

GVWR (lbs.)

Wet Weight (lbs.)

Payload Capacity (lbs.)

Seat Height (In.)

Suspension Type

Best Supersport

Suzuki GSX1300R Hayabusa

990

582

408

31.5

Link-Type Gas/Oil Damped

Best Sport Bike

Kawasaki Ninja 650

855

419

436

31.1

Horizontal Back-Link

Best Naked

Suzuki SV650 ABS

870

437

433

30.9

Link-Type Single Shock

Oil Damped

Best Cruiser

Indian Scout Sixty

988

543

445

25.6

Dual Shocks

Best Sport Cruiser

Kawasaki Vulcan S

948.3

498.3

450

27.8

Offset Laydown Single-Shock

Best Adventure

BMW R 1250 GS

1,001

525

476

33.5

Single-Sided Swing Arm with BMW Motorrad Paralever

Best Sport Touring

Triumph Tiger Sport 660

863

455

408

32.9

Showa Monoshock RSU

Best Dual Sport

KTM 690 Enduro R

764

340

424

35.8

WP XPLOR with Pro-Lever Linkage

Best Dirt Bike

Honda CRF450R

701

272

429

38

Pro-Link System

Best Trike

Harley Davidson Freewheeler

1,619

1,118

501

27.6

Hand-Adjustable Emulsion
Having ridden motorcycles for 40 years, I can provide valuable insights and help you learn more about specific models. With my expertise, I aim to assist you in making the best possible decision. Here are my top recommendations along with their evaluations:
1. Suzuki GSX1300R Hayabusa: Best Supersport
Price: $18,599
GVWR: 990 lbs.
Wet Weight: 582 lbs.
Payload Capacity: 408 lbs.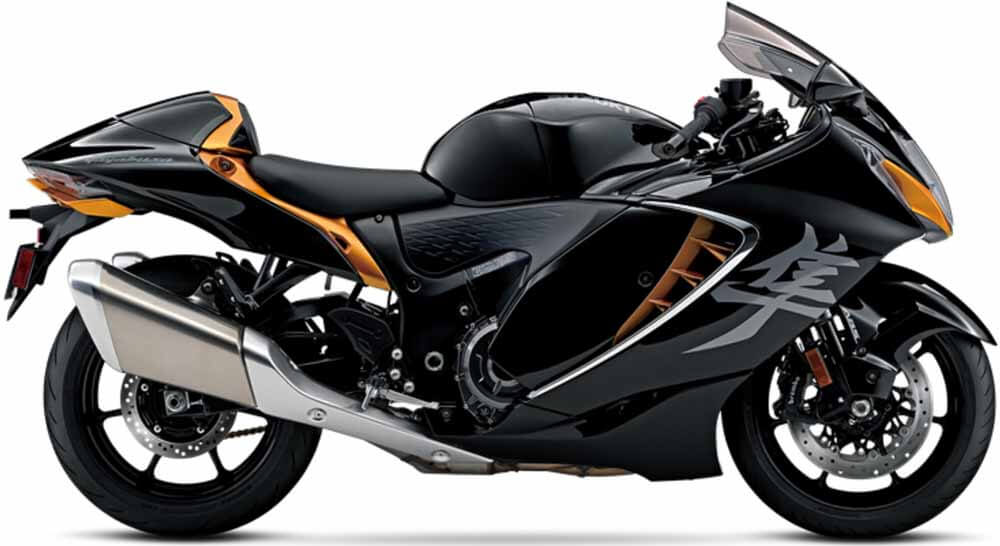 The 2023 Metallic Matte Black No.2 & Glass Sparkle Black Suzuki GSX1300R Hayabusa, featuring a few color differences compared to the 2022 Glass Sparkle Black & Candy Burnt Gold.
Higher displacement (1,000cc or greater) is recommended for heavier riders. And the fully re-engineered 1,340cc Suzuki Hayabusa, billed as the Aston Martin of motorcycles, is overly qualified, conveniently weighs a whopping 586 lbs., and will still feel nimble; unaffected by any extra baggage. While power is not a concern for bikes like Busa, weight does affect the gist of performance for the engine and braking department.
There are only a few bikes under the supersport category that can match the power and weight of the GSX1300R or its extremely roomy feel. In fact, modern superbikes are oriented towards lighter builds for impressive power-to-weight ratios for performance. Other liter plus superbikes with suspensions suitable for heavier riders include the Kawasaki ZX-14R ABS, and without forgetting, the Bavarian BMW S1000RR.
In truth, these machines are angry torque monsters that must be tamed with skill, or they will bite the heads off. If you are a beginner rider you might want to consider the race homologation Kawasaki Ninja ZX-6R, limited Yamaha YZF-R7 (OW-O2), or Honda CBR600RR for some reliable power that is slightly less intimidating. Despite its light weight of 425.6 pounds, the Ninja ZX-6R features a remarkable engine that can locate power across the rpm band and has a smoother torque surge than the Honda CBR600RR and YZF-R7.
You May Also Like: How to Handle a Heavy Motorcycle
2. Kawasaki Ninja 650: Best Sport Bike
Price: $8,099 (NON-ABS); $8,499 (ABS)
GVWR: 851 lbs.
Wet Weight: 423 lbs.
Payload Capacity: 428 lbs.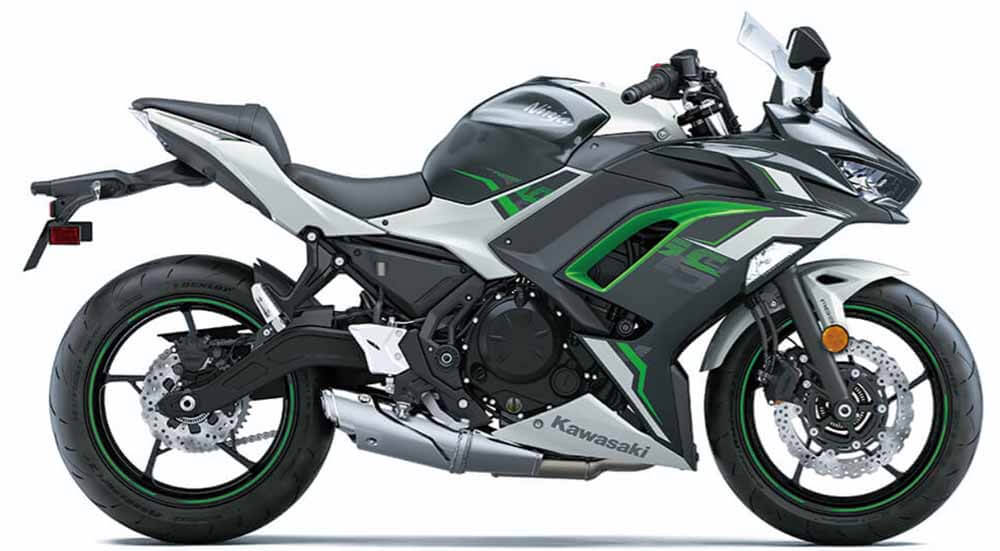 The 2023 Pearl Robotic White/Metallic Matte Flat Raw Graystone/Ebony, a captivating color combination that sets it apart from its 2022 counterpart, the Pearl Robotic White/Metallic Carbon Gray Kawasaki Ninja 650. Nothing short of legendary!
The green monsters have been taking the lead in developing sturdy and sportier motorcycles for taller and consequently heavier riders. Specifically, the 650 weighs almost as much as the ZX-6R but pumps half the juice.
In practice, this Ninja is a jack of all trades that offers performances and can be ridden upright for longer sports tours. They have nice linear torque curves and make much more comfortable rides for longer distances with less back, wrist, and leg pain
Unlike liter bikes, the 650s and thereabouts are more learner friendly as they only deliver about half the power. Another comparable bike would be the Suzuki GSX-R 600. But if you feel like your buddy's GSX-R 600 is too meek for you, then you can consider the GSX-R 1000.
3. Suzuki SV650 ABS: Best Naked/Street
Price: $7,749
GVWR: 870 lbs.
Wet Weight: 437 lbs.
Payload Capacity: 433 lbs.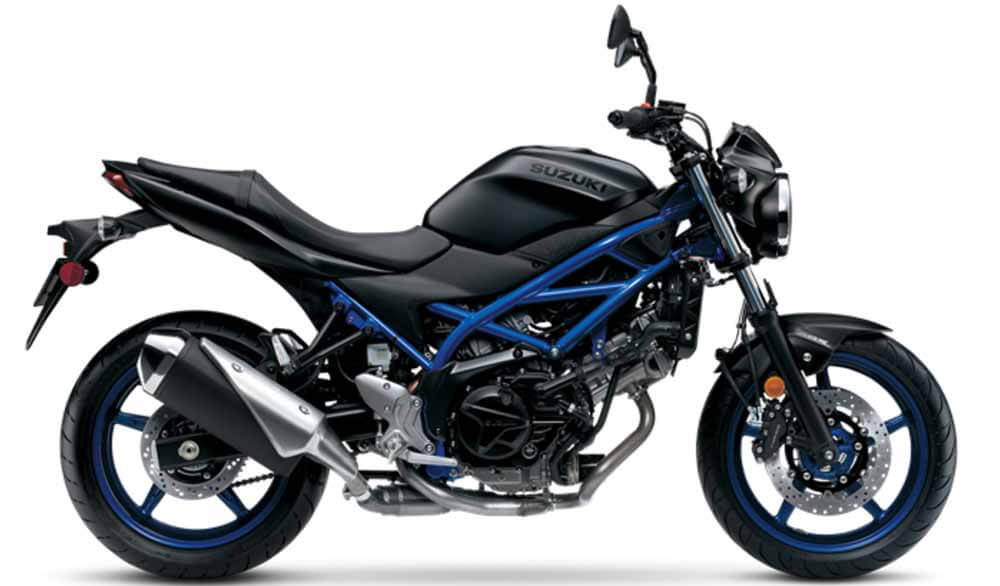 The 2023 SV650 ABS in a stunning Metallic Reflective Blue, featuring a striking bodywork that is beautifully enhanced by a dark-gold metallic coating on the frame and wheels, making it distinct from its 2022 counterpart, the Metallic Matte Black Suzuki SV650 ABS.
The Suzuki SV650 ABS has been a perennial best-seller bike for good reason. It has tenable power and has beginner rider DNA written all over its innermost components. It is as smooth as the smaller faired sport bikes with no angry torque devils in its bowels.
Make no mistake, the SV650 ABS is still a torquey little monster that can make decent acceleration despite the aerodynamic shortfalls. The seat height is just 785mm (30.9 inches) and is the lowest in the 600–800cc street bike class.
The SV650 is not alone in this category of capable naked bikes; you can add Honda CB500F, Bajaj Dominar 400, Yamaha FZ1, and the Triumph Bonneville T120 to this list. With the requisite skill, the Ducati Monster 1200S or the 821 Stealth would make a great upgrade for heavier riders too.
If you would like to be a bit more unique with a retro vibe to your ride when touring cities, you can try the Royal Enfield Classic 350. It might not give you much in the way of electronic rider aids, but it's a worthy trade-off for raw untamed power and indestructible construction.
4. Indian Scout Sixty: Best Cruiser
Price: $11,749
GVWR: 988 lbs.
Wet Weight: 543 lbs.
Payload Capacity: 445 lbs.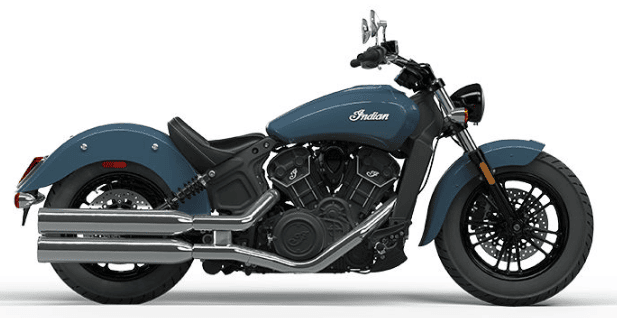 The 2023 Storm Blue Indian Scout Sixty (ABS).
Let's be clear right off the bat: This isn't just a terrific starting bike for larger riders; it's a wonderful starter bike for most riders. It has always been one of the top suggestions for a novice rider to learn, and that legacy continues for the 2023 model year with only a few minor changes. First, we can all agree the Indian is a gorgeous built motorcycle, arguably one of the most beautiful, neat bikes ever built.
The torque curve of the Scout is mild but nevertheless grunty, with no unexpected torque spikes. It also has enough power to get you moving despite the shortcomings of a naked bike's aerodynamics, such as the lack of a cowling or wind protector, to help it cut through the air. Combine that power and torque with an easy-to-ride chassis that provides plenty of input.
The Indian Scout Sixty is a great way to get started in the luxury cruiser market. It has a 1,000cc V-Twin engine, but it only produces 78hp and 65 lb.-ft. of torque, making it a beginner-friendly motorcycle. What's more, it can carry a whopping 992 lbs. without a squeak! If these figures frighten you, bear in mind that this bike weighs roughly 544 lbs. when fully charged, which is mid-weight in the larger cruiser market. It also has a low 649mm seat height, making it easy for most riders to get both feet on the ground.
An alternative to this motorcycle is the 2023 Kawasaki Vulcan 900, which is available in three different outfits: The naked, raw 900 Classic (which is a city cruiser down to the detail), a 900 Custom (which is a Japanese manufacturer's rendition of American custom motorcycle flair), as well as the 900 Classic LT, which is built for longer distance touring featuring studded seats and pillion cushion.
Others to consider are the Indian Scout Bobber, Triumph Bonneville Bobber, Honda Shadow Phantom, Harley Ultra Classic, Victory Vision, BMW R 18, and Harley-Davidson Iron 883.
You May Also Like: Tips for Riding Heavy Motorcycles
5. Kawasaki Vulcan S: Best Sport Cruiser
Price: $7,449 (NON-ABS); $7,849 (ABS)
GVWR: 948 lbs.
Wet Weight: 498 lbs.
Payload Capacity: 450 lbs.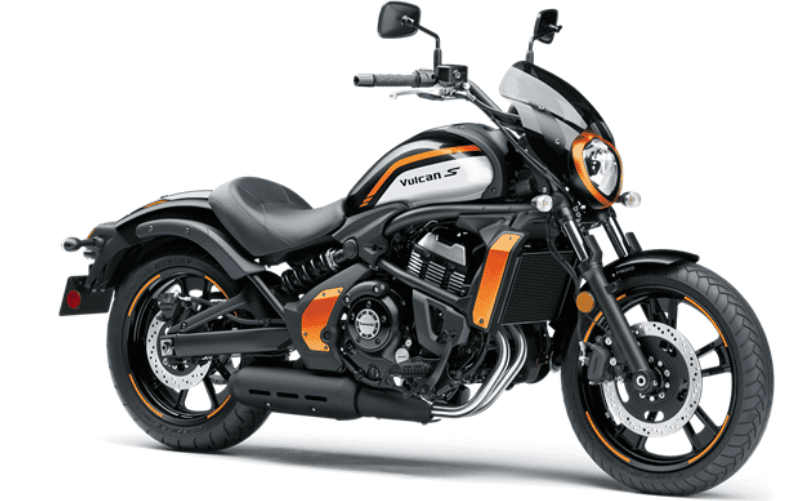 The 2023 Kawasaki Vulcan® S in Pearl Matte Sage Green/Metallic Flat Spark Black. Bold by Design!
The Vulcan S makes for a unique cruiser that sets itself apart from the crowd thanks to its ERGO-FIT® feature that allows you to adjust the handlers, footpegs, and seat to fit your height and reach. It also has this narrow frame design that is incredibly sturdy and offers ample leg room for heavier riders. The suspension and controls layout are ideal for long-distance cruises, and the V-twin engine makes a nostalgic tumble and grunt throughout a long journey.
The designers of this stylish motorcycle include a line of beauty from the front to back through the frame, rear shock, and rear hub. This bike might be slightly skinnier than other cruisers, but it incorporates a very rigid construction with high-tensile strength steel parts. Additionally, its low seat height of 755mm makes it easier for riders to contend with the long wheelbase of 1,575 mm.
If you are looking for a gist of performance in a cruiser, then you will find value in the likes of the Triumph Rocket 3 packing a 2,500cc inline 3-cylinder, water-cooled, DOHC motor. The all-new triumph triple has the largest production motorcycle engine the world over. Other bikes that belong to a select cohort of cruisers that come with impressive numbers for riders who like to break the rules responsibly include the beginner-friendly Honda Rebel 500, Harley Davidson Street 750, Harley-Davidson Fat Bob 114, and Harley-Davidson Sportster S.
6. BMW R 1250 GS: Best Adventure
Price: $17,995
GVWR: 1,001 lbs.
Wet Weight: 525 lbs.
Payload Capacity: 476 lbs.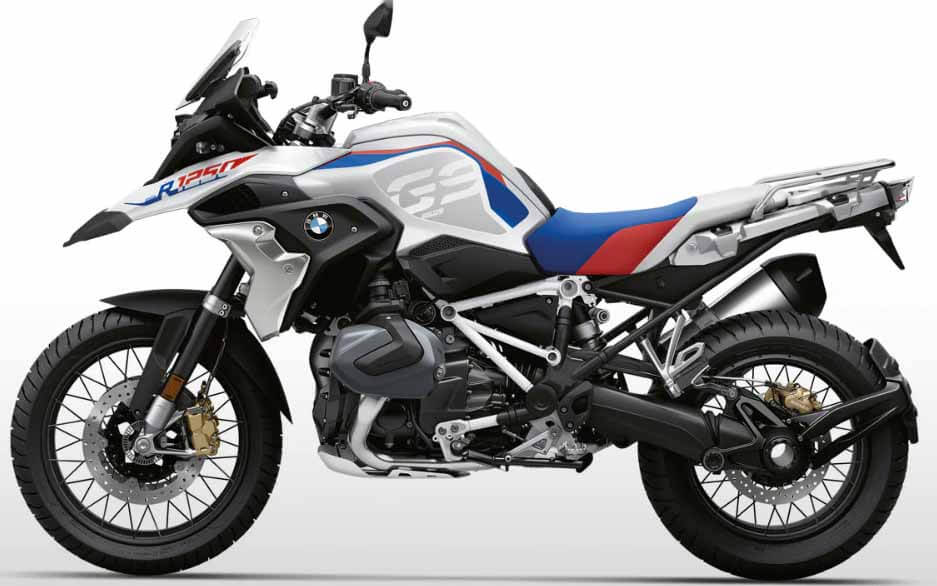 The 2023 Style Rallye BMW R 1250 Adventure. The experience – purely GS style – is purely you.
The more things change, the more they remain the same. The Bavarians always seem to steal the show when it comes to adventure bikes. Perhaps the sophistication of German engineering is useful for this segment after all. They seem to think of everything from stiffer adaptive suspension with electrical tuning and variable spring rates to ABS to cornering lights and shaft final drive.
A decent 134 hp with sufficient low-end torque allows the R 1250 GS to chug on hill climbs at near idle, which means lower speed and less risk of falling for riders. The feature that makes the R 1200 GS especially suitable for heavier guys and gals is the Telelever that isolates the braking and steering forces, which means that your weight and that of your cargo or pillion have a diminished effect on its handling.
The push-button damping control that comes with the Electronic Suspension Adjustment is a wise decision if you are on the heavier side of the rider's scale and often feel like you need two sets of suspension to navigate curvy and dippy terrain versus racing sport bikes on the weekends with the SPORT mode. It is like having three different sets of chassis that you can switch on the go.
There is a similar upcoming higher-trim bike by BMW named the R 1250 GSA. The primary upgrades are seat height, suspension travel, fuel capacity, and wind protection from the larger fairings and visors.
BMW will be dominating this category as is to be expected, but there are new and formidable faces like the Yamaha Super Tenere ES with a lineage of performance and reliability backing their bid. KTM also throws down the gauntlet with their beast the KTM 1290 Super Adventure R for those who like to zoom into the adventure. 
Other notable bikes include the Honda Africa Twin, which is made to compete with the GS family, notably the smaller bikes like F 650, F 800, and F 700 GS; a task that it takes on with ease.
7. Triumph Tiger Sport 660: Best Sport Touring
Price: $9,495
GVWR: 863 lbs.
Wet Weight: 455 lbs.
Payload Capacity: 408 lbs.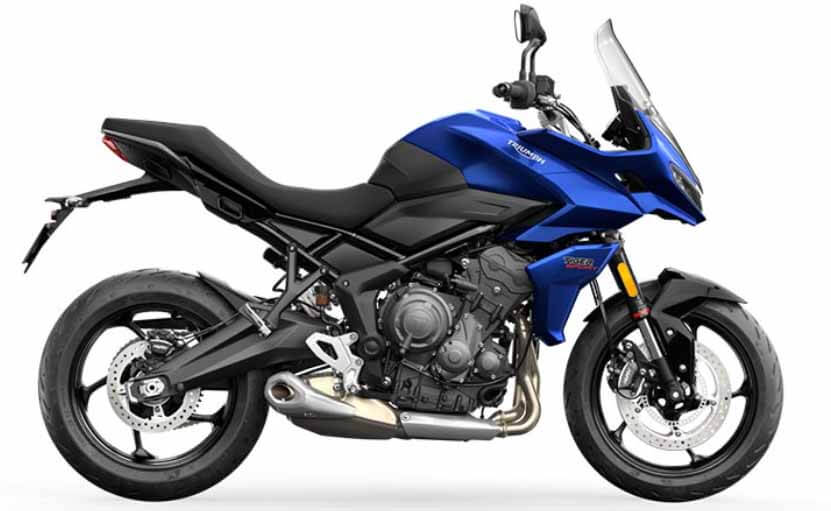 The 2023 Triumph Tiger Sport 660. Triple-powered versatility.
Triumph's model lineup for 2023 includes the Tiger Sport 660, which is a brand-new triple-powered urban adventurer. It joins the British manufacturers recently announced 660 platforms, and it appears that the company is trying to fill a gap in its lineup with a touring-oriented mid-weight motorcycle.
Triumph classifies the bike as an 'Adventure' model, but with its 17-inch alloy wheels and even despite the low ground clearance (too low for off-road riding) it still shines on the asphalt.
With 80 horsepower and 47 pound-feet of torque from its sweet-sounding inline triple, the Tiger Sport 660 is a delight to ride. It'll get you up to speed immediately, and you'll be able to go further with a 4.5-gallon gasoline tank and a number of storage options. This mill takes on asphalt with an attitude and gives the rider the feedback of a sports bike with the ergonomics of an ADV.
It does lack features like cruise control as do other sport tourers, but this machine offers a comfortable riding posture and versatile performance with a stiff suspension that can deal with a bigger load. With the higher ground clearance, your pegs will be scraping the pavement later and you should be able to enjoy twisties in an upright position and take in the views.
We can pitch this thriller up against several bikes like the incredible Suzuki V-Strom 650XT, which is famous for its versatility and reliability with tubeless spoked wheel rims. Other notable contenders include THE Kawasaki Concours 14 ABS, BMW R 1200 RT, Triumph Tiger 800 XRx, 2023 Gold Wing Tour Airbag Automatic DCT, Honda NC700X, KTM Duke 390, and Honda Cross Tourer.
8. KTM 690 Enduro R: Best Dual Sport
Price: $12,499
GVWR: 764 lbs.
Wet Weight: 340 lbs.
Payload Capacity: 424 lbs.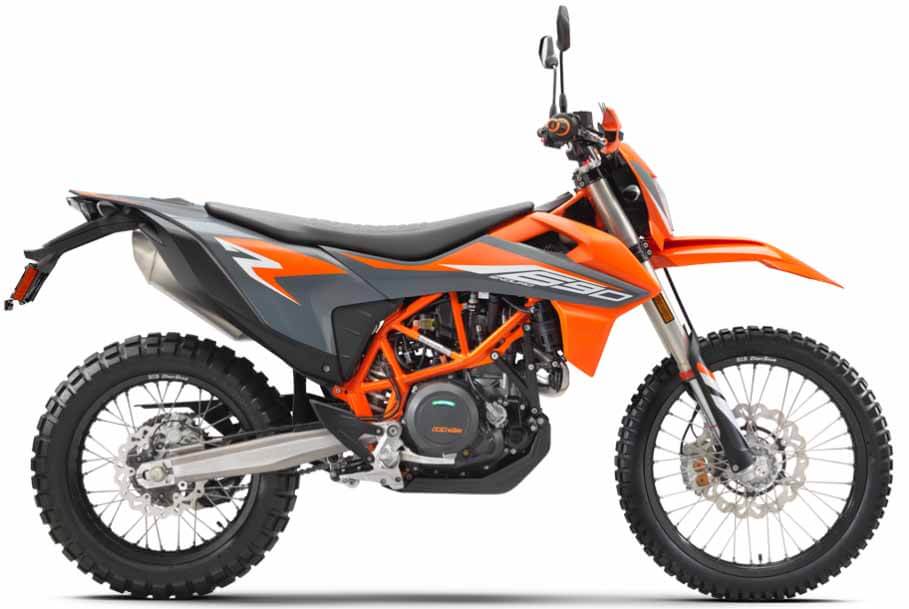 The 2023 KTM 690 Enduro R. Ace of all surfaces.
If you like to hit goat trails on the weekends, then you will find the KTM 690 Enduro R an indefatigable companion. From the knobby tires that can make an easy job of any trail and perform on twisties on the super slab in conjunction with the steel trellis frame (a total work of art) and the fork and aluminum swingarm.
This motor is a SOHC four-valve that can churn out 47.2 lb.-ft. of torque at 6,000 rpm and 62 hp at 7,500 RPM. The bike comes with a surprisingly comfy seat whose ergo works for the vibration ebbs while flowing with the engine's grunt.
Being a little heavier does not mean you can't exude confidence on the trails. Don't let the lean build and dirt-first demeanor fool you, this bike is quite capable of taking you off the couch and onto the exciting trails.
KTM 690 Enduro R is a great motorcycle, but it is not alone in this category. There are legends like the acclaimed unkillable Kawasaki KLR 650, Honda XRL650, Suzuki Z400S, and Yamaha WR450F to keep it company. All of these are extremely reliable bikes with impressive torque and off-road characteristics without going hardcore adventure through and through.
9. Honda CRF450R: Best Dirt Bike
Price: $9,599
GVWR: 701 lbs.
Wet Weight: 272 lbs.
Payload Capacity: 429 lbs.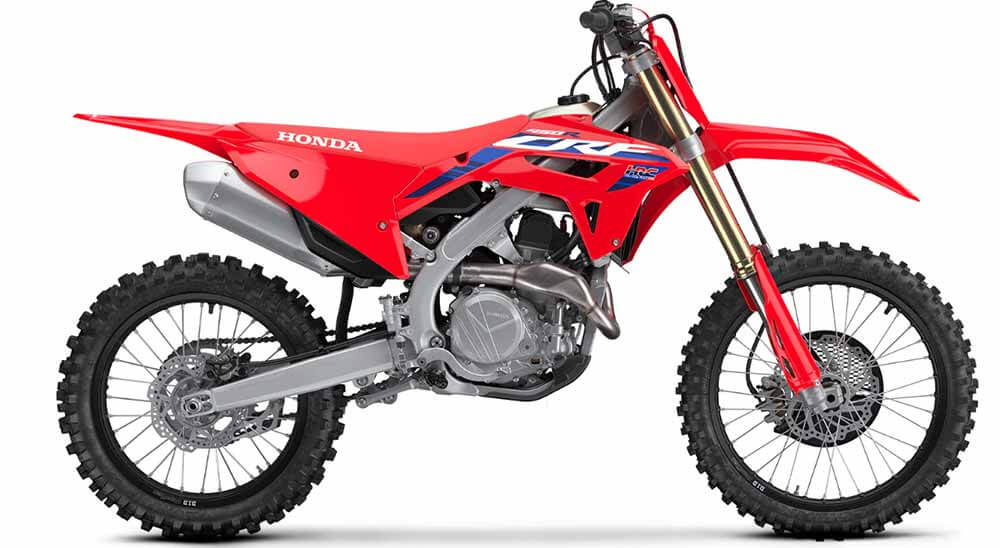 The 2023 Red Honda CRF450R.
Some things never change, like how light and agile the CRF450R feels. The frame alone is half a pound lighter than it was last year. A revised frame design has thinner spars, which saves an additional pound and a half. With a strong blood-red livery, new chassis and mounting points complement the appearance.
The suspension improvements include a new layout intended at improving traction by concentrating mass and lowering the center of gravity, as well as fresh lighter sixth-generation twin-spar chassis with updated geometry targeted at improving cornering performance by lowering torsional rigidity (lateral stiffness is unchanged).
In 2023, Honda is launching three new mills to conquer the tracks namely, CRF450R, CRF450RWE, and the limited edition 450R trim. You can expect a better breathing engine with boosted low to mid-range torque, taller gearing, a stronger muffler, and better stability with optimal suspension.
Other bikes to consider for this category would be the Suzuki RM-Z450, Husqvarna FC450, and KTM 350 EXC-F.
10. Harley Davidson Freewheeler: Best Trike
Price: $28,499
GVWR: 1,619 lbs.
Wet Weight: 1,118 lbs.
Payload Capacity: 501 lbs.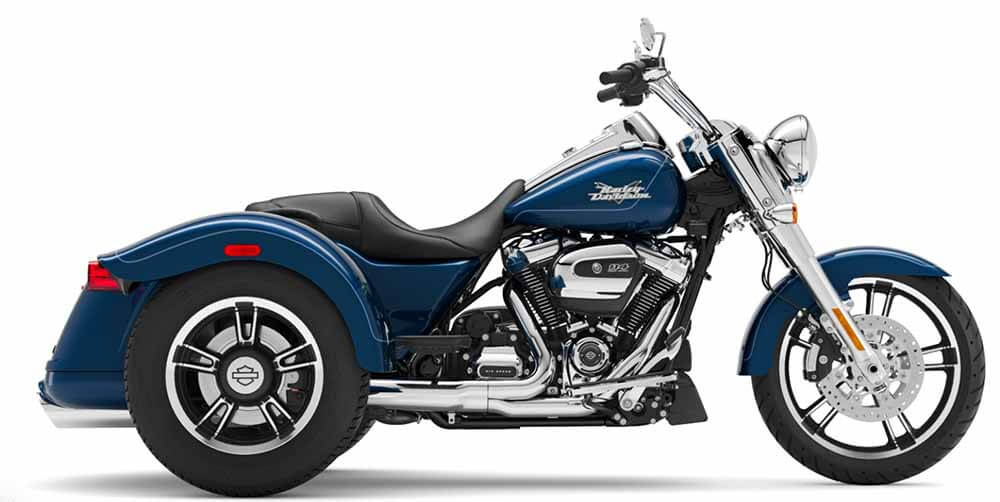 The 2023 Reef Blue Harley Davidson Freewheeler.
While conventional Harley-Davidson models will always have a following, this three-wheeler has grown in popularity in recent years. The Harley-Davidson Freewheeler, often known as the Trike, has various advantages over regular motorcycles, including enhanced stability and the novelty of riding a three-wheeled motorcycle.
In 2015, Harley-Davidson released the Freewheeler. It was, and in 2023 continues to be, the solution to potential trike buyers' pleas for a smaller, less daunting alternative to the Tri Glide. A 2023 Can-Am Spyder RT or RT Limited, as well as the trike choices from Boss Hoss Cycles, would be the Freewheelers competitors if you want the steadiness of three wheels. The Piaggio MP3 500 is also a worthy contender for this category of riding as is the out-of-this-world Yamaha NIKEN.
Impact of Being a Heavier Built Rider on Motorcycle Performance and Maintenance
If you weigh more than 500 pounds, opt for a motorcycle with the highest possible weight capacity and then remove any unneeded components. Remove the bags, and replace the batteries, seat, and exhaust with a lighter version. Keep in mind that each pound you remove from the bike increases the amount of weight it can carry.
Being a heavier-built rider will impact how you use your motorcycle for the following:
Stopping Power: The closer a vehicle gets to its max weight the more inertia it has to stop when you're moving down the road. This can be alleviated by updating the brakes, giving yourself extra space, and learning to downshift.
Acceleration: Similar issue: The more you weigh, the more difficult it will be to lose weight. This is one of the main reasons why many fat riders choose a cruiser with a lot of low-end torque to make it easier to get going off the line.
Handling: For the average rider, the larger and more top-heavy your motorcycle is, the worse the handling will be. When you combine this with suspension that is at or near its maximum capacity, your bike becomes a real handful. Many bikes may be equipped with firmer springs to accommodate a heavier rider.
Overall Wear & Tear: Your bike's "wear and tear" components will almost certainly need to be changed far more frequently than the ordinary bike's. Brakes, tires, transmission fluid, clutch, seat/seat foam, and other components are included.
That Said…. Can You Adjust the Suspension to Meet Your Weight Needs?
Some motorcycles have adjustable suspension, so you could firm it up to fit your weight without having to replace any parts. However, you'd still be using the OEM spring rates. To put it another way, it's still not perfect.
Yes, increasing the front and rear preload stiffens the suspension by compressing the springs before they are put to use. The engine will suffice; there are dozens of huge people in Maryland who ride 125cc scooters.
The suspension would worry me more than the engine displacement. You should probably look into upgrading your suspension right immediately. Once you've received your bike, take it to a suspension expert for assistance.
How to Increase the Weight Capacity of Your Motorcycle
If your motorcycle's carrying capacity is near or at its maximum, there are a few things you should do right immediately to make it safer.
Re-Invent the Wheel: The first step is to find a tire that is rated for your weight capability. A tire like the Dunlop E4 is a fantastic place to start looking. The rear tire is rated for 992 pounds, while the front tire is rated at 600 pounds. If your tire blows out on the road and causes an accident, you will be held accountable.
Stiffer Shocks: Aside from tires, check sure your suspension is up to code. When your suspension is too soft, your bike will bottom out and slop all over the road. It's more probable that upgrading to a stiffer/race suspension will provide you with the support you require.
Go Dark? Careful! While some enthusiasts go as far as to mount a vehicle tire on the rear of their motorcycle, I would not encourage it. Simply go to your dealer, explain your circumstances, and ask for assistance in selecting both a front and rear tire.
Distribute the Weight: Don't make the mistake of only modifying the rear shock and tire. While it doesn't support much of your weight while traveling, braking moves a large amount of weight to the front fork and tire. So, to be safe, replace both!
Final Thoughts on Best Motorcycles for Heavy Riders
Isn't it true that if you're a huge obese person and get on a motorcycle, it'll just give up the ghost and die? Well, perhaps. But it's far more likely that as the excess grows, it just gets less safe and entertaining.
Finding a motorbike for big and heavy guys is ultimately a matter of finding something that works on paper, visiting a dealership to check if the ergonomics are right for you, switching tires, and practicing. Don't let the difficulties deter you; there are motorcycles for large people out there, and the freedom on the road is well worth it.
Information for this article was partially sourced and researched from the following authoritative Government, educational, corporate, and nonprofit organizations:
FM/A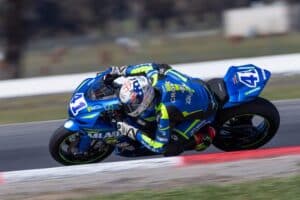 I've diligently categorized my motorcycle gear recommendations into all available categories, with the aim of providing you with a comprehensive analysis that showcases the absolute best options for all your needs. These items are the culmination of in-depth research, extensive testing, and personal use throughout my vast experience of 50+ years in the world of motorcycling. Besides being a passionate rider, I've held leadership positions and offered consultancy services to reputable companies in over 25 countries worldwide. To See Our Top Picks and the Best Prices & Places to Buy: Click Here!