Every hardcore gearhead learns the ropes on the small-displacement, easy-to-ride motorcycle. And nothing, on the new 2023 Yamaha lineup, says "approachable" like the Yamaha V-Star 250 if you are also looking to keep up with the highway pace. Few entry-level bikes will keep their wits at highway speed, and this bike leads the pack. Forget the legal lower limit, the reality on that freeway is harsh and unforgiving.
Many riders have had to kick that whiny little beginner motorcycle to the curb and get a midsized widow-making 650cc torque monster. But if you have already ridden this grunty little beast, you just know, it begs to be ridden fast. Enough to make you wonder — Is the Yamaha V Star 250 good for highways?
Yes! The born-for-fun Yamaha V Star 250 (249cc technically) is surprisingly stable at highway speeds thanks to the low seat height of 27 inches (a full 2 inches less than the Kawasaki Ninja 250) contributing to a lowered center of gravity and the long-ish wheelbase of 58.7 inches. It tops out at 85 mph and has decent acceleration for American Highway speeds, that's just a few of the things we know. So, let's dissect its core to seek out some of that sport cruiser DNA!
2023 Yamaha V Star 250's V-Twin Cruiser Heritage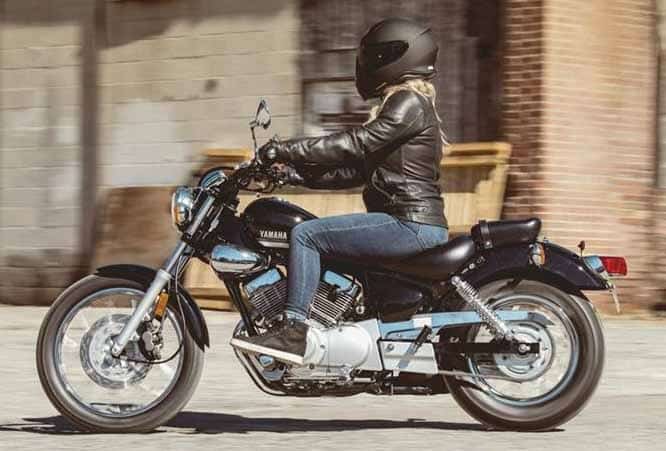 A Yamaha V-twin cruiser XV750 or Virago 750, Yamaha's initial foray into the American V-twin cruiser market, produced between 1981 and 1983 and between 1988 and 1998 as a cruiser in Yamaha's Virago series which paved the way for the V Star series.
The joke goes that if you were digging for dirt on the Yamaha V Star 250 you would come to the inevitable conclusion that it's currently in witness protection!
The journey began with the 1981 Virago 750, which was the first Japanese-made V-twin to rock American roads. It was Yammie's first cruiser before they had a division for cruisers. At the end of the decade and the height of consumerism came another iteration of the smaller displacement V-twins was called the Yamaha Virago VX250. Years later, Star Motorcycles was conceived and birthed at Yamaha to target the U.S. cruiser market.
The 2008 Virago 250 was renamed V Star 250 as Star Motorcycle had moved out of its parent's house but still relied on Yamaha for production and distribution. The bike has seen very minimal touches of love since 2012. V-Stars are still designed in the U.S. and made in Japan.
Features that Make the Yamaha V Star 250 Good for Highways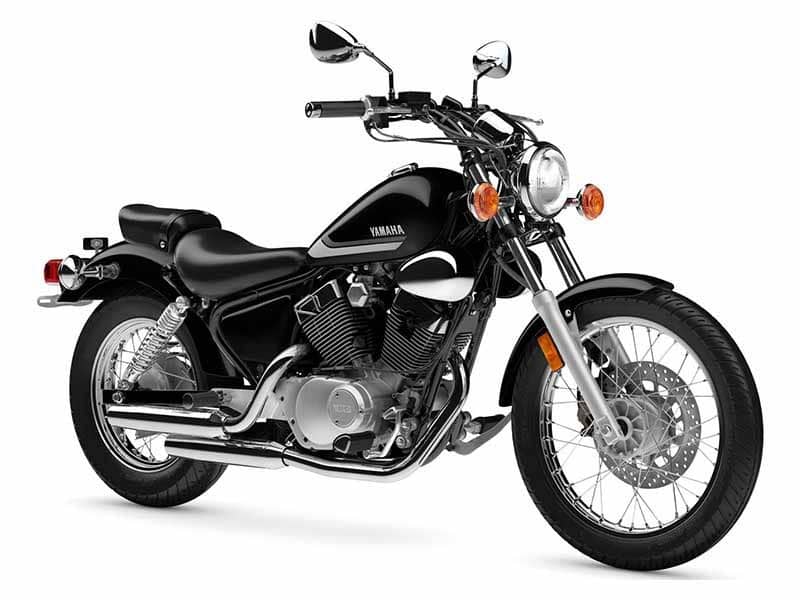 Considering its Sport Cruiser heritage, it's no surprise then that the little bike is highway legal in all 50 states and still retains those killer looks of innocence.
For the love of Torquay V-twins, Yamaha decided to retain the V Star 250 with its classic cruiser good looks, and trusty old carburetor for the perfect stoichiometric air-to-fuel ratio. The widely gear, 5-speed, is a thriller to bang through when riding aggressively on some rural road, but I digress. Other than the wide usable and smooth power band, what makes this bike suitable for the highway?
It's a Small Displacement Bike with Larger-Than-life Road Presence
So, you thought such a small displacement bike would get bullied on the highway for being out of breath and stability issues with swift lane changing and brake checking. You thought wrong! This little rockstar comes with a whiny air-cooled SOHC 60-degree 249cc V-twin engine that churns out 15.2 foot-pounds of torque on its best breath. The number of ponies that whinny with every puff of the trusty carburetor is left to your imagination. That's right, the Yamaha V-Star 250 is not fuel injected; it's the only carbureted bike on Yamaha's 2023 lineup.
The air-cooled SOHC 60-degree V-twin engine with a long 66mm stroke builds power evenly and smoothly, which is what makes it so great for rookies, but experienced riders will love winding the throttle all the way open and aggressively clicking through the widely geared 5-speed transmission. Yamaha claims it has no competition, and yes, the sound is to die for, but what else makes this little Torquay beast suitable for the highway?
Gives You More Miles Per Gallon on the Freeway
With a 250cc engine that offers a scooter-like fuel economy rating at 78 mpg (estimated**), the V Star 250 is a good entry-level bike and a contender for your selection of an economically sensible cruiser. And certainly, highways offer higher fuel efficiency than city streets — typically roughly three to five miles more on the highway where you camp on higher gears, which provides the most travel per crankshaft rotation. In contrast, the vehicle still needs to accelerate through the various ratios in town, using up more fuel in the process.
The Long-Stroke Engine Gives Adequate Low RPM Torque to Get You Off the Line Quickly
Raw monster power is what comes to mind when we ponder over the long 66 mm stroke. The wide-geared transmission provides you with a higher peak speed at lower RPM on the interstate, but you'll have to really crank it up to get up there.
Admittedly, to keep up with highway speeds, the V-Star will work in the higher RPM band (not ideal), but this is necessary to overcome drag and other losses. Among professionals, there is a growing enthusiasm for riding small bikes fast, just being able to open the throttle wide open and let her stretch those legs.
Yamaha V Star 250 Chassis Lends the Motorcycle Its Strength and Ability to Handle Well
The V Star's suspension is nimble in curves, supple, and low-speed maneuverable. It's well suited for the starter-bike market — even shorter guys can flat foot thanks to its short stature. The rear features twin shocks with 3.9 inches of travel each and variable spring preload (nothing fancy but sufficient to float your butt over bumps). Telescopic forks with 5.5 inches of travel manage the front suspension.
The 282mm single front disc and rear drum brakes come into play when you get brake checked on the freeway. Again, just enough and nothing more. When you consider the archaic element the small bike adds to the scene, it's actually not surprising. Even though drum brakes are so archaic, they seem to work OK for these low-tech machines that date back to earlier eras.
Low Center of Mass Gives V-Star 250 Better Stability at Highway Speeds
The V Star 250's low center of gravity makes it quick in the corners and nimble at parking lot speeds. With wire-spoke wheels up front and back, you'll also look stylish. This deliberate design feature combined with the long wheelbase of 58.7 inches plants the V-Star firmly on the asphalt whether you are stopping or going.
What Is Not So Great About Riding the V-Star 250 at Top Speed?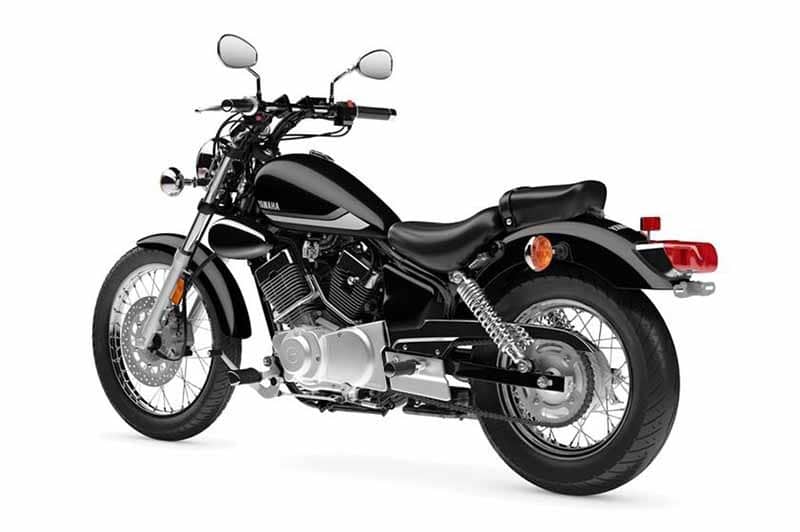 The V Star 250 confidence-inspiring, the simple-to-ride platform for beginning riders, and the low seat height of 27 inches (a full 2 inches less than the Kawasaki Ninja 250) have a lot to do with the fact that this bike was clearly designed for highway cruising with shorter and female riders in mind.
At 85 mph, the footpegs and handlebars do experience some vibration, which is transferred into the mirrors and causes everything in the rearview to become hazy. Only after several hours on the highway will the vibrations get bothersome, but anyone who rides a 250 for hours on the highway is certainly tough enough to take a little discomfort.
Additional Features
Open Riding Position: The V Star 250 has an unique handlebar that gives it a contemporary appearance and a comfortable riding position.
Big Bike Style: The engine and exterior covers are accented with many chrome elements for a classy "big bike" feel and finish.
Generous Fuel Range: A 2.5-gallon gasoline tank with a sleek teardrop shape provides exceptional cruising range.
Forward Mount Controls: The foot pegs are placed forward to improve rider comfort and provide more legroom.
Stylish Fenders: The front and rear wire-spoked rims and wide rear fender give this fashionable ensemble the ideal vintage, nostalgic touch.
For those who wish to convert this pup cruiser into a commuter, Star Motorcycles' accessories section sells a backrest, saddlebags, and a little windscreen.
What We Like About Yamaha V Star 250:
Great looks and sound

Scooter-like fuel economy

Low seat height is ideal for women and shorter dudes
What We Dislike About Yamaha V Star 250:
Windy rides and passing trucks are not kind on the lightweight bike

Stock mirrors are hazy on the highway

Steep price offering

Not comfortable with a pillion

Hardly ever changed over the last 20 years
Is the Yamaha V Star 250 Worth It?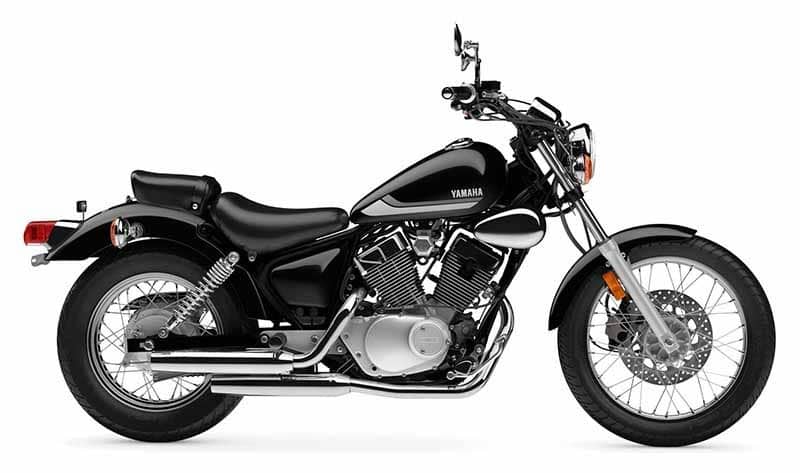 The 2023 Yamaha V Star 250 is one of the priciest entry-level bikes in the 250cc class at $4,699, up $100 from the 2022 model. It is less expensive than the Honda Rebel 300 ($4,999) and Suzuki TU250X ($4,670), but not by much since 2014. The 2023 version is the same offering albeit with slight improvements on handling with a new drag-styled steering bar (ideal for steering on highways). You'll understand why once you turn it on and hear the rumble it makes. When you slightly open up that small engine, it actually produces a pretty beautiful sound.
Without a doubt, the Yamaha V Star 250 was designed to compete with other small-displacement bikes like the Rebel, the BMW G 310 R, or Suzuki TU250X. I would choose the V-twin over the thumper gun to my head.
2023 Yamaha V Star 250 Specifications
Engine:

Air-Cooled, SOHC 60-d

Degree V-twin, Two Valves Per Cylinder

Frame:

Steel Tube:

Displacement:

249 cc

Suspension/Front:

33 mm Fork; 5.5-Inch Travel

Bore x Stroke:

49.0 x 66.0 mm

Suspension/Rear:

Dual Shocks; Adjustable Preload, 3.9-Inch Travel

Compression Ratio:

10.0:1

Rake (Castor Angle)/Trail:

32.0°/4.7 Inches

Fuel Delivery:

Mikuni® 26mm Carburetor

Brakes/Front:

Hydraulic Disc, 282 mm

Top Speed:

85 mph (est)

Brakes/Rear:

130 mm Drum

Ignition:

Transistor Controlled Ignition (TCI)

Tires/Front:

3.00-18

Transmission/Drive:

Five-Speed; Multiplate Wet Clutch/Chain

Wheels:

Laced Spokes

Seat Height:

27.0 Inches

Color:

Raven — Similar to 2015, 2018, 2021 & 2022 Models

Wheelbase:

58.7 Inches

Ground Clearance:

5.7 Inches

Wet Weight:

324 lbs.

Price:

$4,699
Information for this article was partially sourced and researched from the following authoritative Government, educational, corporate, and nonprofit organizations:
About the Author:
Michael Parrotte started his career in the motorcycle industry by importing AGV Helmets into the North American market. He was then appointed the Vice President of AGV Helmets America. In total, he worked with AGV Helmets for 25 years. In addition, he functioned as a consultant for KBC Helmets, Vemar Helmets, Suomy Helmets, Marushin Helmets, KYT Helmets, and Sparx Helmets.
In 1985, He is the Founder of AGV Sports Group, Inc. cooperation with AGV Helmets in Valenza Italy
Click here for LinkedIn Profile: https://www.linkedin.com/in/parrotte/
Click here for complete AGV Helmet & AGVSPORT History https://agvsport.com/michael-parrotte
Click here for all AGV Sports Group Social Media information http://agvsport.info/
FM/A