Have you ever sat on a bike and it just did not feel right? Maybe it is too low or too wide, and you can seem to be in a comfortable position. Riding motorcycles is all about the feel and comfort, and the lack of a good fit can be unsettling. The following are some suggestions for Motorcycles for tall riders.
To get the most out of your riding experience, you need a ride that fits your dimensions and style. Read on to learn more about the best bikes for motorcycles for tall riders.
Can A Rider be Too Tall for A Bike?
For tall people, it can be challenging to fit into a world designed for the average height of people. Motorcycles are no different, and in fact, it is a fallacy to believe that one size fits all.
An average seat may help the short riders touch the road a little easier but reducing that distance to the footpegs disadvantages the tall riders forcing their legs into an uncomfortably tight bend.
So, Do You Feel Like You are Too Tall for The Bike?
The main issue facing vertically gifted motorcyclists is feeling cramped in the arms and legs. That is usually a result of the rider triangle – the combination of seat, foot-pegs, and handlebars.
The seat height: The ideal sign of suitability for tall riders is seat height. Typically, a high saddle indicates that there are extra legroom and roomier proportions. However, having a tall seat won't help if the bars are too close or the footpegs are too high.
The footpegs- some motorcycles have adjustable footpegs. Tall riders should check out for highway pegs and tall ape hanger bars as they give plenty of room, relieving you of the cramped feeling.
Besides, choosing a motorcycle with large diameter wheels and longer travel suspension can make your riding experience enjoyable.
Adjust the handlebars- many bars are adjustable, and handlebar "risers" can be used" to raise the overall height. 
Even one-piece bars with a bend in them can be moved away to ensure a comfortable reach by simply rolling them forwards. Risers are ideal for a "naked bike" riding position. Clip-on handlebars are probably not ideal for most tall riders.
What are The Best Motorcycles for Tall Riders?
With the numerous available choices to sift through, it can be frustrating to figure out just which ride is best for you. We have put together this guide on the best motorcycles for a tall motorcyclist to help you with the search. Thee are some of the most popular motorcycles for tall riders.
1. Honda CRF250L / CRF300L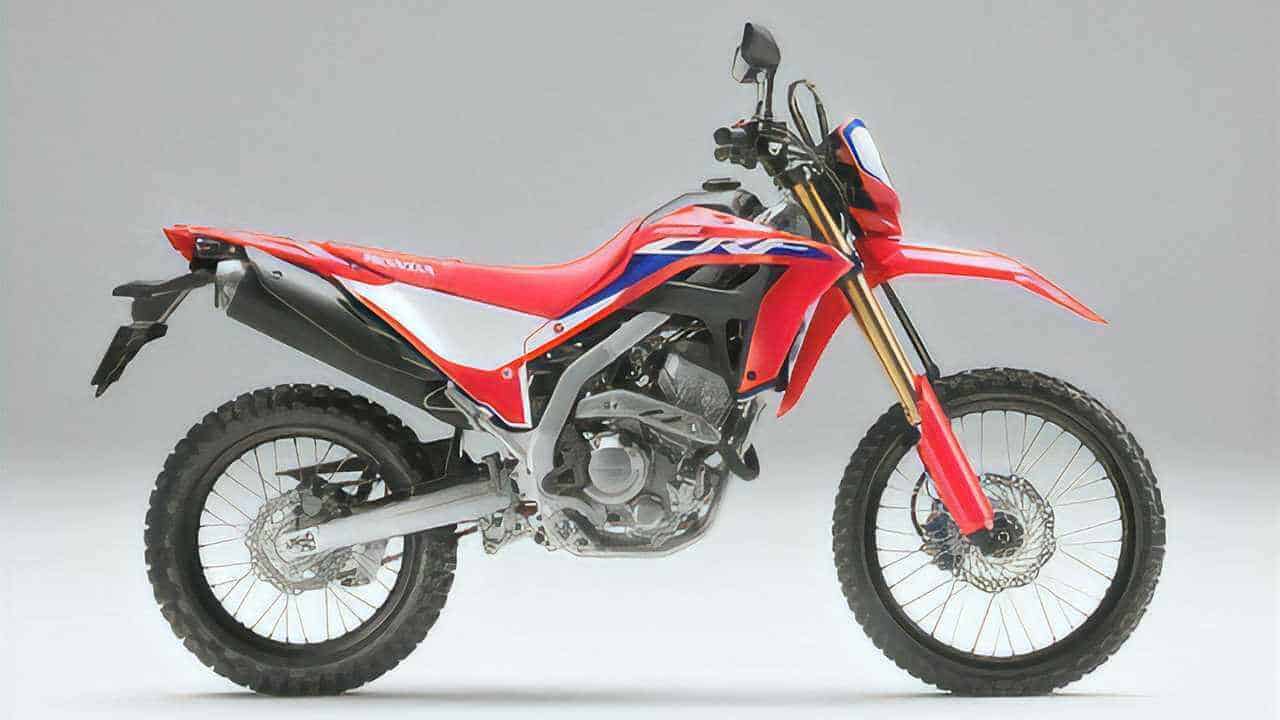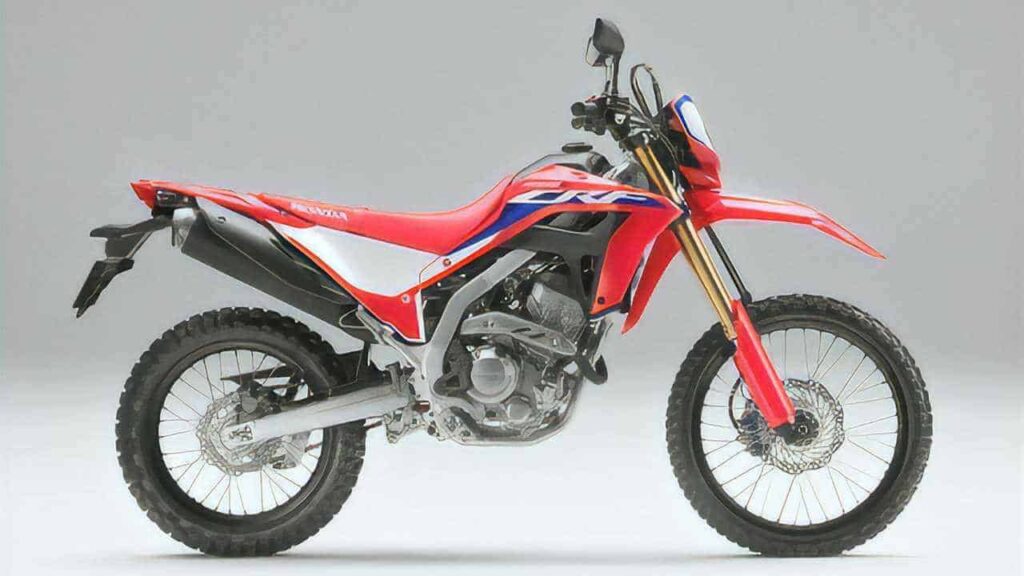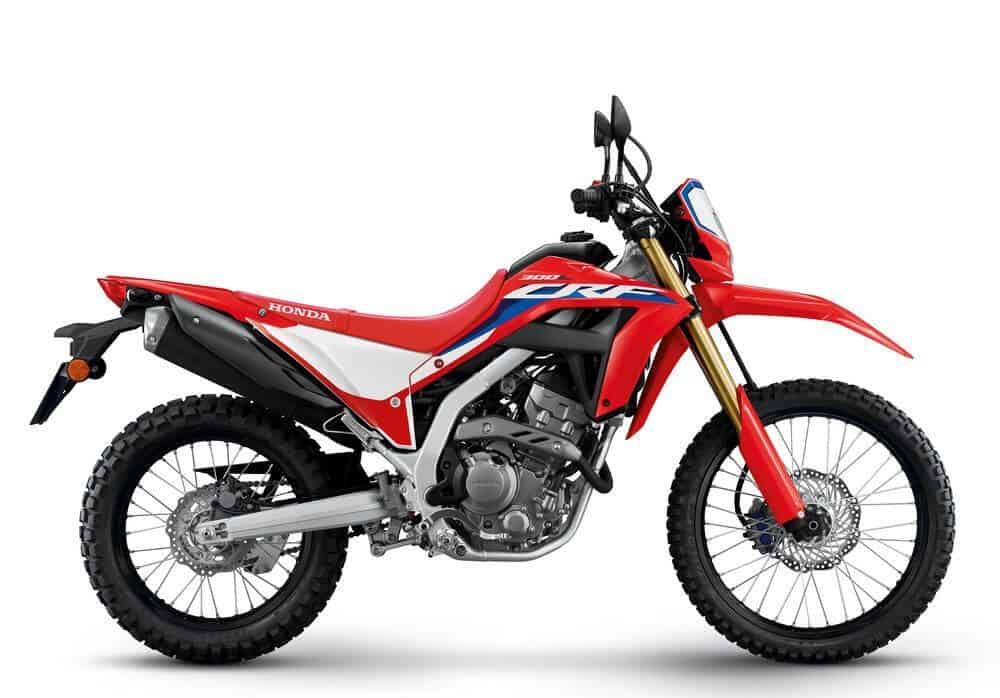 Honda CRF300L
This Honda dual-sport with a saddle towering at 34.4 inches, It's a 250 cc motorcycle but it is not small.
The CRF250L was upgraded this year to the CRF300L. The 250 is also half the price of the CRD 450 so if you don't have $10,000 to put on a straightforward dual-sport model, then the CRF250L should be your pick as a tall rider.
2. Suzuki SV650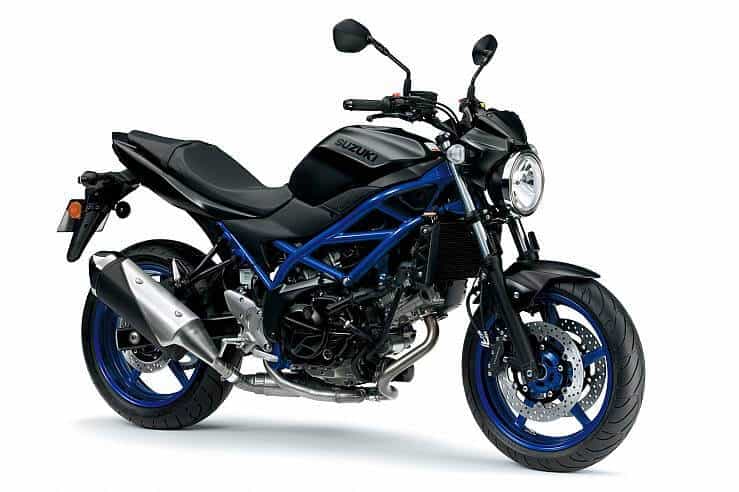 If a classic style coupled with a modern design is what you are looking for, then Suzuki SV650 is your ride. It is a more powerful version of its iconic model as it has been upped in diversity and performance.
The model, which is 30.9 inches high seat with a high-strength steel frame, is suited one of the more common motorcycles for tall riders. (even for those six feet and over).
Its other key features include a lightweight chassis, great fuel economy, and a new Low RPM Assist setting that adjust engine speed takeoff and low-speed running to eliminate stalling.
3. KTM 1290 Super Duke R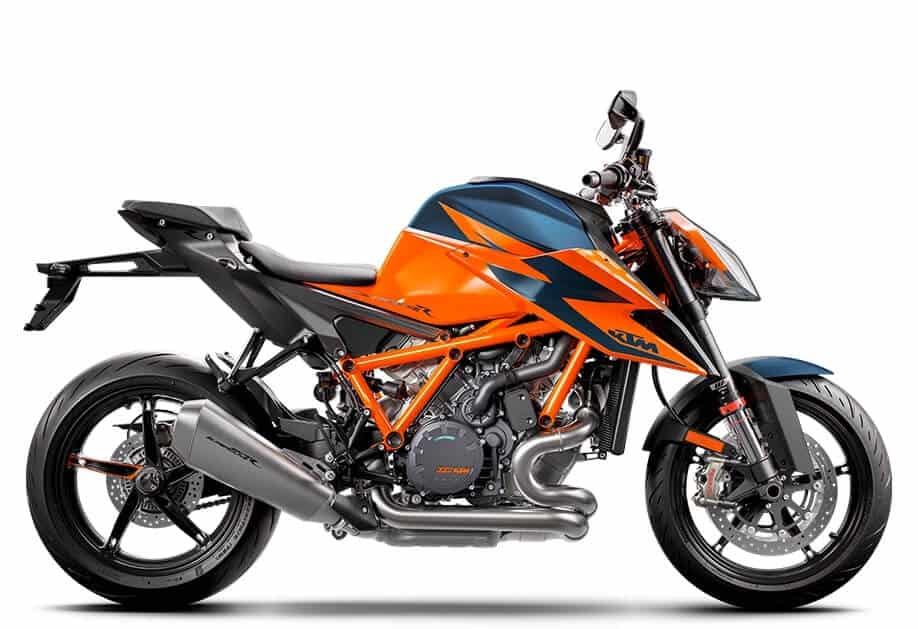 Sportbikes can often be problematic for taller riders as they usually have a very tight, tucked-in riding position. When you have long legs and arms to deal with, then "tucked-in" and "cramped" can be the same thing.
However, there are some options for you besides sportbikes if cruisers are not up to your alley. The KTM 1290 Super Duke R is an excellent choice.
The seat on the Super Duke is relatively tall at just below 33 inches. (32.9 exact).
Compared to sports bikes, the footpegs are not too high on the frame which gives more room for legroom. Do not get us wrong-it's still a fairly aggressive riding geometry but not so aggressive that you need be a yoga enthusiast to be comfortable in the saddle.
The more upright riding position also leaves more space to stretch the arms. The wider handlebar keeps the elbows and the knees so that they do not come in contact should your legs be long enough to require additional space.
4. Yamaha XSR 900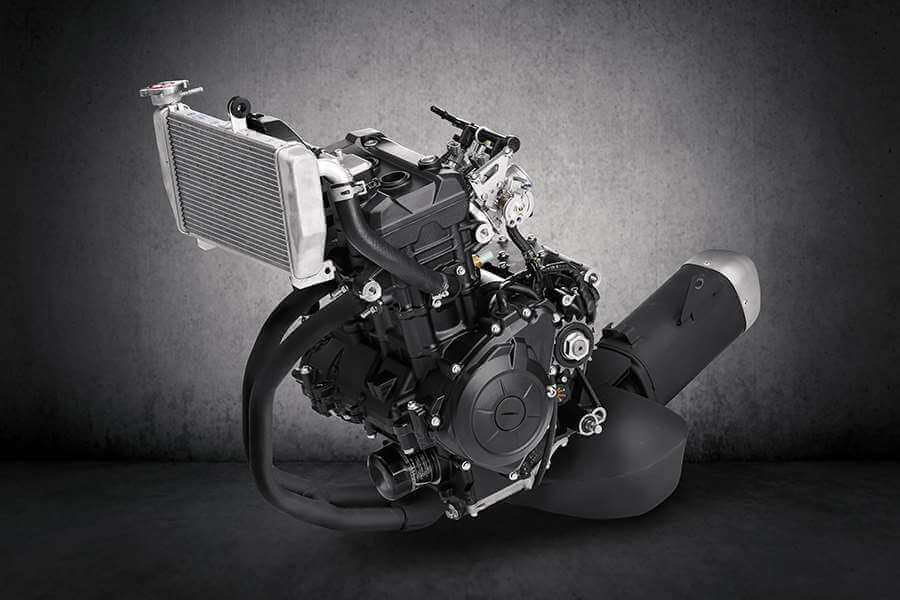 With its retro look and a sporty frame coupled with excellent performance, the Yamaha XSR900 is a modern classic. It is ideal for commuting as it has an aluminum frame and power engine (9847 cc liquid-cooled three-cylinder), making navigating the roads a breeze.
This Yamaha also features an excellent weight of 430lbs, D-MODE throttle response, YCC-T engine control, and an adjustable Traction Control System.
5. Kawasaki Versys 650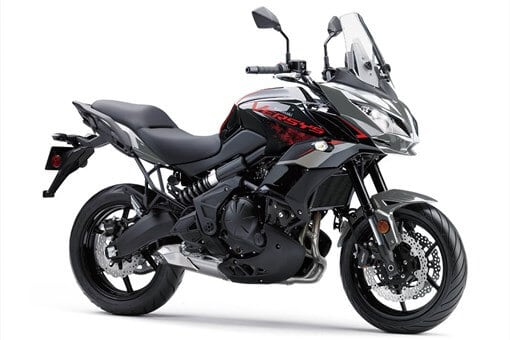 The 650 is an excellent all-around ride and one of the best motorcycles for tall riders. It is light, making it easier for maneuverability, while its parallel-twin engine features a grunt for relaxed highway cruising. It boasts a 33.1 inches seat height and a rider triangle matched perfectly for large frames.
Besides, the 1000cc 4-cylinder model is powerful and superb for long rides down the open highway.
6. Yamaha Tracer 900 GT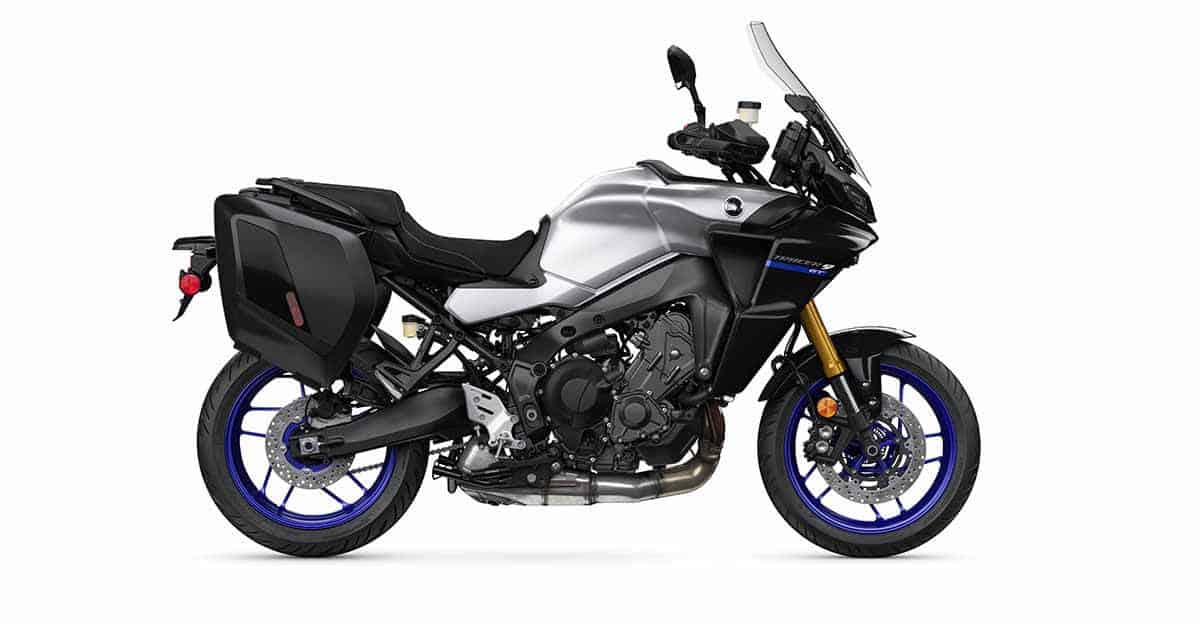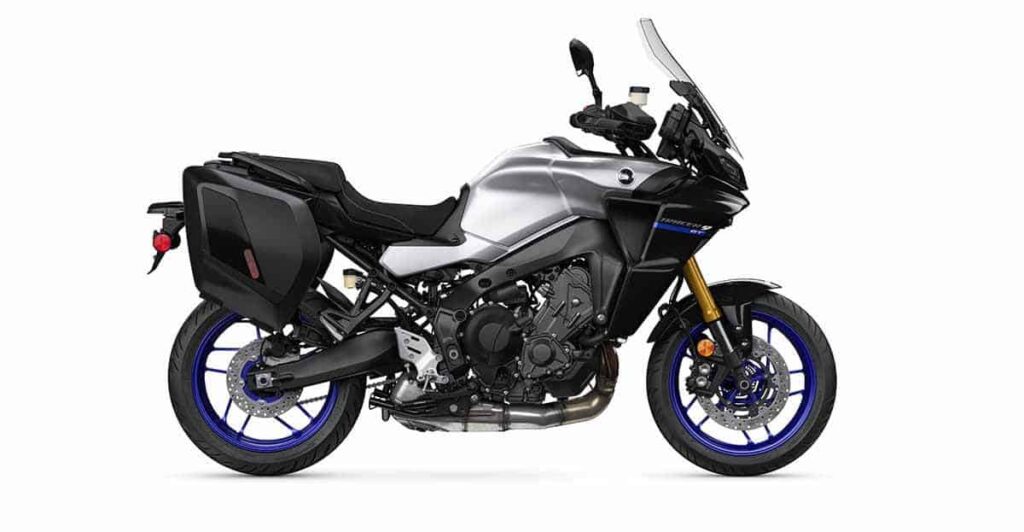 If you like sport-touring bikes the Yamaha Tracer 900 GT is a good option to consider for taller riders. This motorcycle is already tall to begin and the seat is a standard height of 33.5 inches.
The seat can be lifted to 34.1 inches.  The straight riding position leaves plenty of space for the arms and the legs to do their thing independently without getting in each other's way.
The Tracer is widely praised as a great all-around motorcycle and is powered by Yamaha's 847cc inline-triple, one of Yamaha's best engines.
7. Ducati XDiavel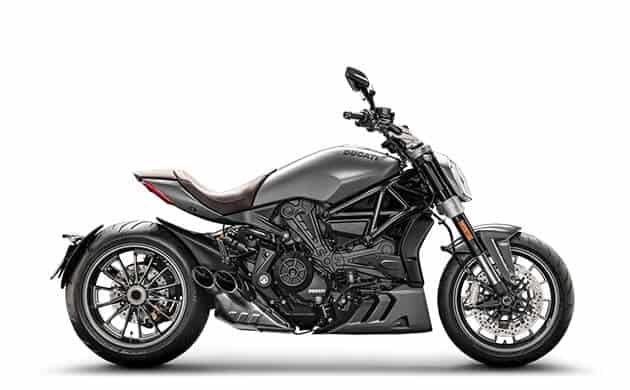 The XDiavel appears to be stretched out, and that gives your long legs plenty of room. With the seat set at 29.72 inches, the saddle is positioned at the back of the bike while the footpegs are kicked the way forward.
The cruiser features a casual 40-degree lean angle, Ducati Traction Control, a Bosch Brembo braking system, and key riding modes ideal for unending riding experiences.
8. BMW R1200 GS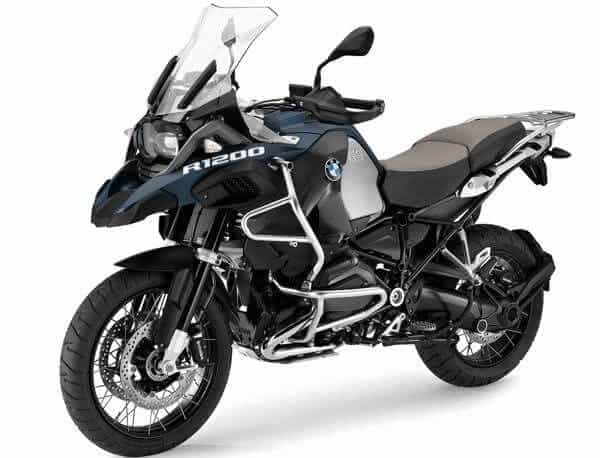 With a seat height of 34.6 inches, the BMW R1200GS is an excellent ride for tall riders. It is ideal for people over 1.8mts. It has a weight of 538lbs that is distributed impeccably, so driving is a pleasure regardless of your height.
The 1,170cc twin-cylinder boxer engine that pushes 125 horses allows the motorcycle to work wonders on and off the road. Besides, the Dynamic ESA and Hill Start Control enhance stability, performance, and safety.
Final Thoughts:
Your height should not stop you from getting a motorcycle that fits you and prides a great riding experience.  All the bikes mentioned above would be good choices for motorcycles for tall riders.
Remember that a more relaxed rider seating position and angle will offer more legroom and upright "naked bike" style ergonomics will be optimal for all-day riding comfort and adventure.
About the author:  Michael Parrotte was the Vice President of AGV Helmets America, and a consultant for KBC Helmets, Vemar Helmets, Suomy Helmets, Marushin Helmets, KYT Helmets, and Sparx Helmets. In addition, he is the founder and owner of AGV Sports Group.
TG/AL