Cafe racers are not meant to go off-road mainly due to their crouched riding position, clinging onto a pair of low handlebars with pronounced pullback and negative height, both of which make you prone to flipping over every time you encounter even the slightest obstacles. Yes, the true adventure of a two-wheeler starts where the road ends, but these customized, classic lightweight standard motorcycles fall a bit short because they also lack the fenders, suspension, ground clearance, and tires for it.
The truth is that cafe racers are purposefully built for urban street riding (but, personally, I wouldn't choose to ride a cafe racer for more than 3 hours as aesthetics take precedence over comfort), emphasizing power, speed, and agility reminiscent of sport bikes, with a distinct performance-oriented aura. The "less is more" design philosophy has persisted since their inception in the golden 50s and rise to popularity within the 60s British Rocker or Ton-Up Boy subculture.
Today, the trend has resurfaced in both North America and Europe, amplified through documentaries, films and Kindle books that revolve around these two-wheeled wonders. Take, for instance, The cafe racer Phenomenon (Those were the days …™) eBook — a personal favorite of mine — a read that functions like a time machine, transporting you to an era where the spirit of adventure and individuality reigned supreme. Alastair Walker, the author, underscores this sentiment, stating,
 "To truly grasp the modern cafe racer scene, one must first immerse themselves in the origins of the classic cafe racer movement. We must think like the first cafe racers enthusiasts; Dave Degens, Dunstal Rickman, Seely and all the other bespoke creators who dared to reimagine life on a two wheeler and managed to alter the course of motorcycling history forever."
So, what exactly make these fast and personalized bikes, with a riding culture as diverse as the number of riders within each group, unfriendly for off-road adventures?
9 Features That Render Cafe Racers Unfit for Off-Road Riding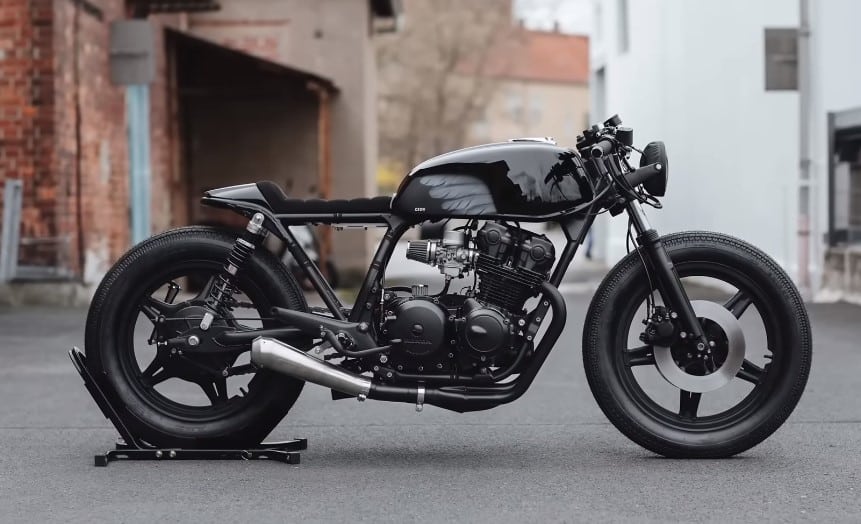 Ever since my introduction to motorcycling in the early 1970s, I've acquired extensive experience across various motorcycle styles. At present, aside from my "collector's pieces," I actively use 2 ATVs and 11 motorcycles. But our focus today centers on off-roading, so I will reference my Kawasaki KLX 250  Enduro, Tekken 250SE, Honda CRF250X Supermoto, Yamaha TTR125, and Yamaha DT50 Enduro for a detailed comparison with cafe racers.
And reflecting from a range of encounters, here are 9 primary reasons that highlight the unsuitability of cafe racers for off-road riding:
1. The Tucked-In Riding Stance Will Throw You Off Balance
Cafe racers' clip-ons inherently put you in a "sport bike" stance, where you crouch chin-to-tank to dial it up without facing the wind and bugs head-on. The issue with riding like this off-road is that the bike will flip you over the handlebars with every chance it gets going over the slightest bump or ditch.
Over time, riders grow familiar with their controls while standing on the footpegs or assuming the "attack position" position where; personally, I simultaneously unlock my hips, push my butt back, stand on the balls of my feet, and lean forward to skimp over ruts and other obstacles. I can confirm that this is not practical on a set of narrow, low-mounted handlebars, which is the case with cafe racers and their idols, the sport bikes.
2. Low Clip-On Handlebars Aren't Great Off-Road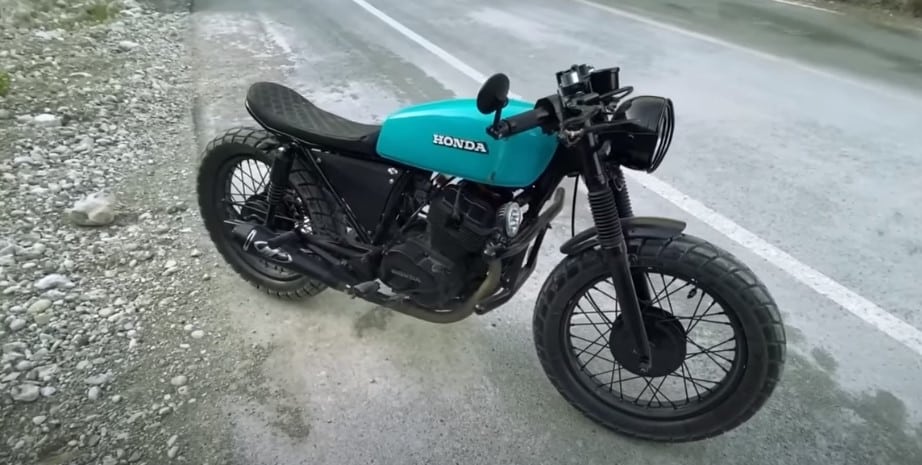 Let's take this bull by the horns. Low, narrow slung handlebars mean that you will struggle keeping the front tire on the ground on steep climbs and keeping your chin up to see further down the trail. They also limit your ability to shift your body weight for steep uphill and downhill sections, not to mention sand whoops, ruts and tight 180-degree turns.
The pullback parameter of a set of bars defines how far back towards the rider the bars sweep, while the height refers to the perpendicular distance from the centerline of the mounting clamps to the centerline of the hand grips.
For instance, while hitting the trails with an off-roader, let's say the Kawasaki KLX 250, with proper off-roading riser bars—both taller and wider than the stock—gives you better access to the controls while standing up, and the agility to swerve around rocks or simply lose the rear for some drifting fun. And if you're like me, you'll find the Renthal Street Handlebars 7/8″ on the little green machine particularly appealing for its precise feedback, which accurately conveys the traction status of the front tire.
I highly recommend these motorcycle tools for their affordable yet top-notch quality, reflecting my extensive 50+ years of motorcycling experience and expertise as a rider, leader, and consultant in 25+ countries. So, whether you're a seasoned rider seeking an upgrade or a new enthusiast starting your journey on two wheels, I'm confident that these gear recommendations will serve you exceptionally well.
3. Watch Your Step on Those Rear-Set Footpegs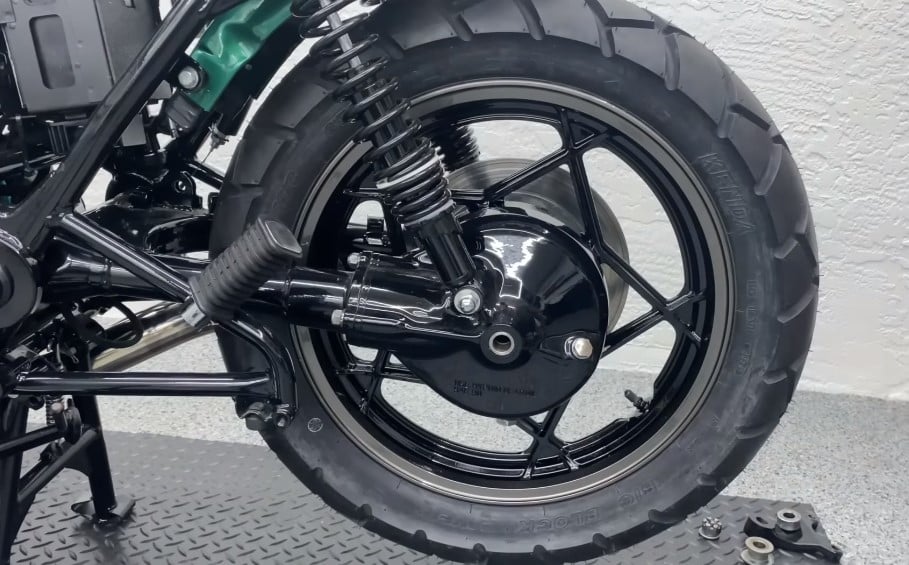 And speaking of standing on the bike, there's no more awkward riding stance I can think of than trying to stand on a pair of rear-set footpegs. Off-roading demands occasionally shifting your weight forward by extending the left leg forwards in the direction of travel and using it as a counterbalance of sorts to negotiate tighter turns faster. It's really less for show and more of a necessity to guide your motorcycle safely over sketchy terrain.
But while the technique is a display of motocross prowess, retracting that fully extended leg to the footpeg on a cafe racer can end up badly. There's a risk of running over your own foot or injuring your ankle on the rear axle and lock nut (and trust me, that's painful).
At best, you might manage the infamous Valentino Rossi leg wave on a cafe racer on the tar, but I can't think of a practical application for it outside of MotoGP other than the brain gain and venerating the living legend!
4. Wide Street Tires? Stick to the Pavement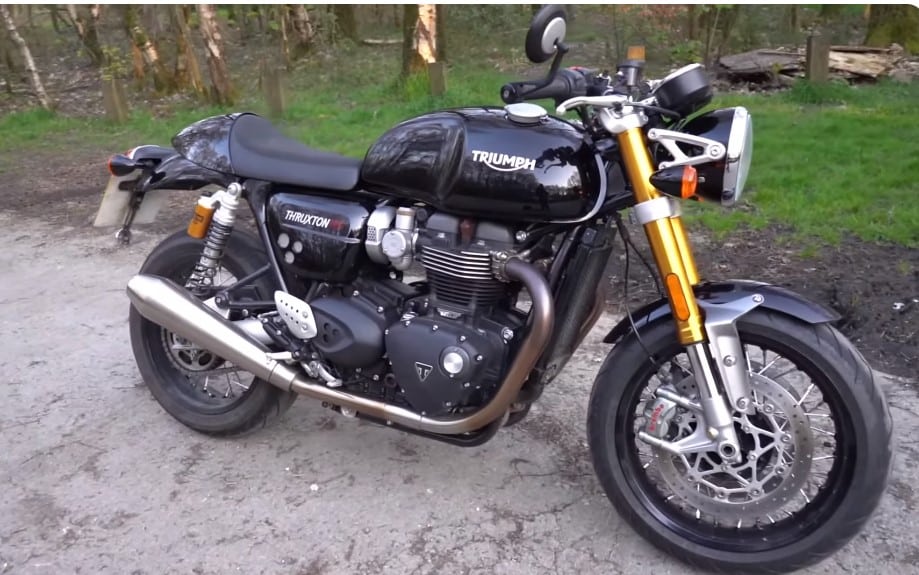 Back in the 60s, your typical cafe racer would be fitted with a pair of tidy 18-inch TT100 Dunlop tires that could easily make the Triumph Thruxton 1200 RS (in my opinion, the best-looking OEM cafe racer on the market today) turn a shade of envy. The modern OEM cafe racer will come with thick and smooth street tires that are great for dragging on the pavement but can be detrimental whether rolling over loose gravel or hydroplaning on slick unpaved roads during the rainy season.
The 1200 RS is a Triumph, so I hold no doubts about its performance and handling on the street, but I would be a bit nervous if I ran out of pavement on those Racetec RR tires. I think they offer more of a slick than groove, and the grunty 103-hp engine (with a claimed peak torque of 82.6 lb.-ft. @ 4,950 rpm) could drive the traction control system to near madness.
In stark contrast, the Ducati Scrambler 1100 Sport (which maintains a scrambler profile despite its classic cafe racer appearance) sports MT60RS Pirellis rubber – grippier than they look and unafraid of neither dirt, nor asphalt.
5. Low Ground Clearance Streamlined Body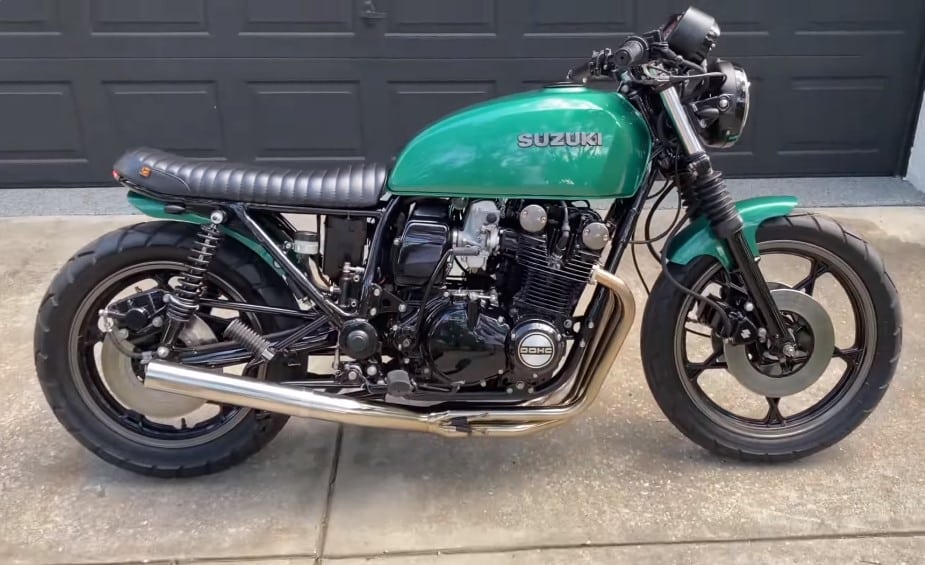 Without delving deep into a history lecture on 1950s British subculture, cafe racer emerged due to the need for speed and personalization of the motorcycle. As such, the Ton-Up boys (original cafe-racers) chose bikes with a low center of mass for customization mostly in home sheds. The modern cafe racer sticks with this same design on account of stability and maneuverability at high speeds on the highway. It's good for stability but will not cut it off-road.
Taking cafe racers on rocky goat trails is taboo as they are meant to go fast on the street with short bursts of acceleration but not as manageable over ruts and logs.
6. Stiffer Aftermarket Shocks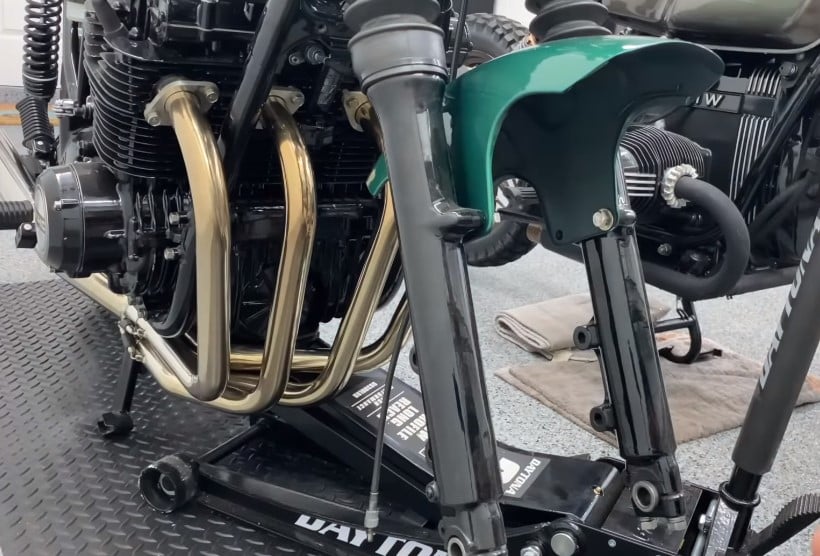 Yes, a stiffer front and rear aftermarket shocks are a big plus to any true cafe racer, whether OEM or home-brewed, but can be quite unbearable off-road. While chopping off the "non-essentials" makes the bike lighter, the goal here is to make it more stable for stopping and cornering at higher speeds while also significantly improving its handling.
Subjecting the stiffer suspension and thinly-padded bench seat of a cafe racer to rugged terrain is the ultimate ordeal that would undoubtedly result in significant saddle soreness. By the way, is it called bum or butt ache? Brit or American, good old-fashioned saddle sore is universally relatable!
7. Low Mounted Exhaust Pipes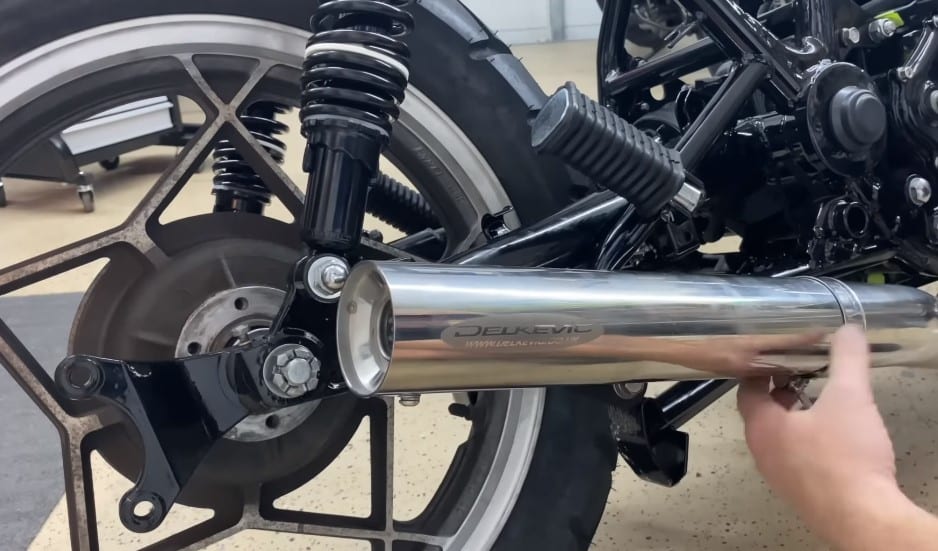 Once again, the classic cafe racer will have a low-mounted performance exhaust, which isn't exactly at the right height for clearing logs and water crossings, should you dare to attempt them. Besides, it hampers enjoyable jumps.
Take a look at Indian Motorcycle FTR 1200 S, which features high upswept twin exhaust not just to wake the neighbors with that deep, throaty roar but also to keep most of the pipe out of the way when wading through puddles. A good accompaniment for the engine's hum, without being too loud to disturb the neighborhood. If you attempt to jump over a log and fall short, you wouldn't want the entire bike landing on an exhaust pipe and causing damage to that expensive motor.
But perhaps no one does it better than the all-new and compact Honda CL 500 scrambler, with the exhaust placed way up high and out of the way. Maybe it's just me, but I prefer the lawn-mower whine of a dirt bike to the humming sound of a parallel twin when riding in the outbacks.
8. Torquey Speed-Oriented Engine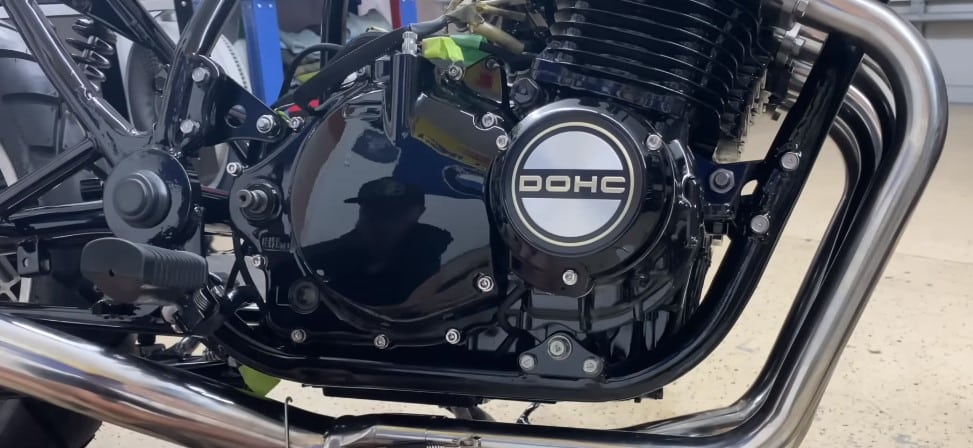 Seasoned riders like myself will agree that how an engine delivers the power is often more useful than how much power it has in reserve. When tearing through dirt, nothing does it better than a thumper. Reasons I love my Tekken 250; one piston, one carb, one plug and not a caution to the wind!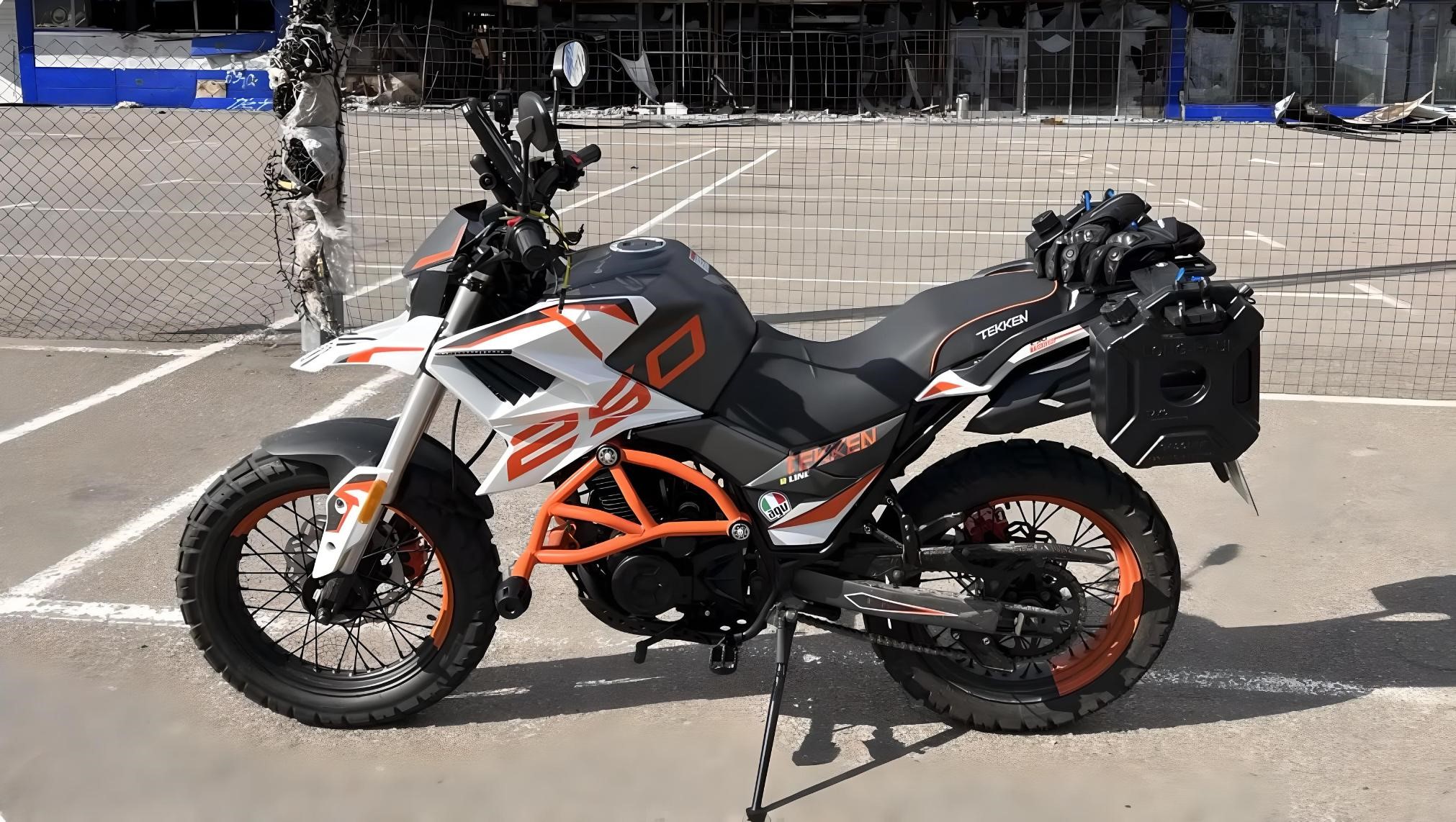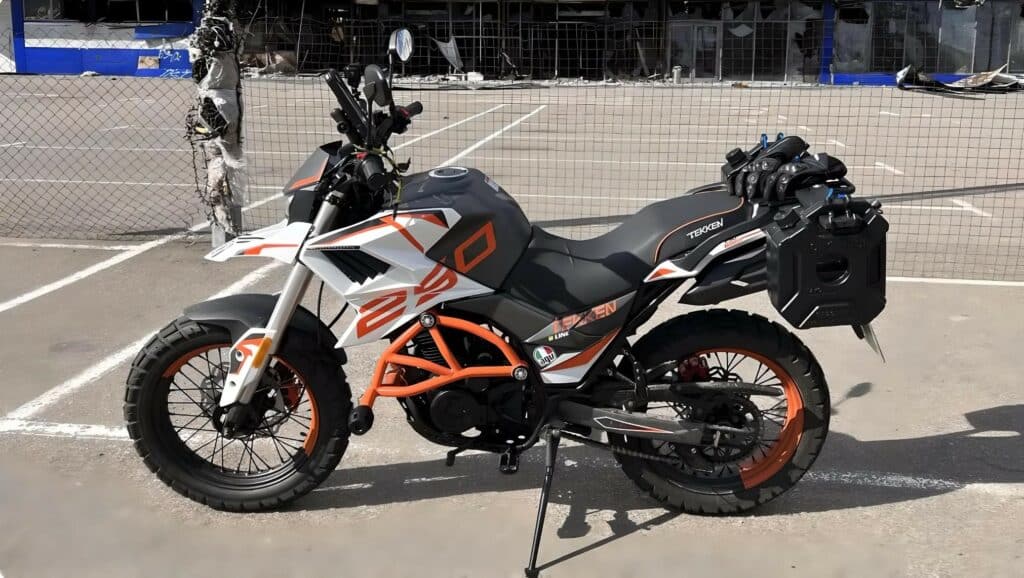 At highway speeds, the Tekken 250 vibrates quite noticeably and only just manages to scrape by keeping up with traffic with a mere 22.5 hp on tap. Yet, the spaced-out power strokes of the thumper engine give my rubber sufficient time to regain traction, making the whole rigg that much more controllable in the mud or on gravel. Plus, there is always more fun to be had, in my opinion, riding small displacement bikes fast, but I digress!
In summary, the heavier, low-set engines commonly used on cafe racers will not be your best companion where traction is limited. The engines spell trouble on loose gravel!
9. No Fenders, Yes Problem!
Last but not least, if you have ever taken a cafe racer on a milk run and it rained heavily, you will understand how important fully-faired fenders can be for the slightest weather protection. Off-road, you will be contending with sizable rocks enough to knock you out, and they come straight at your head!
The allure of "bobbing" off the non-essential fenders will not be appreciated off-road whether churning through mud or racing down the flat gravel road sections of your favorite local trails.
Top 3 Best Motorcycles for Off-Road
By now, we should be on the same page regarding why nearly any cafe racer wouldn't be suitable for venturing off the beaten path. With that understanding, let's delve into the current lineup of the 3 best off-road motorcycles:
1. Honda CRF300L: Best Lightweight
Specifications:
| | | | |
| --- | --- | --- | --- |
| Engine Type: | DOHC, Liquid-Cooled Single-Cylinder; 4-Valve | Handlebars: |  7/8″ |
| Ground Clearance: | 11.2 Inches | Seat Height: | 34.7 Inches |
| Suspension: | Showa 43mm Inverted Fork and Showa Pro-Link shock | Brakes: | OEM ABS |
| Tires: | IRC Footloose Trails | Wet Weight: | 309 lbs. |
The Honda CRF300L is a lightweight dual sport motorcycle for beginners looking to enter the segment at a reasonably low price point and approachable power. It is actually an iteration of the legendary CRF250L which had been the smallest displacement and a favorite of many in Big Red's CRF lineup since 2013. The 300 got an additional 36 cc in swept volume up from the initial 250, a revised timing and camshaft lift mechanisms, and the real pleasure, a slipper clutch!
Honda then cut on the bulky exhaust, swingarm and lower triple clamp cutting the weight by a whopping 11 pounds. Less weight and more flexible chassis, and catchy styling that turns heads makes the bike unafraid of adventure.
But I have serious issues with the soft stock suspension, which is quite soft. With only 10.2 inches of travel on the front and rear suspension by Showa, I find the bike severely undersprung and bottoming out too frequently when grabbing some air. Keep in mind that upgrading the suspension might increase the height of the bike which sits at 34.7 in.
2. Yamaha Tenere 700: Best Middleweight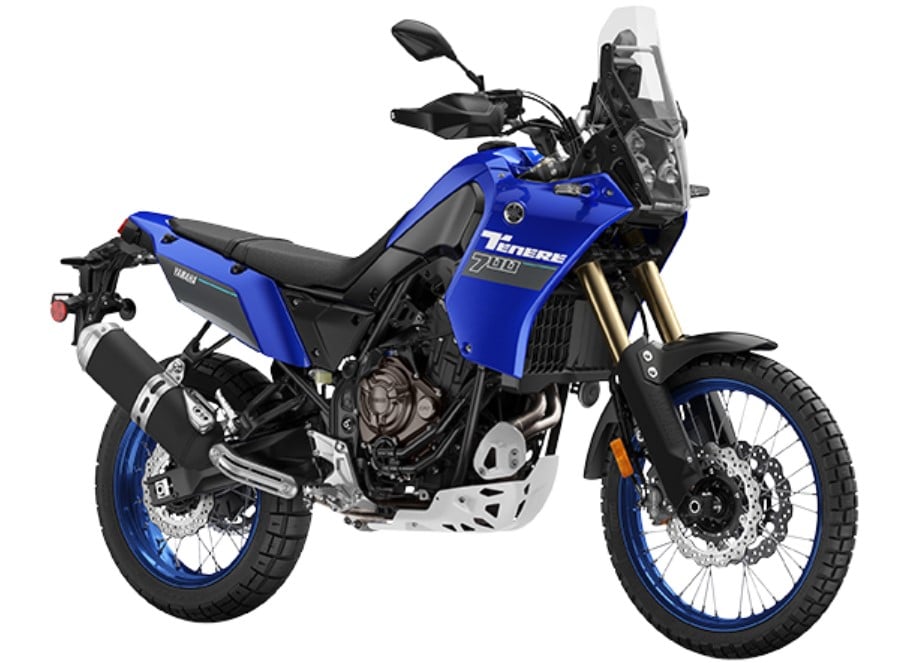 Specifications:
| | | | |
| --- | --- | --- | --- |
| Engine Type: | DOHC, Liquid-Cooled Parallel Twin; 4-Valve | Handlebars: | 1 1/8″ Oversize Bars |
| Ground Clearance: | 9.4 Inches | Seat Height: | 34.6 Inches |
| Suspension: | KYB 43mm Upside Down Forks and Shock | Brakes: | Brembo ABS |
| Tires: | Pirelli Rally STR | Wet Weight: | 452 lbs. |
Why am I not surprised that the Japanese manufacturers have dominated the off-road segment? The second bike I would recommend for the mid-weight ADV segment is for off-roading aficionados who appreciate how much more fun they can have on a lighter, more capable bike. "Light" is a relative term because 452 pounds feel significantly heavier than, let's say, a 290-pound Tekken 250 SE.
The 2024 version of the Tenere 700 remains virtually the same from the previous model with tubular steel frame responsive KYB suspension coupled with a 21 inch spoked wheel at the front -pure perfection.
The MT-07 engine is the epitome of dual sport motorcycling with loads of torque, and smooth delivery retains traction in a way the sportier KTM 890 Adventure can only admire. It's leaner, nimbler and certainly less fiddly than the BMW F850GS Adventure, which competes in the same category. The Tenere will show dust to Kawasaki's thumper, the KLR 650, despite sharing a seat height (34.6 inches) and almost nothing else in common.
Nothing was amiss with the previous beast, so there was almost no need for upgrades in terms of power delivery and handling, but Team Blue still threw in new ABS modes and a TFT dash in place of the utilitarian LCD, which are both thoughtful additions.
3. Honda CRF1100L Africa Twin: Best Heavyweight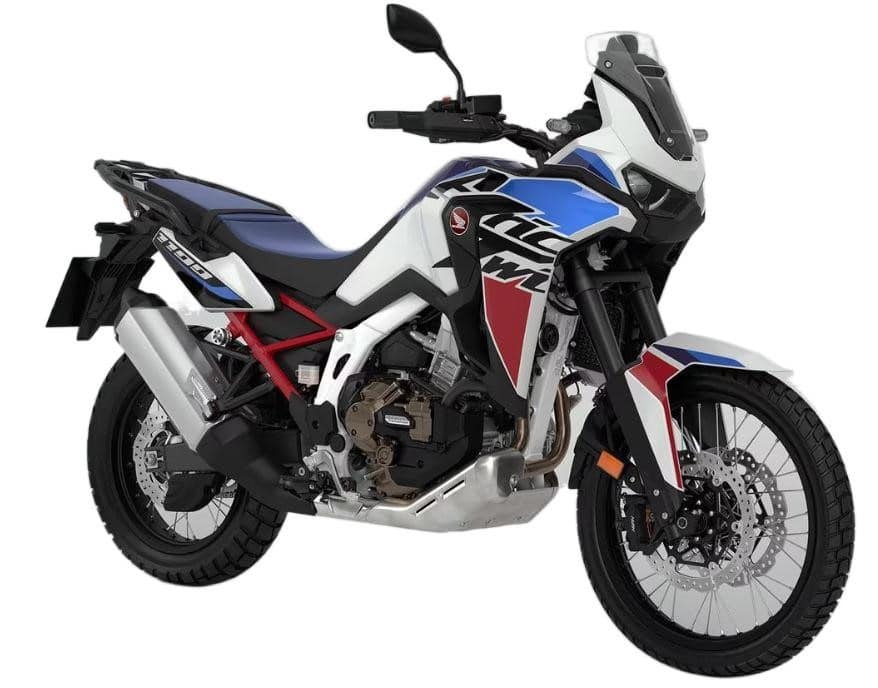 Specifications:
| | | | |
| --- | --- | --- | --- |
| Engine Type: | Liquid-Cooled 4-Stroke 8-Valve Parallel Twin | Handlebars: | 1 1/8″ Tapering to 7/8″ |
| Ground Clearance: | 8.3 Inches | Seat Height: | 33.5 Inches |
| Suspension: | 45mm Inverted Showa Telescopic Fork/ Pro-Link® System | Brakes: | OEM ABS |
| Tires: | Dunlop Trailmax | Wet Weight: | 529 lbs. |
It's another CRF! The Big Red exerts her dominance over the dual sport segment once again with a tall and athletic beast able to rack miles upon miles in a single day of riding thanks to years of experience and leadership at the Baja 1000 and the Dakar Rally. It's derived from a 1980s ruler of the Dakar, the Honda XRV750, and true to its off-road heritage the AT sure looks like an overgrown dirt bike with a serious headlight to boot.
Putting the Dunlop Trailmax tires (complete with tubes) to task against the gravel is a calm 100 hp 4-stroke 8-valve parallel twin that makes up for the shortage in horses with sheer grunt. But the power delivery on the AT can be called as good mannered when compared to the rough and ready to pounce Triumph Tiger 900 Rally Pro.
That probably has to do with the 270° crank arrangement of the African Twin, which allows the tire to breathe in between pulses, similar to a V-twin, as opposed to the so called T-Plane engine plan on the Tiger, renowned for its capability to lose traction at the rear and facilitate rear-end steering.
Michael's Summary and Conclusion
Today, a cafe racer is created for art, culture, or as a hobby, but that's not how things started out.
I lived in Paris, France as a teenager and began riding a motorcycle on the street. At that time, I can attest from personal experience that creating a cafe racer then was quite different than it is today.
In the 60s and 70s, riders were essentially crafting their own sport bikes because the concept of sport bikes did not exist as a category from manufacturers. Manufacturers produced motorcycles for the road, off-road motorcycles, and some made large touring bikes, but there were no sport bikes, not in the sense that we have them today.
Thus, the original cafe racers weren't primarily made for style, artwork, or culture; instead, they were created by individuals who were focused on road racing and desired a sport bike – a street-legal motorcycle with the characteristics of a road racing bike.
Primarily, a rider would add clip-on handlebars and rear sets, as those were the essential components. Often, the exhaust system would be upgraded for better performance and certainly to generate more noise. More motorcyclists mounted big, fat tires or trimmed the fenders to the point of being useless, purely for stylistic reasons.
Moreover, the early cafe racers tended to incorporate a cowling or tail section behind the seat, while the motorcycles from manufacturers typically only had a seat. Nowadays, the situation is reversed; motorcycles often come with a cowling or tail section, and those creating a cafe racer often shorten or entirely remove it to visually achieve a short seat over the rear wheel, with very little there.
Consequently, the cafe racer has evolved significantly from its origins. Today, they are intriguing artistic creations, sometimes almost too unique and specialized to be actually ridden!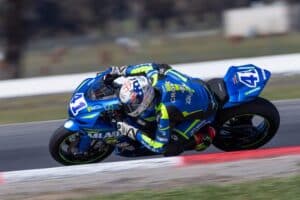 I've diligently categorized my motorcycle gear recommendations into all available categories, with the aim of providing you with a comprehensive analysis that showcases the absolute best options for all your needs. These items are the culmination of in-depth research, extensive testing, and personal use throughout my vast experience of 50+ years in the world of motorcycling. Besides being a passionate rider, I've held leadership positions and offered consultancy services to reputable companies in over 25 countries worldwide. To See Our Top Picks and the Best Prices & Places to Buy: Click Here!
FAQs – I Have the Answers!
Q: Can A Cafe Racer Go Off-Road?
No, cafe racers aren't built for off-road riding due to their low handlebars and crouched riding position, making them prone to instability over obstacles.
Q: Are Cafe Racers Good for Long Distance?
No, cafe racers are not good for long distances. They're designed for short distance rides with a crouching riding position and drooping handlebars that can cause severe fatigue when riding for longer hours.
Q: What Are Cafe Racer Bikes Good For?
Cafe racer bikes are good for urban commutes and sometimes even drag racing owing to their street and performance oriented design.
Q: What's the Difference Between a Scrambler and a Cafe Racer?
Scramblers are modified mainly to go off-road emphasizing on ground clearance, responsive suspension and grippy tires whereas cafe racers receive performance upgrades to go faster and handle better on paved urban roads.
Q: What Is the Difference Between a Sports Bike and a Cafe Racer?
The sport bike is built for racing on the track first, and style comes after performance in its hierarchy of needs whereas a cafe racer is primarily a customized or customizable motorcycle for style with a bit of oomph in terms of performance over the base model.
Q: Are Cafe Racers Good for Beginners?
Yes, cafe racers are good for beginners provided you choose one with moderate power to weight ratio and grow into it via a learning curve.
Information for this article was partially sourced and researched from the following authoritative government, educational, corporate, and non-profit organizations:
LPP/A