Is Yamaha WR 155R a street-legal dual sport bike?
Yamaha's new dual-sport motorcycle offering, the WR 155R, is inspired by the renowned WR series of performance Enduro motorcycles. Its semi-double-cradle frame is designed to be a good lightweight trail bike while still being adaptable enough to be your everyday roundabout ride.
Yamaha's dual-sport roster has been expanded with the launch of the WR155R. The WR155R is a street-legal dual sportbike as it is designed to work on both dirt and asphalt roads and offers high-duty construction and accurate control on any condition.
The dual-sport newcomer can weave its way through off-beaten paths as easily because it could through the paved city streets making it a good choice for riders who are urban commuters on some days and adventure seekers on other days.
This on-road and off-road capability is made possible by the Yamaha WR155R's potent 155cc powerplant that it shares with the Yamaha XSR 155 and the sports bike Yamaha R15 v3.
The new model is powered by a 155cc liquid-cooled, fuel-injected engine. It has VVA (variable valve actuation) for optimal performance at low and high speeds. It is mated to a 6-speed automatic gearbox.
The suspension on the WR 155R is rather good, with telescopic KYB forks and a preload-adjustable rear mono-shock. The bike also has a six-speed gearbox, which distinguishes it from other dual sports in its class, which have just five gears.
The suspension on the WR 155R is rather good, with telescopic KYB forks and a preload-adjustable rear mono-shock. The bike also has a six-speed gearbox, which distinguishes it from other dual sports in its class, which have just five gears.
General Specification of Yamaha WR155R
| | |
| --- | --- |
| Displacement: | 155.1 cc |
| Seat-height WR155R: | 888 mm/34.96 inches |
| Max. Torque: | 14.3 NM (6500rpm) |
| Max. Power: | 16.5 HP (10, 000rpm) |
| Ground clearance: | 245 mm/9.65 inches |
| Curb weight: | 134 kg/295.4 lbs |
| Fuel tank: | 8.1 L |
 What is the engine displacement of Yamaha WR155R?
The new model is powered by a 155cc liquid-cooled, fuel-injected engine. The 4-stroke single-cylinder 4-valve liquid-cooled SOHC engine, re-tuned for the entry-level dual-sport WR155R, produces 16hp at 10,000rpm and 14.3Nm of torque at 6,500rpm when mated with a 6-speed tranny.
These specs make the bike appropriate even for trail-trekking newcomers, but its gearbox offers it an advantage in a primarily 5-speed-dominated dual-sport field. The output and torque of the WR155R are also more than the 13hp and 12.43Nm of the 149.15cc Honda CRF150L power plant.
The Yamaha dual-sport bike has a semi-double-cradle frame that is intended for stability and performance. The CRF150L, on the other hand, sports more trail-oriented Showa inverted forks up front and an adjustable rear configuration over the WR155R's telescopic KYB front forks and preload-adjustable rear mono-shock.
Engine specs:
Engine detail:

155.1 cc
Liquid cool
Single cylinder

Fuel-system:
Fuel-injection
Lubrication-type:
Wet sump
Compression ratio:
11.6/1
Clutch:
Multiplate (wet type)
Bore:
2,28 inches/58 mm
Stroke:
2.31 inches/58.7 mm
Ignition type:
Transition controlled
 What is the top speed of the Yamaha WR155R?
The Yamaha WR 155R is a dual-sport motorbike designed particularly for off-road use. It is powered by the same 155.1 cc single-cylinder engine as the Yamaha R15 V3, which is a speedy motorcycle. The top speed of WR 155R is nearly 94 mph.
Brake and tires feature:
| | |
| --- | --- |
| ABS: | Yes |
| Front tire size: | 2.75/21 |
| Rear tire size: | 4.10/18 |
| Front brake: | Single disc-9.45 inches/240 mm |
| Rear brake: | Single disc-8.67 inches220 mm |
| Wheel type: | Tubeless spoke type |
 What are the top features which make the Yamaha WR155R a potent dual-sport bike?
Have been you looking for an off-road bike that can also be used on the street? Yamaha's WR155R is ideal for you. This entry-level dual-sport motorbike is practical as well as capable. If you need more evidence, consider how the WR155R excels both on and off the road.
The WR155R is powered by a 155cc liquid-cooled, fuel-injected single-cylinder engine producing 16hp and 14.4Nm of torque. While the WR has less power than the XSR155 and MT-15 with which it shares an engine, it has more than enough oomph to blast up the trail and have fun on the street.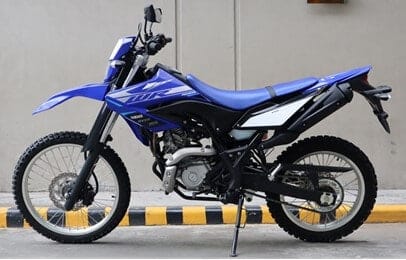 Fuel capacity Off-road motorcycles do not often have large fuel tanks, and the WR155R's 8.1L/ tank is no exception. The WR155R, on the other hand, carries more than its competitors in the category, which means it is less likely to leave you stranded without petrol.
The prolonged suspension:
A telescopic KYB fork up front and a preload-adjustable mono-shock in the back absorb the impact of pebbles and jumps. This dirt-ready set has 41mm/ of travel.
The instrument panel with several functions:
Riders enjoy a nice instrument panel, whether on the trail or in traffic. The display of the WR155R is a basic yet tough LCD panel that contains a speedometer, tachometer, odometer, digital clock, fuel gauge, and gear indicator.
Frame type:

Cradle
Semi-double

Front-suspension:
Telescopic forks (1.62 inches/41 mm)
Rear-suspension:
Mono-shock

What is the curb weight of the Yamaha WR155R?
With a curb weight of 134kg, the WR155R is ready to be flogged about dirt roads, skillfully steered through tight areas, and simply picked up when it is unavoidably abandoned off-road. With a seat height of 34.9 inches, it is only natural that the WR155R is light.
 What are the dimensions of the Yamaha WR155R?
The Yamaha WR155R has a 34.97 inches seat height advantage over the Honda CRF150L, but the Honda dual-sport bike is 12kg lighter than the WR155R's curb weight of 134kg. The Yamaha motorcycle is also somewhat longer, broader, and higher than the Honda.
It features a 56.29 inches wheelbase, which is 2.16 inches longer than the CRF150L but 1.58 inches less ground clearance than the latter, which has 11 inches. The WR155R has disc brakes on both wheels for strong stopping.
| | |
| --- | --- |
| Seat height: | 34.97 inches/888mm |
| Length (L): | 84.45 inches/2145mm |
| Width (W): | 33.07 inches/840mm |
| Height (H): | 47.25 inches/1200mm |
| Curb weight: | 134kg/295.4 lbs |
| Ground clearance: | 245 mm/9.65 inches |
Is Yamaha WR155R good-looking?
Off-road-ready bikes are often attractive, and few can dispute the cool aspect of what is effectively a street-legal dirt bike. The WR155R is a good-looking bike as it exudes a sharp, agile, and competent aura and is available in blue or black.
Instrumental features
| | |
| --- | --- |
| Speedometer: | Digital |
| Gear indication: | Yes |
| Odometer: | Yes |
| Trip and tachometer: | Digital |
| Pass light: | Yes |
| Battery: | YT-Z4V |
| Headlight: | Halogen |
| Taillight: | LED |
| Engine kill switch: | Yes |
| Start: | Electric |
 Surprisingly, the exhaust pipe on this new Yamaha street-legal, dual-sport motorbike is on the other side (left), as opposed to the conventional right-side exhaust on most bikes. The only other motorbikes with similar configurations are vintage European motorbikes.
The tall seat and super slim body of this WR are the first things that catch the eye. These features not only help the bike achieve off-road capability but also give it a lightweight, performance-oriented appearance. The color of the WR is also eye-catching: Yamaha Race Blue.
The handlebar is 840mm thick to make it easy to keep a swinging tire in place. The handlebar is made of supple, low-vibration alloy, most likely for comfort. The handlebar has a diameter of 22.2mm and is not tapered.
The liquid cooling radiator is only found on the right side of the motorcycle. A guard pipe is used to protect against damage caused by falling over and is an important feature for off-road travel.
Perhaps it was to prevent waterlines and VVA, or perhaps it was cheaper to use a left-handed silencer to extend the length of the tubing, but Japanese manufactures seldom use left-handed silencers. EXUP, YAMAHA's specialty exhaust pulsation control system, is not included.
Conclusion
It is a little vague, but let us start with the WR's original name, which stands for "Broad Ratio." The name came from the fact that the YZ series of motocrossers, which were intended for acceleration-oriented cross-transmissions, were given a broader gear ratio to make them more powerful enduro-style bikes.
The WR155R is based on the same concept. With VVA, the WR155R engine is configured to be more of a wide "radius" than a wide "ratio," even though it is WR. It is not only useful as a frequent commuter, but it can also do more jobs at high speeds than its displacement.
You will also enjoy off-road travel with ease. The WR155R is an all-purpose computer that can do it all. Furthermore, as you would imagine from an off-road motorcycle, the WR155R is light and simple to ride, but if you do not mind the foot grounding, it has a lot of appeal as a first motorcycle.
About the author:  Michael Parrotte was the Vice President of AGV Helmets America, and a consultant for KBC Helmets, Vemar Helmets, Suomy Helmets, Marushin Helmets, KYT Helmets, Sparx Helmets. In addition, he is the founder and owner of AGV Sports Group.