We all enjoy riding bikes, but air pollution and dust may ruin the ride. You can still breathe in dust and smog even if you wear a full-face helmet. And if you open your mouth at the wrong time, you can even receive a fly. For these reasons, bikers commonly wore masks even prior to the COVID-19 pandemic.
In today's piece, we'll look at ways to shield yourself while riding without compromising on road safety. We interrogate the usefulness of biker masks and get an expert opinion on the matter.
Advantages of Wearing a Mask on a Motorcycle
Although many motorcyclists wear masks for fashion, it isn't the sole reason to wear one when riding. Motorcycle helmets circulate air to wick away sweat and keep you cool. While they're safe, they increase the risk of viral droplet contact, but motorcycle face masks (every so often called balaclavas) are a piece of clothing that covers your neck and mouth (half-face mask) and may even cover your entire head (full-face mask) without obstructing your vision—offer these benefits: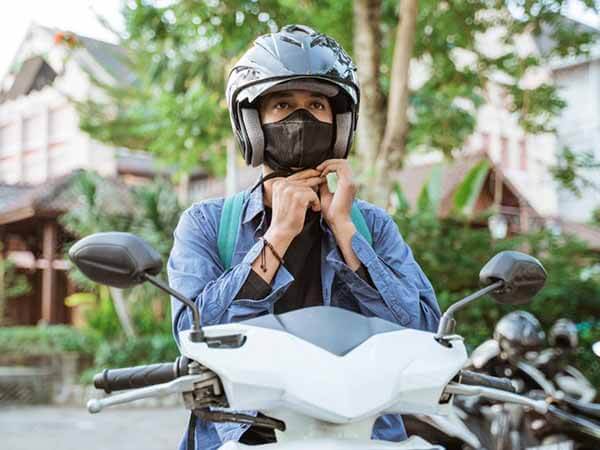 Stylish
Masks have become as much an expression of personal style as any other item in our wardrobe. From the thrilling ghost skull prints to lace-adorned versions that look almost like something out of a Renaissance painting, masks have exceeded the purely utilitarian to become an expression of taste—not to mention often a relatively affordable way to own something from a favorite brand.
Stylish (and still comfortable and secure) masks complement your bike. Those that match your motorcycle baggage may also be attractive.
Keeps You Warm in Cold Weather
Winter motorcycle riding has the hazards of the other three seasons and introduces a few more, like the risk of hypothermia. It requires more preparation and planning, plus a keen awareness of weather conditions. It can be a truly exhilarating experience riding with a face mask as it keeps you warm and allows for a smooth ride, especially when traveling long distances. Riding in the cold is challenging due to the chilly wind chilling the breath.
Motorcycle masks come in half and full-face styles. Full-face masks are suitable for winter, while half-face masks are suitable for summer.
Protects You from Pollutants
Breathing in dirt and smog while riding might cause respiratory issues. After only a few hours of exposure, you may get a cough or an itchy throat. Your lung functions may be compromised if you bike every day. You risk exacerbating asthma or bronchitis.
You may not be exposed to as much pollution when riding in rural communities, but you may be exposed to pollen. You can limit your exposure by wearing a face mask.
Blocks Harmful Sun's UV Rays
A standard motorcycle mask should provide SPF 40+ sun protection. This will ward off sunburns and aging on the skin from cancer-causing UV rays. While there is no law that requires you to use motorcycle masks while riding, wearing one can certainly give added protection.
Enhances Performance & Comfort
Motorcycle masks are designed to fit comfortably beneath your helmet and provide a smooth ride regardless of the weather. You can ride for more extended periods of time without discomfort if you keep dust and grime out of your mouth. The fabric wicks away moisture and sweat for a safer and more comfortable ride.
How to Choose Motorcycle Face Mask for Your Unique Riding Style?
Balaclavas are available in a variety of fabrics. Winter face masks frequently comprise fleece or similar microfiber that provides additional warmth. For all-year riding, 100% polyester microfiber keeps you cool while simultaneously keeping you toasty. Face masks of high grade are stain and odor resistant. They can also be machine washed and dried fast in the dryer.
Here are some of the considerations when choosing a face mask for your riding needs;
Buy slightly larger than you think you need. You want to be covered, but you don't want the mask to be so tight that it's uncomfortable.

Soft and flexible fabric.

UV protection rated SPF 40+

Choose a print and design you find attractive
Risks of Wearing Surgical Masks Beneath Helmets
Back when obtaining medical-grade PPE was difficult, the Journal of the American Medical Association recommended wearing full-face motorcycle helmets with visors as a temporary substitute. Everyone agreed that although it wasn't perfect, it was something. Around the same period, the N95s appeared as easier alternatives.
Wearing special motorcycle masks when riding is one thing, but surgical masks recommended by most medical organizations to inhibit COVID-19 spread are another story. In fact, putting on a medical mask beneath a full-face motorcycle helmet seems excessive. Your local health department can tell you what is necessary by law and what is best for your health, yet the N95 is considered the medical standard in most states.
As a rider himself, Dr. Tommy Lim questions if the N95s should be worn underneath bikes. The doctor warns that wearing the masks while riding might cause a blackout or major health issues.
We all know that adequate breathing and ventilation are essential while riding a motorcycle. It's a strenuous exercise that requires enough oxygen to avoid dizziness. The N95s filter air and may impede breathing, which may be harmful while riding fast. Because when you ride fast, your adrenaline comes in, and your pulse speeds up to help your body get more oxygen. The mask will then limit your breathing and oxygen delivery to your brain until you blackout.
Additionally, Dr. Lim says that wearing a surgical mask beneath a helmet might be risky depending on riding conditions, even when not riding fast. The adrenaline rushes while riding in hot and humid weather or when a rider hits a sudden bump or gets into an accident.
Ending Thoughts on Wearing a Mask on a Motorcycle
Although motorcycle face masks don't provide as much protection against airborne particles or viruses as surgical masks, covering the face is preferable to enhance your look and protect the face in case of an accident and from freezing in cold weather as well as dust and pollution.
Remember not to use N95s in the helmet in place of the balaclavas. They will limit your breathing and oxygen delivery to your brain until you black out.
You may also like:
12 Motorcycle Safety Tips Every Rider Should Know
About the author:  Michael Parrotte was the Vice President of AGV Helmets America, and a consultant for KBC Helmets, Vemar Helmets, Suomy Helmets, Marushin Helmets, KYT Helmets, Sparx Helmets. In addition, he is the founder and owner of AGV Sports Group.
FM/A