Associate Professor of Surgery at New York Medical College, Michael Koch M.D. explains, "Helmets are critical to protecting riders' heads, but legs and feet are also extremely vulnerable and require protective clothing to help reduce the severity of injury in an accident." So, what is the best way to protect your legs on a motorcycle?
When it comes to riding a motorcycle, your legs and feet are vulnerable points in the event of an accident, so it is essential you take steps to protect them when riding.
You also want to make sure that your legs are adequately protected from burns from the muffler and pipes. Unfortunately, it's the legs that are often forgotten when it comes to protective gear.
Why is it important to protect the legs?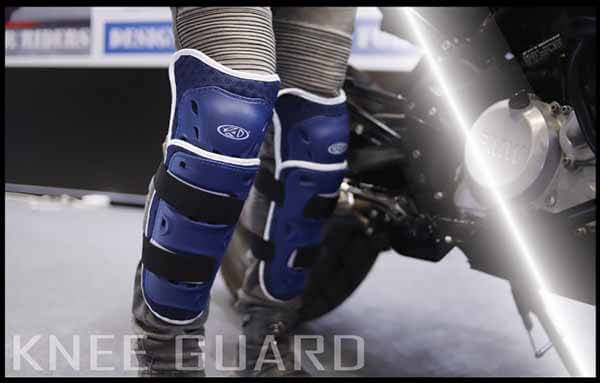 Around 30% of motorcycle accidents involve injuries to the lower extremities. Although these injuries are usually non-fatal, they can result in the need for lengthy and expensive medical treatment and, in some cases, permanent disability.
It is a serious consideration when planning on riding a motorcycle, yet one is often forgotten.
How Do You Protect Your Legs On A Motorcycle?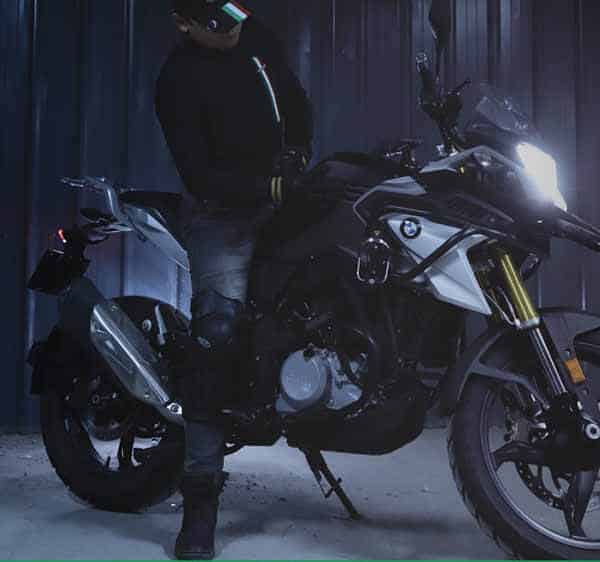 The first addition to any motorcyclist's wardrobe should be a pair of long pants made of an abrasion-proof material, such as leather or ballistic nylon. A pair of high, sturdy motorbike boots are also an essential item.
They will give the ankles support and provide protection to the lower legs and feet in the event of an accident. Remember, the need for protective clothing and boots applies to any passengers on the bike as well.
While denim is a popular choice, and better than wearing shorts, it is also easily ripped or torn and provides only limited protection. Experts also point out that materials like denim easily get lodged in the wounds when they rip or tear.
1. Motorcycle boots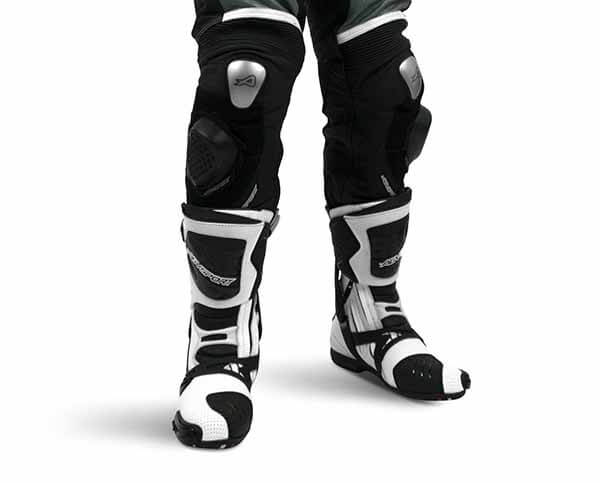 When it comes to motorcycle boots, there are a couple of things you should look out for:
Height: The higher the better, but make sure they at least come over the ankle and are made of a material that is durable and provides support.
Material: Durable leather provides the most protection.
Stitching: A minimum of double stitching is essential, although triple stitching is ideal. This ensures boots hold together in accidents.
Closures: Buckles and velcro allow for a better fit, which means they stay on in a crash. If you prefer laces or zips it's important to ensure they are a secure fit.
Soles: It is best if the sole is stitched rather than glued to the boot, as it increases durability. The soles themselves come down to personal preference. Soft soles get a better grip on the footpeg but are less durable, whereas you lose grip with heavy soles, but gain durability.
Related:
How Do You Waterproof Leather Motorcycle Riding Boots? (Find Out Here!)
Motorcycle Boots vs. Work Boots: Are Boots Good for Motorcycle Riding?
2. Motorcycle pants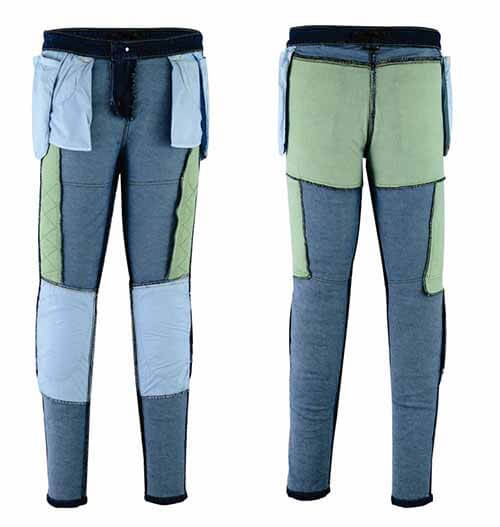 There are several characteristics that good motorcycle pants all have. They are made from heavy-duty material and have flexible armour in the knees and hips, reflective piping, and memory foam inserts to absorb any potential impact.
As with boots, it's important to check the stitching on motorcycle pants and ensure it is going to hold the pant together. Triple stitching is generally recommended.
Several materials present as good choices. Durable leather is the first choice of many a motorcyclist, due to its resistance to abrasions. Well constructed leather pants offer the most resistance to road rash and don't melt, unlike many synthetic alternatives.
There are some issues regarding its ability to breathe, although top-shelf leather pants have reasonable airflow. Although leather is still at the top of most lists, there are some other materials that are also good options:
Aramid/Kevlar: Often mistakingly identified as two separate products, Aramid and Kevlar are the same product. Kevlar is the brand name of DuPont's Aramid product, It was the first Aramid product on the market. Aramid is made of heat resistant chemical fibres and a chemical blend. Also used to make body armour, it is five times strong than steel, abrasion-resistant, and protects against heat.
Ballistic Nylon: Most commonly used in areas requiring reinforcement due to strength and abrasion resistance.
Keprotec: Keprotec is a weave made using high tensile fibres including Kevlar by Swiss company Schoeller for motorcycle clothing. The main advantage of Keprotec is its resistance to abrasions accompanied by breathability. It is also known for its durability, temperature stability, and comfort.
Denim with Kevlar insert reinforcements or Denim woven with Kevlar: Denim has the advantage of not looking out of the ordinary when you want to hang with friends at your destination, especially if the inserts are in pockets and easily removed. If they do not have inserts, then make sure any demur is reinforced with Kevlar, anything less is nothing more than heavy-duty denim and offers limited protection.
While having to carry extra gear because you ride a motorcycle can be a pain in the butt, it's better than risking serious injury or disability by not adequately protecting your legs.
Leather remains the firm favourite when it comes to boots and pants, but there are other options, especially in the pants line. The key is that the material is durable and abrasion-resistant.
About the author:  Michael Parrotte was the Vice President of AGV Helmets America, and a consultant for KBC Helmets, Vemar Helmets, Suomy Helmets, Marushin Helmets, KYT Helmets, Sparx Helmets. In addition, he is the founder and owner of AGV Sports Group.
FM/L