Whether you're trying to save money or simply enjoy the challenge of doing everything yourself, you'll undoubtedly contemplate painting your own motorbike at some time. However, not everyone has a home air compressor, a spray booth, or a good spray gun.
But who says you can't use the best rattle spray cans to paint a motorcycle in your garage? To be sure, and with the right paint, you will obtain almost similar results as a professional painter using a spray booth. It'll also be quite as long-lasting as current two-part automotive paint. And you'll very certainly save time and money.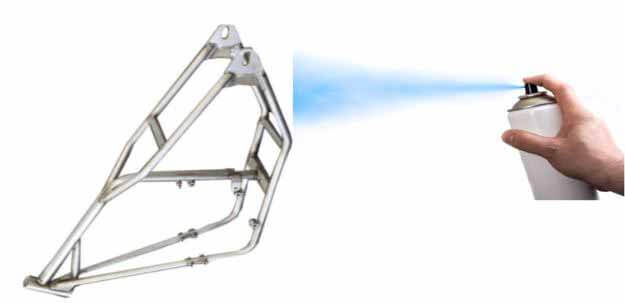 Top 3 best rattle spray can paints we found in use by experts and a quick guide to painting your motorcycle frame at home.
Rust-Oleum Stops Rust Metallic Aerosol Spray Paint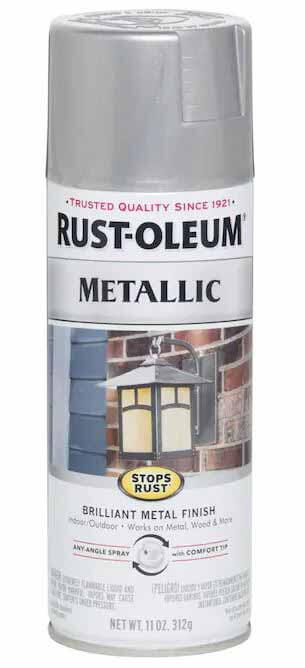 Features:
Paint Type: Enamel, Mineral
Item Form: Aerosol
Brand: Rust-Oleum
Surface Recommendation: Metal
Special Feature: Rust-Resistant
Color: Silver
Unit Count: 11 Ounce
Nowadays, getting legit paint in the market is a hard task, but with the Rust-Oleum Stops Rust Metallic Spray Paint (covering up to 15 sq. ft.), you're guaranteed a high-quality product whose durability is unmatched. It's vintage copper metallic in color and provides a brilliant shiny finish to the motorcycle frame.
The end result is a tough and attractive coating that withstands any condition. This means that your bike will be safe from rust and corrosion under any circumstances. It doesn't chip or fades either.
What's more, the paint job is easy and doesn't waste your time. In less than 20 minutes after application, your bike will be ready to go. But first, remove dust with a clean, dry cloth, and wipe with mineral spirits to ensure good adhesion. Don't spray over existing air-dried enamel paints.
 Pros:
 Cons:

Can withstand any form of rust and corrosion

Tough and attractive coating

Dries quickly after application

Shiny brilliant finish

Requires more coats than usual 
Dupli-Color Universal Perfect Match Automotive Paint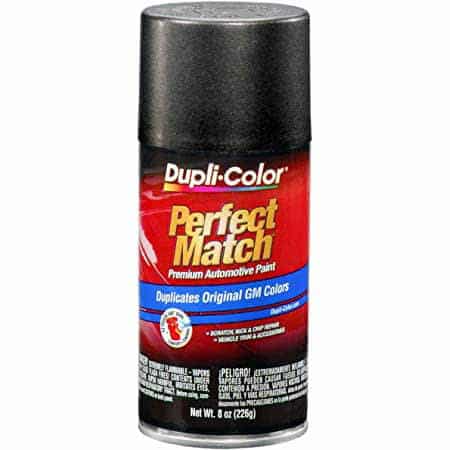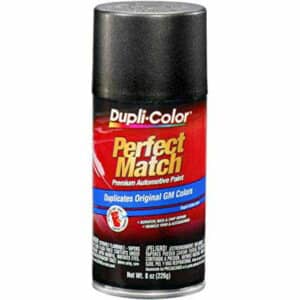 Features:
Paint Type: Lacquer
Item Form: Aerosol
Brand: Dupli-Color
Special Feature: No Clear Coat Required
Surface Recommendation: Metal
Color: Universal Gloss Black/Silver/Flat Black/Chrome/White
Unit Count: 8 Ounce
For a professional look, the superb acrylic lacquer aerosol Perfect Match Spray Paint from Dupli-Color should be your perfect choice. It's proven to be of tough durability and lustrous finish.
The EZ Touch 360° technology allows for easy change in direction – vertical, horizontal, and any angle in between – of the fan spray. This makes the painting process more comfortable as you'll experience less fatigue in your fingers.
The extensive range of colors available makes it possible for color matching of vintage, new, and even imported motorcycles. And should you need extra protection from the environment, just apply Dupli-Color's clear topcoat?
The Perfect Match may not be the most cost-effective solution available, but it undoubtedly provides an impressive finish. It's ideal for large touch-ups too.
 Pros:
 Cons:

Reliable for fast and large touch-ups

Durable

No clear coat required

Fast drying

Simple, ready to use a spray solution

Allows exact factory color matching

Not the most cost-effective solution
Rust-Oleum 254860 11-Ounce Specialty Aerosol Spray Color Shift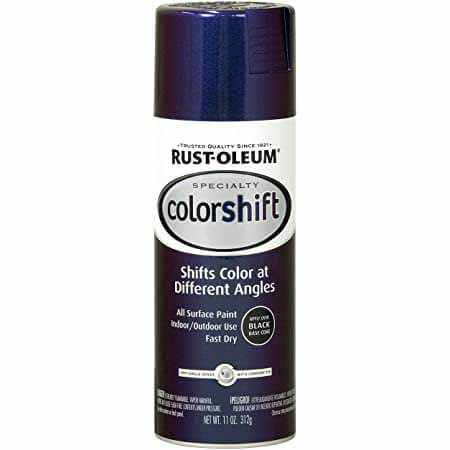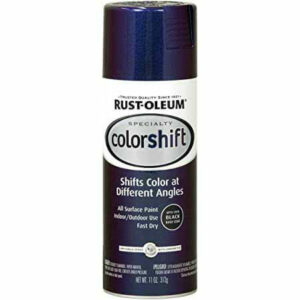 Features:
Paint Type: Spray
Brand: Rust-Oleum
Special Feature: Color Shift
Surface Recommendation: Metal
Finish Type: Satin
Special Feature: Color Shift
Color: Galaxy Blue
Unit Count: 11 Ounce
At the time of writing this review, the Rust-Oleum 11-ounce Specialty ranked as one of Amazon's choices in the automotive spray paint category. And it continues to receive numerous nods online on various e-commerce and drop-shipping platforms thanks to its amazing work on motorcycle frames.
The spray paint gives a high coverage and supper color for applications. It's scratch-resistant and dries to the touch in under half an hour. It'll cure fully in an hour.
And unlike other painting brands, Rust-Oleum uses an innovative technology that features unique light interference pigments, which enhance color shifting. The change of color depends on the source of the light. You can even experience the rainbow color. 
Experts recommend this paint (covering between 10-12 sq ft per can) for waterproofing frame application. Its advanced formula guards against mechanical abrasion and harsh treatment on the frame. Above all, it's easy to use even for beginners thanks to the spray-any-way tip. Apply over a black base coat for best results.
 Pros:
 Cons:

Durable and hardy solids formula for maximum coverage and protection

Fade-resistant paint with UV protection

Beginner-friendly spray-any-way tip

Chipping resistant

Stain-resistant finish

Good corrosion resistance with chemical stability

Requires a black base coat for best results
Related:
Best Spray Can For Motorcycle Painting Mastery
What Kind of Paint Do You Use on a Motorcycle? We Find Out What the Pros Use
How Do You Spray Paint a Motorcycle Frame at Home?
Okay, this may take some time, and if you really adore your motorcycle, then you'll be patient. The first thing that you need to do is to focus on cleaning the frame thoroughly. Then follow these rules:
You are required to unmount the engine, gas tank, and wiring leaving the bike naked. Record a video if you need it to fit it back together correctly. You will find the quality of work increases considerably when you are working with the bare frame.

Now sand it down with successive ever-finer sandpaper after a thorough wash.

Remove any remnant grease and wax off the frame. Use wax remover and other chemical removers like acetone.

Use a primer on the motorcycle frame. This will bond the paint with the metal. Let it dry for 20 to 30 minutes.

Apply the color of your choice and apply successive coats as required paying special attention to hard-to-reach areas and all bolts and nuts.

Although most aerosols are labeled as non-toxic, you need, at the very least, a respirator and do the painting in the open if you don't have a paint booth.
Wrapping Up
Project Bikes are not for the faint-hearted. The paint job alone will take quite a big chunk of your time and requires commitment and patience. From cleaning and stripping the bike sometimes to bare metal to applying the final coat, keeping your cool will play a big role in the overall success and aesthetics of your final product.
Will you try one of these spray paints for your painting project? If you find this post insightful, please let us know in the comments and share experiences with fellow enthusiasts.
About the author:  Michael Parrotte was the Vice President of AGV Helmets America, and a consultant for KBC Helmets, Vemar Helmets, Suomy Helmets, Marushin Helmets, KYT Helmets, Sparx Helmets. In addition, he is the founder and owner of AGV Sports Group.
FM/A