The Kawasaki Ninja 400 is one of the most popular Kawasaki motorcycles out there. Since its first launch in 2018, the ninja 400 has seen yearly improvements in its newer editions.
In this article, we are going to be showing a lot more about the new Ninja 400. Don't stop reading now, there's so much to know about this motorcycle.
What is Kawasaki Ninja 400 like?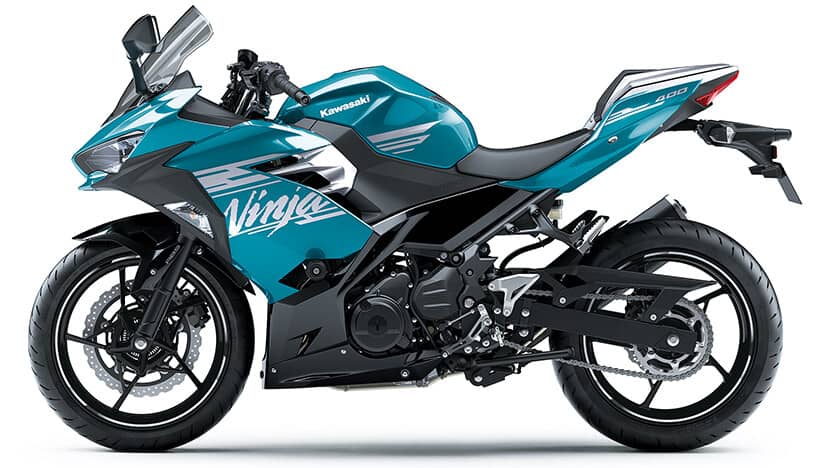 The Ninja is an upgrade from other Kawasaki small-displacement motorcycles. It is a little bit in the class of Ninja H2 and the Ninja ZX-10R. A sharp fairing, with Kawasaki H2, inspired fang, and two led headlamps give it a stylish and aggressive face.
It also incorporates a vented bubble screen up top and recessed turn signals to facilitate a better riding experience.
This sporty yet relaxed motorcycle features a sloping fuel tank, a tweaked frame, a stepped-up seat, a split headlamp, and a raised windscreen combined to give the motorcycle an overall beefier appearance.
The ninja 400 is a motorcycle with characters. From the split headlight back through the tank and the rest of the body, the ninja 400 maintains a consistent lean exterior.
The tail section is sleek and precise, with a triangular tail lamp that was borrowed from the Kawasaki ZX-10R design.
If you're more interested in general aesthetics, this motorcycle offers a variety of amazing colors. The Metallic Spark Black/Metallic and Magnetic Dark Gray/Phantom Blue is mind-blowing. Oh, and of course, the green and black KRT is fantastic too.
Does It mean that the Kawasaki Ninja 400 weighs more than other small-displacement motorcycles?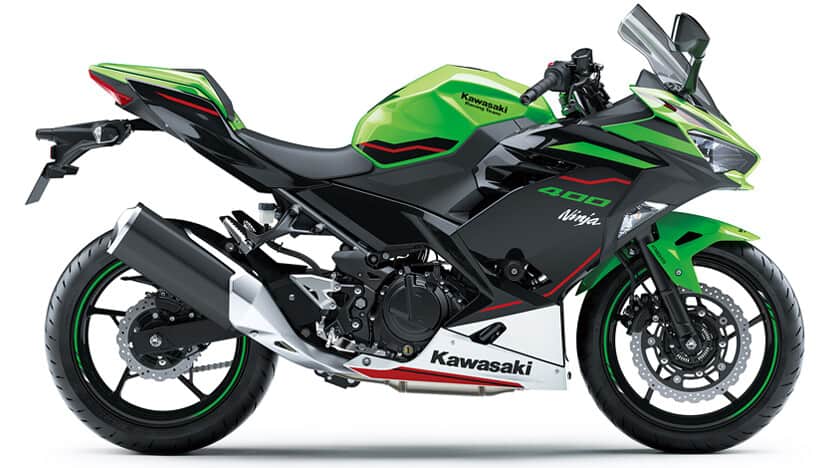 On the contrary, the Kawasaki Ninja 400 weighs less. Despite the extra features it incorporates, the Ninja 400 still weighs significantly less than the ninja 300.
Made from carefully selected materials, the ninja 400 weighs 362 pounds. That's almost 90 pounds less than the 300. Kawasaki was able to achieve this by using a forged camshaft and eliminating sub-throttles.
They also made good use of the steel trellis frame with an engine that nicely stretched, freeing up to 6kg weight. In addition to this, the ninja 400 uses a revised cooling system with shorter piping to reduce weight.
The motorcycle market is fast-changing, and Kawasaki seems to be among the industry influencers.
What is the engine configuration of the Kawasaki Ninja 400?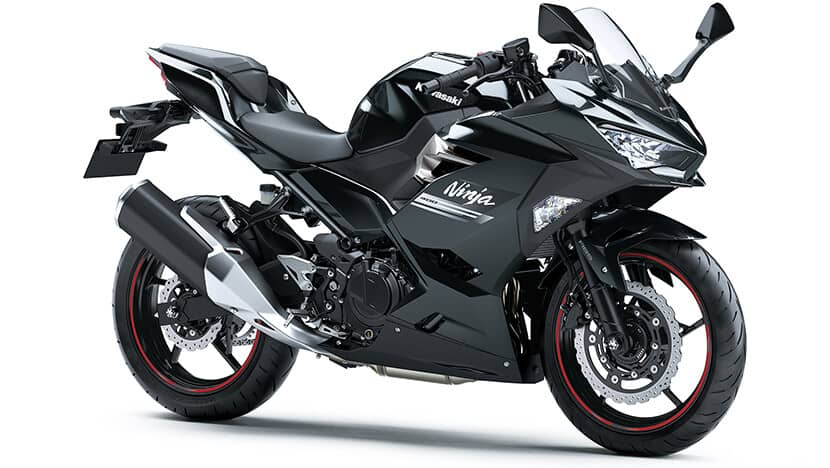 For Kawasaki, the engine is the heart of the motorcycle. The ninja 400 Engine is a rock in the sea. This formidable 399cc, 4-stroke, parallel twin, the water-cooled engine ensures that good times continue to roll.
With such an amazing engine, I can emphatically tell you that this model performs better than any other model in its category.
Is the exhaust note better than the Ninja 300?
I'll say yea right, the new ninja 400 howls like the Kawasaki 650, and that's better than anything the 300 can produce. It has a stark exhaust installed; hence, it sounds like a stark motorcycle. Kawasaki has been able to create a beautiful engine out of this exhaust system.
How fast is the new Kawasaki Ninja 400?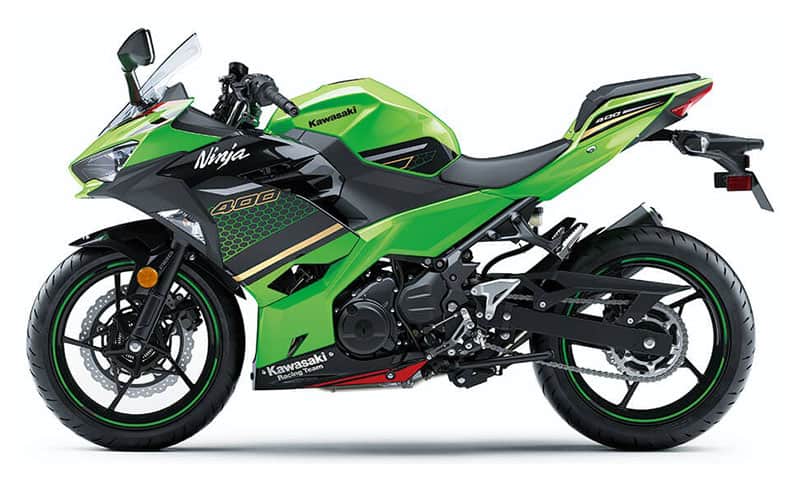 This motorcycle is faster than most of the 250s and 300s we've seen. The Ninja 400 can easily do 60kmph in just 2.44 seconds and 100kmph in 5.40 seconds, making it a very fast motorcycle. In addition to this, this motorcycle features great roll-on acceleration figures in each of its 6 gears.
The Ninja 400 can do a 30-70kmph run in the third gear in 4.27 seconds and 40-80kmph in the fourth gear in 4.45 seconds.
It incorporates 33.4-36.5kw (44.8-49hp) at 10, 000, 32.3kw (43.3hp) at 9,900 rpm(rear wheel) max power. We're talking about being faster by a whopping 25 percent than any other bike in the entry-level class.
Below 4000rpm, the ninja 400 can pull up from 40kmph without skipping, making it an excellent motorcycle for city riding. More so, it can comfortably sit at 120kmph at 7000rpm in sixth gear without vibrating.
This motorcycle is incredibly quick. At a tested top speed of 159.83kmph, this Ninja 400 is one of the quickest motorcycles in its class. You can comfortably do a 100mp in just second gear.
If you like to ride on the highways, the ninja 400 is very fast and great for a long-distance ride.
This motorcycle also features 38N.m (28lb.ft) at 8, 000rpm, 33.4Nm (24.6 ft), at 8,250rpm(rear wheel) torque power. It means you'll feel all the grunt you desire at a lower rev range. No extra pressure on your engine.
Can this motorcycle be used as a commuter motorcycle?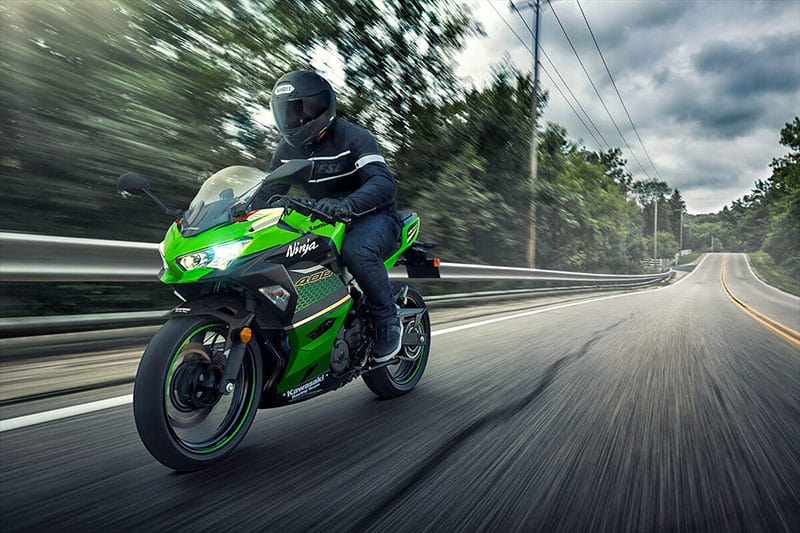 Most definitely! Although there are other motorcycles that are better suited for this purpose, like the Kawasaki Z400, Z650, and Yamaha MT-07. The Ninja 400 remains a great choice as well. This motorcycle is very stable on the freeway, with enough power to spare and a top speed.
In addition to this, the Ninja 400 comes with an assist and slip clutch to make commuting less strenuous. It allows you to go as far as you want in comfort and style.
More so, the upright seating position makes this motorcycle very convenient to use. However, the Ninja 400 seat might be too tight. And that's why there is an option to expand either the seat or the grip of your Ninja 400.
If you're looking for a track motorcycle that won't cost you much, this right here is the one. The Ninja 400 doesn't cost 50-30 or 20 thousand US dollars. It is a perfect example of a low insurance motorcycle.
Can It cope well at Night?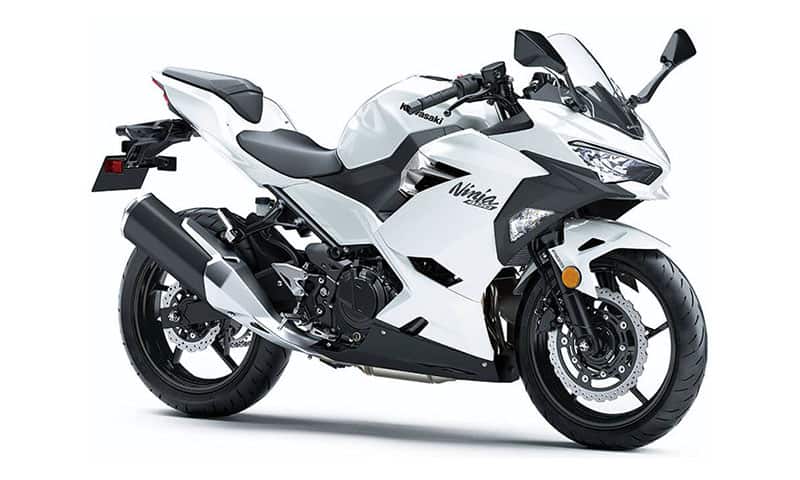 I haven't seen any with such excellent visibility. The twin headlight produces white lighting, and that's not all. It's got a low and high beam facilitator, as well as position lamps.
The system monitors fuel consumption, throttle position, motorcycle speed, engine speed, and others. You can't be caught unawares in the middle of nowhere.
The Ninja not only lights up the road for clearer vision, but it also lights up your mood as you enjoy your night out.
How convenient is the braking and gear system?
In just 28.98 meters, Kawasaki Ninja 400 brakes conveniently from 80kmph to zero and from 100kmph in 45.50 meters. Thanks to a single 310mm petal-type disc in the front, with two-piston calipers. And a 220mm petal-type disc and a single-piston caliper control the rear.
An additional ABS calibration, especially for the rear brake, is another advantage of this motorcycle's braking system.
A cast alloy 17 inch spoke wheels help the braking system to keep unsprung weight down. And a Sportmax GPR -radial tires that respond perfectly to the braking system.
The use of disc brakes on both the front and rear wheels eliminates the chances of skidding on the roads. However, the absence of adjustable levers might pose problems for some riders.
Kawasaki Ninja 400 also comes with an improved 6-speed gearbox that allows riders to select a preferred gear. Going up and down the gearbox is smooth.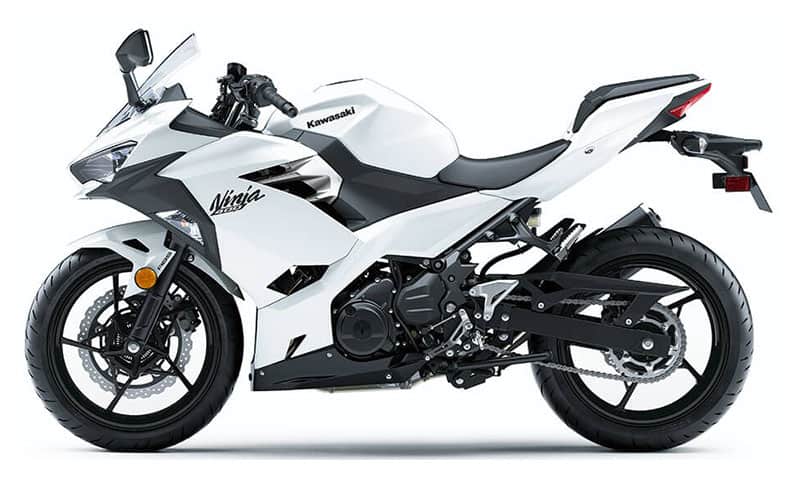 The Ninja 400 ride quality is not affected by bad roads or undulations. It features a new tubular steel trellis frame that is stronger but lighter than the 300's motorcycles. And a steering geometry is sharper with a 24.7-degree rake.
In addition to this, the motorcycle comes with a short wheelbase of 1,370mm, which makes flicking easy. However, the 140mm ground clearance does not allow for too much speed over tall speed breakers.
Kawasaki Ninja 400 features a 41mm hydraulic telescopic fork/4.7 for the front suspension and horizontal backline with adjustable spring preload/5.1 as rear suspension.
The front end is a little softer to ensure the motorcycle can cope well on very sharp bumps, while the rear feels slightly stiffer so that you can only feel a tad bounce as you run through bumps.
Both the front and rear suspension complement each other to create a memorable riding experience.
The front is designed to deal with bad roads without knocking the bars out of the rider's hands, while the rear makes sure the motorcycle does not squat or stand easily under hard acceleration or braking. This makes the overall ride quality not as harsh as the KTM RC390's or as soft as the Yamaha R3's.
Is it available in the European market?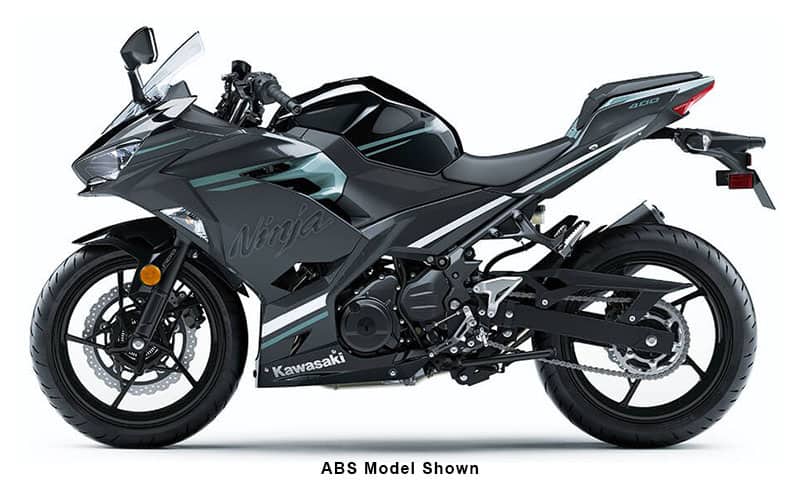 The new Kawasaki ninja 400 is a Euro 5 compliant motorcycle, and it is going to be available in the European market. Before now, we've seen both the 2018 and 2019 editions of the same motorcycle in the European market. Hence, we're already expecting both the 2020 and 2021 editions.
This means individuals from the UK, Canada, New Zealand, and Australia can purchase this motorcycle. Some of the older versions of the ninja 400 are also available for riders in South Africa.
In America, Kawasaki launched the ninja 400 on December 1, 2017. And it has seen enormous sales since then.
How many editions of the Kawasaki Ninja 400 are currently available?
Up to date, we've seen the 2018 and 2019 editions and a little bit of the 2020 edition. And we're expecting the 2021 edition soon.
The Ninja 400 usually comes in a normal ABS version or a KRT edition with additional features. They are almost the same, except for some important upgrades. Both still give you the best.
Is the rider's height important?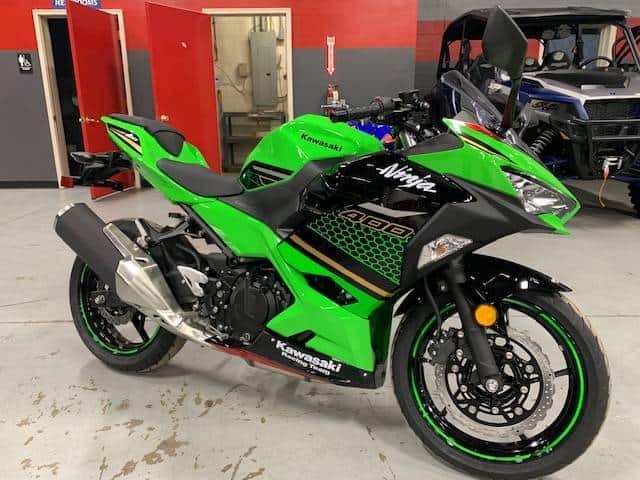 Well, not so much. This new ninja 400 soothes a wide range of rider sizes. It comes with a relaxed rider placement, a raised handlebar, and slightly forward footpegs.
The seat height is 30.9 inches, like the Ninja 300, making it comfortable for people below 5.5ft. The new fairing offers maximum wind protection and rider comfort. The presence of a new radiator fan cover located behind the radiator directs air outwards to the side.
A narrow waist and saddle-to-tank union leave the pilot with an easy shot from hip to ground and a functional seat.
Specification:
Engine: 4-stroke, 2 cylinders, DOHC, water-cooled

Displacement: 399cc

Bore x Stroke: 70.00mm X 51.8mm

Compression ratio: 11.5:1

Fuel System: DFI with 32 mm throttle bodies 2

Ignition: TCBI with advance

Transmission: 6-speed with positive neutral finder

Final drive: Sealed chain

Frame: Trellis, high-tensile steel

Rake/Trail: 24.7/3.6
Front suspension:
Wheel travel: 41mm telescopic fork/4.7
Rear suspension:
Wheel travel: Bottom-link uni-track, swingarm adjustable preload/5.1

Front tire: 110/70×17

Rear tire: 150/70×17

Front brakes: 310 mm Semi-Floating Disc, 2-Piston Balanced Actuation Caliper
Rear brakes:
Overall length: 78.3 in

Overall width: 28.0 in

Overall height: 44.1 in

Ground clearance: 5.5 in

Seat height:  30.9 in

Curb weight: 362 lb (ABS: 366.0 lb)

Fuel capacity:  3.7 gal

Wheelbase: 53.9 in

Top speed: 105 mph (est)

Torque power: 38N.m (28lb.ft) at 8, 000rpm, 33.4Nm (24.6 ft), at 8,250rpm(rear wheel)

Max power:  33.4-36.5kw (44.8-49hp) at 10, 000, 32.3kw (43.3hp) at 9,900 rpm(rear wheel).

Warranty: 12 Month Limited Warranty (optional Kawasaki Protection Plus™ 12, 24, 36, or 48 months
Colors:
2018: Pearl Solar Yellow/Pearl Storm Gray/Ebony, Metallic Spark Black, Candy Plasma Blue (KRT Edition: Lime Green/Ebony)

2019: Metallic Spark Black, Pearl Storm Gray/Metallic Magnetic Dark Gray, Candy Persimmon Red/Metallic Magnetic Dark Gray (non-ABS in Metallic Spark Black only)

2020: Pearl Blizzard White, Metallic Spark Black/Metallic Magnetic Dark Gray/Phantom Blue (KRT Edition: Ebony/Lime Green)
Price:
2018:  $4,999, ABS: $5,299, KRT Edition: $5,499

2019:  $4,999, ABS: $5,299

2020:  $4,999, ABS: $5,299, KRT Edition: $5,199
Conclusion:
The Kawasaki Ninja 400 is designed for a wide range of riders. It doesn't matter whether you're a seasoned rider or a novice. This motorcycle is designed to give you a memorable riding experience. The Ninja 400 looks good and rides well on both short and long distances.
About the author:  Michael Parrotte was the Vice President of AGV Helmets America, and a consultant for KBC Helmets, Vemar Helmets, Suomy Helmets, Marushin Helmets, KYT Helmets, Sparx Helmets. In addition, he is the founder and owner of AGV Sports Group.