The designers of the all-new Royal Enfield Classic 350 for 2022 didn't have to seek far for ideas. The 1948 G2 350 Bullet, according to the firm, had the biggest impact on the hearts and minds of drafters and clay-carvers in the contemporary era and it shows.
This is A Motorcycle, written in capital letters, and it wants everyone to know it. It's straightforward, unadorned, and, quite simply, it Is. You could stick some accouterments on it if you wanted, but this is motorcycling at its purest, most fundamental level. The key to having a good time on a bike in 2022 is to keep it simple: Improve things (such as brakes), but don't overcomplicate a good thing.
What are the engine specifications of the 2022 Royal Enfield Classic 350?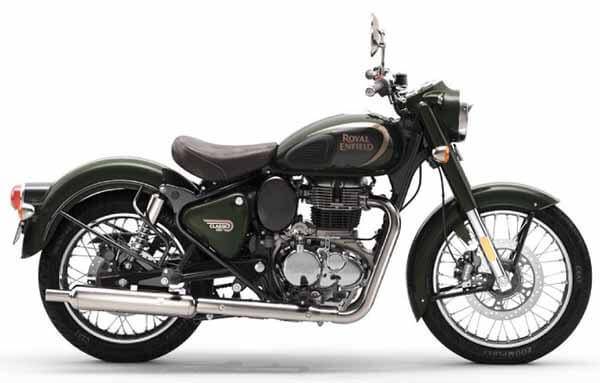 It's a 349cc single-cylinder mill with a bore and stroke of 72 x 85.8mm and is air and oil-cooled. It produces 20.2 horsepower at 6,100 rpm and 19.9 pound-feet of torque at 4,000 rpm, according to the manufacturer. It features a five-speed gearbox and is fuel-injected, as you'd expect in 2022.
Engine specification
Engine attributes.

·         J-Series Engine

·         349cc

·         Air-cooled

·         Fuel-injected

·         Single-cylinder.

Max. power.

20.28hp at the rate of 6100rom

Max. torque.

27.00Nm at the rate of 4000rpm

Compression-ratio.

Bore * Stroke.

9.5/ 1

(72*85.8)mm

The gearbox

Five-speed along with the wet-multi-plate clutch.

Engine starter.

Air-cleaner.

Electric.

Element of paper.
 Chassis and suspension features of 2022 Royal Enfield Classic 350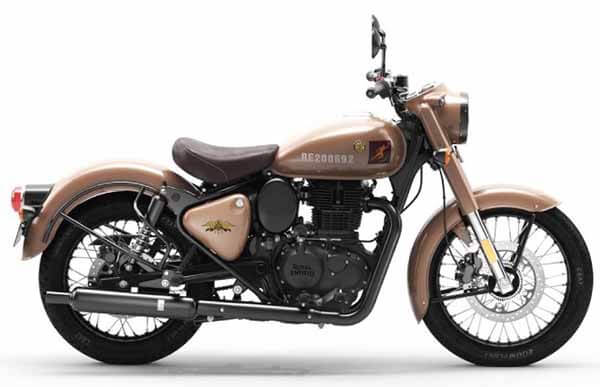 Upfront, a 41mm telescopic fork with 130mm of travel handles suspension chores. The preload on the dual rear shocks may be adjusted in six steps. It rides on CEAT Zoom Plus rubber on a 19-inch wheel up front and an 18-inch wheel in the back.
Frame-type

Twin-downtube spine.

The front suspension of the classic 350

·         130mm-travel

·         41mm-forks

·         Telescopic

Rare suspension of classic 350

·         Twin-tube

·         Shock-absorber

·         6-time preload adjustable
As it is reborn, the All-New Classic 350 continues to represent the traditions and workmanship of the past. The all-new Classic 350 is inspired by the post-war G2 model, which debuted in the 1950s and continues to be a testimony to the timeless design that wowed the riding world back in the heydays of British motorcycling. The classic Royal Enfield Classic's teardrop fuel tank, unique thud, and signature Casquette headlight all blend together in perfect harmony, delighting in the masterpiece that is the Royal Enfield Classic.
Braking features of 2022 Royal Enfield Classic 350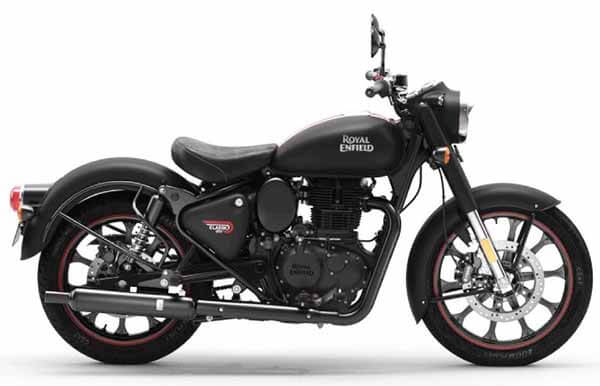 A 300mm front disc with a two-piston floating caliper from ByBre and a 270mm rear disc with a single-piston floating caliper from ByBre provide braking power. No matter what pranks bystanders and traffic throw at you while you cruise downtown, dual-channel ABS makes it difficult to get yourself into trouble.
Brakes
Front brake:

Floating caliper /

Twin-piston /

300mm-disc

Rare brake:

Floating caliper /

One-piston /

270mm

Tires

Front-tire:

Rare-tire:

Alloy-spoke

100: 90-19

120: 80-18

ABS

Dual-channel /

Single
Classic's new instrument cluster blends the charm of a 'dancing needle' analog speedometer with the utility of an LCD display, making it both timeless and up to date. A hidden USB connector behind the handlebars allows for on-the-go charging, and the confidence-inspiring Dual Channel ABS is standard on all save the Redditch variants.
The stunning Chrome Red and Chrome Bronze Classics are enhanced by Royal Enfield's unique turn-by-turn navigation pod, Tripper, while the Make It Yours (MIY) platform allows new owners to tap into a variety of personalization choices at the time of booking.
 What are the dimensions of the 2022 Royal Enfield Classic 350?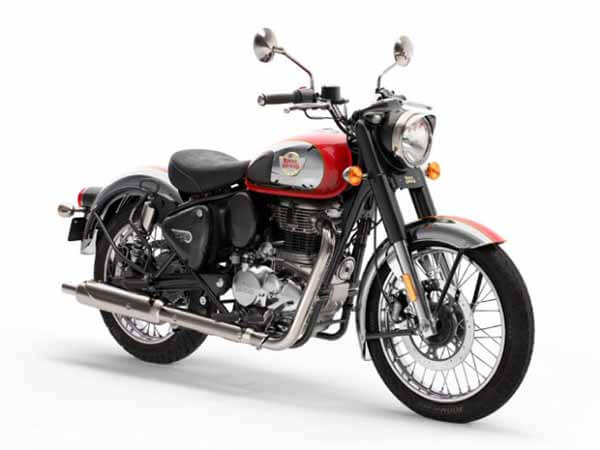 Length.

Width.

Height.

2145mm

785mm

1090mm

Wheelbase;

1390mm

Curb-weight;

195kg

Fuel-capacity;

13L

Seat-height;

805mm

Clearance from ground

170mm
 Electrical features
According to Enfield, a headlight is a halogen unit with an LED light guide, and we didn't ride these motorcycles at night, so I can't comment on their performance in the dark. During the day, though, the display is clean, straightforward, and easy to see, with an appealing analog speedometer and a basic LCD fuel gauge.
Although there is no tachometer, you will quickly discover how it prefers to be shifted. The seat height is a very accessible 31.69 inches, and the curb weight is 430 pounds with 90% gasoline and oil, according to Enfield.
| | |
| --- | --- |
| Battery-type | 8Ah/12V/VRLA |
| Headlight: | 12V/H4 (Halogen) |
| Taillight: | P21/12V |
| Signal-light: | 12V/10W |
| Electric-system | 12V |
What are the colors available for the 2022 Royal Enfield classic 350?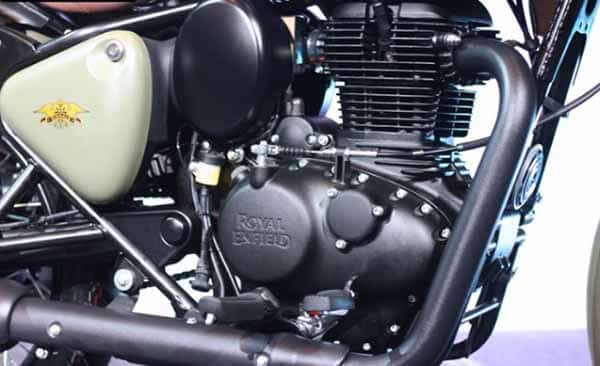 Single-channel:
Redditch-sage green

Redditch-grey

Redditch-Red
Dual-channel:
Single-desert sand

Halycon-Black

Halycon-green

Halycon-grey

Chrome-red

Chrome-bronze

Gun-metal grey

Dark-stealth black
Chrome 350 Classic
It's touted as a commuting vehicle. It's ideal for whizzing from home to work, stopping at the local tavern, or galloping to the beach, so it's odd that Royal Enfield picked the rural setting of Mickleham in Victoria to introduce its vintage city goer — an area with predominantly 80-100 km/h speed zones. That may seem strange, but it was brilliant because we carried the Classic well beyond where its design brief would say it should be and it still impressed – it's the most fun I've had on a bike in a long time.
Dark 350 Classic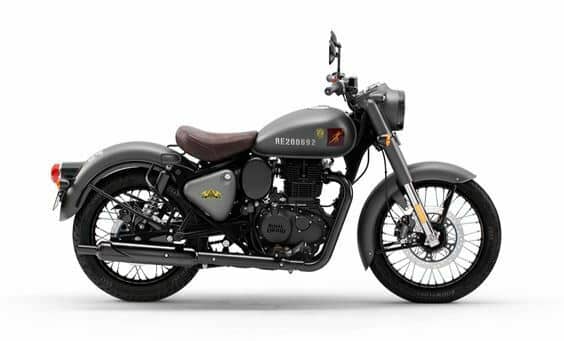 The Classic, on the other hand, appears eerily vintage, recalling postwar Royal Enfields from the 1950s. The most difficult part for potential Classic 350 owners will be deciding which model to buy since it comes in four distinct variations with nine different color schemes. The Halcyon series, which starts at $7990 (ride away), is the entry point for the Classic, while the Chrome series, which starts at $8790 (ride away), is the range-topper.
350 Signals (Classic)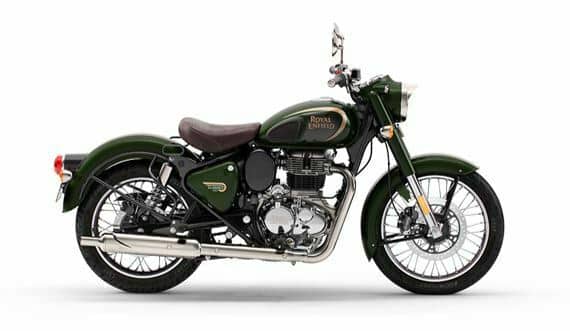 By today's standards, a 350cc single is pitifully little for a road bike, but Royal Enfield has a long history with the capacity, with the post-war G2 Bullet 350 perhaps the most renowned.
The J-platform air-cooled 349cc single, first debuted in the Meteor 350 in 2020, won't take the skin from a rice pudding, but it's suitable for the Classic's design and intended function. The fuel-injected single produces a paltry 15kW (20.2hp) at 6100rpm and 27Nm of torque at 4000rpm, and it's responsible for pulling 195kg of stated wet weight.
Halcyon 350 Classic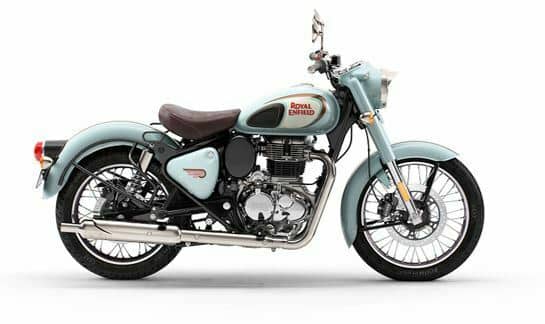 To put that in context, Husqvarna's retro-styled Vitpilen 400's water-cooled 373cc single produces 32kW and 37Nm of torque and weighs a little over 160kg (claimed) ready to run.
The Classic's lack of horsepower is more than compensated for by the engine's classic appearance. It's nicely crafted, just like the rest of the bike – especially given the $7990 starting price. Within RE, there was considerable dispute about whether or not a kickstart should be installed. Yes, it would have completed the appearance, and I would have used it occasionally simply for the nostalgic trip, but RE elected not to incorporate a Kickstarter in the new design for a variety of reasons.
Slow bikes are fantastic – there will be naysayers since they aren't particularly powerful, but there are advantages. For starters, it slows you down and offers you more time to relax and enjoy the surroundings, which is exactly what the Classic is for me — pounding along with no worries and simply taking in the no-frills ride and the surrounding environment. The second advantage is that if you want to zoom through the twisties, you have to rely on your skill levels; you can't rely on tremendous power to compensate for bad cornering skills.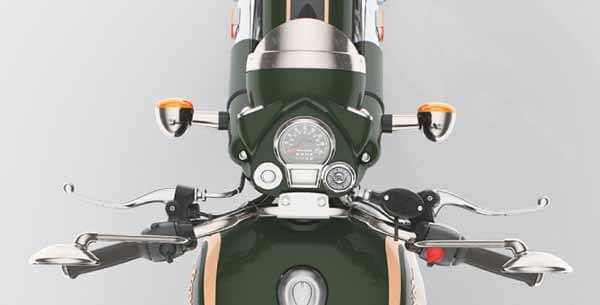 The 349cc single-cylinder engine on the Classic is the same as on the Meteor, but the twin-downtube frame is all-new and has been engineered to deliver better stiffness and a livelier ride. A traditional 41mm non-adjustable fork with 130mm travel keeps the front end tracking straight, while six-way preload-adjustable dual shock absorbers keep the bumps at bay in the back.
The cockpit is both beautiful and simple. The huge analog speedometer is front and center, with a tiny LCD display below it showing basic information like the odometer reading, trip meters, and fuel level. The ignition is on the left, while a decorative RE logo on the right masks a blank for the company's optional Tripper navigation system. In the rear of the left-hand switch block, there's also a handy USB port.
What is the price of the 2022 Royal Enfield Classic 350?
The Halcyon series, which starts at $7990 is the entry point for the Classic, while the Chrome series, which starts at $8790 is the range-topper.
About the author:  Michael Parrotte was the Vice President of AGV Helmets America, and a consultant for KBC Helmets, Vemar Helmets, Suomy Helmets, Marushin Helmets, KYT Helmets, Sparx Helmets. In addition, he is the founder and owner of AGV Sports Group.
M/Z