Every rider would really like to ride safe and fun adventures. You want reliable pieces that will keep you comfortable and protected as you ride. One of these is your helmet.
In most countries, you're required by law to wear a helmet while riding your motorcycle/bike. So, the way to find a model that's quality yet affordable? It depends on the Brand and model that you simply choose. Please read the article below and find a good helmet for you with quality, durability, and a price under $200.
14 The Best Motorcycle Helmets Under 200 Dollars
1. AGV Helmet – AGV K3
This Street Legal, DOT-approved helmet is among the best affordable models on the market. It's a superb choice if you're trying to find a modern design and reliable construction. The outer shell is made of HIR-TH which stands for high resistant thermoplastic resin.
It's a durable material that's quite resistant to scratching and impact. For sizing, the brand went for 2 outer shells and 4 EPS sizes to supply the best fit. Inner shell dimensions are optimized using Finite Elements Method analysis.
This one also features the Integrated Ventilation System with wide ducts in the EPS shell. The manufacturer used wind tunnel testing to optimize the shell with four front vents and two rear extractors. There's almost no wind noise which is also a plus.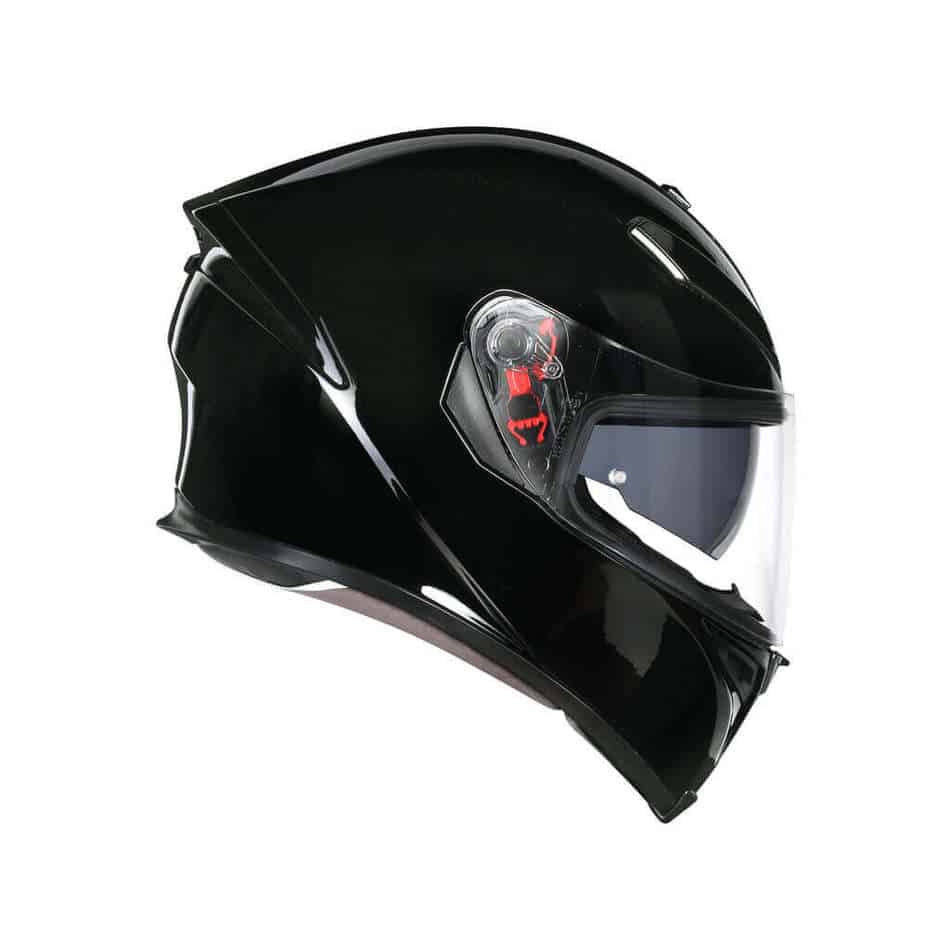 Pros:
Easy to use vents

True to size

No wind noise
Cons:
Might be too tight for some
2. AGV K-3 SV Helmet Review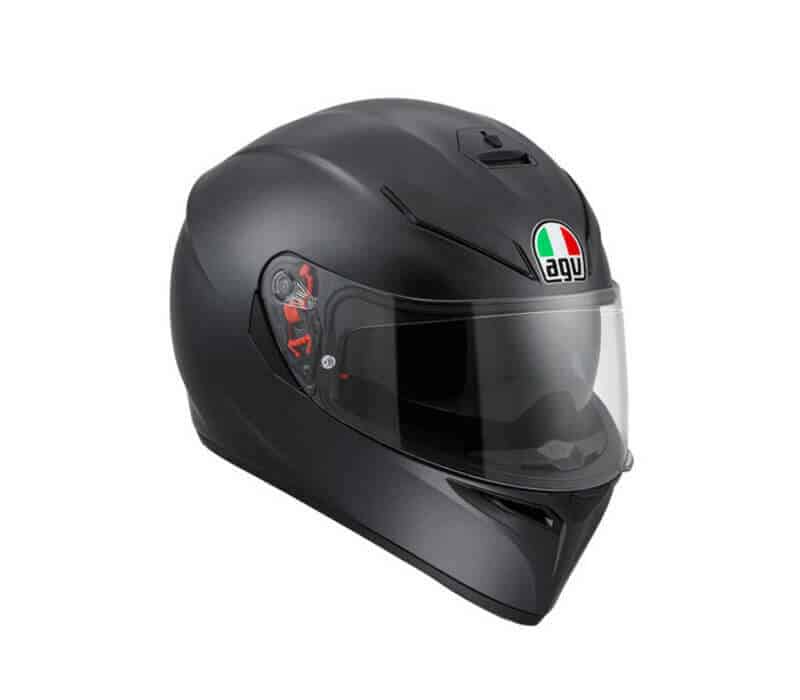 The AGV K-3 SV is the successor to the very popular K3, it just includes an integral sun visor (hence the SV). The shell is constructed from a High Resistant Thermoplastic Resin, which comes in two shell sizes, while the removable and washable interior lining pads are made from Dri-Lex microfibre.  
The K-3 SV has a four-star Sharp rating and comes loaded with handy features that make this an excellent value helmet. Our model is the K-3 SV Replica Mir 2017.
Specifications:
Weight: 1470g

Two shell sizes

Two-year warranty when registering a helmet with AGV within 60 days of purchase

SHARP 4 out of 5-star safety rating

ECE 22.05 approved in Europe
You may also like: Snell vs DOT Motorcycle Safety Helmet Standard-Which is better?
3. Bell Qualifier DLX Blackout

Helmet Review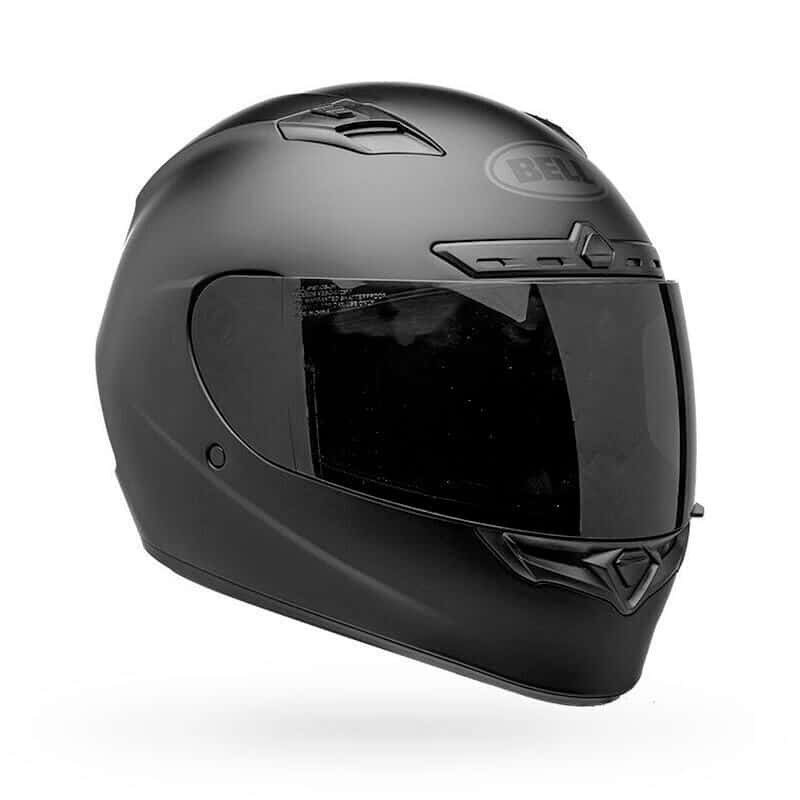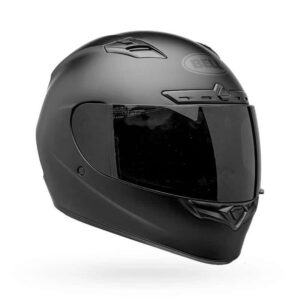 Bell's Qualifier is among the most popular helmets on the market. It's lightweight, durable, and aerodynamic. It comes in several sizes and colors to choose from. The polycarbonate ABS shell is quite strong and scratch-resistant. It accommodates the Bell Senna SMH10 and Card Scala Rider Q1/Q3 Bluetooth headset in the integrated pockets.
On the inside, this one has a moisture-wicking interior and countered cheek pads. The padding is removable and washable for easier maintenance. It's a full-face helmet with NutraFog II superior anti-fog, an anti-scratch shield that's also UV-protective.
The click-release system makes it easy to change the shields with none no additional tools. On top of that, this one has a padded strap with D-ring closure. The Qualifier is DOT approved for having met their FMVSS 218 safety standard.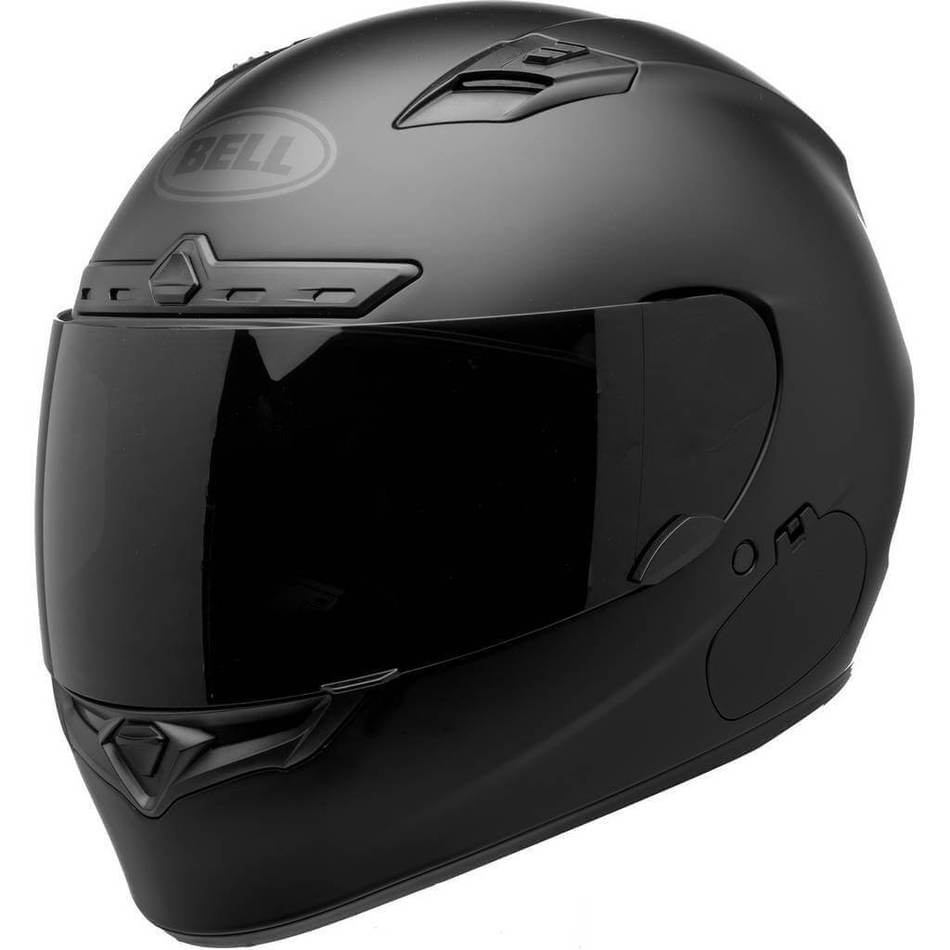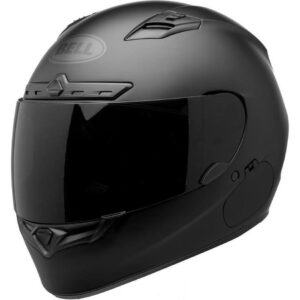 Pros: 
Tool-less shield change

Scratch-resistant finish

Integrated speaker pockets
Cons:
4. Bell SRT Street

Helmet Review
The modular street motorcycle helmet has an extremely lightweight fiberglass composite shell which makes it stronger than the average helmet…or the helmets in the same price range. The wonderfully made, stylish-looking helmet features come in several shell size options to ensure you find one that fits your specific head size and shape.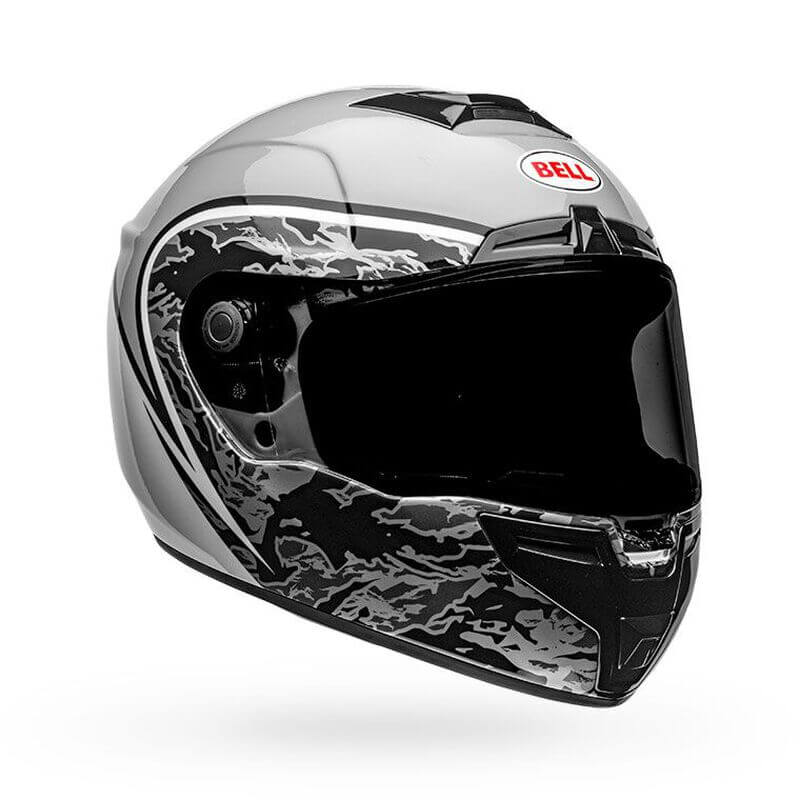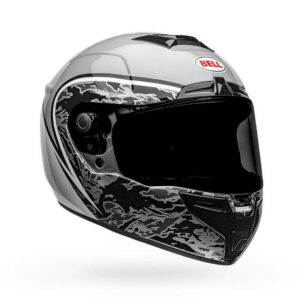 It also comes in up to 3 interior EPS lining dimensions so that you can enjoy a customized fit for your noggin. This ensures a snug fit—eliminating the shifting and lifting associated with poor fitting models.
Another cool feature that puts this helmet on the map revolves around the Bell's proprietary Panovision which not only offers you crisp vision but also increases your field of view. It also incorporates a drop-down tinted sun shield.
The sliding knob on the helmet's left side lets you hassle-freely operate the visor, even with your gloves on. Just below the visor, you'll notice two chin bar ports that supply you with plenty of airflows to keep your dome cool without increasing the noise level.
And on the inside of this helmet, you'll be pleased to discover the recessed speaker pockets, which let you hassle-free add an intercom to your speaker or any other audio enhancement you wish.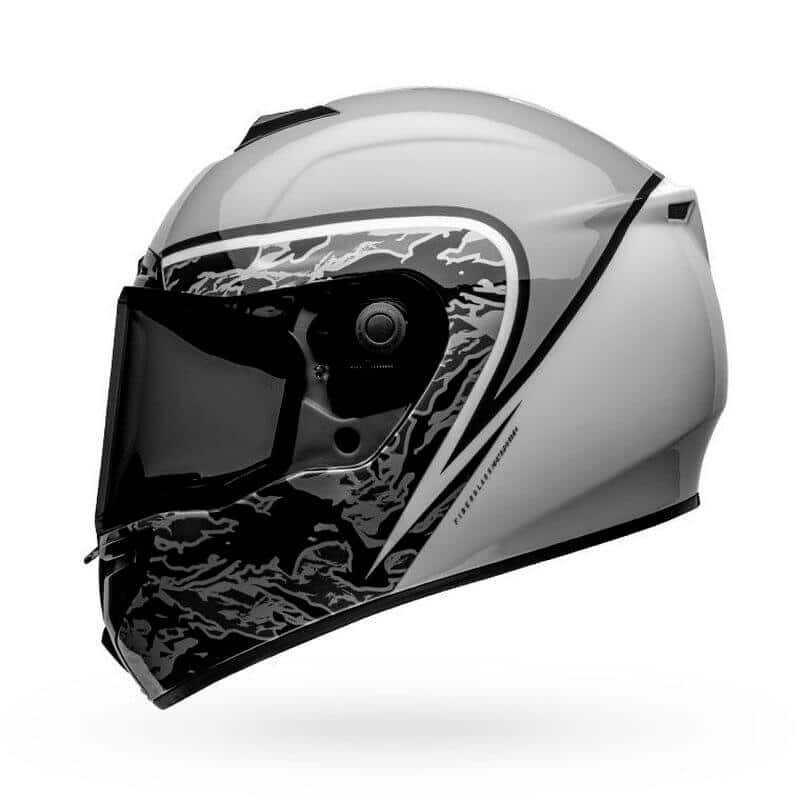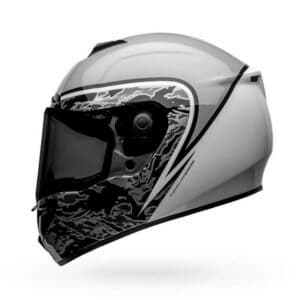 Highlighted Features:
Lightweight fiberglass shell

Huge, incredible field of view

DOT and SNELL approved

Eye-wear compatible

Recessed EPS speaker pockets

Integrated clear sun shield

Easy visor removal/installation

Industry-leading 5-yr warranty
5. HJC CL-17

Helmet Review
HJC helmets are some of the best options for both beginners and experienced riders. Their CL-17 might be their most popular model due to its affordability, durability, and overall convenience. The advanced polycarbonate composite shell fits snuggly, is lightweight, and is quite comfortable thanks to the CAD technology.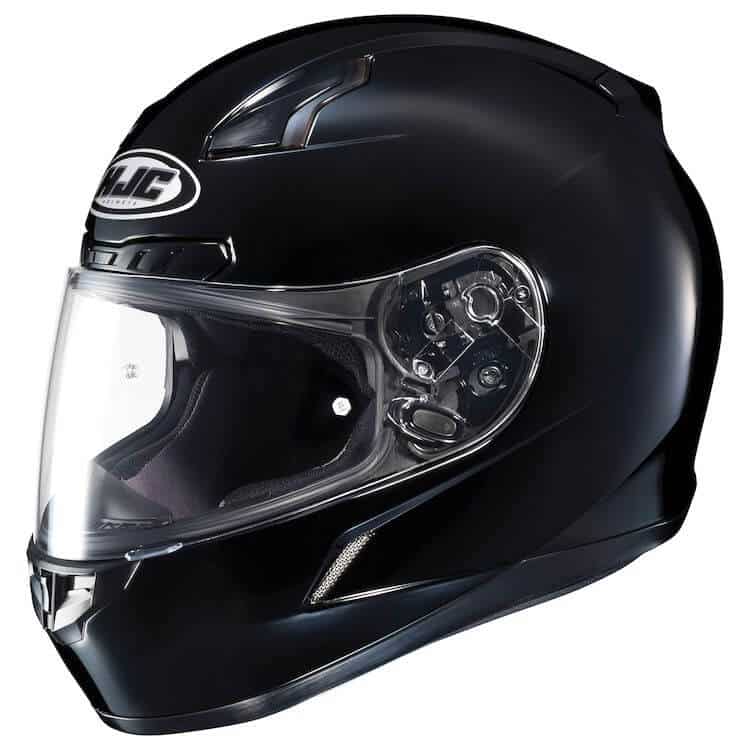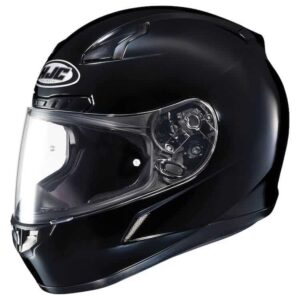 It also features an anti-scratch Pinlock-ready face shield that rejects 95% of harmful UV rays. The shield lock mechanism provides a secure seal, so the shields don't wobble or move during rides. On top of that, the RapidFire Shield Replacement System makes it easy to remove and install the shields without any additional tools.
For ventilation, the manufacturer included Advanced Channeling Ventilation System with full front-to-back airflow. It keeps the temperature and humidity at appropriate levels. Interior padding, cheek pads, and liner are all moisture-wicking and removable.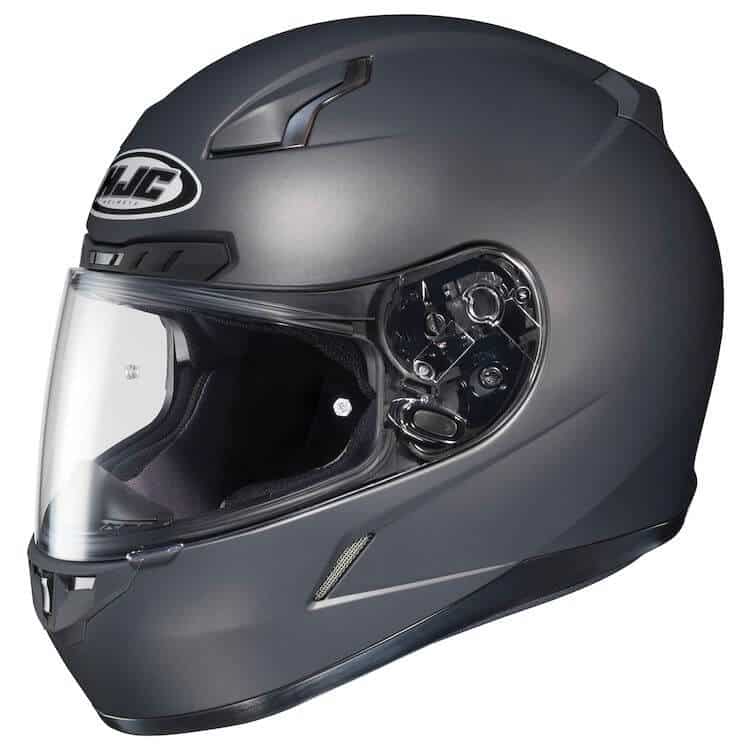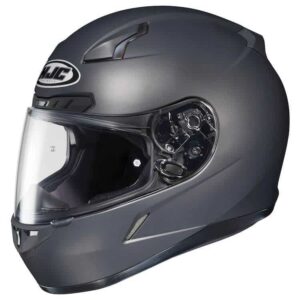 Pros:
Antibacterial padding

Interchangeable cheek pads

Easy to install face shields
Cons:
6. HJC

Helmet Review
This full-face street motorcycle helmet has a rounded shape that appears more vintage-looking. It still looks quite impressive and fierce, especially in the white finish. The shell is made of polycarbonate composite and is reasonably lightweight. Thanks to CAD technology, the sizing, and overall fit are pretty accurate and snug.
It comes with an anti-scratch Pinlock-ready face shield along with a 3D design. The side face shield has a locking mechanism for a more secure seal that's especially useful during high-speed rides. This one is quite simple in terms of removing and installing the face shields.
It features the unique RapidFire Shield Replacement System for quicker and easier maneuver. On top of that, the system allows the changes to be without any additional tools.
Pros:
Easy to work with

Snug fit

Pinlock-ready
Cons:
7. HJC Marvel

Helmet Review
If you're a Marvel fan, this helmet is probably the best choice you can go for. Its unique design is attractive and ideal for all kinds of bikers and motorcycles. Among the most important things to mention are its certifications.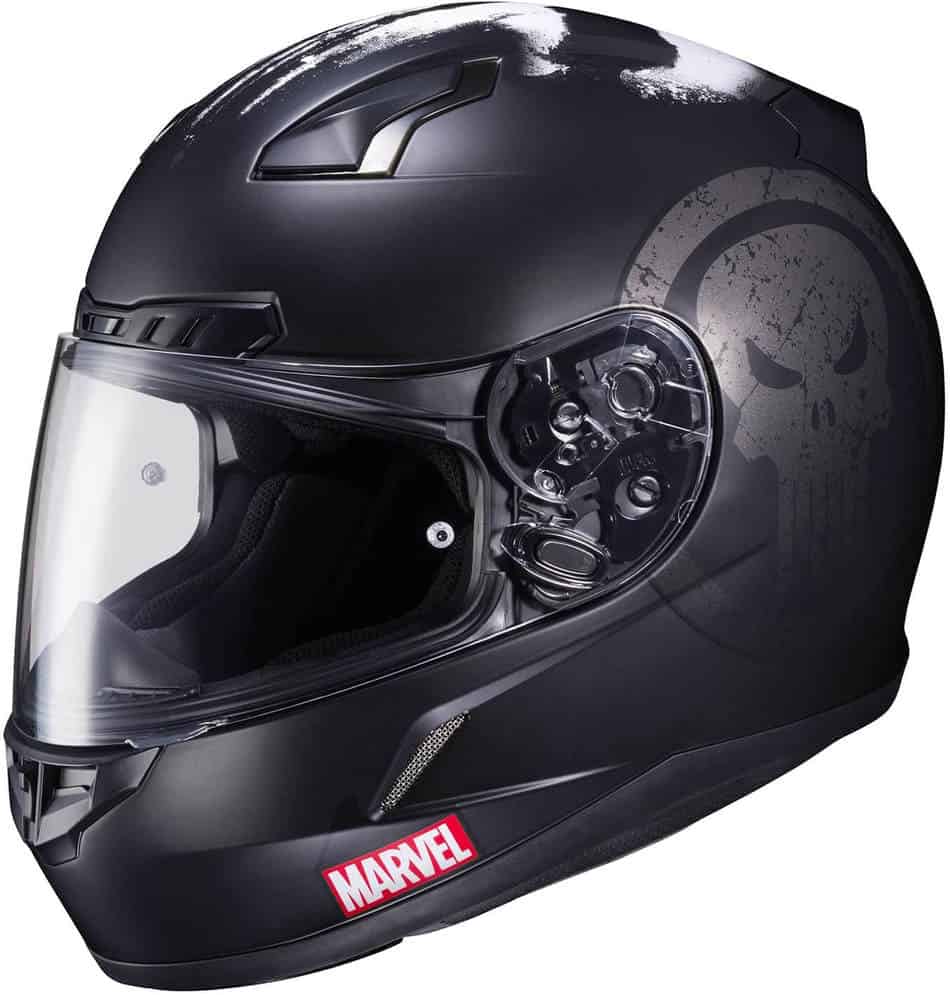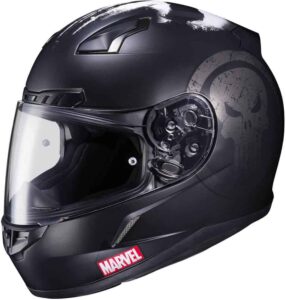 Sizes XS to 2XL is approved by SNELL, while plus sizes 3XL are approved by the Department of Transportation in the USA. The polycarbonate composite shell is lightweight and allows a snug and comfortable fit. The CAD technology provides a more customized fit regardless of the actual size you go for.
This one features an anti-scratch Pinlock-ready 3D face shield. It provides 95% UV protection. On top of that, the side shield locks with a mechanism that gives a more secure seal. The RapidFire shield replacement system allows quick and tool-less removal and installation of different shields.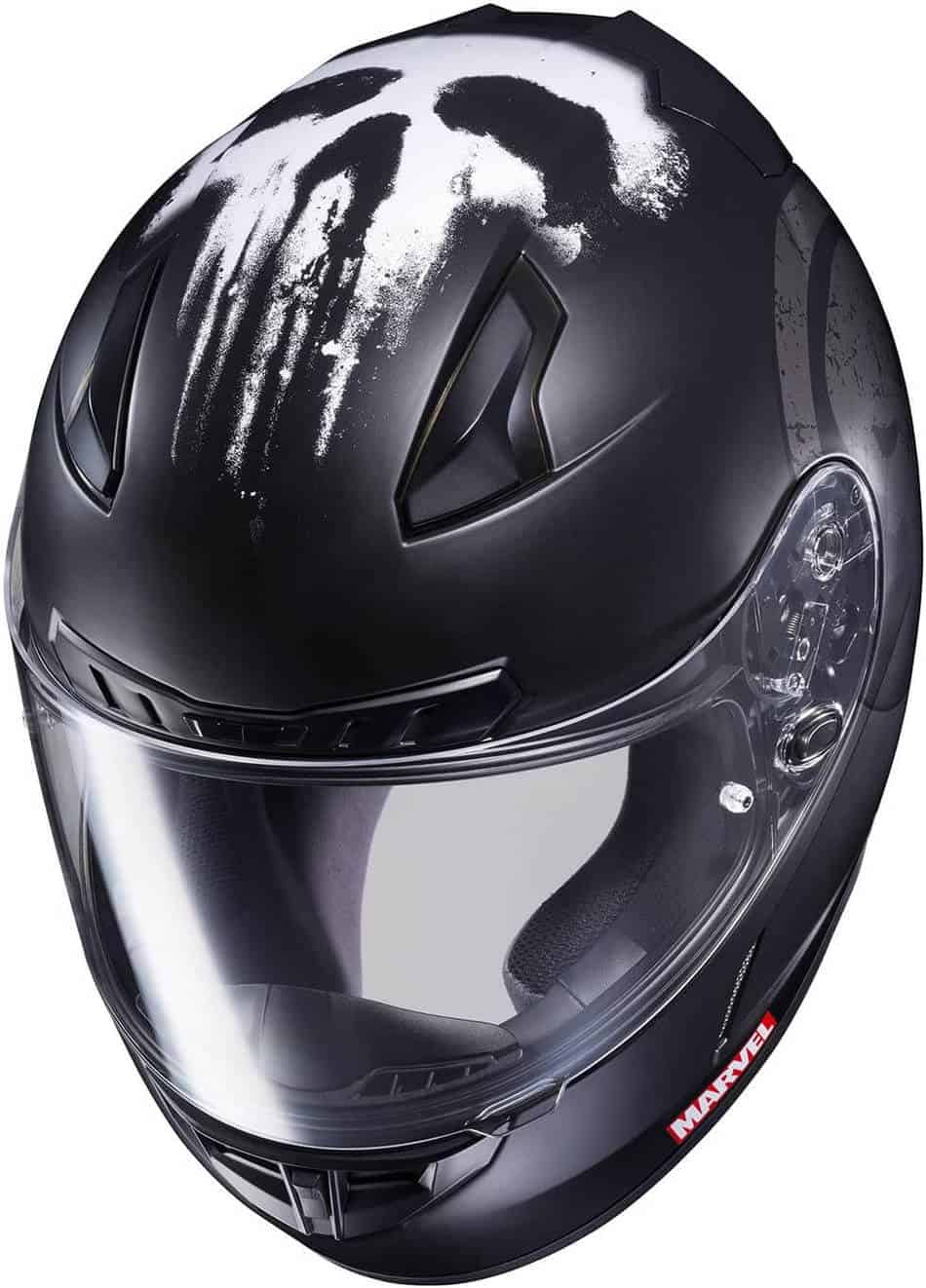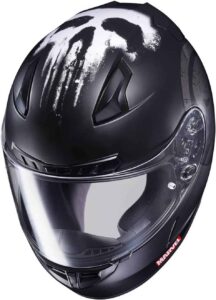 Pros:
ACS ventilation system

Pinlock-ready

Marvel design
Cons:
Tricky to use with gloves
8. HJC CS-15

Helmet Review
The HJC CS-15 has a polycarbonate shell, and the moisture-wicking Nylex interior pads are removable and washable.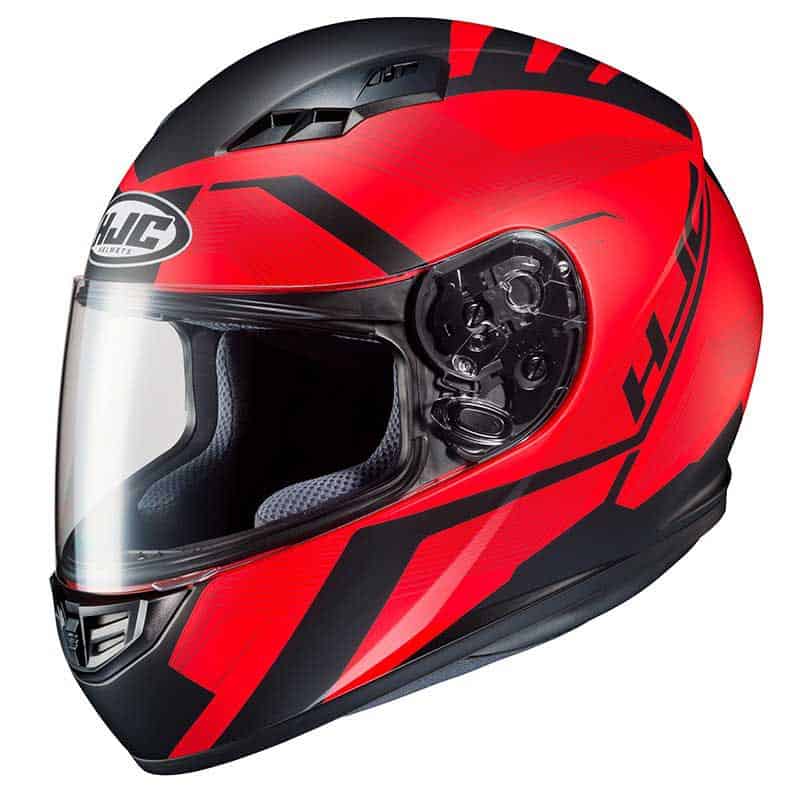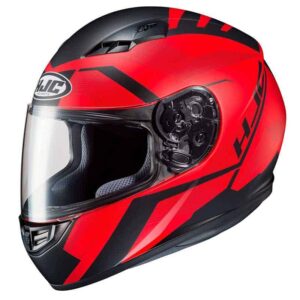 It also features an Advanced Channeling Ventilation System (ACS) – closeable forehead and chin vents, plus two rear mesh exhaust vents – so your head won't get too toasty when you're out there policing the Galactic Empire (if you opt for the Limited Edition Stormtrooper option, that is).
The visor is anti-fog and scratch-resistant, providing 95 percent UV protection, and is Pinlock ready. It's secured with HJC's RapidFire Replacement System, which means the visor can be replaced easily. There's a micro buckle adjustment strap too, which is very easy to use even with gloves on.
9. LS2 Stream

Helmet Review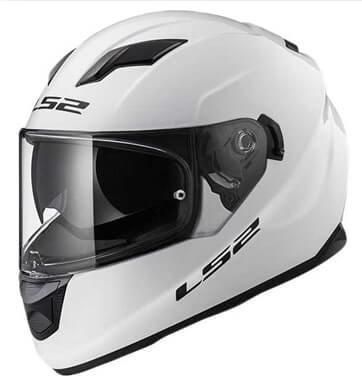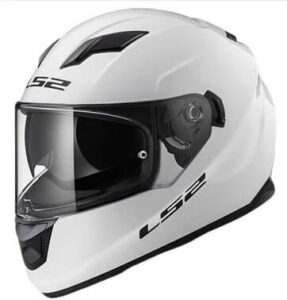 If you're looking for an intermediate oval fit, this one is among your best options. The shape is attractive, and it comes in several sizes and colors to choose from. The LS2 Stream has a DOT-approved quick-release chin strap. It's easy to use and release even when you're wearing riding gloves.
Its built-in Twin Shield System with a drop-down sun shield keeps your eyes protected from the sun. It retracts with just the flip of a switch which is among the most convenient methods. The technical fabric liner is easy to remove for washing. This allows you to keep the helmet fresh and clean at all times, especially after long-distance adventures.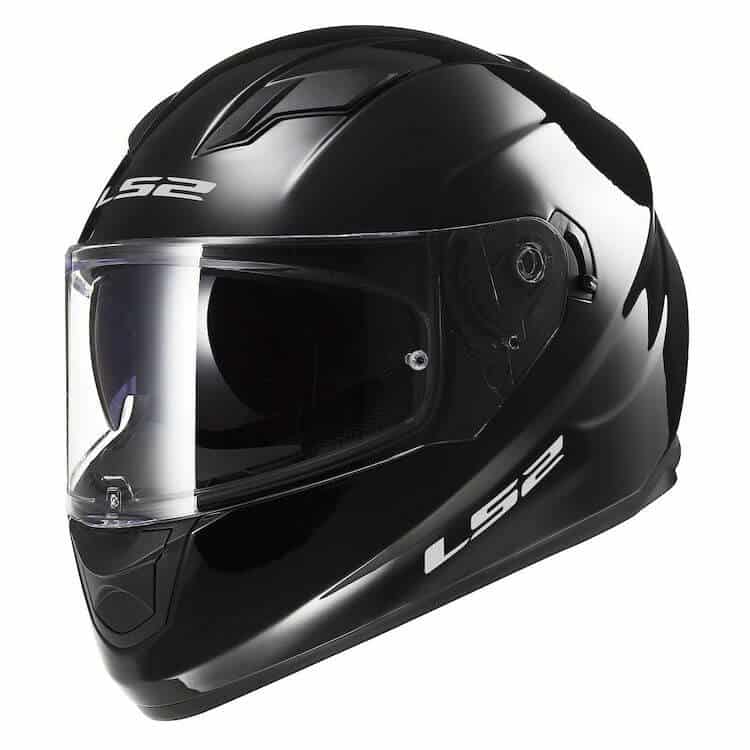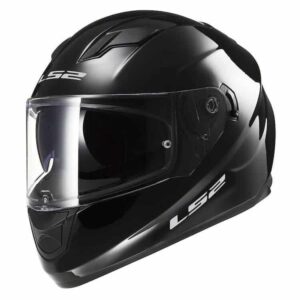 Pros:
Many sizes and colors

Quick-release chin strap

True to size
Cons:
Might vibrate at and above 60 mph
10. LS2 569

Helmet Review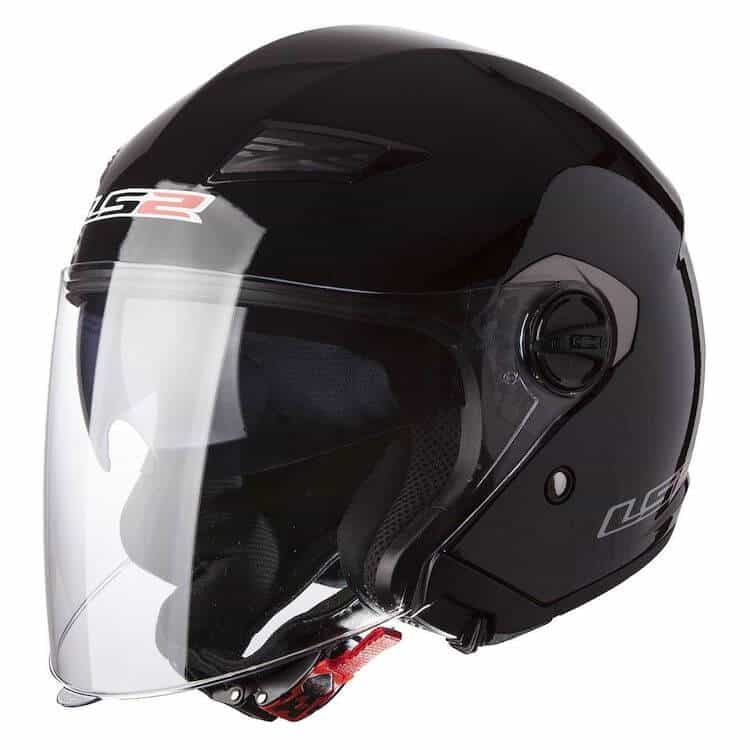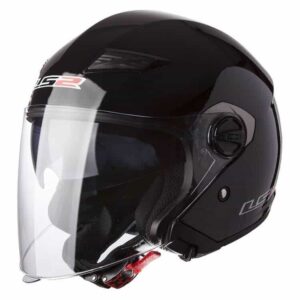 Open-face models are growing more popular by the day thanks to their overall convenience and versatility. The LS2 569 is among the simplest yet most reliable helmets under $200. It's an open-face ¾ design that offers a wide visibility field and protection all at once.
In most cases, it's great for people who tend to feel claustrophobic wearing tight-fitting full-face models. This one features a built-in Twin Shield System Sun Shield that makes it easy to control the airflow. It also allows you to control how much light you want at the simple push of a button.
Its Kinetic Polymer Alloy shell is approved by both DOT and ECE. DOT also approved its quick-release buckle that allows a secure fit at all times. The airflow is fully adjustable which is great for people who tend to suffer from fatigue or dizziness.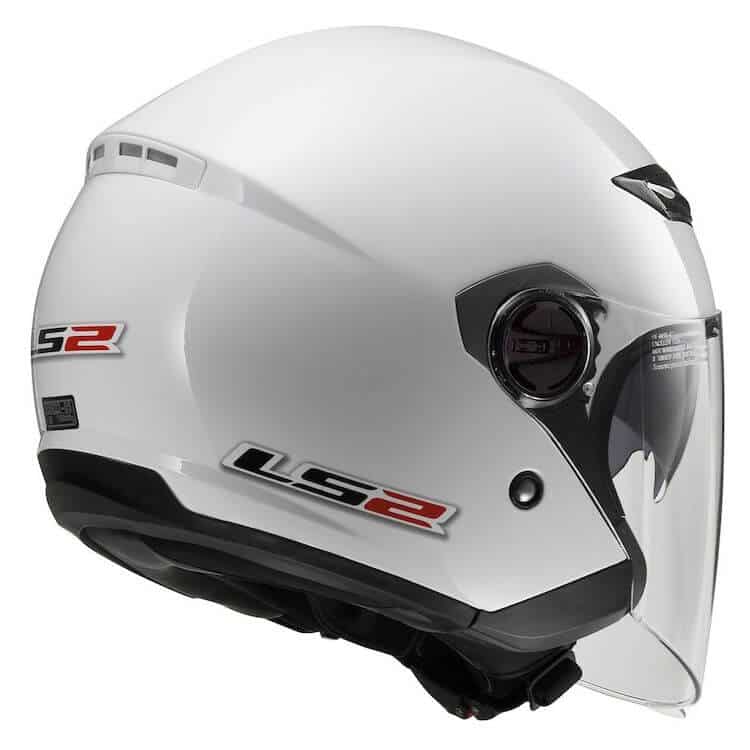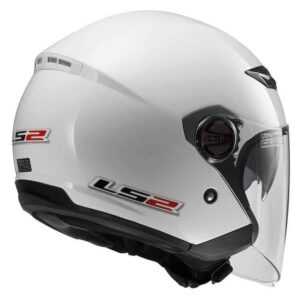 Pros:
Spacious design

Quick-release buckle

Easy on and off
Cons:
Vibrates at highway speeds
11. TORC Unisex

Helmet Review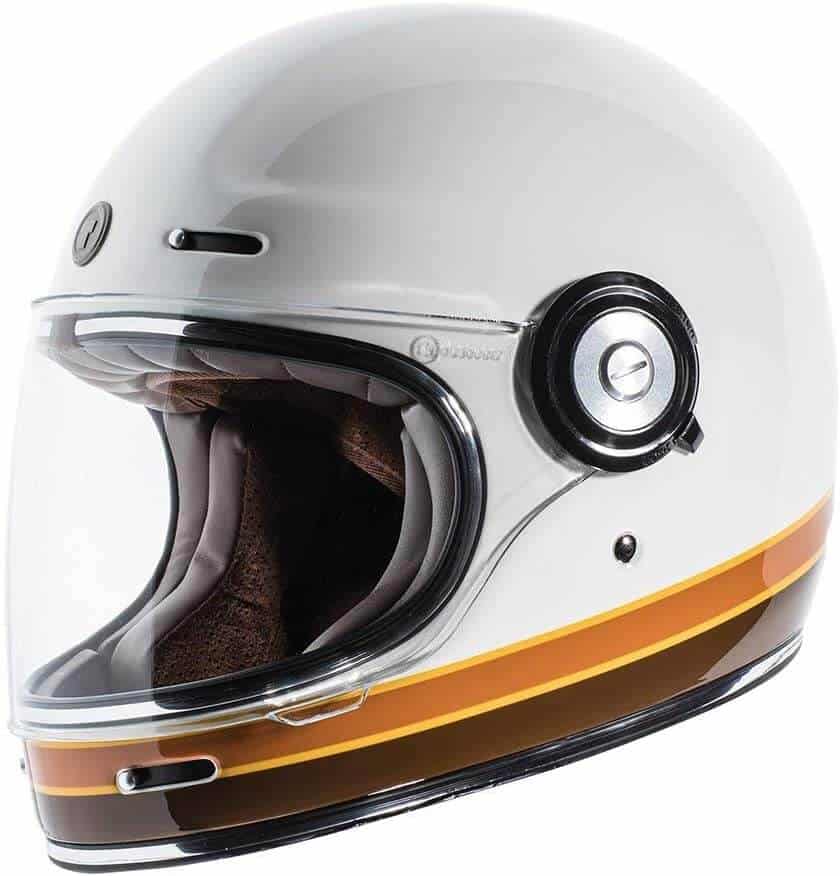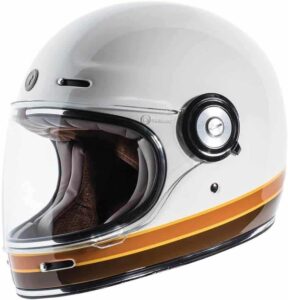 It's a vintage-looking helmet with a shiny finish. It comes in several designs and sizes although they run a bit large. The fiberglass tri-composite shell is durable and able to withstand quite some shock. It has DOT and ECE 22.5 certifications for its overall performance and endurance.
The front chin vents along with metal mesh intake and exhaust vents make an impressive airflow system. This helps prevent fogging while it also keeps the air a bit cooler and fresher. On top of that, this one also has a removable shield and faux suede liner.
These allow easier and more comfortable use, especially on long-distance trips. The helmet also has a padded chin strap with D-ring closure. On the inside, it features multi-density EPS padding for a more comfortable and secure fit.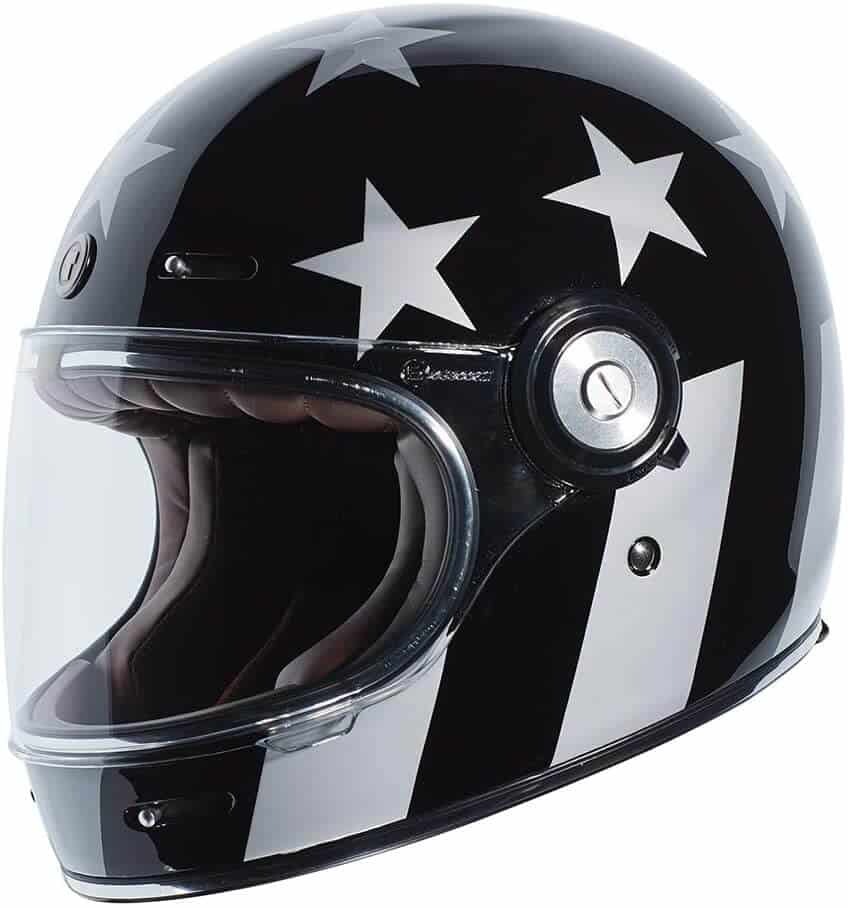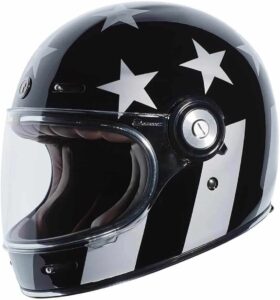 Pros:
Doesn't fog

Removable padding

Great airflow
Cons:
12. Torc T1 Retro

Helmet Review
Torc T1 is a beautiful-looking, retro-style motorcycle helmet that comes packed with modern safety features to keep your noggin comfortable and safe while racing at extremely high speeds. It comes with both DOT and ECE certifications. And also meets the federal motor vehicle safety standards.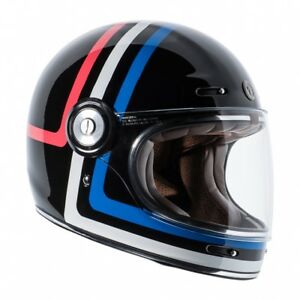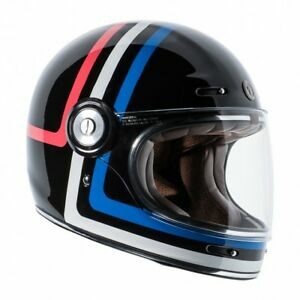 The helmet boasts a lightweight fiberglass shell that looks and feels strong. It comes in a variety of sizes to fit people with different head sizes. Provided you pick the right size, it'll fit your dome perfectly well. On the inside, you'll be met with sufficient padding, which looks luxurious and high-quality for added comfort.
On the road, Torc T1 performs as you expect it to. Its massive visor provides you with plenty of field of view to ensure you can easily view everything happening around you without taking off the helmet. It also features vents that do a great job of passing cool air in and around the helmet while pushing the hot air out.
The included D-ring closure will securely hold your helmet in place no matter what speed you're riding at. A serviceable locking lever lets you operate the visor hassle-freely. Overall, if you're looking for an affordable super-stylish helmet for racing at a price that won't break the bank, this Torc T1 Retro model is a wise choice!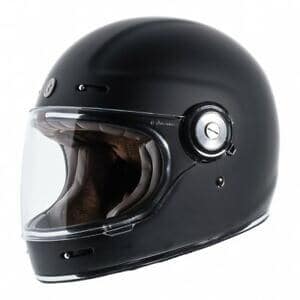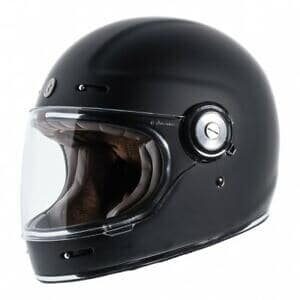 Highlighted Features:
Fiberglass tri-composite shell

Front chin vents with w/metal mesh

Meets federal motor vehicle safety standards

DOT & ECE 22.5 certified

Padded chin strap w/D-ring closure

Anti-fog, anti-scratch shield
13. SEDICI

Helmet Review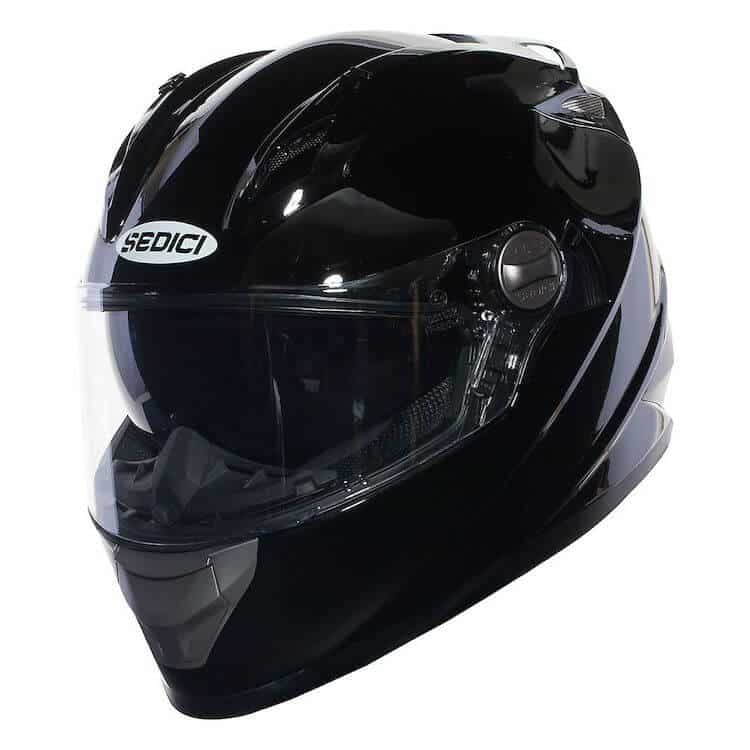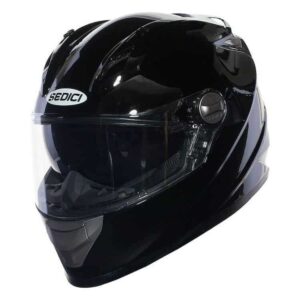 This is a fierce-looking model that will for sure attract attention everywhere you go. It comes in black, matte black, white, and bright yellow as well as several sizes to choose from. It's a modular helmet made of fiberglass and Kevlar.
The combination of materials resulted in lightweight, strong, and high-quality gloss and matte finishes. It comes with anti-fog and anti-scratch polycarbonate face shields. Both are quick-release types for easier changes in the shortest time. The inner sun shield features a convenient drop-down system that's quite easy to use.
For airflow, this one has crown vents and an aerodynamic exhaust. This allows fresh air to flow and reduces the chance of fatigue. It's also important to mention that this one is DOT approved for its safety, durability, and overall quality.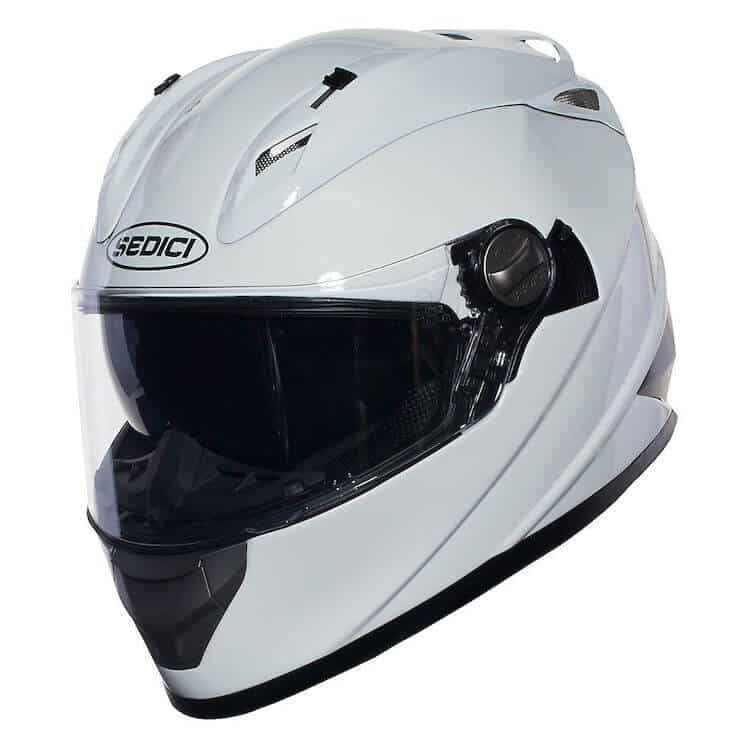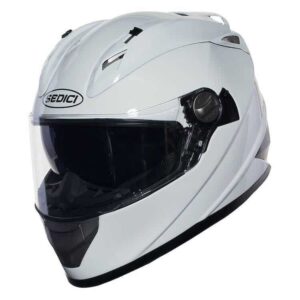 Pros:
Good airflow

Anti-scratch finish

Quick-release shields
Cons:
14. GDM Duke

Helmet Review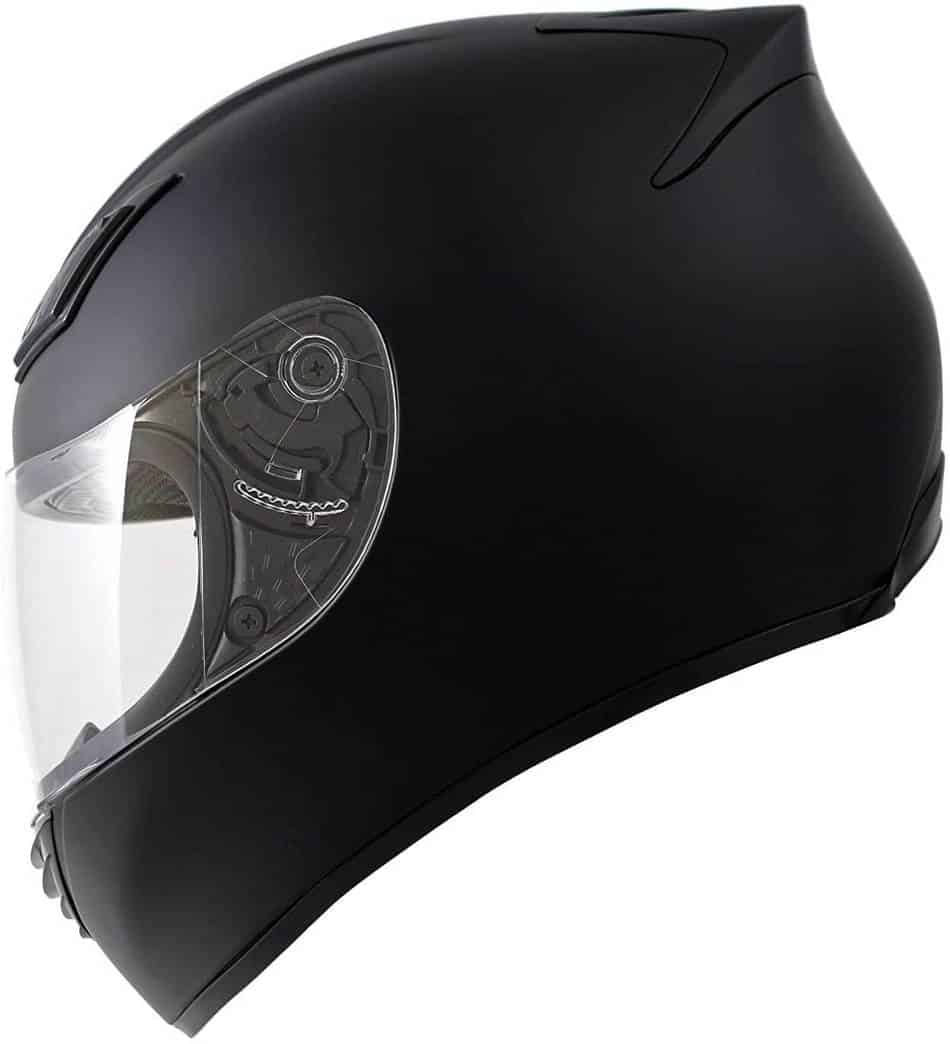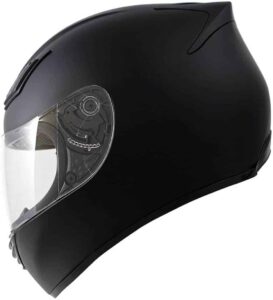 This is probably one of the most attractive designs on the market. It's matte and all-black which just adds to the overall great-looking shape of the helmet. It meets and exceeds the Department of Transportation FMVSS 218 safety standard.
The aerodynamic shell is among the unique constructions you'll find at this price point. It's made of lightweight composite poly-alloy. All of its cheek pads and liner and made of nylon and hypo-allergenic fabric. It's a firm cushioning that provides a snug and tight fit.
In most cases, it relaxes a bit over time. Another critical thing to mention is its ventilation system. This one features a 7-point system with vents on the forehead, chin, and back of the shell. The shield covers all the way to the side of your face. It's optically correct, scratch-resistant, and compound-curved.
Pros:
Adjustable face shield

True to size

Removable padding
Cons:
 Riding is fun and exciting. It brings you feelings of excitement and adventure because it usually involves high speed. That explains why you ought to always concentrate on your own safety and comfort.
These best motorcycle helmets under $200 can somehow give you a transparent idea of what you should search for during a proper helmet. We hope through this text you'll choose for yourself the foremost suitable helmet and enjoy your biking time.
About the author:  Michael Parrotte was the Vice President of AGV Helmets America, and a consultant for KBC Helmets, Vemar Helmets, Suomy Helmets, Marushin Helmets, KYT Helmets, and Sparx Helmets. In addition, he is the founder and owner of AGV Sports Group.