When motorcycle training, one of the most important things to get right is the choice of your bike as this will determine how easy it is to ride with a motorcycle learner's permit. However, there are so many different styles and ranges of specs, that figuring out which is the best motorcycle for a beginner can be a confusing chore.
That is why we put together a list of the 10 best motorcycles for beginners, breaking each down into how they perform at different points of the ride and in different situations.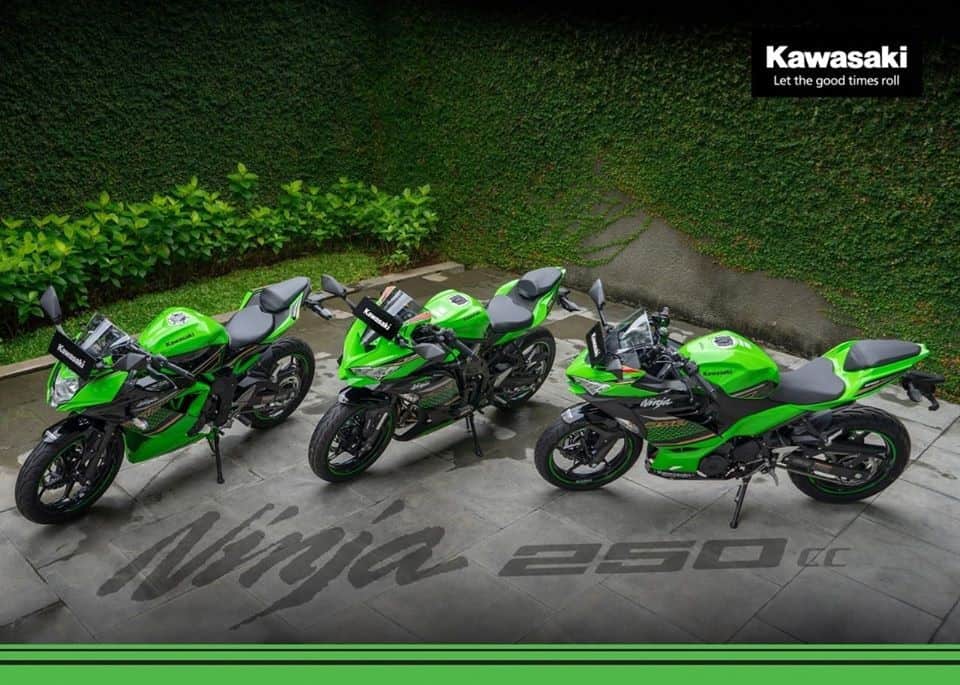 What to Look for in the Best Motorcycle for a Beginner?
Type
One of the main things you need to figure out is how you intend to use the bike as this will heavily influence which type of motorcycle you should buy. While there is no "best" type for all people, there are types that serve some purposes better than others, though they can all be used for general riding.
The main thing that the type impacts is your riding posture whether you lean back, sit upright or lean forward-though you can also often distinguish them by their aesthetics. Keep in mind, that there are more than the types we cover, but they tend to have features that make them less than ideal for beginners.
Standard: As the name implies, this is your basic type of motorcycle and might be the best type for beginners due to several qualities. For starters, standard motorcycles, also called naked motorcycles, feature an upright posture that will not put any more strain on your back than is necessary. The standard motorcycle also features foot-pegs for a more comfortable ride and handlebars positioned within easy reach. It also does not hurt that standard motorcycles tend to be a bit less expensive, feature average power output, and are more versatile than other types.
Cruiser: Cruisers are the "classic" motorcycle that you likely remember seeing in a variety of older movies and television shows, made most famous by Harley-Davidson. This type serves beginners well as their motors often feature low-torque tuning, so you do not have to shift gears as often. That said, cruisers are often a bit more expensive than standard motorcycles and regularly come packed with plenty of power. Still, the cruiser type features an upright posture which is great for beginners but is also generally one of the heavier types which can be tricky to maneuver in the beginning.
Sport: Sport-bikes is arguably one of the least conducive types on our list for beginners, but they are so popular that at least one person reading this already knows they want one. It is not that sport motorcycles are poor machines as their design and features lead them to be more difficult for beginners to use. One of the biggest potential issues is that sport-bikes favor a forward-leaning posture which may not be the most comfortable for longer periods. On top of that, sportbikes also feature high precision tuning- though this can be a benefit as well when applied to handling, braking, and everything except for acceleration and speed.
Dual: There is not a single "dual-type" motorcycle as this is a bit of a catch-all term used to cover bikes that take features from multiple categories. The most common type of dual bike will pair off-road capability with a street-legal design for extreme versatility. This type of motorcycle features the highest seat and handlebar position to provide additional control when riding over rough roads. On top of that, dual motorcycles tend to favor the smaller, lightweight design like sportbikes which make them all-around easier to maneuver than some of the larger types.
Best Motorcycles for Beginners
1. KTM Corner Rocket 390 Duke
Our first entry finds its way onto many beginner mentions due to its refined design that sees numerous notable improvements over the previous versions of this model. However, it is worth noting that the KTM Corner Rocket 390 Duke is not just a starter motorcycle but a model that allows you to learn to ride over time, growing with your ability.
While the KTM Corner Rocket 390 Duke may not have the largest engine on our list, it is no slouch in this department either with a displacement of 373cc. That said, one of the most surprising qualities of this beginner bike is its ability to generate an incredible 44 hp – tied for the second-most.
The KTM Corner Rocket 390 Duke also packs quite a punch with acceleration thanks to a torque of 36 nm, though this spec sits closer to the middle of our list. Thankfully, you do not have to worry about finding this starter bike more difficult to slow down than speed up with the inclusion of anti-lock brakes.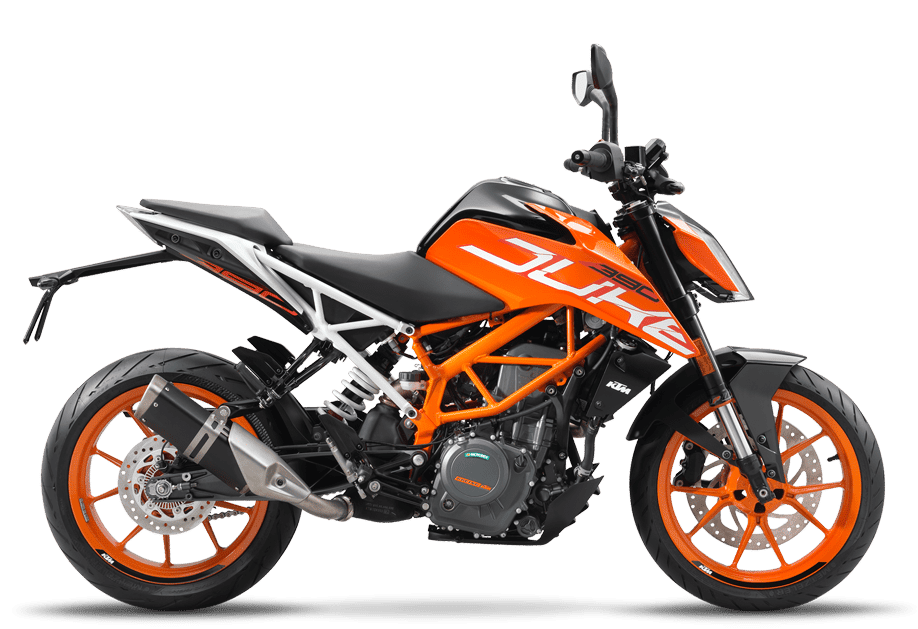 In terms of control, the KTM Corner Rocket 390 Duke performs extremely well when making turns due to a 25° rake, though this is a bit sharp for the class. This motorcycle is even more unusual in that its wheelbase is also the shortest reviewed at 53 ⅖", further reducing its turn radius.
The main reason these two qualities stand out is that the KTM Corner Rocket 390 utilizes a standard class design, allowing you to sit more upright for a less taxing posture. However, this is not the best beginner bike for a shorter person with a seat height of 32 ½"- though the low weight of only 359 lbs – the second-lowest on our list- makes up for that a bit.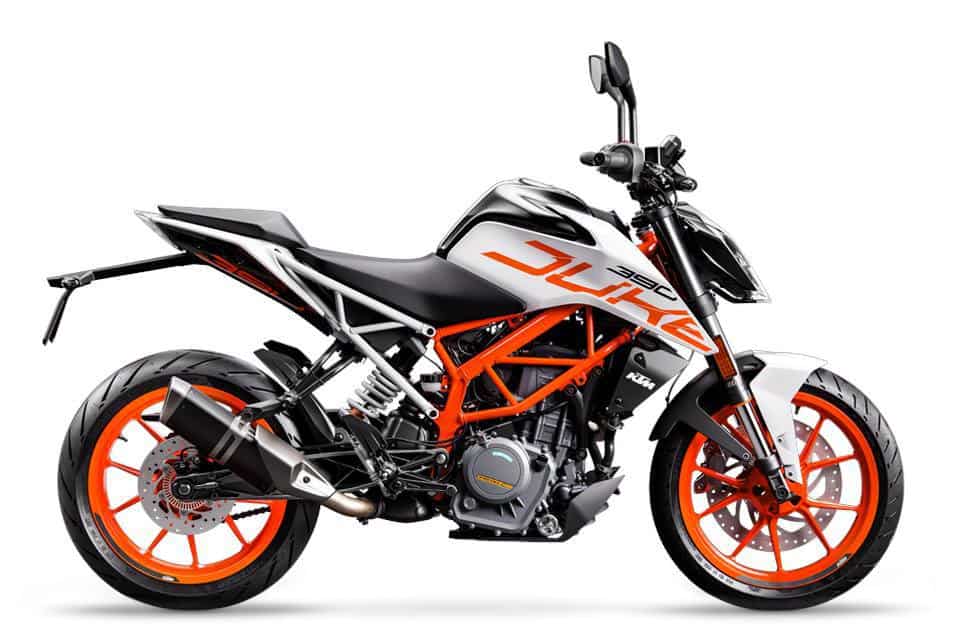 2. Harley-Davidson Street 500
It should come as little surprise that Harley-Davidson would make an appearance on our list with a long history of making some of the most iconic and beloved cruisers on the road. While not always the ideal class for all beginners, the Harley-Davidson Street 500 more than accounts for the class' potential issues with a great design.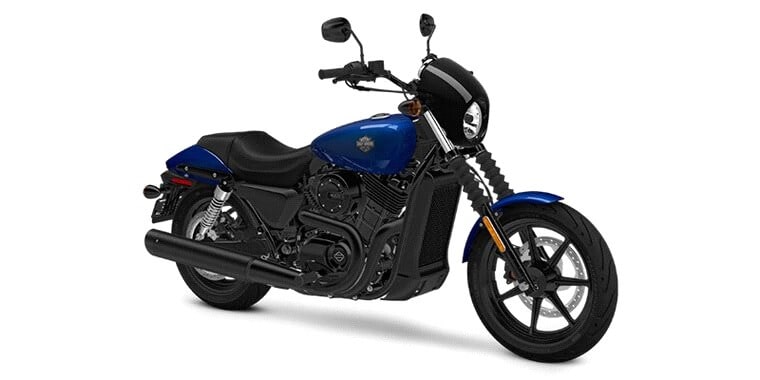 One thing to consider, however, is that this beginner motorcycle is significantly more powerful in some respects than many others we reviewed with an engine sporting 494cc of displacement. That being the case, it is not hard to see how the Harley-Davidson Street 500 also boasts the second-most torque.
On the other hand, this motorcycle does not blow you away with power as the engine only generates horsepower in the mid-30s, though the exact number is not given. Still, this does not seem to slow the Harley-Davidson Street 500 down as it can achieve top speeds of 99 mph for a quick ride if desired.
When it comes to controlling, a few of the entries we reviewed can compare to this beginner bike for straight-line balance thanks to a 32° rake. When you combine that with a 59 ⅘" wheelbase, the Harley-Davidson Street 500 is one of the best options to learn to ride with to a point.
Pretty much anyone should have little difficulty getting on and feeling comfortable with this starter bike thanks to the low 28 ½" seat. However, it might take some time to get used to the Harley-Davidson Street 500's hefty weight of 494 lbs when stopped without wobbling a bit.
3. BMW G310GS
BMW might be more well-known for producing luxury cars than high-end motorcycles, but the company brings its excellent engineering to bear with this model. The BMW G310GS strikes a solid balance between many different specs important to beginners that place it in a bit of a Goldilocks zone for the most part.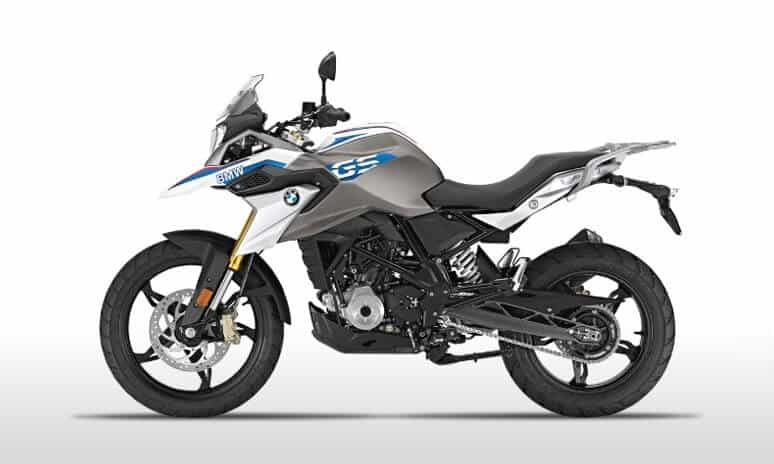 This is a great bike for motorcycle training due to an engine with only 313 cc of displacement and several other features that make it more manageable. For instance, you do not have to worry about the BMW G310GS getting away from you as it sits closer to the low-end of the spectrum in terms of torque with only 28 nm.
Combine that lowish torque with an equally lowish 34 hp, and pretty much everyone should have no difficulty controlling the throttle on this starter bike. Even better, the BMW G310GS does not pose those risks when redlining either as it maxes out with a top speed of only 89 mph, keeping you safely below risky areas.
In terms of comfort, this beginner bike sits extremely high at 33" which might make it a bit odd to handle when stopped for shorter riders. It also does not help that the BMW G310GS is neither that heavy nor that light at 387 lbs which is great for people who are tall enough to stand without issue but compounds the issues shorter riders may have.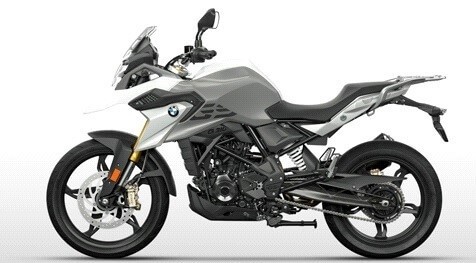 Still, this motorcycle offers an excellent balance in terms of straight-line control combined with a tight turn radius thanks to a 27 ⅔° rake. The BMW G310GS also offers a middle-of-the-pack wheelbase at 56", though this is a solid option for gravel or light dirt roads thanks to the adventure bike design.
4. Kawasaki Z400
 Kawasaki is one of the most well-known and reputable motorcycle brands on the market made most famous for its line of Ninja sportbikes. However, beginners might want the visual appeal of a sportbike without having to worry about the potential difficulty and learning curve with their motorcycle learners permit.
This is where the Kawasaki Z400 offers an excellent balance by hybridizing the two designs into one with a sport-naked style that works for all kinds of riders. That said, the sports element of this starter bike comes with the design as the engine still displaces 399cc, making it on the larger side.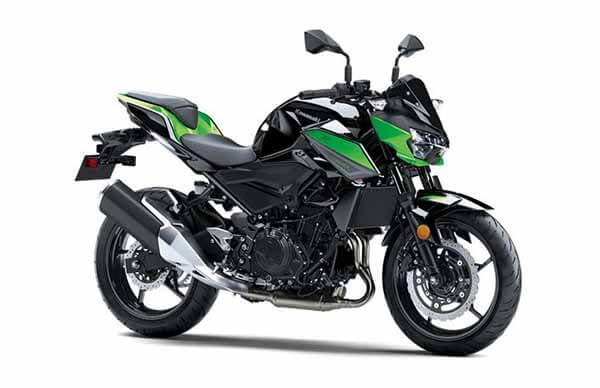 This control difficulty compounds further when you consider that the Kawasaki Z400's engine also ties for the second-most horsepower on our list with 44 hp. Thankfully, you do not have to worry as much about this bike jumping out of its seat with only 38 nm of torque, though it still accelerates quicker than most.
As you would expect for a sport-bike style, this beginner bike features a fairly sharp head angle with a 24 ½° rake. Combine that rake with a 54" wheelbase, and the Kawasaki Z400 at least offers some of the best turning capability we encountered, though it is a bit tougher to control in a straight line.
While that is usually not as much of a problem for beginners, consider that this motorcycle also has one of the fastest top speeds reviewed at 112 mph. Thankfully, you should have no difficulty controlling this bike when stopped, regardless of your height, as it only weighs 364 lbs with a seat height of 31".
5. Yamaha MT-03
Yamaha makes a wide variety of different products, but their motorcycles sit with Kawasaki in terms of performance and prestige– though they favor a different kind of rider. Anyone who pays attention to the motorcycle safety foundation may gravitate towards the Yamaha MT-03 for its solid but not overwhelming specs.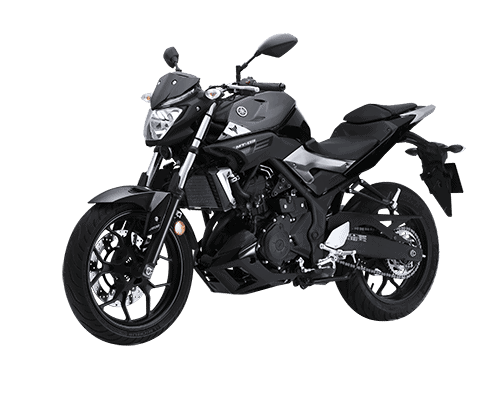 For instance, this starter bike comes with one of the smallest engines that we reviewed, displacing only 321cc. While that is not always a great measurement for power control, the Yamaha MT-03 is a great motorcycle for women in part due to producing only 37 hp, though it still achieves a top speed of around 100 mph.
However, this motorcycle will not jolt you out of your bones as that engine only pulls with 27 nm of torque, offering plenty of control when accelerating. Further making the Yamaha MT-03 a great motorcycle for girls is its seat height which only climbs 30 ⅔" which is tied for the shortest seat height on our list.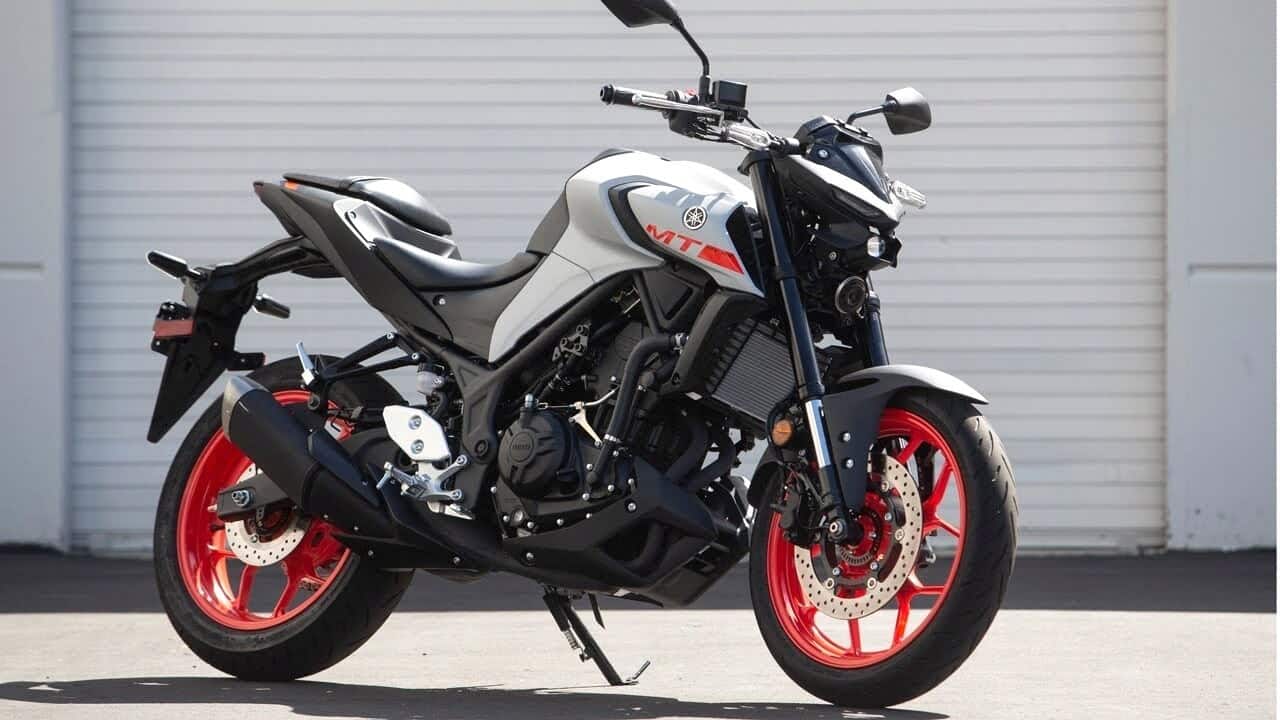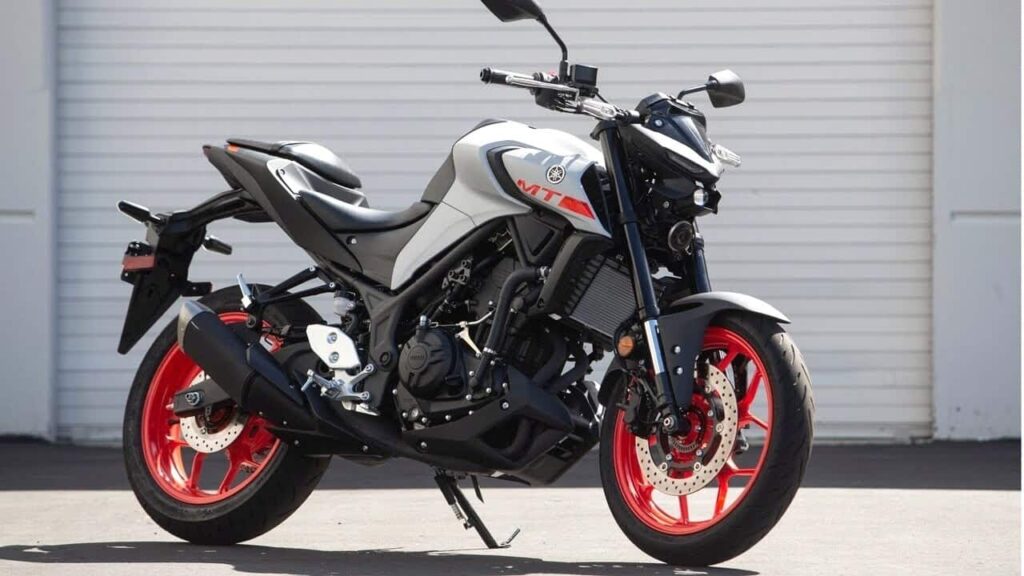 On the other hand, this motorcycle can be a bit trickier to control when moving at top speed in a straight line thanks to a short wheelbase of only 54 ⅓". Following the ninja naked hybrid design, the Yamaha MT-03 also comes with a 25° rake, though these two features make it great for sharp turns.
While waiting at a stop, this bike is relatively easy to manage, though it is not one of the lightest models we came across at 373 lbs but is on the lower end of the spectrum. Still, as a sport-naked hybrid bike, the Yamaha MT-03 may require you to lean forward a bit more than you are comfortable in the beginning.
6. Ducati Scrambler Sixty2
Ducati may not be the most popular brand on the roads today, but it has a long and storied history of making excellent bikes for all riders. As the name suggests, the Ducati Scrambler Sixty2 is a scramble type of motorcycle that allows it to perform well on the road as well as in gravel or light dirt.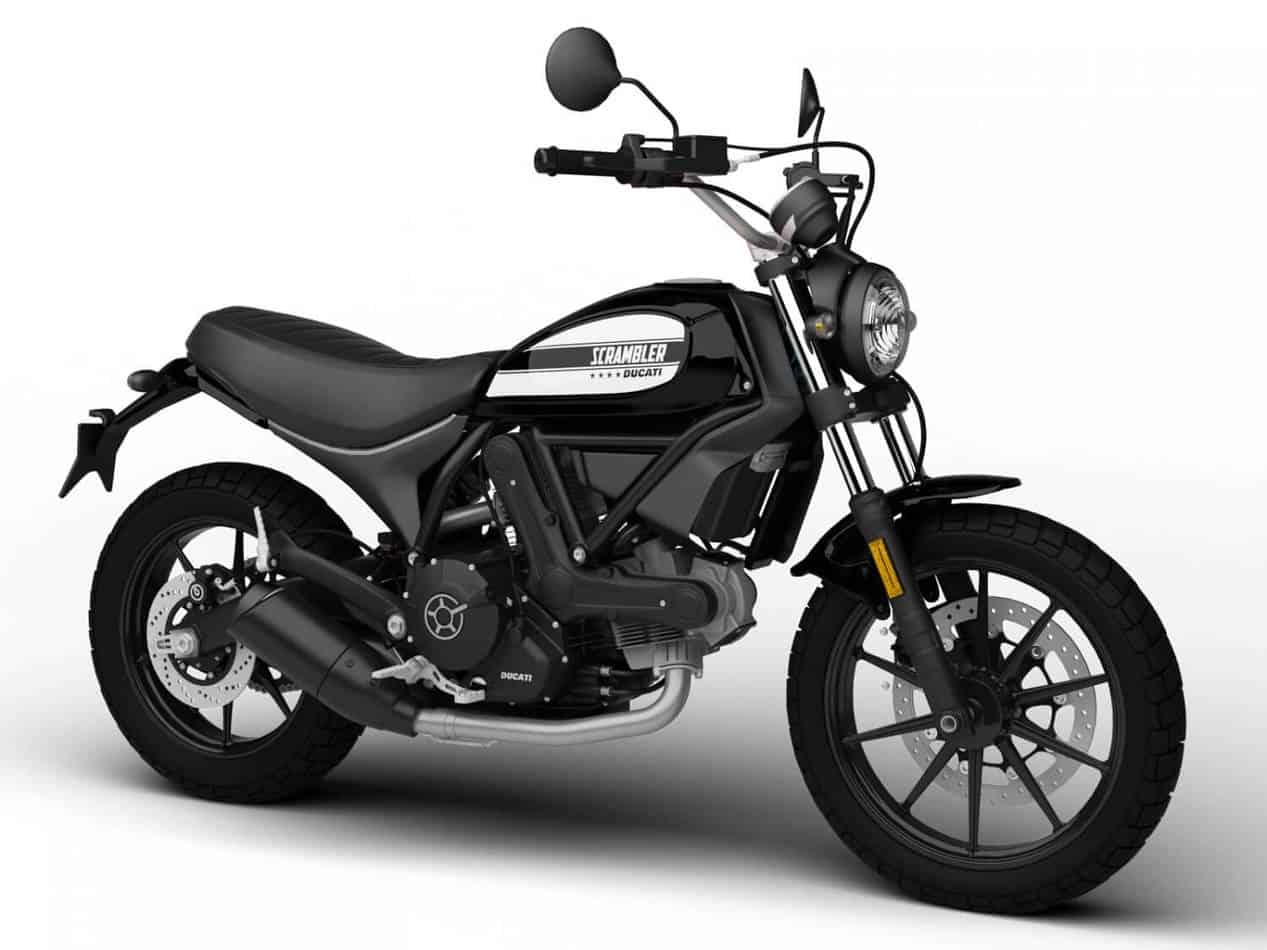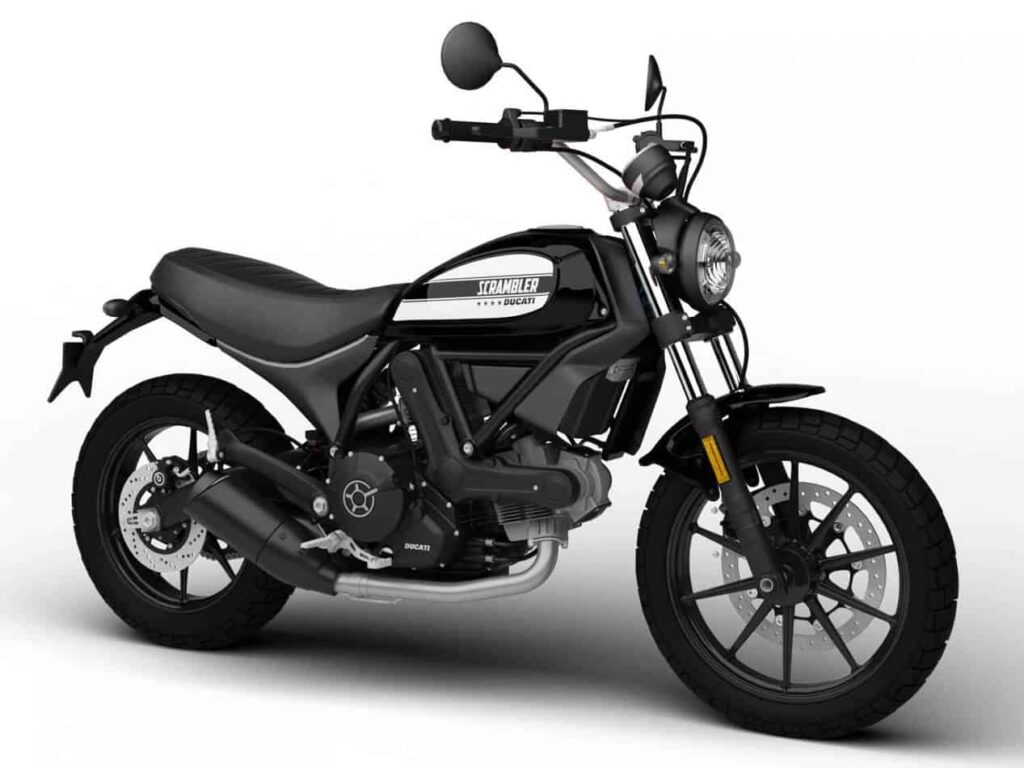 However, any scrambler motorcycle needs a bit of power to handle varying road conditions, and this bike is no different with a fairly large engine that displaces 399cc. That large engine is no mirage either as it pumps out a solid 41 hp, making it one of the more powerful engines we reviewed.
Thankfully, on the road, this bike will not tug too hard with 34 nm of torque, though that is more than enough to give it traction on gravel and light dirt. This power level makes the Ducati Scrambler Sixty2 a good motorcycle for girls which also benefits from a shorter seat height of only 31".
As if that were not enough, this entry is also a great motorcycle with a lightweight design that only tips the scales at a manageable 368 lbs. In terms of control, the Ducati Scrambler Sixty2 splits the difference with a somewhat sharp head angle that runs with a 24° rake.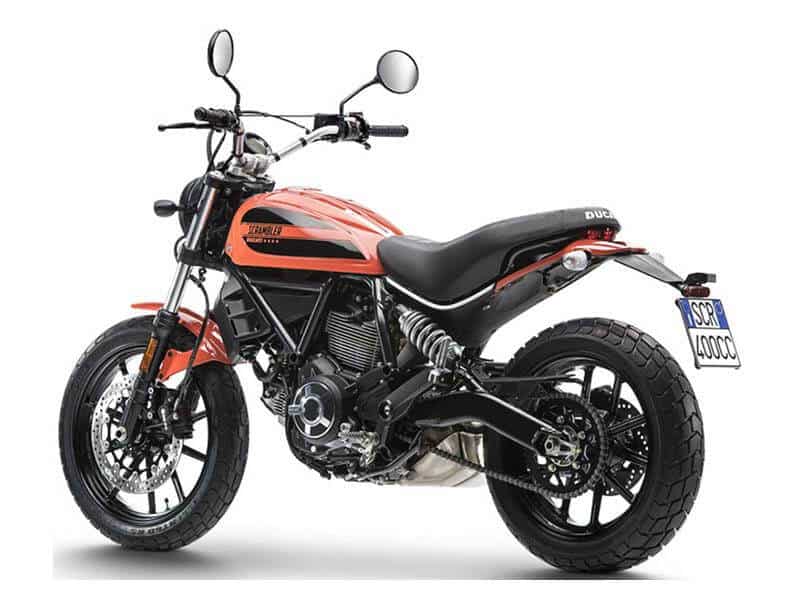 However, this bike can manage straight-line speed as well as it does sharp turns when you combine that rake with a somewhat lengthy wheelbase of 57 ⅖". Given its scrambler design favors versatility over raw power, it is nice to see that the Ducati Scrambler Sixty2 still rides at a solid clip of around 100 mph for its top speed.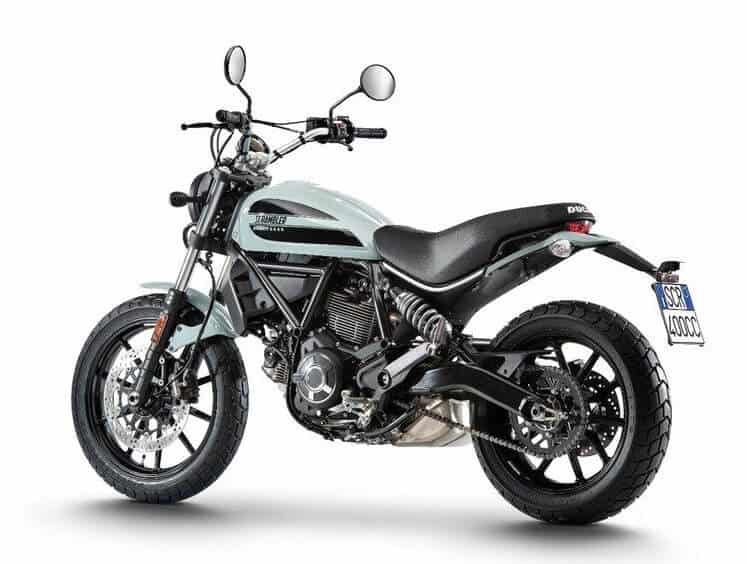 7. Kawasaki Versys-X 300 ABS
Though Kawasaki might favor sports bikes and their hybrids, they still offer plenty for those who want something a bit more stable and focused. The Kawasaki Versys-X 300 is a great option as its adventure profile and moderate specs make it a great model for anyone trying to follow motorcycle safety foundation guidelines for beginners.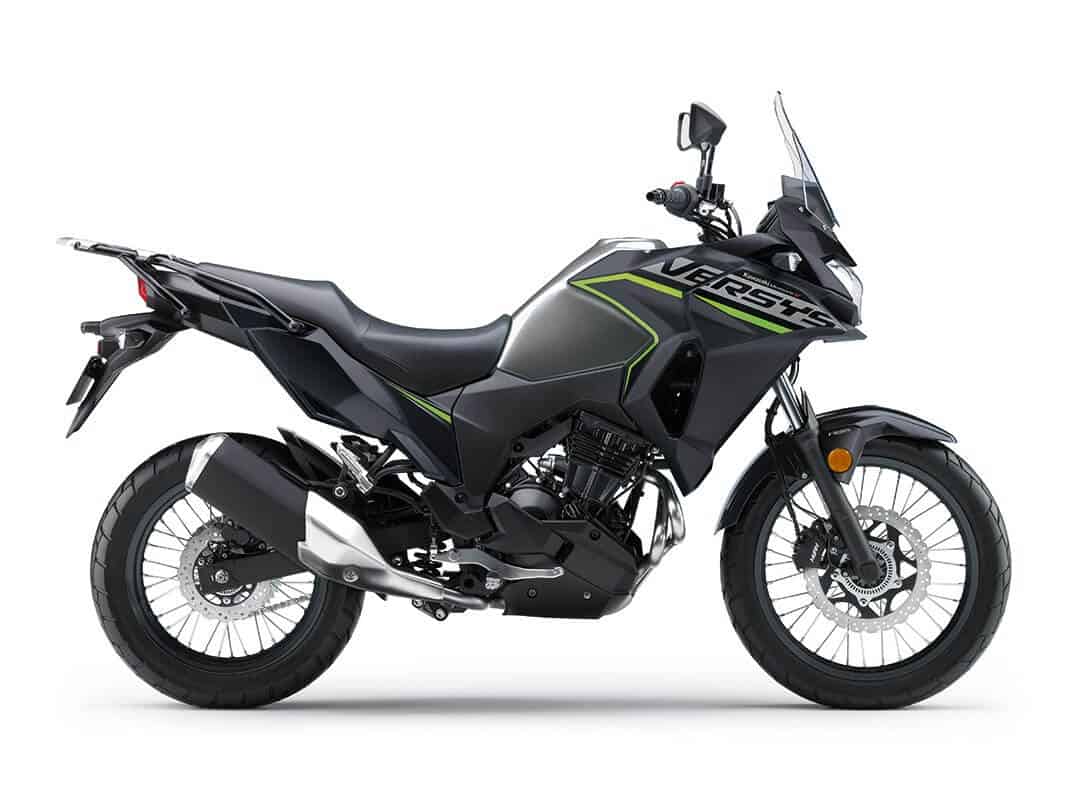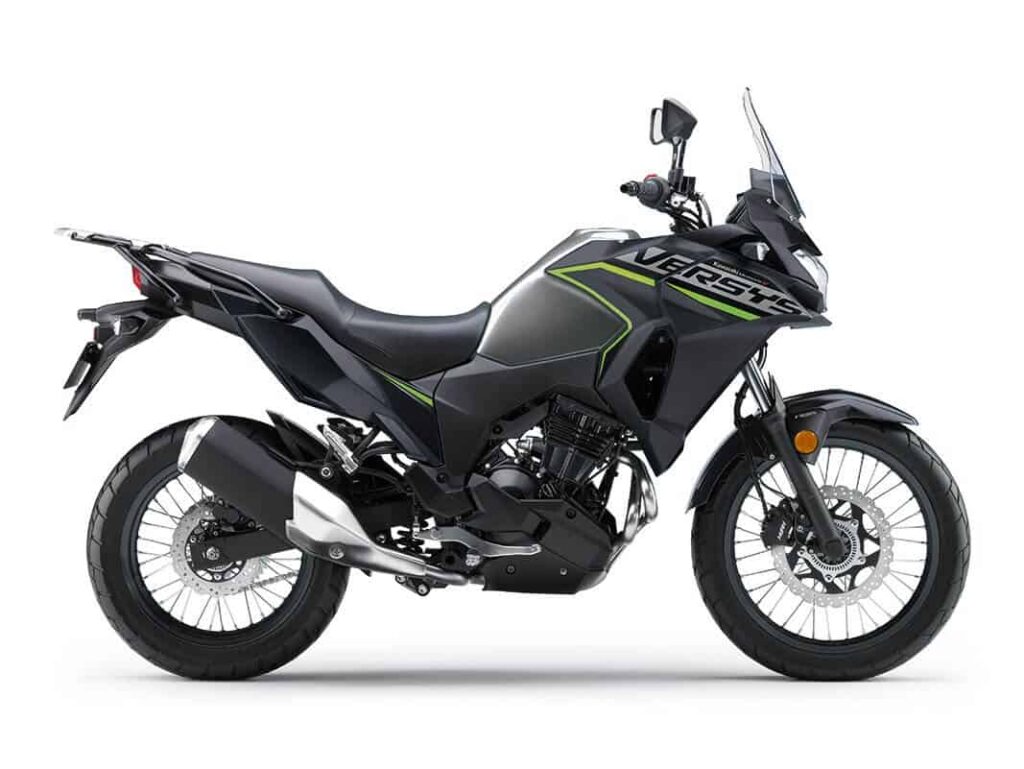 That said, this is not the starter bike for someone who wants to scream down the road as it comes with the smallest engine on our review at only 296cc. This engine size shows up again as the Kawasaki Versys-X 300 sits at the bottom of our list with horsepower as well at only 34 hp.
Finally, this bike surprises a bit given its potential off-road capability as it also only generates 26 nm of torque, again sitting at the bottom of the list. But all of these specs do not detract from the Kawasaki Versys-X 300's top speed of 100 mph, meaning it is simply easier to control when taking off-though it may take longer to get going.
One thing to consider with this starter bike is that it is not the most friendly to smaller riders with a relatively tall seat height that stretches 32". On top of that, the Kawasaki Versys-X 300 is not the lightest bike we reviewed either at 386 lbs, meaning it might be a bit trickier to balance when stopped.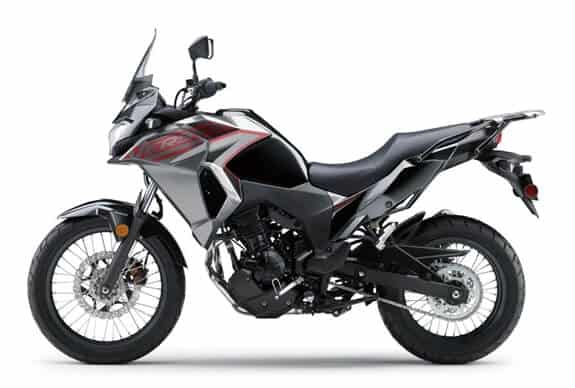 That said, this starter motorcycle still offers plenty in the way of control with a 24 ⅓° rake and upright handlebar position for making controlled, sharp turns. However, you do not have to worry about the Kawasaki Versys-X 300 getting away from you in a straight line either thanks to a solid 57" wheelbase.
8. Yamaha YZF-R3
Yamaha makes another appearance on our list, however, this model takes a more direct approach to its design and favors the sport-bike style over a hybrid style. This means you may not find leaning forward while riding as comfortable in the beginning, but this is a bike you grow with as you learn.
It is also worth noting that the Yamaha YZF-R3 is a great motorcycle for women as it has one of the lowest seat heights we reviewed at only 30 ⅔". On top of that, this starter bike is reasonably lightweight at a svelte 375 lbs, making it easy to manage while stopped, further cementing it as a good motorcycle for girls.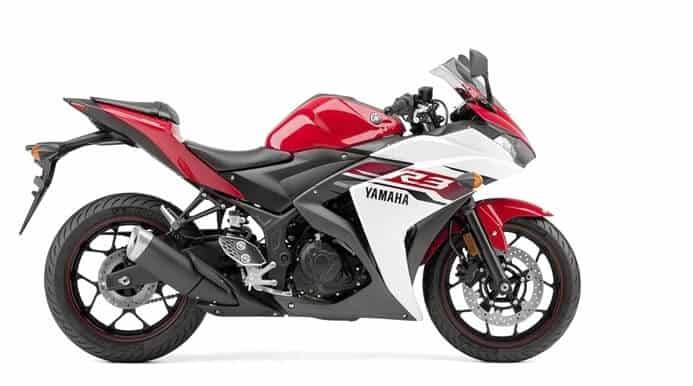 If you need a motorcycle that can handle congested street traffic, the Yamaha YZF-R3 also boasts an excellent turn radius in part due to the 25° rake. Even better, this beginner bike has a fairly compact wheelbase of only 54 ½", allowing it to take the sharpest of turns with relative ease.
One surprising aspect of the Yamaha YZF-R3 is that it can reach some of the fastest speeds reviewed at 117 mph. This is especially surprising when you consider that this motorcycle comes with one of the smaller engines that only displaces 321cc, but this comes with a bit of a drawback as well.
Specifically, the Yamaha YZF-R3 may not stop as quickly as some people prefer which is an especially tricky situation for newer riders. It is also worth noting that while this bike has some pickup, you will not have as much difficulty controlling the acceleration with 36 hp and 26 ⅘ nm of torque.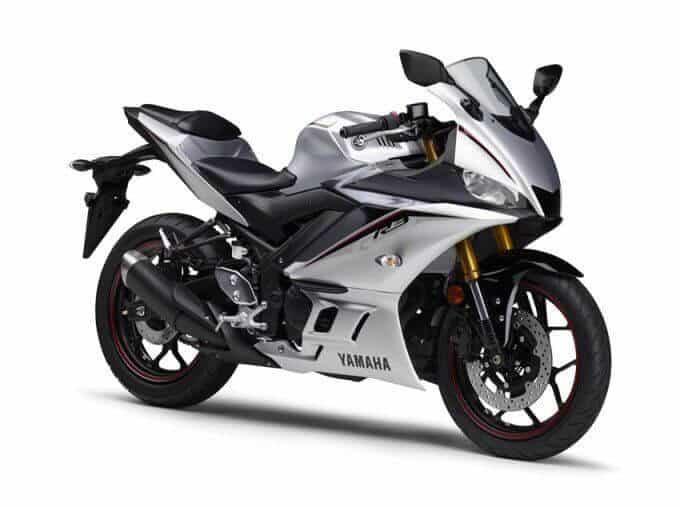 9. Suzuki DR-Z400SM
Though they may not grab all of the headlines, Suzuki is noted as a reliable automotive manufacturer of all types, and the Suzuki DR-Z400SM is no exception. As the third adventure motorcycle on our list, this beginner bike offers a bit more specs to grow with you as your riding skills develop.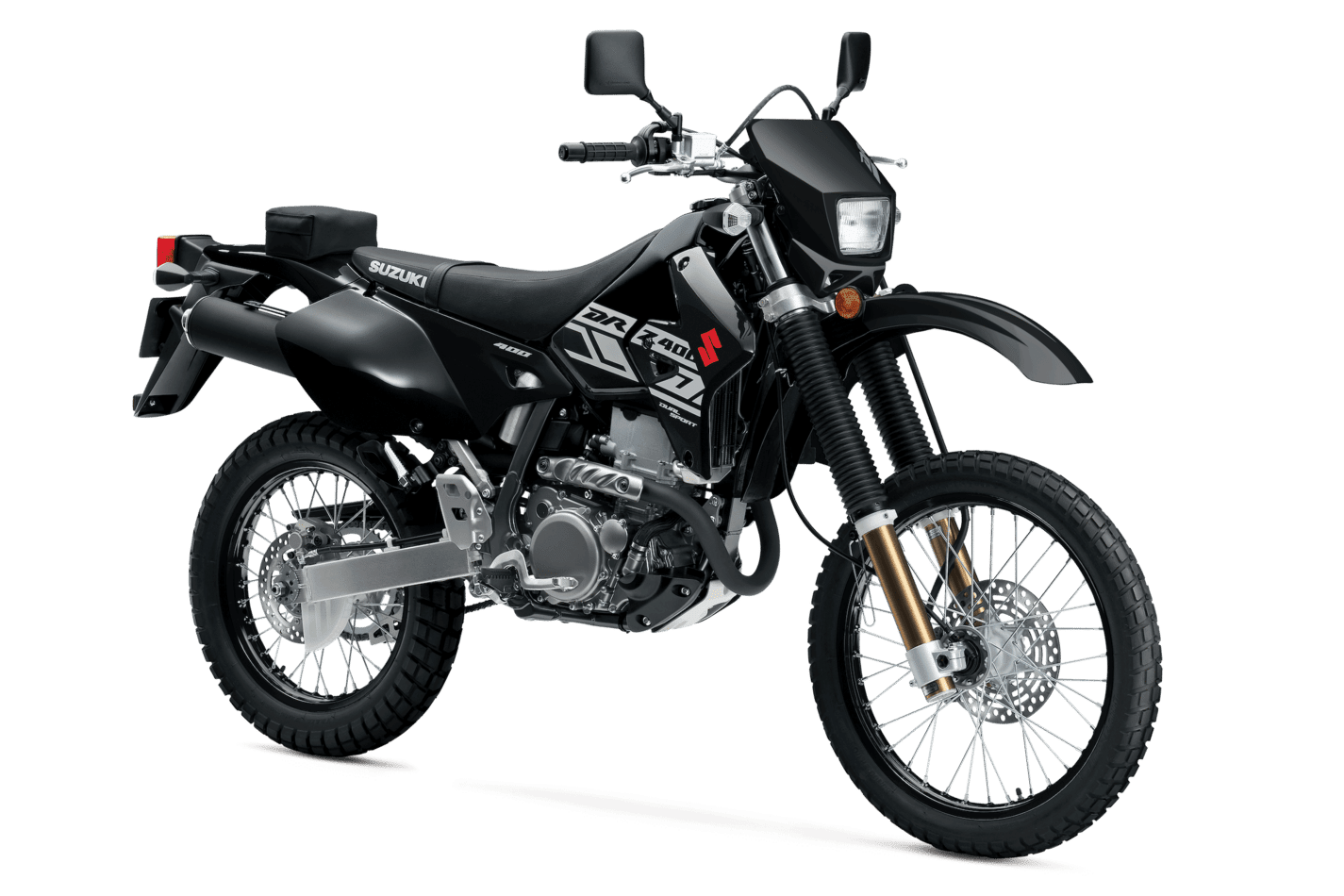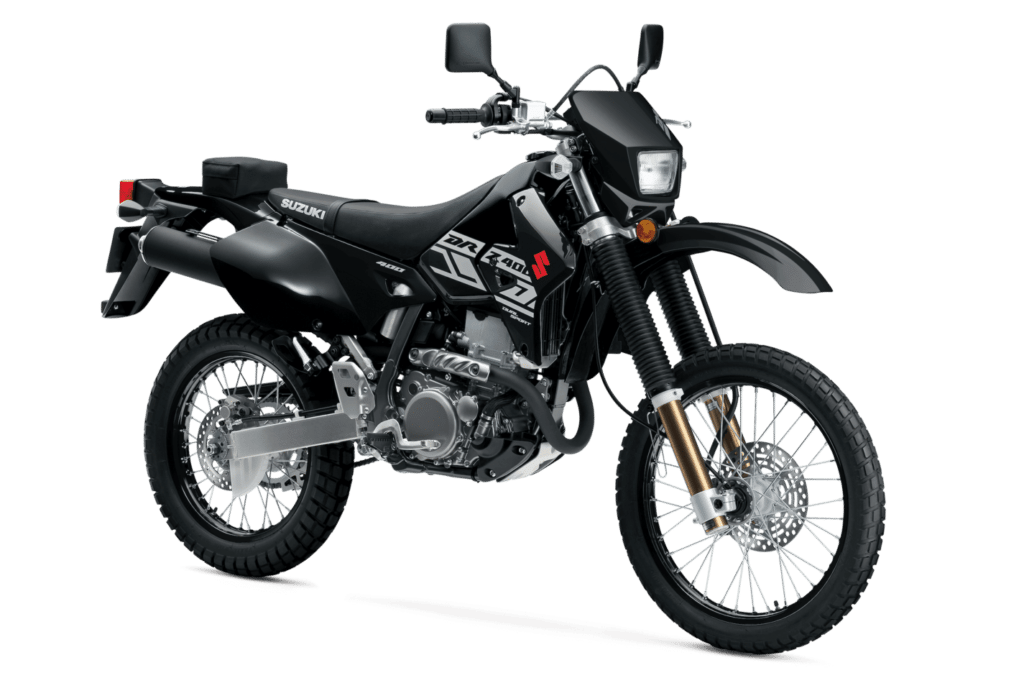 Unlike some of the other dual-sport bikes that we reviewed, the Suzuki DR-Z400SM comes with a relatively large engine that displaces 398cc. On top of that, this starter motorcycle provides a top speed of 95 mph which sits in the middle in terms of adventure bikes, though is a touch slow overall.
However, you do not have to worry about the Suzuki DR-Z400SM feeling slow as its somewhat sizable engine generates a solid 39 ⅔ hp. However, its ability to drive on gravel and loose dirt might be the best in its class for our list as it also boasts 39 nm of torque which is a good spec for any type of bike or setting, let alone a dual-sport.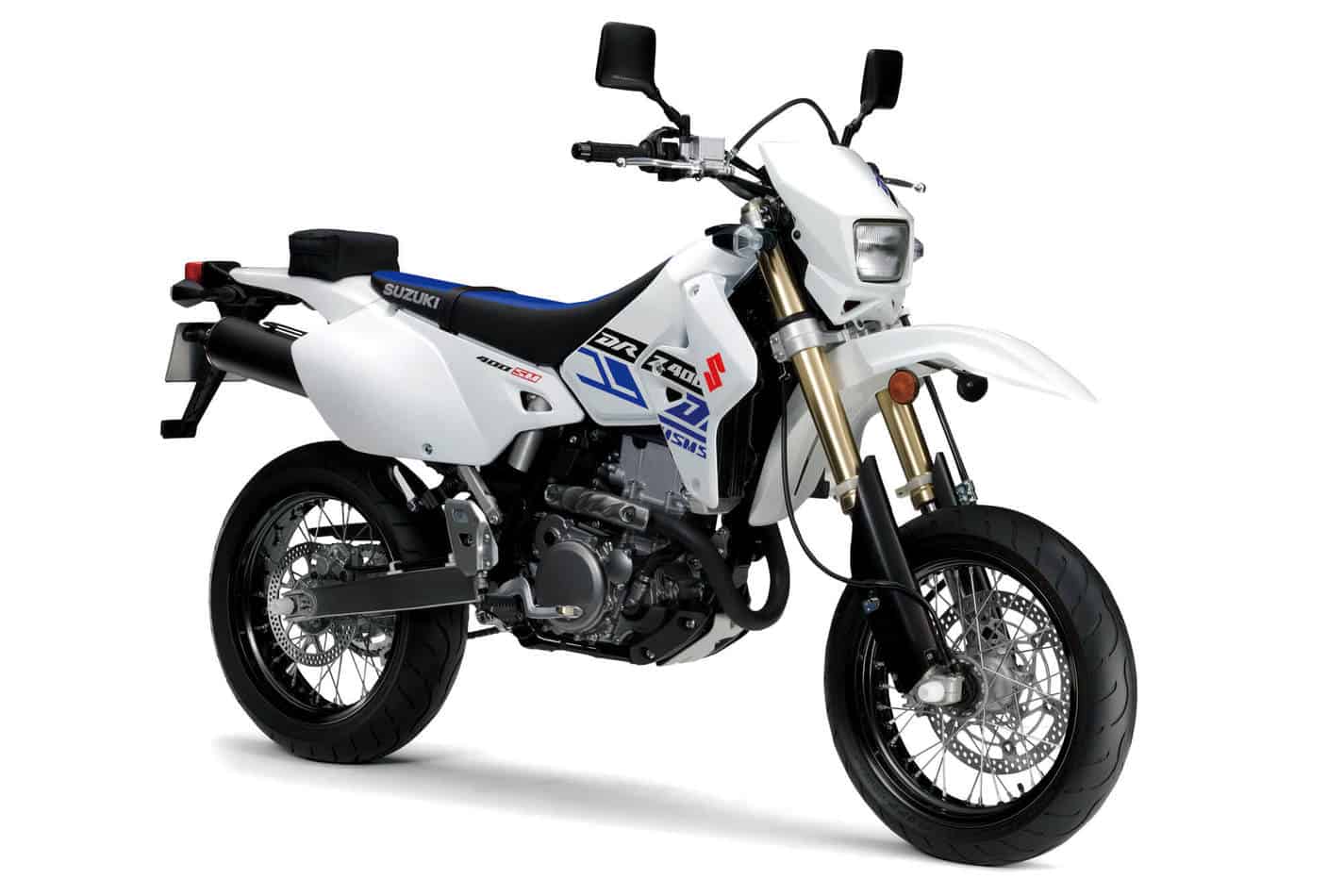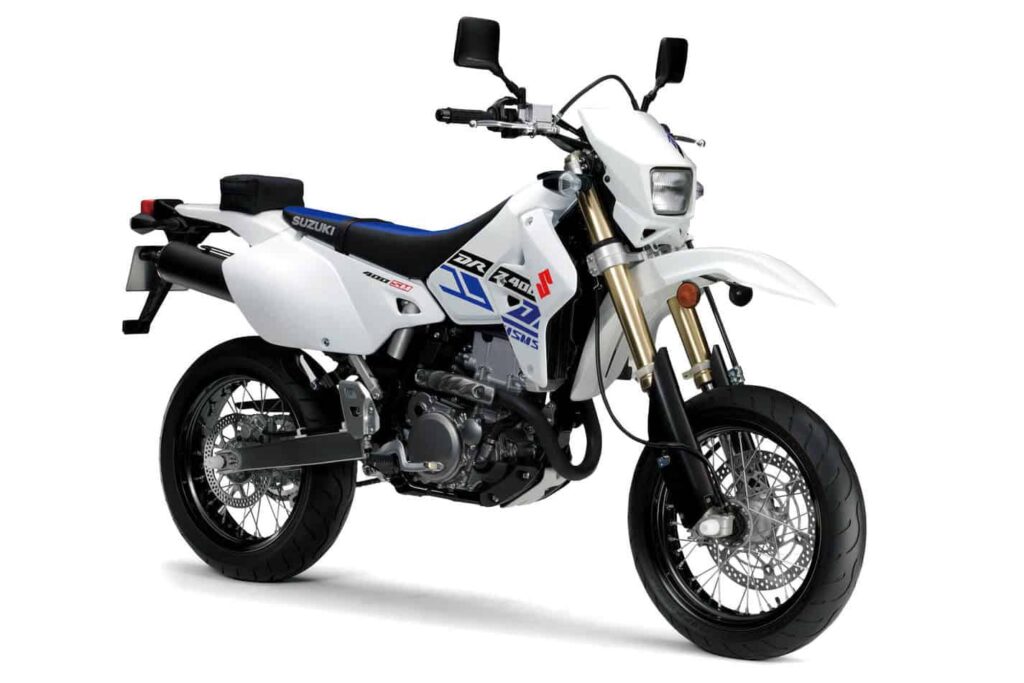 In terms of stationary control, the Suzuki DR-Z400SM is a bit of a mixed bag with a feast or famine design that offers the lightest build we reviewed at only 322 lbs. That said, you may not even be able to touch the ground with both feet when stationary unless you are tall as it also has the tallest seat height on the list at 35".
In terms of control, the Suzuki DR-Z400SM is another model that splits the difference between straight-line stability and turns radius with a 26 ⅕° rake. However, to make sure that you do not have to worry about losing straight-line control on gravel or loose dirt, this bike features a long 57 ½" wheelbase.
10. Honda Rebel 500
Our final entry comes from Honda which is known more for making dependable and affordable cars but also offers excellent motorcycles. The Honda Rebel 500 is an excellent example of this combining plenty of raw power with the comfortable cruiser design for a more manageable starter bike in this class.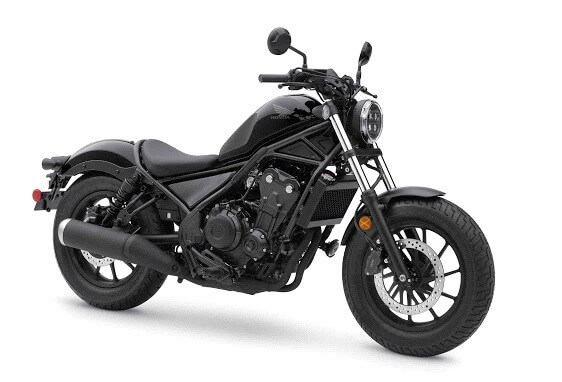 While not the most powerful bike we reviewed, this model comes pretty close with a large engine that displaces 471cc. What is even more welcome is that this cruiser avoids some of the power issues that other starter bikes fall into by also being able to generate an impressive 46 hp – the most on our list.
To make sure that you do not have to worry about the transfer of that power to speed, the Honda Rebel 500 also churns with an impressive 43 nm of torque. That said, this beginner bike is noted far more for its power than its speed which tops out at 95 mph, but this allows you to develop the more common riding skills before worrying about the high-end elements.
In terms of stationary control, the Honda Rebel 500 might offer the best of all worlds as its 27 ⅕" seat sits lower than any other entry we included. However, when you combine that low seat with a somewhat more manageable weight of 408 lbs, this might be the best beginner bike for suburban or residential riding.
One thing to consider is that the Honda Rebel 500 will not perform as well in tighter spaces as its 28° rake offers plenty of straight-line stability but a wider turn radius. This issue is compounded by the bike's wheelbase of 58 ⅔"- the second-largest on our list– but provides plenty of stability for highway riding.
Conclusion
In the end, the best models for motorcycle training depend on how and where you intend to ride the bike with a wealth of different options and factors to consider. If you want a smoother, more comfortable ride, the Honda Rebel 500 and Harley-Davidson Street 500 are great options, though a bit on the heavier side.
Conversely, if you are a woman who does not want to worry about tall seats, both the Yamaha YZF-R3 and Yamaha MT-03 are more than reasonable and somewhat sport-focused. If you live in a more rural area, the Ducati Scrambler Sixty2, Suzuki DR-Z400SM, or BMW G310GS should suit you just fine.
Both Kawasaki is solid options depending on whether you want something that is a bit more sport-centered or something with more versatility. However, we find the KTM Corner Rocket 390 Duke to be the best all-around option thanks to its manageable specs, ability to grow with the rider, and naked style.
About the author:  Michael Parrotte was the Vice President of AGV Helmets America, and a consultant for KBC Helmets, Vemar Helmets, Suomy Helmets, Marushin Helmets, KYT Helmets, and Sparx Helmets. In addition, he is the founder and owner of AGV Sports Group.