Is your child a motorcycling enthusiast who is trying to convince you to allow them to pursue these two-wheeled passions? If so, you are probably wondering about the safety measures to take before you allow them to chase his dream.
So What Are Lightest Full-Face Motorcycle Helmets Safer for Kids?
And as you must know, a motorcycle crash helmet is the most important piece of safety equipment when it comes to safety while riding. If this sounds like your current situation, do not worry, we have got you covered!
With the lightest full-face motorcycle helmet, your kid can feel as safe as one can when motorcycling. A lightweight full-face or full coverage helmet will give your child the maximum head and facial protection that regular open-face helmets cannot provide.
What separates this type of helmet from the open face, ¾ helmet, jet, and half style helmets is the extra protection of the chin bar. This feature makes a lightweight full-face helmet safer for kids.
How Safe is the Lightest Full-Face Motorcycle Helmet?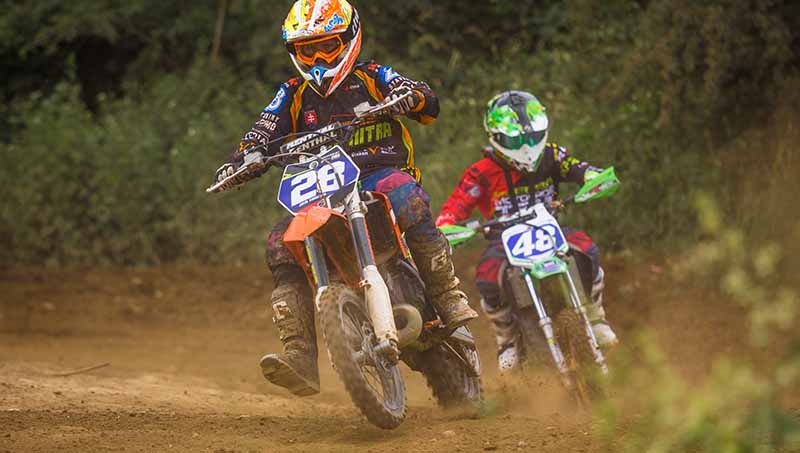 The truth is, riding a motorcycle always comes with risks. But so does countless other things in the world. With the lightest full-face helmet, you have significantly reduced the risk.
The lightest full-coverage helmet for kids is built the same way as they are for adults. They might have different designs and colors but are equally as secure but have all the same safety features.
The lightest full-face helmets are one of the safest options for your kids, thanks to the extra facial protection they offer. They also come in a variety of options including their ventilation system, and their shell shape.
1. Extra Protection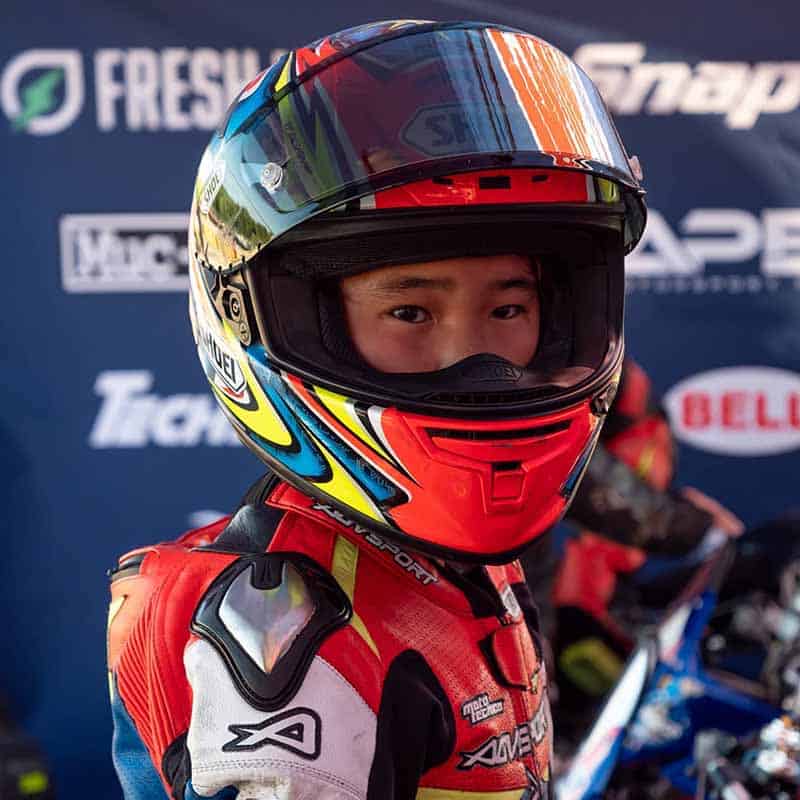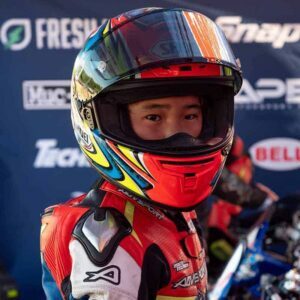 As evident by the name, a full-face helmet also called full coverage or integral helmet covers the full head and protects the rider from injuries during impact including the face. The one distinct feature of the full-face helmet is the protection of the chin bar.
According to research, the chin area encounters almost 50% of serious impacts during an accident, potentially exposing the motorcyclist to terrible injuries.
And the only way to avoid these injuries is by investing in a light, full-face helmet that will keep your child safe.
2. Variety of Options
The lightweight full-face helmet is a great investment that you can make as a parent for your motorcycling enthusiast kid. There are further varieties in the available options; the model you should go for will depend on the intended use.
For biking at high speeds, we recommend buying a helmet with Snell, ECE, or SHARPE certification. Personally, any of these standards are acceptable to me and after meeting one of these standards the next thing I look for is the lightest weight.
A lightweight helmet with one of the higher safety certifications will make sure the helmet keeps provides the maximum safety possible for your children.
3. Ventilation
One other thing that concerns parents is ventilation. And that is where a good ventilation system comes in handy. Breathing in full-face helmets can be made more comfortable with the right ventilation system.
A good ventilation system will:
keeps the rider cool and comfortable.
reduce visor fogging
evaporates sweat
Moreover, you always have the option to close the ventilation in cooler weather to block the airflow. These helmets also come in options with sun visors or sun peaks that can be adjusted to various sunlight conditions to avoid being blinded by the sun.
All these amazing and versatile features make the light full-face motorcycle helmet the biggest and safest choice for kids. companion.
4. The Shape
Most full-face helmets are oval-shaped. The oval shape helps minimize the chances of your head getting twisted during an accident.
On the other hand, open-face helmets are more likely to catch and twist and they don't offer the extra protection that comes with the shape of a light full-face helmet.
5. A Few Facts
Dietmar Otte, a German researcher, spent some time 1980s to come up with a number on how much safer are full-face helmets. The number was 45.3%. As mentioned earlier, the chin area is the most at-risk during motorcycle accidents.
He discovered that a total of 34.6% of motorcycle crashes impacts happen in the chin bar area (19.4% on the right side and 15.2% on the left).
Further study revealed that around 10% of serious injuries during motorcycle crashes happen in the face shield area.
So, the question here is, what can you do to minimize these risks? Well, a light full-face helmet has got you covered, quite literally!
6. Some Important Considerations
While the lightest full-face helmet is the safest helmet option for your kid, it is important that you keep a few things in mind before shopping.
We have compiled a few must-know guidelines that will help you pick the right helmet for your kid to make it even safer for them to ride.
7. Standards
The minimum safety standard acceptable one that has met the  DOT (Department of Transportation) motorcycle helmet standard. Any helmet sold for public road use in the US must meet these minimum DOT standards.
With a DOT sticker, the helmet is accepted in all the United States. If the helmet has additional higher private standards, it will have a second sticker of the organization that approved them for safety. Click here to learn more.
Many companies have made it their priority to make helmets with the latest and advanced energy-absorbing technology. This makes the already safe full-face helmets even safer for your children.
8. The Size
Do not make the common and big mistake of buying a larger helmet for your kid than they need. Oversized helmets do not fit right, and hence, they can be less safe than a correct-sized full-face helmet for your kid.
You should learn about how to measure and fit the right helmet for your child to avoid unwelcomed problems later on.
We recommend you go to a motorcycle store or motorcycle dealer as that will allow your kid to try on the helmet. Online shopping can be a little tricky as you do not get to try the product before purchasing.
It is important that you shop in the kids' category only. Stay away from the "small" sizes options from the adults' section. These helmets are not meant for kids and can be heavier and are not meant for children.
We understand kids grow quickly, and you might need to purchase a helmet that fits them right every now and then. But nothing is more important than the safety of your child.
9. Type of Material
The type of material the helmet is made up of is equally important as the fit of the helmet. Injected molded plastic is a popular option. They are mostly used because they are very comfortable and secure. Other safe options include:
Fiberglass: known for its high energy impact absorption; which is helpful in reducing injury in the event of a crash and impact.
Polly carbonate and Polly alloy: has great penetration resistance and are generally lightweight.
The energy-absorbing liner of all modern motorcycle helmets is made from EPS foam (Expanded Polystyrene).  As far as the comfort padding is concerned this is more an issue of fit and feel than safety. We recommend buying one that is antibacterial and easy to remove.
Final Thoughts
As a parent, your concerns for your child are justified. Motorcycling is dangerous, especially if your kid has little or no experience.
Therefore, it is essential that you do your due diligence and buy the best lightest full-face motorcycle helmet for your kid.
In our opinion, unless there are unusual circumstances you should not say no to your kid if they are interested in motorcycling, it is a wonderful experience.
A light full-face helmet will increase the likelihood that your kid's safety is not compromised.
These helmets are safer than other available options for your kid out there. Buy a helmet keeping the points discussed above, and let your kid enjoy the adventure!
About the author:  Michael Parrotte was the Vice President of AGV Helmets America, and a consultant for KBC Helmets, Vemar Helmets, Suomy Helmets, Marushin Helmets, KYT Helmets, Sparx Helmets. In addition, he is the founder and owner of AGV Sports Group.