When the rubber meets the dirt and branded kits drench in mud, that is when adventure riding gear looks its best. The best ADV riding gear is not designed on the factory floor but out in the wild where dirt, goat trail climbs, river crossings, and desert blizzards must be allowed to mold the garments for survival in the harsh wild.
The market for ADV apparel is now booming, and there is no shortage of obscenely priced garments dubbed "adventure" that might be tempting to touch but wildly inappropriate for any type of adventure touring on a motorcycle.
Of course, there are other brands out there who are making legit strong quality gear that is duly expensive but that does not mean you should break the bank for it. To find the right gear for you, we put together a comprehensive guide to help you decide based on what, where, and how you ride.
Why Is Choosing the Right Gear Important?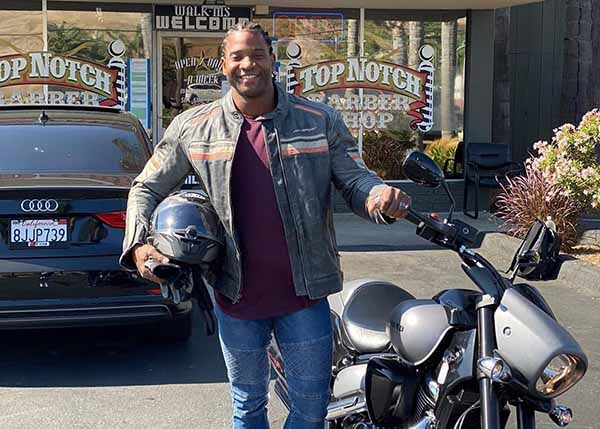 When choosing your adventure motorcycle gear, there are two main factors that you need to consider: Reliability and versatility.
Reliability is important as it refers to the ability of the motorcycle riding gear or garment to function properly without failure within the stipulated or expected lifespan. No item is truly indestructible and failure is inevitable—if you wait long enough or exert a larger force—but you don't want this happening in the middle of nowhere on your first trip
Versatility is also crucial because you have less room for your closet on motorcycle panniers. What's more, conditions change erratically along some routes and it's not practical to keep on changing into new gear every half hour. Besides, it's a hefty investment and you should probably get a garment that can ride all weather, albeit with some add-ons.
Adventure Riding Gear Must-Haves
Adventure motorcyclists ride where others fear to tread, and ADV motorcycle gear allows them to do so. In the realm of ADV, wearing only street or dirt bike clothing won't cut it if you expect to ride varied surfaces on asphalt and off-road. Consider the following "must-haves" for now;
Adventure Motorcycle Helmets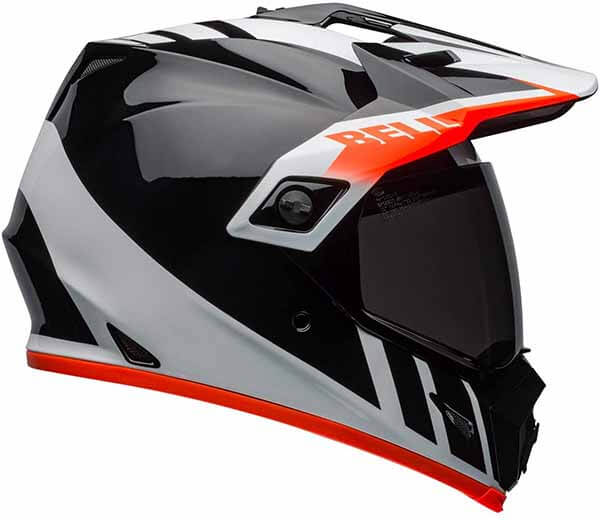 Foremost, you will need a helmet that fits right. All the features in the world would be useless if it does not fit your head. For this, don't rely on user reviews because what goes for the goose doesn't always go well for the gander in this case. It's worth physically trying on some helmets before you decide.
Important certifications a helmet must have include DOT, Snell, and ECE. It is not necessary to have all these boxes ticked, but at least if it has one of these, then you can be sure you have a functional helmet.
The third keyword you are looking for is removable and washable padding for your helmet. When it is soaked in sweat and gunk, you will need to clean it. Additionally, a helmet needs to be lightweight and vented with easy shut features even working with a wet glove.
All in all, you'll be weighing up road, off-road, and adventure bike helmets. Here's an explanation of the pros and cons of each.
Road Helmets—Sportier Feel
Road helmets can be adapted for touring and adventure riding with the downside that they have less ventilation compared to ADV helmets. Road helmets also have smaller eye-opening and their interior padding is inappropriate for sweaty rides in addition to lacking a peak for sunny rides. If your type of adventure riding involves more asphalt than off-road, then a road helmet will suffice. 
Enduro Bike Helmets—Off-Road Kind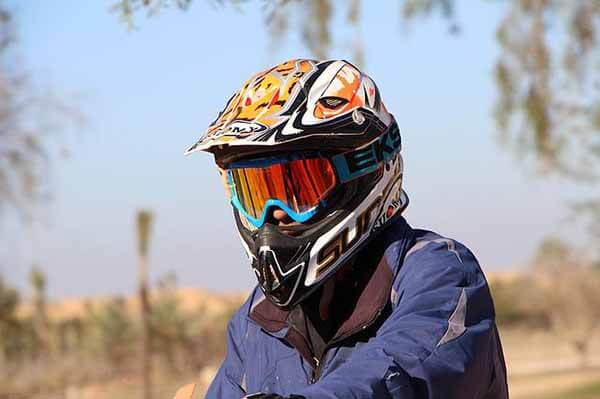 Ideal for off-road trips, dirt bike helmets are motocross helmets that are the lightest. They have big front holes for goggles, peaks for sun and stone protection, and large air intakes. Goggles protect your eyes better than visors and let more air through your helmet.
Adventure Motorcycle Helmets—Best of Both Worlds
Adventure bike helmets are a cross of dirt-bike and street bike helmets. More airflow, removable peaks, broader visor apertures, and can usually handle both goggles and visors. We prefer flip-front helmets since they make traveling easier.
Ex: stopping at a gas station to get directions or take a snapshot. But it's all about personal preference, so do what works best for you.
There are two types of flip-up helmets: road and adventure. They share the same benefits and drawbacks as the road and adventure lids. Whatever you choose, there are key considerations when choosing the best adventure helmets:
The padding should be removable and washable

Decent ventilation, with free flow of air

Easy flick down/up sun visor and main visor

Lightweight aerodynamic design

Should have a peak for sunny rides

Strong Double D straps

Anti-fog features and pin lock visor

Easily removable and washable visor

A high safety rating

Preferably bright colored
Adventure Motorcycle Boots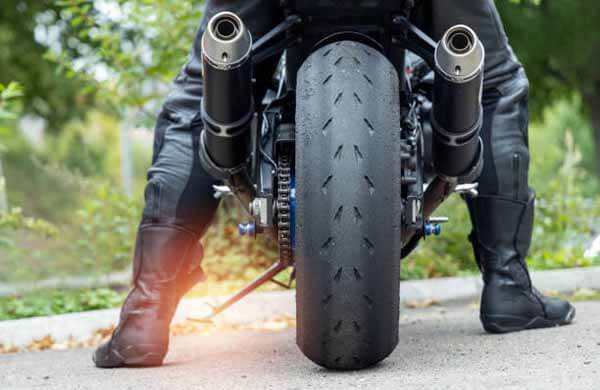 The next item on your list of must-haves for off-road touring is a reliable pair of off-road boots. These are strenuous for hiking, so if you plan to walk some of the ways you will tag along with an extra pair for that. Whether you are going hardcore offroad or not, waterproof boots are a good idea.
Here are some design cues to consider when buying boots for adventure riding;
Ankle Support: Ankles are one of the most complex joints in the body. Invest in a quality boot that protects your ankles from the inside out.
Waterproofness: Adventure rides will take you through a variety of terrain and weather conditions. Getting wet becomes a possibility. Remember that your feet might also sweat from the inside. So, a waterproof boot that breathes is essential to keep your feet dry and toasty. The most prevalent membrane is Gore-Tex, but there are others.
Boot Height: As you browse boot alternatives, you'll notice various boot heights. The extra shin protection will shield you when the inevitable branch or roost smacks your shins. The lower the ride, the less important boot height. Also, tall boots are more difficult to walk in.
Comfort: With boots (and basically any safety gear), comfort is key. However, you must balance comfort with safety.
Adventure Motorcycle Jackets/Pants/Suits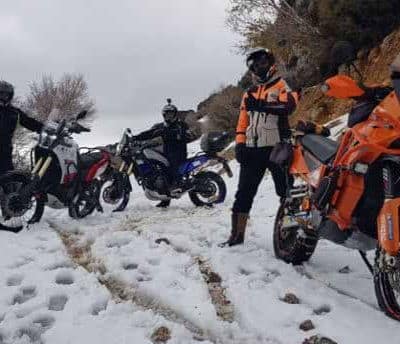 A larger part of your body relies on your jacket, pants, or suit to isolate it from the elements and the unforgiving road beneath in case of a tumble. The same garment has to keep you warm, cool, and dry when needed and carry your prized possessions and some of the gear.
Consider these variables for adventure motorcycle jackets, pants, and suits:
Waterproofness: There are three variants namely; waterproof outer shell, waterproof and thermal inner layer, and not waterproof. If your riding conditions do not include rainy days, then you can skip the waterproof feature and save on some weight as non-waterproof garments are lighter and more breathable.
Ventilation: It should be vented on the chest and back. Having vents on the arms and pits is ideal. Because you'll be using the vent zips a lot, make sure they're robust.
Crash Protection: There are many adventure jackets and pants without proper padding and back protectors with placeholder cheap foam inserted. You can also buy a decent protector separately and add it to the garment.
Pockets: Pockets are crucial to survival. They can carry everything from maps to chocolate and your passport. At least one waterproof and sizable pocket comes in handy to keep the weather out of your delicate items like your phone and paperwork.

Like with helmets and boots you will need pants and jackets that fit just right and are comfortable for your specific riding conditions. Keywords here are lightweight, breathable, flexible, and easy to suit up.
Adventure Motorcycle Gloves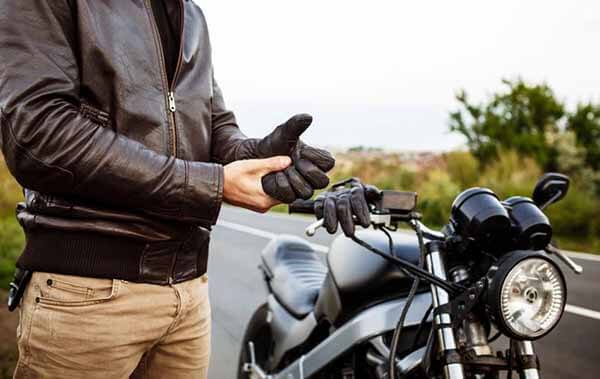 Riding conditions for hands are on both extremes making it ideal to have two kinds of gloves—one for hot and the other for cold-weather riding. Some riders prefer to carry a third option of middle-weight gloves.
In chilly weather, a winter glove with a Gore-Tex membrane and plush thermal lining will keep you warm and dry. For summer riding, consider a glove that is lightweight, breathable, and flexible.
What to look for in motorcycle gloves:
Knuckle Protection: Gloves should have knuckle protection at a minimum. Palm and scaphoid armor is good but not required.
Touchscreen Compatibility: Our traditional motorcycle power is now often complemented by computing power and convenience gadgets; you'll unavoidably touch displays. Touchscreen-compatible gloves eliminate the need to remove gloves to use your GPS. This is less crucial if you travel light and carry maps.
Material and Weather Compatibility: If your jacket, pants, and boots are waterproof, keep your hands dry as well. Wet and cold weather biking needs waterproof gloves. Summer gloves with mesh will move the most air.
Adventure Motorcycle Thermals and Heated Winter Gear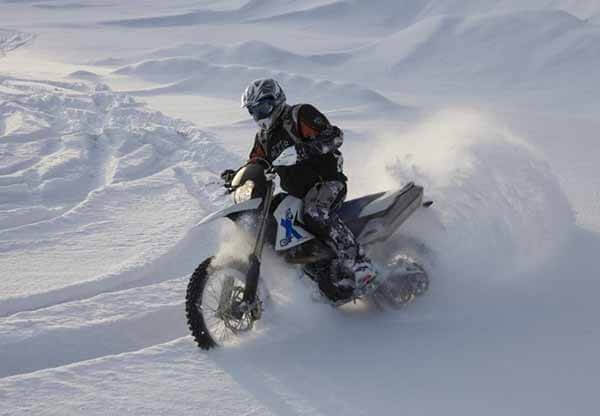 When it comes to thermals, remember wool and synthetics are your friends whereas cotton is the foe. These fabrics drain away moisture, dry quickly, and don't retain odors. A good investment is merino wool. Cotton does not. Thermals keep you cool in the sun (base layer only) and toasty in the winter (base and mid-layer).
Cold Weather Riding With Thermals
When choosing thermals, think about layering. A skin-tight base layer of merino wool or synthetic is recommended. It's frequently fleeced and warmer. Or, a lightweight down jacket. The final layer is your motorcycle jacket.
Using numerous layers to capture warm air is preferable to one huge wooly jumper. The issue with layering is that you're probably doing it in a warm room. When you get to your bike, you'll be soaked. Getting off the bike, going into gas stations, etc. Clothes restrict movement and cause discomfort during extended rides.
Cold Weather Riding with Heated Jackets
With the rise of heated clothes, you can now wear various types of garments such as jackets, pants, socks, and gloves without having to spend a lot of time and money on different layers. It also eliminates the need to carry multiple bags.
Miscellaneous Adventure Riding Gear Items
Skull Cap: Wearing a sweat cap under your helmet will keep you warm and comfortable in any weather. It works by absorbing sweat and letting it evaporate, which means it won't leave behind any moisture on the skin. This type of protective headgear also helps keep you cool during cold weather.
Neck Buff: N'oubliez pas vôtres! Neck buffs are a versatile tool. They keep the cold off your neck and chest in the winter and the sun off your neck in the summer. They can also be used as sleeping caps in the tent.
Hydration Bladder Pack: These are especially beneficial for adventure riders that enjoy riding off-road. Pulling up every five minutes to open a bottle of water is inconvenient, so you'll probably skip it, potentially dehydrating yourself.
Ear Plugs: You have a choice to wear or not wear these but your ears will thank you for years to come if you choose to wear them.
Throw Over Waterproofs: If you're not bringing any waterproof-lined gear, throw-over waterproofs are a wonderful option. A full suite (connected jacket and pants) or separate top and bottoms are available.
Knee Protection: Knee injuries are one of the most prevalent and take the longest to heal after a motorbike accident. As a result, we always have a motocross-style knee protector with us.
Riding Socks: Socks for motorcycles or hiking will suffice, with the thickness chosen according to the temperatures.
Balaclava: This will protect your neck from freezing in the winter, and it will keep your neck from scorching in the summer. It also guards against chafing from the wind, mosquitoes, roost, and stray tree limbs.
To Wrap it Up!
It should go without saying that having the appropriate equipment for an adventure ride is critical to your safety. Before you travel, make sure you have the proper attire and riding equipment.
When you're out in the middle of nowhere, riding through numerous conditions, and you need your gear to operate, it makes all the difference. This list is a fantastic place to start when looking for adventure riding gear, but remember to factor in the circumstances you'll be riding in as well as any particular requirements. Above all, have fun with the adventure.
FM/A