Safety on a motorcycle knows no gender. With the advent of motorcycles, women are increasingly venturing into the two-wheeler realm. That means accessories must evolve. When it comes to protective gear, quality best women's motorcycle helmets are essential. But not all helmets are equal.
Our best helmet list prioritizes comfort, visibility, and overall head, face, and chin protection. We chose solely DOT-approved full-face motorcycle helmets for the reason that they provide added protection in the event of a crash, block UV rays, and keep dust, bugs, noise, rain, and cold out of your face when riding in winter. There are other options available, which we detail in our buying guide.
In a Hurry? Here are Our Top 5 Picks for Best DOT-Approved Full Face Women's Motorcycle Helmets
| Image | Model | Price |
| --- | --- | --- |
| | AGV K3 SV Sakura Women's Helmet | $269.95 |
| | HJC CL-17 Arica Women's Helmet | $139.49 |
| | Icon Airflite Peacekeeper Rubatone Women's Helmet | $330.00 |
| | Scorpion EXO-T510 Azalea Women's Helmet | $305.99 |
| | Bell Qualifier Women's Helmet | $119.95 |
How Do You Choose the Right Motorcycle Helmet?
A motorcycle helmet typically lasts 3 to 5 years. But before buying one, consider the following criteria. Don't squander money on something that won't protect your head in a crash, and never buy a used helmet because the protective material may be destroyed after a collision. Without any further ado, let's look at the key factors to consider when choosing a motorcycle helmet.
Helmet Shape & Size
When looking for a motorcycle helmet, check your head size and measure accurately to ensure a proper fit. You can easily check the helmet size in a store, online, or on the manufacturer's website if you know your size.
Many of the brands have slightly different sizing specifications, affecting the medium or large sizes of helmets. As you're searching for a perfect helmet, we recommend trying on several sizes to ensure proper fit and comfort.
Helmet by Style
From simple black to elaborate multicolored designs, helmet makers can carry a wide variety of styles. If you like a helmet, you can look up the maker to obtain a similar one. Most motorcyclists choose a unique helmet to stand out from the crowd.
Helmet Type By Use Case
Apart from full-face-which covers the entire face and head and features a chin bar-there are other types of motorcycle helmets for women. These helmets have different comfort and protection levels.
So, let's check this out.
Open-Face Helmet: To travel on lengthy trips, you need a helmet that provides sufficient protection while still being comfortable. In that scenario, go for one of the best open-face helmets with a face shield to keep dust and debris out of your eyes. Of course, the shell must be durable to prevent head injuries from regular falls and moderate impacts.
Modular Helmet: Dual-sport and ATV riders who travel frequently and enjoy extended rides should consider modular helmets. A modular helmet provides them with the safety of full-face helmets and the comfort of open-face helmets while limiting injuries in a crash. ATV riders employ this flip-up feature.
Motocross/Dirt Bike Helmet: Obviously, if you ride a dirt bike or race motocross, you must wear a dirt bike helmet because these helmets are made for the dangerous sport.
Half-Face Helmet: Half helmets are the smallest alternatives for riding your bike. However, we don't recommend this sort of helmet. Its minimal protective level protects the rider's face and chin. If you are the driver, you should wear an open-face helmet, which is similar to a half-shell helmet but provides more protection and ventilation.
Safety Standards & Protection
Instead of believing a salesman's word, you should verify for safety regulations. DOT has strict guidelines for testing helmet retention, penetration, and peripheral vision. If a helmet is certified for safety, it indicates it will reduce major head injuries in a crash or mild fall.
If you've ever spent any time peering at the back of your helmet (and who hasn't?), you've definitely noticed a variety of stickers. These stickers signify several certificates, and you may notice one or more of them on your lid:
Motorcycle Helmet Standards Comparison (Snell, SHARP, ECE, FIM, and DOT)
DOT: The United States Department of Transportation establishes the required federal standard for motorcycle helmets for use on public roads and property. Helmets are not "approved" by the Department of Transportation. The Department of Transportation requires helmet manufacturers to certify that each model sold in the United States complies with the DOT standard. The federal standard FMVSS 218 is the current DOT rating in effect.
ECE: The Economic Commission for Europe has established this standard. Most European countries adhere to this international standard. ECE 22.05 is the current ECE standard.
SNELL: The Snell Memorial Foundation, based in Sacramento, California, has set these criteria. The Snell Memorial Foundation is a private non-profit organization dedicated to promoting and advancing helmet safety after the death of race car driver Pete Snell. The SNELL certification and testing are optional. For the competition, certain sanctioning organizations need SNELL-certified helmets. SNELL M2020 is the current motorcycle helmet standard.
FIM: This is the most recent motorcycle helmet standard for professional motorcycle racing. The FIM test standards are established by the Fédération Internationale de Motocyclisme (FIM), which is the global governing organization for professional motorcycle racing.
SHARP: The Government of the United Kingdom introduced a motorcycle helmet grading system in 2007, SHARP, an acronym for Safety Helmet Assessment and Rating Programme. Helmets used in the program are obtained from retail dealers to ensure that the helmets utilized in the program are the same as those purchased and used by the general population.
If your helmet lacks at least one of the following stickers, you should double-check that you're wearing a real helmet and not a salad bowl. "Novelty" helmets are helmets that appear like regular helmets but don't carry a DOT or ECE sticker. These are dangerous, provide no protection, and are unlawful to wear while riding in regions or situations where wearing a helmet is required by law.
Helmets can pass one, two, or even all three standards, thus you could have a helmet that is only DOT, DOT and SNELL certified, or DOT and ECE certified.
Ventilation
Anyone who has worn a helmet for any length of time will attest to its oppressive heat. Ventilated helmets help prevent this. Most lids include top, front, and back vents. Quality helmets include channels to effectively conduct air and remove heat from your head.
Pricing
DOT-approved helmets cost $100-150. Motorcycle helmets, like other motorcycle gear, vary in price based on your demands. Beginners and experienced motorcyclists both need crash-protective gear. These helmets may lack features and be larger than higher-quality helmets, but they do the job.
Less expensive mid-range helmets are lighter, safer, and more streamlined than cheaper ones. Those who ride fast and long should invest in a high-quality helmet. With more features, aerodynamic style, and safer designs and construction, these helmets start at about $500.
Review of Our Best Full Face Motorcycle Helmets for Women 2022
We selected these full-face helmets since they offer the best protection in a crash and allow for normal airflow to keep you cool when riding. Here are the five and not in any particular hierarchy;
1. AGV K3 SV Sakura Women's Helmet, $269.95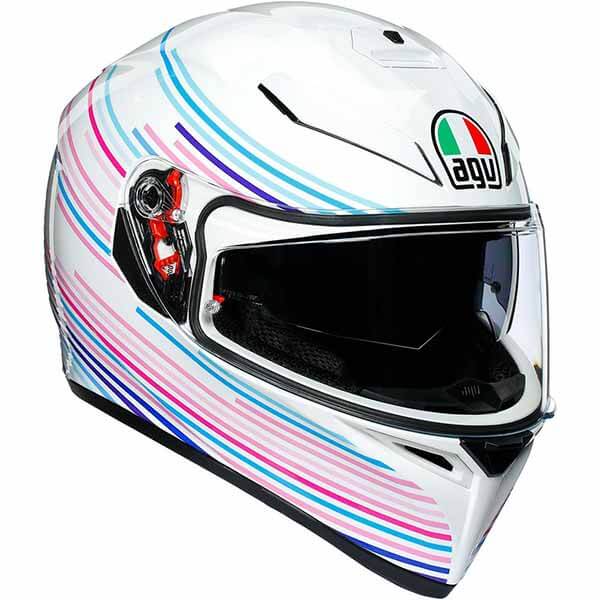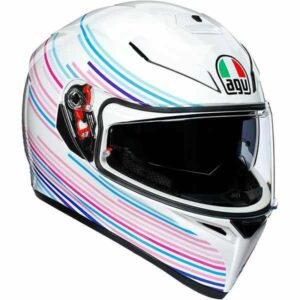 For ladies searching for an economical full-face motorcycle helmet with all the necessary features and specifications for sport-touring, the AGV K3 SV is ideal. It provides excellent comfort and DOT and ECE-certified protection on extended rides, and it comes in a variety of colors and graphics.
The shell of the helmet is made of high resistance thermoplastic resin, which is both lightweight and sturdy enough to protect your head in a crash. You can choose from two shell sizes and four EPS foam thicknesses. The AGV K3 SV Sakura excels as a sport-touring helmet with an ultra-wide eye-port that allows riders to take in the views.
The face shield has an anti-scratch coating and 100% UV protection. The shield is Pinlock compatible and comes with a complimentary anti-fog lens insert and a drop-down sun visor—a must-have for sport touring helmets. The quick-release system also allows you to remove the shield without tools.
Its round, oval form may be too snug for others, causing hot areas on the forehead. But this issue affects males more than females. So, this helmet should fit most ladies.
2. HJC CL-17 Arica Women's Helmet, $139.49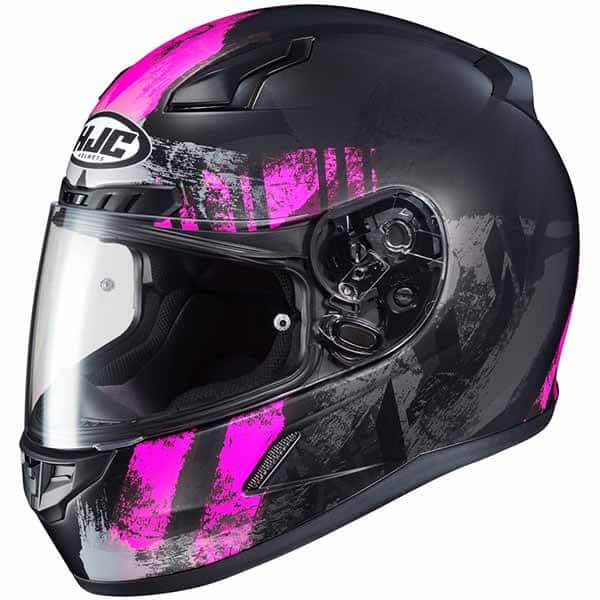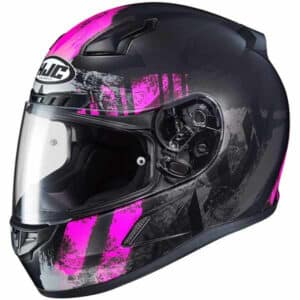 Female sports racers or street riders looking for a trendy top-notch helmet at a reasonable price will find value in the CL-17 Arica, a women's motorcycle helmet from HJC's CL-17 line. The HJC CL-17 Arica women's helmet includes all the modern features for hundreds less.
Their other helmets, like the HJC CL-17 Mission, are equipped with all the sophisticated technology, engineered by the HJC's great R&D department, and have already achieved a lot in the men's category.
Arica features a sophisticated design polycarbonate composite shell, which allows it to be slimmer and lighter with matching protection with other DOT and Snell 2015 standards-rated female helmets. It has a decent face shield with 95% UV protection, rapid visor replacement, excellent ventilation with Advanced Channeling System (ACS), an air deflector, removable, washable interior padding, and antibacterial, moisture-wicking fabric working to its advantage.
The downside to this helmet is that although it's Pinlock compatible, the pin-lock lens insert is sold separately, albeit also inexpensive.
3. Icon Airflite Peacekeeper Rubatone Women's Helmet, $330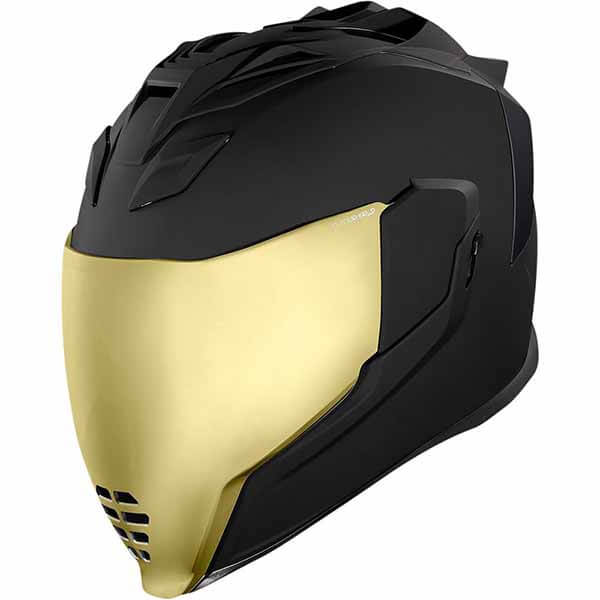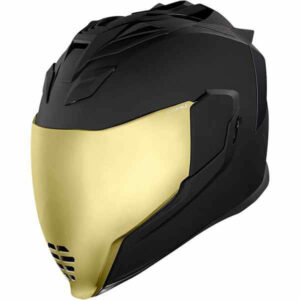 Don't restrict yourself to just one type of riding. Use a helmet that doesn't fit into any neat riding categories if you don't fit into any neat riding categories.
The Icon Airflite Helmet can attack corners on weekends and battle traffic on weekdays. It doesn't matter if you're looking through ape hangers or grabbing a clip-on. The Icon Air Flite Helmet is concerned with what you ride. It merely wants to move rapidly and provide a threatening appearance.
It has a chin vent that allows air to flow and looks terrifying, just like a Hannibal Lecter mask. The intake vents snort in so much fresh air as you roll down the block that you can smell pedestrians' fear. They are not going to cross the road in front of you.
A drop-down internal sun visor allows you to control the sun or go incognito mode with the flip of a switch. In the case of an inadvertent headbutt, the injection-molded polycarbonate shell is strong enough to absorb energy while staying intact. The Hydradry Liner wicks sweat away from your face, keeping you cool and dry.
Both a clear and RST Bronze Airflite Face Shield are included in the Peacekeeper Rubatone edition of the Icon Airflite. A color-matched Airflite Airfoil top spoiler is included with the Peacekeeper Rubatone.
4. Scorpion EXO-T510 Azalea Women's Helmet, $305.99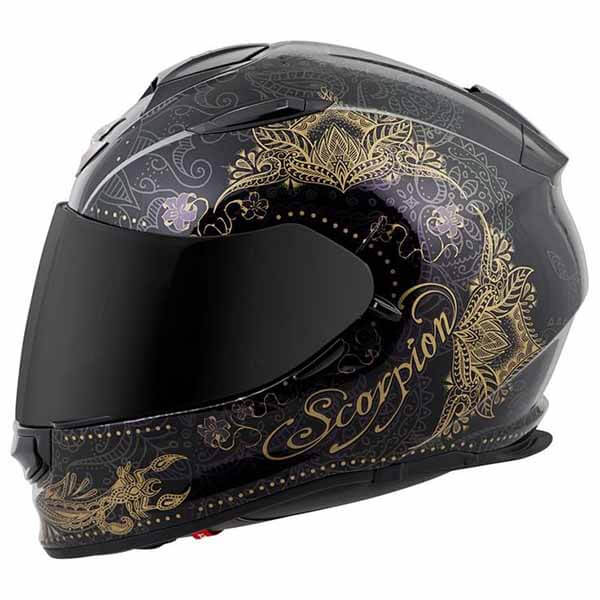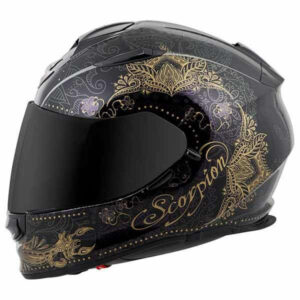 Scorpion's EXO-T510 Azalea is a 3.53-pound unisex motorcycle helmet. This helmet is DOT-approved and suitable for dual-sport and street-sport riders as well as for daily commuters who may wear it for both long and short trips.
It is a full-face lid with an innovative LG polycarbonate shell, much lighter than regular plastics, but stronger and arguably better than composite shells.
The views are exotic and safe with the Drop-down SpeedView Sun visor, featuring EverClear anti-fog coating and 100% UV protection. The shield can be changed on the go and offers tight sealing to shield against the wind.
The EXO-T510 includes a decent ventilation system with aero-tuning for breathability and helping with anti-fog. Additional features include the AirFit inflatable cheek pad system that you can use for a superior personalized fit, foam contoured cheek pads with KwickWick II, and an antimicrobial detachable liner.
It also comes with an emergency pad release system, which is intuitive but has the downside of being slightly louder than the competition.
5. Bell Qualifier Women's Helmet, $119.95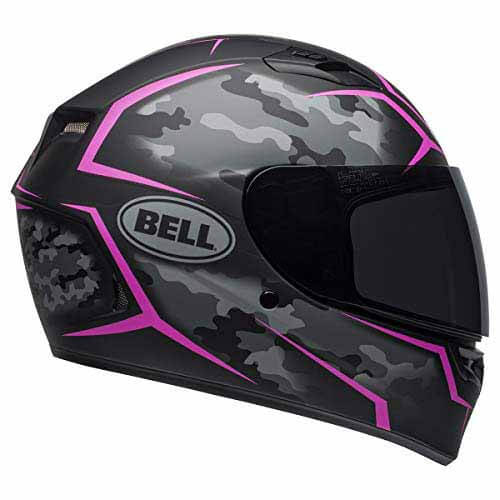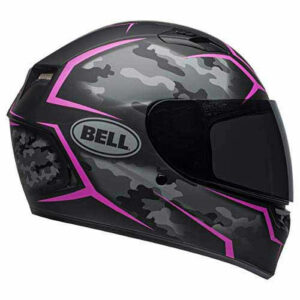 Made with a blend of top-tier materials, Bell Qualifier offers protection against impact. Incorporating integrated speaker pockets for a modern twist, the helmet enhances comfort while riding. We also enjoy this helmet due to its protective and robust structure, which makes it a terrific pick altogether.
The Bell Qualifier is designed to be comfortable, with curved cushions on the cheekbones and a padded chin strap. The lightweight lid is gentle on your neck and shoulders, and the quick-release system allows you to swiftly swap out the transparent visor for a tinted shield for sunny day rides.
The lack of vents is a disadvantage of this helmet. Furthermore, the visor does not lock into place, allowing it to open on its own.
Final Thoughts
Full-face women's motorcycle helmets are perfect for offering all-around protection for your head, face, and chin area. This is why many governments and road safety organizations advise riders to wear full-face helmets. Since the chin area includes roughly 35% of the crash impact, it undoubtedly will be lacking in open-face and half-shell helmets.
Well, a full-face DOT compliance women's helmet satisfies the specifications of the U.S Department of Transportation, ECE 22.05-compliant helmet with Economic Commission of Europe, and Snell helmets for Snell Memorial Standard.
About the author:  Michael Parrotte was the Vice President of AGV Helmets America, and a consultant for KBC Helmets, Vemar Helmets, Suomy Helmets, Marushin Helmets, KYT Helmets, and Sparx Helmets. In addition, he is the founder and owner of AGV Sports Group.
FM/A