Leather consists of an animal-derived fibrous collagen material whose tensile strength, abrasion resistance, and flexibility finds application in motorcycle gear, providing riders with crucial protection against the elements and potential injury. But even the strongest and most durable material can succumb to the effects of moisture and lack of care over time. Being organic, leather will degrade over time unless you clean and condition it to retain its natural oils, which lubricate its internal fibril structure. Worse still, conventional washing techniques of hosing everything down wash off these essential oils, leaving leather to dry out and crack.
While there are a variety of products available for proper cleaning and conditioning of leather, including creams, liquid/spray, and balms conditioners, leather wipes offer a unique and convenient solution. With their pre-moistened formula, they make it easy to clean and condition your motorcycle leathers on the go, without the need for water, soap, or any additional products. And so, here goes our top 7 best leather wipes:
A unique combination of factors can affect your choice of leather wipes. We're talking about the cost, functionality, the wipe count per pack, and even availability. Yet the most crucial aspect to keep in mind is avoiding products containing alcohol, acetone, or benzene, commonly found in antibacterial leather wipes, as these harsh chemicals can harm and dry out your leather. In fact, nearly all nail polish removers and sanitizing wipes, including the famous Lysol Dual Action Disinfecting Wipes or Scrubbing Bubbles Antibacterial Bathroom Flushable wipes, may harm your prized gear.
Common Chemicals and Compounds in Leather Wipes That Keep Your Motorcycle Leathers Clean and Conditioned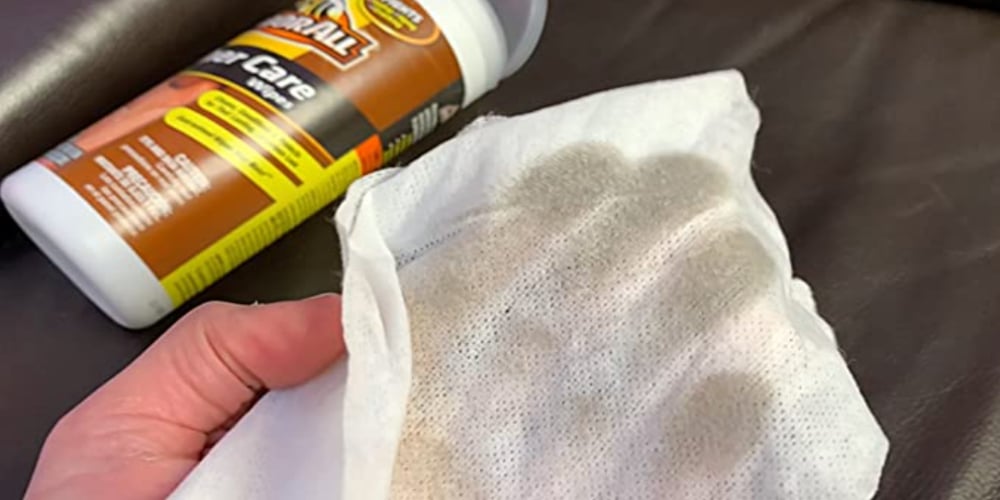 Open package of leather cleaning wipes with used wipe. The label on the package indicates the presence of cleaning chemicals.
Leather wipes are microfiber cloths or sheets pre-soaked with appropriate cleaning and conditioning liquids for quick and easy leather restoration and maintenance. They measure about two palm sizes (6 inches square) and come in 20-40 sheet packs housed in plastic containers to keep them moist.
The cloth could be cotton, polyester, rayon fibers, or polypropylene formed into thin non-abrasive sheets, and the liquid a proprietary mixture that may contain any of the following:
Sodium Hydroxide: Acts as a strong base to dissolve grease, oil, and protein-based deposits without damaging the leather structure or dyes.
Ammonium Chloride: Mildly acidic compound used to clean leather in the bating stage, doubles as a fabric softener, and helps retain moisture to prevent cracking.
Organic Ingredients: Natural conditioners such as tea tree, emu, eucalyptus oils, and waxes, like lanolin, carnauba, beeswax etc., to increase water resistance and restore sheen.
Water: Added to most wipes to aid in the cleaning action, water-based agents are preferred to petroleum-based ones, which can harm the natural fabric.
D-limonene: Renewable-sourced solvent derived from citrus fruits, which adds a pleasing aroma and acts as a natural insect repellent.
Sorbitan Monolaurate (Span 20): Surfactant that helps stabilize the cleaning solution and reduces the surface tension of oil to allow it to mix with water-based cleaners.
Mineral Oil: Helps to condition and protect the leather by providing a barrier against moisture and wear.
Lecithin: Acts as a wetting and penetrating agent, derived from soybean oil, and is present in concentrations of about 0.5 to 3.8 weight percent.
Butylated Hydroxytoluene: Antioxidant and preservative commonly used in food and cosmetic products to prevent spoilage and rancidity.
Silicone Oil: A synthetic oil that is commonly used in leather care as a conditioning agent to restore suppleness to the material.
Methodology for Selecting the Best Leather Wipes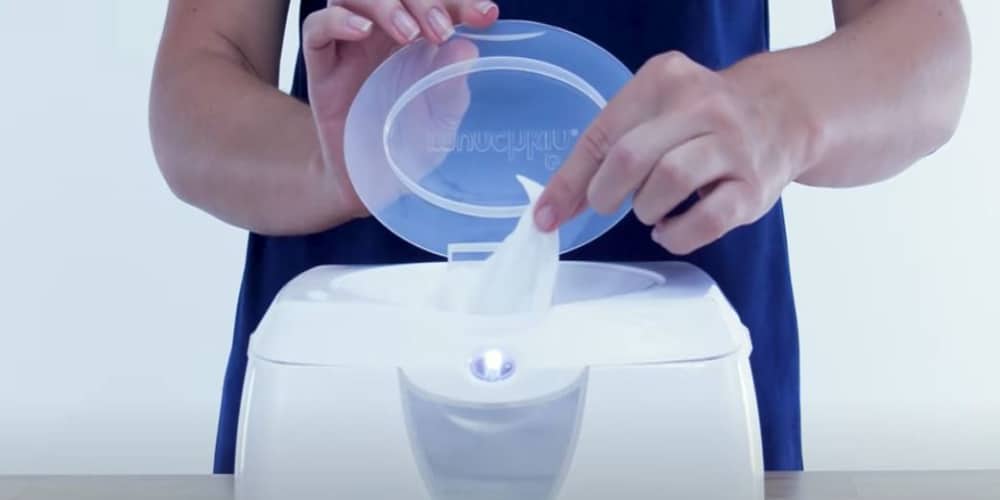 Elevate your wipe game with Munchkin® Warm Glow™ Wipe Warmer – the ultimate solution for perfectly warm wipes!
My approach to choosing the best leather wipes to clean and condition motorcycle gear starts with considering only non-alcoholic and non-acetone cleaning solutions. This is because these compounds can damage the finish on smooth leather, dissolve dyes, and even harm the actual grain of the leather, which is something we want you to avoid.
Instead, I looked for ingredients that are safe for use on leather and can help to hydrate and soften its surface, making it more flexible and durable. Natural oils like sweet almond oil, jojoba oil, fractionated coconut oil, and olive oil are all great options. Not forgetting the importance of having d-limonene (for a pleasant citrus aroma), animal oils (like neatsfoot or cod oil), and animal fats (like lanolin and tallow) in the leather wipes.
Following this, I avoided packages with less than 20 wipes and also took into account the manufacturer's reputation, ensuring they have been in operation for at least 10 years. I then evaluated ease of use and DIY results of the remaining products. And just as importantly, I considered affordability, with a maximum price point of around $10, and online availability of the wipes on popular marketplaces such as Amazon, MotoSport, and Revzilla.
In summary, my evaluation was based on these weighted metrics:
Ingredients (30%)

Manufacturer reputation (20%)

Price and availability (15%)

Number of wipes in the packaging (10%)

Ease of use (5%)
Now, here are my top picks for the best leather wipes. Happy cleaning and conditioning!
I highly recommend these motorcycle oils for their affordable yet top-notch quality, reflecting my extensive 50+ years of motorcycling experience and expertise as a rider, leader, and consultant in 25+ countries. So, whether you're a seasoned rider seeking an upgrade or a new enthusiast starting your journey on two wheels, I'm confident that these gear recommendations will serve you exceptionally well.
7 Most Effective Leather Wipe Products We Recommend For Motorcycle Leathers
| Best Leather Wipes | No: of Wipes | Average Rating | Availability |
| --- | --- | --- | --- |
| Meguiar's Gold Class Rich | 25 (Pack of 1) | ⭐⭐⭐⭐⭐ | Amazon ➤ |
| Weiman Leather Cleaner & Conditioner | 30 (Pack of 1) | ⭐⭐⭐⭐⭐ | Amazon ➤ |
| MiracleWipes® for Leather | 30 (Pack of 1) or 60 (Pack of 1) | ⭐⭐⭐⭐ | Amazon ➤ |
| Armor All® Leather Care | 30 (Pack of 1) | ⭐⭐⭐⭐⭐ | Amazon ➤ |
| Lexol Leather Cleaner Quick | 25 (Pack of 1) | ⭐⭐⭐⭐⭐ | Amazon ➤ |
| Guardsman Protect & Preserve | 20 (Pack of 1) | ⭐⭐⭐⭐ | Amazon ➤ |
| Oakwood Everyday | 20 (Pack of 1) | ⭐⭐⭐⭐⭐ | Amazon ➤ |
1. Meguiar's Gold Class Rich Leather Wipes — Best Overall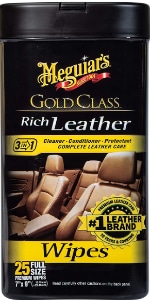 Meguiar's® Gold Class™ Rich Leather Wipes are crafted with premium ingredients to clean, condition, and protect delicate leather from premature aging. Although lacking in lanolin, the aloe-nourish leather additives provide a supple, luxurious feel and appearance to the leather while UV light deterrents prevent it from drying out in the sun.
According to the writing on the package, Meguiar's has been recognized as the number one leather brand for over a decade. And there's no questioning why. Their all-in-one package contains 25 generously sized (7″ by 9″) wipes — that's 20% more product than its competitors and equivalent to most sofa leather wipes.
The non-greasy and non-whitening formula also allows for easy one-step, making Meguiar's leather wipes an ideal choice for busy motorcyclists on the go.
We Like
🤩 25 - 7" by 9" premium non-linting wipes
🤩 3-in-1 action wipes
🤩 Non-greasy, non-whitening formula
We Don't Like
👎 Not for use with suede leather

To Use: Take off the cap and peel off the seal, then replace the cap to continue. Pull the wipe from the center of the roll and into the smaller opening. Test color fastness on a small and inconspicuous area of your leather item, and once satisfied, proceed to apply wipe on the entire surface to be cleaned and turn the wipes to the cleaner side to get an even result. Leave the product on for a greater sheen and wipe off excess with a clean microfiber cloth for less shine. Snap lid closed between uses to retain moisture.
2. Weiman Leather Cleaner & Conditioner Wipes — Best All-Purpose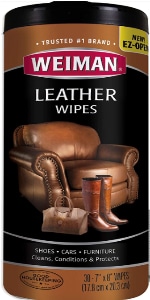 Weiman leather wipes are an excellent solution for cleaning and protecting all types of leather, whether natural or synthetic. Developed by the trusted number one brand based on the syndicated retail sale of household leather cleaners, according to the manufacturer, these wipes are highly recommended for their advanced formula containing natural cleaners and oils such as d-limonene, methyl paraben, sesame oil, linalool, and citral, which condition leather, restoring its suppleness and sheen.
With a unique blend of moisturizers, Weiman wipes provide instant revitalization, preventing dryness and keeping leather looking its best. They're specially designed to remove dirt and grime safely, without leaving any sticky residue behind or causing harm or darkening to finished leather.
Additionally, the inclusion of UVX-15 sunscreen ensures protection against sun damage. This prevents fading, drying, and cracking.
We Like
🤩 30 - 7" by 8" wipes
🤩 Leaves no residue
🤩 Softens, moisturizes & protects from sun's UV damage 
We Don't Like
👎 Doesn't work well on unfinished or nubuck leather
To Use: Open the seal with your finger or pull up on the cap to remove it. Peel off the seal and replace the lid. Locate the first wipe at the center of the roll and thread it. Pull to dispense one wipe at a time. Test the wipe on an inconspicuous area before use. Wipe your leather and then buff with a clean, soft cloth to achieve a natural shine. But note that Wellman wipes are not suitable for use on suede, nubuck, Natuzzi brand, or any unfinished leather.
3. MiracleWipes® for Leather — Best Heavy-Duty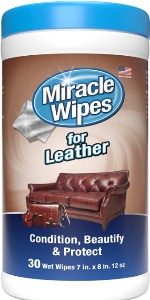 At the time of writing this review, MiracleWipes ranked as Amazon's Choice for leather cleaning wipes, and it's easy to see why. The wipes boast a solid construction with a gritty texture on the outside, setting them apart from other products on the markets. Unlike other wipes in this list, they can easily remove paint from leathers, while also being effective on your bike's plastic and rubber surfaces.
Purchase options include 30 or 60 count packs, with each pre-moistened wipe measuring 7" by 8". MiracleWipes contain a range of high-quality ingredients – from the biocide-fungicide dibromodicyanobutane to the lubricant and conditioner Dimethyl Siloxane, which gives leather a smooth feel – improving spreadability and efficacy of the cleaning solution.
What's more, the wipes contain solvent and moisturizer butane-1,3-diol, which work together to restore your leather articles while providing UV-protectant support. We can easily draw a comparison between MiracleWipes and the renowned Tub O Towels TW90 Heavy-Duty 10″ x 12″ Size Multi-Surface Cleaning Wipes, which come in a canister of 90 wipes, for a superior cleaning experience.
We Like
🤩 30 - 7" by 8" wipes
🤩 Anti-static, smudge-free
🤩 No water spots and dries quickly



We Don't Like
👎 No abrasive side on the wipe
To Use: Remove lid from canister but pull firmly. Remove the seal and find the middle wipe in the roll. Twist and put the wipe through the hole in the middle of the lid. Replace lid and pull wipe through the hole to retrieve. Snap cap back on tight to trap in moisture.
4. Armor All® Leather Wipes — Best Budget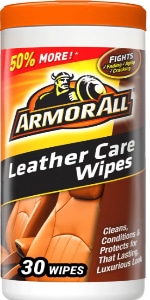 Armor All® Leather Wipes are a game-changer when it comes to maintaining and cleaning leather. Some notable compounds include silicone emulsions and d-limonene, which offer remarkable benefits.
Silicone emulsions, in particular, form a protective layer over the leather surface, which prevents dirt and grime from accumulating. This protective layer also repels water, making the leather waterproof and resistant to future spills and stains.
Originally formulated as leather wipes for car seats, armor all wipes are versatile and can restore the plush look and feel of new leather motorcycle gear. And the 30-pack option makes them a convenient and affordable option for any rider looking to keep their leather products in top-notch condition for years to come.
We Like
🤩 30 wipes (50% more)
🤩 Deep cleaner, versatile & quick-drying
🤩 Guards against soiling by spills/stains
We Don't Like
👎 Cap may fail to properly trap moisture
To Use: Start by tearing off one wipe and make sure to reseal the canister to maintain the moisture of the remaining wipes. Apply the wipe onto the motorcycle leather and work the product onto the surface until satisfactory results are achieved. For stubborn stains, repeat the process as necessary. But before using, first test the product on a small, inconspicuous area.
5. Lexol Leather Cleaner Quick Wipes — Best Quick Cleaner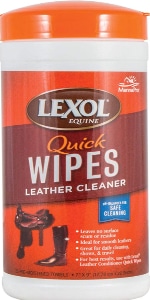 Lexol is famous for offering tried and tested solutions that have earned them Horse Journal's endorsement for the best conditioner in 20 years. The Lexol leather wipes, just like their cleaning solutions, have a mildly acidic pH that matches that of leather, which ensures that the fat and tannings bound in the fabric remain intact while cleaning.
The cleaning formula, which is similar to the one used in most leather wipes for bags such as HandBagRescue All-Natural Cleaning Wipes, utilizes high foaming to effectively lift dirt away from the surface of your motorcycle jacket. This makes it easy to wipe off without leaving any scum or residue.
In addition, Lexol wipes feature sulfated neatsfoot oil as the primary conditioning agent, which adds to the impeccable cleaning action.
We Like
🤩 25 - 7" by 9" pre-moisturized wipes
🤩 Doesn't soil other non-leather garments
🤩 Hydrates and leaves no greasy residue



We Don't Like
👎 Has a notable chemical smell
To Use: Open the cap and peel off the protective seal then pull the wipe carefully at an angle through the trap and replace the cap to trap in moisture. Massage the wipe into your leather garment surfaces until the product is evenly distributed. Wipe off the foam and grime with a damp cloth and towel dry. Follow up cleaning with Lexol Leather Tack Conditioner to complete the treatment.
6. Guardsman Protect & Preserve Leather Care Wipes — Best Large Size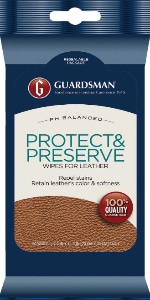 Guardsman wipes are an eco-friendly and biodegradable cleaning solution for a variety of leather styles, especially finished vinyl, aniline, and semi-finished aniline leathers. They're gentle, employing natural oils to float dirt away from the material while nourishing its internal composition and protecting the surfaces from breakage.
The active ingredients include nonionic surfactants, dioxoimidazolidin, butylcarbamate as well as water-soluble silicone oil and lanolin that condition and guard leather against aging while locking in moisture for flexibility and sheen.
Like the Simoniz Sure Shine 50ct Leather Wipes, Guardsman wipes lay no claim of antimicrobial properties but don't contain any bleach either, which can be harmful for motorcycle leathers.
We Like
🤩 20 - 7.9" by 11.8" anti-aging wipes
🤩 Pleasant smell with a characteristic sheen
🤩 Easy access resealable packaging
We Don't Like
👎 May not be effective against fungal attacks
To Use: Begin by firmly pulling on the seal to open it. Then, gently peel back the resealable film and remove a wipe from the pack by pulling on it. Use the wipe to clean the entire surface of the leather. Finally, make sure to snap the cap closed to keep the moisture in between uses
7. Oakwood Everyday Leather Wipes — Best Eco-Friendly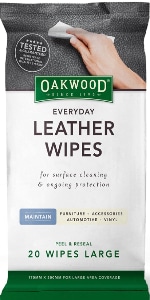 Oakwood wipes are a part of the comprehensive Oakwood leather care products range, designed specifically for natural and vinyl leather-grained fabrics. These specialty cleaning wipes feature Brazilian-Palm derived Carnauba Wax, also known as the "queen of waxes," which not only provides a characteristic sheen to your motorcycle suit but also seals it for optimal moisture and oil retention.
Furthermore, the wipes leave behind a distinct, refreshing aloe vera fragrance, adding to the overall experience of using them.
Similar to the J Care Leather Wipes and Air in large size, you have the option to choose from 20 or 25 large soft packs or a 100-count Oakwood wipes canister, providing you with the flexibility to select a product that perfectly matches your cleaning and ongoing protection needs.
We Like
🤩 100-count wipes canister option
🤩 Versatile product for natural and synthetic leather
🤩 Contains a wax sealant



We Don't Like
👎 Yellowish residue, requiring buffing
To Use: Grab the resealable film and gently peel back to open. Pull on the wipe to remove from the pack and use it to run over the entire leather surface. Allow cleaning action and the product to air-dry then wipe off the excess with a microfiber cloth to reduce shine. Clean hands after handling leather cleaner.
In Summary
I recommend you choose leather-specific wipes that have added ingredients, such as waxes and essential oils, to not only give a deep clean but also trap in the moisture and oil reserves that keep the fibril packs lubricated and the overall structural integrity of the leather intact. They present an easy mess-free choice for cleaning on the go. Although they may not be adequate for a muddy suit, leather wipes are a must-have for every motorcycle traveler.
People Also Ask (FAQs)
Q: What Is The Best Thing To Clean Leather With?
The best thing to clean leather with is a gentle solution such as mild soap and water or a specialized leather cleaning agent like Leather Honey Leather Conditioner. Use a soft microfiber cloth or sponge to wipe off the dirt to avoid scouring the leather surface. Leather wipes offer a faster and easier alternative but not as effective.
Q: What Do Leather Wipes Do?
Leather wipes are pre-moistened sheets that are made for cleaning and conditioning leather surfaces. They usually contain a mild cleaning solution that helps strip dirt away from leather quickly and effectively without harming its look and strength. Some products also add moisture and suppleness to the leather while others require to be followed up with a dedicated conditioner.
Q: What Wipes Are Safe On Leather?
Non-alcoholic wipes are suitable and safe for use on leather. Some of the recommended options for conditioning and cleaning leather include 303 Aerospace Protectant Wipes, which are also ideal for conditioning vinyl seats; Mind Reader All-Purpose Leather Cleaning Wipes; JJ Care Leather Wipes and Air Jungles 3 in 1 Leather Cleaner Wipes, which are available in a large size; as well as the all-purpose leather wipes from Mind Reader Wipes and Luxury Driver All-Purpose Leather Wipes.
Q: Can You Clean Leather With Wipes?
Yes. Non-alcoholic specialized leather cleaning and conditioning wipes will help you clean and maintain your leather without harming it. In particular, leather wipes for shoes can give your riding boots a unique experience.
Q: Can You Clean Both the Interior and Exterior of Your Motorcycle Jacket Using Wipes?
No. Leather wipes are only designed to work on the exterior of the fabric. On the inside, they might leave a deposit since they're not designed to work on the lining.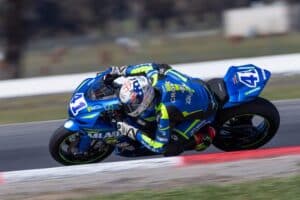 I've diligently categorized my motorcycle gear recommendations into all available categories, with the aim of providing you with a comprehensive analysis that showcases the absolute best options for all your needs. These items are the culmination of in-depth research, extensive testing, and personal use throughout my vast experience of 50+ years in the world of motorcycling. Besides being a passionate rider, I've held leadership positions and offered consultancy services to reputable companies in over 25 countries worldwide. To See Our Top Picks and the Best Prices & Places to Buy: Click Here!