Is Husqvarna Vitpilen 401 a perfect entry-level Cafe-racer?
Husqvarna is one of the world's most dependable motorcycle brands. Since 1903, the Swedish-origin, Austrian company has been a leader in motorcycle production, with a celebrated history and promising prospects.
Despite its ups and downs over the years, the motorcycle brand remains the supreme breeding ground for the trailblazing revolution and motorcycle production. Husqvarna's new motorcycles pay homage to the golden age of motorcycle history.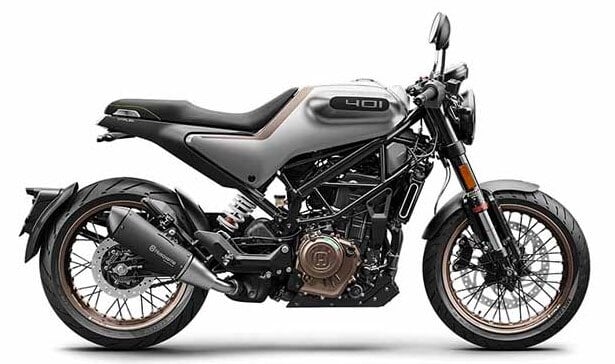 And the Husqvarna Vitpilen 401 is no exception. Husqvarna aims to expand the limits of motorcycle production with this brand new 2021 addition to the Vitpilen family.
The Vitpilen 401 is a quiet hero of the sub-500cc planet. Its surefootedness, lightweight, and immersive riding posture ensure that helmet-hidden smiles are guaranteed.
It responds to the slightest movement, moves with the lightest touch, and feeds back every road texture through low-slung bars. The Vitpilen is incredibly fun to ride. It has all the power one should think about. It is a beginner's bike that does not make a rider feel like he is starting over.
How does Husqvarna Vitpilen rides?
The Vitpilen's most essential feature is its ride. This is a razor-sharp instrument for creating canyons and incising commuter traffic. With its rough rider ergonomics, it is hardly a long-distance runner.
Despite the stiff suspension, the handling is razor-sharp, with light steering and a steady feel through bumps and imperfections. The tight frame and suspension setup lets you get the most out of the single-cylinder engine.
ByBre brakes are a low-cost variant of Brembo. The 320mm single disc in front is highly effective, and the lever has a lot of early bites, allowing the rider to late break into turns.
For trail-braking activities, the rear brake has a decent feel and lots of impacts. ABS is a smooth, non-intrusive material that can be switched off.
What is the Engine Configuration of The Husqvarna Vitpilen 401?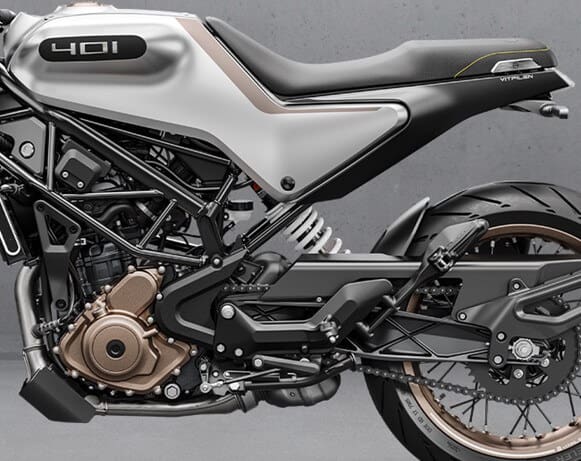 The Vitpilen 401 is propelled by a powerful 373cc single-cylinder engine that is remarkably light. With 37Nm of torque available from low RPM and a 6-speed gearbox, it is suitable for city riding.
A ride-by-wire system controls the electronic fuel injection system, which provides regulated and refined power. With a peak horsepower of 32 kW (44 hp), the VITPILEN 401 is available to a wide variety of users, and its lightweight construction means the power-to-weight ratio can also excite more experienced riders.
The gearbox is linked to an easy change sensor, allowing the rider to make smooth up and down motions without having to use the clutch. The sensor works by relaying to the ECU the moment the rider depresses the gear lever, which then fits engine parameters to allow for a quick gear shift at any RPM or engine load.
Specification of Husqvarna Vitpilen 401 Engine:
| | |
| --- | --- |
| Type of emission: | BS6 |
| Eng. Displacement: | 373.2 cc |
| Maximum Torque: | 35 Nm (27 lb-ft) |
| Maximum Speed: | 43.5 PS |
| Cooling: | Liquid cold |
Design:
1.      4 strokes

2.      1 cylinder

Lubrication source:
Two oil pumps are used for forced oil lubrication.
Starter:
Electric
Bore-Stroke:
89*60mm
Clutch:
Mechanically powered PASCTM antidoping clutch
Carbon dioxide emission:
77 g/km
 Is the Husqvarna Vitpilen 401-2021 a dynamic ride?
A dynamic ride necessitates a powerful engine as well as exceptional technological prowess to navigate the streets. And the Husqvarna Vitpilen 401 is a great example of a dynamic flight. This Husqvarna giant has an electric starter that allows it to start even in inclement weather.
A sleek 373cc single-cylinder engine power the all-new Vitpilen 401. It can produce 37Nm of torque and a maximum of 44 horsepower (32 kW). The engine is extremely powerful and lightweight, and it is mated to a 6-speed transmission.
To improve the ride experience, the designers mounted a "quick shift sensor" connected to the gearbox, which allows for smooth shifting between gears with minimal effort.
In addition, the bike has a liquid cooling system to maintain the temperature under control. This beast also has an electronic fuel injection system that is powered by a ride-by-wire system, allowing for refined and controlled electricity.
Chassis specification:
| | |
| --- | --- |
| Fuel tank capacity: | 9.5 L/2.51 gallons |
| Weight w/o fuel: | 151 kg/323.90 lbs |
| Front and Rear brake diameter: | 320*230 mm |
| ABS: | Two channels (10.1 MB) |
| Design of frame: | Powder-coated chrome-moly tubular space frame |
| Front-brakes: | Fixed four-piston radial caliper |
| Rear-brakes: | Floating caliper with a single-piston |
| Front and rear suspension: | 142*150 mm |
| Seat height: | 835 mm/83.5cm/32.88 inches |
| Clearance from the ground: | 145 mm/14.5cm/5.70 inches |
Husqvarna's next model is a sophisticated and fashionable beast. Despite its outstanding efficiency capabilities, the 2021 Husqvarna Vitpilen 401 is one of the most beautiful bikes ever seen. 
How Husqvarna Vitpilen 401 looks like?
The all-new Vitpilen model is a sight to behold, whether standing still or on the lane. This road giant has an intricately built chassis and a powerful mainframe.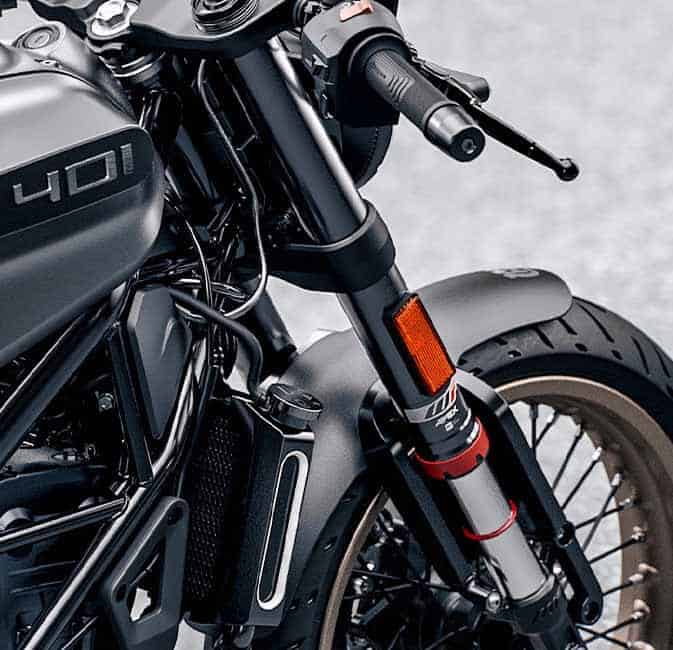 This Vitpilen model is an authentic blend of retro thought and Swedish bike style, with a well-designed, narrow frame mainly painted in a rustic-silver shade, with the occasional, unapologetic shine of bronze-hued patches contributing to the color contrast.
The number 401 has been numbered in the same rustic silver color scheme, right in the middle of the tank's complex spherical black patch. The 17-inch anodized spoked wheels contribute to the Husqvarna beast's look quotient. However, these wheels do far more than just boost the looks of the Vitpilen 401.
Reduced to an authentic blend of traditional wisdom and contemporary architecture. This Vitpilen 401 is associated with Husqvarna Motorcycles' Swedish heritage. The Vitpilen 401's lightweight and narrow bodywork are molded by its radical architecture and intelligently allows for smooth mobility when riding.
How fast is Husqvarna vitpilen 401?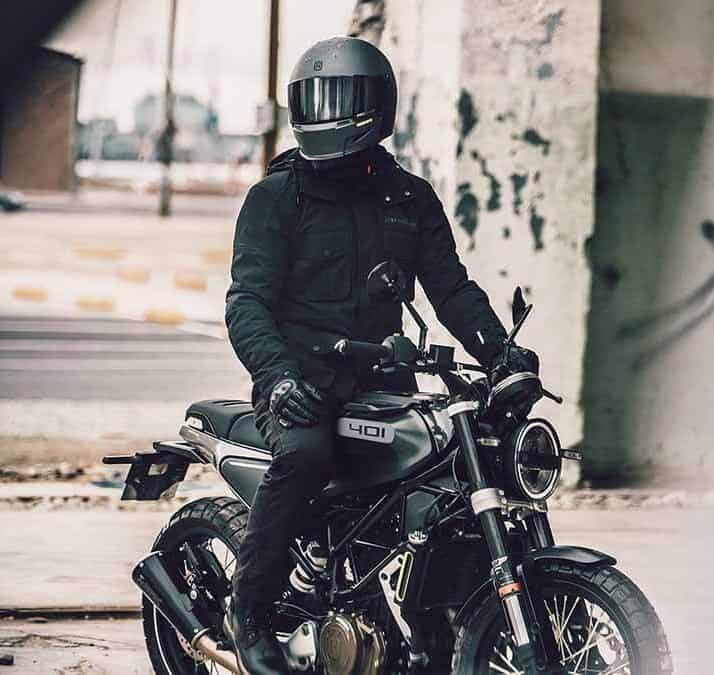 The VITPILEN 401 is a low-key hero of the planet's sub-500cc class. Its surefootedness, lightweight, and immersive riding stance guarantee helmet-hidden smiles. It reacts to even the smallest movement, moves with the lightest contact, and feeds back every road texture through low-slung bars.
It is a full-body, sensory sensation that hits home. The highest speed is predicted to be 160 km/ph, thanks to a 373cc single-cylinder engine that produces 43 horsepower and 37Nm of torque from low down in the RPM range and a 6-speed gearbox.
How good is the Husqvarna Vitpilen 401 braking system?
The hydraulic ByBre brake calipers on the VITPILEN 401 are of the highest quality, and when combined with the 320mm front and 230mm rear perforated steel discs, provide controllable and confident braking efficiency.
The VITPILEN 401 is also equipped with a cutting-edge Bosch ABS system, which ensures the maximum degree of protection in a variety of braking situations.
The two-channel Bosch 10.1 MB ABS has taken care of ride safety (Anti-Lock Braking System). The ByBre brake calipers that were mounted on this Husqvarna beast are of the finest specification.
These brake calipers work in tandem with 320mm front and 230mm rear perforated steel discs to provide a fast and assured braking experience.
Are the Husqvarna Vitpilen 401 Wheels Reliable?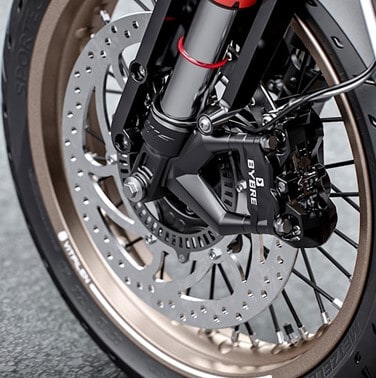 The 17-inch anodized spoked wheels on the VITPILEN 401 are a feature highlight. The wheels have a distinct look and are extremely durable, providing premium reliability on unpredictable, reliable, and demanding urban terrain.
The WP suspension on the VITPILEN 401 is designed to exacting standards, ensuring the highest level of accuracy and craftsmanship. The front suspension is made up of 43 mm open cartridge forks, while the rear suspension is made up of a complex damping system that is directly connected to the swingarm.
The high-quality components have dynamic handling, making them suitable for challenging urban environments.
What are Control Zone and Triple Clamp in Husqvarna Vitpilen 401?
Clip-on handlebars attach to triple clamps made of forged aluminum, which act as the Vitpilen 401's focal point. In keeping with the minimalistic look and authentic style, the control zone is not obstructed by any fairings and features a digital display device with the required data.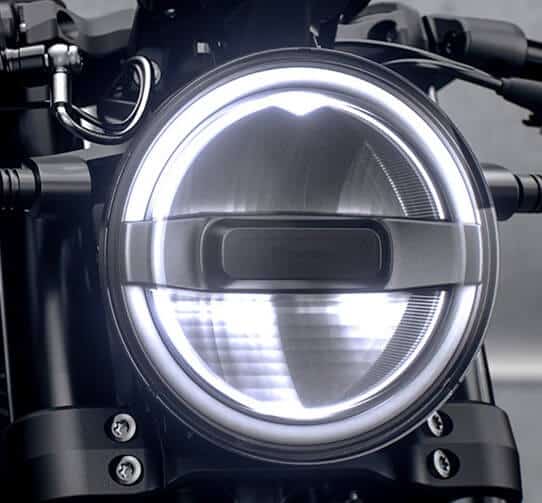 The Vitpilen 401's front and rear lights are distinct features that make use of modern LED technologies. The lights are more than just decorative items; they can offer creative lighting quality and illumination in urban settings.
Leather padding high-quality seat:
The Vitpilen 401's seat is made of high-quality foam and leather padding, and considering its simple look, it is very comfortable for the rider. The bench, which extends from the main bodywork and smoothly floats over the rear wheel, adds to the Vitpilen 401's one-of-a-kind riding experience.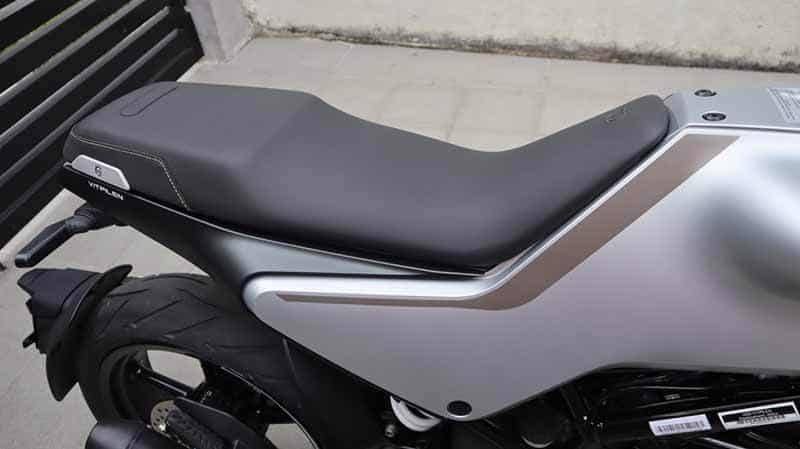 The 2021 Husqvarna Vitpilen 401 is a dependable and agile companion due to its good looks and improved riding experience. It is the perfect motorcycle for anyone, whether you are a seasoned street racer or a casual rider.
According to the manufacturer, the Vitpilen 401 is an unsung hero of the sub-500 cc world. It'll become clear once you get your hands on this Husqvarna beast.
It has all a rider looks for in a perfect bike: surefootedness, a significantly lighter weight (a dry weight of just 332 lbs), and an immersive riding stance that ensures helmet-hidden smiles. It's almost as if you're leading it with a featherlight touch instead of "riding" it.
Console features:

| | |
| --- | --- |
| Speedometer, Trip meter, and Tachometer: | Digital |
| Light indicator: | Yes |
| ABS-Light: | Yes |
| Fuel Gauge, and odometer: | Digital |
About the author:  Michael Parrotte was the Vice President of AGV Helmets America, and a consultant for KBC Helmets, Vemar Helmets, Suomy Helmets, Marushin Helmets, KYT Helmets, Sparx Helmets. In addition, he is the founder and owner of AGV Sports Group.