Motorbikes are excellent and full of fun to have. They are the most efficient modes of transport that can access even the most rugged and interior landscape. However, these motorbikes can break down at any time, especially when you least expect them to. For this reason, you need to have a stand-by motorcycle trailer to help you in times of motorbike breakdown emergencies so that you can easily tow into the nearby repairer. Several motorbike trailer brands are on the market today and identifying the best can be an arduous task.
Buying a poor-quality trailer can be frustrating and heartbreaking, especially when you have it as your only hope. To help you avoid such frustrations, we have extensively researched and cherry-picked the best enclosed motorcycle trailers that you can rely on. With the selection, you are assured of finding a perfect and reliable enclosed motorbike trailer.
1. Midline 7-Foot Custom Enclosed Motorcycle Trailer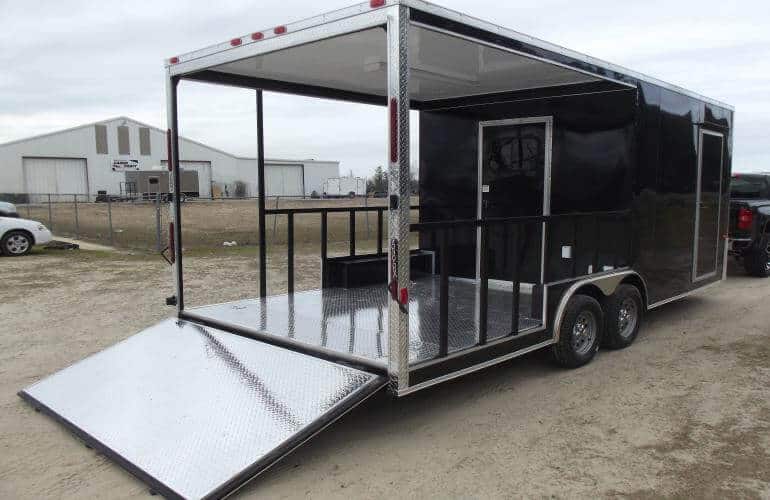 Midline enclosed motorcycle trailer comes with various feature options to offer the best services. It has a quality construction design to make it long-lasting. The trailer has automotive undercoating to enable it to move even on poor roads and terrains.
Midline enclosed trailer comes with a tube main frame construction that gives it a solid foundation. It features a floor E-track tie-down system and two standard wheel chocks. Moreover, this trailer comes with E-Z loop hubs, four-wheel electric brakes, and spring axles to protect both the trailer and motorcycle.
The brand is available in different colors and design options to fit various customer preferences. The midline enclosed trailer has aluminum roofing to ensure that no rain, snow, or sun can get to your motorbike while being carried by trailer.
Cons: This type of trailer is a bit pricey.
2. Legacy Premium Enclosed Motorcycle Trailer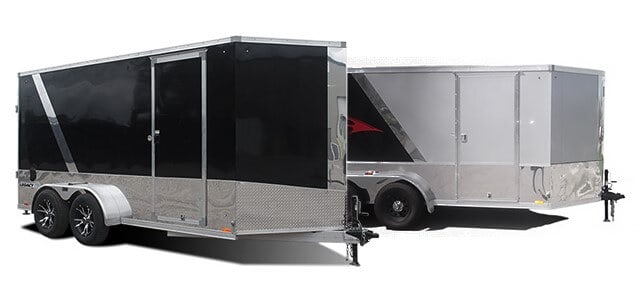 This is a top-of-the-line trailer that every motorcycle rider needs to have. It features a clean interior made of a white ceiling and vinyl walls with premium exterior upgrades.
This trailer is looked upon by most professional moto riders and enthusiasts because of its excellent combination of styling, form, and functionality.
It comes with eleven different color options and a standard tone aluminum that adds to its exterior appeal. With this trailer, you are assured that your investments are well taken care of, thanks to its automotive undercoatings.
Loading and offloading bikes to this trailer is easy as it comes with a ramp door with spring assist. It also has two motorcycle wheels and a six-piece track system to aid in easy bike loading.
The trailer is available in different models on the construction of a tube mainframe construction beside a three-quarter floor thick thickness to help cater to the riders hauling needs more efficiently.
3. Aluminum Enclosed Motorcycle Trailers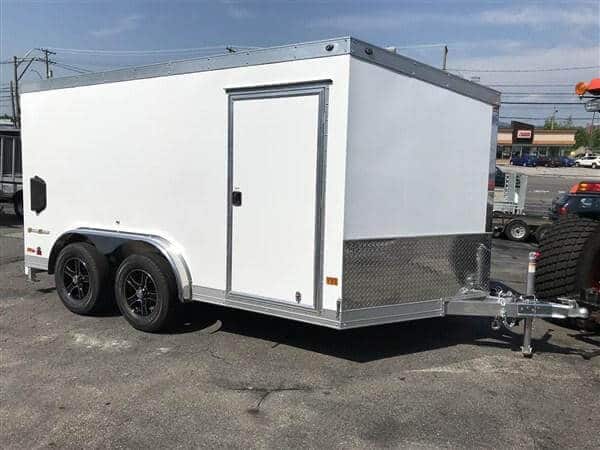 If you are a motorcycle fan, this is an excellent option for you. Highly lightweight but with quality and sturdy features. They are lighter than steel but with a higher payload capacity and lower gas mileage. These trailers are made of aluminum alloy, an assurance of durability.
The trailer comes with a unique aerodynamic wide box with adjustable tie-down rails welded to the trailer's frame. The tie-down trailers allow the trailer to be more flexible in securing a rider's gear and motorcycles. It has fifteen radial tires plus a three-quarters dry max flooring.
Uniquely, this astounding trailer utilizes LED lighting. This excellently wide box efficiently and effortlessly follows behind the tow car and allows the rider to get a low 18-inch height. Its vast capacity enables it to fit more than one motorcycle conveniently.
The trailer is cheap and comes with a limited warranty for customer protection. Are you indeed easy to tow a trailer for your bike? If yes, this is the ultimate choice for you. Whether you are a motorcycle enthusiast or a cycling professional, this box is a must-have for you.
4. Bike Flip-Top Motorcycle Trailer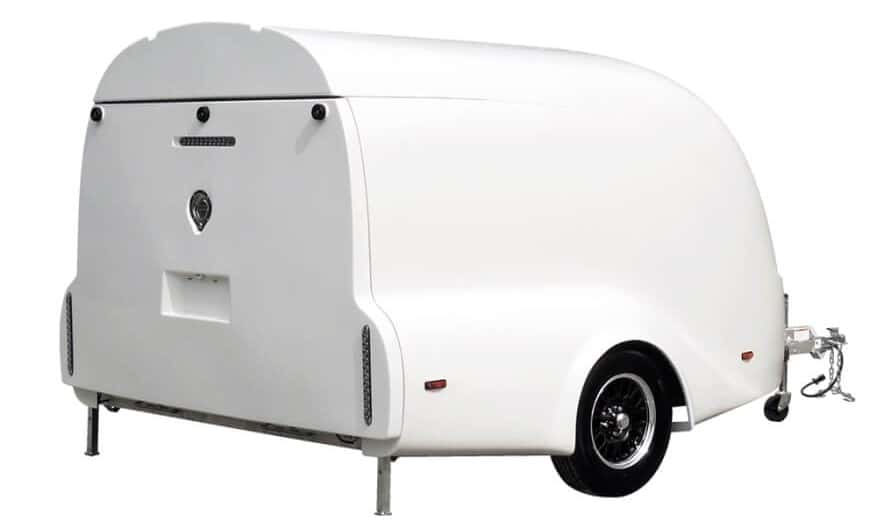 When you buy this fantastic motorcycle trailer, you are assured of an affordable and durable box. It is fully equipped for easy loading and unloading. There are various options available for you to choose from, depending on the amount of load you want to tow and how you want to do it.
The trailer comes with a glossy white coat gel finish that enhances its exterior looks. This trailer is aerodynamic and features easy towing regardless of the kind of vehicle you use. It features a spring-assisted load ramp to put your bikes in or out of them.
The trailer is built by United states skilled artisans, an assurance of a tremendous user experience. The trailer is highly versatile and flexible to fit all types of motorcycle brands in the market. So, if you own more than a single motorcycle brand, you can purchase this and save on extra costs.
Uniquely, the bike flip-top motorcycle trailer features a trailer frame and an aluminum chassis.
Cons: It only fits a single motorbike.
5. Two Bikes Motorcycle Trailer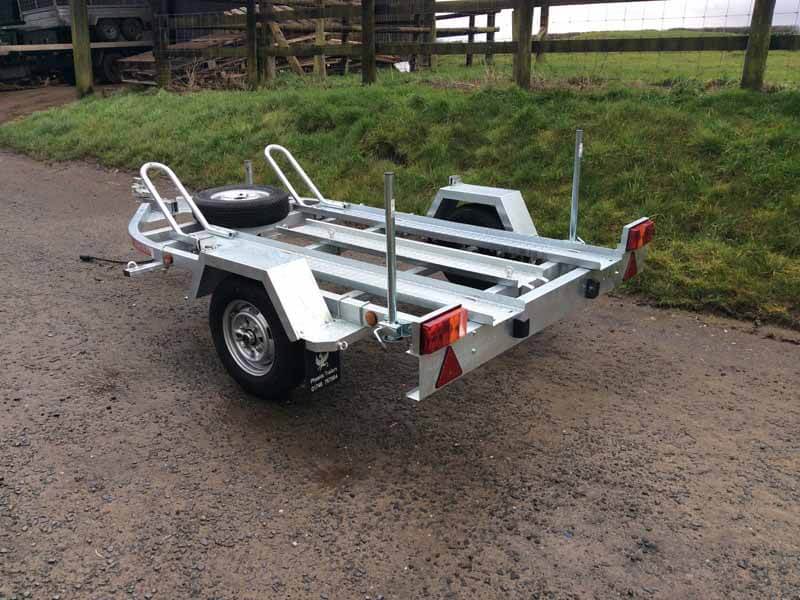 This trailer gadget is beautiful, durable, and safe to keep your motorbike in. It features a lockable door to ensure security for your gear and ride. This trailer is easy to load and can be loaded with one person. It comes in a single design but with various colors that make it easy for users to customize.
It features an aluminum chassis and a rise in step-off wheel chocks and five hundred lbs D rings. It also comes with an extra mounted spare for emergency purposes.
Moreover, the trailer comes with optional electric brakes to help tow heavy loads and pull in rugged landscapes. It is affordable and cannot dent your wallet much, but this does not mean that it is not quality.
6. Low Enclosed Hauler Motorcycle Trailer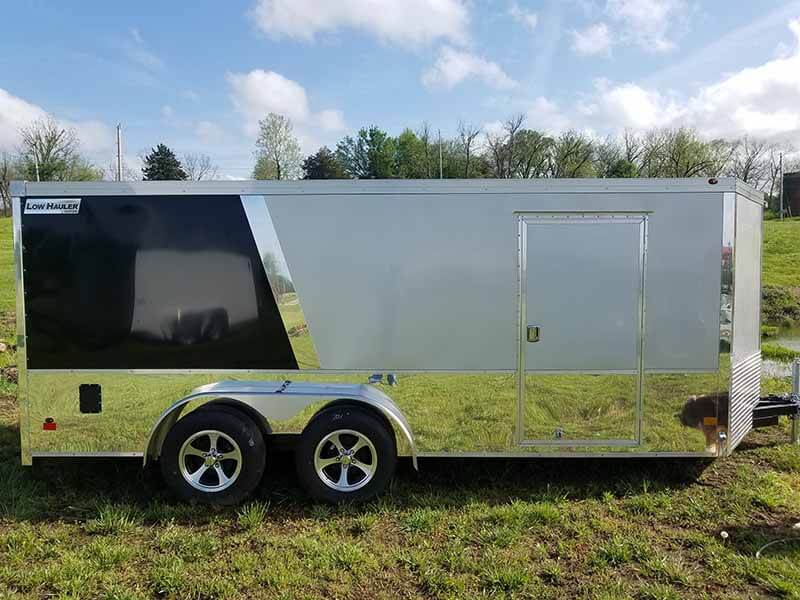 This is a modern and premium value trailer for use. It has all the necessary amenities that are required for a stylish hauling of bikes. With this trailer, you don't have to incur extra costs for buying the towing necessities because they are all contained in this excellent hauler.
It features a smooth exterior with perfectly polished aluminum coatings for increased durability. The trailer has side panels and entirely furnished interiors plus aluminum wheels to offer an excellent user experience. The trailer can accommodate more than one motorcycle at a go.
It is a bit pricey but excellent quality, make the worth of the cash you dish out of your pocket. You can spend much in this box, but it assures you a more fabulous user experience and more extended durability.
The trailer has a flat v nose roof profile with polished aluminum lower side panels. It is lowlily designed for easy loading and unloading of your bikes.
7. Iron Horse Wide-Body Motorcycle Trailer
Iron horse is one of the safest and most secure trailers to carry your motorbike with. It features a lockable door for added security to your investments. It is easy to load, and you do it alone; you don't have to look for assistance because this trailer is convenient.
It is made in a lightweight design but with strong aluminum metals for durability purposes. It is available in different color options and stripes, thus easy to customize them.
This excellent hauler has sufficient space capable of hauling two bikes. The trailer is perfect for any vehicle but works fantastically with an RV or a family sedan.
Moreover, the trailer can carry a trike, an added advantage to tricycle owners. If you need a big and safe trailer for hauling, this is a superb option for you. Pocket-friendliness and excellent workability are what define this hauler.
It can carry motorbikes weighing up to 5000 lbs. It comes with an extra mounted spare to help you during emergency cases. The trailer is fully equipped and ready to use, and so you don't have to go through the hassles of painting it after you purchase it.
They come with a bright white gel coat that finishes just like that of boats. It is highly resistant to chips and bugs due to its wax coat. Its glossy finish ensures the perfect shining of this trailer, and you won't have to repaint it frequently.
It will look new for quite a long time. To ensure that your investment would not rust, this trailer's interior does not have bare metal but rather a combination of metal, wood, and a paper-thin panel board white in the core for reflection for easy spotting an abnormality.
You can easily customize these trailers in different ways, starting from d-rings, ratchet straps, and wheel chocks. Moreover, an iron horse-wide trailer can be perfect for smart cars and toys besides an RV.
8. Dual Axle Motorcycle Trailer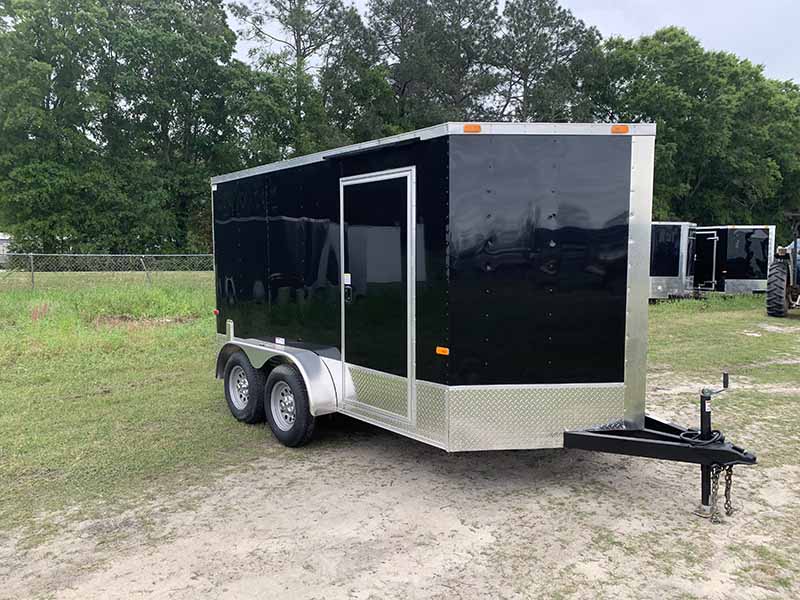 A dual axle motorcycle trailer features a wide body for multiple bike hauling. This trailer has very breathtaking features, which makes it a perfect choice for most motorcycle enthusiasts. It features modern tandem axles for added caring space but with the same excellent gas mileage and stability as other motorcycle haulers.
Just like the other iron horse trailers, this trailer features easy towing and loading capabilities. It is perfect for using RV as a tow vehicle, although other cars can fit. Apart from hauling motorcycles, this iron horse trailer can carry large toys and even smart cars.
You can pull other vehicles in this trailer, including Honda Gold wings, VAnderhall Radstars, T-Rex three-wheelers, and Polaris slingshot.
9. Long Body Flip-Top Motorcycle Trailer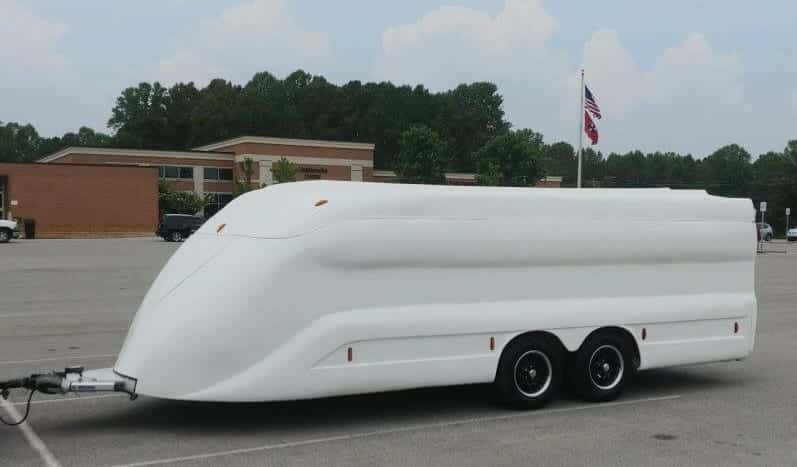 This is the largest of all iron horse trailers. It is large enough to accommodate three to four motorbikes at a time. It is stable and aerodynamic. It features Tandem axles that grant them an extra carrying ability. Loading into this trailer is easy as it is made of a low design.
It can haul several motorcycles, three-wheelers, and small cars. Despite the multiple hauls, this trailer maintains its excellent workability, gas mileage, and stability.
Ite price is pocket-friendly and fits in even tight budgets. Although pricey, its service is worth it. It is easy on fuel and has great looks. The trailer has a sculpted and seamless body for timeless looks.
10. Featherlite Motorcycle Trailer Snowmobile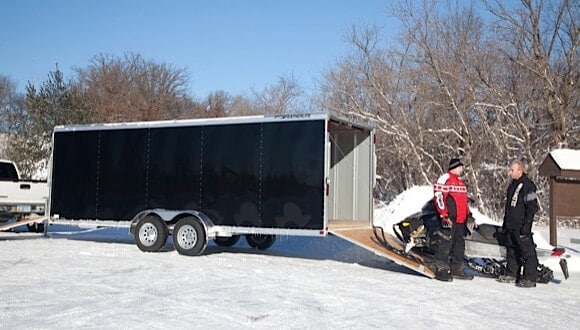 Regardless of what you are hauling, be it a motorcycle or a mobile snowline, feather line motorcycles are there for you. Featherlite trailers are made of an entirely aluminum body for a smooth tow for both snowmobiles and motorcycles.
It features convenient features, for instance, halogen load lights, overhead cabinets, and the front-mounted v nose ramp. It is easily customized with a range of customizing options. It has a stable and sturdy body for efficient hauling.
The trailer is made of a moisture-resistant wood flr to secure your snowmobile from moisture; the floors are protected by thermally fused liners placed below the wood. It comes with a perfect fit ™ system to give you control over your hauler.
They are also made with a piece and roll riveting system for maximum protection of your hauler from weather leakage. Featherlite trailers come with a protective jacket for a water-tight seal and to prevent wire wear and tear. Uniquely, Featherlite trailers are certified for meeting the federal standards for trailers.
Conclusion: Top 10 Best Enclosed Motorcycle Trailers
There are instances when your motorcycle can break down; you need to transport it without riding. Under such circumstances, the best way to transport it is by using a trailer.
Closed trailers happen to be the most effective in hauling your motorcycle because they can offer added security to your investments and secure them from water, snow, and sunlight.
Finding a high-quality enclosed trailer for hauling your motorcycle makes the exercise less strenuous and easy.
However, falling into the wrong trailer can land you in trouble, like endangering your life and wasting your resources. With the several brands available on the market, you can find it hard to identify an ideal hauler for your bike.
But you do not have to worry, with the above extensively researched trailers, you can easily make an informed decision regarding the kind of trailer you want. Buy your trailer now and enjoy the benefits of having a trailer.
You will be assured of your motorcycle's safety, and you won't go through the hassles of hiring a truck. As you decide on the type of trailer to purchase, consider the above options for the best hauling experience ever.
Information for this article was partially sourced and researched from the following authoritative Government, educational and nonprofit organizations:
Motorcycle Trailers – Construction and Use
Motorcycle Trailer Requirements
About the author:
Michael Parrotte started his career in the motorcycle industry by importing AGV Helmets into the North American market. He was then appointed the Vice President of AGV Helmets America, total he worked with AGV Helmets for 25 years. In addition, he functioned as a consultant for KBC Helmets, Vemar Helmets, Suomy Helmets, Marushin Helmets, KYT Helmets, and Sparx Helmets.
In 1985 he is the founded AGV Sports Group in cooperation with AGV Helmets
Click here for LinkedIn Profile: https://www.linkedin.com/in/parrotte/
Click here for complete AGV Helmet & AGVSPORT History https://agvsport.com/michael-parrotte
Click here for all AGV Sports Group Social Media information http://agvsport.info/
Click here for all of Michael's contact and Social Media information https://parrotte.com/
FM/HW