Ever wondered what motorcycle/motorbike riders go through to deliver your packages to your doorstep? Well, the fact is, they withstand heavy rains, traffic, and other factors to satisfy our whims.
Be that as it may, they need a motorcycle that is not only fuel-efficient but also affordable and reliable. A machine that will get the job done in the shortest time possible and still leave room for profit.
And guess what? The best picks are 100cc to 125cc motorcycles – motorbikes, not scooters. But given that they're available in a fairly broad range of brand choices, choosing the right unit for your courier work can prove daunting.
For this reason, we went on the hunt and found more than a few very cool delivery motorcycles we wish we could share with you.
Best Motorcycles for Delivery – 100cc to 125cc
Honda CB125F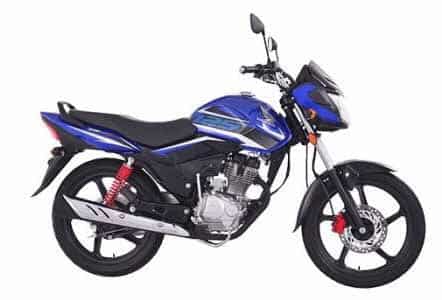 The CB125F is a no-fuss, no-frills, desirable, and cost-effective delivery 125 motorcycle that's easy to ride and maintain – it does precisely what it is supposed to day in and day out for many years with minimal maintenance.
But fuel efficiency is where it really comes into its own. In fact, the new CB125F performs better than most of the other models on this list thanks to its low friction air-cooled enhanced Smart Power (eSP) engine.
The powerplant offers 27% extra fuel economy – seeing a range of 188.4mpg (over 435 miles from the 2.9-gallon fuel tank) – while still maintaining performance and now features an ACG starter.
The engine's peak power of 10.46hp at 7,750rpm and torque of 10.2Nm at 6,250rpm should have just the right output if you are getting the hang of riding on busy urban streets and enough if you have more seat time to deliver on twisty roads.
And remember, it has more than a scenic chug through the mountains.
With the CB intended use as a delivery bike, the riding position is upright and relaxed, with wide tubular handlebars and more forward-set footpegs, giving you maximum control, confidence, and all-around visibility.
Go for the cheaper Honda CB125E if you want a bike with tons of points for connecting straps and peg kit – through its gutless and long-term build quality is a gamble. It has a similar performance to a 123-150cc scooter.
All in all, the HondaCB125F is an excellent value, incredibly easy to ride a motorbike that has some incredible finance offers, and is backed by Honda's record for reliability – reasons it remains so popular and why used values remain high.
Yamaha YBR125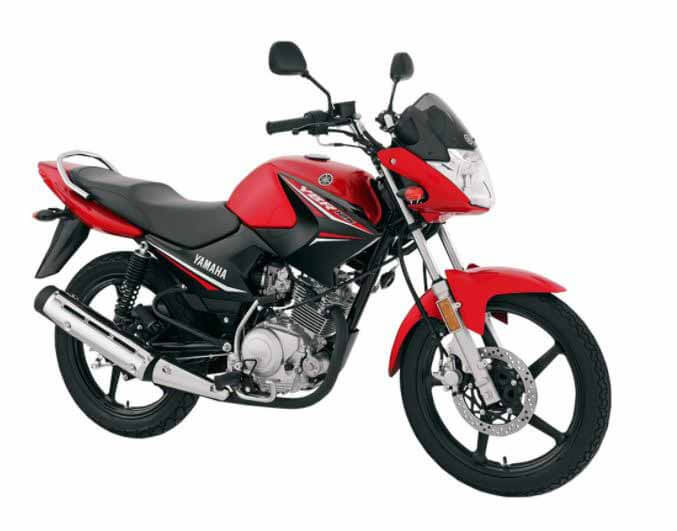 The Yamaha YBR125 may not be the choice for those with a need for speed or an irresistible desire for motorways, but it's probably one of the most economical ways into two-wheel delivery. According to Yamaha, they have sold over 150,000 YBR125 units since its introduction in 2005.
That becomes justifiable when you start to look at its fuel efficiency. With a 3.2-gallon tank, the YBR 125 has an average fuel consumption of above 90mpg and won't drop below 84mpg irrespective of whether you ride at regular rpm or hit the redline before shifting gears.
While the YBR is never going to win any hearts for its looks, YBR 125 has the exceptional ability to squeeze through the congested city traffic during rush hour, stop suddenly, and start as soon as the light turns green.
If you want one with a bit more kerb appeal, but no-frills like the YBR125, the Yamaha MT-125 is a good option.
On the highways, you'll be lucky to entice 75mph out of the YBR standard single-cylinder, air-cooled, four-stroke engine displacing – yes, you guessed it – 125cc.
And while on the backroads, you'll be left in awe by its supple suspension. Add to this an ultra-low seat height and a dry weight of just 249 pounds and you have a wonderful commuter bike, with most of the demand of, say, the Suzuki GD 110S, a popular backbone designed for business purposes.
A commuter's heaven? Maybe! But the best part of the Yamaha YBR125 is its practicality of a grab rail for accompanying riders and a rear luggage rack, making it quite a popular option for courier services.
What About More Expensive Models?
Spending a few more dollars on a mere motorcycle would not appeal to most, but the truth is that the benefits expensive delivery bikes offer to you are definitely worth that extra price. Prestige aside, most businesses opt for these for several serious reasons.
Superior quality materials that go into their crafting

Durability

Offer a supple ride — or at least a better ride than many mainstream delivery motorcycles

Better safety features

Extremely easy to handle

Excellent after-sales service
Overall, they can handle traffic jams pretty well when delivering packages or commuting to work or school. And they are also exciting motorcycles, ready for fun trips into the country, or even a track ride on weekends.
Let's roll on to these more expensive options in the market.
Kawasaki Z125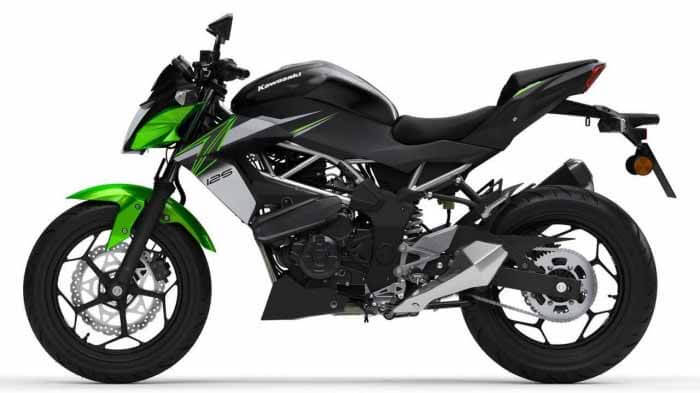 The Kawasaki Z125 is more expensive than Honda CB125F and Yamaha YBR125, but it remains the cheapest of all the mainstream Japanese naked 125s, including Honda CB125R, Suzuki GSX-S125, and Yamaha MT-125.
This not only makes it an amazing first-time introduction but also the least expensive so it is a great value – the reason we have included it on this list.
The Z125 boasts excellent build quality. It's made of the long-lasting tubular steel trellis frame of the type the manufacturer also uses on its H2 flagship supercharged models. So, if you want a machine that will serve you for at least 10 years, you really can't go far wrong with this naked little motorbike.
The engine feels bomb-proof and pulls really well for a 125. It delivers a good punch at high rpm and continues to pull right up to the rev limiter.
Precisely, the 14.7bhp peak power – just short of the 15bhp A1 maximum – arrives at 10,000rpm, which is just 500rpm shy of the redline. The 11.7Nm maximum torque comes in at 7,700rpm.
What's more, the digital clock, petal brake discs, and ABS comes as standard on the little Kawasaki, but it lacks the "bells and whistles" of some rivals – though it does have most of the things you actually need.
Overall, the naked Kawasaki should prove ideal not just with delivery work but with riding up and down the country as well. It's simply a doddle to ride!
KTM 125 Duke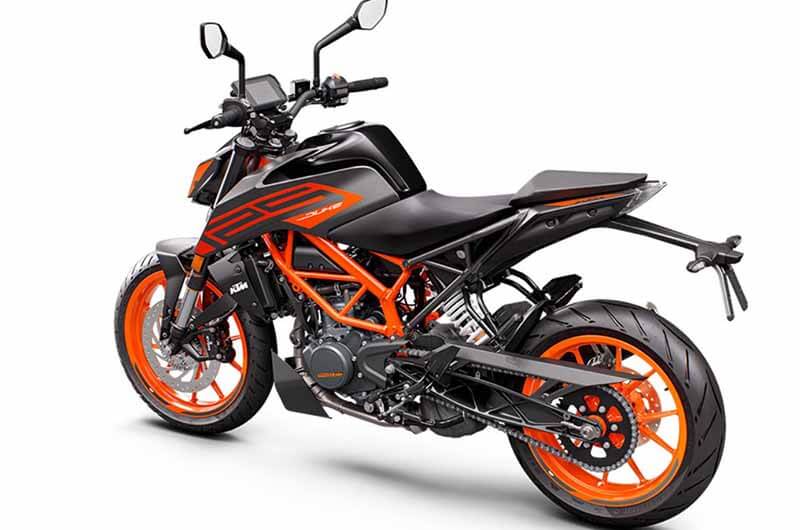 The classy, simple, and fun supermoto-style 125 Duke delivers the double act of being an easy-to-ride beginner-friendly bike with bags of street cred. It even lets you connect your smartphone with the TFT dash, allowing you to access incoming calls and listen to music through a Bluetooth headset.
For us, this machine is in the top three for looks. And its Euro4-compliant, single-cylinder, state-of-the-art engine (displacing 124.7cc) feels smooth both in the city and on the highways. It packs a punch despite the fact that the speed limit for A1 license holders is set at 15hp.
Besides, the naked 125 is quick enough (70mph top speed) and has a bigger alternator to power dual front lighting, similar to what we have on the Lexmoto LS-N 125 or Lexmoto Venom.
Power is distributed smoothly across the six gears, with no jarring sensations even when revving to full speed.
The ride is smooth and devoid of bumps thanks to excellent suspension and WP upside-down forks. With a stroke of 125 mm, the bike boasts a firmer spring for a sportier feel. Additionally, the rear shocks are adjustable.
Also, because of its 66.5° angle and shorter wheelbase, it has more ground clearance at turns.
Suzuki GSX-S125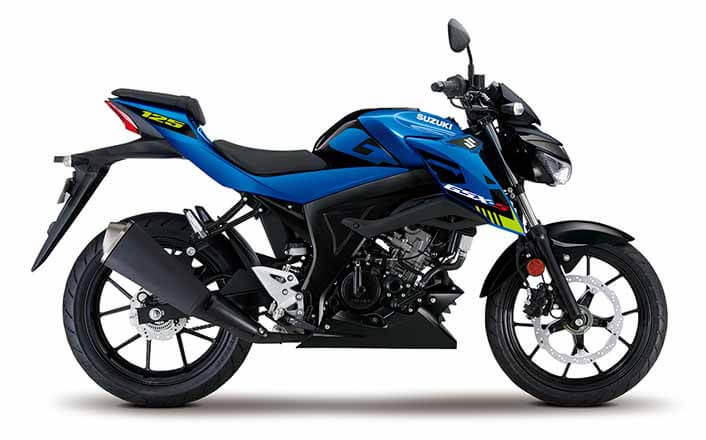 Building high-performance motorcycles is a science, and the GSX-S125 is a superb example of how to get a lot of power out of a small and efficient power unit. Even for new riders, the 125cc displacement provides a punch for city rides, while the 4-stroke, liquid-cooled DOHC engine is smooth and simple to handle.
The GSX-S125 is light and compact at 295 pounds ready to ride. This allows for optimum control in the bends for a fun and fast delivery. Typically, low weight is essential for producing a bike with responsive and gratifying handling for increased confidence on the streets.
The electronic fuel injection used in the engine is mated to a 6-speed gearbox to help you deliver packages at the desired speed.
Additionally, the bike is also equipped with a superior front telescopic fork, a double tube damper with a three-step adjustable spring preload, and a rear conventional dual shock for better performance.
These features, along with high horsepower for its size, powerful torque, and excellent fuel efficiency, resulting in a machine worthy of the GSX-S brand, an ideal option for anyone looking for a top-performing and economical delivery bike.
Final Thoughts
There is no doubt that two-wheeled courier work can prove to be a rewarding business venture with the right motorcycles for the job. You need a machine that will deliver packages within the shortest time with the least maintenance and operating costs.
And our selections are not only economical but also integrate the latest performance features to ensure you get the best out of your business. It's worth doing a bit more research if a particular model catches your eye.
Liked the article? Follow our blog for more exciting content and let us ensure you remain updated with everything motorcycle.
About the author:  Michael Parrotte was the Vice President of AGV Helmets America, and a consultant for KBC Helmets, Vemar Helmets, Suomy Helmets, Marushin Helmets, KYT Helmets, Sparx Helmets. In addition, he is the founder and owner of AGV Sports Group.
FM/A