The best thing you can have if you're a motorcycle enthusiast is a versatile motorcycle. It can squeeze through the congested city traffic during rush hour, lean into curves and corners without fuss, comfortably cruise across interstates, and tear it up in the dirt with ease. And while on the backroads, you'll be left in awe by its supple suspension.
Oftentimes, the worst thing you can get yourself into while riding, especially sports bikes with their low handlebars and crouched riding position, is a pothole.
But these potholes and puddles are the real sources of adventure when it comes to commuting to and from work or school, carving mountain passes, and crossing deserts.
But before we go about cataloging a list of our best picks, we'd better look at what entails a motorcycle for all-terrain, because the term is used liberally these days.
What Defines an All-Terrain Motorcycle?
Generally, an all-terrain motorcycle must feature certain critical built-in elements: functional good headlights, mirrors, long-travel suspensions, maybe windshield, a front-wheel of at least 19 inches, or even 21 inches, and capable of handling unpaved roads or even dirt trails.
It should also be comfortable … yes; it must be comfortable by virtue of the seat, height, weight, and noise. After all, you're a rider and the best you need from your motorcycle is comfort, even when traveling for distances on rough terrain. The bike must be powerful, capable, and wonderful.
These are our favorite choices based on the best rankings on numerous websites, customer ratings, and reviews as well as our personal experience. The order of the list is not intended competitively or to favorite any of the listed brands.
5 Best Motorcycles for All Terrain
1. Honda CB500X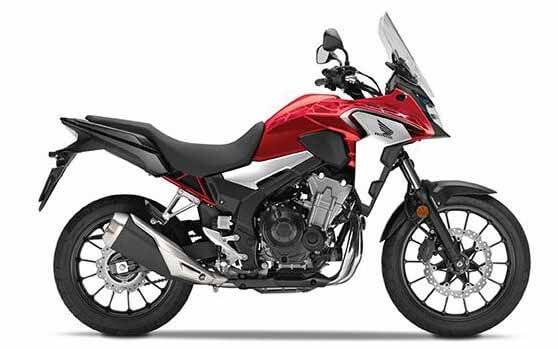 The first version of the CB500X appeared in 2013 as the adventure-style variant of Honda's all-new CB500 family – others being CB500R (sports) and CB500F (naked style).
Back then, the CB500X had one major thing going for it-price. Now, it has a lot more, and we can categorize it as one of the legitimate all-terrain motorcycles, plus it still has a good price.
Besides sharing a common platform, including the engine capacity ergonomics, and suspension settings, with the other two models, the CB500X differs in design. It's a taller, more upright option, and a good choice for riders who are looking for a reassuringly easy globetrotting style.
The Honda takes its basis from a Euro5-compliant parallel-twin liquid-cooled engine with a volume of 471cc, producing up to46.9 hp at 8,600 rpm – the performance cap for the A2 license class – and 31.7 lb.-ft. at 6,500 rpm of torque.
Talking about the features, the $6,999 machine has a steel twin-spar chassis, long suspension travel (5.9 inches front/5.3 inches rear), and reliable disc brakes (319mm front/240mm rear) – there are versions with ABS – that provide good stopping power but lacks aggressive initial bite, which is probably a good thing for less-experienced riders in the dirt.
The 19-inch front wheel, tires with the right off-road intent, a 6-speed gearbox, tall windscreen, and other bits make it more appealing to this segment.
2. Royal Enfield Himalayan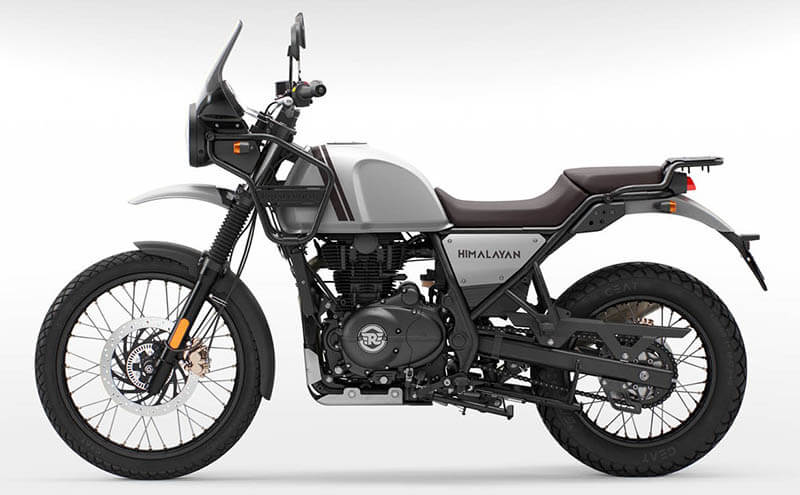 There are many reasons to love the Himalayan and only a few not. In fact, the new Royal Enfield Himalayan has a "tripper" navigation system, switchable rear ABS, and improvements to the seat/screen/luggage rack.
The revamped screen, combined with a large round headlight, does an admirable job deflecting wind, blocking rocks, dirt, bugs, and other things from hitting you while riding.
These updates represent a unique yet rudimentary modern motorcycle, employing a simple air-cooled single-cylinder engine (displacing 411cc) that delivers a whopping 21.81 hp at 6,260 rpm and 20.95 lb.-ft. at 4,400 RPM.
It's fuel-injected and, while it might have the manual kick-starter look, don't worry, the $4,999 roadster comes with an electric starter.
Double steel frame rails house the powerplant, and the weight of the whole package is around 440 pounds. The Royal Enfield Himalayan features dual-channel ABS, a suspension upgrade kit incorporating Hagon adjustable shocks, and rides on a 21" front-rear wheel with the superb Pirelli MT60 tires.
3. Honda CRF300L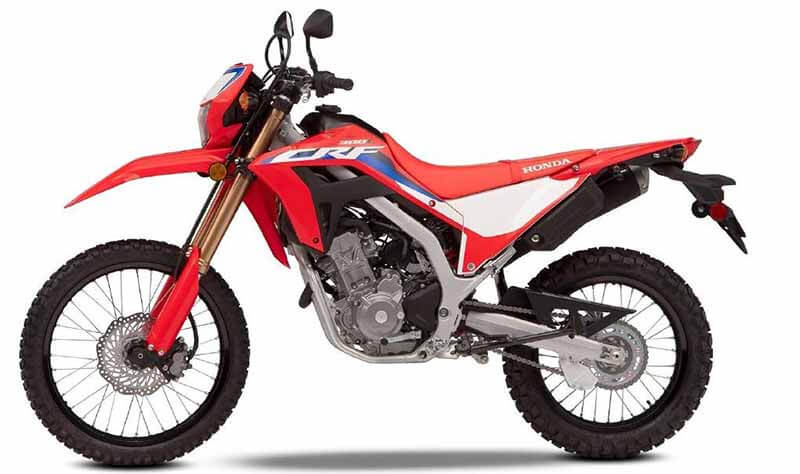 I have been lucky enough to ride both the Honda CRF300L and the Honda CRF450L, and I liked them both. They are among the best in the respective categories.
I can really recommend the $9,999 CRF450L for anyone who envies Johnny Campbell for winning Baja 1000 11 times. But then, if you're a beginner, which is not a bad thing by way, start with the CRF300L. Having experienced both, I had more fun on the smaller bike.
The $5,249 CRF300L comes with a 286cc DOHC, liquid-cooled, four-stroke single-cylinder engine that guarantees two things: the beyond expectations for riders with the hang-of-riding expectations and those interested in long comfortable expectations.
Many dirt bikes have a fairly high seat position of up to 34.7 inches on average, and CRF300L is no different. With its 309 pounds weight, this bike enables you to maneuver with your feet right on the pegs. Oh, and the CRF300L is street legal, meaning you can use it on any daily legal errands
4. KTM 390 Adventure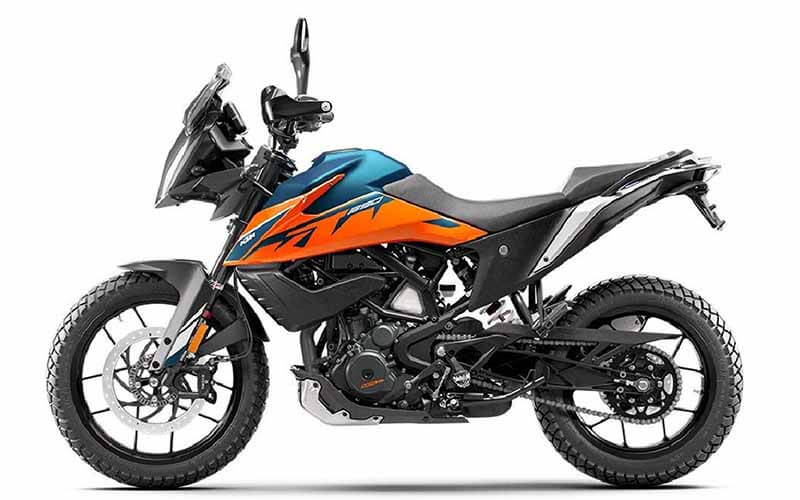 This bike is affordable, and you don't sacrifice anything for the price. In fact, the 390 Adventure isn't an average all-terrain bike, as most people would think of it.
A critical aspect is its state-of-the-art engine, a powerful upgrade to the BS-VS compliance. The great machine comes with a 6-speed gearbox, a slipper clutch, and a standard quick shifter. With this powerplant, you get incredible performance, like; 43.5 hp at 9,500 rpm and 35.3 Nm at 7,000 RPM.
It also features WP APEX 43 suspension fitted in the front wheel. The rear WP APEX monoshock doesn't only guarantee miles of enjoyable travel but is also carefully designed for any terrain.
This yields incomparable handling and stability. Any critical rider will confess that the new 390 ADV, starting at $6,600, delivers exemplary performance compared to other small adventure bikes in its category.
5. Suzuki DR-Z400S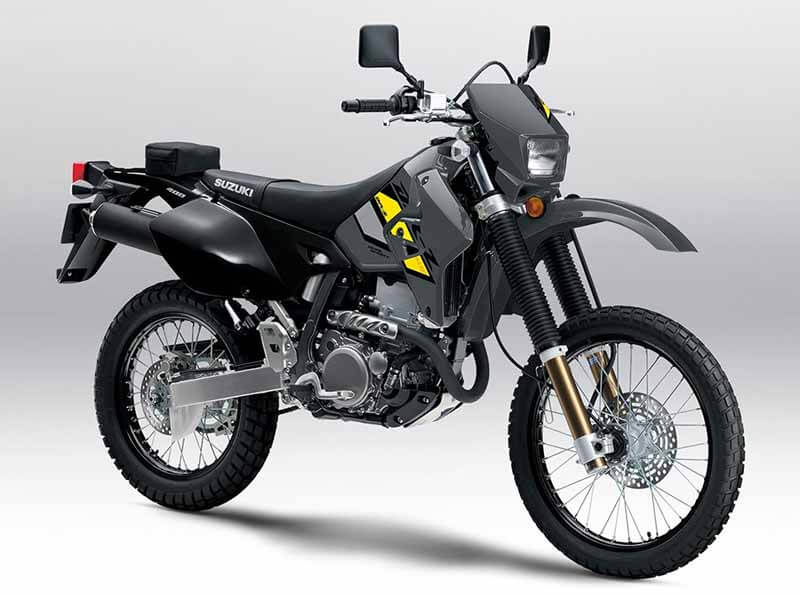 The DR-Z400S represents the foundation of two-wheeled performance in the dual sports class, affording excellent handling, best braking, great lean angle, and controllable speed and acceleration. It's an ideal choice whether you are looking for a peppy commuter or a weekend canyon carver.
The first thing that will probably you'll like about this machine is its impressive 398cc liquid-cooled engine capable of delivering 33.4 hp and 25.6 lb-ft of torque. It excels at low revs and provides amazing handling thanks to the capable suspension.
The new edition features an electric start, a concise display on the dash, 11.6 inches of travel on both front and rear tires, a 5-speed transmission, and balanced gearing. Handy storage on the rear fender and optional space for attachments allows you to make the $7,499 DR-Z400S a practical all-around bike.
Other motorcycles in this class you could consider include the Yamaha WR250R starting at $6,699, the Kawasaki KLX250 at $5,399, or the Suzuki DR200S for $4,649. All have everything you need to register and ride on the street, but when the pavement ends, feel free to keep going.
About the author:  Michael Parrotte was the Vice President of AGV Helmets America, and a consultant for KBC Helmets, Vemar Helmets, Suomy Helmets, Marushin Helmets, KYT Helmets, Sparx Helmets. In addition, he is the founder and owner of AGV Sports Group.
FM/A