There are plenty of motorcycles on the market that claims to do all this and more. Adventure bikes more than fit the criteria, considered by many to be the SUVs of the motorcycle world, When it comes to this category of bike the American manufacturers lead the pack, offering several options to fit your budget and to more than adequately accommodate your needs.
These Are The Best Motorcycles for Mountain Roads, Cruises, and Off-Road
Harley Davidson Pan America 1250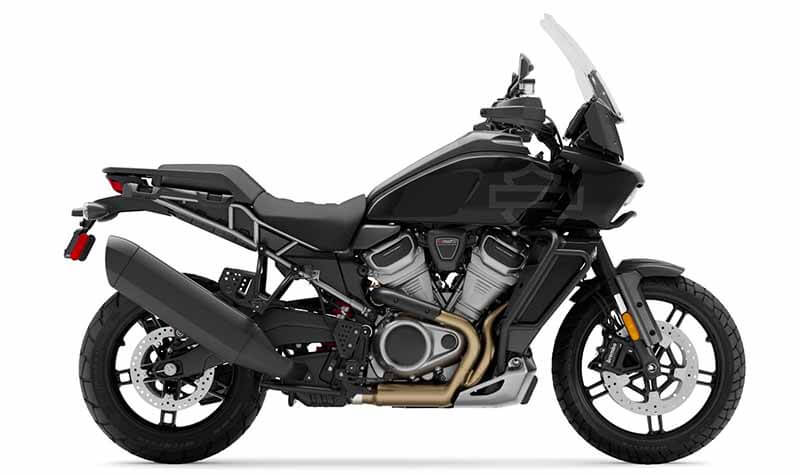 The Harley Davidson Pan America 1250 comes in two models, a standard model priced at $16,900 and the special priced at $19,900. Released in February 2021, Pan America has become one of the most popular bikes in this category.
The Milwaukee manufacturer wasn't content with copying other bikes on the market, opting to create a bike that is authentically Harley, with a controversial look and innovative design.
Both models have plenty of equipment on board: cruise control, electronic ride modes (including one custom mode), linked brakes, cornering ABS, lean-angle aware traction control, Hill Hold Control, Drag-Torque Slip Control, LED lighting, a 4-way hand-adjustable windscreen,  and a 6.8" color TFT display that includes Bluetooth integration.
One standout feature of the Pan America is the industry-first Adaptive Rider Height system, or as it used to be called in the old days, a height-adjustable seat. The feature does come with a $1,000 price tag, but speaking for all the shorties out there, it is money well-spent.
At 534 pounds for the standard, (559 pounds for the special), the bike isn't light. The narrow-profile engine designed to reduce weight has a low-speed throttle response and smooth low-end torque.
It puts out 150 horsepower and 94 ft-lbs of torque, which is paired with a six-speed transmission. The bike's low center of gravity helps accommodate the weight and means it performs well off-road.
Specifications:
| | | | |
| --- | --- | --- | --- |
| Engine | Liquid-cooled, DOHC, 60-Degree V-Twin | Horsepower | 150 @ 9,000 RPM |
| Displacement | 1,252cc | Ground Clearance | 8.3" |
| Fuel Capacity | 5.6 gal | Drive Chain | Chain Driven |
| Transmission | 6 Speed | Price | $16,900 ($19,900) |
Suzuki V-Strom 1050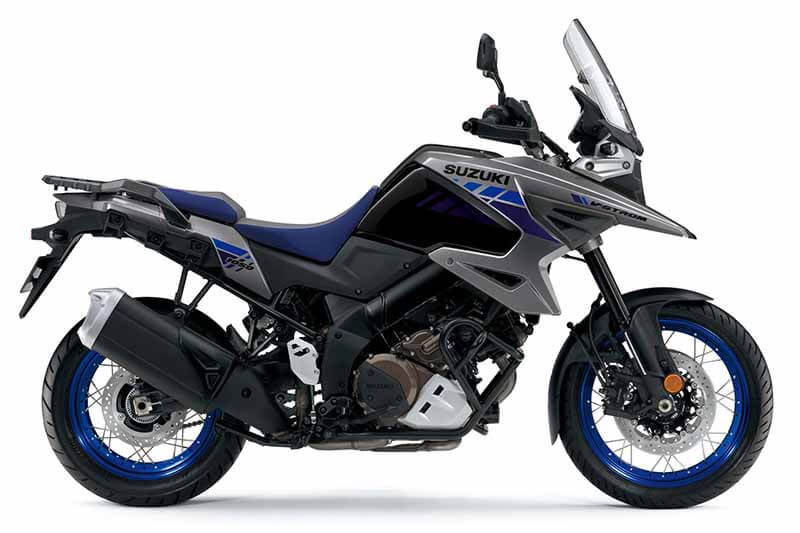 We've gone with the Suzuki V-Strom 1050, but Suzuki manufactures bikes with an engine displacement of 250 to 1050 in this range, all equally reliable, so it comes down to personal preference, budget, and intended purpose when selecting the model that is right for you.
The V-Strom 1050 offers the best off-roading experience. Some of the models with smaller engines are less suited to riding off-road (with the exception of dirt roads).
There is nothing that compares to the V-Strom in this price bracket with its ABS, four-mode traction control, and adjustable suspension. The chassis is lightweight and agile making it a comfortable ride, be it on the motorway, mountain passes, or off-road.
It comes with three available riding modes, and although the horsepower doesn't change, the power delivery does, meaning there is something for all riding situations.
The engine on the V-Strom 1050 offers the same reliability that is synonymous with all Suzuki bikes. Weighing in at 520 pounds, the basic model is lighter than the Pan America.
The V-Strom underwent an overhaul in 2020 and was fitted out with a new multi-functional instrument panel and a more aggressive look.
Specifications:
| | | | |
| --- | --- | --- | --- |
| Engine | Liquid-cooled, DOHC, 90˚ V-Twin | Horsepower | 93.4 @ 8,650 RPM |
| Displacement | 1,037cc | Ground Clearance | 6.3" |
| Fuel Capacity | 5.3 gal | Drive Chain | Chain Driven |
| Transmission | 6 Speed Constant Mesh | Price | $13,399 |
Honda Africa Twin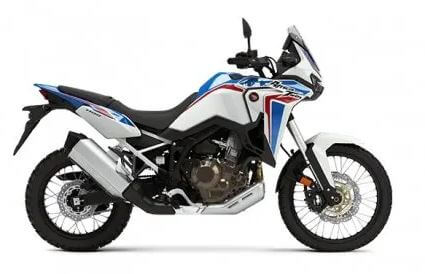 The Honda Africa Twin has been a top performer in this class for some time, with the 2022 model offering some practical improvements.
A feature of the Africa Twin that has set it apart from the competitors is the optimization of the lowest two gears to deliver smooth handling from standing and at lower speeds.
The Africa Twin is available in both a manual and dual-control six-speed transmission.
There are four rider modes (tour, urban, gravel, and off-road) with a further two that can be customized to the rider, offering scenario-specific tailoring of power, engine braking, and Honda selectable torque control, (HSTC), wheelie control, and cornering ABS settings. The Africa Twin also distinguishes itself with a massive 9.3" ground clearance.
The engine delivers 100.5 horsepower with a maximum torque of 77.4 ft-lbs. Weighing in at 524 pounds. The Honda Africa Twin has a reputation for going wherever you point it, however, the limitations seen on the highway that came with some of the earlier versions have been remedied and the newer models provide a more comprehensive balance.
Specifications:
| | | | |
| --- | --- | --- | --- |
| Engine | Liquid-cooled, SOHC, twin-cylinder | Horsepower | 100.5 @ 7,500 RPM |
| Displacement | 1,084cc | Ground Clearance | 9.3" |
| Fuel Capacity | 5.0 gal | Drive Chain | Chain Driven |
| Transmission | 6 Speed | Price | $14,399 |
FM/LY