The three features most sought after in a motorcycle helmet are lightweight, comfortable, and affordable. Full Face motorcycle helmets offer additional protection for the face and head in the event of an accident but add weight to the helmet, which can create issues for women, especially if they are wearing it for long periods.
A women's Full Face Motorcycle Helmet can weigh up to four pounds. Adding accessories like Blue Tooth and Go Pro Cameras can add even more weight.
The difficulty is the more weight, the greater the likelihood of the rider developing muscle fatigue and neck stiffness. So, what is the lightest women's Full-Face Motorcycle Helmet?
Note: Full Face Motorcycle Helmets are also known as full coverage or Integral helmets.
X-Lite X-803 Ultra Carbon Puro Helmet
The X-Lite X-803 Ultra Carbon Puro Helmet is the lightest full-face motorcycle helmet for women currently on the market. This helmet weighs just 1,249 grams and is the first choice of many professional riders. It beats the second-placed Scorpion Exo-1400 Carbon Air by 11 grams.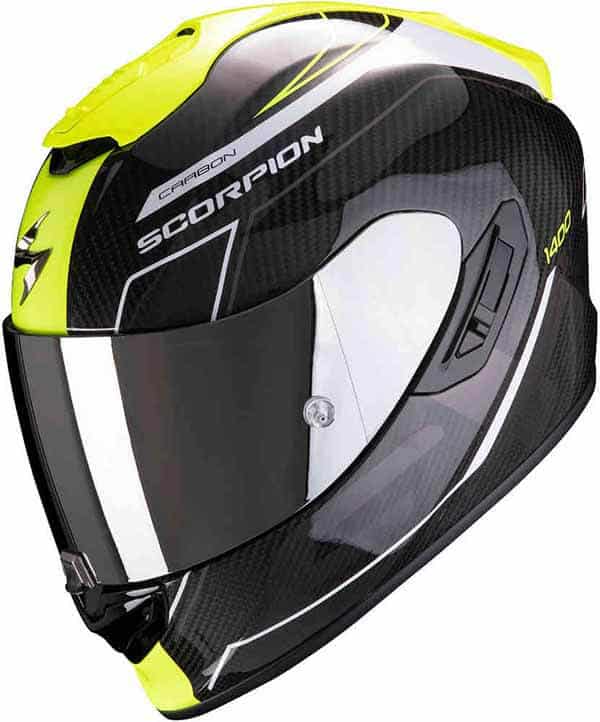 Scorpion Exo-1400 Carbon Air
Although this is a unisex helmet, the sizing down to 2XXS illustrates that women have been specifically considered. The carbon fiber outer shell will not surprise motorcycle enthusiasts, with carbon being one of the lightest materials available that can withstand the forces necessary.
In fact, most of the most lightweight helmets used carbon fiber for the outer shell. The X-Lite X-803 Ultra Carbon Puro packs some impressive features into its 1,249 grams, but it places near the top end of the pricing spectrum for full coverage integral helmets.
Read more: Are Full Face Motorcycle Helmets Safer?
Lightest Women's Full Face Motorcycle Helmets
Manufacturers have taken note of the demand for a lightweight full-face helmet and spent time and effort developing lightweight helmets over the last few years.
Drawing inspiration and materials from the aerospace industry, the new generation of helmets have evolved that offers more than adequate protection without the corresponding weight gain.
The full list of the lightest full-face helmets is set out in the table below.
| | |
| --- | --- |
| Full Face Helmet | Weight |
| X-Lite X-803 Ultra Carbon Puro: | 1,249 grams |
| Scorpion Exo-1400 Carbon Air: | 1,260 grams |
| Shark Race-R Carbon Pro: | 1,305 grams |
| Shark Spartan 1.2 Carbon: | 1,313 grams |
| AGV Sport Modular Pro: | 1,347 grams |
| Arai RX-7V Carbon RC: | 1,400 grams |
| AGV Pista GP-R: | 1,430 grams |
| X-Lite X-1004 Ultra Carbon: | 1,600 grams |
Are they Really Women's Helmets?
Talking to motorcycle enthusiasts, there is some debate over whether there is such a thing as a women's motorcycle helmet.
Although a number of women wear men's helmets when riding, there are some differences between the sexes that women should consider when buying a helmet.
The main differences relate to size and fit, with women having rounder heads compared to men, who typically have more oval-shaped heads.
Women also have less bone mass in their heads, so their forehead is more vertical than the typical male receding forehead.
This means that while there are no issues going the unisex route, women should pay particular attention to the size and fit.
Affordability
As indicated at the offset, affordability is one of the key considerations when buying a motorcycle helmet, and some of the lightest helmets come with a hefty price tag. However, for those not wanting to spend a small fortune, there are a couple of factors to consider.
A motorcycle helmet essentially has three layers:
Outer shell
Inner shell
Liner
Manufacturers looking to produce a lightweight helmet typically use thermoplastic materials such as polycarbonate or ABS for the outer shell.
More expensive lightweight full-coverage helmets may use composite materials like carbon and resin, while premium lightweight helmets look to carbon fiber and Kevlar.
The inner layer is typically made from expanded polystyrene foam or extended polystyrene (EPS), both designed to crush upon impact and cushion the head. The inner lining adds padding and makes the helmet more comfortable.
Neither of these two layers contributes significantly to the helmet's weight, with the outer layer adding most of the weight.
The weight of your full-face integral motorcycle helmet can contribute significantly to comfort and enjoyment, so make sure you take the time to try different helmets. It is also important to ensure the size and fit are right for you.
Note:  AGV Pista GP-R
The AGV Pista GP R is one of the best high-end motorcycle helmets you can purchase at this time. AGV is the lifetime helmet supplier for Valentino Rossi. The Pista has a 5-millimeter shield, a pin lock 120 lens. It features massive vents to keep you cool.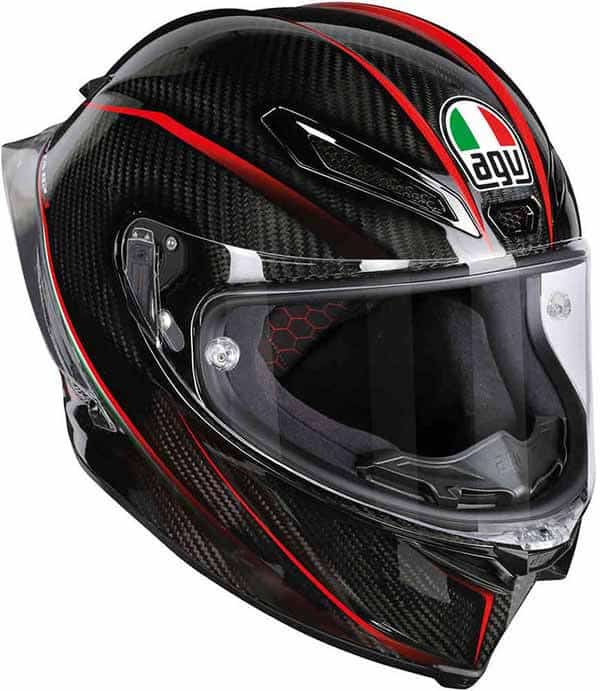 The AGV Pista is manufacturers of carbon fiber. The Pista GP R with the built-in hydration system weighs only 3.2 pounds.
This is technology comes directly from Moto GP racing and was developed with Valentino Rossi.
And considering the massive amount of ventilation, the AGV Pista is really quiet.
The AGV Pista GP-R is certified by AGV to the DOT standard and certified to the ECE standard. The Pista scored 5 stars on its SHARP helmet safety test. That score makes it one of the highest-rated full-face helmets in the world.
At $1,600 It's one of the most expensive helmets on the market.
About the author:  Michael Parrotte was the Vice President of AGV Helmets America, and a consultant for KBC Helmets, Vemar Helmets, Suomy Helmets, Marushin Helmets, KYT Helmets, Sparx Helmets. In addition, he is the founder and owner of AGV Sports Group.