Owning your first motorbike is a milestone in your life. And yes, it's a big purchase, and you'll have to consider several factors before deciding. Don't make the mistake of buying based on infatuation, a common mistake that some never recover from. Here's what you need to know first. Let's break it down into three easy consumable bits!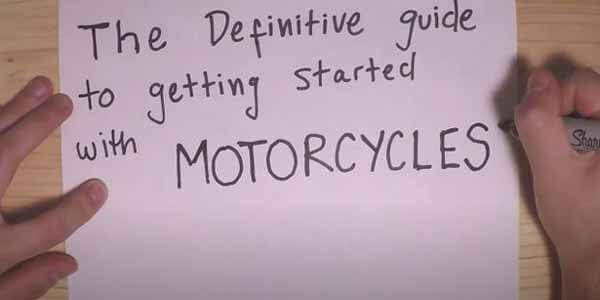 Know what kind of rider you are
Where to start-find your bearing
Narrow down that list!
We hope that by reading this, you will have the requisite knowledge and tips to pick a motorcycle that will satisfy your needs and match your riding skill level without endangering your bank account.
How to Choose Your First Motorcycle in Three Easy Steps?
Two Kinds of Motorcycle Riders
The best things come in pairs and so do motorcyclists, at least novice ones do. Those who know exactly what motorbike they would like to buy and those who are completely baffled by the vast array of possibilities and complicated nomenclature and have no idea where to begin. It is a gross generalization, but nonetheless one we must make to process every reader.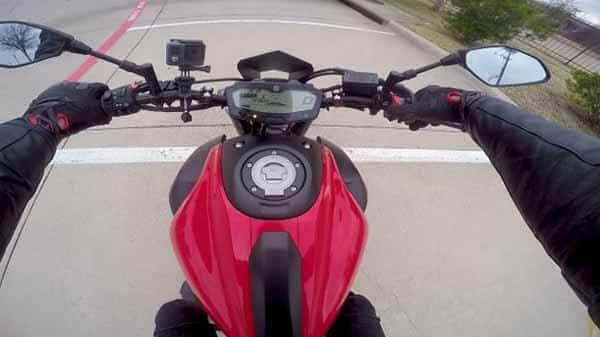 Remember, buying your first motorcycle demonstrates that you have taken the plunge and begun your journey toward liberty. You're about to start on a trip that'll last one lifetime, bring you tremendous joy, and ultimately cost you a lot of cash while rewarding you with satisfaction and true happiness.
Where to Start When Buying Your First Motorcycle?
Would you like to learn and ride motorcycles or join the crowd escaping it? There are many questions that should inform your decision, but this is the fundamental one that you have already answered by reading to this stage. Next, you need to interrogate the type of riding you want to do, which will dictate the type of motorcycle you should get as your first love.
The issue here is not lack of information but precisely the abundance thereof. Everyone who rides will offer conflicting "advice," and it can all be overwhelming. You can't blame us; we just love our rides a bit too much and jump at every opportunity to express that love.
Seasoned trainers and salespeople will kindly reply to the same prompt differently. They will ask you "What are you buying a motorcycle for?" This is the right question that when answered genuinely, will guide your next move.
Don't be afraid of getting slightly off the mark with your answer, but by defining the neighborhood of your riding requirements, you have already sorted through thousands of bikes and remain with a couple hundred.
Motorcycles are some of the most purpose-oriented automobiles on the planet, and although they may seem like one-size-fits-all from a distance, this could not be further from the truth. Here is how to further narrow down your list.
Narrowing Down the List to That One Perfect Bike for You
It's an exciting time to be a motorcycle rider since manufacturers are producing a wide range of models to suit any type of riding. It's also a terrific moment to be a novice rider since manufacturers have understood that to attract new consumers, they need to provide inexpensive, beginner-friendly motorcycles.
When you first start shopping for a bike, the broad variety of brands available and the constantly changing nomenclature might be perplexing. The first stage, however, is to recognize the characteristics that make a motorcycle more ideal for a beginning rider in general: Lightweight, moderate power, neutral handling qualities, and the ability for the rider to land both feet. Of course, it all depends on your physical attributes like height, weight, and so on.
While the boundaries between two-wheeler categories are always moving, these are the most common motorcycles and their benefits and drawbacks for novice riders.
5 Most Common Types of Motorcycles
Sports

Naked

Adventure

Cruiser

Scooter
More about these motorcycle types are below:
1. Sports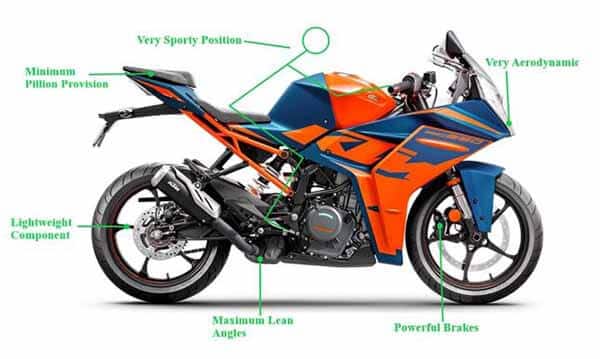 Sportbikes are aggressively racy two-wheelers built to accelerate, corner, and stop fast on paved roads. They have the most aggressive riding position of any motorcycle. The crouch position to avoid wind and go fast is fantastic for the track but not so much for lengthy road journeys. The best sport motorcycle for beginners is a smaller 300cc bike or below.
Good
Lightweight manageable for most beginner riders

They look good and make good first impressions (also bad)
Bad
Too much power for novices (600 to 1,000cc bikes)

High strung riding position

Less forgiving for mistakes

Expensive fairings easily damaged (high insurance costs as well)
2. Standard/Naked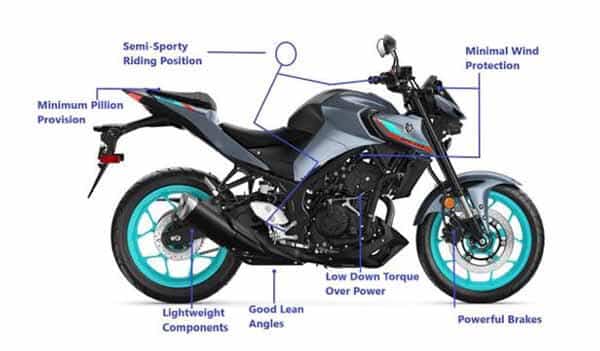 These are utility motorcycles made for a blend of comfort and control with everyday errands in mind. You have a natural neutral riding stance with minimal to no fairings to damage. Basically, all older motorcycles and new streetfighter types are lumped here. A good standard motorcycle to buy is the Honda CB500, which is not too much bike for beginners too.
Good
Easy to ride for beginners

Low insurance costs (less plastic to damage in case of tip-over)
Bad
Larger models can be just as powerful as sportbikes and equally dangerous
3. Adventure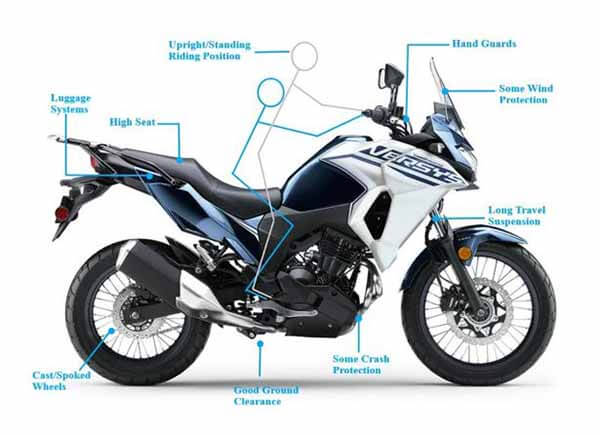 Adventure motorcycles are made for on and off-road riding with a compromise between paved and unpaved roads. They're designed to go essentially anywhere with robust heavier loads. ADVs are inherently heavy themselves. The ideal adventure bike is somewhere between a sports tourer and a dual-sport motorcycle.
Good
Robust tech

Specialized for adventure riding

Capable of longer trips
Bad
Tall seat height

Some are heavy bikes

Expensive
4. Cruiser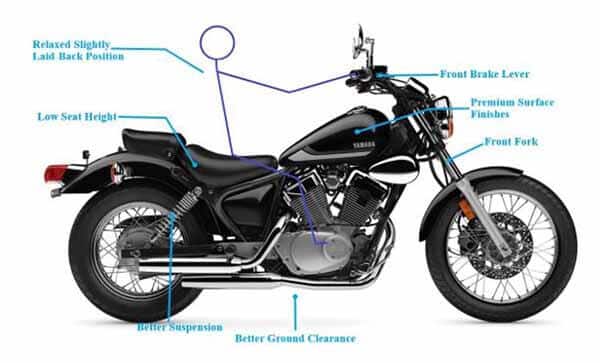 Cruiser motorcycles are designed for comfort above speed. The combination of a low seat height, mid or front controls, and tall handlebars make for a fantastic all-day ride. It's built for relaxed rides and the design was epitomized by Harleys and copied by others. The best cruiser bike for beginners is a mid-displacement cruiser.
Good
Low seat height (beginner can have both feet on the ground)

Engines tuned for low-speed cruise

Little bodywork to damage
Bad
Can have awkward ergonomics

Often lacks nimbleness
5. Scooter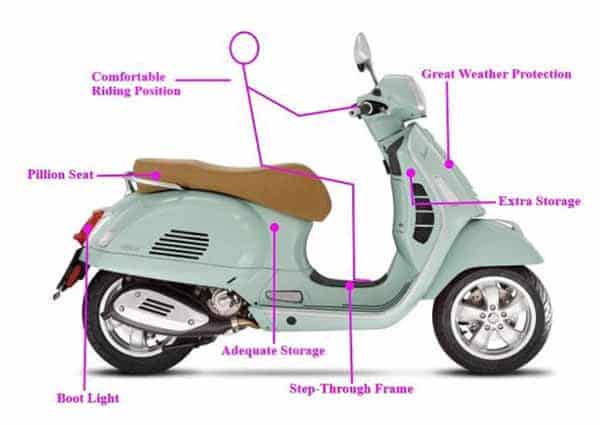 Scooters are typically smaller motorcycles with smaller wheels for shorter commutes with a relaxed riding position and a step-through design. They also feature a CVT transmission, eliminating clutch and gear lever; thus, easier to ride. The key selling point for scooters is excellent miles per gallon.
Good
Easy to ride

Excellent fuel saving and low cost of maintenance

Additional storage compartments

Perfect for running errands and short commutes
Bad
Small scooters cannot manage highway speeds and traffic

Small wheels are hard to maneuver
Final Thoughts on How to Choose a First Motorcycle
Remember the two types of riders? Which type are you? If you are the first type, at least now you know the cons of choosing the kind of bike that you have settled for. We recommend buying smaller ones before upgrading after a year of riding. Obviously, you might want to buy used to save a bit of cash on your learning curve.
For you in the second category of beginner riders, we hope this has begun to shed some light on your options, and now is time to evaluate your needs and match them to a suitable motorcycle.
About the author:  Michael Parrotte was the Vice President of AGV Helmets America, and a consultant for KBC Helmets, Vemar Helmets, Suomy Helmets, Marushin Helmets, KYT Helmets, Sparx Helmets. In addition, he is the founder and owner of AGV Sports Group.
MS/A