The KTM RC 390 for 2022 is a high-performance super sports bike with a racing pedigree. The KTM RC 390 is a real-world racer with unquestionable pedigree, with an excellent technological package, race-derived aesthetics, handling qualities, and addictive power delivery.
Almost every small-displacement entry-level sports bike's bodywork is inspired by MotoGP and World Superbike. Few, however, maintain their status as luxury lightweight bikes; strong aesthetic cues typically conceal inexpensive components, resulting in vehicles that are more akin to basic commuters than small racing competitors.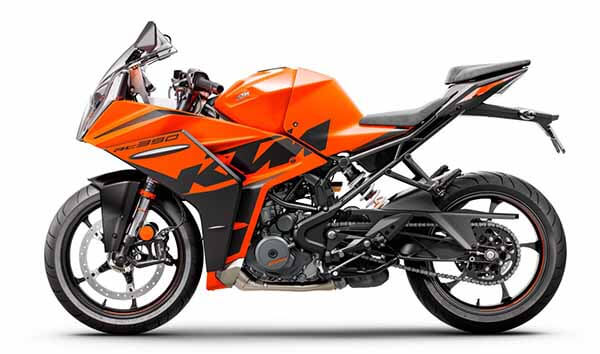 When it was initially released in 2014, the KTM RC 390 defied the trend. The bike now appears to be on the verge of taking the lightweight supersport class to the next level. It's evident what it's trying to do. A three-directional IMU supports first-in-class lean-angle-sensitive traction control and ABS; a revised and lighter chassis; up-spec'd and adjustable WP Apex suspension; and sticky Continental tires, among other things.
Aside from fresh aerodynamic bodywork inspired by the Orange Brigade's RC16 MotoGP machine, the all-new 2022 KTM RC 390 features premium updates focusing on function over form: a revised and lighter chassis; up-spec'd, and adjustable WP.
Road testing of 2022 KTM RC 390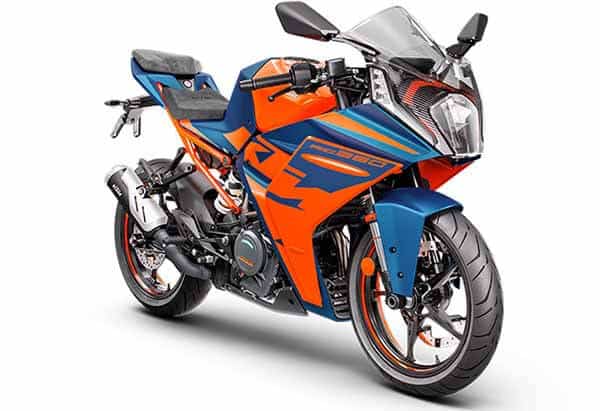 During test rides in northern Italy, the 2022 KTM RC 390's powertrain was pleased with its pleasant demeanor, even though the lightweight supersport sounded a little choked at low rpm via the factory exhaust system. The single-cylinder pulls effortlessly and cleanly below 6,000 rpm, and the feeling of connection provided by its ride-by-wire throttle response is light years ahead of previous single-cylinder engines.
The 2022 RC 390 is a new lightweight sportbike from KTM. The race-derived chassis and high-end electronics, according to KTM, will be outstanding features in the small-displacement sportbike class, and the new KTM RC 390 has been created with track intents in mind. Thanks to a computational fluid dynamics (CFD) design process, the bodywork boasts a Grand Prix-inspired appearance that not only looks the part but also offers increased aerodynamics and performance.
Related: KTM Motorcycles for your references
What are the engine features of the 2022 KTM RC 390?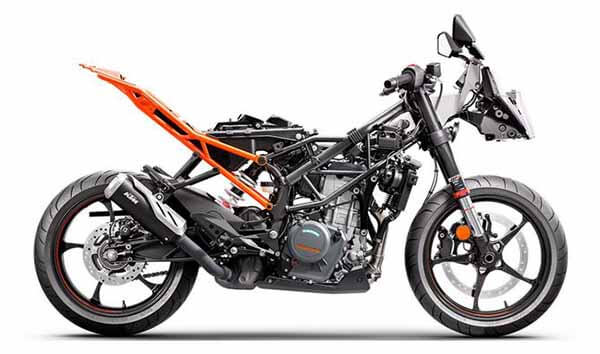 The same 373cc engine that is known for its 'hooligan' side will continue to power the bike. There is a total of 43 horsepower and 37 Nm of torque available. The engine will be coupled to a 6-speed manual transmission, and the price to performance ratio in this sector is unbeatable. Due to its incredibly rapid acceleration and superb peak speed numbers, the bike will continue to provide smiles to its owners.
The engine features
Engine

1.      Single cylinder

2.      373 cc

3.      4-stroke

4.      BOSCH EMS

5.      Wet sump lubrication

Transmission

Six-speed

Torque

37-Nm

Starter

The Electric-Starter

Cooling

Liquid-cooled

Power

32 kW

Bore * stroke

89mm * 60mm

The clutch

PASC(TM) Antihopping
Is the 2022 KTM RC 390 equipped with the slipper clutch?
The slipper clutch opens up when the engine back-torque becomes too high, but it closes with the force of the clutch springs when you get into the throttle, preventing the rear wheel from locking up under heavy deceleration. This eliminates unnecessary rear wheel noise and provides optimum control while allowing the clutch lever to be used with very little force.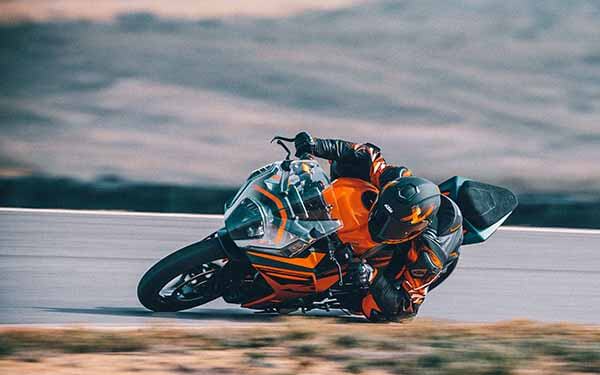 Torque and power
KTM hasn't altered anything with the single-cylinder engine, which is still 373cc. It was pointless to invest in an engine that already exceeded the A2 restriction of 35kw/47hp. At 9000rpm, the 2022 model produces 32kW/43bhp.
EXHAUST
The exhaust of the KTM RC 390 is inspired by the MotoGPTM RC16 and features stainless steel headers with an aluminum muffler, which not only looks good but also gives the KTM RC 390 a unique, throaty growl as it accelerates through the gears and into the redline.
While it was pointless to fill a bath that was already full, the lightweight engine did require cleaning in order to meet Euro-5 standards. This entails a fully rebuilt exhaust system, updated fueling, and a 40% bigger airbox, which has increased torque by 2Nm to 37Nm at 7000rpm.
Despite the engine staying mostly the same, peak speed has increased because of the new bodywork's greater aerodynamic efficiency, which was inspired by the RC16 race-winning MotoGP bike.
What are the chassis features of the 2022 KTM RC 390?
A radially placed 4-piston-fixed BYBRE caliper paired with a 320 mm brake disc and a one-piston fixed caliper with 230 mm disc brake configuration on the rear wheel reign in a charging KTM RC 390. These not only give the finest possible deceleration, but they also save 960 grams of weight and can be fully used owing to cutting-edge ABS technology. The set is completed with an adjustable front brake lever.
Tank-capacity

13.7L

Brakes

Front brake: 320mm

Rare brake:230mm

ABS

BOSCH 9.1-MP

Two-channel

Chain

520 X-Ring

Dry weight

155 kg

Ground clearance

158 mm

Seat height

824mm

Front suspension travel

120mm

Rare suspension travel

150mm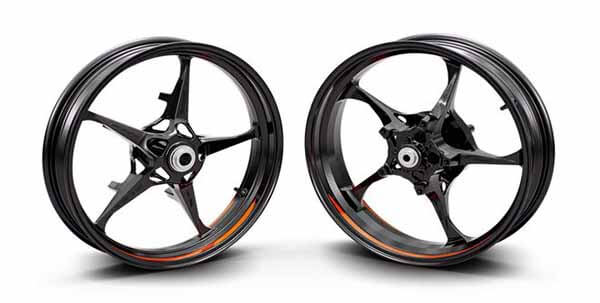 A brand-new bionic wheel design incorporates fewer spokes and open hubs, which not only enhances handling but also saves a staggering 7.5 lbs (3.4 kg) of spinning unsprung mass. This translates to faster track turn-in and greater street durability, making the KTM RC 390 an all-out apex-clipping machine.
A new, ultra-lightweight frame design with a trellis frame and bolt-on subframe save 3.3 lbs (1.5 kg) over the previous generation, while simultaneously improving high-speed stability and rider feel on the 2022 KTM RC 390.
The KTM RC 390 for 2022 has a fully new suspension system, giving it true race-bike credentials and unrivaled specs in the sub-400 cc Super sports market.
The KTM RC 390 shares genuine sports bike technology with bigger motorcycles, like a 43 mm WP APEX open cartridge, adjustable upside-down front suspension with 30 clicks of compression, and rebound damping control. New axle clamps and a hollow axle further reduce front-end weight.
Ergonomics of 2022 KTM RC 390
Folding foot levers minimize unnecessary damage in the case of a crash, as well as keep the bike on track and undisturbed if you scrape the pegs at extreme lean degrees.
These clip-on handlebars with 10 mm of height adjustment were designed on the track to chase down lap times and offer riders their optimal setup, and they can be increased for more comfortable, daily uses once the race is finished.
Is the 2022 KTM RC 390 seat comfortable for riding?
The new KTM RC 390 seat boasts a superior profile for comfortable, smooth, unrestricted rider mobility, as well as thicker, ergonomically shaped foam for increased comfort. To better traction in all-weather situations, a gripping, hard-wearing exterior material has been added.
What is the fuel capacity of the 2022 KTM RC 390?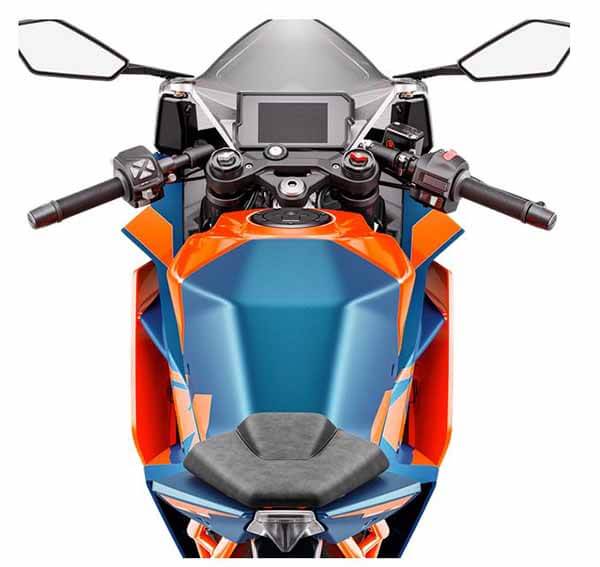 The 3.6 gallons (13.7 liters) gasoline tank was inspired by the KTM Moto3 race bike and offers the best-in-class fuel capacity. This, paired with the low fuel consumption of the KTM RC 390, means you can travel further, faster, and longer.
What is supermoto ABS mode in 2022 KTM RC 390?
Thanks to SUPERMOTO ABS, the KTM RC 390 can let it all hang out. This setting gives the rider more flexibility when it comes to forceful braking while maintaining safety. This is accomplished by disabling ABS on the rear wheel, allowing the rider to slide the rear into a turn.
At the same time, rear-wheel lift-up detection is turned off, enabling the rear wheel to lift up while maintaining front-wheel brake pressure until an excessive amount of front-wheel slide is detected, at which point ABS will intervene. When turning or trail braking, the rider can also apply extra brake pressure.
About the author:  Michael Parrotte was the Vice President of AGV Helmets America, and a consultant for KBC Helmets, Vemar Helmets, Suomy Helmets, Marushin Helmets, KYT Helmets, Sparx Helmets. In addition, he is the founder and owner of AGV Sports Group.
M/Z