The Yamaha RZ350 was a two-stroke motorcycle produced by Japanese motorcycle manufacturer Yamaha between 1983 and 1985. The RZ was the final evolution of the popular and well-known series of RD Yamaha motorcycles, and as such is also known as the RD350LC II or RD350 YPVS.
It was powered by a twin-carburetted reed valve inducted, liquid-cooled, 347 cc parallel-twin two-stroke engine, with a bore and stroke of 64mm x 54mm. It was the first and only RD series, Yamaha, to receive the 'YPVS' Yamaha Power Valve System.
A different version of this motor with no YPVS was also used in the Yamaha Banshee 350 ATV, which was produced for a few markets right up until 2012. It is also raced extensively in Vintage racing leagues, also as its own racing leagues, often dubbed "RZ cups" in Europe and Canada.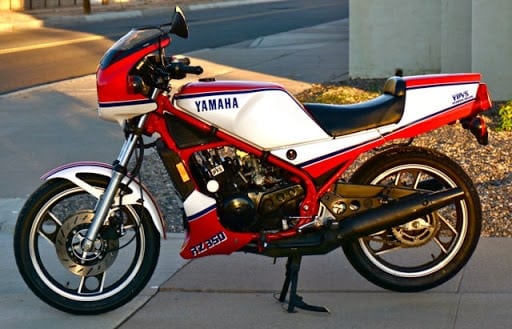 History table:
| | |
| --- | --- |
| Brand: | Yamaha |
| Model: | Yamaha RZ 350 |
| Start year: | 1984 |
| Year: | 1984 |
| Category: | Sport |
Yamaha RZ350 brief description:
Years produced: 1984-85
Claimed power: 39hp @ 8,500rpm
Top speed: 115mph
Engine type: 347cc liquid-cooled, 2-stroke parallel twin
Weight (dry): 150kg (331lb)
Price Then: $2,399
Price Now: $3,500
MPG: 33 (est.)
YAMAHA RZ350 BASIC SPECS:
A two-stroke, power-valve-equipped 347cc parallel twin with 26mm slide-valve Mikuni carbs, oil injection, and six-speed transmission. A steel-tube frame with an aluminum swingarm rolls on 18-inch wheels with triple-disc brakes. Its simplicity allowed it to be a lightweight 371 pounds with the 5.2-gallon (!) gas tank half full.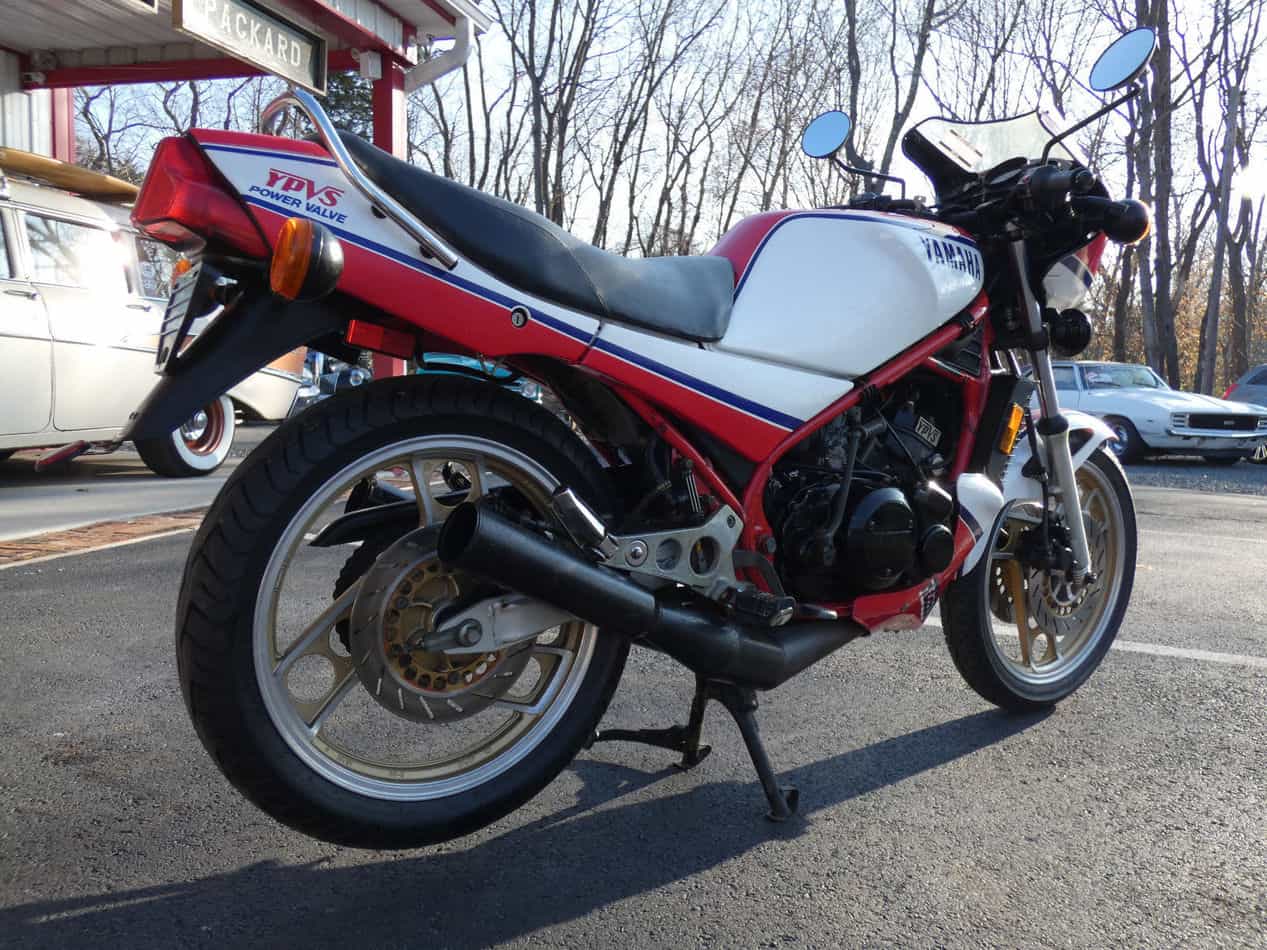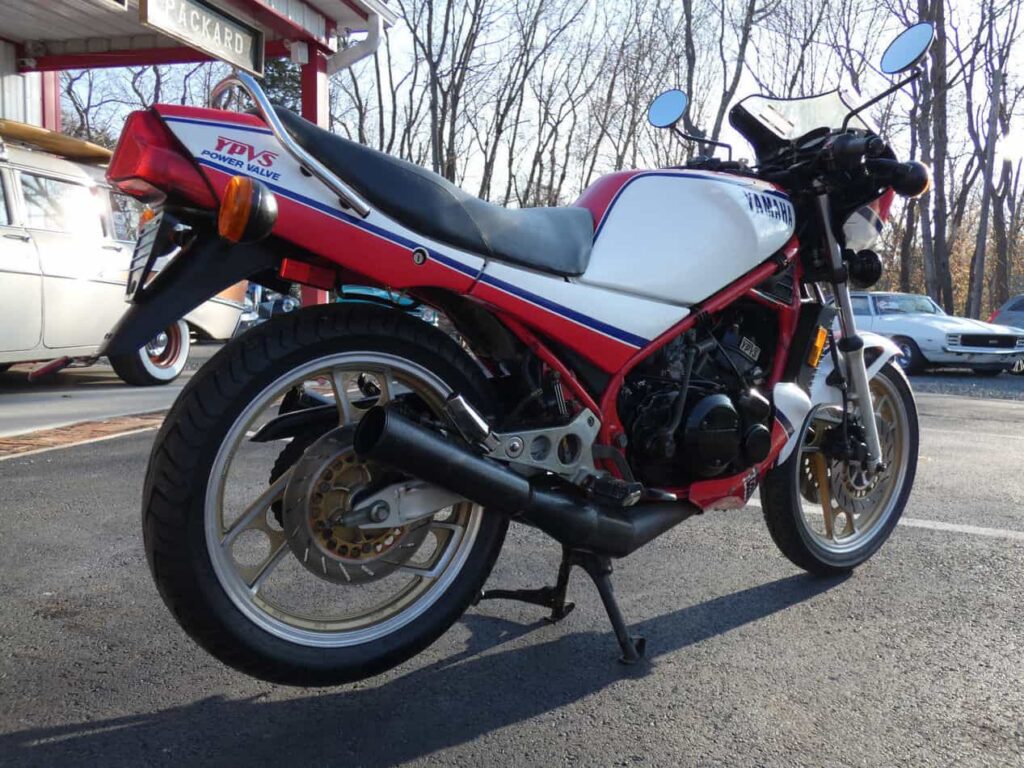 YAMAHA'S RZ350 – THE GOOD
Extremely good fun

Fast, nimble bike

The screaming exhaust note
YAMAHA'S RZ350 – THE BAD
Needs braided brake lines

Needs decent tires

Needs a steering damper
Parts wise description of Yamaha RZ350
Engine:
The engine was a liquid-cooled twin, two-stroke. A 64.0mm bore x 54.0mm stroke results in a displacement of just 347.0 cubic centimeters.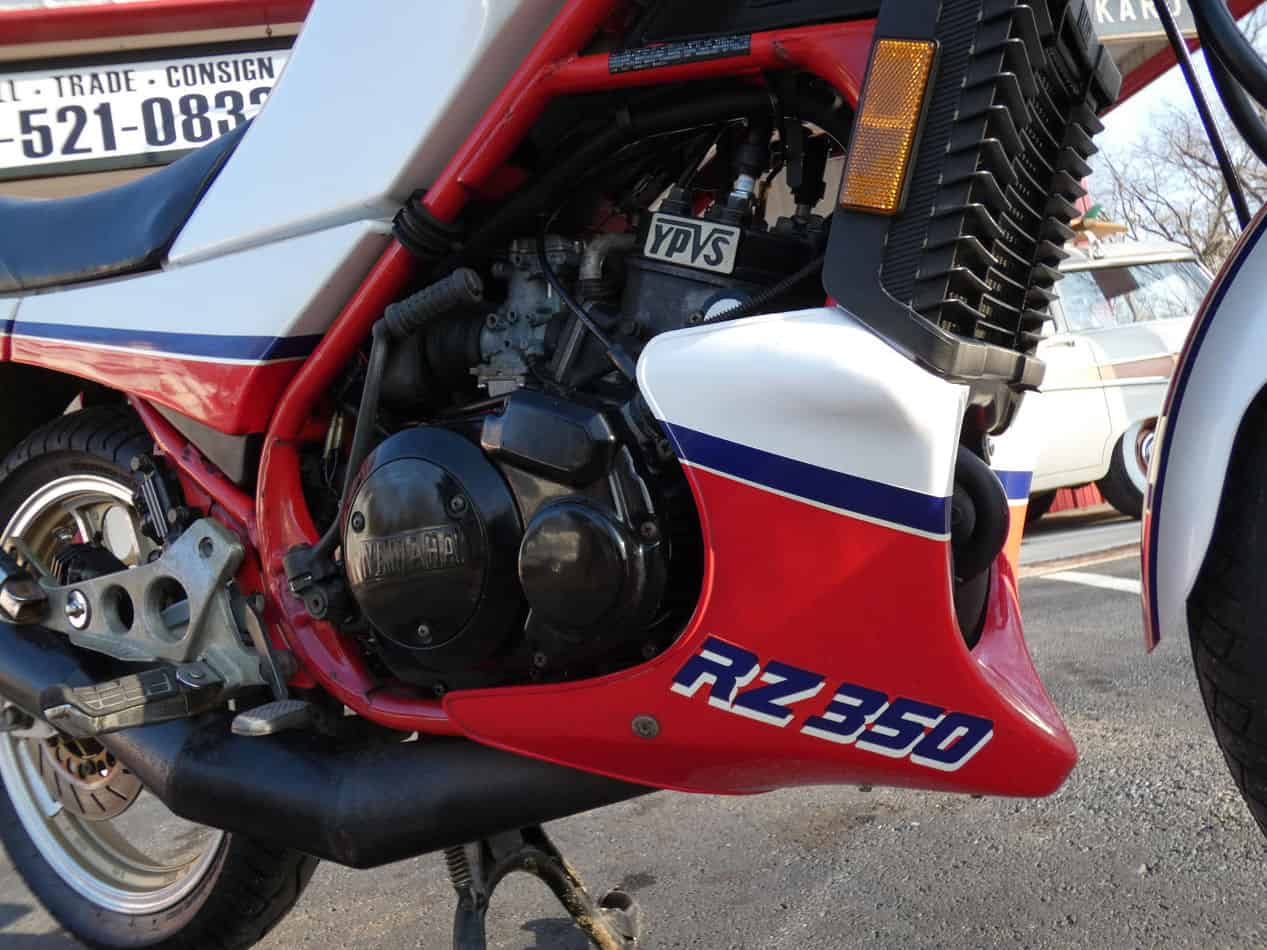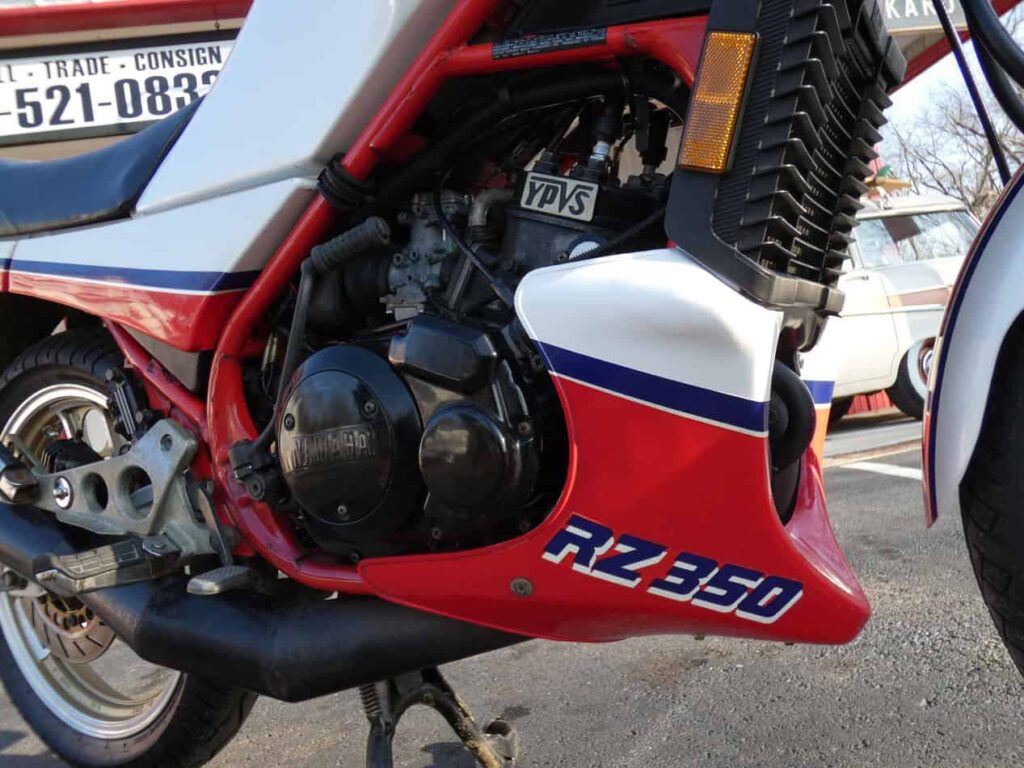 Drive:
The bike has a 6-speed transmission. Power was moderated via the wet, multiple-disc.
Yamaha RZ350 Chassis:
It came with a 90/90-18 51h front tire and a 110/80-18 58h rear tire. Stopping was achieved via a double disc in the front and one disc within the rear. The front suspension was a telescopic fork while the rear was equipped with a swingarm. The RZ350 was fitted with a 5.28 Gallon (20.00 Liters) fuel tank. The wheelbase was 54.53 inches (1385 mm) long.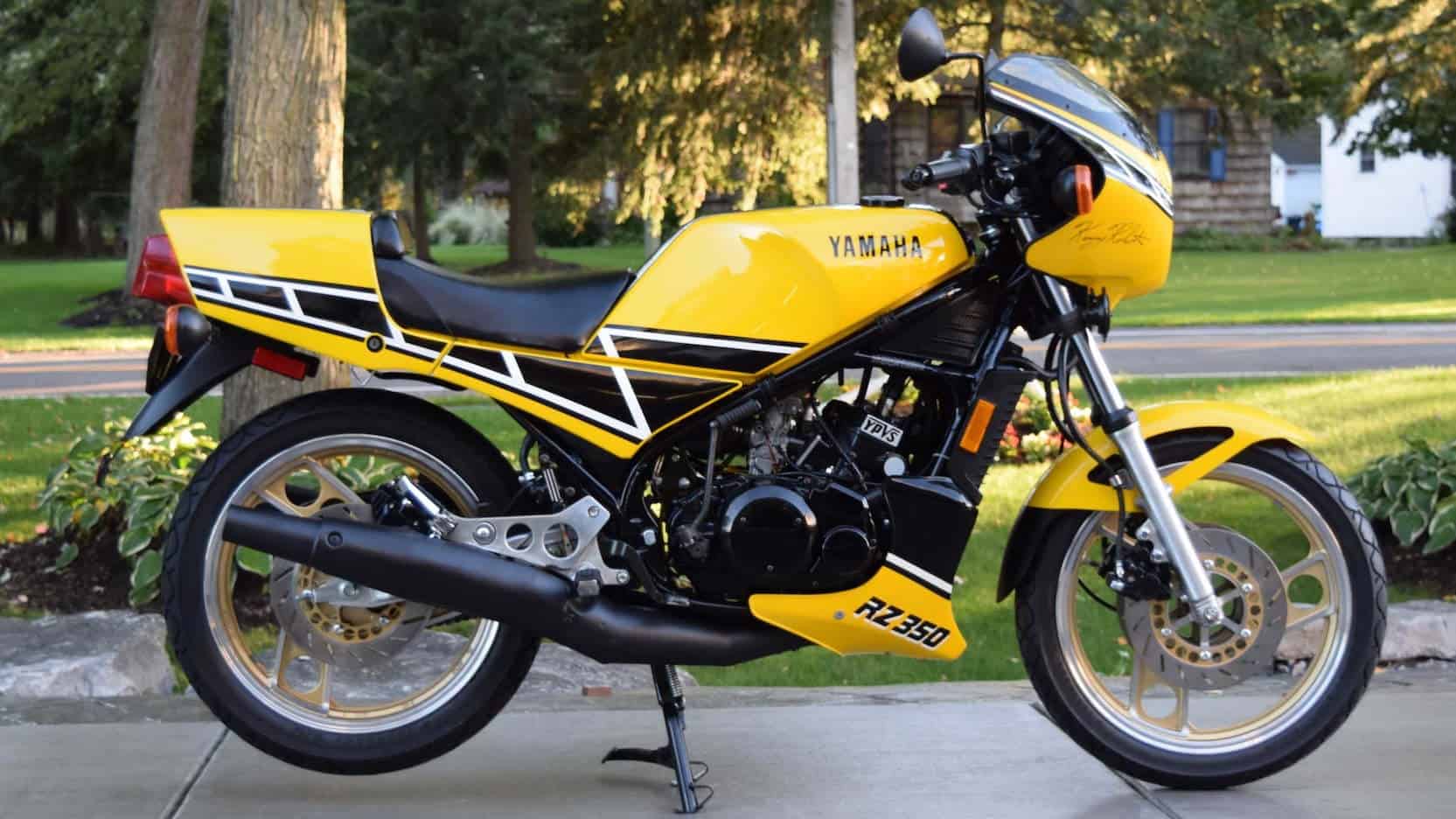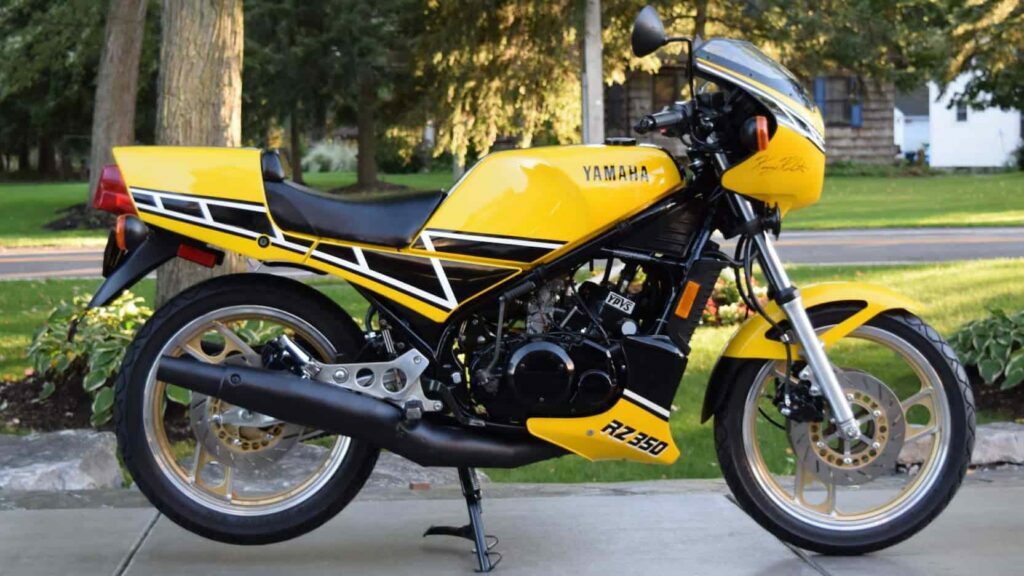 The YPVS consisted of a microprocessor-controlled servo-motor, which in turn controlled a spool-shaped exhaust port valve that allowed continually variable port timing. But if that all sounds too technical it simply means Yamaha had found how of extracting more power from the engine at peak revs without losing any low-down grunt.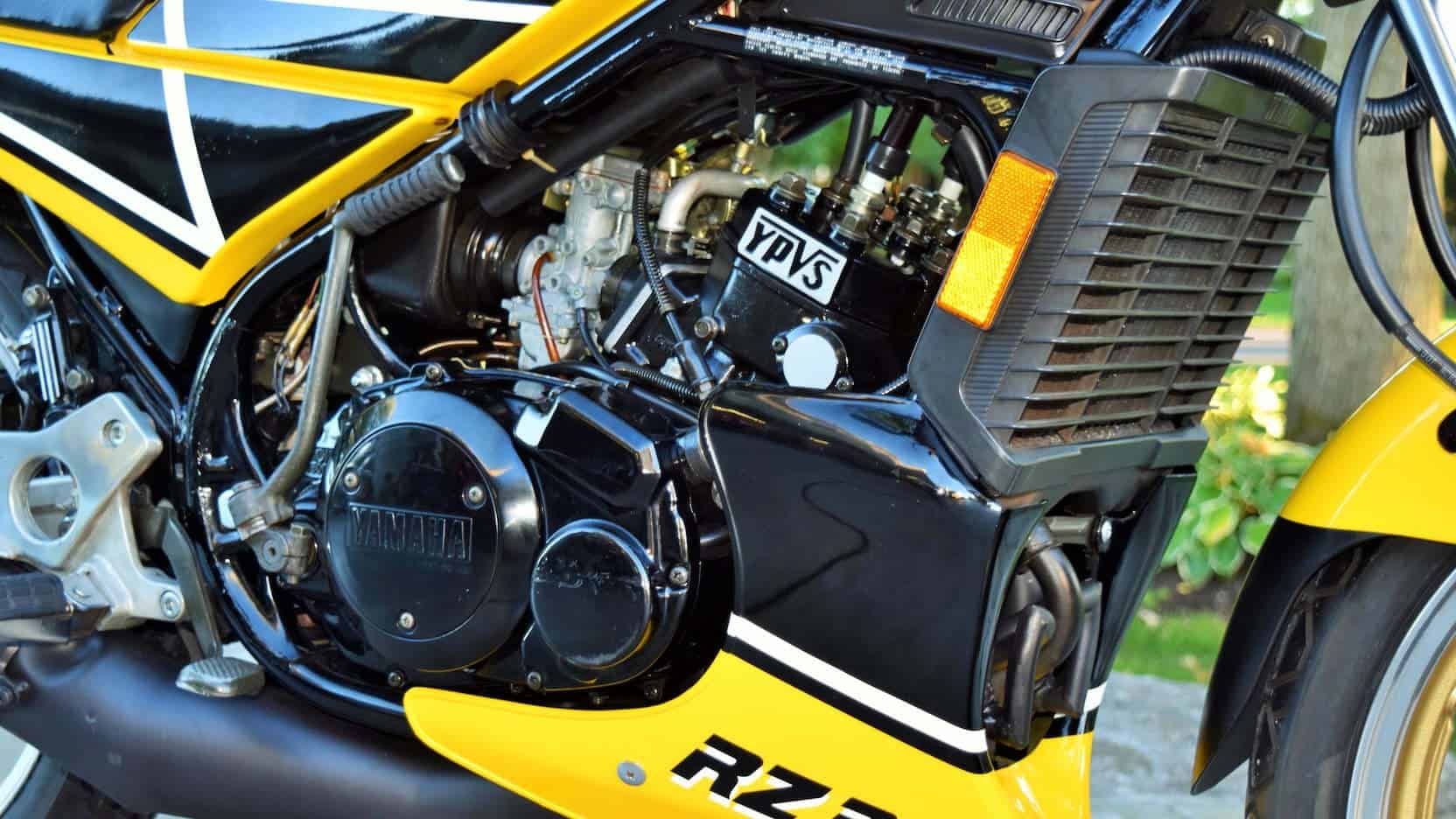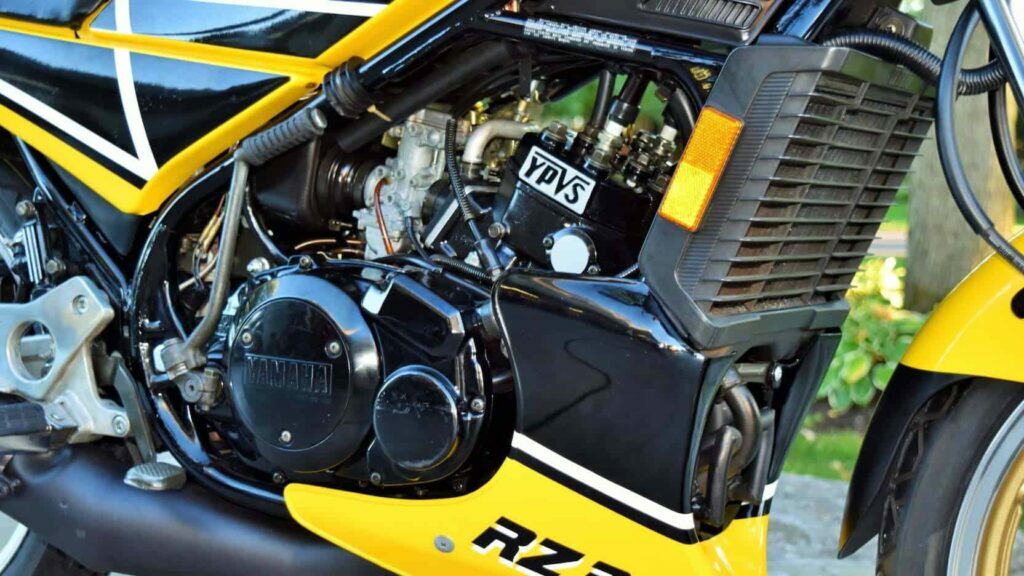 Indeed the '70s hooligan bike had got a new lease on life and almost twice the ponies of its grandad, the power to weight ratio of 2.84kg per hp goes some way to highlighting its legendary giant-killing capabilities.
Overall features Yamaha RZ350:
Manufacturer:

Yamaha

Also called:

RZ 350

Production:

1984 – 1985

Class:

Sportbike

Predecessor:

Yamaha RD350

Engine:

347cc twin, two-stroke

Bore / Stroke:

64.0mm x 54.0mm

Compression ratio:

6.0:1[1]

Top Speed:

111 mph[1]

Horsepower:

52 bhp @ 8,750 rpm

Torque:

30.4 ft-lb @ 7,500 rpm

Fuel System:

carburetor. Mikuni vm26ss/2

Ignition:

CDI

Spark Plug:

NGK BR8ES '84-85

Battery:

YUASA 12N5-5-3B '84-85

Transmission:

Gearbox: 6-speed

Final Drive: chain

Clutch: Wet, multiple-disc

Final Drive:

Chain: 520×106

Front Sprocket:

17T

Rear Sprocket:

40T

Suspension

Front: a telescopic fork




Rear: swingarm

Brakes:

Front: double disc




Rear: single disc

Front Tire:

90/90-18 51h

Rear Tire:

110/80-18 58h

Wheelbase:

54.53 inches (1385 mm)

Length:

83.46 inches (2120 mm)

Width:

27.95 inches (710 mm)

Height:

46.26 inches (1175 mm)

Seat Height:

31.5 inches (800 mm)

Weight:

168.0 kg (wet)

Recommended Oil:

Yamalube 10w-40

Fuel Capacity:

5.28 Gallon (20.00 Liters)

Fuel Consumption:

43 mpg

Related:

Yamaha RD350




Yamaha YFZ350

Manuals:

Service Manual
WHY IT'S DESIRABLE: 
The Yamaha RZ350 is the latest and last legal street-going two-stroke sold in the US. In the first full test, we said our July 1984 cover bike rated a "perfect 10" on the fun scale.
On Jerry Branch's dyno, the stock RZ350 made 42.7 hp at 9,000 rpm; the redline is 9,500. Below 6,000 rpm, the engine "doesn't make enough power to tug the skin of a bowl of rice pudding," read the test, but the power came on strong after 6K. Hey, welcome to the fun zone!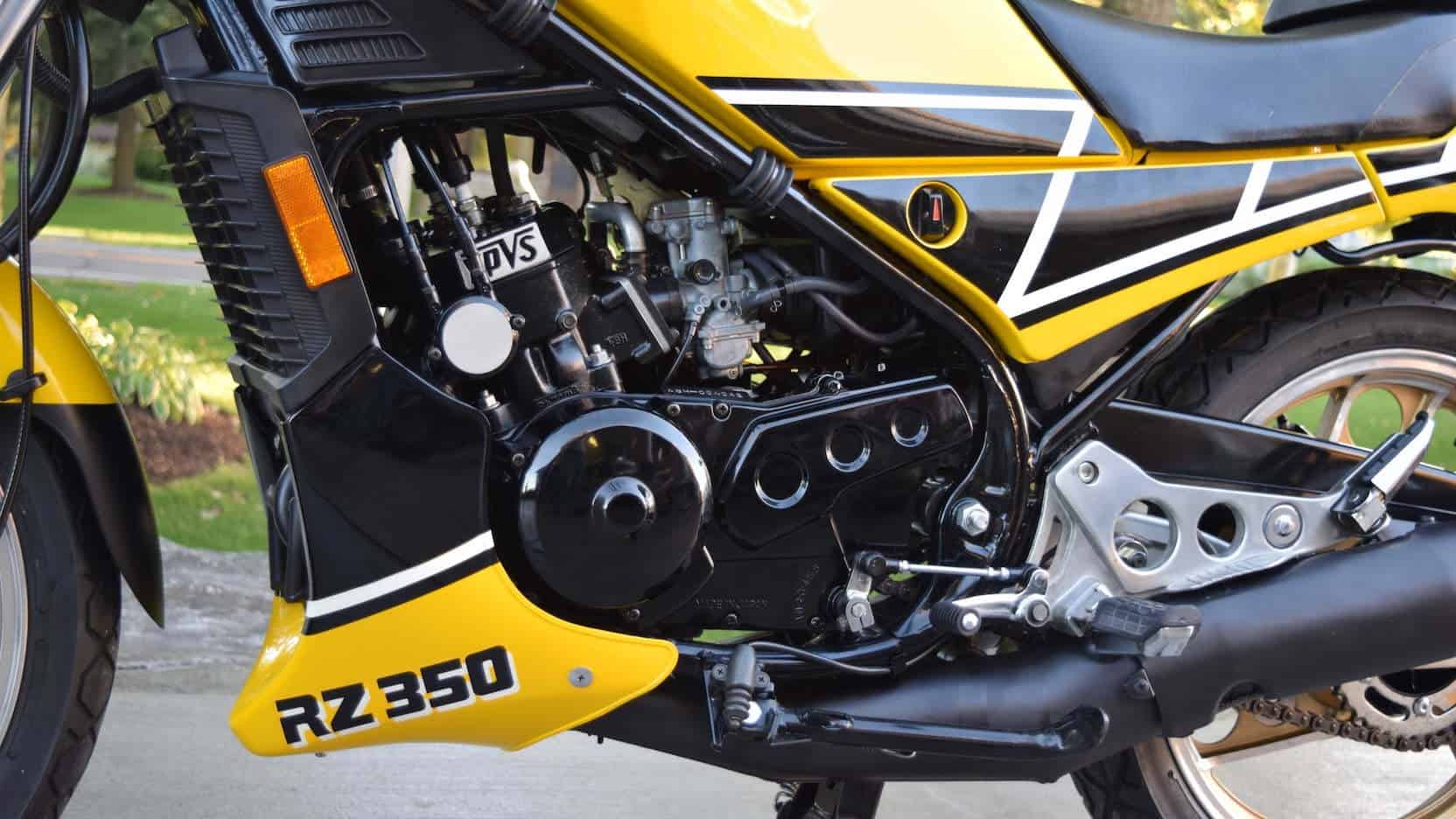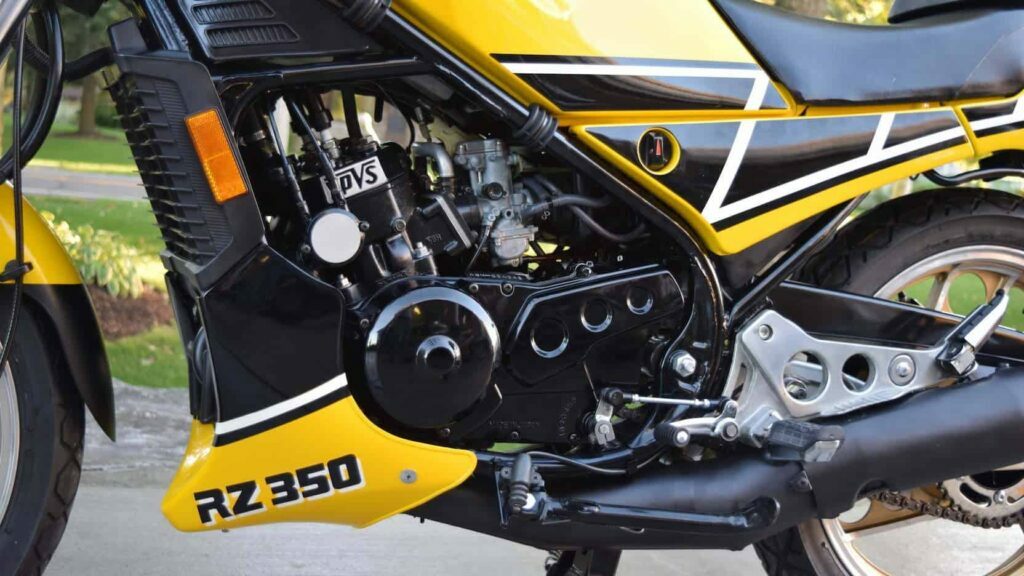 The Yamaha RZ350 turned in an impressive quarter-mile time of 13.19 seconds at 99.22 mph, which was with the OE catalyst exhausts. Fun and nimble handling are improved with the fitment of modern tires on those classic '80s wheels.
A surprising number of those bikes come up for sale at an inexpensive cost, but original, low-mileage examples in excellent condition can choose the double blue book. Aftermarket parts support remains very good.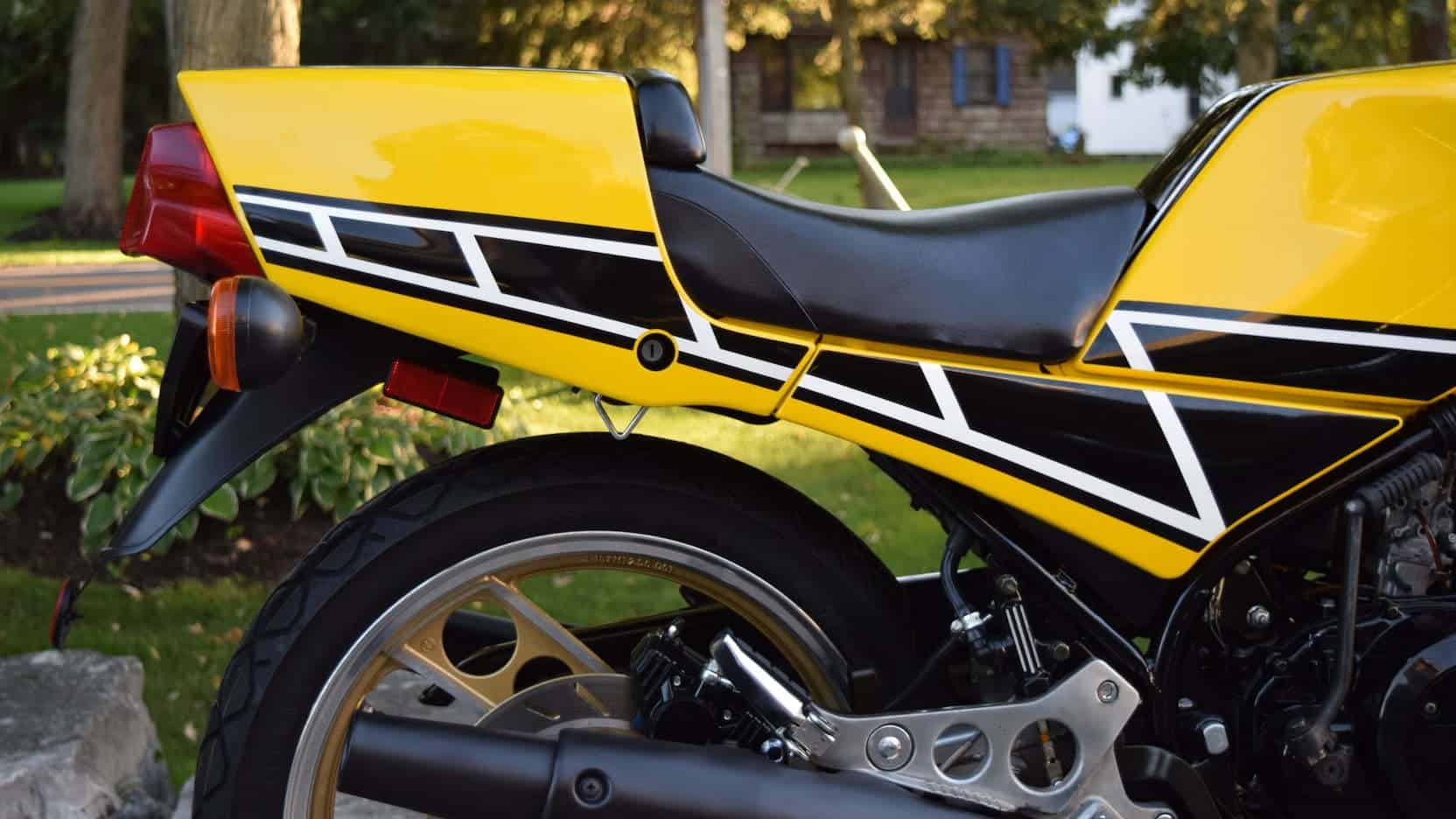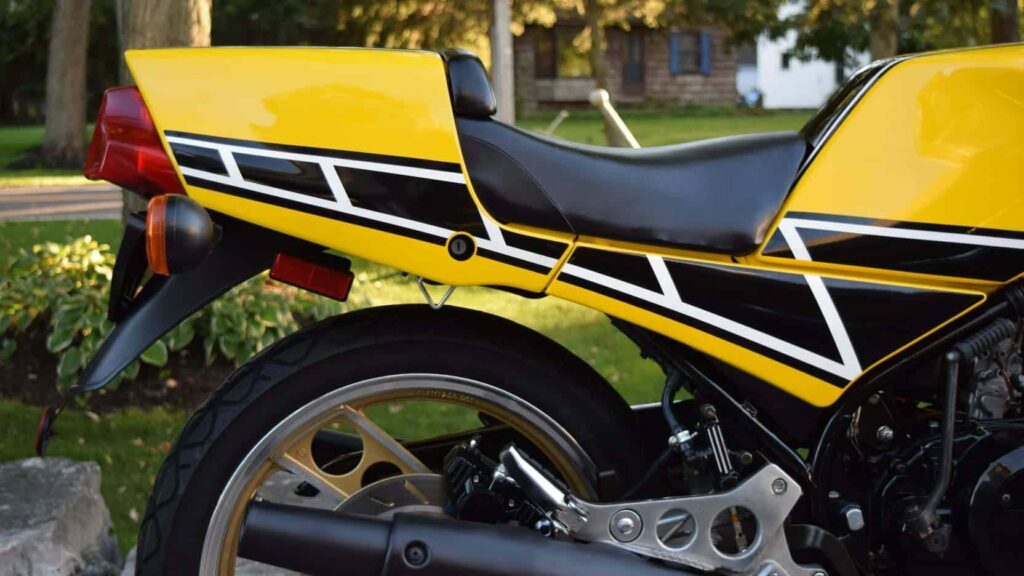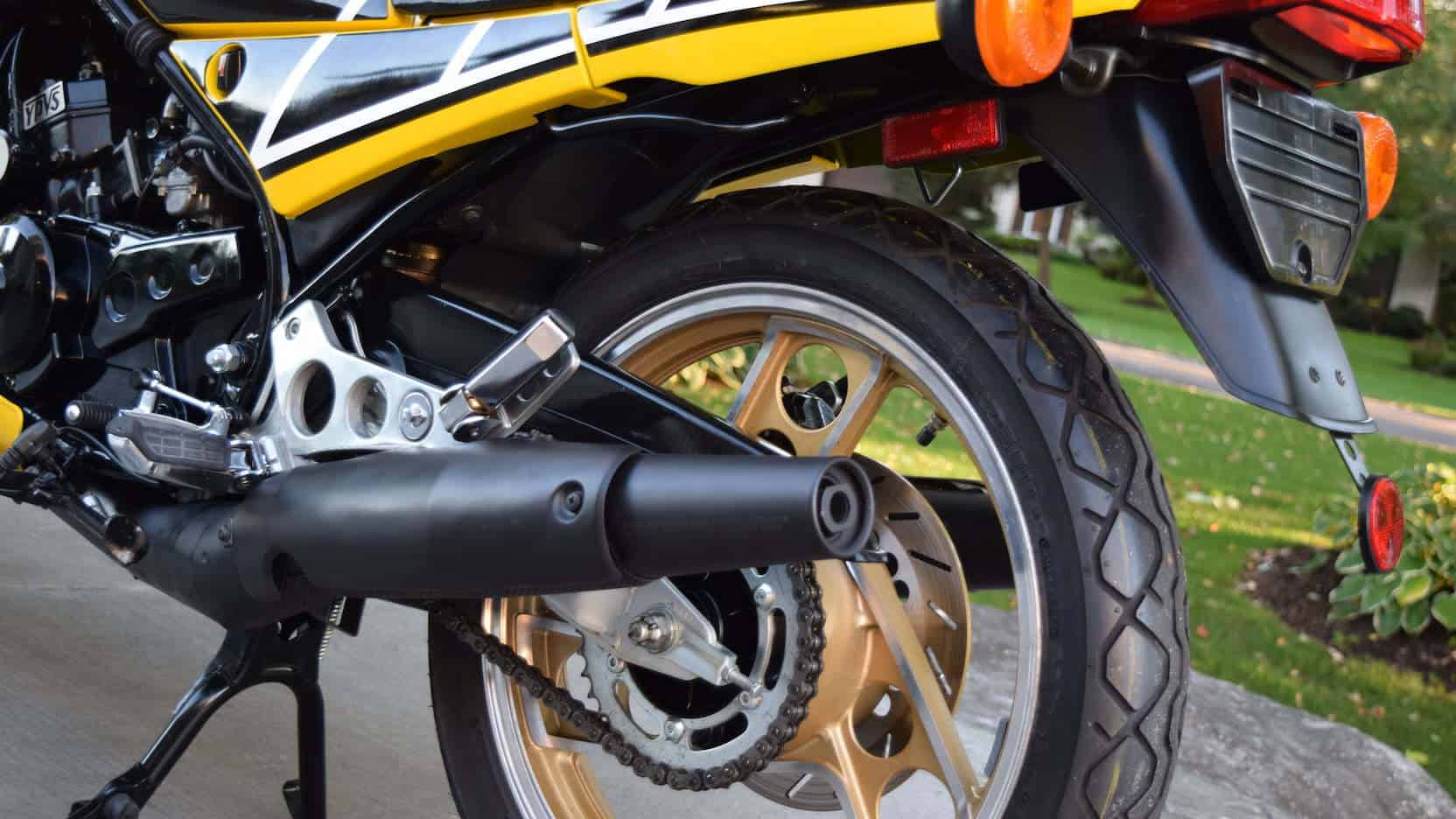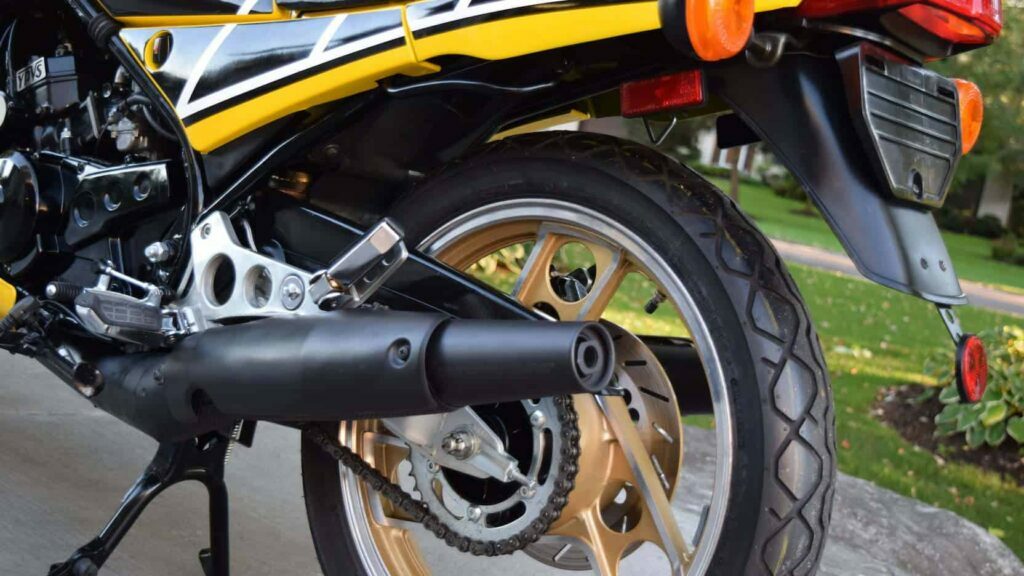 THE COMPETITION:
Not really. Yamaha's own RZ500 V-4 two-stroke was sold in Canada, and lots of made the gray-market journey south, but prices are quite a bit higher. Kawasaki's Ninja 600R was the foremost high-performance middleweight of the time, but it was significantly heavier.
Styling:
The Yamaha RZ350 had a variable exhaust port valve called the Yamaha Power Valve System (YPVS) that was controlled by a basic computer. The YPVS could open and shut the valve to move the height of the exhaust port and thus affect the exhaust port timing.
This provided lower RPM torque while retaining high RPM power. The interchangeability of many of the main engine components with the Yamaha Banshee ATV has allowed strong aftermarket support for the RZ350.
Physical measures and capacities:

Weight incl. oil, gas, etc..:

168.0 kg (370.4 pounds)

Seat height:

800 mm (31.5 inches) If adjustable, lowest setting.

Overall height:

1175 mm (46.3 inches)

Overall length:

2120 mm (83.5 inches)

Overall width:

710 mm (28.0 inches)

Ground clearance:

175 mm (6.9 inches)

Wheelbase:

1385 mm (54.5 inches)

Fuel capacity:

20.00 liters (5.28 gallons)

Reserve fuel capacity:

2.00 liters (0.53 gallons)

 Other specifications:

Color options:

Yellow/Black White/Red

Starter:

Kick

 Further information:

Insurance costs:

Compare US insurance quotes from the nation's top providers.

Finance options:

Compare US motorcycle loan quotes from the nation's top providers.

Parts finder:

Chaparral provides online schematics & OEM parts for the US. Revzilla offers up to 50% off motorcycle accessories.  Ships to most countries.

CMSNL ships low cost OEM motorcycle parts to Australia, Austria, Bahamas, Belgium, Canada, China, Croatia, Cyprus, Czech Republic, Denmark, Estonia, Finland, France, Germany, Greece, Hong Kong, Hungary, Iceland, India, Ireland, Italy, Japan, Kuwait, Latvia, Lithuania, Luxembourg, Macedonia, Malta, Montenegro, The Netherlands, New Zealand, Norway, Poland, Portugal, South Africa, Spain, Sweden, Switzerland, Taiwan, Ukraine, United Kingdom, The United States and more. Also, check out our overview of motorcycle webshops at Bikez.info.
About the author:  Michael Parrotte was the Vice President of AGV Helmets America, and a consultant for KBC Helmets, Vemar Helmets, Suomy Helmets, Marushin Helmets, KYT Helmets, Sparx Helmets. In addition, he is the founder and owner of AGV Sports Group.